The James Bond Wardrobe: Pants & Belts
In our first post in this series, we discussed what we need to know about colors, fit and fabrics to capture some of 007's casual style. And in our previous post we looked at options for the shirts and sweaters we can use to build our James Bond wardrobe. Now it's time to move on to pants and belts.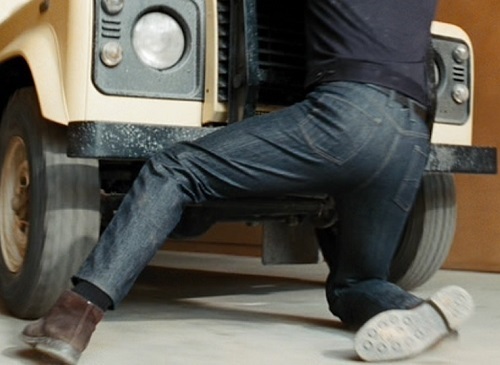 Dark Wash Jeans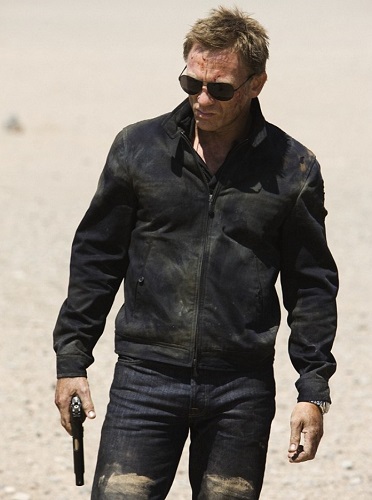 Key Features:
Standard 5 pocket dark wash jeans with minimal detailing on the back pockets.
No rips or faded spots.
Straight or slim fit (but not tight) with a medium rise.
There's no denying Craig's Bond likes his jeans. We could have picked the sand color five pocket pants from Casino Royale, either of the Levi's STA-Prest models from Quantum of Solace or the distressed grey Tom Ford selvedge jeans from Bond 25. But I'm going with his 7 For All Mankind Standards in the dark blue "Mercer" wash for our inspiration.
A pair of dark wash jeans should be in every guy's closet, whether you're trying to build a Bond wardrobe or not. Denim has been a staple of men's casual style for decades. And, in today's world of more relaxed offices, they're often considered dressy enough to wear with a sport coat and tie.
As for choosing a pair for yourself, there's no lack of alternatives out there in a variety of fits. Value for money, Levi's are still hard to beat even if the quality of their denim isn't the best. They come in enough styles to accommodate just about any body shape and are almost always on sale somewhere for around $40.00. But this is also a chance to pick up a pair of selvedge denim jeans. There's lots of brands right now making affordable options in the $80 to $150 price range using that once exclusive denim. If you'd like to learn more about selvedge denim, check out our Beginner's Guide here.
Fit and Tailoring Tips:
A note about pant break. With jeans, we can afford to have more break. But you shouldn't have multiple folds of fabric bunched up around your ankles (this is called "stacking"). Remember that even in his casual clothes, Bond keeps clean lines and a tailored look. This is especially important if you're under 5'10". The more fabric you have around your ankles, the shorter your legs will look. So consider going with a single break at the most. The tops of your boots or shoes should be covered (no exposed ankles) and the cuffs shouldn't go half way up your shins when you sit down.
And now a note about hemming. Unlike dress pants, the original hems on jeans are hard to replicate if you need to get them shortened. On top of that, the cut of the leg in tapered or slim fit jeans widens as it goes up. So if you're a 30″ inseam and you buy a pair of 36″ inseam jeans ("but … they were on sale!"), when you shorten them the bottom is going to end up 1″ to 1.5″ inches wider than originally intended. In short, buy as close to your actual inseam length as possible so your jeans don't need to be hemmed and you conserve the correct fit.
To keep the color dark and prevent fading, wash your jeans as little as possible. When you do clean them, turn them inside out and wash in cold water with a mild liquid detergent. You can learn more about taking care of your jeans in this video from Mr. Porter.
Dark Beige Chinos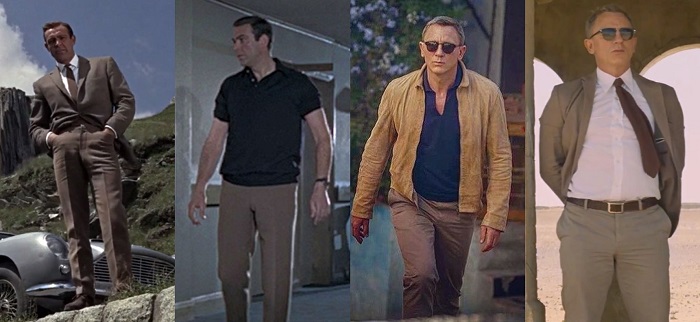 Key Features:
Dark beige or taupe color
100% Cotton; 2% spandex or elastane is okay if you want a bit of stretch.
Slimmer fit (but not tight) with a medium rise.
Since we're discussing an affordable wardrobe, buying a pair of cream/beige/khaki/taupe pants for every "Bond look" isn't really an option. If we can be a little flexible on the color, the same chinos could work with the black shirt (Casino Royale), the black shawl collar cardigan (Quantum of Solace), a light beige suede jacket or a mid-brown blazer (SPECTRE). For our first pair of chinos, I'm going to suggest going with a slightly darker khaki tone. They'll be the most versatile. And we can always add lighter cream colored pants later for some variety.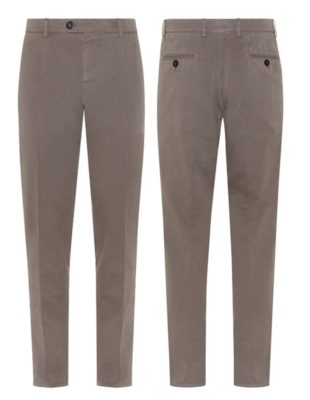 As a model for color and style, it's hard to go wrong using the Brunello Cucinelli chinos from SPECTRE. We updated our post on alternatives back in April. But we'll be looking for new options in the upcoming fall collections.
Fit and Tailoring Tips:
For fit, we want our chinos have a medium rise (about 9″ to 11″). Ideally, the rise will be long enough so the pants sit at your natural hip. The cut should be a little more relaxed (not baggy!) around the hips and thighs with a gradual taper from just above the knee down to the cuffs.
Pro Tip: when you're trying on any pants in a store, ask a trusted friend or a helpful sales associate to take a photo of you from behind. Or use the dressing room mirror if you're on your own. All too often, chinos we think look great from the front make us look like we're wearing a diaper from the back. And, seriously, when was the last time you checked your look from behind?
Are the chinos looking good from the front and around the seat area, but are too wide below the knee? Getting a tailor or seamstress to taper them is a relatively inexpensive process. So focus on the top half of the pant fit.
Another note about pant break. With your chinos, you really want to go with a minimal half break or none at all to keep the lines clean and extend the silhouette of your frame. Think Bond visiting Mathis or Bond at Shrublands if your not sure of the right length.
Crease or no crease? I'm going to suggest no crease. The chinos are supposed to be used with casual looks and the reality of our world today is creased casual pants look a little anachronistic. However, "without a crease" does NOT mean wrinkled, so iron your pants!
Wear chinos with medium weight, beige socks that are a close match to the color of the pants.
Dark Grey Trousers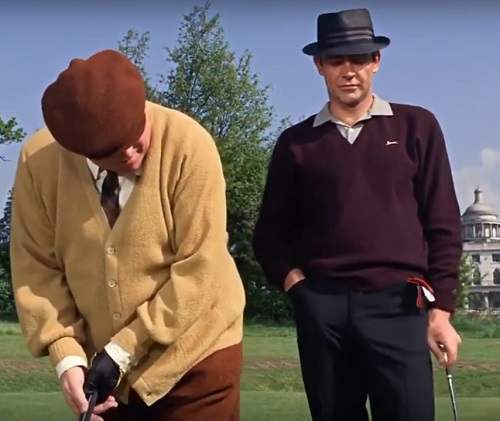 Key features:
Tapered fit with a medium to high rise. Flat front.
Wool or wool blend, but the synthetics should be kept to a minimum. We want trousers in a heavier fabric, so both flannels and twills would be acceptable.
Dark grey or charcoal in color (see reasons below).
Side tab adjusters if possible, although we can live with belt loops on these. Frog mouth pockets for bonus points!
Why charcoal grey? The fact is Bond's tended to prefer black trousers with many of his semi-casual looks. But (and this may be a little controversial), my personal opinion is charcoal grey is simply a more versatile color. It goes well with sport coats, sweaters and even more casual button up shirts. If you go with a pair of trousers in flannel or a tighter, smoother twill, they can also be used with navy blazers. And it's a color that works with both black and brown shoes depending on what you're wearing up top, of course.
The obvious inspiration are the charcoal grey trousers Bond wears to play golf and infiltrate Auric's factory in Goldfinger. But I think the same pair can easily be used in place of Bond's black trousers in Thunderball and Live and Let Die. And, if you willing to forgo the small scale puppytooth pattern, they can also be used for the Neil Barrett trousers from the SPECTRE "Mr. White" and London finale scenes .
Fit and Tailoring Tips:
And another note about pant break: Since these pants are a little more formal, I'd suggest going with some type of break if it suits your height. Over 5'10"? Try a quarter break. Under 5'9″? No break. But make sure the pants don't ride up too high when you're sitting down. Because we are looking at a more modern, tapered cut with a narrower bottom, anything more than a half break will just look like fabric piled up around your ankles.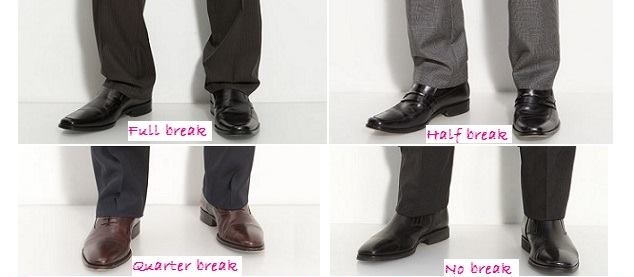 Maintain the crease? That depends. If you're planning on wearing the trousers as a part of more casual outfits (such as turtleneck or polo sweaters), then I think it's okay to go without a crease. But if you want to use them with sport coats and blazers, the crease dresses them up for a more professional look.
Bonus points if you can find the right fit with frog mouth pockets. They keep the trousers visually interesting and, as The Suits of James Bond points out, Bond uses them more than you may think. Plus they help preserve the clean lines of the pants by keeping the side seams hanging straight.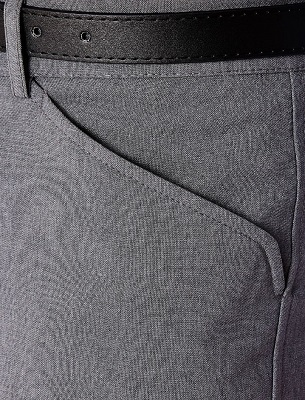 Wear your charcoal grey pants with medium weight, dark grey wool socks.
The Brown Belt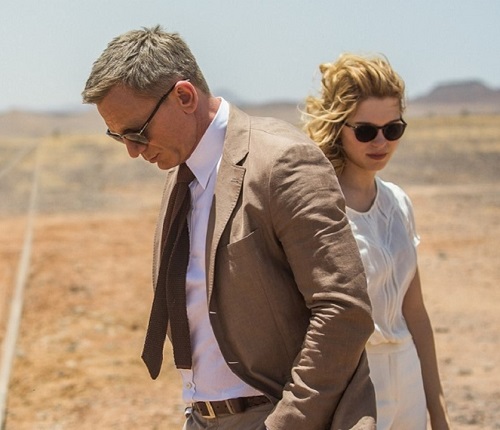 Key Features:
Woven or plaited dark brown leather.
Solid leather strap end (where the holes are) if possible.
Silver rectangular frame buckle.
1.25″ to 1.5″ wide. Casual belts can be a little wider to work with jeans, chinos and heavier footwear styles. But I wouldn't go over 1.75″, even if you're a bigger guy.
I'm suggesting a woven leather belt for the simple fact that it's more interesting than a plain, smooth leather belt. But it will still work with jeans, chinos and the charcoal trousers when you wear them in a more casual outfit. And the plaited design has been used by both Craig's and Dalton's Bond.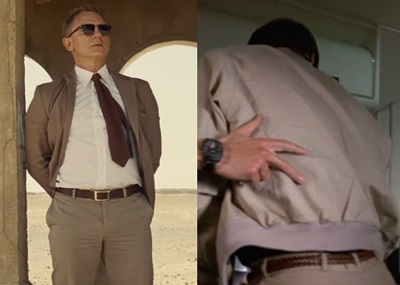 Another advantage of a braided or plaited belt is that it can work with a variety of shoe designs and leathers. Its texture will coordinate with a pair of brogue wingtip boots or shoes. And it won't look out of place when you pair it with some dark brown suede chukkas or derbys.
The Black Leather Belt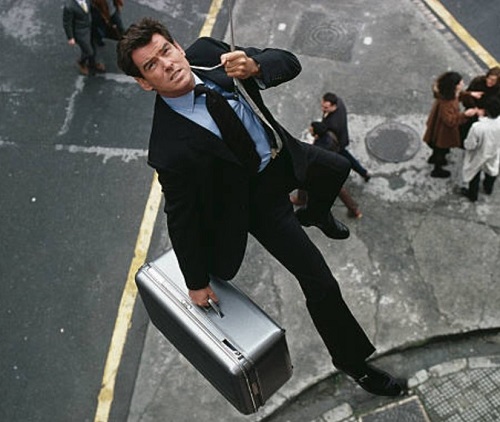 Key Features:
Smooth or subtly patterned black leather. I'd stay away from leather that's been embossed to look like reptile skin.
Silver buckle (more on that below).
1″ to 1.25″ wide for a dressier, more sophisticated look.
Best Options:
The black leather belt is an excellent way to demonstrate your attention to detail without being "in your face" about it. There're two easy ways to add visual interest to the belt. First, the texture of the leather. And second, the style of the buckle.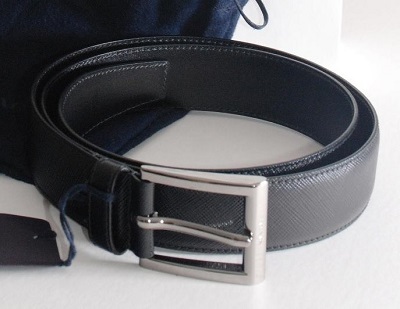 Moore, Dalton, Brosnan and Craig have all worn black leather belts during their time as Bond. Moore tended to wear his with more casual looks. For example, the wide black belts with the closed frame buckles in Live and Let Die and For Your Eyes Only and his Gucci belt, with the double "G" gold buckle, in The Man with the Golden Gun. Dalton wore belts (both brown and black) with his casual, tie-less take on suits. But Brosnan really broke Bond tradition, wearing belts with his more formal Brioni suits with a variety of plaque and frame buckles in both silver and gold, usually from Dunhill. And Craig wore a black belt with his grey linen suit and (possibly) his three piece suit in Casino Royale.
The point is it's a little difficult to nail down just one "Bond-style" black leather belt. Which is why I'm suggesting we start with a standard silver frame buckle. As for the leather, Bond has usually gone with smooth black. But if you wanted to get creative, something with subtle Saffiano finish would still work with most outfits.
The Affordable James Bond Wardrobe Series:
Shoes and Boots (coming soon!)
Details and Extras (coming soon!)
Next we'll be looking at the suits, sport coats and outerwear you need for your James Bond wardrobe! Remember, you can visit our Facebook page, Instagram account and Pinterest Boards for more James Bond style advice and inspiration!