4 Ways to Wear the James Bond Navy Blazer
At Iconic Alternatives, we try to focus on affordable clothing that will help us get the Bond style we want without emptying our wallets. So it doesn't make a whole lot of financial sense to invest in a piece and then only use it with one "screen accurate" look. Versatility is the name of the game. That's where our "4 Ways to Wear It" series comes in. We take one piece of iconic Bond clothing and combine it with other affordable 007 inspired alternatives to extend our wardrobe and get the most bang for our buck. In this post we look at the classic James Bond Navy Blazer.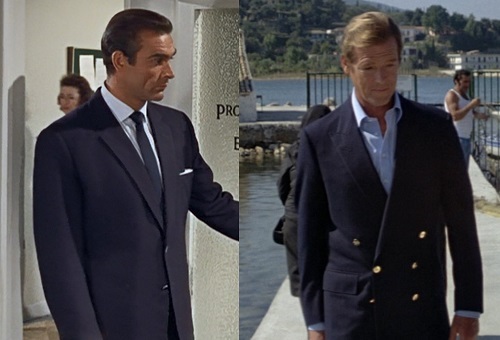 In our post on alternatives for the James Bond navy blazer, we discussed the fact that wearing such a classic garment in today's casual environment can be challenge. Of course, the most traditional way to wear this jacket is with pressed grey flannels and black dress shoes. If you feel comfortable with that look, then something like the Mason & Sons navy serge blazer (shown in the featured image for this post) is going to be worth the investment.
But how can you bring this Bond-style staple into your wardrobe when your personal style is a more relaxed jeans-and-chinos kind of look? That's what we're going to explore in this 4 Ways to Wear It.
Classy and Casual Sir Roger Style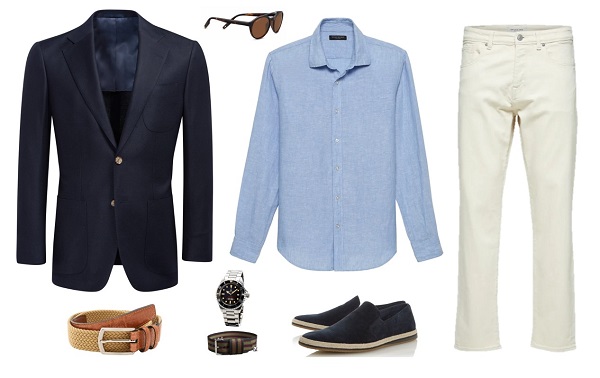 Options
Notes:
In terms of color combinations, this may be the most classic look in this post. Think Roger Moore in Corfu in For Your Eyes Only. What we're trying to do here is use the colors from the original as inspiration, but replace its highly tailored style with more casual pieces. So Sir Roger's double breasted blazer becomes a lightly structured single breasted jacket. The blue dress shirt shirt is changed to a more relaxed linen. And his cream pressed trousers and brown leather loafers become ecru jeans and espadrilles. It'll take some attitude to pull off this look. And nailing the fit of the jeans is key. But if you feel like pushing the envelope a little, I definitely think it could work. Just google "Navy Blazer White Jeans" for more inspiration.
Brosnan Bond at the Yacht Club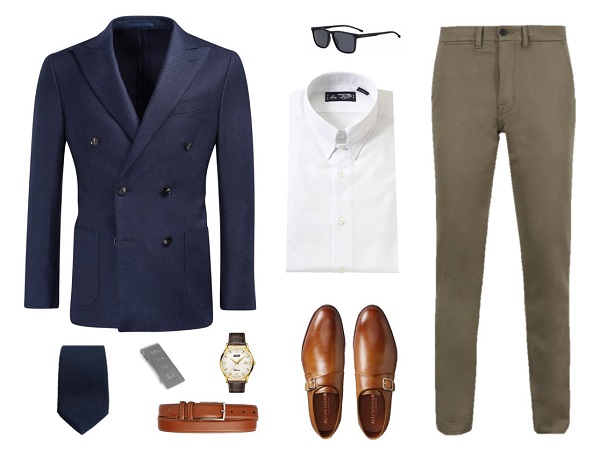 Options
Notes:
Another look with roots in traditional styling, this time inspired by Pierce Brosnan's Bond in Goldeneye. Again, we're exchanging the classically tailored pieces of the original outfit with more unstructured and relaxed alternatives. Even with the double breasted blazer, the use of the darker taupe chinos in this look will probably make it easier to wear than the higher contrast "white jean" outfit above. But the more formal DB blazer also means getting the fit right is even more important with this one. Remember, casual does not equal "sloppy". So, at the very least, make sure the trousers are hemmed to give you little to no break. Heck, you may even want think about busting out the iron and giving them a light center crease!
Rugged But Refined for Fall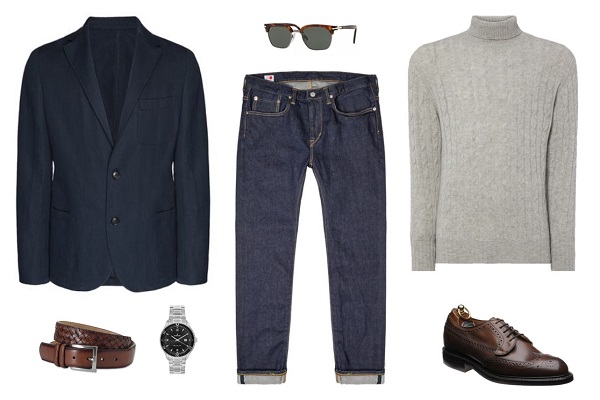 Options
Notes:
This is probably my favorite thing to wear when the weather cools down. It's simple, comfortable and very easy to pull off. No individual piece really shouts "Look at me!", like the white jeans or double breasted blazer do in the looks above. Instead, we're getting a more relaxed, almost 1970s Robert Redford vibe. Just two things to note. This outfit really isn't going to work if you use super faded, loose fitting jeans that are piling up around your ankles. And please: no "jeggings". I don't care what the guys behind the "Men With …" accounts on Instagram are telling you. Skintight jeans on adult men look ridiculous.
What we want is for the jeans to look almost tailored. So something in a darker wash, in a slim-straight or tapered fit and cuffed (or hemmed if you prefer) so there's just a slight break. If you need some help nailing your jean fit, our article on selvedge denim includes plenty of good examples.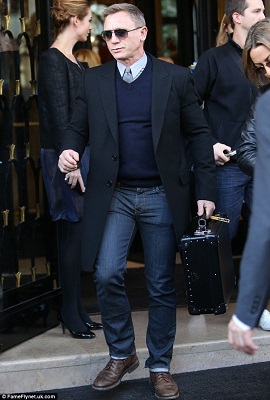 I also think this look needs an unstructured blazer with patch pockets and a more textured fabric to coordinate with the jeans and sweater. Blazers made from a smoother or shinier suiting, such as worsted wools or linen and linen blends, are just going to be too refined. In other words, a blazer that looks as little like an orphaned suit jacket as possible.
Inspiration from the Italian Masters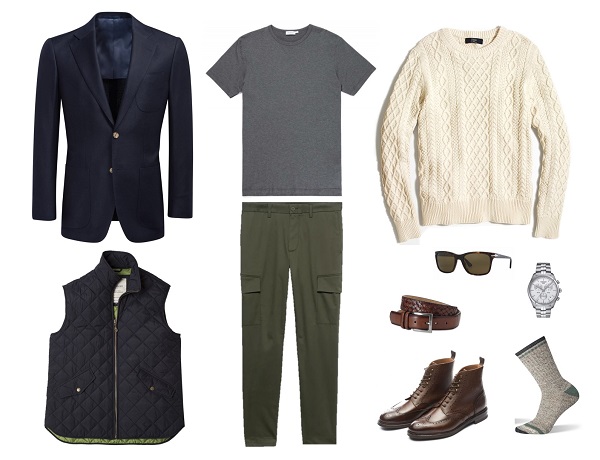 Options
Notes: 
This is the style that Italian design houses such as Brunello Cucinelli, Zegna and Kiton have mastered. There are three key components to making this work. First, keep the colors muted and use natural tones. Second, mix together refined, tailored pieces with minimalist details (note the streamlined look of the cargo pants) and more rugged, heavily textured elements (the aran knit sweater, vest and boots). And third, the effective use of layering. In this case, the blazer goes over the sweater and the gilet goes over the blazer.
I'm the first to admit it's a difficult style to do well. There's a lot to juggle. But when you nail it, it won't look forced or pretentious and it really takes your personal style to the next level.
Have some suggestions for how to wear the James Bond navy blazer? Tell us about them in the comments! And don't forget to check out our Guide to Contemporary Casual Style and our article on How to Dress Like Bond if you want more suggestions for updating your personal style. You can also visit our Facebook page, Instagram account, Twitter account and Pinterest Boards for more James Bond style advice and inspiration!