Daniel Craig James Bond Omega Watches Part 1
Updated August 16th, 2021 – We've already taken a look at affordable alternatives for the Sean Connery Bond Rolex here , the Rolex Ref. 5513 used by Lazenby and Moore and the Ref. 16800 worn by Dalton in this post, and the Pierce Brosnan-era time pieces here. Now we'll explore some options for the Daniel Craig James Bond Omega watches. Craig's era has seen a wider variety of models from the iconic Swiss brand. In some ways, it's great to have a broader selection of styles. It means there'll be something to suit almost any taste. But it also means investing more if you want to get the complete collection.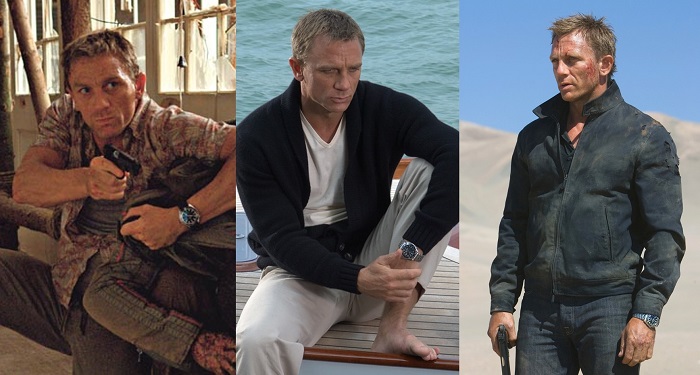 Because we need to look at alternatives for nine different watch models (yes, I'm including the vintage Omega from the very end of SPECTRE), I'm splitting this post in half. We'll focus first on alternatives for the Casino Royale and Quantum of Solace models. The second half will tackle Skyfall and SPECTRE's watches. The new Omega from No Time To Die already has its own dedicated post, which we'll be updating regularly.
And now the standard disclaimer. I won't be including fakes as alternatives. If that's what you want, there's plenty on Ebay and similar websites. Instead, I'll only be including watches from (relatively) reputable manufacturers. When I think there may be some cause for concern with a seller, I'll let you know in the description. Alright, let's get started!
The Casino Royale Omega Seamaster Diver 300M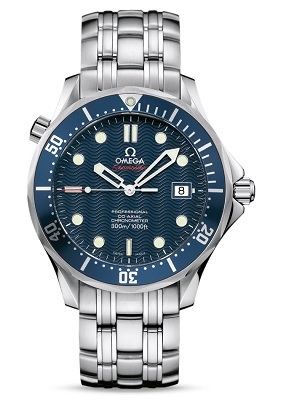 As you've probably noticed, I'm starting a little out of sequence. Craig actually used the Omega Seamaster Diver 300 Co-Axial 2220.80.00 for the second half of Casino Royale. A reasonably sized 41mm, the 2220.80.00's scalloped blue bezel, distinctive wave pattern dial, dot indices and skeleton style sword/paddle hands were definitely a throwback to the Brosnan-era Omegas.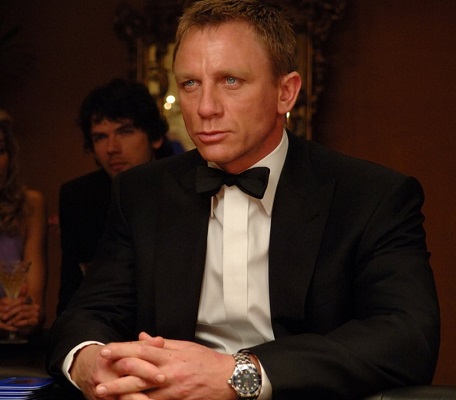 Because of the visual similarities to the earlier Omega Seamaster Professionals, many of the alternatives from our James Bond Brosnan Omegas post will work just as well as options for Craig's watch. But I'm including some additional choices below to be thorough.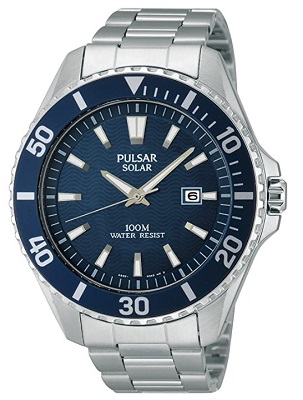 An inexpensive option that packs a few tricks. It's actually solar powered, which eliminates the need for a battery. And it doesn't do a bad job of capturing some of the Omega's looks. At 44mm, it's a big watch. But not a bad deal for you larger gentlemen looking for a beater. I've linked to Amazon above. However, you can also find it on Ebay for $61.50.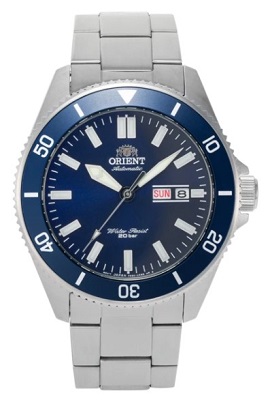 Orient definitely has its fans. And the brand has earned a solid reputation for delivering decent quality at an affordable price. Like the Pulsar, the Kanno goes with stick indices all around and a cleaner, simpler bezel. So not exactly screen accurate. But the proprietary 22 jewel Orient Calibre F6922 automatic movement features hand-winding and hacking (features normally found on higher end watches). Again, this a big 44mm case. Jomashop has one of the best prices I could find. For those of you in the UK, you can find the model on Amazon.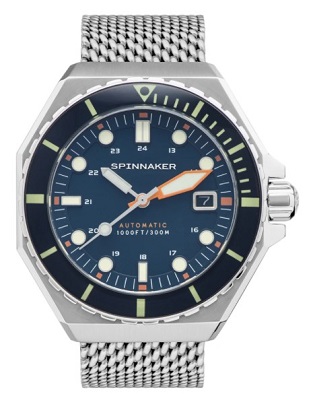 Sort of a mash up between the No Time To Die Omega and the classic blue Seamaster from the Brosnan era. I hadn't heard of Spinnaker before but the specs look pretty good for the price. The movement is the classic NH35 automatic, housed in another big 44mm 316L stainless steel case. And they've used a scratch resistant sapphire crystal with an anti-reflective coating. The Milanese style bracelet will appeal to some. However, the lack of exposed lugs may make changing the strap a pain. The overall design is definitely more angular than the Omega. But the more I look at it, the more it's growing on me.
Casino Royale and Quantum of Solace Omega Planet Oceans
For the first half of Casino Royale, Bond's watch of choice was the Omega Planet Ocean 600M Big Size Ref. 2900.50.91 on a rubber strap. As the name suggests, this was a biggun. With a case diameter of 45.5 mm, it was really far too large to be used with Bond's dressier looks. But for taking a beating while running and jumping around a construction site and embassy (and winning a DB5 at poker), it worked just fine.
In Quantum of Solace, Bond stuck with one watch: the smaller 42mm Omega Planet Ocean 600M Ref. 2201.50.00. Style-wise, these Planet Oceans are easily my favorites of the Craig-era Omegas. Not exactly sure why. Maybe it's the slightly thinner, black and silver coin edge bezel. Or the combination of the Arabic numeral and stick indices with the broad arrow hands. Whatever the reason, I just think they're beautiful looking timepieces.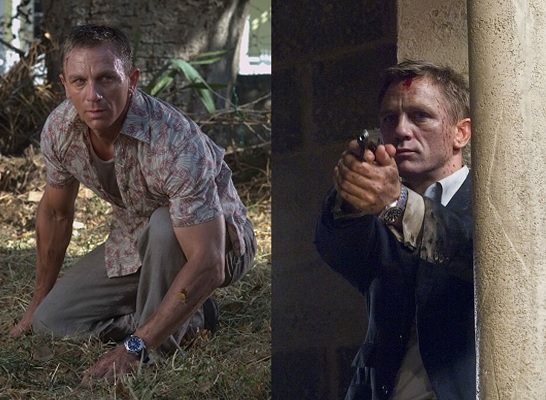 A bit of logic about personal use vs. screen accuracy …
So why group these two models together? Because aside from the case size and band style, they're virtually identical inside and out. And since it's relatively easy (and inexpensive) to change bracelets and straps, I think the size of the watch is a more important personal consideration than the band style when choosing an alternative. If you have thinner wrists, any watch over 43mm is going to look pretty huge. Likewise, bigger guys may feel that a sub-42mm watch looks too dainty. If you focus on getting the right case size for your wrist, once you find a model you're comfortable with you can pick up either an extra metal bracelet or rubber strap and have one alternative that works for both Omegas.
Best Option for the Daniel Craig James Bond Omega Planet Ocean 600M Co-axial
Just my personal opinion, but I think Mido really hit it out of the park with the style of their Ocean Star series. These watches look clean without being boring. They're powered by Mido's calibre 80 automatic movement which has an 80-hour power reserve. The 42.5mm case is water resistant rated to 200 meters and has a sapphire crystal, uni-directional aluminum bezel and screw-down crown. All in all, an elegant and fairly complete package for the price. You can check out reviews for the Ocean Star at Worn & Wound and in this thread on the WatchYouSeek forum. Not the cheapest option. But it is a great looking, quality watch at decent price.
Under $200.00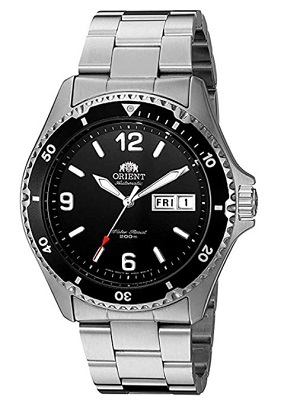 The design isn't nearly as elegant as the Omega. But it does have a lot of the right details (mix of stick indices and Arabic numerals, thinner bezel, date function). And, as we mentioned above, Orient does offer good value for the money. This one also uses their F6922 automatic movement, which features hand-winding and hacking. The smaller 41.5mm stainless steel case should work better on most small to medium sized wrists. The only big drawback I see is their use of a mineral crystal, which (in my experience) is more prone to scratching.
Under $500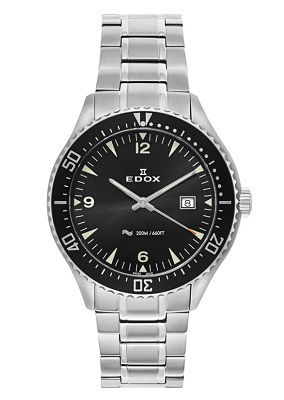 Coming from a Swiss watch manufacturer that's been in continuous operation since 1884. And most people outside of Europe have never heard of. Edox is often referenced as a quiet (some would say "underrated") brand that delivers excellent value for the price.  Their C1 Driver is a good example of that. The movement is a proprietary Swiss quartz, based on the ETA F 06.111. It's placed inside a large 45mm case with a 200M water resistant rating. That's finished off with a sapphire crystal and stainless steel bezel. Aside from the baton-style hands, the C1 Diver certainly has the Planet Ocean vibe. And the triangular indices pull in some of the looks from the SPECTRE Seamaster 300M. Put this one on a rubber strap and fans of the "Big Size" Planet Ocean will be good to go for under three hundred bucks.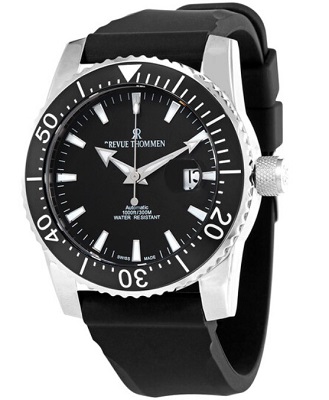 A relatively affordable option from a heritage Swiss company that also happens to make timepieces for the aviation industry. They've used the time tested Swiss 25 jewel ETA caliber 2842-2 automatic movement. And all the other details we'd expect from a watch in this price range are also there: 300M water resistant rating, sapphire crystal, unidirectional bezel, screw down crown. Style wise, it's missing the Arabic numbers and the exposed crown give it a bit more of a retro vibe than the PO. But we do get the arrow hands and stick indices. At 45mm, this watch is HUGE. Which makes it a great alternative for you big guys reading this (or for you fans of the Casino Royale "Big Size" Planet Ocean. It's also available on a metal bracelet for $485.71.
Under $1000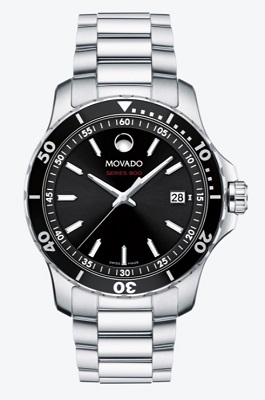 Normally I'm not the biggest fan of Movado's designs. But I think they've done a nice job with this 800 Series. The case shape isn't the best match for the Planet Ocean. But the 40mm size will be a good fit for those of us with smaller to medium sized wrists. This is a quartz movement, which may put some of you off, especially at this price. However it definitely has the right "refined tool watch" look we want. Jomashop currently has it on sale.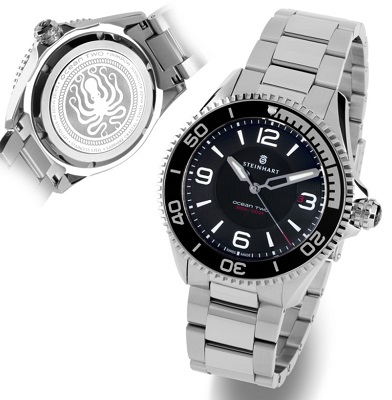 As with the Orient, the larger Arabic numbers lose some of the Planet Ocean's subtle elegance. But Steinhart has started to set itself apart on lower priced watch market by offering solid value for the price. They've housed a 26 jewel, Swiss SW 200-1 automatic movement in a 43mm  316L stainless steel case with a domed sapphire crystal. The 300M water resistance should give you the confidence to go out and get it wet. And that smaller date window at 3 o'clock is a nice design touch.
The Investment Piece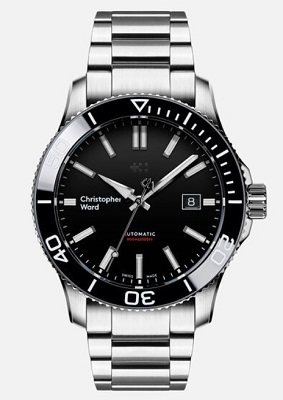 Although I could do without the new "Christopher Ward" logo placement, I have to say the Swiss brand has been making some very sharp looking watches. And they're backing up the designs with some solid technical specs. The 42mm marine grade stainless steel case has an impressive water resistance rating of 600M and is topped with a thick 3.4 mm sapphire crystal. The power comes from the trusted 26 jewels Sellita SW 200-1 automatic movement. And the finishing and detailing are what you'd expect on a watch costing twice the price.
Like the watches from Skyfall and SPECTRE? Check out Part 2 of our series on the Craig era Bond Omegas! Have some suggestions for affordable alternatives for the Daniel Craig James Bond Omega watches? Tell us about them in the comments below! And remember you can also find Iconic Alternatives on Facebook, Pinterest, and Instagram, just in case you're looking for even more Bond inspiration.
Some of the images used in this post were sourced from the Omega website.