The James Bond Brosnan Omegas
Updated August 4th, 2021 – Now that we've taken a look at the Rolexes worn by Connery and Lazenby, Moore and Dalton,  we're going to jump ahead a few years. Almost all of us know that the James Bond Brosnan Omegas were the ones that launched the relationship between the franchise and the iconic watchmaker. First appearing in 1995's Goldeneye, Pierce Brosnan wore two versions of the Seamaster Professional 300M during his four film tenure.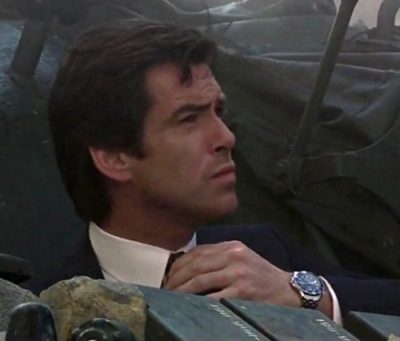 The first, Ref. 2541.80, had a 41mm case housing Omega's 1538 Quartz movement. The second Seamaster, which he wore for the remaining three films, was Ref. 2531.80. Although very similar in looks to the Goldeneye watch, the 2531.80 used the OMEGA 1120 automatic movement.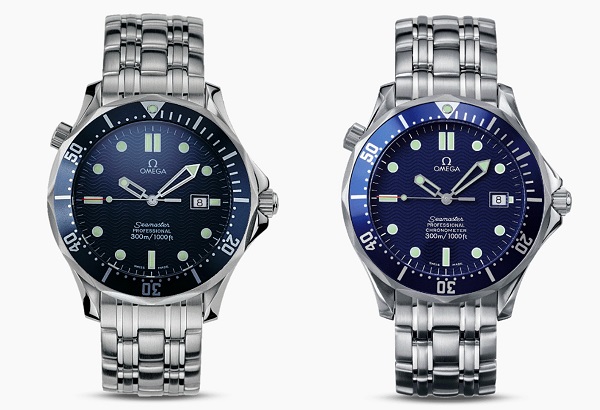 The advantage of the Brosnan Bond Omega style …
One of the nice things about using the Brosnan-era Omegas as inspiration for your timepiece is that you're almost getting three Bond watches for the price of one! In Casino Royale, Daniel Craig's Bond used a Seamaster Diver 300M Co-Axial Ref. 2220.80.00 that bears a striking resemblance to the earlier models.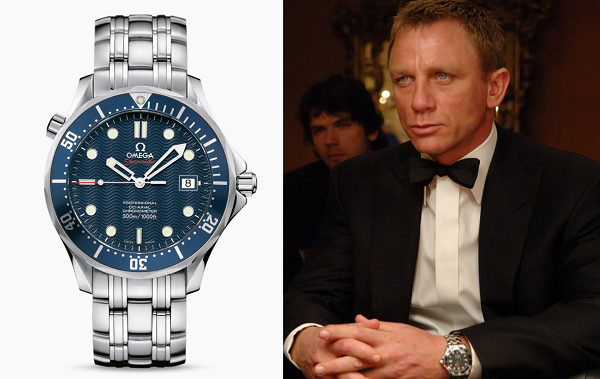 Features Wanted for the James Bond Brosnan Omegas
Stainless steel dive watch with blue bezel with a scalloped outer edge
Blue face with a subtle "wave pattern"
Bar indices at 12, 3, 6 and 9 o'clock and dot indices at remaining hours
Custom skeleton Baton/Index style hour and minute hands and lollipop seconds hand, all with luminous tips
Screw down crown at 3 o'clock position and release valve at 10 o'clock position
Stainless steel band
A few years ago, we were able to find a couple of alternatives that had the blue wave pattern on the face. This year? They're pretty scarce. As are scalloped edge bezels. For whatever reason, coin edge is ruling today.
And now the standard disclaimer for these watch posts. I won't be recommending cheap knock-offs or fakes that will likely stop working after a month. If that's what you're looking for, you'll find plenty of options on Ebay and AliExpress. Instead, I've gone with watches that come close in looks, but still have their own identities. Sure, we'll be sacrificing some style details. But we'll also be getting decent quality timepieces at fair prices that capture some of that Omega spirit. Personally, I think it's a much better way to go.
Best Option for the James Bond Brosnan Omegas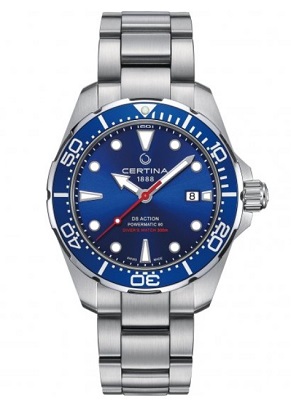 After two years and looking at a LOT of new watches, I have to stick with the Certina as the best alternative. It's not the cheapest option. And with the sword/arrow hand combination and more triangular indices, maybe not the most screen accurate. So why recommend it? Because I've owned a Certina dive watch for 12 years now and never had a problem with it. And yes, I've used it for actual scuba diving. Since the DS Action Diver Automatic comes close to the style of the Omega and it's made by a manufacturer I can personally recommend, it keeps the top spot.
The specs don't hurt either. Made in Switzerland (Certina is part of the Swatch Group that also owns Omega), they've used an automatic Powermatic 80.111 movement with an 80 hour power reserve that's based on the time-tested Swiss ETA 2824-2 engine. And placed it in a 43 mm stainless steel case with a sapphire crystal and a water resistant rating of 300M that meets all the requirements of the ISO 6425 standard. This is a user's watch, not a fashion piece. The link above goes to Joomashop in the U.S. which has the best price I could find at the time of writing. For those of you in the UK, I found the watch at WatchShop. It's more expensive, but they make it pretty clear that they price match. So give that a shot to see if you can bring the price down.
Under $100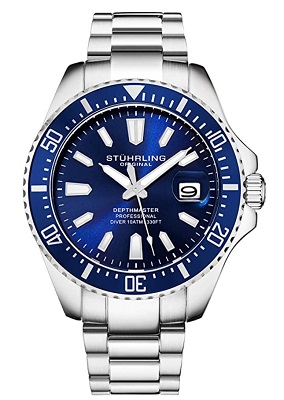 Well that's affordable! And it doesn't do a bad job in the looks department either, despite the use of stick indices and the coin edge bezel. There's not a lot to say about the technical aspects of the watch. It's your basic 42mm, Miyota quartz movement timepiece with a decent 100M water resistance rating. Stuhrling also backs up their products with a 2 year warranty. Since they've been in the affordable watch game for a while now, I'd expect better service from them than you'd get from some of the newer brands on this list.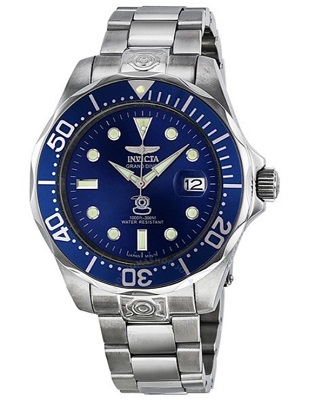 A post about affordable dive watches wouldn't be complete without an Invicta. This time we're looking at a monster of a watch. With a case size of 47mm it's going to look like a dinner plate on the wrist of any but the biggest guys. But hey! Big guys want affordable watches too! Even though it's under a hundred bucks, the specs aren't that bad. We're getting an automatic movement this time (the popular Seiko SII Caliber NH35A) and a water resistant rating of 300M. The case also has a display back, which is a feature some guys like. I looked for this model for those of you in the UK, but no luck. And the next closest model goes for the ridiculous price of £330.83. If someone has a better suggestion from Invicta, please let us know in the comments!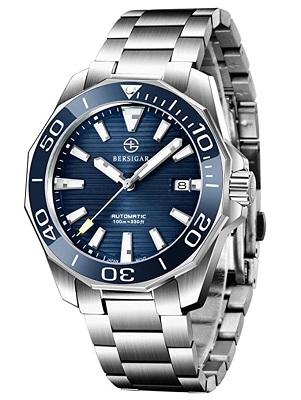 A slightly more techy looking interpretation of the blue dive watch that probably has more in common with the Tag Heuer Aquaracer (see below). This is one of those stock Asian watches that any new brand can slap their logo on (in fact, this exact same watch is also offered by the Pagani Design brand for ten bucks more). It uses the Miyota NH35A automatic movement and houses it in a bigger 44mm case. So, again, a watch that will work well for guys with bigger wrists.
Under $200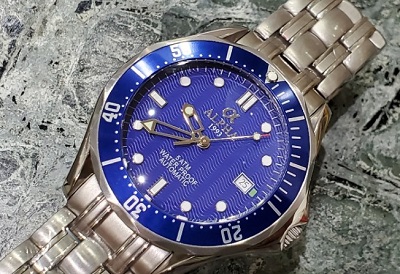 This alternative was mentioned by Chris in the comments below. And it's almost too good a match. But at least they didn't slap an Omega logo on it. In terms of specs, they've used a Seagull 21 jewel TY2806 automatic movement, a 43mm case (which includes the crown) and a dome sapphire crystal. The watch is only water resistance rated to 50M, but that should be fine for some light swimming. And I have to give Alpha props for being honest about it. I have zero experience with this brand, so I'd definitely recommend contacting them first before sending them your cash.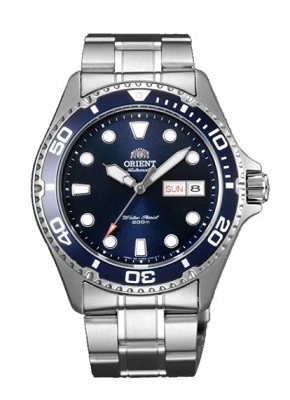 A classic from the popular affordable watch brand. Orient has done a good job of building a loyal following for their time pieces. And they do offer solid value for the money. In the case of the AA02, it's been upgraded with a Orient's new F6922 automatic movement that you can hand-wind and hack and a 120-click uni-directional bezel. The water-resistant rating is 200M, which is also pretty good. The 41.5mm case size should work on most guy's wrists. Obviously the coin-edge bezel and day/date window aren't screen accurate. But if you can get past those, this is definitely a solid choice for a budget option.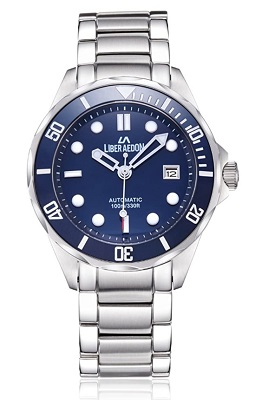 Another brand I've never heard of. And based on what little I could find out about them online, I wouldn't expect too much for your money. This particular model has been around since 2014. It features a "Japanese quartz" movement housed in a 41mm case. That's about all the technical info I could dig up. But they certainly nailed the Brosnan Bond Omega look. The link above goes to Amazon, so if you do decide to roll the dice on this one at least you'll have a little protection.
Under $500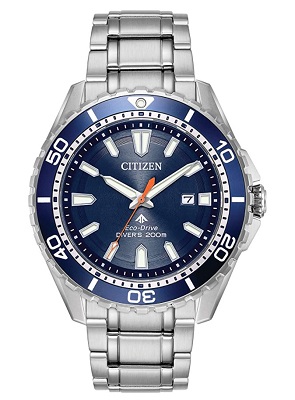 At 45mm, the Promaster is another biggun. And three hundred bucks for a quartz watch may seem kind of steep, especially in today's market. But Citizen is name you can trust and their light powered Eco-Drive movement certainly has its fans. It's not the most screen accurate alternative. However, I'd personally be more comfortable investing in a watch like this that captures the spirit of the Omega while offering a fair level of quality.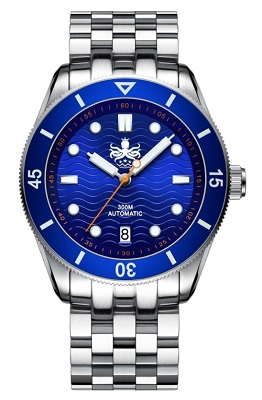 Phoibos is a brand we've mentioned a few times on this site. And their Wave Master does a nice job of mixing some of the design features of the Brosnan Omega with a little retro dive watch styling to give it a unique look. The specs are also pretty good. They've used the tried and true NH35A automatic movement and housed it in a 42mm 316L stainless steel case with a sapphire crystal and a water resistance rating of 300M. The dial also has the wave texture we want!
Under $1000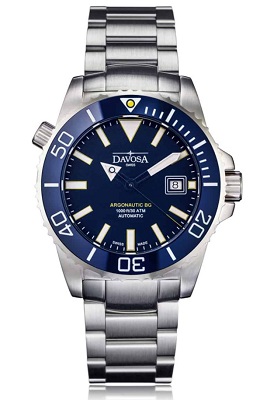 The dial isn't the best match for the Omega. But I like the way Davosa has used the yellow highlights to add some visual interest. And this one is more than just good looks. The Swiss made Argonautic comes with the Sellita SW 200-1 automatic movement, a 43mm stainless steel case and sapphire crystal with a water resistance rating of 300M and bright Super-LumiNova BG W9 lumes on the indices and on the ceramic bezel. Plus it has a functional helium release valve. Eight hundred bucks ain't cheap, but we do get a lot of the features we'd normally only see on a much more expensive tool watch.
The Investment Piece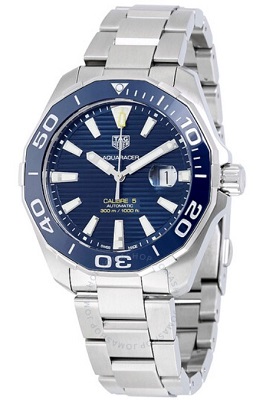 When you go on the hunt for budget blue dive watches, you'll find plenty of options inspired by the classic Aquaracer. This is also probably a good time to point out that "affordable" can be relative. Is the Tag expensive? Yes. But it's also about $2500 less than a more recent Omega Seamaster. And it's a heck of watch in it's own right. The 43mm stainless steel case houses Tag Heuer's proprietary 26 Jewels Caliber 5 automatic movement and has a water resistance rating of 300M. That's topped off with a sapphire crystal and a scalloped ceramic bezel. To my eye, it's a bolder looking watch than the Omega. But I'd certainly be happy to have it on my wrist.
If you like the Aquaracer looks, but want something a little smaller and less expensive, check out the 41mm quartz version which is on sale for $1250.00.
Do you have any recommendations for the James Bond Brosnan Omegas? Share away in the comments below! And remember you can always find more Bond style and inspiration on our Facebook Page, Instagram Account and Pinterest Boards!