The James Bond Rolex Submariner: Lazenby, Moore & Dalton
Now that we've taken a look at alternatives for the first James Bond Rolex Submariner from the Connery-era, it's time to move onto the later references worn by George Lazenby, Roger Moore and Timothy Dalton. There're a lot of watches to look at, so let's get started!
The James Bond Rolex Submariner Ref. 5513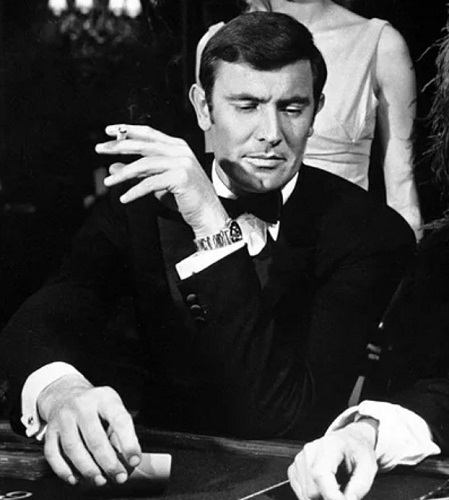 George Lazenby first used the Rolex Submariner Ref. 5513 in On Her Majesty's Secret Service (although a Ref. 6538 also made a brief appearance). The OHMSS Sub tends to get overshadowed by the film's more unique Rolex Ref. 6238 "Pre-Daytona", which we'll cover in a future post. But the Ref. 5513 actually gets a fair amount of screen time and Lazenby certainly wasn't shy about showing it off.
The Submariner Ref. 5513 would return in Roger Moore's first outing as Bond in Live and Let Die. Again the watch had some on-screen competition in the form of a Hamiliton Pulsar digital watch. But this time the Rolex came prepared with some Q-branch devised tech of it's own: the magnet function and the buzzsaw bezel.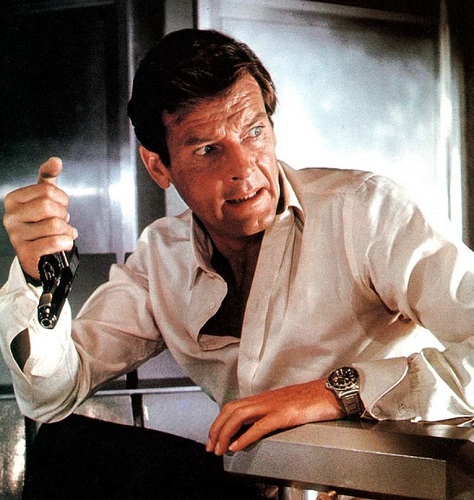 Moore wore the Rolex once more in The Man With The Golden Gun. However, that version of the watch was gadget-free. After this, Moore's Bond would mainly be using Seikos for the next four films, until a Rolex Datejust showed up for a quick shot in A View To A Kill.
Features Wanted for the James Bond Rolex Submariner Ref. 5513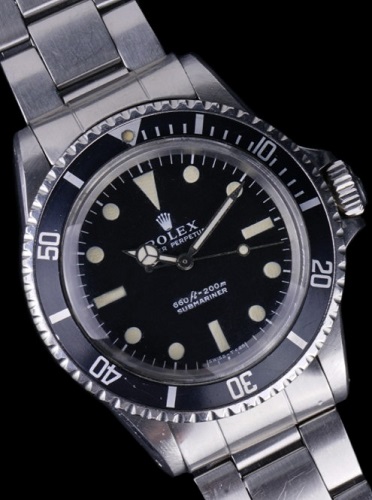 In terms of overall appearance, the 5513 stays close to the design of the 6538 from the Connery Bond years, but some key changes give a more modern look. Probably the most noticeable differences are the slightly thicker coin-edge bezel, the 0 to 15 minute-markers and the addition of crown guards. If you can be a little flexible with the concept of "screen accuracy" some of the watches we shared in our post on the Ref. 6538 would also work very well as alternatives for the 5513. But we've still found some new alternatives for this post that are more faithful to the Lazenby/Moore design to give us plenty of options.
Options for the James Bond Rolex Submariner Ref. 5513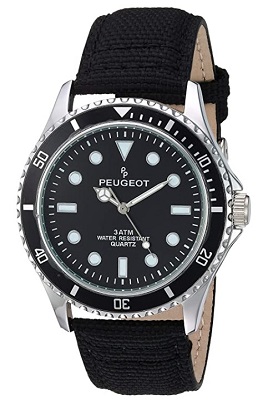 A low-priced, 42mm casual watch to give you those vintage diver looks on dry land (a rating of 3 ATM/30m isn't going to give much water resistance). This is a quartz movement. But the warranty apparently includes free life-time battery replacements. Which is nice since it'll let you save some cash for a metal bracelet.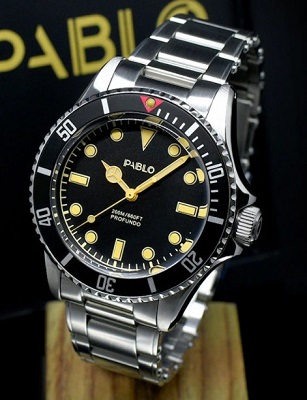 A suggestion from Judson in the comments on our post on the Rolex Ref. 6538. And if you don't mind the crown guards, it would actually make a solid alternative for both the Connery or Moore Sub. It certainly offers a lot of value for the money on paper. The 40mm 316L stainless steel case is capped with a retro style box sapphire crystal and a stainless steel bezel with vintage style C3 SuperLuminova markers. More impressive is the fact they're using a Swiss automatic ETA 2824-2 movement at this price. The watch is limited to 200 pieces and is available exclusively at Gnomon Watches. Just note that this is the first watch from new micro-brand Pablo. So triple-check that warranty!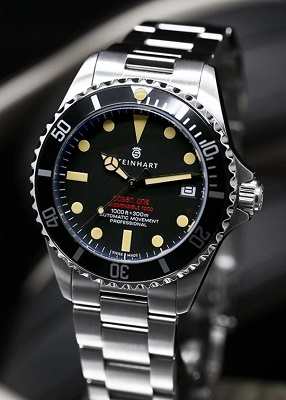 We already shared the larger 42mm version of this Swiss-made watch in our post on the Connery-era Rolex. The 39mm version shares many of the same specs (316L stainless steel case, domed sapphire crystal, 300m water resistance rating). However this one is powered by the time tested Sellita 26 jewel SW200 automatic movement. If you don't mind the date function, this is a solid watch from a company that's earned a pretty positive reputation in the market.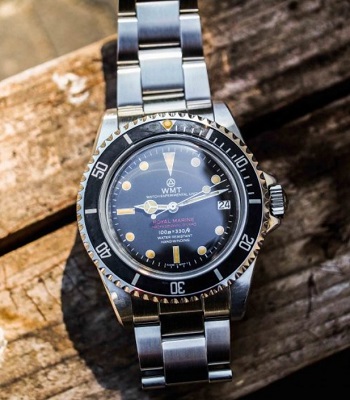 And another suggestion from Judson. Although I will say, in my humble opinion, the Pablo seems to offer more value for the money. In comparison the specs on the WMT just don't seem that impressive. They've gone with the standard 39.5mm 316L stainless steel case and uni-directional bezel. But the crystal is acrylic rather than sapphire. Under the hood lies a stock Seiko NH35 automatic movement. And the overall water resistance rating is only 100m. Honestly, I'm just not seeing what the two hundred bucks is buying here. Or why I wouldn't just go with a Steinhart Ocean Vintage Red for sixty dollars less.
The James Bond Rolex Ref. 16800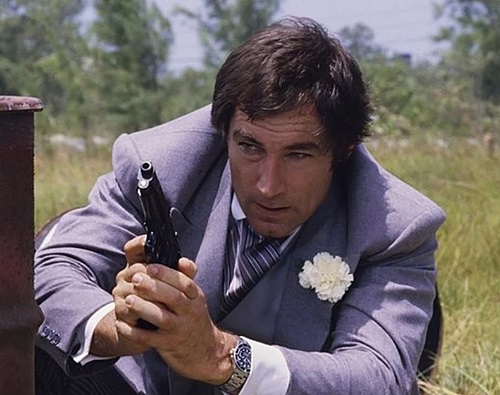 After it's all too brief appearance in A View To A Kill, Rolex was properly re-introduced as Bond's watch of choice during the Timothy Dalton era. In his first film, Dalton's use of a Tag Heuer for the PTS tends to get most of the attention. But by License to Kill, Rolex was back front and center.
There's been some back and forth over the years over what exact model of Submariner Bond used in the film. Most seem to agree it was a Ref. 16800 or 168000 with Date. But there are others that feel that a Ref. 16610 with date display. There are certainly some important technical differences between the two references (type of metal used for the case, a change from the 3035 movement to 3135 movement). But in terms of looks, the 16800, 168000 and the 16610 are very similar.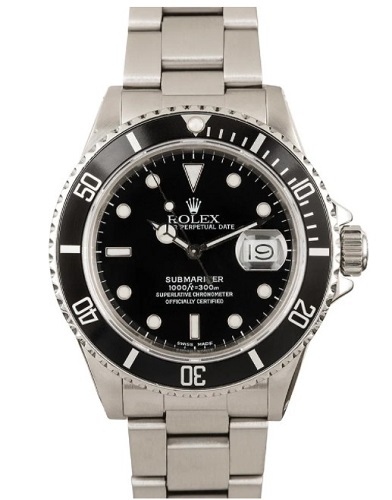 Options for the James Bond Rolex Submariner Ref. 16800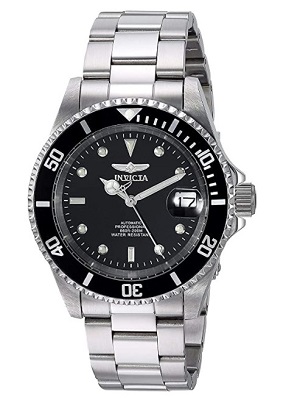 When it comes to Rolex homages, it wouldn't be much of an exaggeration to say Invicta has dozens (if not hundreds) to choose from. So I've gone with their old stand-by, the Automatic Pro-Diver. It has the right look, they've used a basic but reliable NH35A movement and the 40mm case size will work on most wrists. Not to mention the fact that it's cheap! At that price, no one is expecting heirloom timepiece quality. But it still has 4.4 stars out of five after nearly 12,000 reviews on Amazon.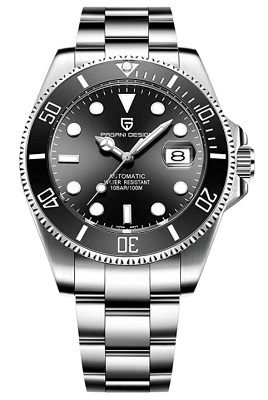 Most of us will know Pagani Design from the company's No Time To Die Omega homage. And that watch actually got surprisingly good reviews. But it was news to me that they also do a Rolex homage. Once again, they've nailed the look. Specs aren't too bad for the price either. Like Invicta, they use the NH35A automatic movement and house it in a 43mm case, which should make you bigger guys happy. The water resistance rating is only 100m, so I wouldn't plan on using it for any serious water sports.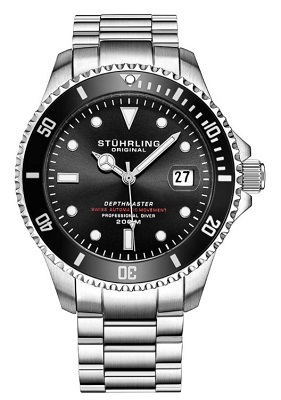 Sturhling has made a name for itself as one of the more popular affordable options out there for Sub homages. And they too have more than a few models to choose from. For this post I decided to go with their slightly pricier Depthmaster 883. The stainless steel case measures 42mm. So large, but not huge. They've also used the Swiss made, 18 jewel Claro CL888 automatic movement, which is decent for the price. And it has a water resistance rating of 200m, which should work just fine for most our water-based activities. I've linked to Jomashop above. But you can also find the watch on Amazon for about the same price. If you're in the UK, try the Stuhrling website.
If you like the looks of the 883, but aren't too worried about about the movement, check out their Regatta 792 Automatic for $250.00. It uses a more common Miyota automatic movement, but I haven't been able to find out which one. And lastly, there's their quartz Aquadiver MI5772, which comes in at a very reasonable $85.00/£56.00. That model comes on a rubber strap, so you might want to adjust your budget if you want to pick up a steel bracelet.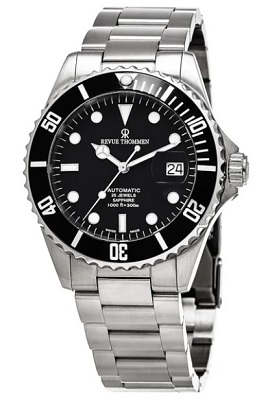 An relatively affordable option from Revue Thommen, a Swiss company that also happens to make timepieces for the aviation industry. The specs on this model's case are actually pretty impressive for that sale price. They've gone with a 42mm 316L stainless steel case, a sapphire crystal, and a stainless steel uni-directional bezel. For the movement, they've used the time tested 26 jewel SW200 automatic movement. And it has an impressive 300m water resistant rating. That's a lot of watch for under five hundred bucks.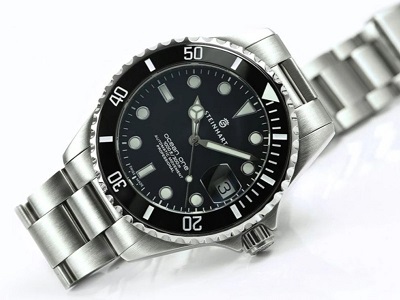 We've already shared the Ocean 1 Vintage Red in our post on alternatives for the Rolex Ref. 6538 that Connery wore. This is basically the same watch, just without the vintage lumes. So the specs are virtually identical. The watch is made in Switzerland and powered by time-tested 25 jewel ETA 2824-2 automatic movement. They use a 42mm 316L stainless steel case topped with a sapphire domed crystal and steel and aluminum bezel. It's water resistant rated to 300m and comes with a 2 year international warranty. If you're comfortable spending close to five hundred bucks on your watch, this one offers pretty solid value for the money.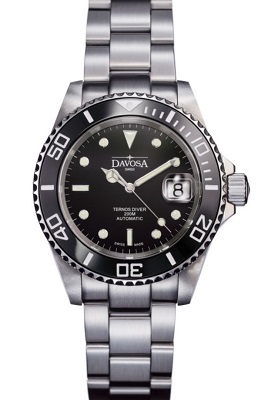 A thousand bucks is a lot to spend on a brand most of us have never heard of. But this family-owned Swiss company has actually been making watches since 1881 (although the Davosa name didn't appear until 1993). And their Ternos certainly sounds like an interesting watch. Most of the specs won't surprise you. They've used a 40mm 316L stainless steel case with a 200m water resistance rating, a sapphire crystal, and (as the name suggests) a unidirectional ceramic bezel. The stainless steel bracelet comes with a standard deployment clasp and a diver's extension. The movement is a little more out of the ordinary. Davosa has taken the standard ETA 2824 and made some adjustments in-house to improve performance, re-naming it the DAV 3021. I'll leave it to you to decide if that makes worth $300 more than the Steinhart.
I'll also note that if you're more attracted to the date-less dial of the Rolex Ref. 5513, the Davosa Ternos Sixties Black Automatic Diver for $739.00 also looks like a nice piece and shares many of the Ternos Ceramic's specs.
Next up, we'll be looking at alternatives for the Omegas from the Brosnan-Bond era! In the meantime, if you have some suggestions for alternatives for the James Bond Rolex Submariner Ref. 5513 or 16800, tell us about them in the comments! If you're interested in the most recent Bond watch, check out our post on the No Time To Die Omega. And remember to check out our Facebook Page, Instagram Account and Pinterest Boards for more James Bond style advice, inspiration and info.
Information about the James Bond Rolex Submariner Ref. 5513 and 168000 we're sourced from Time and Tide Watches, Jake's Rolex World, and Rolex Forums.