The James Bond Rolex Submariner 6538
Updated June 23rd, 2021 – There are already a multitude of articles documenting the history behind the iconic James Bond Rolex Submariner 6538. So we'll just highlight a few key details here. Introduced in 1953, it's a design that has influenced nearly every diver watch that's come since. And, as most Bond fans know, Connery's 007 wore the watch in Dr. No, From Russia with Love, Goldfinger and Thunderball.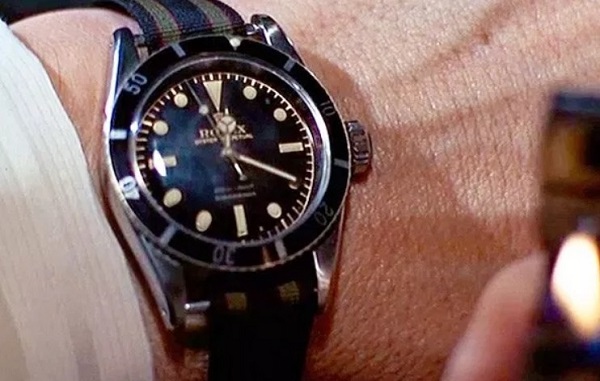 To to say this particular reference is a popular collectors piece would be a massive understatement. Vintage 6538s have sold at auction for prices between $50,000 and half million dollars, depending on the condition and variations. Obviously the Bond connection isn't entirely responsible the watch's legendary status. But it's important role in the history of the franchise certainly doesn't hurt its desirability!
Features Wanted for the James Bond Rolex Submariner 6538
Imagine a generic diver watch and probably 90% of what you've pictured in your head comes from the Rolex Submariner. However, despite its famous design, the reference 6538 has a number of distinctive features. The large, screw down crown (which earned the watch its "Big Crown" nickname) and lack of crown guards are something collectors look for. As is a bezel without the minute markers between 0 and 15. And, believe it or not, the lack of a date window is a feature that's very difficult to find on a modern alternative.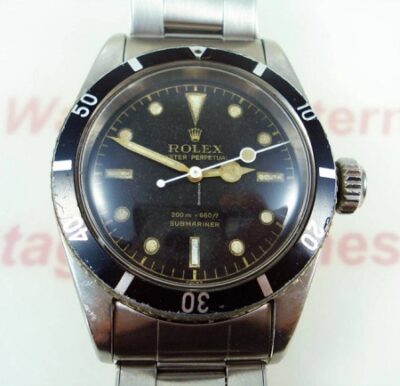 Of course Bond's relationship with the Rolex Submariner didn't end with Connery. Both George Lazenby and Roger Moore wore reference 5513s in their films. And, after years of Seikos, Rolex returned when Timothy Dalton wore a 16610 in License to Kill. We'll be looking at alternatives for the Moore and Dalton references in a future post. For now, we'll be trying to stick with options that have design features closer to the the Connery Bond reference, like the crown design and the aged lumes.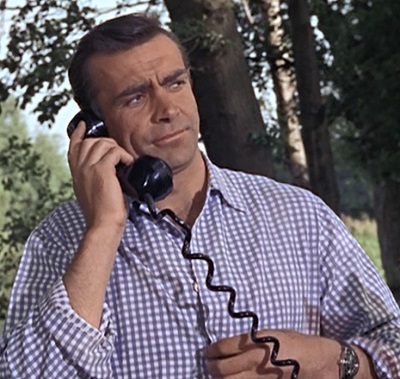 And just a quick note before we get started. I completely understand that for many of us, getting as close to screen accurate as possible is a priority. But I won't be recommending cheap knock-offs or fakes that will likely stop working after a month. If that's what you're looking for, you'll find plenty of options on Ebay and AliExpress. Instead, I've gone with watches that come close in looks, but still keep some of their own identities. Sure, we'll be sacrificing some style details. But we'll also be getting decent quality timepieces at fair prices that capture some of that Rolex spirit. Personally, I think it's a much better way to go.
Best Option for the James Bond Rolex 6538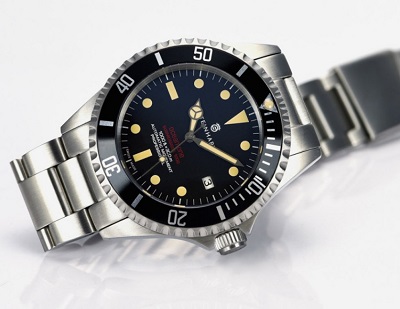 Both Ben and Theo recommended the Steinhart in the comments for this post. And, despite making a blatantly obvious homage to the Rolex Sub, Steinhart still gets a fair amount of respect out there on the watch forums (I checked). The three obvious strikes against it from a looks perspective are the date window, the crown guards and minute markers on the bezel.
But the specs for the watch actually are pretty impressive for the price. It's made in Switzerland and powered by time-tested 25 jewel ETA 2824-2 automatic movement. They use a 42mm 316L stainless steel case topped with a sapphire domed crystal and steel and aluminum bezel. It's water resistant rated to 300m and comes with a 2 year international warranty. So that's a lot of bang for the buck! In the U.S., the best price I could find was at GNOMON Watches. For those of you in the UK, Chronomaster is the authorized dealer if you don't want to buy direct from Steinhart. Thanks again, Ben and Theo!
Under $200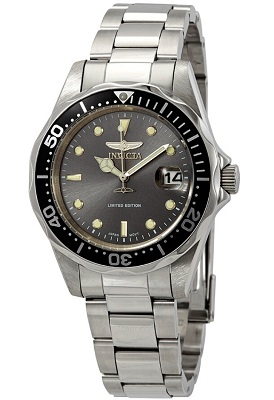 With that scalloped bezel, additional minute markers and large date window, this probably isn't the closest match to the 6538. And Invicta makes plenty of other models that are closer in appearance to the Moore and Dalton Rolexes. But I wanted to have at least one sub-$100 watch in this post, so here we are. The ILE8932A has it's quartz movement housed in a stainless steel case with a 200m water resistance rating and topped with scratch resistant mineral crystal. The 37.5mm case is smaller than many of the other alternatives on this list and a good size for vintage style watch.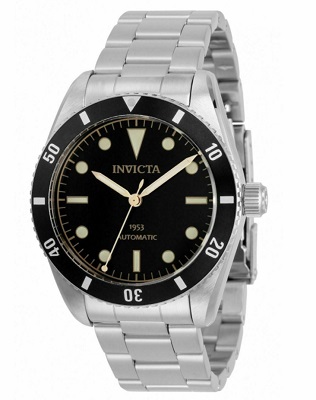 I publish this post and literally 5 minutes later someone is sharing a great affordable alternative in the comments that I completely missed. That's what I love about this community! So all credit to Jonathan for this find. The 40mm 31290 uses the Japanese NH35A automatic movement, which allows it to skip the date window. That, combined with the thinner bezel and the lack of minute markers and crown guards definitely give it the right retro style. It also uses sword style hands which, will not screen accurate, do make it more of an homage instead of a direct copy. The watch is sold out on Invicta's website. But you can still find it on Ebay.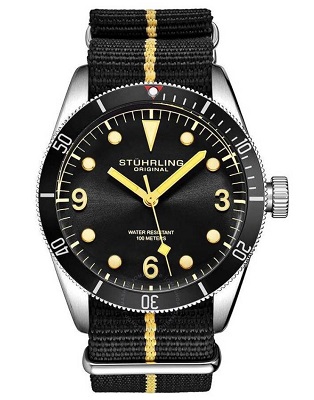 Like Invicta, Stührling has no shortage of Rolex homages that we'll share in an upcoming post. But, again, most of them are better matches for the later Bond related references. For Connery's earlier 6538, I think their M15795 comes closest, even if it does mix in some Arabic numerals with the dot indices. The thinner coin edge bezel and the lack of a date window and crown guards give it the right vintage vibe. This is another quartz watch with a 41mm case that should still work for most wrists. Water resistance is only 100m, so I'd approach this one as more of a fashion watch.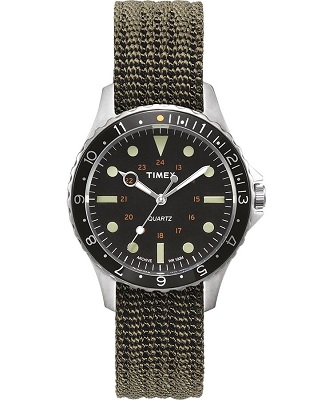 Well this one gets a lot of the details right for a good price! Timex uses their standard quartz movement and the watch is only water resistant to 100m. So definitely NOT a true diving watch. But with a case diameter of 38mm and 18mm lug width, it should be pretty easy to swap around straps to give you different looks on the cheap. It might just be the perfect beater watch for those of us on a tight budget.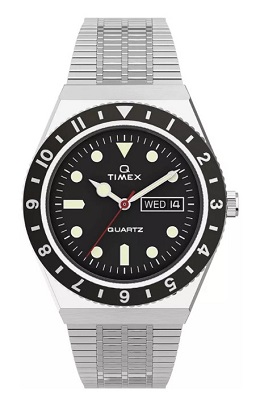 Or if you want to fully embrace Timex's retro style, you could go with their Q Diver. They've based the design on their original Q watch from the 1970s and kept a lot of the period-specific details for the modern interpretation. Those include a thinner coin edge bezel (with 12 hour markers, unfortunately), domed acrylic crystal, a smaller 38mm case size and a woven stainless steel bracelet. It might not totally capture the looks of Bond's Rolex. But the Q Diver definitely has it's own cool vibe going on.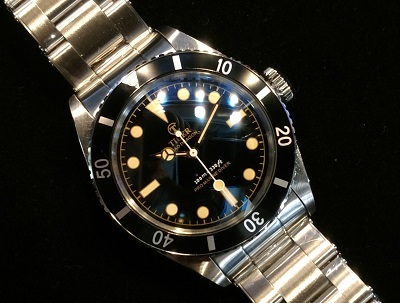 In terms of style, it's basically a direct copy of 6538 and captures almost all of the details we want. And I've had at least two people in the comments for this post recommend it. However, rather than write up the details on it, I'm going to strongly suggest you contact Tiger Concept directly before placing your order.
A couple of reasons for that. First, there are a few different options to choose from, including the type of movement, dial type, bezel insert and logo or no logo, and it can all get a little confusing. Second, it definitely looks like Tiger Concept is a smaller company. And when you visit the front page of their website, you'll find some information about shipping, payments and returns/refunds that you will definitely want to get clarified.
Last but not least, be aware that this is only a fashion watch and the warranty does NOT cover water damage. I'm not saying any of this to make Tiger Concepts look bad. In fact, props to them for being so honest about what kind of watch they're offering, what they can do in terms of customization and their terms. But I also want to make sure that everyone reading this post spends their money with their eyes wide open.
Under $500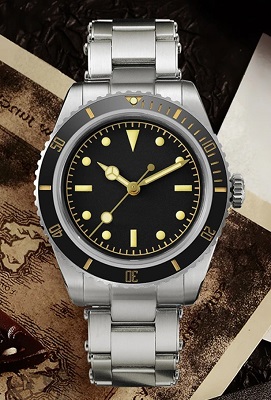 About as generic as an affordable 6538 homage can get. And that's not necessarily a bad thing. Especially when the specs are pretty decent for the price. The 38mm case houses an automatic Japanese NH35 movement and has a 200m water resistance rating. The ceramic bezel surrounds a domed sapphire crystal with an interior AR coating. And it comes with a 3 year warranty. I've linked to the no-logo option here. But you can get it with the San Martin logo on the dial and, honestly, they've kept it pretty classy. Plus the brand does get solid reviews on the different watch forums.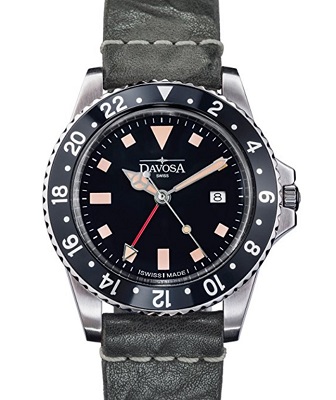 With it's orange tinged hands and square hour markers plus the 24 hour bezel, the Davosa isn't exactly screen accurate. But I think it still has enough of that Rolex vibe to be included. However, the price is sneaking up there for quartz watch. You should also be aware that some of the reviews for this model are … let's say less than kind. Some buyers have reported problems with the functionality of the GMT hand, accuracy and the overall quality. So make sure you're 100% clear on their warranty policy. I've also shared the model with the leather strap. There is a version with a metal bracelet for $379. But I'm thinking since most of us are going to put it on a nylon band anyway, spending the extra eighty bucks doesn't make much sense.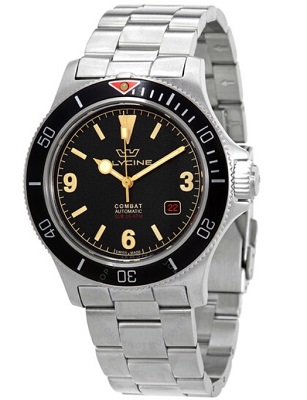 Not the same Glycine model GL0083 that once occupied a spot on this post. But, if you can overlook the Arabic numerals, this new version isn't a bad match for the retro-style of the 6538. And the design is a nice homage without being a direct copy of the original. This Swiss made watch features a 42mm stainless steel case with a 200m water resistance rating, a unidirectional stainless bezel with an aluminum insert and a scratch resistant sapphire crystal. The engine is the 25 jewel GL224 automatic movement. Glycine has been gathering a bit of a fan club, with many customers being very satisfied with the value the brand offers for the money. The GL0261 could be a solid choice if you're looking for more of an "inspired by" alternative.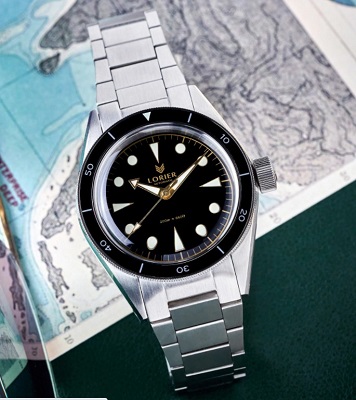 Another "inspired by" option. But, in my humble opinion, the Lorier does a great job of capturing all the right retro-style details while maintaining it's own identity. The influence of the Rolex 6538 can be clearly seen in the clean, coin edge bezel, domed Hesalite crystal and the lack of a date window and crown guards. However, the Omega-like arrow head hour hand and point indices give it a slightly sharper look. The movement is Miyota's tried and true 90S5 automatic and the 316L marine-grade stainless steel case is a comfortable-for-most 39mm. Have to say, the Neptune III is probably my favorite affordable option on the list. However, given the bracelet's link configuration at the lugs, swapping in a NATO strap may be a bit of a challenge. You can read reviews of the older Neptune II model here and here (the II used the Seiko NH35A automatic movement).
Under $1000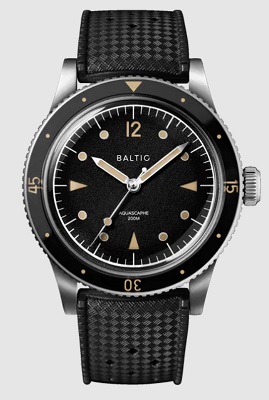 Micro-brand Baltic has been getting some very positive press over that last few years, both for its designs and the value for the price. The company builds its watches in France, using components sourced from Hong Kong, Italy and its home country. For the Aquascaphe, they've used the reliable Miyota 9039 automatic movement and a 39mm 316L stainless steel case with a domed sapphire glass crystal. The watch looks dead simple. But there are some subtle details, like the texturing on the dial and the sandwich-style triangle markers, that show Baltic has put some thought into its design. Hodinkee has a detailed review of the watch if you'd like to learn more.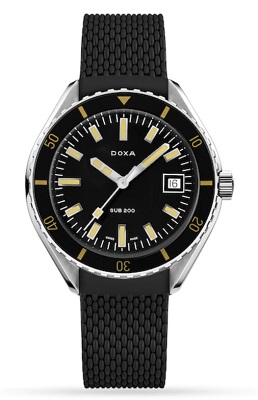 When we talk about the history of Swiss watch making, Doxa tends to get overshadowed by the more famous industry names. But the company, started in 1889 and now owned by the Jenny family, definitely deserves some of that spotlight. It's probably best known for its SUB dive watch, which was developed with Jacques-Yves Cousteau in the 1960s, and the fact that Dirk Pitt, the hero of series of popular adventure novels written by Clive Cussler, wore one.
The SUB 200 Sharkhunter has a different look than most of the Doxa models out there. But its aesthetics do make it a better match for Bond's watch. The simple bezel, lack of crown guards and those lumes with that vintage tint give it the right feel. Even with the stick indices and baton style hands. Doxa has used a 25 jewel Swiss automatic movement and housed it in a 42mm 316L stainless steel case with a domed sapphire crystal. Overall, the design is a nice blend of styles from two worthy heritage brands.
The Investment Pieces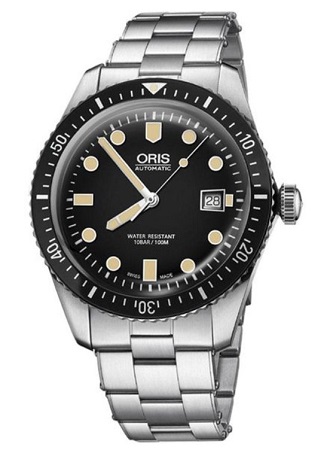 Oris is another well-respected brand that offers solid quality for the money. At 42mm, the Swiss made Divers Sixty-Five is on the larger size for the retro-style watch. But it should work well for you bigger guys. And the design includes most of the other style details we want, including the domed sapphire crystal. Oris uses their inhouse 26 jewels 733 automatic movement, which has a 38 hour power reserve, and the watch comes with a 3 year warranty. However, please note that it's only water resistance rated to 100m, so the dive watch looks are mainly for show. The best price I could find was from Authentic Watches, which has a 4.6 stars out 5 rating on Trustpilot and 4.9 on Shopper Approved. I'd still contact them first to get a feel for how they handle customer service before sending them my cash.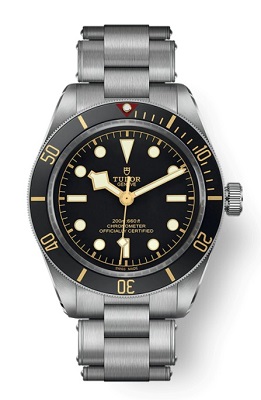 Many have asked me to include it. And so here it is. Coming from the Rolex sister brand, the Black Bay fully embraces the heritage design of the classic Submariner and comes very close to the same quality. How close? Well, there are plenty of articles out there that address that very question (I think this one from Bob's Watches does a good job of breaking it all down). What we can say for sure is that Tudor makes a hell of a great watch at a notably lower price than a comparable model from Rolex. I've linked to Jomashop above. But let's be honest: if you're about to drop this amount of money on a watch, you'll probably want to do your own research to find the best price from a dealer you trust. Check out the Tudor website to find out more.
That little extra …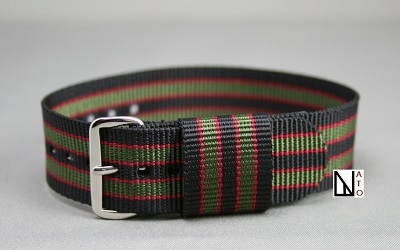 Many of you probably already know this. But the classic black, green and red Connery strap first appeared in From Russia with Love. And it was not a NATO! Judging by the name, I'm guessing Esprit NATO really wants to hammer home the point that they nailed the screen accurate style. It's available in 18mm, 20mm and 22mm widths.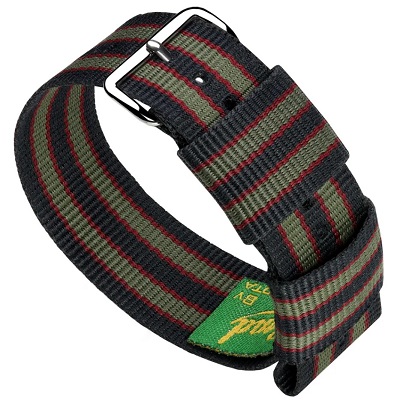 Another popular brand for NATO straps (their interpretation of the SPECTRE Omega strap had its fair share of fans). The Vintage Bond NATO uses two fabric keeper loops instead of the single one we see on the Esprit version and it only comes in 20mm and 22mm width. That could be a problem if you have a more smaller watch, so double check the width between those lugs. However, Geckota also offers the colorway in a more modern NATO strap design for $27.99, with more size options.
Next up, we'll be looking at alternatives for the Rolex references from the Moore and Dalton eras! In the meantime, if you have some suggestions for alternatives for the James Bond Rolex Submariner 6538, tell us about them in the comments! If you're interested in the most recent Bond watch, check out our post on the No Time To Die Omega. And remember to check out our Facebook Page, Instagram Account and Pinterest Boards for more James Bond style advice, inspiration and info.
Information about the James Bond Rolex Submariner 6538 and some images were sourced from articles written by Paul Altieri on Bob's Watches and Monochrome.