The James Bond Espadrilles
Updated May 19, 2021 – Well, I think it's safe to say that espadrilles are back in style in a big way! Which is a very good thing. In this post we're looking at the Thunderball James Bond espadrilles. But in general, the timeless design is one of the most comfortable pair of shoes you can wear in summer. Part slipper, part sandal, it's also incredibly versatile. In the traditional construction of cotton canvas and jupe, they're lightweight and breathable, with a sole that will mold to your foot over time. Basically perfect for wearing with shorts or more casual looks. Go with a more luxurious suede upper, and you have a dressier alternative to deck shoes or sneakers for a night out. And since almost all models come with a rubber sole, they'll give you some traction when you're heading from a slippery pool deck to the bar.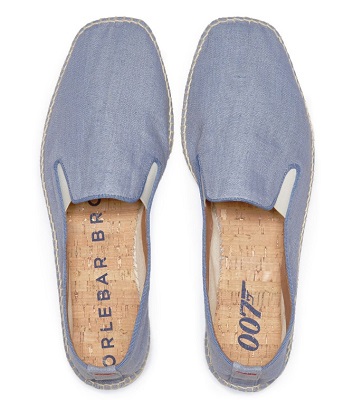 There are actually two styles of James Bond espadrilles from the film series. First, the pale blue pair he wore in Thunderball. Most of us know about those ones and it's the pair we'll focus on in this post. The second pair are Roger Moore's navy ones from For Your Eyes Only. They'll be the topic of a future post.
The Thunderball Pale Blue James Bond Espadrilles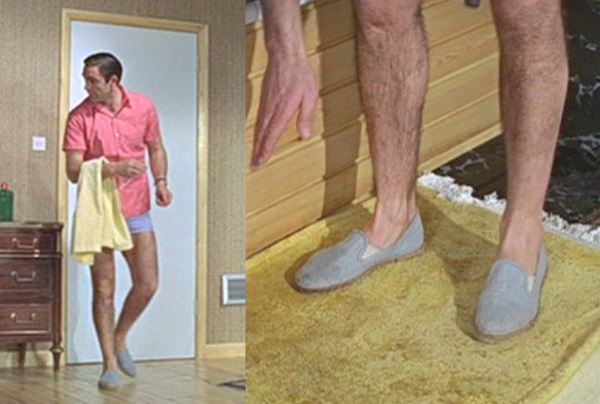 Sean Connery wore his espadrilles twice in Thunderball. First, during the hotel room scene when he listens to his secret tape recorder, sucker punches Felix in the gut, burns a bad guy in the shower and, finally, mixes some drinks. The second time is during his exciting car ride with Fiona Volpe. With their canvas uppers and jute soles, these espadrilles are a pretty classic design. But the white elastic gussets and the lack of a woven jute toe bumper do set them apart from the traditional style.
Best Options for the Thunderball Pale Blue James Bond Espadrilles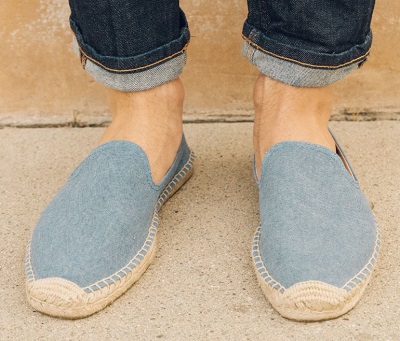 A classic design at a very reasonable price. Even though it's missing the elastic inserts, the color and overall style is a great match. I've had a pair of Soludos for four years now, worn them a ton, and only now is the jute weave starting to come apart. I would recommend getting your normal shoe size. They'll feel a little snug at first, but the 100% cotton upper will stretch. The Soludos website doesn't stock this color anymore. However you can still find a good range of sizes on East Dane (which I linked to above) and Amazon U.S. Unfortunately, I can't seem to find them on any retailer in the UK. But I'll keep hunting!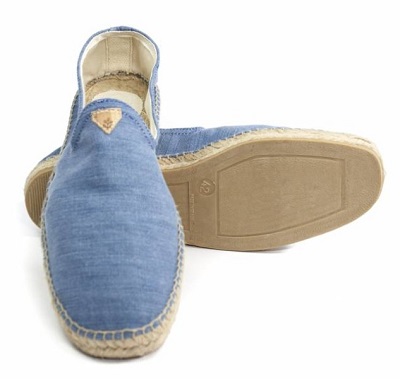 Could of easily been the only "Best Option" but it's a little tricky to track down sizes. These are a handcrafted in Spain with an organic cotton lined canvas upper, jute mid-soles and a natural rubber outsole. And they're pretty darn close to what Bond wore. So lots of bang for the buck. If you're a European size 43 or 44 (about a U.S. 10 or 10.5/11 and UK 9 or 9.5/10), then you're in luck. Just order them from Dress Inn (note: you'll get hit with a pretty hefty shipping charge). But if you need a different size, then you'll have to go to the Slowers website. There they have sizes 42 to 45 in stock and shipping will cost you about 10€ extra. I should also add that Slowers is a 100% vegan company, using no animal products in any of their shoes. They're also committed to sustainable material sourcing and local and ethical manufacturing practices. I get the feeling they're a small company focused on trying to do the right thing, which I absolutely support. But I also know from personal experience that shipping from Spain can be a bit of a hassle.
Under $50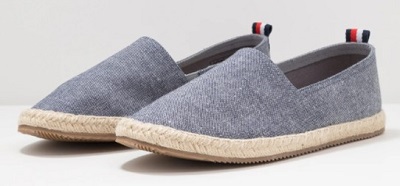 One that's only for those of you in the UK and the rest of Europe. These have a dead basic design, they're unlined and they're missing that jute toe bumper. Which makes them pretty screen accurate if you can get past the slightly darker color and red, white and blue ribbon at the heel. These are listed as being "unisex", so it can be a little confusing trying to guess your size if you use the UK sizing chart on Zalando ("Is a size 9 a women's 9? A men's 9??"). Better to switch to the Manufacturer Sizes and choose your European size, where they have 36 to 48 in stock.
A relatively inexpensive pair from Amazon that actually does a great job of capturing some of the key style details of Bond's espadrilles. The uppers are a cotton canvas with the elasticized side gussets we want. And the jute toe bumper is lower profile. Now the problem: they only have sizes 7 to 8.5 left on the Amazon U.S. site and sizes 7 and 10 on the UK site. So a great budget pick-up you're one of those sizes! The rest of us are out of luck.
If you're trying to keep the price below thirty bucks, you can also check out the Kentti Espadrilles in Blue for $23.99. The color isn't quite as close a match and the single gusset is on the top of the tongue. But they'll do a decent job if you're on a tight budget.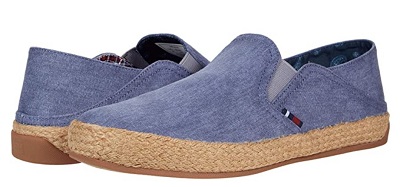 If you like the espadrilles look, but want something with more cushioning, these might not be a bad way to go. The jute part is actually a wrap that goes around the midsole. So it's probably glued on, which means you can expect it to separate from the upper at the flex points over time (think of the foxing on a pair of sneakers). The canvas uppers are also lined. But I do like the way they've made the heel a collapsible panel. That'll make it easier to slip them on and off to wear them like slippers. You'll find plenty of sizes over at 6pm. But also check them out on Amazon. Some of the sizes may go for less.
Under $100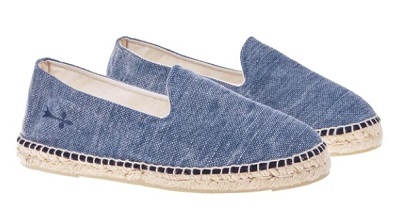 Once we cross that $50 threshold, we're starting to get into more "authentic" espadrilles. For example, these ones are designed in Milan and handmade in Spain from stone washed cotton canvas and natural jute and rubber. And they'll look amazing for a stroll around your resort. If espadrilles are a key part of your summer casual style, then these are a worthy investment. European sizes 40 to 47 are available on the Manebí website.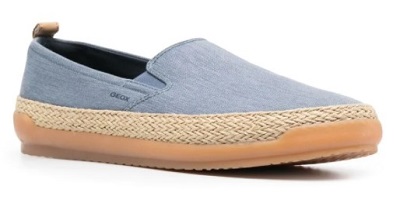 These are a significantly more technical design than a traditional espadrille. They uses Geox's Respira system, a patented technology that combines a moisture wicking footbed, a perforated sole and a waterproof and breathable membrane to keep your feet dry and comfortable. I've had some Geox chukkas and the quality of the materials and overall durability was pretty impressive. And, for what it's worth, my wife loves her shoes from the brand. If you need an espadrille style for days that include a lot of walking, these are the way to go. Dress Inn has U.S. whole sizes 7 to 12 in stock. You can also find them on Amazon. But the pricing jumps around based on the size.
The Investment Pair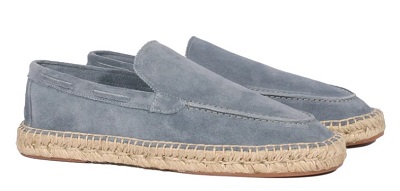 As some of you know, I lived in a pretty hot climate for 20 years. So footwear that was both stylish and comfortable in high temperatures was definitely a priority. Since I already owned a pair Soludos and another pair of very traditional espadrilles I picked up in Spain, I wanted a summer shoe in that classic style but with more of a "luxury" feel. And the Beachside Loafers from Aurélien fit that description perfectly. I'll have a full review of the shoes coming soon (I ended up choosing the snuff color rather than the blue shown above). So for now I'll just say: I love them. They're expensive to be sure. And they're not exactly what I'd call "screen accurate". But every time I put them on I'm reminded that it's worth investing in your feet. European sizes 40 to 45 are available on their website.
Have some great alternatives for the James Bond espadrilles? You can always share your finds in the comments below. And if you're interested in a Bond summer shoe style that's a little more "preppy", you can check out our post on Bond's No Time to Die Jamaica Style for alternatives for his deck shoes. Also remember to check out our Facebook page, Instagram account and Pinterest Boards for more James Bond and Steve McQueen style advice, inspiration and info on where to find the latest deals!