No Time To Die James Bond Jamaica Style
Updated April 30th, 2022 – When we first saw the set photos from Jamaica of Daniel Craig's James Bond in No Time To Die, it seemed like fans were a little torn. Some liked the former MI6 agent's casual look with the black shirt, grey jeans and sunglasses. Others felt it was it simply wasn't "Bond" enough, even if he was retired. Especially those boat shoes.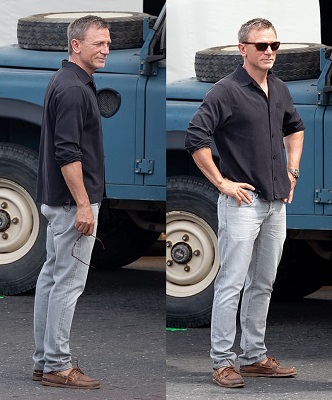 And then Eon dropped the sneak peek video and we got to see Bond in action for the first time in almost four years (with "Boom Shot Dis" as the soundtrack). Personally, after watching it, I felt like I understood what they were going for with Bond's look. And in that context, it worked for me. It also doesn't deviate much from the now established Craig Bond style ethos. It looks basic. But, as always, the devil is in the details.
With spring now here and summer quickly approaching, I thought this was a good time to re-visit Bond's Jamaica style for some warm weather wardrobe inspiration. So in this post we'll be looking at alternatives for the three key parts of the look: the black shirt, the jeans and the boat shoes. I'd also recommend checking out the new article from the excellent BAMF Style that provides plenty of details on the entire look!
The Shirt
It was some quick hunting by AJB007 Forum member TheExit128 back in 2019 that delivered the make and model of Bond's Jamaica shirt. He found the Tommy Bahama  Catalina Twill long sleeve shirt in black. The shirt is 100% silk and features a one-piece collar, pick stitching accents, a chest pocket, dark tonal buttons and a straight hem with notches at the side seams. The shirt retails for $115 and smaller sizes tend to sell out pretty quickly (because the fit is very big). But I definitely recommend checking the Tommy Bahama website regularly since XS, small and medium do get restocked every now and again.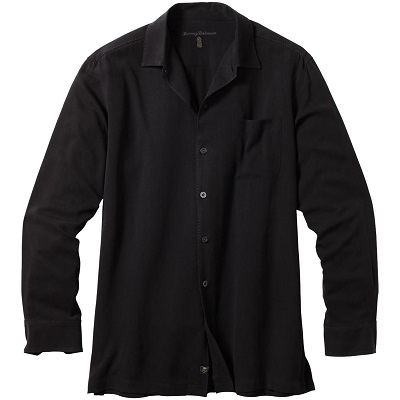 About the Alternatives
Before we start looking at the affordable alternatives, just a couple of things to keep in mind. First, that one-piece collar isn't an easy thing to find in off-the-rack shirts. So I've also searched for camp collar (or revere collar) options. The camp collar also typically one piece but normally does not button all the way to the top. However, given how Bond is wearing his shirt, that doesn't seem like a big sacrifice.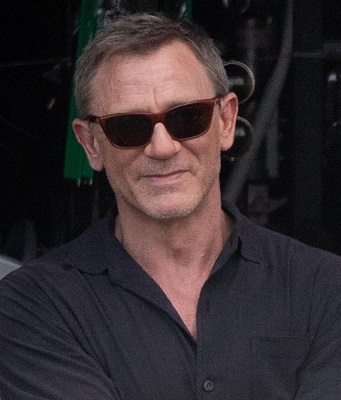 Second, alternatives with both the chest pocket AND the one piece collar in an appropriate fabric are rare. In this post, I decided to focus on options with a collar that comes close to the right look. Honestly, if you just want to go with a normal spread collar and a chest pocket there are plenty of altenatives out there. All right, let's go!
Under $50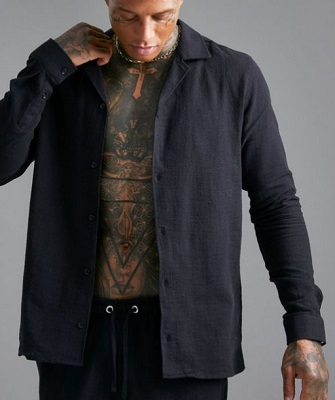 Look past our barechested friend's tats and focus on the shirt. That's actually a pretty darn good alternative at a ridiculously affordable price. It's missing the chest pocket and the pick stitching. But it does have a straight cut hem and the fabric has a slubby texture that adds some character. So what is the fabric? I have no idea. BoohooMan doesn't mention it on the product page. I'm guessing it's a pretty cheap synthetic considering the price. They have sizes XS to XL in stock.
Under $100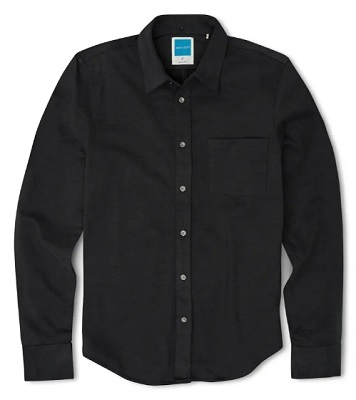 This is clearly more a classic shirt design. But the fabric is an interesting knit that differentiates it from the thousands of other basic black shirts out there. You'll find sizes XS to large at Nordstrom Rack. However, I've seen this one in-store and it's a small fit. So I would suggest sizing up.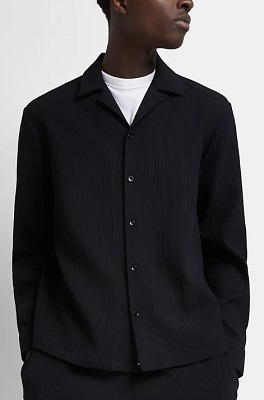 Call me crazy, but this one is speaking to me as an "inspired by" alternative. I like the styling details (camp collar with sharp reveres, shorter length and black buttons). But it's really the fabric that I'm digging. They've used a 94% polyester and 6% elastane material with a Plissé texture, a series of very narrow vertical folds that add depth and visual interest. It's sort of like a dressier version of seersucker. River Island has sizes small to XL on their website.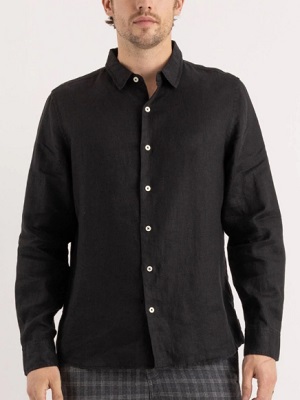 I wanted to include at least one linen option on the list since it's such a great hot weather fabric. This one from Banks Journal is missing some key style details. But it's a shorter cut so it will look good untucked (and save most of us a trip to the tailor). Sizes small to XXL are available on their website.
The Custom Option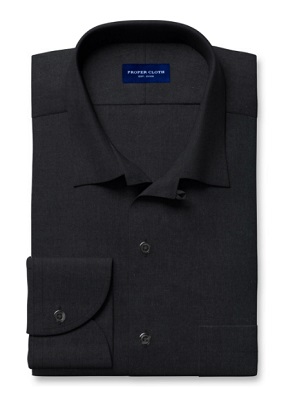 If none of the alternatives above catch your eye and the Tommy Bahama original isn't available in your size, this is an interesting option. Proper Cloth is a well respected maker of MTO shirts. And they're currently offering a very cool Japanese Washed Black Triple Gauze Weave fabric that's lightweight, breathable and has smooth, refined texture. In fact it might be even more comfortable to wear in hotter weather than the heavier silk of the screen used shirt. Using Proper Cloth's Custom Design feature, I chose a camp collar design with no placket, black buttons, a rounded chest pocket and a straight hem. It'll cost you ten bucks more than the Catalina. But you'll also be getting a shirt made to your specifications.
Also Try
The Jeans
Thanks to AJB007 members TroyIkeda and TheExit148, we also discovered the jeans Bond's wearing. They're a pair from Tom Ford in a light grey selvedge denim (to learn more about selvedge, check out this post). Near as I can tell, they originally retailed for about $600. And there's still an ongoing argument about whether they're the straight fit or the slim fit cut. In any event, that exact model is completely sold out now.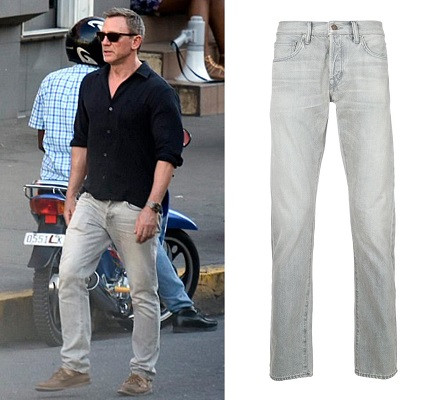 Tom Ford is offering the Straight Fit Japanese Selvedge Jeans this season for $760. Unfortunately it looks like they are much darker grey than we want. There's is a lonely pair of size 36 Tom Ford Slim Fits in a lighter grey at Bergdorf Goodman for $720.00 just in case your interested and that happens to be your size.
Of course, if you don't feel like spending north of $700 on a pair of jeans, there are always alternatives! Let's take a look at those, shall we?
Under $100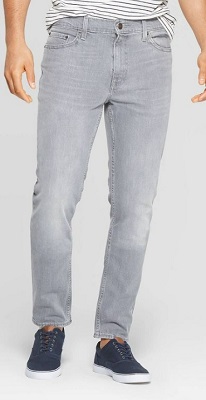 If you're just looking for a pair of grey jeans to wear once and while, these could be the best deal on the list. Part of Target's house brand collection, they've used a 98% cotton, 2% elastane denim in a shade of grey that comes pretty darn close to Bond's jeans. And although they're only offering them in a Slim Fit this season, they do have plenty of sizes in regular and Big and Tall fits. If you'd like some denim in an even lighter shade of grey, check out these Goodfellow & Co Slim Fit Jeans for $32.99. The fabric is also 98% cotton and 2% elastane. But the fade effects and distressing isn't as noticeable.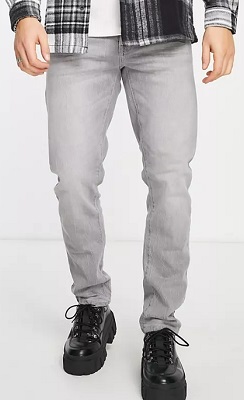 The color is just a hair darker than Bond's jeans. But I do like the way Topman has handled the fade effects. They're not overdone and look pretty natural. ASOS also has another pair of light grey jeans from Topman on sale for $56.00/£30.00. And I honestly don't what the difference is between the two models. But there are plenty of sizes left in both options.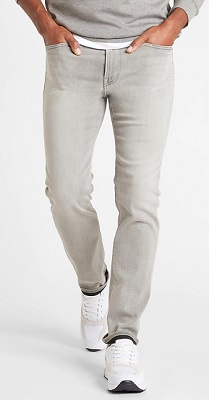 Those look like they'll do nicely for the price! They're a good shade of grey, the fabric has some stretch and the discount makes them affordable for most of us. Only two things to add. First, based on the model photos, the Slim Straight looks damn slim. So they may not work for those of you with bigger thighs. And second, sizing is sort of all over the place. Matching your correct waist size with your correct inseam could be a bit of a challenge.
Under $200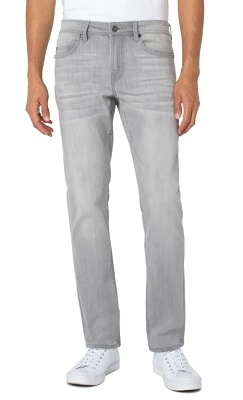 "Temperature regulating denim" sounds like something we'd want to wear in a tropical climate. Liverpool has added 20% Coolmax polyester to the regular cotton and spandex blend to give these jeans some moisturing wicking properties that keep you dry and comfortable when the temperature climbs. Other than that, the color looks to be close to what we want, they have a bit of distressing for character and the modern straight leg fit should work for guys with bigger legs. Nordstrom still has a good selection of sizes in stock.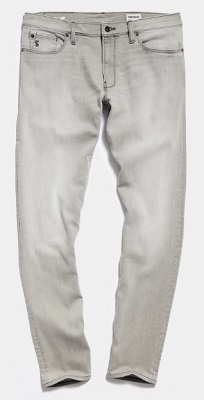 Another pair designed for warmer weather. Todd Snyder has used a 85% cotton, 13.5% polyester and 1.5% elastane blend fabric that's lightweight and has some stretch for comfort. I'll also say that the brand knows how to nail the fit. And they usually deliver the quality (as evidenced by 4.8 stars out of 5 after 54 customer reviews). You'll find lots of size options on their website.
Also Try
The Boat Shoes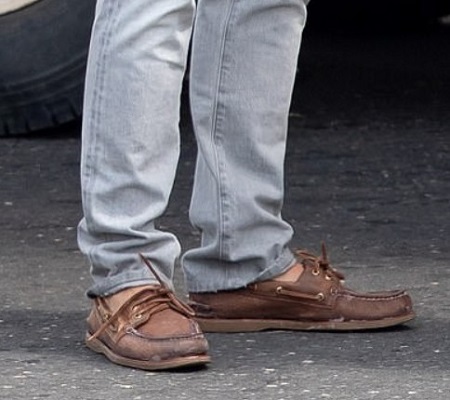 Credit to AJB007 Forum member Bond-Ambitions for id'ing these (with a prompt from drum007). They're the Sperry Gold Cup Authentic Original Rivingston Boat Shoe in Tan, which retailed for $159.95 on the Sperry website. The Rivingstons were a little different than your traditional boat shoe. The uppers were a combination of leathers, with the main body having a sort of pebble grain while the leather around the collar and eyelets was smooth. They also had a gum sole instead of the traditional white. Unfortunately, this model is now sold out. But if you do ever manage to get your hands on a new pair, I'll leave it to you to beat the hell outta 'em so they look like you've been wearing them for years.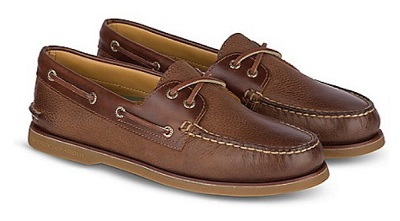 As for alternatives, I couldn't find any that had that exact same make-up of leather and sole color. But there are a few that come close.
Under $100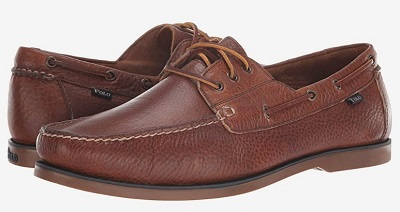 Going with a full pebble grain leather is definitely a way to let your boat shoes stand out while capturing some of that Rivingston spirit. And the use of the mid-brown rubber sole certainly helps. As for the three eyelet design: I actually like it. Again, it adds something different to the look without veering to far from the traditional style. Zappos has a good selection of sizes in stock. But if they're missing the one you need, you can also try Macy's, where the Bienne is on sale for the same price.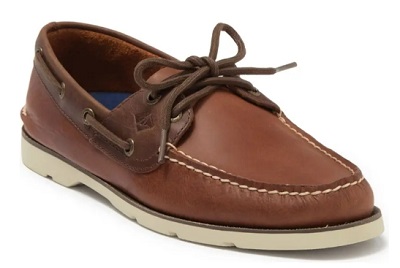 It does have the two tone leather uppers. But the laces are fabric instead of leather and the off-white sole has lugs. If you're more interested in getting a more screen accurate beige sole rather than a matching upper, this model also comes in Tan for the same sale price. Whatever you decide, Nordstrom Rack has a good selection of sizes for both.
Under $200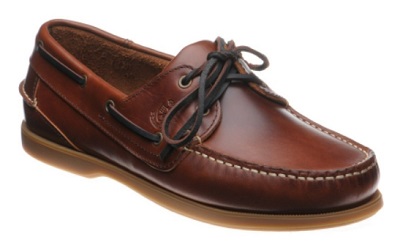 A more polished leather upper gives this option a slightly dressier look. And the build quality looks solid as well. A good choice if you're looking something you can wear from the dock to a nice casual restaurant on the water. Herring has EU sizes 40 to 43 in stock, with larger sizes available in June.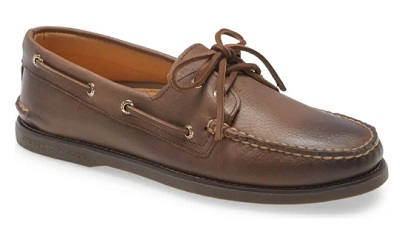 These ones are from Sperry's Gold Cup line (same as the ones Bond wore). And since they're about $70 more expensive than your standard Sperrys, it's fair to ask what the extra money buys us. For starters, they use a full grain leather for the uppers and finish them with a lambskin lining. You can also expect more comfort from the Ortholite cushioned insole. So if you're planning on walking around in them all day, the jump up in price may be worth it.
Also Try
Bonus: The Sunglasses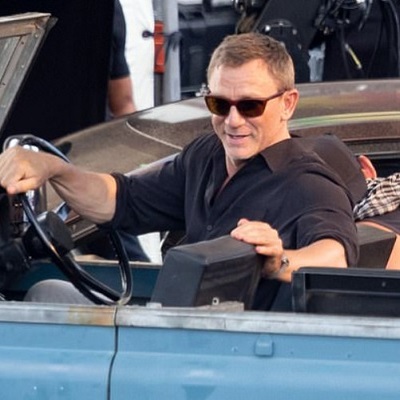 AJB007 Forum member richmenstoys identified Bond's Jamaica shades pretty quickly. They're the Vuarnet Legend Model 06 in Brown. And the good news is you can still get them on the Vuarnet website for $250!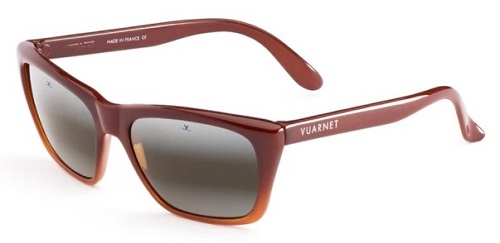 Although it looks like a simple design, the modified wayfarer style of the 06 is actually pretty unique. So finding an exact match is almost impossible. I'll also add that I'm a big believer in investing to protect your eyes. And Vuarnet makes some killer sunglasses. In this case, it may be worth it to pay for the originals. But if that's just not realistic, we've come up with a few alternatives that will provide good protection at a more affordable price.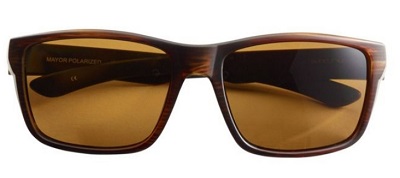 A slightly squarer shaped frame with what I think looks like a subtle wood grain pattern. And the lenses are a polarized brown. But Suncloud has a reputation for delivering more than you'd think based on the price. So if you're on a tighter budget but still want solid quality eyewear, I think this are worth a shot.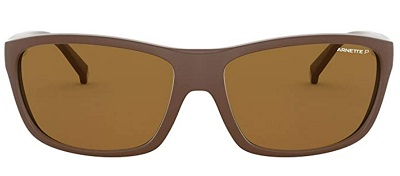 When it comes to capturing the style of the 06 model, I actually think these do the best job of the bunch. The front of the frame has more curvature than the 06, which gives them a bit of a wrap around look. And they're big, with a 63mm wide X 42mm high lense size. Just my personal opinion, but if you're a bigger guy (or just have a larger head) I think you should give this a look.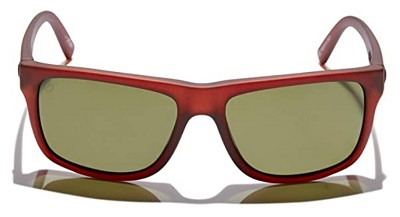 Again we're getting a squarer frame, so it doesn't quite capture the elegant angles and curves of the 06. But the Cola brown color of the Swingarms, combined with the grey polarized lense, gives a very similar look and plenty of good eye protection. Plus they're made in Italy and come with a Lifetime warranty. I've linked to Backcountry above. And you can also get them on Amazon for the same price.
Have some suggestions for great alternatives to get that No Time To Die James Bond Jamaica style? Let us know all about them in the comments! And remember to check out our Facebook page, our NEW Instagram account and Pinterest Boards for more James Bond style advice and inspiration!
Set photos for Bond 25 were sourced from The Daily Mail with photo credits to Splash News.