A Guide to Selvedge Denim Jeans for Beginners
If we can say one thing with any certainty, it's this: Daniel Craig likes his denim. He's regularly been seen wearing jeans from Rag & Bone, Scotch & Soda, Levi's, Frame, Adriano Goldschmied and Brunello Cucinelli. In particular, he seems to favor a specific type of denim called selvedge. And thus our Guide to Selvedge Denim Jeans for Beginners.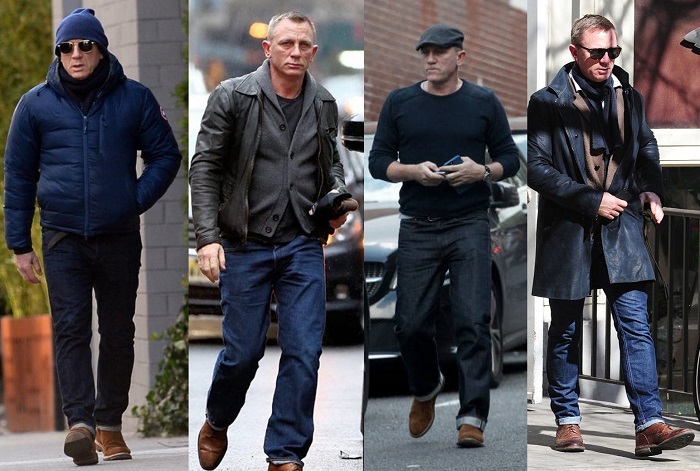 The history of selvedge denim is pretty interesting, but is a little beyond the scope of this article. If you would like to learn more about it and it's place in jean culture, check out this article from Heddels. We'll get into the characteristics of selvedge and what makes it special down below.
Our Guide to Selvedge Denim Jeans for Beginners: Terminology
Before we start digging into options for selvedge jeans, it's helpful to know some terminology to better understand what we're buying. So, let's review a few common terms used when describing jeans.
Sanforized vs. Unsanforized
Sanforization is a process done at the denim mills (the companies that supply the fabric to the jean manufacturers). During sanforization, the denim is fed into a machine that basically pre-shrinks the fabric through the application of heat, pressure and stretching. You can read more about the process here. The majority of the denim out there has been sanforized by the mills. To get unsanforized denim, companies usually must make a special request to the mill, which helps explain its higher cost.
So, aside from availability and price, why do most big jean manufacturers today favor sanforized denim? It comes down to predictability. Jeans made from unsanforized fabric can shrink as much as 10%. Jeans made from sanforized denim usually shrink somewhere in the 1% to 3% range (depending on other treatments done by the jean manufacturers). Unless the jean manufacturer specifically states otherwise, it's always safe to assume the denim is sanforized.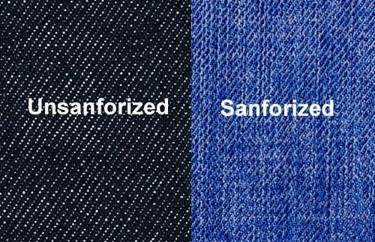 Raw vs. Washed Denim
Okay, this is where the confusion usually starts. "Raw" is NOT the same as "unsanforized". The term "raw" usually refers to the state of the denim when it's received by the jean manufacturers. In other words, most companies start with bolts of raw, sanforized fabric from their suppliers. If the jeans are made with denim straight from the bolt and they don't undergo any additional treatments, they are normally referred to as "raw denim jeans". But most manufacturers are going to wash the denim to soften it and treat it for different finishes and effects to create jeans that already have a "broken in" appearance.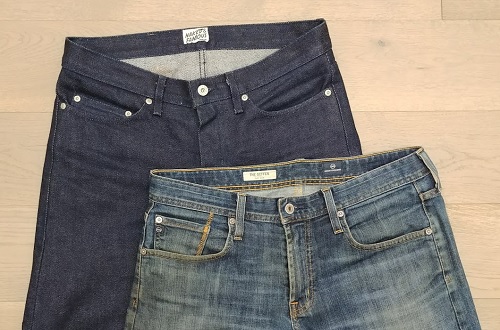 Denim in its purest form would be unsanforized and raw, which is also called "loomstate" fabric. Loomstate denim has basically been woven into a fabric and … that's it. Because the denim is in its most natural state, you can expect raw unsanforized jeans to be very stiff and dark in color when they're new. And the dye will bleed (so try to avoid sitting on any light-colored furniture). They'll also shrink up to 10% with their first washing. So getting the sizing right when you buy them is very important. You normally have to go up at least a size or two from your regular waist size with unsanforized denim.
Weight
The weight of the denim is determined by how much one square yard of the fabric weighs in ounces. Lightweight denim is usually 12 Oz. or less. Midweight is usually between 13 Oz. and 16 Oz. Most denim enthusiasts consider any denim above 16 Oz. to be heavyweight. You can also get super heavyweight denim, which can go as high as 32 Oz. a square yard. For most of us, denim in the 11 Oz. to 13 Oz. range will be the most versatile and comfortable.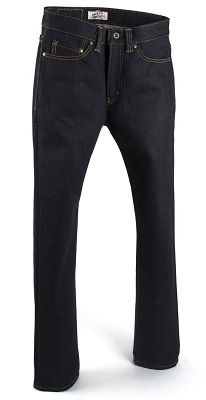 Selvedge Denim
Selvedge is all about how the denim is woven. Most mass-produced denim is woven on industrial projectile looms. This leaves the edges of the fabric unfinished. Selvedge denim is made on a traditional shuttle loom, which allows the fabric edge to be finished with a tightly woven strip that helps prevent fraying. That strip (it's usually white with a red line running through it) is the hallmark of selvedge denim.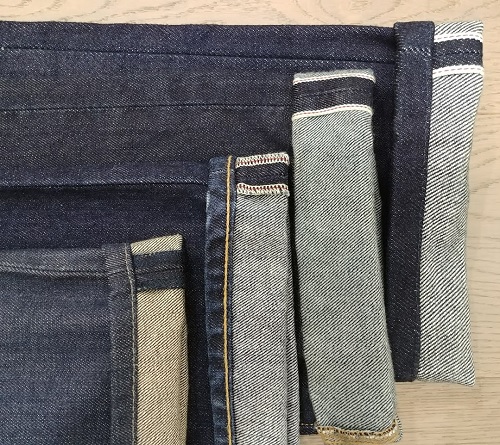 A few points to clarify about selvedge denim. First, while selvedge is usually higher quality denim, fabric made with industrial projectile looms can also be very good. It just won't have that distinctive finished edge. Second, without seeing the edge, it's almost impossible to tell high-quality raw selvedge denim and high quality raw "regular" denim apart. Third, selvedge is NOT the same as "raw". "Selvedge" is about how the denim fabric was woven. "Raw" is about how the woven denim fabric was treated and processed. Yes, many companies produce "raw selvedge" jeans. But you can also find pre-washed and pre-distressed selvedge out there. As well as raw regular denim.
What does it all mean?
Yeah, all this terminology can be confusing. So let's put together some examples of jeans using the different denim characteristics to see what we'd get.
Unsanforized Raw Heavyweight Selvedge Denim
Let's just call these "project jeans". When they're new, they're going to be dark and stiff as hell. Like "stand up on their own" stiff. You're going to need to go through a process of soaking them at the start so they shrink to fit your body. Even after that, it'll feel like you've got PVC pipes on your legs for the first dozen or so wears. Oh, and the dye is going to rub off on everything it touches.
So why would anyone choose this denim combo? Two main reasons: fit and fades. The high shrinkage rate means the jeans will completely conform to your lower body (assuming you sized them correctly when you bought them!). And unsanforized raw denim is basically a blank canvas. So the deep fades that develop over time (and denim enthusiasts lust over) will be uniquely yours. It's just going to take patience and a certain amount of discomfort to get there.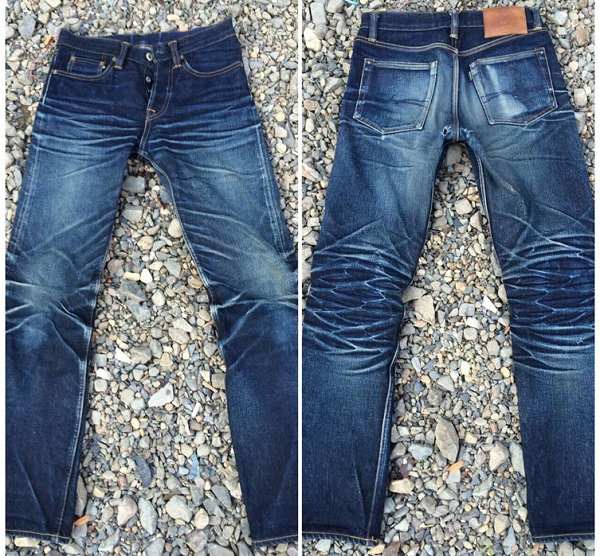 Sanforized Raw Midweight Selvedge Denim
If you're looking at getting into the raw selvedge game, this is a great combo to start with. The jeans will still have about 3% shrinkage, so the fit should customize to your body a little. The mid-weight denim will be stiff but should break-in faster and with less discomfort. And the dark, raw fabric will develop the fades you want. Plus, these types of jeans are common at a variety of price levels.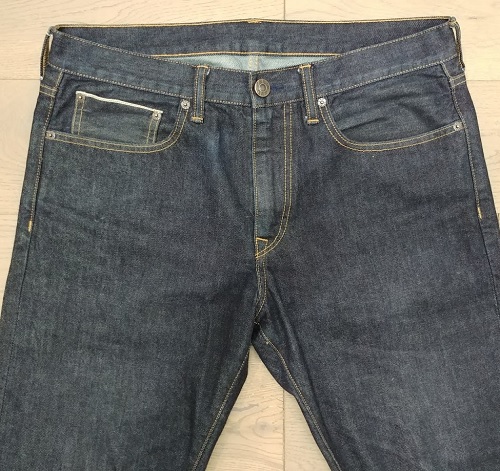 Washed Lightweight Selvedge Denim
If you want that cool selvedge strip when you cuff your jeans but can't be bothered with the whole "these fades are MINE!" thing, then this is a good combo. Pre-washing the jeans makes them much softer, so break-in time will be minimal. And most manufacturers going this route try to distress the denim so the "faux fades" look natural. There should also be minimal shrinkage. Which means general care and washing of your jeans will be much easier.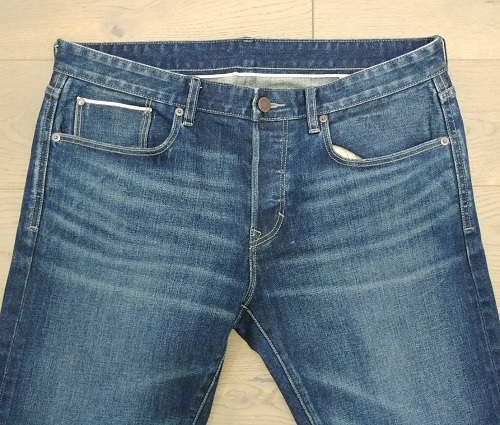 Unsanforized Raw Leightweight Regular Denim
If a custom fit and decent fades are more important to you than that selvedge strip, then this combo is worth a try. The most common jeans of this type on the market are Levi's famous 12.5 Oz. "Shrink to Fit" 501s. Usually priced under $50 on Amazon, they're definitely affordable.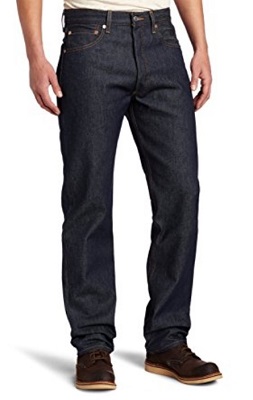 Washed Lightweight Regular Denim
99% of the jeans on the market fall into this category. Just don't think that all of them are created equal. Prices can range from $15 Wal-mart specials to $600 Brionis.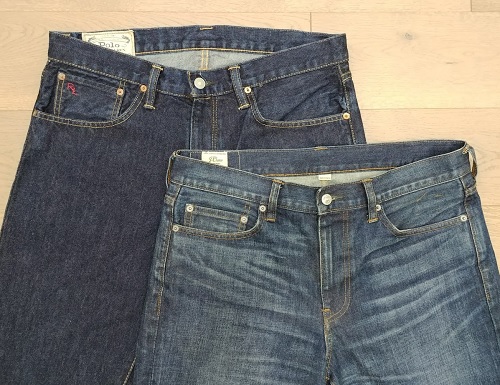 Choosing Your Selvedge Jeans
As I said earlier, there are a lot of options out there at various price points. The first thing to consider is fit. Since that's so personal, I can't get too specific about it. But, in general, I would suggest sticking with designs in a slim-straight or slightly tapered cut. It's relatively timeless and works well dressed down or dressed up.
After fit, it really comes down to your priorities. Does "Made in the USA" matter to you? How about the quality of the stitching and hardware? Do you want little details, like the selvedge band showing on the coin pocket? Or do you prefer them to be as clean and simple as possible? How about a zip fly or a button fly? I can tell you from experience: brand new, raw, mid- or heavyweight selvedge jeans with a button fly are not what you want to wear when you go out drinking with the boys!
To keep things simple, I'm going to focus on sanforized raw mid-weight selvedge denim options in this article.
Best Options for Sanforized Raw Selvedge Denim
Before we get into the options, just a note to those serious denim enthusiasts out there. I'm trying to keep our choices under $200 and suitable for people that may be relatively new to the raw selvedge denim game. So please don't expect to see brands like Iron Heart, Big John, Samurai, or Raleigh Denim Workshop below. Don't get me wrong. They all make some excellent jeans. But most are going to be overkill and/or too expensive for someone that's just getting started. Now on to the denim!
Under $100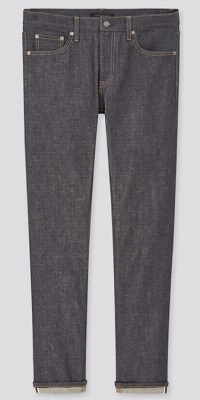 Yep! You can get into the selvedge game for about the same price as run-of-the-mill Levi's. With a bit of cheating. These are NOT raw. They are 12.5 Oz., 98% cotton/2% spandex (for a bit of stretch) selvedge in a darker rinse form the famous Japanese Kaihara Mill. In other words, you're getting good quality denim, but don't expect any serious fades. Still, if you want to cuff your jeans and show off the white band, these will let you do it on the cheap.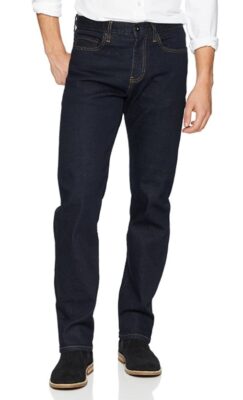 If you're looking for a low-cost pair of selvedge and the slim fit from Uniqlo just isn't going to work for your body type, these ones from Amazon house brand Goodthreads might be worth a look. Aside from the straight fit above, they're also available in a Skinny Fit ($50.00/£48.00), Slim Fit ($50.90/£43.90) and Athletic Fit ($50.90/£43.99). No word on the product pages on where the jeans are made or the denim weight, but the customer reviews mention "India" and "about 10 to 12oz". The fabric is a 98% cotton, 2% elastane so expect a nice bit of stretch. Unfortunately that dark wash is only available on Amazon U.S. In they UK, they only seem to stock the pre-distressed, lighter washes which may be a deal breaker for some of you.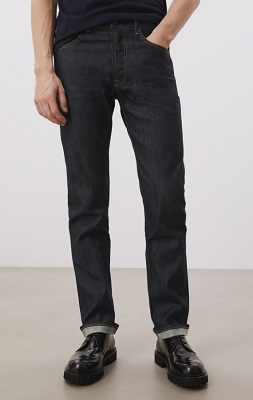 Marks & Spencer has also gone with a 98% cotton, 2% elastane Japanese denim for their jeans. But no mention of the actual fabric weight. What is interesting is the customer review comments. Even though these are labelled as a "slim fit", most buyers felt that the cut was too loose and baggy. Normally that would be a bad thing. But for guys with thicker legs who are sick of squeezing into all those skinny fits out there, these might be worth a shot. Less comforting are the comments about the sizing inconsistencies. So just make sure you do a bit of research before ordering.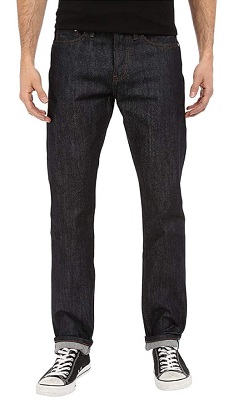 At 14.5 Oz., these are drifting into the heavier end of the "mid-weight" denim category. But that shouldn't be a problem for most of us. Unbranded focuses on making no-fuss, no-gimmick jeans, so expect these to be clean and simple. They feature a button fly, hidden rivets and a heavy leather patch. That's about it for details. Unbranded jeans are made in Macau, just in case that's a concern. I have a pair of 21 Oz. Unbranded jeans. While the Japanese denim is very good quality, the stitching isn't what I'd call top-of-the-line. I've linked to Amazon above, but you can also order them directly from the Unbranded website for the same price.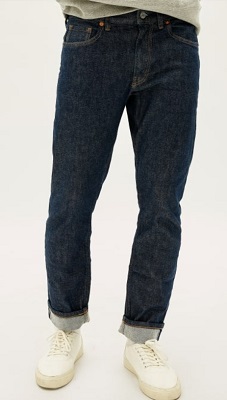 Despite Everlane's popularity with women, it's men's line can sometimes get overlooked. But I've found that they're worth checking out when you need some basics. Like jeans for example. Their take on classic denim is made from a 12.5oz 98% cotton, 2% elastane selvedge from the Candiani Mill in Italy. They've given the jeans a wash to soften them up. So they're not raw. But there should still be enough dye left to get some fades.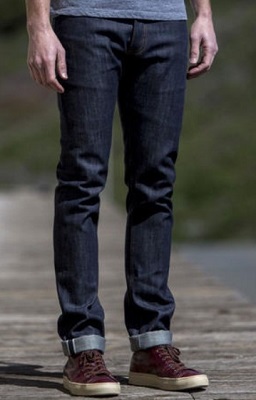 Gustin works on a different business model than most retailers. It's more of a crowd funded thing. At any given time, Gustin will offer various models and wait until they're funded before putting them into production. While this can create longer wait times, it does give buyers some great jean options at very affordable prices. For example, the #219 Cone Pima model above is made from raw 12oz selvedge from the iconic (and now closed) U.S. Cone Mills White Oak plant The jeans are manufactured in California, and they come in Straight, Slim and Skinny Fits. They're also only $89.00. The catch? You need to "buy before you buy" to fund the launch and you won't get the jeans until June.
Under $200.00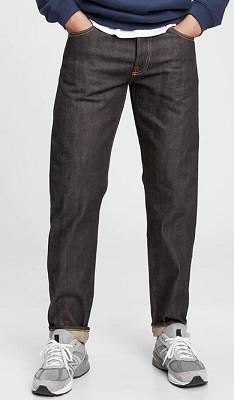 Gap is still a good source for menswear basics. These jeans are no exception. They've used a 13.75 Oz. Japanese Kaihara 100% cotton selvedge denim and left it raw. So you can expect to get some good fades and a slightly higher amount of shrinking. The Straight cut is roomier through the seat and thighs, which should work well for bigger guys. And they have lots of sizes in stock. They're made in China, but the quality of the Gap selvedge jeans I have is just fine for daily beaters.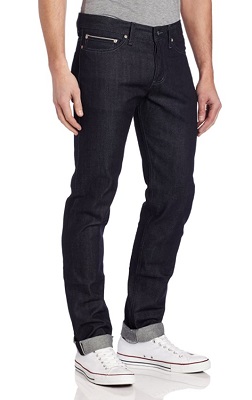 Canadian Brand Naked & Famous is known for creating some truly unique denim. At one time they even offered "scratch and sniff" and glow-in-the-dark jeans. But they also make excellent staple styles. They've gone with a mid-weight 13 Oz. rope dyed (that's a good thing) Japanese selvedge denim for this pair. And made them in Canada. Naked & Famous also offers six different fits. I've linked to the Weird Guy cut, which is a slim fit with a taper from the knee down. But there are plenty of other fit options in similar denims that should work for almost any body type. The link above goes to Amazon. But you'll find plenty of other fits and sizes on the Tate+Yoko website.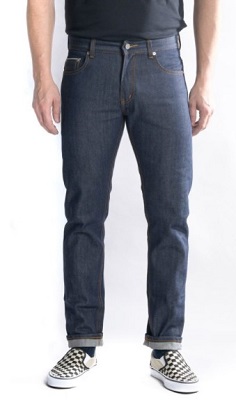 If you're ready to commit to this whole selvedge thing, why not start with a pair that's custom made for you? I completely understand that "made-to-measure" can be a little intimidating. But SoSo makes it easy by starting you off with templates in standard sizes. The easiest thing to do is take the measurements of your favorite jeans and then make the necessary tweaks (if you even need to) on SoSo's website form. Once you have the sizing dialed in, you can start playing around with thread colors, button styles, back patches, even the colors used in the selvedge edge. You can add or change pretty much anything you want (although some modifications cost extra).
The company is based in Sweden. But the jeans are made in Bangkok Thailand, where one of the senior partners oversees production. Thailand's actually home to some excellent jean makers. So don't let where they're made put you off. I have a pair of SoSo jeans and I find the quality of the denim and finishing to be excellent.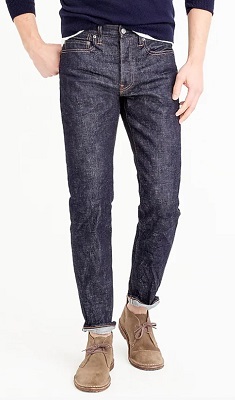 J.Crew has used a 13.75 Oz. Japanese selvedge denim from the famous Kaihara mill for their 770s. Although the name says "Straight-fit", they do have a bit of a taper below knee. I also have a pair of 770s in my closet (just regular Kaihara denim, not selvedge). And I have to say, I really love the fit for my body type. If your on the leaner side, I'd suggest giving these a look. And, as with GAP, it's always wise to keep a watch on sales at J.Crew.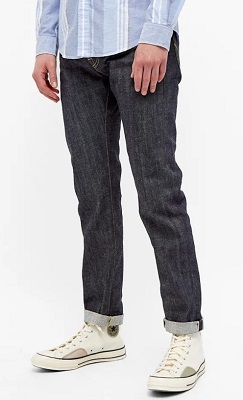 Edwin is one of the more under-the-radar Japanese denim brands, even though they've been in operation since 1947 and have played a direct role in developing revolutionary fabric treatments like stone-washing. The ED-55 is their most popular cut. It has a more relaxed top block with a nice taper below the knee which works well for a variety of body shapes. For the fabric, they've used their 12.8oz 100% cotton Yoshiko selvedge and left it raw. So you can expect a little shrinkage and (with some work) decent fades over time. With so many Japanese denim brands now pricing their jeans at $200 and up, Edwin offers great value for money if you want to get serious about selvedge. If you prefer a slimmer fit, check out their ED-88 model for $140.00.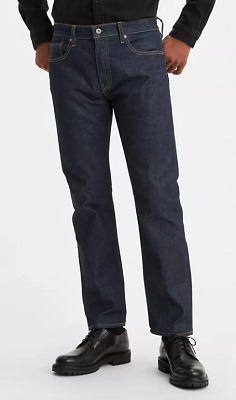 We can't have a post about jeans without some Levi's. And I gotta say, I really like their current 502 cut. The top block is basically the same as the 501, with a higher rise and a roomier fit through the seat and thighs. But it adds a taper below the knee that gives the jeans a more contemporary, tailored look. The denim is a 98% cotton/2% elastane blend from the Kaihara Mill and the jeans are made in Japan for Levi's premium Made & Crafted line.
Have any questions or suggestions about our Guide to Selvedge Denim Jeans for Beginners? Let us know in the comments! And check out our Facebook page, Instagram account, Twitter account and Pinterest Boards for more James Bond style advice and inspiration!