4 Ways to Wear the No Time To Die Grey Jeans
At Iconic Alternatives, we try to focus on affordable clothing that will help us get the Bond style we want without emptying our wallets. So it doesn't make a whole lot of financial sense to invest in a piece and then only use it with one "screen accurate" look. Versatility is the name of the game. That's where our "4 Ways to Wear It" series comes in. We take one piece of iconic Bond clothing and combine it with other affordable 007 inspired alternatives to extend our wardrobe and get the most bang for our buck. In this post we look at the No Time To Die grey jeans.
The No Time To Die Grey Jeans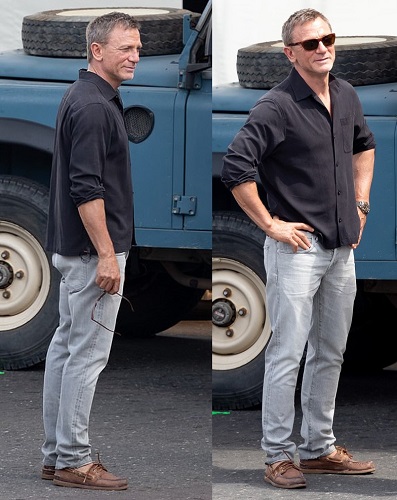 We recently published our post on alternatives for Bond's complete Jamaica look from the film. So just to bring us up to speed: the jeans he's wearing come from Tom Ford and are made from a distressed selvedge denim in a light grey color (K01). Personally (as I've said before), I like the look for a retired secret agent enjoying a relaxed life in the tropics. I think it's a very accessible outfit that stays true to the previous "off-duty looks" of Craig's Bond. And it's one almost any of us can pull off for the summer ahead.
But now that you've got a pair of pale grey jeans in your closet, what else can you do with them besides copying Bond's style?
To start, it's important to note that light grey is a neutral color, but it tends to fall on the cooler side of the spectrum. So other cool colors, like shades and tones of blue, tend to work best with it. If you do want to use a warmer color, say a brown or green, your best bet is to go with a more muted or washed out shade to keep the look cohesive.
Yes, it would be easy to just stick with navy, white and pale blue for our fits with grey jeans. And there are plenty of Bond inspired articles of clothing in those colors to choose from. But hey! Summer's coming! We all want to add at least a little extra color to liven things up. And so that's what we've tried to do with the looks below. For the jeans in each outfit we've used the Gap Factory Slim Fit Jeans in Gray Mist. They come close to the look of the Tom Fords and they're almost always on sale for under $30.
The No Time To Die Jamaica Look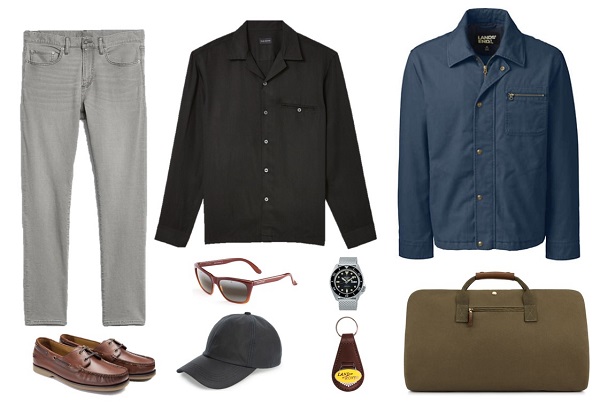 Options:
Notes:
If you've already read our dedicated post on Bond's Jamaica style, there's not much more to add here. We've already covered most of the alternatives we used above in other articles. And, to my eyes at least, each does a good job of capturing the style of the original. I'll just add a "Thank You!" to The Bond Experience for id'ing the Bennett Winch Holdall that Bond uses in the film. Great catch!
In the Jungle, the Mighty Jungle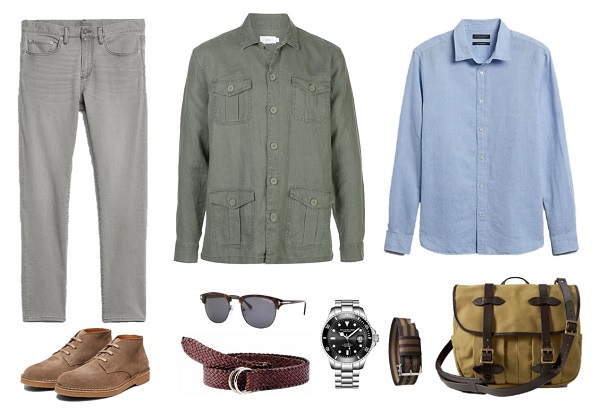 Options:
Notes: 
This is a pretty good example of how to mix a warmer color like green with the cool pale grey. The lighter, more "washed out" olive is muted enough to keep the top half from overwhelming the bottom. But there's still enough contrast to keep the whole outfit from looking monochrome. It's pretty easy to drift into cosplay territory with a safari jacket (one guy told me he feels like a photographer for National Geographic when he wears one). However, I have that Onia jacket and really like it. It's relatively light weight and relaxed. And the tonal buttons help keep the style more subdued. Wear it open and keep the shirt tucked in to show off the belt and people won't think you're trying out to be an extra in Out of Africa.
Speaking of belts, this is probably a good time to address the whole "matching leathers" guideline. Wearing suede shoes or boots does not mean you need to wear a suede belt. Personally, I like using a belt that has some texture to it instead, like that plaited O-ring one. It's more about matching the levels of visual interest between the footwear and the belt than matching the materials.
Double Denim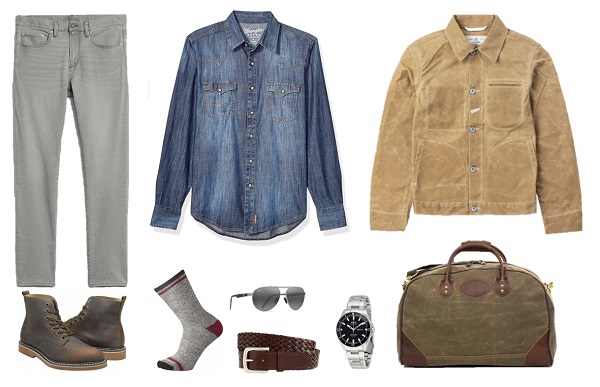 Options:
Notes:
We've all seen Craig pull off the double denim look, usually with a trucker jacket. But it can still be tricky. Layering indigo on top of indigo pretty much screams "Cowboy!" So this is a great opportunity to bring the pale grey jeans into the mix. The broken-in fabric and Western styling of the shirt and pants work together, which makes the outfit look cohesive. But the contrast in colors keeps you from looking like you're heading out to round up the cattle.
This is also a chance to use some of your other "work wear" style Bond pieces. The boots above are inspired by McQueen. But the J.Crew Kentons would work just as well. The SPECTRE inspired belt is rugged enough to hold its own against all that denim. And the Rogue Territory Supply Jacket is a no brainer here.
A Day at the Track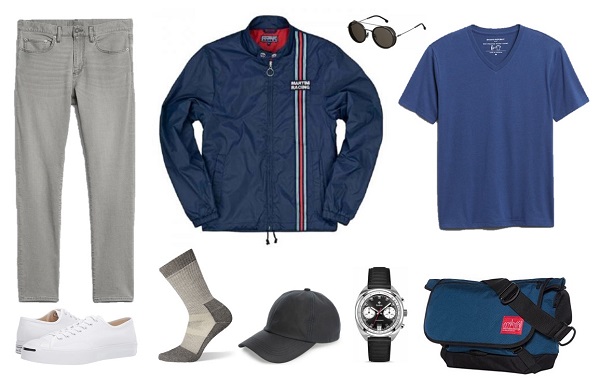 Options:
Notes:
We always like to include a "sporty" look in these posts. And this one is obviously inspired by Daniel Craig's day out at the 2019 British Grand Prix. By focusing on coordinating the pieces of the top half and sticking to the same complimentary color family, we can treat the grey of the jeans as a true neutral. Especially if we stick with something basic for the footwear, like classic white Jack Purcells. There's still enough contrast between the cobalt blue of the tee and the darker navy of the jacket to maintain visual interest. But both shades are on the cooler side of the color spectrum so they work well together. The racing stripe on the jacket adds that extra pop to keep things from looking too monotone.
For those cooler evenings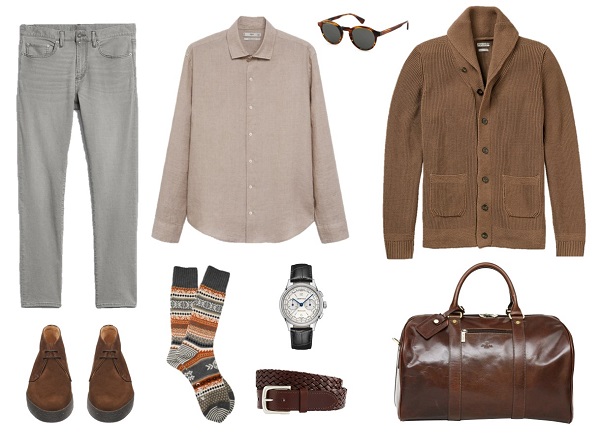 Options:
Notes:
We wanted to include one outfit that really shows how you can mix a warmer color like brown with a cooler color like pale grey. At the start of the post, we mentioned that the best strategy is stick with more muted shades and tones of the warmer color. Which is what we've done here. The sand beige of the shirt and the dark camel brown of the cardigan are almost neutrals themselves. So the contrast between "warm" and "cool" in this look isn't dramatic. It also helps to anchor the top half to the bottom with the warm snuff suede of the chukkas. Honestly, this is probably more of a Fall look. But that just helps to show how versatile a pair of grey jeans can be. And the socks? Well, we still need to have a little fun with our fits.
Have some suggestions for how to wear the No Time To Die grey jeans? Tell us about them in the comments! And don't forget to check out our Guide to Contemporary Casual Style and our article on How to Dress Like Bond if you want more suggestions for updating your personal style. You can also visit our Facebook page, Instagram account, and Pinterest Boards for more James Bond style advice and inspiration!