Best Budget Style Finds May 4th
Welcome to our Best Budget Style Finds for May 4th! This is where we share some of the great alternatives for Bond (or Craig or McQueen) style that either slipped through the cracks when I was writing the original dedicated posts or deserve a special mention. Sometimes the posts will be short. Sometimes there'll be a ton of new options. A lot will depend on what we, as a community, find and share. So if you have any suggestions, let us know in the comments. On to the alternatives!
Timeless SPECTRE Style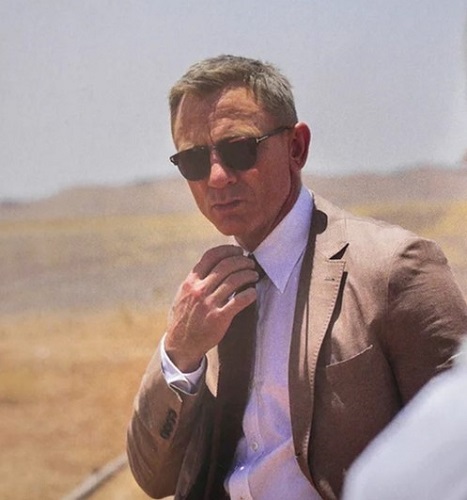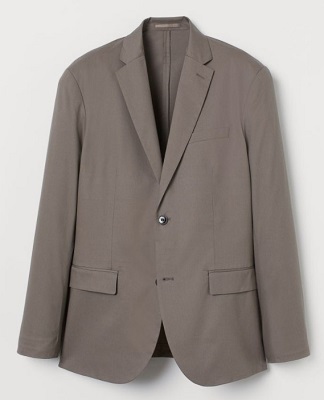 A very budget friendly alternative for Bond's fan favorite Brunello Cucinelli blazer. While the original was a wool and linen blend, H&M has used a 53% Lyocell, 47% cotton fabric. But they've kept it unlined through the body, so it's still light and unstructured. I've tried this on in store and the color is a little lighter and warmer than it looks in the product photos. It's also an H&M slim fit. I'm usually a size 40 in most suit jackets, but I needed to go up to a 42 in this jacket for it to feel comfortable. Just something to consider when ordering it. You can find more alternatives for the SPECTRE blazer in this post.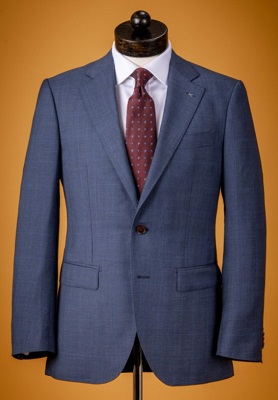 If you love Bond's blue Prince of Wales Mexico City suit from the film, it might be time to consider investing in a higher quality alternative. The base blue color of this Spier & Mackay is a little more muted than 007's Tom Ford. But that light blue overcheck is spot-on. They are also one of my favorite brands for affordable suit alternatives and consistently deliver a lot of bang for the buck. Here we get a half-canvassed construction using Super 120s Merino Wool from the Italian mill Drago. There's also plenty of other features you'd only expect on a much more expensive suit: Bemberg lining, genuine horn buttons, sous bras at the armholes. They also make the suit in a slim and roomier contemporary fit, with a decent selection of sizes left in both.
A couple of No Time To Die accessories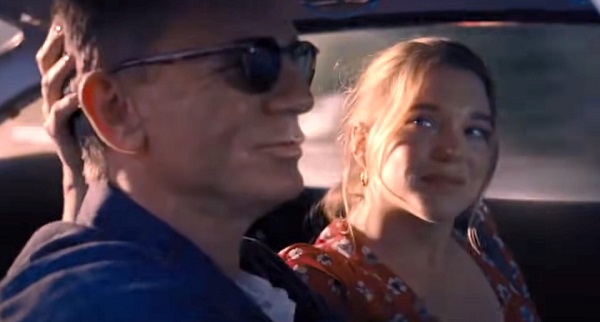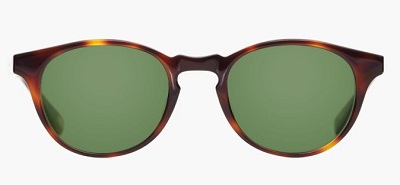 Archibald London is a smaller company focused on delivering luxury designs at more accessible prices. And unlike so many recent internet companies peddling the same story, they actually nail it most of the time. These particular glasses are handcrafted in Japan from a single sheet of Takiron Rowland acetate and use high grade, UV A and B blocking Japanese CR-39 lenses. And for an extra charge you can have them made to meet your prescription. These are currently on pre-order, with an expected deliver date of early July. Two hundred bucks isn't cheap. But, as I always say, it pays to invest in protecting your eyes. Plus, they do a great job of delivering that Bond in Matera look for about half the price of the originals.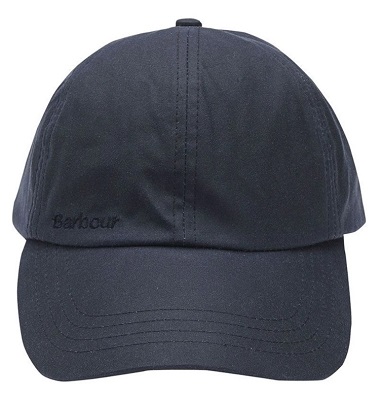 Is it the actual ballcap Bond wears on his sailboat in No Time To Die? Probably not. But it does come from a Bond brand. And the waxed cotton will help keep your hair dry on those rainy spring days. Pretty much every other retailer is selling this same cap for fifty bucks right now. So that sale price is a nice deal. Marchbrae is running quite the sale right now on Barbour (unfortunately the Beacon jacket is sold out), as well as products from other brands such as Peregrine and Joules. Definitely worth taking the time to explore their website to see what other deals you can find.
Old School Bond Style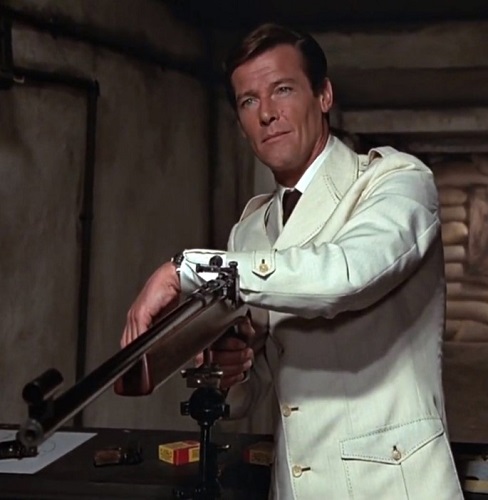 We'll be updating our dedicated post on Bond-inspired safari jackets very soon. In the meantime, here's an affordable alternative for Bond's cream jacket from The Man With The Golden Gun (check out Bond Suits for a full description of Sir Roger's look). It's obviously a more contemporary interpretation of the classic. But it has all the style details we want: four pockets, epaulettes, revere style collar. And, unlike Bond's more structured leisure jacket, this one is 100% linen and unlined. So it should be even more comfortable on those hotter days ahead. You'll still find a decent selection of sizes left on the Mango Outlet website.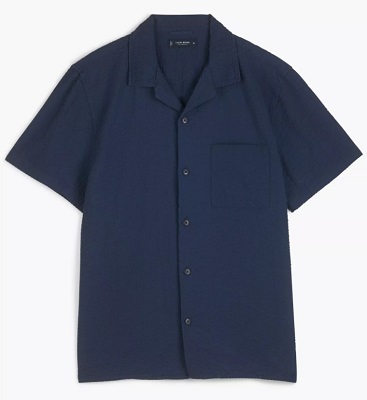 It's a darker blue than Bond's Thunderball shirt and it's missing the hip pockets. But that sale price isn't the only thing that makes this camp collar shirt from Lucky Brand worth a second look. They've used 100% cotton seersucker, which is woven with a distinctive pucker to improve air flow and help keep you cool. And word on the street is it's going to be a very popular fabric this summer. They're down to sizes medium and large on the website. So if you want one act fast! Heck, at that sale price you could buy two and use the fabric from the second one to make hip pockets for a more screen accurate look! Make sure to check out BAMF Style's write-up on Bond's Thunderball beach style for more info!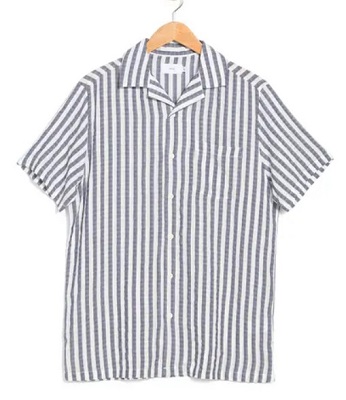 I shared this one on our Instagram account just over a week ago as an alternative for Bond's striped camp collar shirt from Thunderball. And then it sold out (I'm not taking any credit for that!). But it looks like Nordstrom dug around in the warehouse and found a couple of smalls and mediums lurking back there. Considering the shirt originally retailed for $140, that twenty dollar sale price is a great deal. I own a few Onia linen shirts and I've been extremely happy with both the fit and the quality. This one is a 49% Lyocell, 33% polyester, 18% viscose blend, but given my experience with the brand I'd still expect it to be a nice fabric. I wouldn't hesitate to give this one a shot, especially at that price.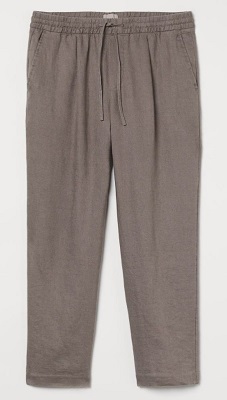 Something else I saw on my recent research trip to H&M. And I think they'd make a reasonable affordable alternative for Bond's Casino Royale One and Only Ocean Club trousers (especially if you keep your shirt untucked). They've used a 100% linen fabric, which is nice. However, these are a cropped cut, with a 71.5cm/28″ inseam on a size large. For guys 5'9″ and under, that shouldn't be too much of an issue. But if you're any taller, be prepared to show off some ankle. Sizes XS to XXL are available on the website.
Inspiration from some other Style Icons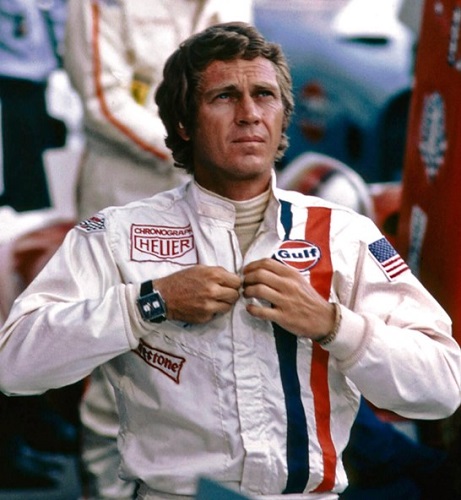 We give Bond's Rolexes and Omegas a lot of love here. But can we take a moment to appreciate McQueen's Heuer Monaco from Le Mans? Rumor has it that McQueen selected the Ref. 1133B personally for the film. And it was a fine choice. First released in 1969, the Monaco's square case and blue face accented with white dials was a distinctive design that caught everyone's attention . One of McQueen's original "Michael Delaney" 1133Bs sold for close to $800,000 at auction in 2012. And of course the Monaco remains an incredibly popular model for TAG Heuer today.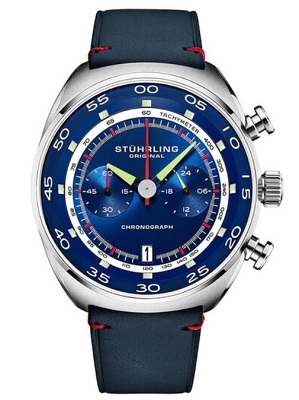 As we said, the original TAG is a unique design. But Stuhrling does a good job of capturing the spirit of the watch without being a slavish copy. The stainless steel Tonneau case is suitably retro. And there're plenty of dials, indices and markers to match the sporty look. Just note that at 44mm, this thing is a bit of a monster! It's currently on sale at Jomashop for about $50 less than I've seen at other retailers. You can use the savings to buy a good leather rally strap.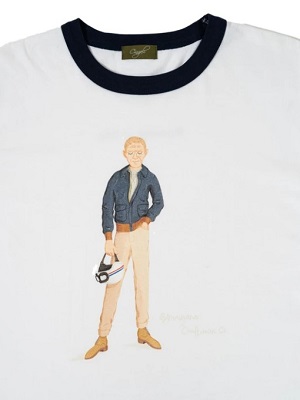 I can't say I'm a big fan of graphic tees. But this one brings a smile to my face. The contrasting collar has a nice 70s retro vibe. And the McQueen artwork is fun without being too "cute". Plus, 100% of proceeds from the sale of the tee go to Americas Food Fund, so there's a worthy cause involved. Sizes small to XL are available on the Craftsman Clothing website.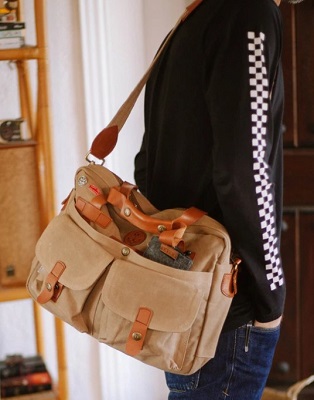 We recently explored alternatives for Daniel Craig's favorite Belstaff 554 Messenger bag. But here's another one that recently popped up on my radar. Made with 15oz bee waxed cotton canvas, full grain leather and Japanese antique brass hardware, the Urban Bag will definitely handle abuse better than a $30 knock-off from Amazon. And the 11″ X 16″ X 3″ dimensions will provide more than enough space for most of us. There's also plenty of pockets inside and out to organize all the stuff we carry. I doubt this will be an heirloom piece like you'd get from Frost River or Filson. But it also costs $100 to $200 less than similar models from those brands. And the specs make it sound like it's offering good value for the money.
A solid alternative for Daniel Craig's well loved R.M. Williams Gilchrist boots. The uppers are genuine suede and inside you'll find a cushioned sheepskin footbed and full lining. These ones are Blake stitched, which makes them a little more flexible out of the box. It also gives them a sleeker profile than the Gilchrist, which some of you may prefer. And, like Goodyear welted boots, they can be resoled. European sizes 40 to 46 are available on their website.
Legal in all 50 States (read the fine print!) …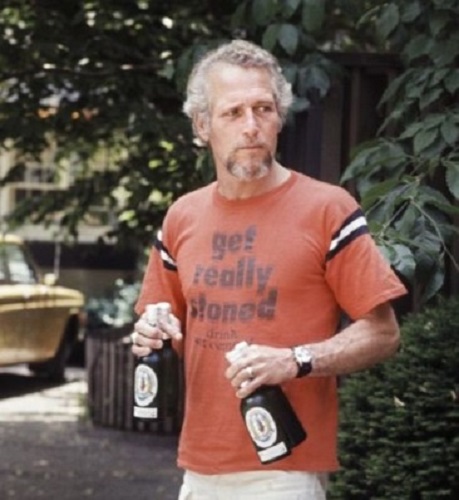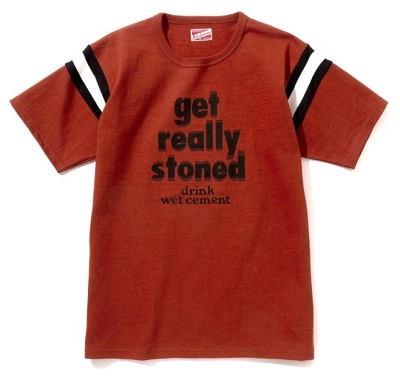 Yes, it's a $160 t-shirt. It's also an exact replica of the one Paul Newman wore (right down to the nylon knit on the shoulders and the "blurry" font!). And it's made in Japan by the master of vintage reproductions, The Real McCoy's. Sure, you could buy more than thirty Fruit of the Loom tees for the same price. But would any of those give you the same "cool but square" vibe that Newman pulled off so effortlessly?
Know of any alternatives we should feature in our next Best Budget Style Finds post? Or do you have another option for this post? Tell us about it in the comments! If you'd like to see our previous Best Budget Style Finds posts, you just need to click here. And you can always visit our Facebook page, Instagram account and Pinterest Boards for more Bond, Craig and McQueen style advice and inspiration.