The James Bond Waxed Trucker Jacket
Updated September 26th, 2021 – At this point in the film's seemingly never ending promotion, the No Time To Die James Bond waxed trucker jacket needs no introduction. Affectionately known as the "Garage Jacket", Bond is wearing the Rogue Territory Supply Jacket in the Tan Ridgeline color as he dramatically sweeps the cover from his Aston Martin in the trailers. Who knows what else he'll be doing in the movie while he wears it?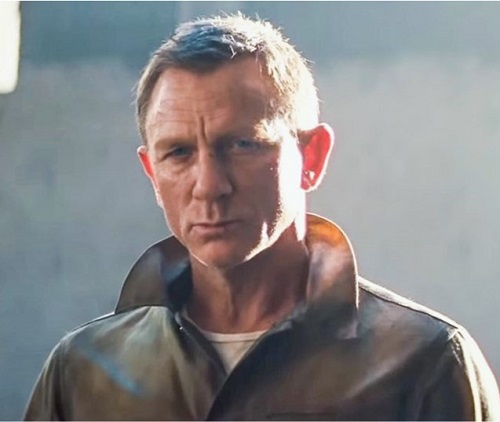 The Original No Time To Die James Bond Waxed Trucker Jacket
Unlike some of his other wardrobe pieces from the film, the Supply Jacket has been a near universal hit with fans of Bond style. It's definitely one rugged piece of outerwear. Made in Los Angeles from 10oz Martexin waxed canvas and finished with custom metal hardware, it's one of those rare cotton jackets that actually requires some effort to break-in. The few negative comments from fans about the jacket tend to focus on how stiff it is when new. But that's actually part of the beauty of a piece like this. It's going to feel like cardboard at the start. However regular wear will soften it up and the waxed finish will darken and develop a unique patina that adds more and more character over time. It takes a little work and patience. But it's worth it!
Even better? The jacket is still available directly from Rogue Territory. And with a price of $295, it isn't crazy expensive. Currently they have sizes small to large and XXL available. But they are expecting a re-stock at the end of this month. Stag Provisions, another popular retailer with fans, also has some sizes in stock at the same price and imagine they'll also be getting more soon. If you're in the UK, keep checking Rivet & Hide. They're out of inventory right now, but I expect them re-stock soon for around £280.00. Just note that it is a slim fit, so make sure to check the size chart before ordering!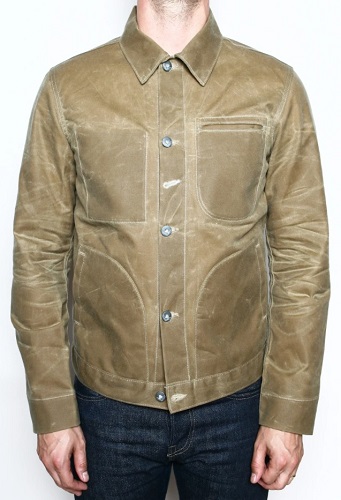 Of course, $300 is still a lot of money for many of us. Is it possible to capture the spirit of Bond's jacket for a little less? Let's take a look at the alternatives and find out!
Features Wanted for the No Time To Die James Bond Waxed Trucker Jacket
Tan or light khaki colored waxed cotton canvas material
Unlined construction
Modified trucker or depot jacket design
Button front closure
Shirt-style collar
The Supply Jacket is very much a "workwear" piece. So there's a good selection of alternatives out there with a very similar vibe from reputable brands. Most lean more towards the traditional trucker jacket look, with the two external flapped chest pockets. But, as we'll see, there are still plenty of options that play around with other pocket placements to create different designs.
Now, since I know someone is going to ask, I'll get this out of the way: Yes, I am very aware of that low-cost Supply Jacket knock-off that's  floating around Ebay and AliExpress. But I can't in good conscience recommend it. It's so obviously a direct copy of the Supply Jacket (right down to that placket keyhole with the white stitching) that if I did share it I'd feel like a) I was doing a huge disservice to Rogue Territory and their work, and b) I'd be advising you to buy a fake. And that's something I never want to do.
Best Option of the No Time To Die James Bond Waxed Trucker Jacket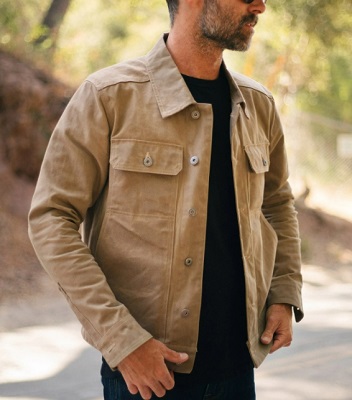 They've used a heavy 14.75oz waxed cotton canvas for their Mechanic Jacket. So if you were worried about the Supply jacket being stiff at the start, you might want to avoid this beast. But if you're ready to take on the challenge of breaking it in, it's definitely worth a look. Designed in collaboration with New Legend 4X4, a workshop specializing in vintage International Harvester Scout retro-mods, the Mechanic Jacket not only has the same spirit as Bond's workwear inspired jacket, it has some serious authenticity to back it up. The flap pockets on the chest give it more of a classic trucker look, while the bombproof construction (double needle-felled reinforced seams everywhere!) promise years of wear. Iron and Resin currently only have size small in stock. But Canadian company ToughWorkz have a better selection of sizes and they offer free shipping to the U.S. I've linked to them above.
Under $100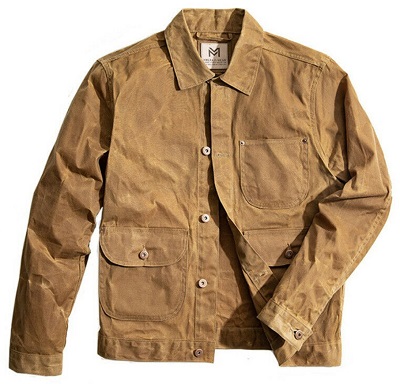 An AliExpress special. Dig around a little and you'll find it being sold by various vendors at various prices. I've linked to one the better deals I saw (shipping is included in the price). But if you prefer Ebay, you'll find it here for about $56 plus $11 shipping. The material is an 8oz cotton canvas with a light coating of wax. So not super heavy and the break-in shouldn't be too painful. If you just want a cheap waxed jacket that gets you that Bond look, I'd seriously consider going with this one over the aforementioned knock-off (both come from the same supplier). The design of this model is different enough that no one will mistake it for a Rogue Territory clone. And I actually kind of like what they've done with those flapped patch pockets on the front. Just read the size chart carefully before ordering. Again, these are Asian sizes so they fit small!
Under $200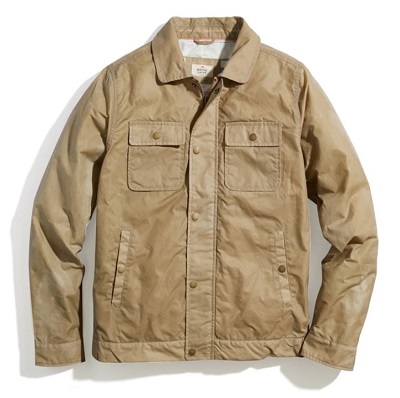 We first shared this alternative back in February in one of our Best Budget Style Finds posts (you can see more of those here). And I still think it's a great option. Made from 100% cotton coated with wax from a heritage Scottish vendor and featuring two chest pockets and a zipper and storm placket front closure, it has a slightly different look than the Supply Jacket. But I still think it's a pretty cool jacket in it's own right. It also has a soft flannel lining which will make it wear a little warmer (good for the cooler temperatures ahead of us). That will also help if you find having stiff waxed canvas directly against your skin to be a little uncomfortable. Marine Layer has sizes small to XL in stock.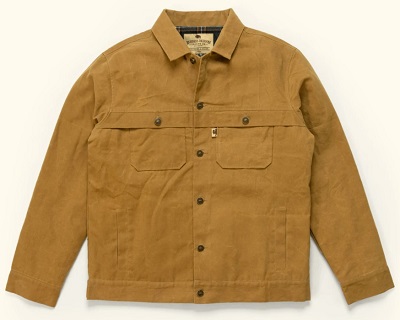 A heavy-weight option for those of you looking for an alternative that can handle some cooler temperatures. The fabric is an 11oz waxed cotton canvas and the jacket is lined with a 70% polyester, 30% cotton plaid fabric. The design details and boxier cut definitely remind me of an old Carhartt or Filson jacket you'd find on a job site anywhere in the U.S. So if "really rugged workwear" describes your personal style, this one is definitely worth a look. Sizes small to XXL are available on their website.
Under $300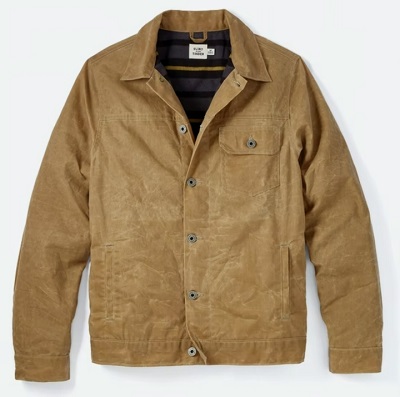 The unlined version of this jacket was our previous Best Option. That one has been taken off their website until next spring and replaced with the flannel-lined iteration. As I've previously stated, there aren't many lower priced jackets I think are truly worthy alternatives for the Rogue Territory. But this is one of them. Cut, sewn and finished in Los Angeles from a light weight 7oz cotton canvas sailcloth and treated with wax from British mill Millerain, the Flint and Tinder design is more of a traditional trucker than the Supply Jacket. But it definitely has the same rugged style and will certainly look the part when you throw it on over a white t-shirt. This is a yearly favorite with the workwear aficionados and currently has 4.4 stars out of five after more than 1400 reviews. So I have no problem recommending it. Huckberry has sizes XS to XXXL in stock.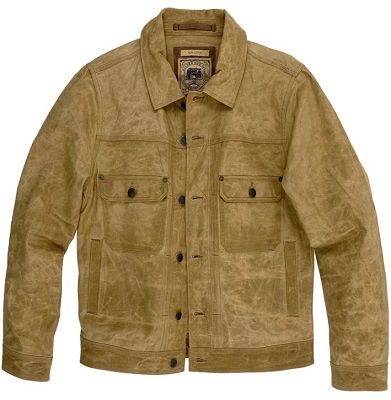 The lower placement of the riveted chest pockets and pleats along the placket give this alternative more of a vintage trucker vibe. Which, in my humble opinion, is pretty cool. And there a lot of other details that make it worth a look. New York's Gilded Age has used a "heavy" 100% waxed cotton canvas (no mention of the actual weight) and, like Bond's jacket, kept it unlined. Inside, they've used a deep red fabric tape to finish the seams and a contrasting darker brown material for the interior placket and hem. I think those little touches will give the jacket a more polished look when you wear it open. With that $270 price tag, choosing this one would be more about the design than the money. But I have to say, I'm really liking it! They have sizes small to XXL on their website.
The Investment Pieces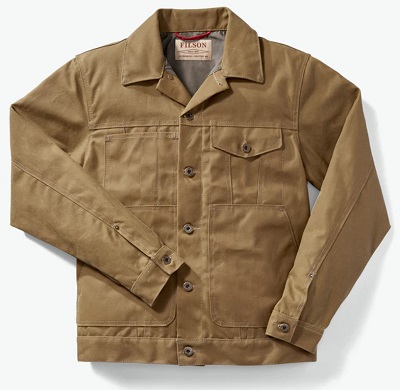 Since we're now getting into alternatives that are more expensive than the original Rogue Territory jacket, we better choose ones that have something truly special to offer. Enter Filson. In the world of heritage workwear design, the company and it's Tin Cloth are legend. This particular jacket is a variation of their iconic Cruiser design, which has been around (virtually unchanged) since 1914. That Tin Cloth is a bombproof 14oz oil finished cotton canvas and the jacket is lined with a 6oz dry finish cotton. And it's made in the U.S.A. I can tell you from experience that breaking in a Filson jacket takes some commitment. But the end result is a piece of outerwear that will last a lifetime (or longer). Filson currently only has size XS in stock (and they fit big). So you'll need to join the waiting list for the next release.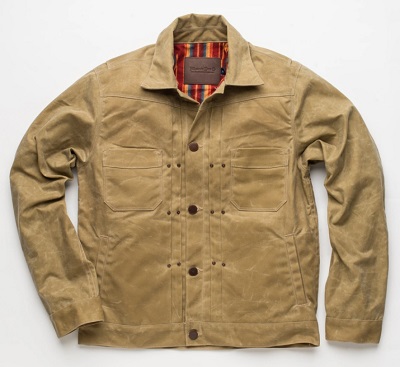 A few people have recommend the Freenote to me. Our friend Adam contacted us about his Rider, writing, "I wanted to recommend the Freenote Jacket as an amazing alternative. It's virtually the same color and cloth and has amazing details too and a beautiful liner. I am currently wearing mine through winter in the Mediterranean and it's perfect!" Made in the U.S.A. with a 10oz MarTexin waxed canvas and lined with a southwestern print fabric from Japan, it also features metal hardware from Kentucky and a Redwing leather interior patch. Like the Gilded Age alternative above, those riveted front pleats and lower chest pockets really give the jacket a vintage Levi's Type II trucker vibe. It's expensive. But this one looks like it'll be an heirloom piece.
The Non-Waxed Options
I know there are some fans that really like Bond's style with the Supply Jacket, but don't want to deal with the whole waxed cotton thing. So I thought I'd share an alternative that capture the rugged look, but use a more conventional untreated canvas.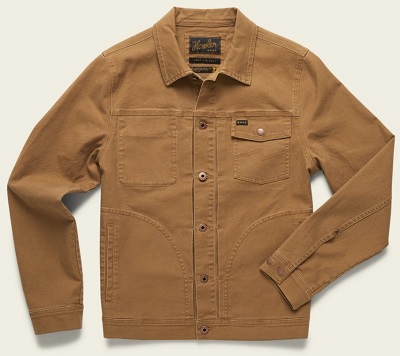 The color of this alternative from Howler Brothers is a couple of shades darker than Bond's jacket. But the style details match up nicely! The fabric is a 98% cotton, 2% spandex blend which will add some stretch and make it comfortable to wear right from the start. Huckberry has sizes small to XXL available and you can also get it directly from Howler Brothers.
The White T-Shirt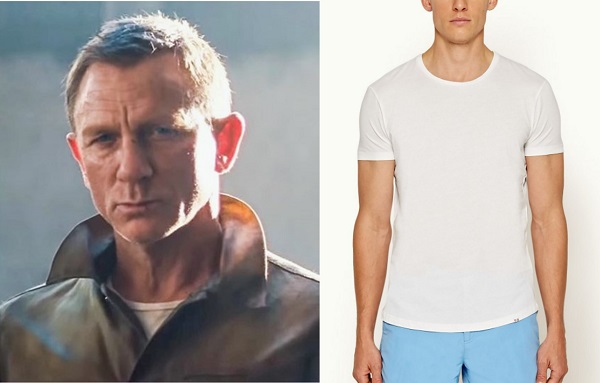 Some people have asked me for alternatives for the white t-shirt Bond's wears under his waxed jacket. And thanks to the marketing machine at Orlebar Brown, we now know it's their Tailored Fit Crew Neck Tee ($95.00/£75.00). There are few details that set this t-shirt apart from your typical one from Fruit of the Loom and the like. The neck is wider and more gently scooped and the collar band is thinner. Also, the hem of the shirt is cut a little shorter and it's curved. When we're dealing with something as basic as a t-shirt, those small touches really matter. Since Bond wears the Mid-Grey Melange version of the Orelbar Brown tee in the film's Jamaica scenes, I'll make a note if one of the alternatives below also comes (or doesn't come) in grey.
Best Option for the White T-Shirt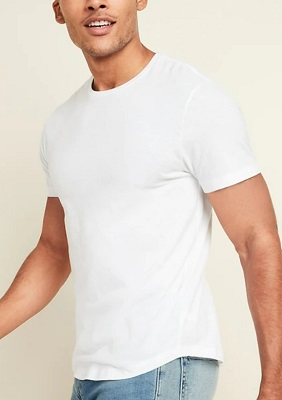 It's Old Navy. So I doubt it will be the best t-shirt you've ever owned. But we do get almost all the details we want: a slightly wider neck, thinner band collar, shorter length and the curved hem. All for under ten bucks! Hard to argue with that. Sizes small to XXL are in stock on their website. They also make a similar shirt in Medium Grey for $8.00, and while the collar design is a decent match, it unfortunately doesn't have the curved hem. You can also buy a 3 pack of tees (white, black, and grey; on sale for $19.50) with the curved hem. But it looks to me like the collar band on these is a little wider.
Under $20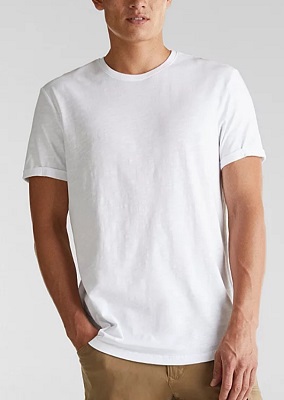 Now one for you fine folks in the UK. The collar band isn't quite as thin as the one of the Orlebar Brown shirts. But it comes close. And we get the curved hem. Not bad for under ten pounds. Esprit also does a nice melange grey version for the same price. It doesn't have the curved hem, but the neckline is a great match for Bond's Jamaica tee.
Under $50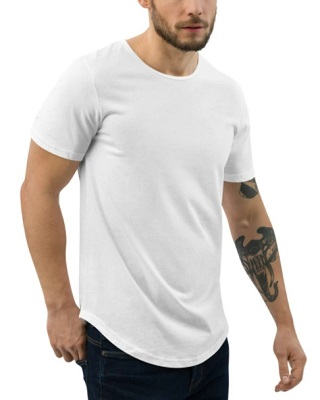 Coming from the maker of some of our favorite Bond-inspired exercise gear and amazing graphic tees, this alternative has all the details we want. And it also delivers in terms of quality. Made from pre-shrunk 100% Airlume combed and ring-spun cotton, it's soft and lightweight but will stand up to multiple washings and plenty of wear. SIS Training Gear is also offering the shirt in grey for your "retired Bond in Jamaica" looks. Both tees come in sizes small to 2XL. Just remember that this is a tapered cut. So double check that size chart, especially if you're a bigger guy or prefer a more relaxed fit.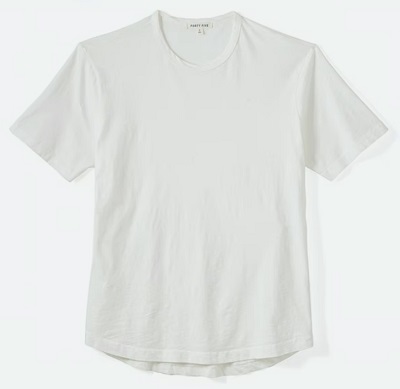 If the "made in the U.S.A." credentials of the Rogue Territory jacket appeal to you, here's your t-shirt alternative. Cut and sewn in Los Angeles, the Forty Five tee has the Orlebar Brown's relaxed neckline, but with a slightly wider collar band. It also has the shorter length with a curved hem and a more tapered fit we want. Huckberry has sizes medium to XXL in stock.
As always, we'll be adding more options for the No Time To Die James Bond waxed trucker jacket and tees as they turn up. And you can always share your alternatives in the comments below. Also remember to check out our Facebook page, Instagram account and Pinterest Boards for more James Bond and Steve McQueen style advice, inspiration and info on where to find the latest deals!