The James Bond SPECTRE Blazer
The James Bond SPECTRE blazer that he wears while waiting for his ride in the Moroccan desert quickly became a fan favorite. And the combination of that Brunello Cucinelli jacket with the white Tom Ford shirt and rust knit tie, the Cucinelli gabardine trousers and belt and J.Crew Kenton suede boots is probably more practical for the heat than the Matchless suede jacket he wore earlier in the film.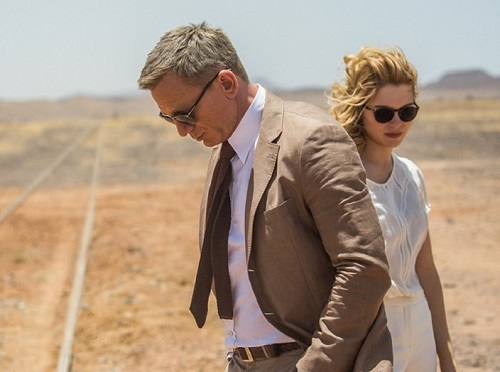 AJB007 forum member (and very lucky man) Meesta Bawnd had a screen accurate jacket made by Brunello Cucinelli. He has very graciously shared some of his pictures to give us all a closer look at the screen accurate color and details. You can see more pics in this AJB007 thread. Thank you, sir!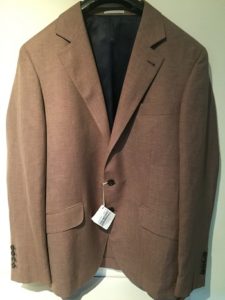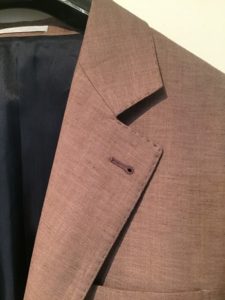 Features Wanted for the SPECTRE linen blazer
Linen or linen blend, with some texture, but no pattern
More of a softer, unstructured construction with medium width notch lapels
3 buttons (3-roll-2)
Standard suit jacket pockets with flap; not patch pockets.
Double vents
Four button cuffs
Pick stitching around lapels
Light brown/British khaki/dark camel (what the heck do you call this color?)
Trying to be strict here and stay close in material and style (I'm looking at you, patch pockets!). But some features will have to be sacrificed on the altar of price and availability. Of course, the big issue is the color. As I mentioned in our article on the SPECTRE chinos, for me this is less about screen accuracy (although we want to get close) and more about how you coordinate the color of the jacket and pants.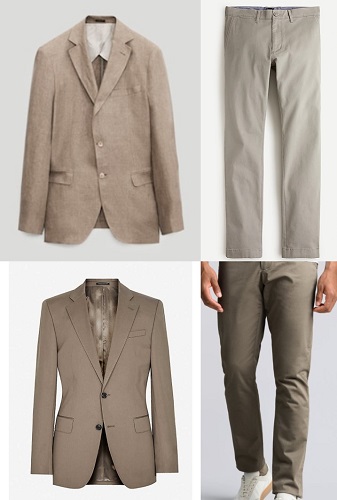 As you can see in the image above, you want there to be one or two shades of difference between the colors of the jacket and the trousers so there's some contrast. So if you're using lighter colored trousers, you can go with a lighter colored jacket. If your trousers are darker, go with a darker shade up top.
Best Option for the SPECTRE linen blazer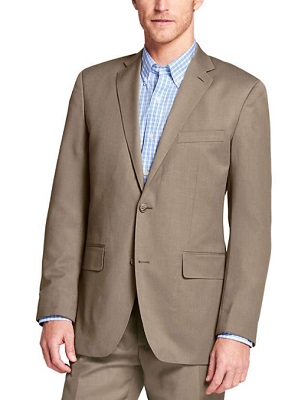 Lands' End is definitely a "traditional" American brand. So don't expect their "Tailored" cut to fit like a sleek Neapolitan design. The jacket also has a more structured construction, with some padding in the shoulders and a full rayon lining. But there's still a lot to like about it. They've used a 100% wool gabardine twill suiting so there's a bit of texture. The color also looks like a good match, as does the pick stitching around the lapels. And with that sale discount, you're buying a lot of quality for the price. They have sizes 38 to 44 in stock, but some of the length options are getting spotty. Use the code "IRIS" to get the discount. It expires on April 14th so act fast if you want one!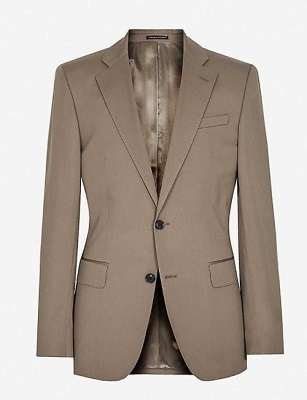 Another option that's fully lined and more structured, this time from the more fashion-forward brand REISS. The fabric is a 98% cotton, 2% elastane blend. Not screen accurate, but it should be plenty comfortable if you plan on doing anything more active than just standing around in a desert looking cool. The darker shade of taupe will also work well with the darker colored chinos options that seem popular this year. The suggested retail price is $475, so that's a pretty hefty discount when you get it from Nordstrom Rack. They have sizes 36 to 42 and 46 in stock.
Under $100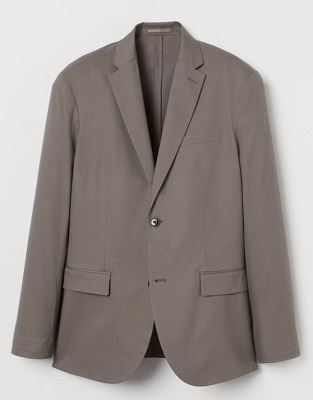 A completely unstructured and more casual alternative made from a 53% Lyocell, 47% cotton blend fabric. The jacket is unlined through the body, which should help keep you comfortable during the summer months. But since it's from H&M, we also need to consider that the "Slim Fit" is going to be really slim. And there are a couple of other stylistic touches to note, like the cropped length and single button cuffs. But it'll bring us close to the look we want, especially if you like a more contemporary style. And that $70 price tag makes it affordable for most of us. Sizes 36 to 46 are available on the U.S. and UK websites.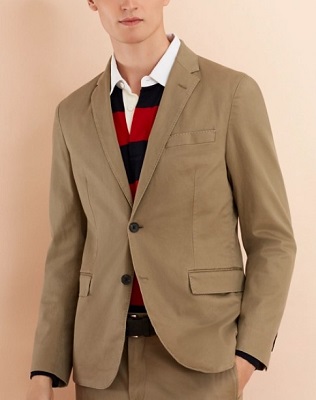 This one is coming from Brooks Brothers' more fashionable "Red Fleece" line. So the cut and fit is not the boxy old-school Ivy League style most of us expect from the brand. The jacket is a slim fit with higher arm holes, thinner lapels and a very cropped hem. For the fabric they've used a garment washed 96% cotton, 4% elastane and gone with a minimalist butterfly lining. I'm not sure how close the color comes to Bond's jacket. But the product photos make it look like the Khaki leans more "warm light brown" than beige. Could work well with some lighter toned chinos. You'll find sizes 36 to 44 on their website.
Options Under $200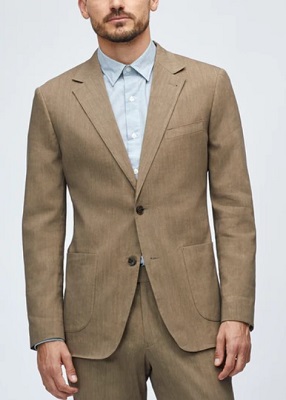 I know I said I was going to be strict with the patch pockets. But so many of the other details on this jacket hit the mark that I thought it was worthy of inclusion. It's unlined and unstructured and the fabric is a 66% linen, 32% viscose, 2% elastane blend, which makes it a near perfect hot weather blazer. And the color in the product photos looks like a great match. Bonobos also knows how to nail fit. So even though this is a slim cut, it shouldn't feel like you're wearing a straight jacket. Sadly they're down to sizes 44 to 46. But I figured with so many super slim alternatives on this list, we needed to include a sold option for you bigger guys.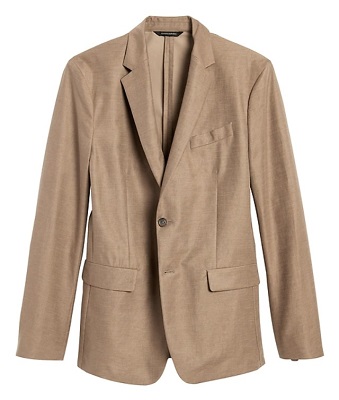 I first shared this alternative back in our February 11th Best Budget Style Finds post. The color looks a little too light on the Banana Republic product page. But when I actually saw the jacket in store, I was pretty blown away by how close it comes to what we saw onscreen. Here's a quick and dirty flatlay I did with some other odds and ends I found around the store. In case you're wondering: the pants, tie and belt are sold out now on the BR website.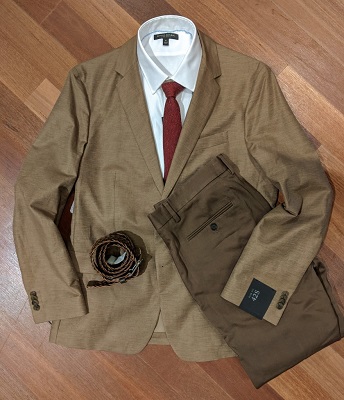 The 69% cotton, 31% flax linen blend fabric also has some nice texture that comes close to the original. Combine all that with the other style details (flap hip pockets, slightly off angle chest pocket, minimal lining) and we have a great alternative for Bond's Morocco blazer. Just note that this is a slim fit. I'm a size 40 in most suit jackets and the size 40 in this was a little snug. They have sizes 38 to 42 available at the sale price. And in another good piece of news, Banana Republic is running one of their frequent sales so an additional 50% is knocked off the price at checkout. That brings the total down to $77, which is a steal in my opinion!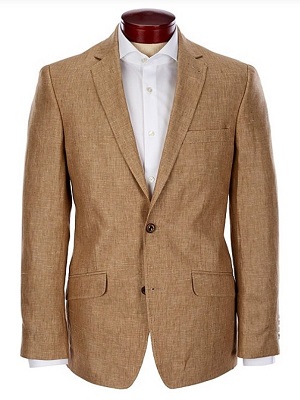 Another alternative that made an appearance in a recent Best Budget Style Finds post. The 100% linen fabric is a nice color match although it does have a slightly more slubby texture than the screen used jacket. However the other style details look good: flap pockets at the hips and welted chest pocket, medium width lapels, double vents at the back and four cuff buttons. It's missing the 3-roll-2 design of the original. But that's true of almost all the alternatives on this list. And since Bond only fastens the middle button on his, it's not that big of a deal. This one comes from Dillard's, where they have sizes small to XL in stock.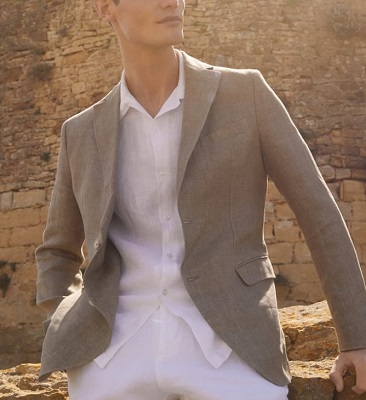 Massimo Dutti usually has one good option for Bond's Cucinelli jacket every spring. This year, they've gone with a 100% linen fabric in a finer weave with a more traditional cut and styling details. It's hard to tell from the product photos if the color is really going to be dark enough to be a great match. But as we showed at the top of this post, if you're using lighter trouser then it should get the job done. Sizes 36 to 48 are in stock. But since this is a slim fit from Massimo Dutti, I'd consider sizing up from your regular size.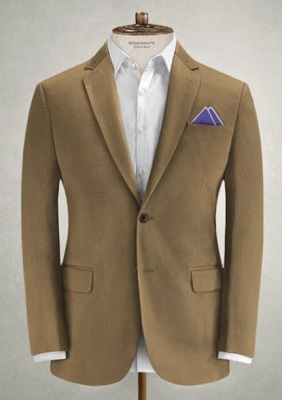 Coming to us from the company that offers a solid alternative for Bond's corduroy suit from No Time To Die (read a review of that suit in this post). Like the Brooks Brothers option above, the Italian cotton twill Khaki fabric looks to have more of a reddish brown tone, which makes it a better match for Bond's blazer. But the big advantage of going with the Studio Suits blazer is that you can customize many of the key details. Aside from using your specific measurements to dial in the fit, you can also select a butterfly lining (or go completely unlined), genuine horn buttons, double vents, and four buttons at the cuff. And I'm sure if you ask nicely, Studio Suits will even add the 3-roll-2 button configuration and angle the pockets for you. If you're determined to go with a fabric that's closer to the Cucinelli, they have plenty of other suitings to choose from. But expect the price to rise accordingly.
The Investment Option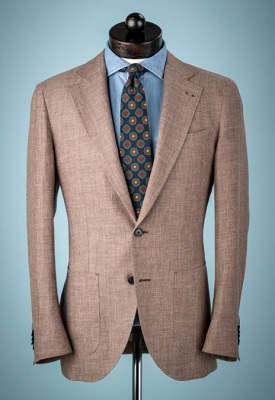 If the James Bond SPECTRE blazer has been on your Wish List for a while, maybe it's time to go full made-to-measure and get exactly what you want. And Spier & Mackay are one of the best in the MTM game. Aside from their high quality and excellent fit, they also offer a great a selection of fabrics, some of which you can see below.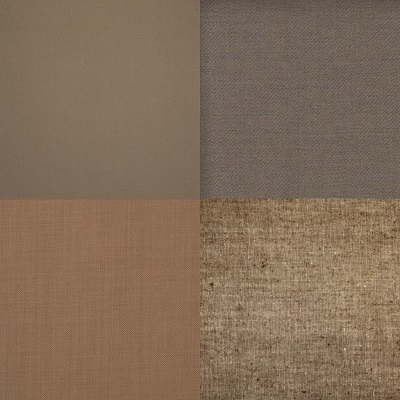 Personally, I think something like the lighter toned 100% cotton Minni Taupe Quest (top left) or the darker super 120s 100% Merino wool HMS suiting in Taupe (top right) would be very versatile colors. The 100% Merino wool Minnis Fresco in Bright Rust (bottom left) has an interesting color and texture. And I have to say slub texture of that 60% linen, 40% silk Brown Summer Tweed (bottom right) also appeals to me.
The base price for the jacket is $495 and that will go up depending on the fabric and customizations you choose. It's an investment, but if you know exactly what you want it will be worth it.
If you're the patient type …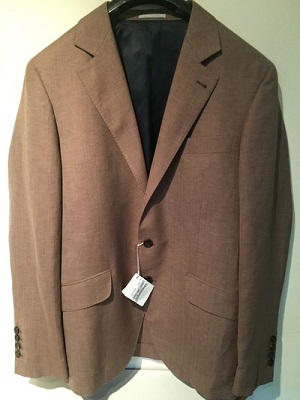 Daniel Love of ROYALE Filmwear has been making fan-favorite Bond jacket replicas for a few years now. His takes on the Quantum of Solace Harrington and Y-3 jackets and the Solden and "Mr. White" jackets from SPECTRE are not only incredibly screen accurate, they also represent his commitment to quality and detail. The man really does care passionately about what he offers the Bond community. So many of us were more than a little excited when he announced that his next project would be an interpretation of the James Bond SPECTRE blazer. This one's not out of Daniel's workshop quite yet. But you can email him at subscribe@royalefilmwear.com with the subject line "Morocco Blazer" and your jacket size to get on the wait list. I have a feeling this one is going to be a big hit for ROYALE Filmwear!
As always, we'll be adding more options as they're found! If you've turned up some good alternatives for the James Bond SPECTRE Blazer, share away in the comments below. And remember to check us out our Facebook page, Instagram account and Pinterest Boards for more James Bond style advice, inspiration and info on where to find the latest deals!