The James Bond SPECTRE Blazer
Updated May 24, 2022 – The James Bond SPECTRE blazer that he wears while waiting for his ride in the Moroccan desert quickly became a fan favorite. And the combination of that Brunello Cucinelli jacket with the white Tom Ford shirt and rust knit tie, the Cucinelli gabardine trousers and belt and J.Crew Kenton suede boots is probably more practical for the heat than the Matchless suede jacket he wore earlier in the film.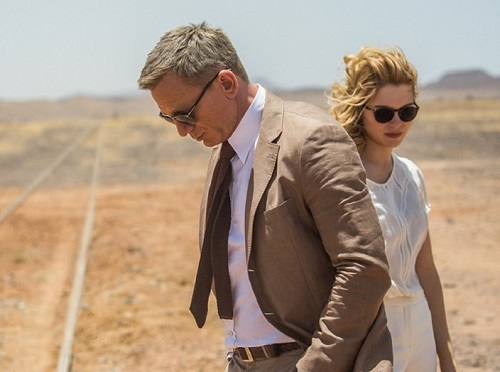 AJB007 forum member (and very lucky man) Meesta Bawnd had a screen accurate jacket made by Brunello Cucinelli. He has very graciously shared some of his pictures to give us all a closer look at the screen accurate color and details. You can see more pics in this AJB007 thread. Thank you, sir!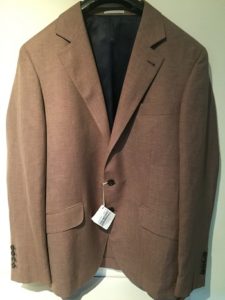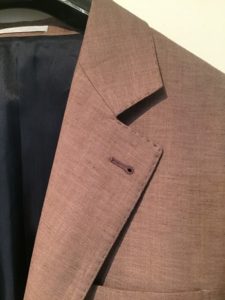 Features Wanted for the SPECTRE linen blazer
Linen or linen blend, with some texture, but no pattern
Softer, unstructured construction with medium width notch lapels
3 buttons (3-roll-2)
Standard suit jacket pockets with flap; not patch pockets.
Double vents
Four button cuffs
Pick stitching around lapels
Light brown/British khaki/dark camel (what the heck do you call this color?)
Trying to be strict here and stay close in material and style (I'm looking at you, patch pockets!). But some features will have to be sacrificed on the altar of price and availability. Of course, the big issue is the color. As I mentioned in our article on the SPECTRE chinos, for me this is less about screen accuracy (although we want to get close) and more about how you coordinate the color of the jacket and pants.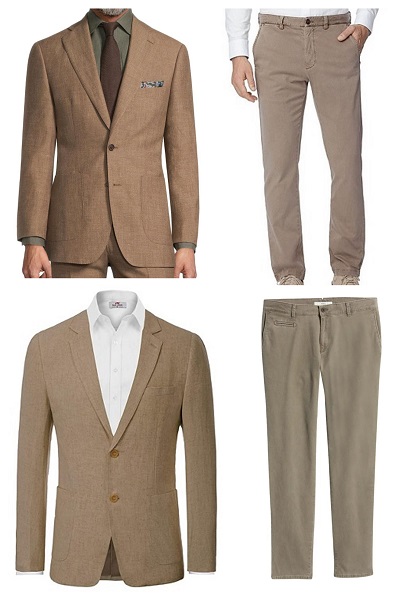 As you can see in the image above, you want there to be one or two shades of difference between the colors of the jacket and the trousers so there's some contrast. So if you're using lighter colored trousers, you can go with a lighter colored jacket. If your trousers are darker, go with a darker shade up top.
Best Option for the SPECTRE linen blazer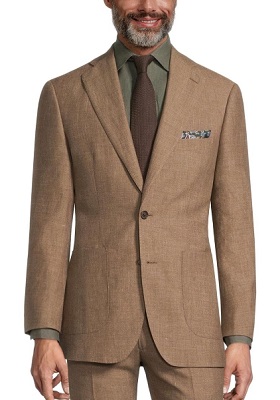 I'm upping the price and going made-to-measure for this year's Best Option. Why? Because while many of the off-the-rack alternatives below come close in most areas, there's still something missing with nearly all of them. However, with Oliver Wick we get a fabric that looks to be a solid match for Bond's jacket and we can dial in all the details to make it as screen accurate as possible. The suiting is a lightweight 48% wool, 52% linen blend from Italian Mill Drago (a make-up that is very similar to the 51% wool, 41% linen and 8% silk of the original). As for the design, the product photo shows the stock model. But you can customize that with slightly narrower lapels with pick stitching, double vents, a three-roll-two front closure, slanted front pockets and a half lined construction with unpadded shoulders.
Now about ordering. For some of us, going MTM can be a little spooky. What happens if it doesn't fit? To answer that, we need to consider a few things. First, Oliver Wick has been in the game for a while now. They're known and pretty well respected. Second, they offer a 100% satisfaction guarantee and free shipping both ways. And finally, they'll provide you with 1 year of alternations up to $125.00 on their jackets. In other words, they stand behind their products and want to make their customers happy. That definitely minimizes the risk and should help you help you sleep a little better at night.
Under $100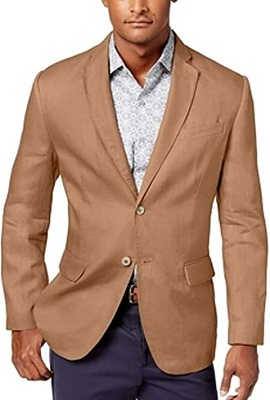 A closeout deal coming to us from Ebay. Tasso Elba is a Macy's house brand (it's sort of their lower priced take on Tommy Bahama). So the quality can be quite good for the price. But this particular 100% linen jacket is from a couple of seasons past. Which means it's being offered at a deep discount by resellers. I've linked to the size medium above. But here are links where you can find some other sizes:
Most sizes are priced between $15.00 and $25.00; some are Bids and others Best Offer. And keep an eye on those shipping costs! They'll sneak up on you if you're not paying attention.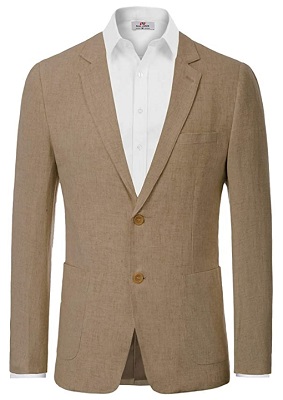 Another budget option actually doesn't look all that bad. The fabric is a 70% rayon and 30% linen blend and the jacket is fully lined. So it's probably not the most breathable option on this list. And obviously the patch pockets are a drawback. I'd also recommend taking a close look at the model in the product photos on Amazon. Unless he's wearing it oversized, the fit seems weird. But … it's only sixty bucks. Sizes small to XXL are available on Amazon U.S. and UK.
Under $200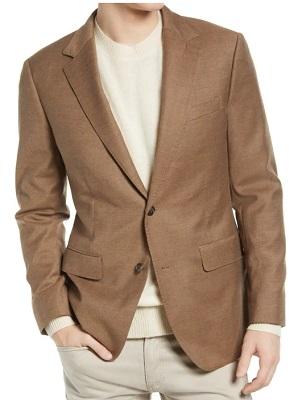 This one is dice roll, for a few reasons. First, on the Nordstrom website (where they have a size 42 in stock for $240.00), the color looks like it could be a good match. But over on Bonobos (which I've linked to above), that Camel looks a lot darker and redder. The suiting is also a stretch flannel, a blend of 99% wool and 1% elastane. That, combined with the 3/4 lining, means this ain't exactly the coolest wearing jacket out there. Last, but most importantly, while Bonobos still has a decent selection of sizes at the sale price, the jacket is FINAL SALE. So if you don't like it, you're stuck with it. Risky!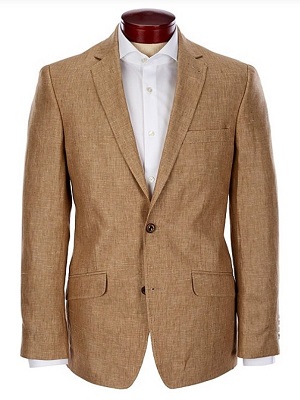 The 100% linen fabric is a decent color match, although it does have a slightly more slubby texture than the screen used jacket. However the other style details look good: flap pockets at the hips and welted chest pocket, medium width lapels, double vents at the back and four button cuffs. It's missing the 3-roll-2 design of the original. But that's true of almost all the alternatives on this list. And since Bond only fastens the middle button on his, it's not that big of a deal. This one comes from Dillard's, where they have sizes small to 2XL in stock.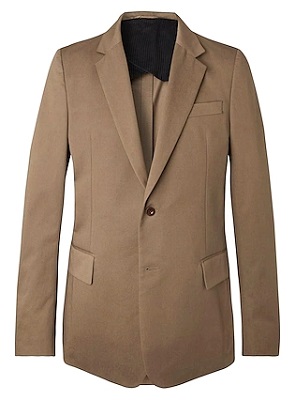 This is one of those YOOX specials I usually avoid sharing. The color of the 100% cotton fabric seems like good match. And it has an unstructured construction with a butterfly lining. So that's good. But the single vent and single button at the cuff certainly aren't screen accurate. Currently YOOX has sizes 38, 40 and 46 in stock. However, there's no knowing how many of each size are available or how long they'll stick around.
Under $300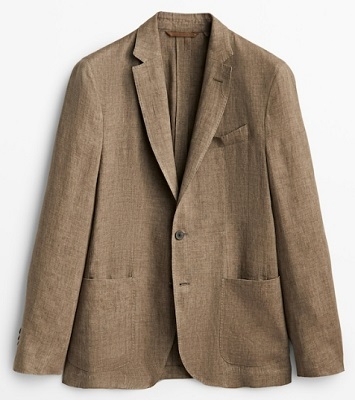 Massimo Dutti usually has one good option for Bond's Cucinelli jacket every spring. This year, they've gone with a 100% linen fabric in a coarser weave with a more traditional cut and styling details. It's hard to tell from the product photos if the color is really going to be a great match. But as we showed at the top of this post, if you're using trousers that lean a little more light brown, then it should get the job done. Sizing is running a little thin on their website (currently 40, 42 and 46 are in stock). But it looks like they'll be filling in the gaps soon.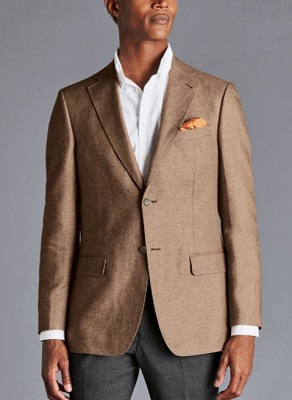 A suggestion from our good AJB007 friend armenianmovieman. The fabric is a 53% linen, 47% cotton blend, giving us a nice subtle texture without things getting too slubby.  But it looks like the jacket is fully lined in 52% polyester, 48% viscose fabric. So expect it to wear a little warmer. I have to admit, I had high hopes for this one. But one of our readers sent me an email saying he purchased it in the store. And while he's very happy with jacket, he doesn't feel it does that great of a job capturing the look and feel of the SPECTRE blazer. YMMV. Also note that many of the sizes won't be available until mid-August. Which means a lot of summer weddings can go by before you even get your hands on it.
The Investment Piece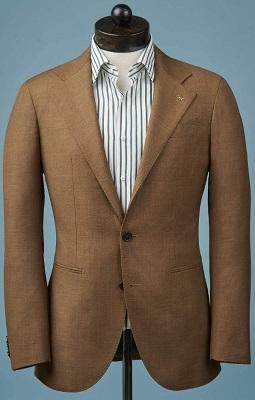 Spier & Mackay is one of the best in the MTM game. Aside from their high quality construction and excellent fit, they also offer a great a selection of fabrics. For this alternative I chose their lightweight, 100% wool Guabello suiting in Medium Brown and their soft construction Neapolitan Cut base model. That already comes with the 3-roll-2 front, unpadded shoulders and the double vents. The standard lapels are a big 4″ wide, but you can also chose the 3.5″ version. You can also select the no canvas construction, the quarter lining in navy Bemberg, the pick stitching and more. Like the Oliver Wick above, it's an investment. But working with a reputable company is going to help you get exactly what you want.
As always, we'll be adding more options as they're found! If you've turned up some good alternatives for the James Bond SPECTRE Blazer, share away in the comments below. And remember to check us out our Facebook page, our NEW Instagram Account and our Pinterest Boards for more James Bond style advice, inspiration and info on where to find the latest deals!