The James Bond Jamaica House
Welcome to our in-depth look at the No Time To Die James Bond Jamaica House! In this post we're going to be covering affordable alternatives for everything from Bond's furniture to his lamps to his books. There's a lot to look at, and we'll have specific comments as we go room by room. But first let's talk about the overall style of the place.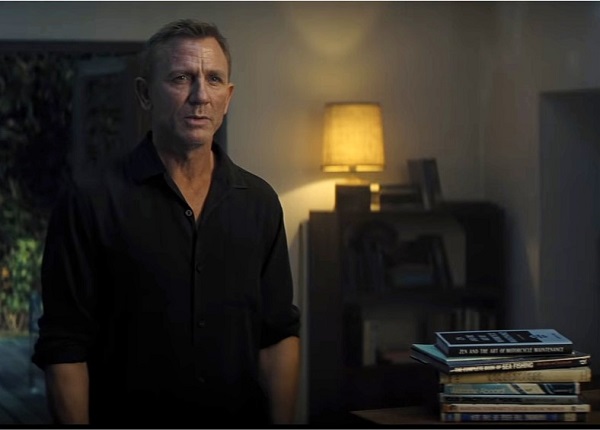 In our first post on The Affordable James Bond Apartment, we discussed some overarching characteristics of his preferred style of interior design. The four main principals were: keep it simple, focus on textures rather than patterns, don't worry about matching, and when in doubt go for the classics. I'm happy to say that it seems like those principals also apply to Bond's new home in Jamaica.
As we saw in the SPECTRE apartment, Bond likes furniture that's larger in scale. And the pieces he's used in Jamaica show that as well. His bed is massive. The desk is the size of 12 seater dining table. And the lamps definitely make a statement. It's sounds cliché, but size does matter. At least when it comes to decorating like Bond.
Mixing it Up
Perhaps more interesting than the size of the furniture is the way Bond mixes and matches pieces with distinctive design styles and different cultural influences. For example, that huge bed is very similar to a traditional Japanese tatami platform. When we look at his "office space" we see an industrial cantilever-style lamp contrasting with the rustic wooden table combined with a minimalist metal frame task chair. And then, over on the bar, there's a Streamline Moderne style chrome double headed lamp.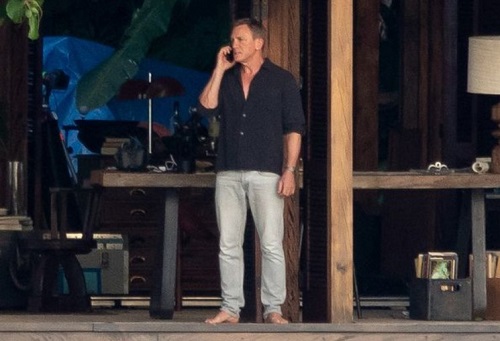 All of these pieces work together for the same reason the blend of styles worked in his London apartment. Each piece has character. And collectively they tell the story of a man who appreciates quality, understands tradition and believes that form follows function.
The house also looks lived in. Bond may be a military man. However, now that he's retired, keeping everything ship shape at home obviously isn't a priority. I don't think he's the type to leave a sink filled with dirty dishes. But he obviously doesn't care where he leaves his books. Those things are stacked on every available flat surface in the place! On a brighter note, at least he found time to hang some of his artwork.
We'll have more to say about Bond's design style as we explore room by room. Let's get started!
Outdoor Living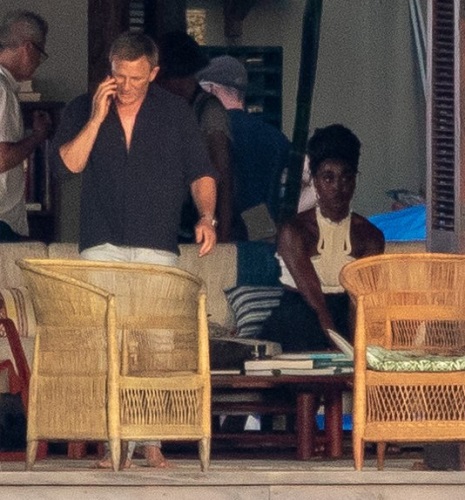 It seems like Bond keeps his house open to the environment a good part of the time. So the whole "outdoor living" thing can get a little blurry. To keep things simple, we're just going to focus on those rattan chairs in this section. And there're some behind-the-scenes trivia that makes them a little more interesting than they first appear.
Over on AJB007, there's a thread about the furniture we've seen so far in No Time To Die. And in that thread, forum member HalfMonk HalfHitman shared some photos of the rattan chairs used at the famous Goldeneye Resort in Jamaica. As he notes, they look remarkably like the chairs Bond has on his deck.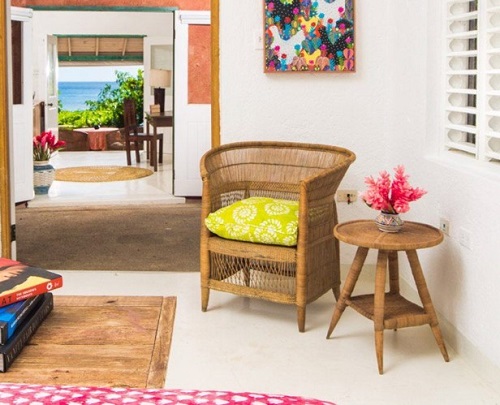 Most of us know Goldeneye was once the private home of Ian Fleming and the place where he first wrote about the character of James Bond. But it would also seem that the No Time To Die design crew poached a couple of chairs from the property to use as set dressing in the film. It's an insignificant but fun piece of information. And I like that fact that the movie-Bond's home has a small connection to the place where he was created. It also has me wondering what other stuff from the Goldeneye Resort ended up in Bond's house ….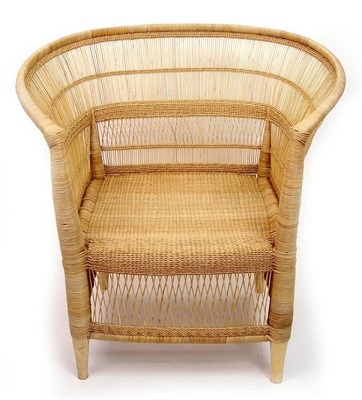 A great suggestion from AJB007 forum member Noi on the aforementioned Furniture in NTTD thread. The chair is handmade in Malawi by Mbare, a company that works with more than 2000 artisans in the west African country and adheres to fair trade practices. It's made with a blue gum tree wooden frame wrapped with bamboo strips.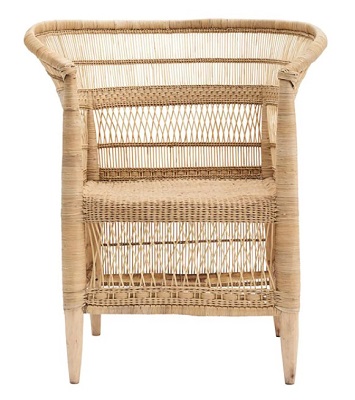 This is the closest model I could find to the chairs Bond uses on his deck. This is genuine rattan wrapped wood and comes from a Danish design company called House Doctor. For those of you in the U.S., I've linked to Royal Design above. If you're in the UK or Europe, it's probably easier to order directly from House Doctor. I think they're made to order since the shipping time is 8 to 10 weeks. So if you want a pair for this summer, best order soon!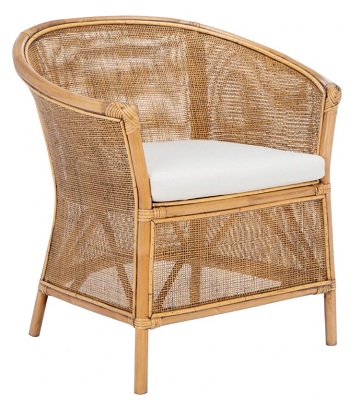 If you're willing to sacrifice some design details (while saving yourself about fifty bucks) then you can get this alternative in about two weeks. The construction is genuine rattan on a bamboo frame and they do include the cushion, which is nice.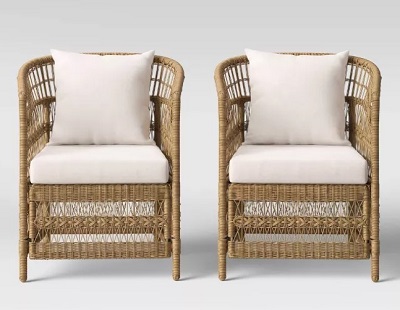 We're dropping down to $200 per chair. But now we're getting a steel frame and there's no mention if the wrap is natural or synthetic (I'm assuming plastic). On the plus side, these should be very easy to maintain. And the do come with the cushions. They also have 5 stars out of 5 after 16 reviews, and most of the comments are extremely positive.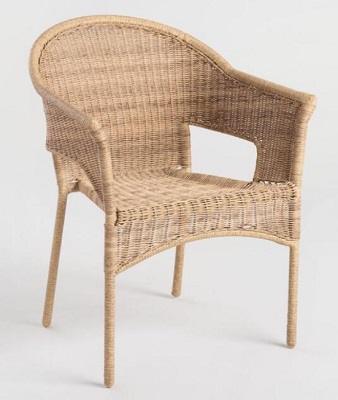 And our true budget option. Coming in at just under a hundred bucks per chair, these are steel frames wrapped in a resin plastic wicker material. And they're stackable so they'll take up less space when you store them during the colder months.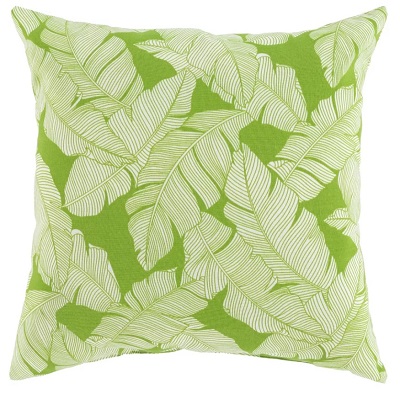 If you go with one of the chair options that comes without cushions (or if you want to replace the included cushions with something more screen accurate), then these should do the trick. If you look at the photos of Bond in his Jamaica home, it seems like he keeps one cushion on the wicker chair and the other on his bed. So these kind of give you two decorating looks for the price of one. If the pattern of the Damron isn't to your liking, you can also try the Bayou Breeze Karina pillow in Grass for $62.10 or the Harriet Bee Terkel Print pillow in Green for $53.92.
The Office Space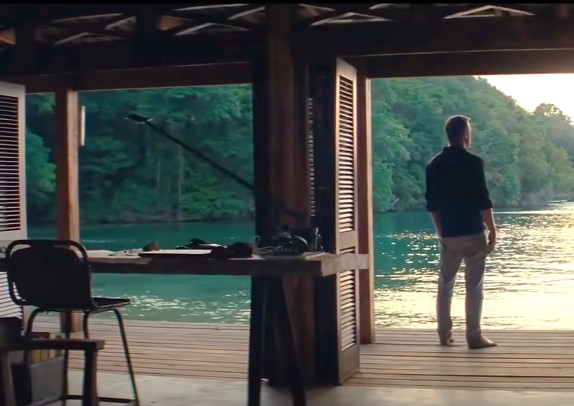 Based on his workspace setup, it doesn't seem like Bond spends a lot of time at his giant dinner table/desk. Not that I blame him. If I had a view like that from my office I'd probably never get any work done. For me, there are two mystery pieces here. First is that chair. It's a simple enough design: to my eye, it's a basic tubular metal frame with a slung leather (or possibly wood) back and seat. In other words, it looks like it would be more at home at a dining table (or in a primary school classroom) than at a desk. I don't think of Craig's Bond as a Herman Miller Aeron kind of guy. But that's a little austere, even for him.
Second is that cantilever lamp. The design isn't all that unusual. But the boom part is so long I imagine it needs a seriously heavy base to stay upright. It's one lamp I hope we get a closer look at in the film. In the meantime, I've suggested a couple of more modest alternatives for it below.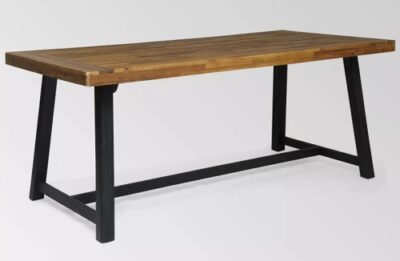 The legs on this one are painted wood rather than metal. And it's important to note that top is a slat construction with spaces between the boards. That should be fine if you're just using your computer. But it'll be a pain when you have to write (and you can expect a pencil or two to fall between the gaps). However, it is solid wood and it has a similar look to Bond's table/desk. That's not too bad for under $300.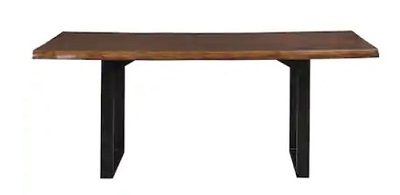 Tables like this are kind of cool since the tops have more organic flowing edges rather than the straight sides you normally see. Gives them more of a natural feel that works well with a rustic-contemporary decorating style. At six and half feet, this isn't the biggest table on the list. But it should work just fine for a desk.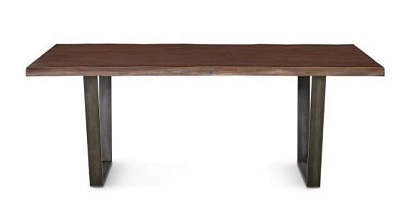 Another option with those natural edges. It's a jump up in price. But the table top is now made from solid mahogany planks which will definitely improve it's durability and lifespan.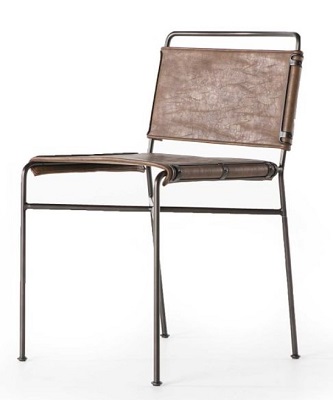 Not exactly screen accurate. But with it's basic, gently curved metal frame and simple faux leather seat and back, it stays true the minimalist design of Bond's chair. Lots of companies are selling this model under different names and the best price I could find was at Pottery Barn. Honestly, I'm not spending a lot of time on the chair since I don't feel it's really practical if you need to sit at a desk for hours. I appreciate many things about Bond's decorating style, but his taste in office seating isn't one of them.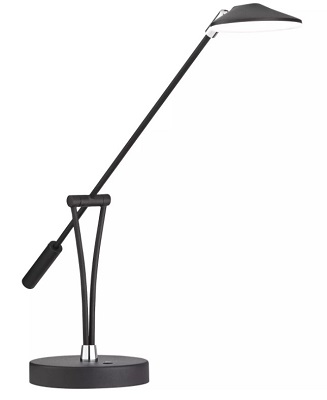 A relatively affordable option if you like the style of that cantilever lamp on Bond's desk. You can adjust the height up to 20″, so it should provide plenty of illumination over your desk. Although the thinner boom arm won't have the same dramatic impact.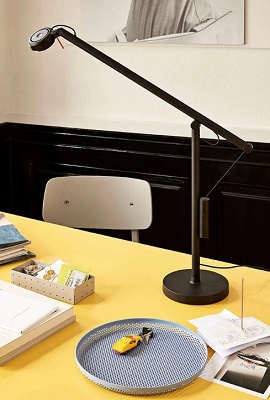 This lamp has developed a bit of fan following since designer Sam Weller introduced it in 2018. He used his background in engineering and physics to create a simple system of counterweights that allows you to easily adjust the lamp head and arm into a variety of positions. The lamp head can be raised up to about two feet and, as you can see in the product photo, it uses a thicker tubing for the body. So it's definitely going to stand out in your work area. This model is available from a variety of retailers around the world at varying prices (and with varying shipping costs!). So if you want one, I'd hunt around a little. Just make sure you get the "Table Lamp" version and not the "Mini Table Lamp"!
The Bar Lamp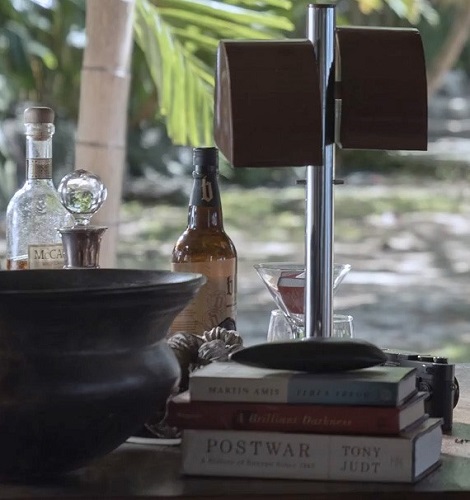 That is a very funky looking lamp! And I spent a ridiculous amount of time looking for it to no avail. I'm no expert on 20th century design styles. But the little I did glean from my research suggests the it's in the Art Moderne or Streamline Moderne style, a design movement which took place during the transitional period between Art Deco and Functionalism in 1930s and early 1940s. We may not be able to find an exact match for Bond's lamp. But another lamp with a similar aesthetic would definitely work in this setting.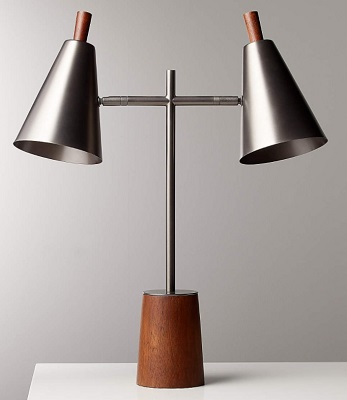 As I mentioned above, the maker of Bond's double headed lamp is still unknown. And honestly, I wasn't able to find a design that really came close. But I do like the similar industrial-meets-modernist vibe of this one from CB2 and think it would look pretty sharp lighting up my bar area.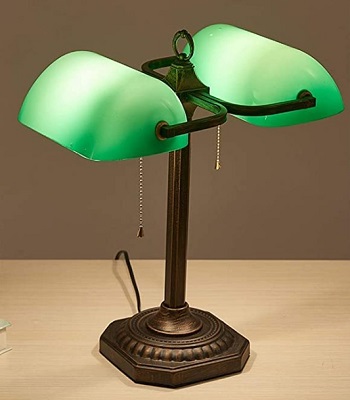 The design is definitely more "Old school London banker" than "artistic industrial". But it could still add some unique character to your bar area, especially if your other furniture is a more traditional style.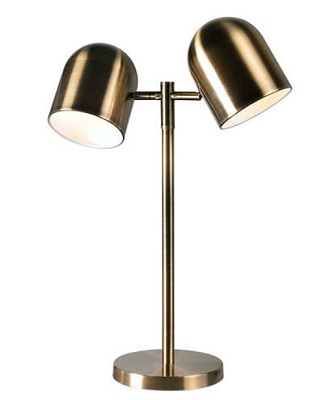 The metal is a spun brass rather than chrome. But I think the parallel head/shade design gives it a look that's closer to Bond's lamp. It's also a reasonable 24″ high, so the bottom of the shades won't be banging against the bottles on your bar.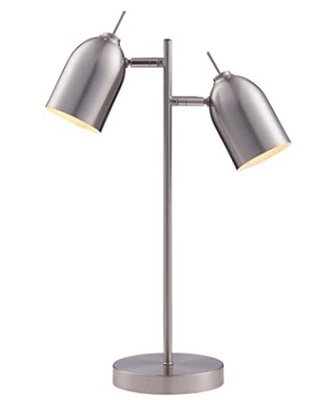 And our budget option, which actually looks a lot like some of the more expensive alternatives above. Seriously, at just over sixty bucks, I would be tempted to get this one and hit the shades with some brown metallic spray paint to make it more screen accurate. But that's just me.
The Bedroom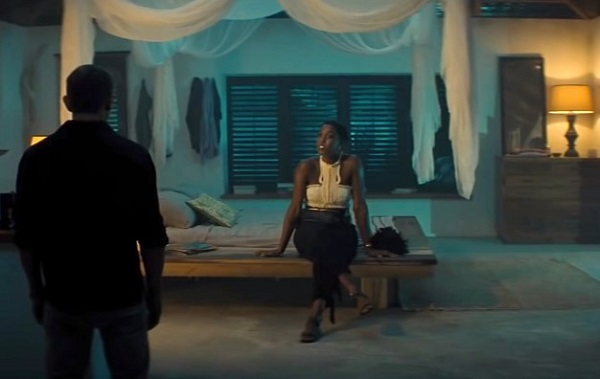 Bond accomplished an enviable feat with the design of his bedroom. There's a lot going on here. But it still seems tranquil and uncluttered. The size of the room obviously helps with that. But he's also used the furniture and decoration to create different areas and each serves a dedicated purpose.
The best example is the use of the mosquito curtain over the large bedframe. With the net hanging down at the four corners, it almost becomes a separate room. The dressing area with it's set of drawers and mirror is set off in the corner. And when we look at the room from another angle we can see that the books and chess set are kept on that half wall that creates a dedicated reading area. It's a nice layout that looks spacious yet warm and inviting.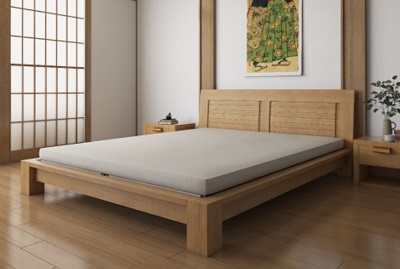 That, my friends, is a nice looking bed! But I'm also a minimalist kind of guy when it comes to furniture. While it doesn't have the overly wide edges of Bond's bed frame, the Raku's Japanese inspired tatami platform design will definitely add an air of rustic elegance to your room. You're also a lot less likely to smash your shins when you're trying to crawl into it at the end of a long day. Haiku Designs has used an eco-friendly and sustainable solid Para wood, which doesn't use any particle board or chipboard (or the toxic glues that hold those together). Which means you're not breathing in any potentially unhealthy fumes during your night's rest.
A few other things to note. First, the price above does not include the headboard. That'll run you an extra $450. But I can't tell from the set photos if Bond's bed even has a headboard. Second, this design would work best with a thinner mattress, although your current regular  mattress won't look ridiculous on it. Third, Haiku Designs has a few other more expensive models that would also work as alternatives for Bond's bed. Check out their Takuma ($1,099.00 plus $349 for the headboard), the Tomaru (on sale for $1199.00), and the Luna ($1,499.00; a good choice if you want to use a regular thickness mattress).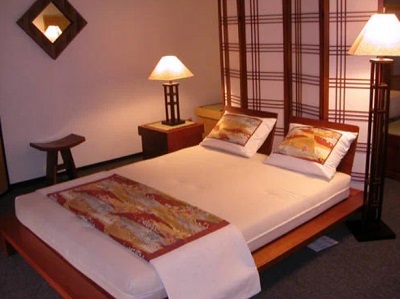 If you find yourself on a tighter budget (or you need a bed for the guest room), the Zen model gives you a similar Japanese inspired style for about $300 less than the Haiku Design. What's nice is that it's still made from solid hardwood.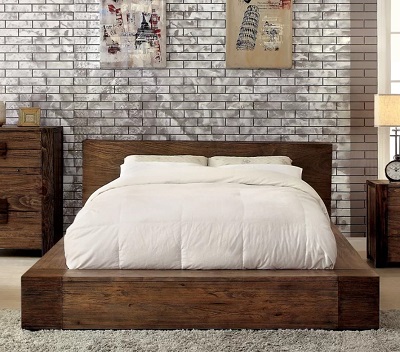 And if you just have to have the extra wide edges to sit on, check out this alternative from Loon Peak. It's a darker tone wood and it doesn't have those chunky legs we see on Bond's bed. But it is a big, blocky design with ample seating space. Loon Peak has another model called the Elliston ($1599.99) which is very similar but includes extra storage drawers in the base. Could be a nice feature if your closet space is at a minimum.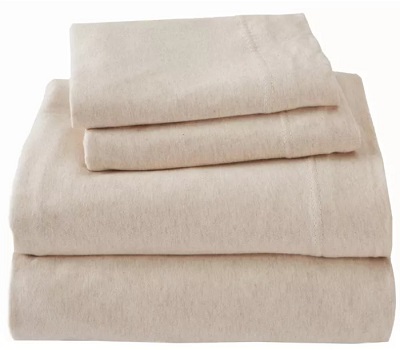 Getting a new bed? May as well pick up some new sheets! These ones from Target are an 80% cotton, 20% polyester blend jersey. So they should be nice and soft right out of the box. The set includes a fitted sheet, a top sheet and two pillow cases. And that Oatmeal color looks very similar to what Bond's using on his bed.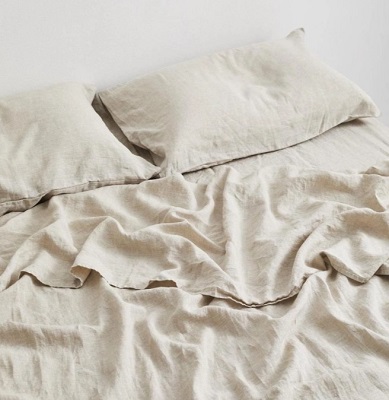 If you feel like going all out, this 100% French flax linen set from Bed Threads should keep you comfortable in hotter weather. It includes two pillow cases, a fitted sheet and a duvet cover (which you could use as a top sheet if you keep it empty).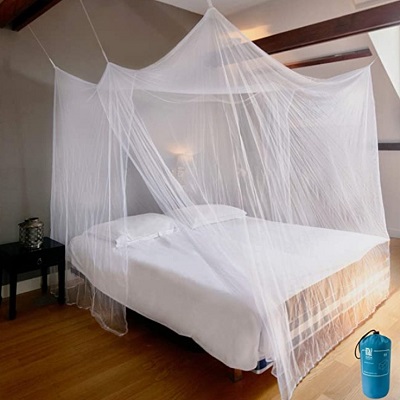 One of the most dramatic elements of Bond's bedroom is the mosquito curtain hanging above the bed. And having lived for 20 years in a tropical country where Malaria and Zika were real risks, I can tell you that the good ones actually do work. But even if you're not normally bothered by the disease carrying little blood suckers, a curtain like this over the bed can give your room design something extra. Even if it's just a basic and inexpensive single layer model like this one from Amazon.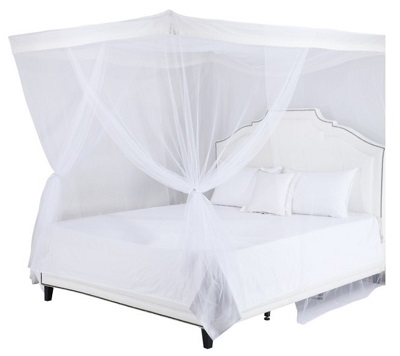 An extra twenty bucks will get you an integrated frame (which makes the rig more stable and manageable) and split, overlapping netting on all four sides. That will let you tie the netting at the four corners to get the look we see in Bond's bedroom.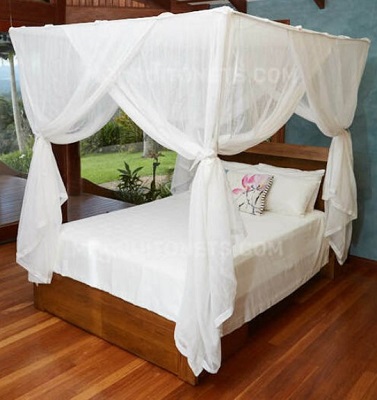 So what does another extra $100 buy you? Well, the netting is now 100% cotton with a tight 256 holes per square inch weave. And the curtains are hemmed so they fall closed more easily. There's also a variety of ways to hang it from your ceiling using the 26 pairs of ties. And the box net's ceiling is reinforced for durability. Granted, most of us aren't going to need most of those features. But it's also a better finished rig that will look sharp hanging over your bed.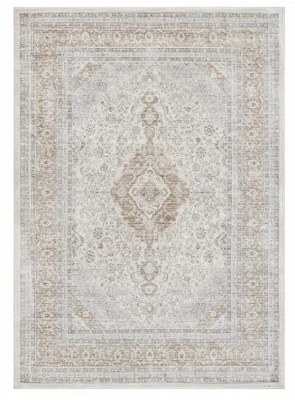 Using only the screen shot above, I can't be 100% sure that the rug at the foot of Bond's bed is an Oriental style. But it's definitely a lighter color and Bond has certainly shown a preference for rugs like that in the past. So I'm going to make an educated guess. As we've mentioned in our previous articles on Bond inspired interior design, you could easily spend tens of thousands of dollars on an authentic Oriental rug. However, that just isn't realistic for most of us. Something like this 100% polypropylene alternative will give us a similar look without devastating our finances. And it'll be easier to clean when you track beach sand all over it.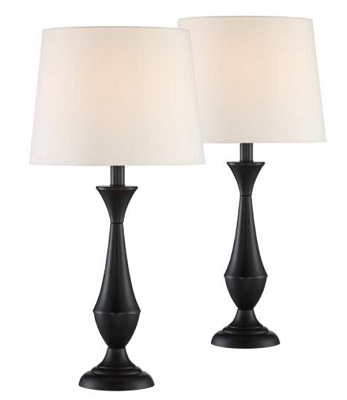 Just a pair of decent alternatives for the lamp standing on the dresser you can see in the background of the screenshot of Bond's bedroom. Bond has A LOT of lamps in his house. If we're on a budget we can't be expected to pay $200 plus for each of them. Better to spend that money on a good bed frame in my opinion.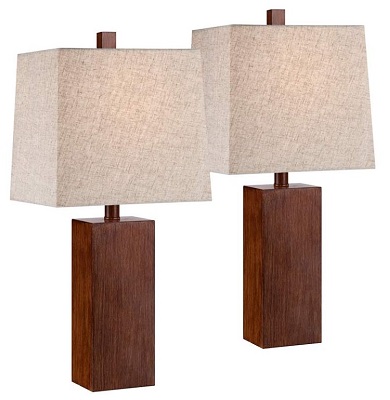 Another budget set of lighting that work as an alternative for the lamp you can see on the bookcase in the background of the photo at the top of this post. These are only 23″ tall, so don't expect them to have a huge presence in a room. But they'll work just fine for a bit of mood lighting.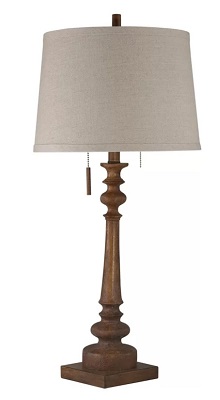 If there's one bedroom lamp that might be worth investing in, it's the one standing next to Bond's chess set. If only because it's featured so prominently in one of the promo photos for the film (see that below). But it's also nice to have at least one tall lamp in the bedroom to provide more illumination. This particular model from August Grove has a wood grained poly-resin base and a built in USB charger. My bedside table has this feature and I have to say I use it way more than I thought I would. It's great for some in-bed phone scrolling when the charging cable is too short to reach from the wall socket. You may want to swap in a different shade with black trim to make it more screen accurate (this one for $64.99 would work).
The Extras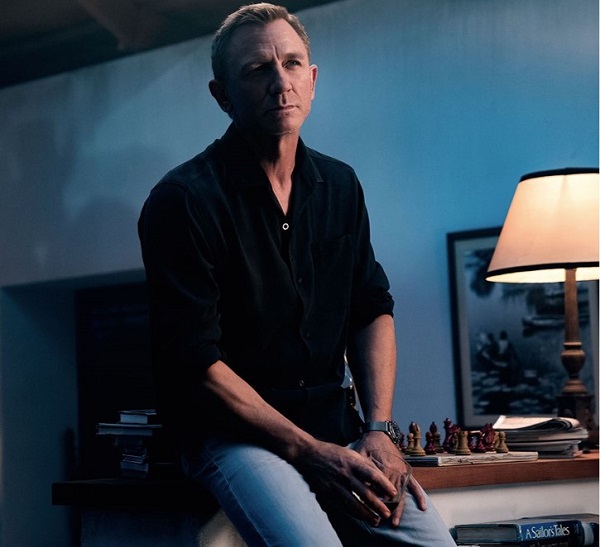 Another cliché: it's the small, personal details that make a house a home. And Bond has a lot of small, personal details lying about. We've all collected mementos from our time here on Earth and no doubt you already have many on display. So, with a few exceptions, I don't think this is an area where copying Bond's style is the right move. Use the things that are priceless to you to make a space special.
Having said that, I also think this is an area of decorating where you can have some fun. Rather than shopping on-line for the books, art, lamps and knick-knacks go visit thrift stores, vintage shops and flea markets. Get out of the house and hunt for those weird odds and ends that speak to you. Sure you could pay $200 for a new brass barometer to hang on your wall. But it's way more interesting to find one on a dusty shelf in some small town antique store. I always like to remember that costume designer Jany Temime found Bond's SPECTRE dressing gown in a vintage shop in London. You can collect your own cool finds to decorate your home over time. And usually at a fraction of the cost of buying new!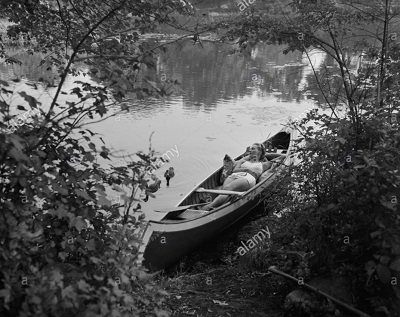 I'll talk about the subject of Bond's artwork first. From the little I can see of the black and white print, it looks like two people (adult and child?) paddling a canoe through some lily pads by the shore. And there seem to be some other boats lined up along the right and side of the image and something reflecting in the water.
"Woman Relaxing in a Canoe" obviously isn't the best alternative for Bond's art. However, it does have a canoe. And I get a bit of a "Sylvia Trench waiting for Bond in a boat in From Russia With Love" vibe from it that I really like. But that's just me.
So anyway, how do you get this on your wall? It's actually a stock photo from Alamy which you can buy as a digital download for $19.99. When you buy for personal use, the file is 6173 X 4859px or about 21″ X 16″ with a 3000 dpi resolution. Print it off at your local Wal-Mart or Office Depot. Then take it your local framing place. Or you could buy a low cost frame with matting from Ikea and you'll have some fun but classy wall art for under $100! The best part is there are literally thousands of photos you can choose from to suit your taste.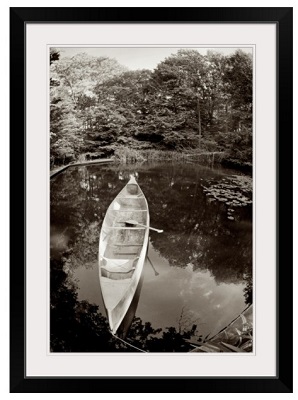 Taking your art to a local framing store is still preferable in my opinion (support local business when you can!). But if that's not an option for whatever reason, then ordering a finished piece like this also works. Not saying you have to go with a "canoeing" theme. But this particular print does seem to capture some of the spirit of the photo we see on Bond's bedroom wall.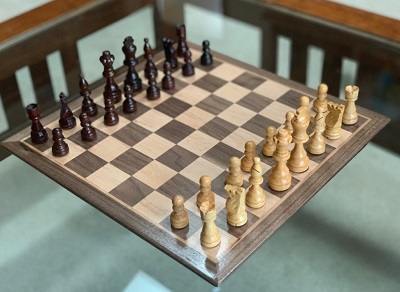 We can't see much of the actual chess board in that photo of Bond. It looks to me to be some sort of light brown material with a grain along the edge. So this 14″ X 14″ alternative may or may not be the best match. I will say that having a nice chess board displayed in your home isn't a bad thing. You don't need to spend a fortune if you only play occasionally. But if you're going for some Bond style, a flimsy paper board with cheap plastic pieces ain't gonna cut it. Speaking of pieces: the price above is for the board only.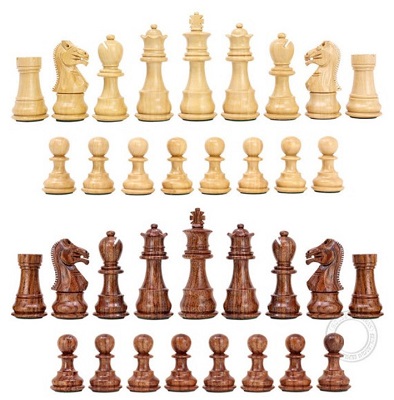 While the chess board in Bond's bedroom may be a bit of mystery, we do get a clear look at the pieces. The two main take-aways: they're a traditional "Staunton" design and the dark pieces have a reddish-brown coloring. This handmade set available on Etsy meets that criteria. The pieces are carved from Hardwickia Rosewood and Boxwood and are triple weighted to keep them stable on the board. The king stands 3″ so these will look right at home on the bigger 14″ X 14″ board above.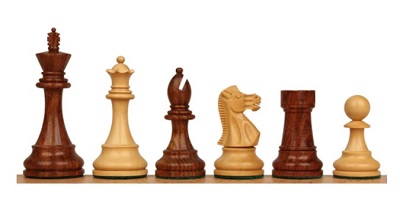 A hundred and fifty bucks may seem like a lot for some small pieces of wood. But I just want to share that when I was researching for this part of the post, I was coming across wood chess sets that were in the $1000 to $1500 range! And that was without the board. Again, it just goes to show that our definition of "affordable" can vary depending on the topic. So if you feel like investing (or if you're a lover of chess), this "affordable" set made from Babul Wood and Boxwood would be a great alternative for Bond's set up.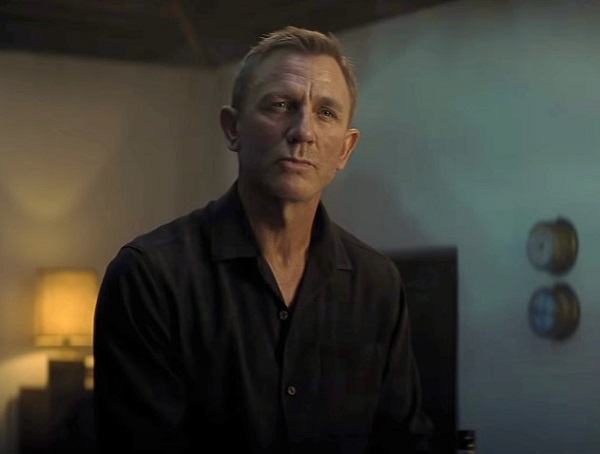 One of things I like about Bond's Jamaica home is the subtle nautical themed pieces we see throughout. There's a book here, some artwork there, a beachy looking blanket on the bed. These are nods to his surroundings and retired lifestyle, but nothing's overt. Those brass instruments on the wall are another example of this aesthetic. They not only look cool, they can also serve a practical purpose. I have no doubt that one is a barometer. But the other could be a thermometer or a tide clock. If anyone reading this knows something about sailing, please share your opinions in the comments!
I'm sure that anyone who is really serious about sailing uses a modern digital weather station, regardless of what Bond has hanging on his wall. In which case, a vintage style setup like this is basically just decoration. But it's still nice to be able see the temperature and barometric pressure at a glance on something that isn't battery dependent. As a wise man once said, "Sometimes the old ways are the best."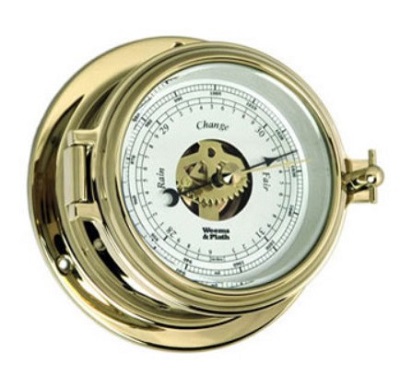 If you do feel like spending up to get more screen accurate wall decorations, something like this brass finished barometer from Weems & Plath would look great. Measuring 4 4/3″ wide at the base and just over two inches deep, it will stand out on your wall without looking too contrived. And it's practical. Weems & Plath are actually pretty well respected makers of traditional nautical instruments. So the barometer really works. To complete the set, check out the Weems and Plath Brass Endurance II 105 Thermometer for $177.00.
Books
Bond has a LOT of books. And they're spread out everywhere in his house. Honestly, without an inventory from Eon of the items used during the production, it would be impossible to identify all of them. But thanks to some set photos and great detective work in the Bond community, we do know what a few of them are.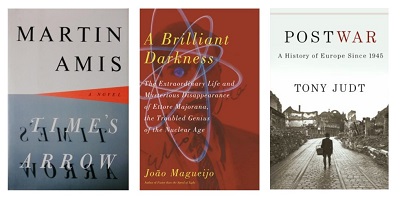 These are the books we see stacked next to the lamp on the bar with the Blackwell Rum and what I think is a bottle of McCarthy's Single Malt Whiskey (the font used for the name looks right, but I can't find a bottle with exactly the same label). James Bond Lifestyle has a great overview of the books if you'd like to learn more about them.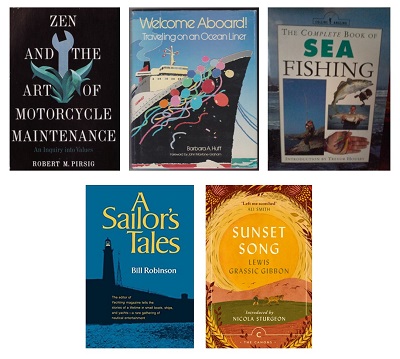 And these are the books we see stacked in Bond's bedroom. Instagrammer @legallybond was doing a great series of posts showing some of the different books. But I'm also going to point out three I noticed myself. Welcome Aboard was published in 1987 and tells the story of a five day voyage on the QE2 from New York to England. There's also a book definitely titled "The Complete Book of Sea Fishing", but I haven't been able to find many images of it. And lastly, I have to say I'm a little surprised to see Bond reading Zen and the Art of Motorcycle Maintenance. Never thought he'd go in for that type of philosophy.
And that wraps up our look at the No Time To Die James Bond Jamaica house! Do you have any ideas for what you'd include in your affordable James Bond home? Or comments on the finds we've discussed here? Share away in the comments! You can also visit our Facebook page, Instagram account, Twitter account and Pinterest Boards for more James Bond style advice and inspiration!