The James Bond SPECTRE Morocco Chinos
During his adventures in Morocco in SPECTRE, Daniel Craig's James Bond wore the Brunello Cucinelli Aged Gabardine Chinos for three different looks. First with the Matchless Craig Blouson, Tom Ford Polo, Cucinelli belt and the J Crew Kentons boots to visit L'Americain (a look we recently featured in our post on the 4 Best Craig Era Bond Casual Looks). He later swapped the polo for a light blue Orlebar Brown linen shirt while riding a train with Madeleine. And last but not least, he changed into his Cucinelli blazer and a Tom Ford white dress shirt with a rust knit tie to await a ride in the desert.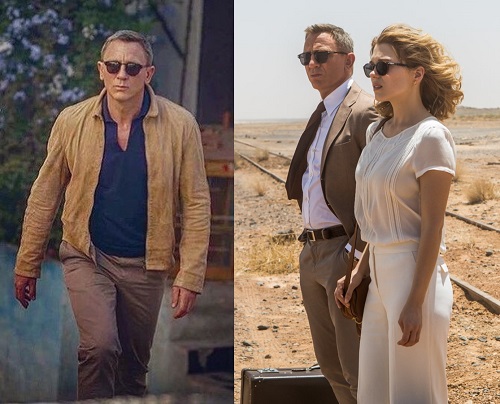 As near as I can tell, it was AJB007 forum member Awilliams007 that first identified the maker of the pants, while member 000-7 got the confirmation of the model (M067DF1050) and color (C1581) direct from the company. A few years ago, they were sold at Harrod's for the low, low price of £439.00. So we can get a good idea of the "real world" color of Bond's Morocco chinos, AJB007 forum member DBS has kindly shared one of his photos showing the Brunello Cucinelli Linen Blazer with the Chinos, the Tom Ford tie and JCrew Kentons in the screen accurate Sahara color (on the left below). AJB007 forum member Tintin's photo shows his Chinos, again with the Kentons and the Matchless Craig Blouson (on the right below).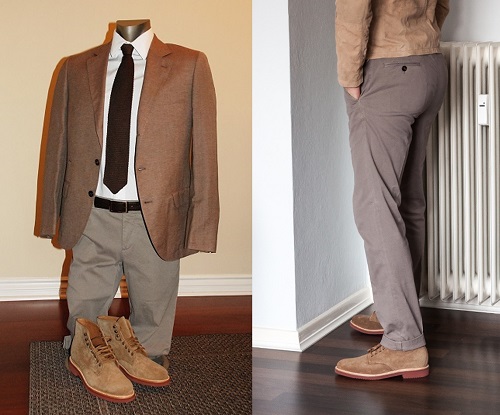 Features Wanted for the SPECTRE Brunello Cucinelli Gabardine Chinos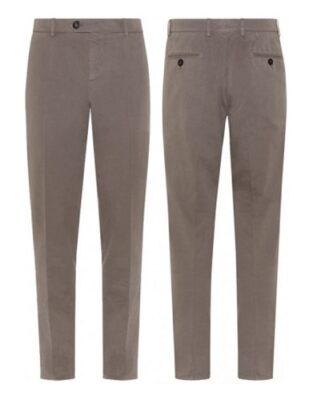 Slim fit (although, as always, it's better to get the cut that fits you best!)
Cotton twill fabric
Belt loops and button tab closure
On-the-seam front pockets
Rear welt pockets with button closure
Medium taupe in color (it's really all about the color)
After a few years of looking at alternatives for these, I've come to believe that choosing the right color for your chino alternatives depends a lot on the jacket with which you're going to wear them. You want the jacket and chinos to be similar tones. But there should still be enough contrast so you don't look like you're wearing a mixed up suit. So if you have a darker alternative for the Cucinelli blazer, you can go with darker chinos. Got a lighter colored blazer? Go with one of lighter chino alternatives.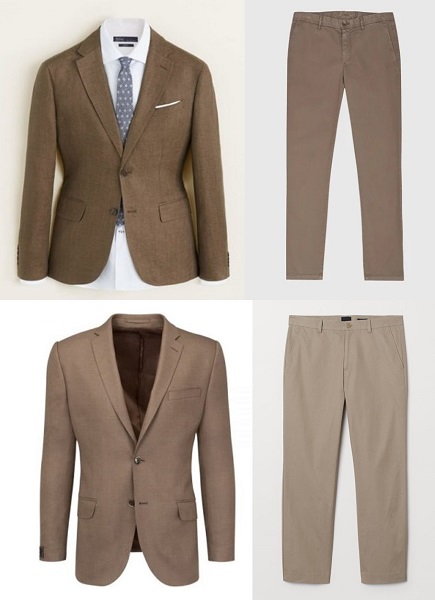 Best Option for the James Bond SPECTRE Morocco Chinos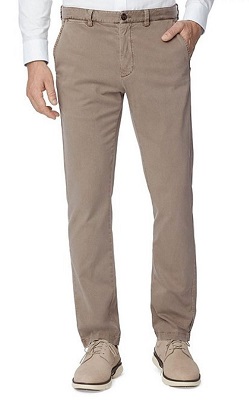 So Johnston & Murphy makes more than just shoes and boots! And boy, did they nail the styling of the SPECTRE chinos. Suggested by our AJB007 friend armenianmovieman (with back up from St_John_Smythe), the material is a cotton, Tencel and Lycra blend twill.  So they'll have a nice soft feel and some extra stretch for comfort. They feature on-seam side pockets and the two welted back pockets with the button closures. And the color also looks like it's a great match. About the only thing they're missing is the tab button closure at the waist. I've linked to Dillard's above and they still have a decent selection of sizes in stock. But if what you need is missing, you can also buy them directly from Johnston & Murphy for $99.50.
Under $50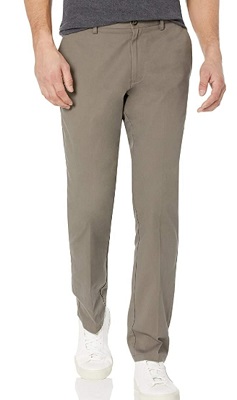 A basic chino from Amazon's house brand that just happens to be a great color match for the Cucinelli trousers. The fabric is a 60% cotton, 40% polyester blend (hence the "wrinkle resistant" in the product name), which has a smoother texture than the originals. They also make these in a straight fit for around the same price (those of you in the UK can see them here). But the sizing for those is really scattered. Just make sure to read the reviews and sizing chart carefully. They have 4.3 stars out of 5 after more than 23,000 (!) reviews. But some of the more negative comments mention that they can fit a little weird.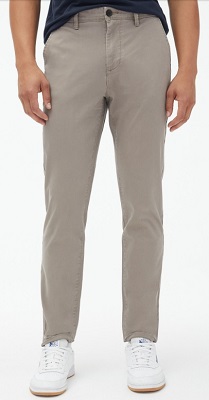 A new option this season in a lighter taupe that could work for you thinner fellas. The fabric is a 98% cotton, 2% spandex twill. So it should have the right texture and a healthy amount of stretch for comfort. You'll find a good selection of waist sizes and inseam lengths on their website.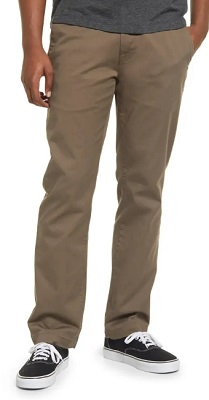 These guys have been a part of this post FOREVER! Definitely a darker colored option. Volcom has used a 59% cotton/39% recycled polyester/2% elastane fabric and they describe the fit as "slightly slim with tapered legs". I've linked to Nordstrom above. But if you can't find your size there, check out Zappos where they're the same price. You can also try Backcountry, but the price jumps up to $57.95.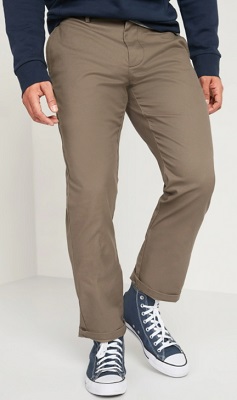 A pair of chinos from Old Navy is obviously not going to offer all of the style details that we saw on the Brunello Cucinelli screen used trousers. But the color of these ones looks to be a pretty good match. And the 61% cotton, 37% polyester and 2% spandex blend fabric should make them plenty comfortable to wear, even if the texture is a little smoother than ideal . Even though Old Navy isn't exactly famous for their quality, these particular chinos have 4.6 stars out of 5 after more than 600 reviews. So plenty of customers have been satisfied with them. And they also come in an Athletic Fit for those of you looking for a bit of extra room in the seat and thighs.
Under $100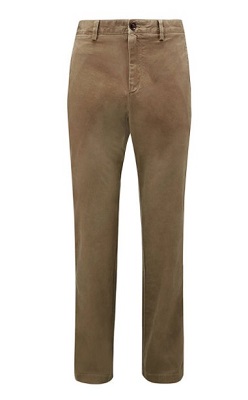 A true straight fit, these alternatives from the John Lewis house brand are made from a 97% cotton, 3% elastane blend so there'll be plenty of stretch. They don't show a clear shot of the back, but at least one of the back welted pockets is button through. Plenty of sizes left in stock on their website.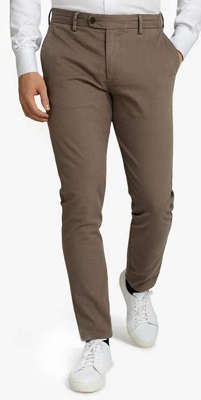 If you're hunting for a pair of chinos in a darker color, these definitely deserve a look. The fabric is a 98% cotton and 2% elastane twill weave, which gives them a nice texture and stretch. And they have a screen accurate button through tab at the waist and the two button closure welt pockets at the back. Given the darker shade, it may be difficult to find a blazer alternative that will work well with these. But if you're more interested in capturing Bond's more casual Morocco looks with the polo and the linen shirt, I think they could do a solid job. John Henric has a good selection of sizes in stock.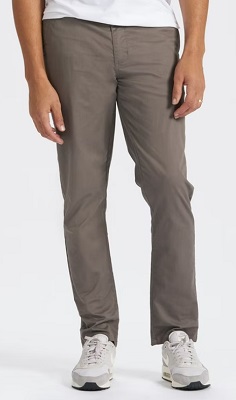 Coming to us from California lifestyle/surfwear brand Vuori, these alternatives are a slightly darker color than we want. But they do feature a couple of interesting design details. They've used a 2-way stretch, 97% cotton, 3% elastane sueded fabric and the chinos have a tailored, but not skinny, fit. They also have slightly off-seam slanted front pockets and two welted back pockets (but no buttons). There's also a handy zippered pocket that would be a great place to stash your keys. They currently have 4.7 stars out of 5 after 83 customer reviews, with most comments complimenting the fit and softness of the fabric. Vuoir has sizes 28 to 38 in stock. But unfortunately, they only offer them in a 31″ inseam, which may not be long enough for you taller gentlemen.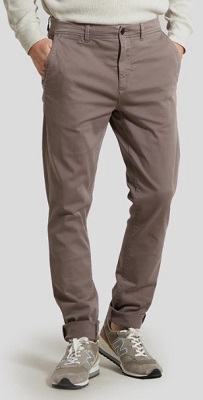 They're calling the color "Battleship Gray". But based on the product photos, there seems to be a warmer brown hue to the fabric that I think makes them a good alternative for Bond's chinos. The material is a 98% cotton, 2% Spandex twill that's been washed and garment dyed to give it a soft, broken-in feel. And altought they're missing the tab at the waist, it looks like Grayers went all out with the construction and design details inside and out. You'll find plenty of sizes on their website.
Under $200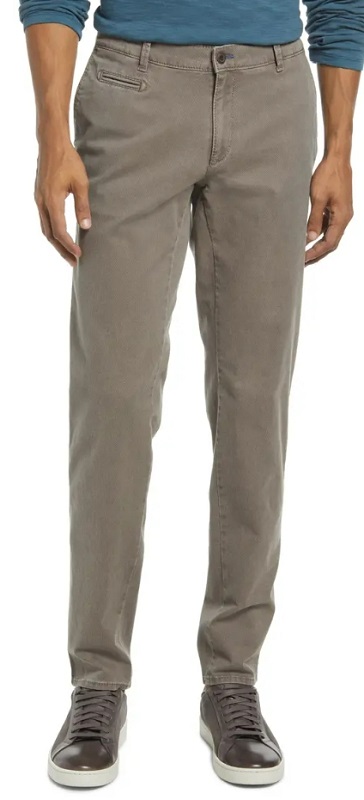 A Nordstrom Rack special. Which means the original MSRP of $198.00 has been heavily discounted, but size options are starting to get a little thin. However, if they do have you're size, these should be an excellent alternative for the original chinos. Made from a medium weight 98% cotton, 2% elastane twill, they include a few little extra design details (coin pockets on the front and back, rivets at the bottom of the front pockets) that add some character. And Berlin-based BRAX is well known for making high quality trousers. So you can be sure you're getting great construction and materials for the price.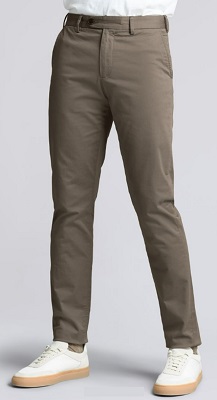 The price is getting up there. But these will definitely elevate your chino game. Asket has used an Italian mid-weight 98% cotton, 2% elastane blend fabric with a slight sateen finish. So expect a little sheen at the start that will fade with washing. The chinos feature slant front pockets, welted back pockets (but no buttons), and a natural horn button waist tab closure. They're also available in slim and regular cuts to help you dial in the fit. And they currently have 4.6 stars out of 5 after more than 500 reviews. Asket has almost all sizes in stock.
As always, we'll be adding more options as they're found! If you've turned up some good alternatives for the James Bond SPECTRE Morocco Chinos, share away in the comments below. And remember to check us out our Facebook page, our NEW Instagram account and Pinterest Boards for more James Bond style advice, inspiration and info on where to find the latest deals!