The James Bond Quantum of Solace Haiti Jacket
James Bond really does find some nice stuff on his adventures. Case in point: the Adidas Y-3 jacket Bond "borrows" from Mr. Slate in Haiti in Quantum of Solace. Created in collaboration with designer Yohji Yamamoto, the Y-3 is a simple jacket based on a traditional design. And it's nearly impossible to find now. BAMF Style and Bond Suits both do a great job of providing details on Bond's complete Haiti look.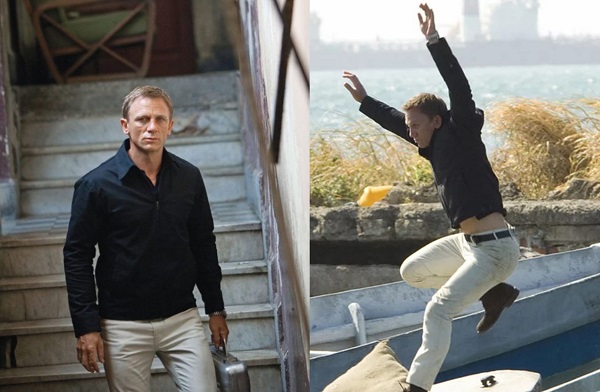 So how traditional is the design? Compare this 1970's Silton Golf Jacket to the screen used jacket. The Y-3 really was retro styling at its best. And when it was combined with the dark blue polo, ecru Levi's STA-Prest 306 jeans and brown suede Church's Ryder III chukka boots, it gave Craig's Bond a casual but cool 1960s Steve McQueen vibe lots of guys want to emulate.
Features wanted for the James Bond Quantum of Solace Haiti Jacket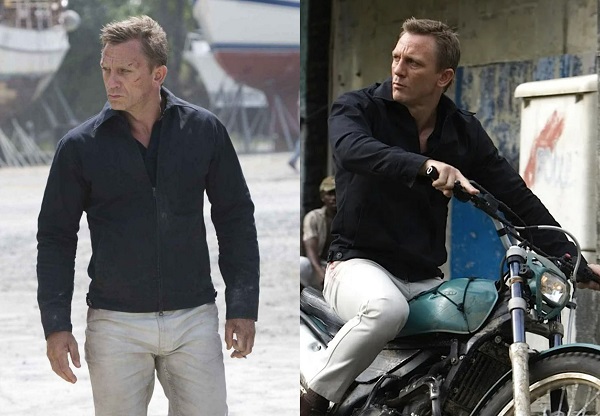 Harrington or Eisenhower style jacket with a two-way zip front and spread collar with throat latch (the throat latch was hidden or removed for the film, so it's not absolutely essential for a screen accurate look).
Cotton/polyester blend material; should have a bit of sheen but not look like nylon
Welt pockets
Button side adjuster tabs on the hem and button shirt style cuffs
While the original Y-3 did have a partially elasticized hem at the back, we don't want the whole hem to be elasticized.
Trim fit through the body and sleeves with higher armholes.
No visible logos if possible
The fit really is everything with this jacket. While a lot of the possible alternatives get the details right, they're cut like a box leaving you looking like either a 15 year old skateboarder or little league baseball coach (not that there's anything wrong with coaching baseball!). That actually leaves very few viable options for the more budget conscious among us. But there are a few on the market.
The Replica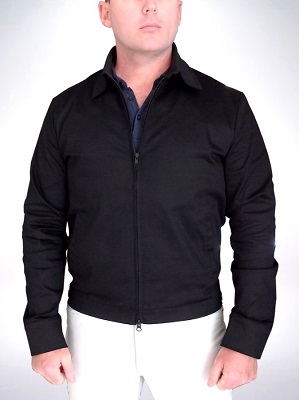 It terms of features, it has everything we want in a screen accurate jacket. And ROYALE Filmwear also delivers the quality with their choice of fabric and excellent construction. You can read my review of an earlier model of the Haiti jacket here. But long story short, if you want the best alternative out there for Bond's Y-3, this is the one to get. Sizes XS to 3XL are available on their website.
Best Option for the James Bond Quantum of Solace Haiti Jacket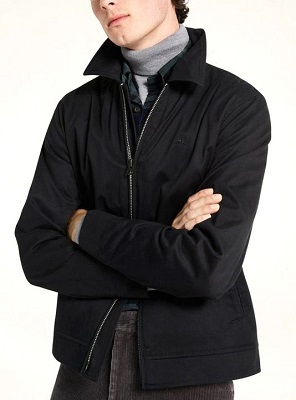 Not a perfect match for the screen used jacket. But it sure does come close for an off-the-rack alternative! The shell fabric is 98% cotton with 2% Spandex to give it some stretch for comfort. As for the style details, it has the larger collar, the two-way front zip, and the button tab waist adjusters. What features don't line up? Well the cuffs aren't exactly the same, but at least they have the buttons. We also don't get the elastic on the back of the hem (although some us may prefer the jacket without that feature?). There's an internal storm flap behind the front zipper. And then there's the small embroidered sheep logo on the chest. That's done with a tonal black thread so it doesn't stand out too much. All in all, the jacket delivers almost everything we want at a pretty reasonable price. You'll find sizes small to XXL on the Brooks Brothers website.
Under $100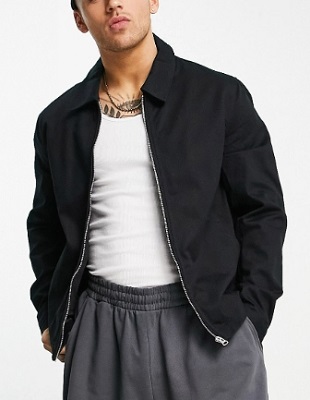 Nothing fancy. Just a straight forward shirt collar jacket in a 100% cotton twill fabric at a price most of us can afford. Sizes 2XS to 2XL are available on the ASOS website.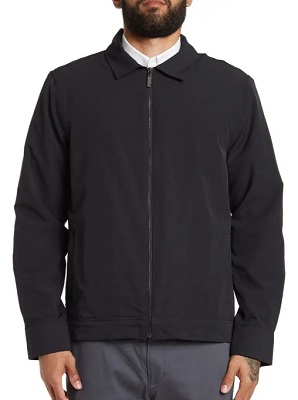 Another relatively basic design, this time with a more "performance" focused 89% polyester, 11% spandex shell fabric. However, the lining is 100% cotton, which will absorb sweat like a sponge if you plan on doing anything remotely strenuous while wearing it. So I'm not sure how "performance" it really is. Nordstrom Rack is stocking sizes small to XXL.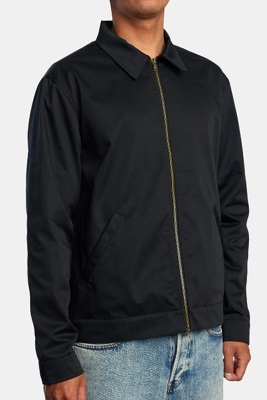 Not sure how many of you will like that brass colored zipper. But it does add a bit of workwear style to the jacket. And we do get the button cuffs and waist tab adjusters. The shell is a 65% polyester and 35% cotton blend and RVCA has sizes small to large and XXL in stock.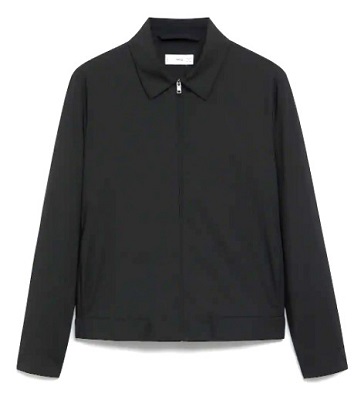 Probably our best alternative if you're trying to keep the cost under a hundred bucks. They've used a 65% polyester, 28% viscose and 7% elastane fabric for the shell. So even though this one looks like a true slim fit, the extra stretch will help to keep it from feeling too restrictive. It also has a decent size collar and the shirt style button cuffs (although no waist tab adjusters that I can see). Sizes large to XXL are available on the Mango Outlet website.
Under $200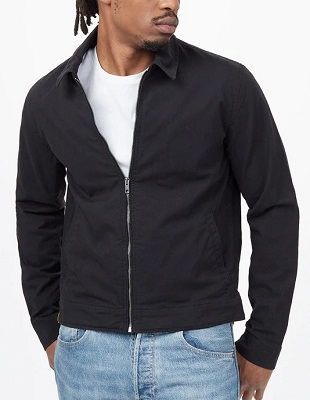 I don't know much about Canadian company TenTree. But based on the product photos, it seems like the big advantage to this one is the fit: a not too trim, not too boxy cut that could hit a sweet spot for many of us. Other than that, they've used a 97% organic cotton and 3% elastane fabric for the shell and the jacket comes with snap buttons at the cuffs. They have sizes small to XL available on their website.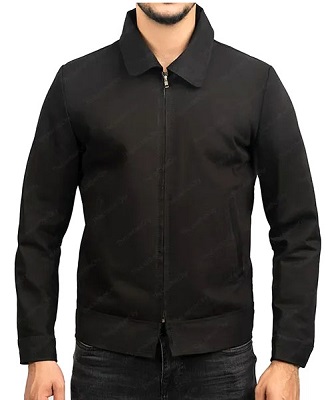 This is what happens when franchises collide! Apparently Alan Ritchson wore a jacket very similar to the Y-3 in the new Reacher show on Amazon. So there are more than few replicas for that piece floating around out there with the shirt style collar, button cuffs and waist tab adjusters we want. I'm sharing one from The Leather City simply because it's one of the more professional looking websites and it seems like they use photos of their own products. They also have 4.9 out of 5 stars on Trust Pilot after 75 reviews, which is a good sign. But I honestly can't say what it would be like ordering from them. So I'd still advise using caution and doing your research before laying down your money.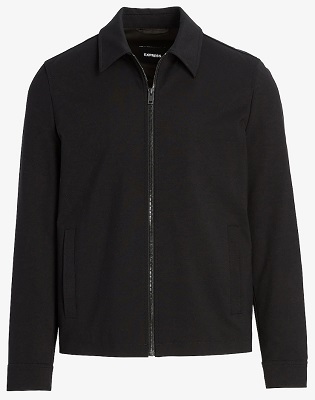 Last but not least we have this alternative from Express. There's nothing radically different about the design: they've used a nylon, cotton and spandex blend fabric for the shell and it has a trimmer fit, the button cuffs and a good sized collar. What did catch my attention was the price. I've listed the normal sale price first above (it's normal MSRP is $198.00). But Express is currently knocking an additional 50% off of that, which brings it down to $69.99. At around seventy bucks, it seems like a pretty good deal. However I have no idea how long that will last. And they only have sizes small to large left in stock. If you want one, I'd recommend acting quickly.
Do you have some suggestions for alternatives for the James Bond Quantum of Solace Haiti Jacket? Share them with us in the comments below! And remember to check out our Facebook Page, our NEW Instagram account and Pinterest Boards for more James Bond, Steve McQueen and Daniel Craig style advice, inspiration and info!