The ROYALE Filmwear Quantum Haiti Jacket Review
So did Daniel Love, owner of ROYALE Filmwear, do it again? Short answer: yep, he did.
I'll come clean right now. I was never that crazy about the Y-3 jacket from Quantum of Solace. The Harrington? That was love at first site. But Bond's basic black jacket from Haiti always struck me as a little … meh. With its big collar and elasticized waist back, it reminded me of a generic Tommy Hilfiger or Dickies jacket a granddad might pick up at Macy's. Except Bond's fit much better.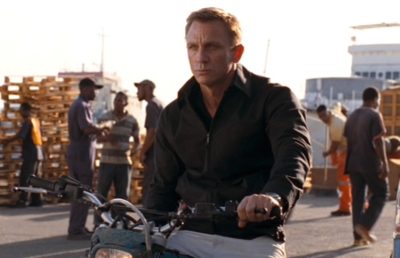 So when I received the ROYALE Filmwear Quantum Haiti jacket, I didn't exactly rip into the box the way I did when their version of the Harrington showed up at my door. It was coming from Daniel and so, based on past experience with his work, I knew it would be a nice piece. But it wasn't exactly a style I was drooling for.
Then I tried it on ….
The ROYALE Filmwear Quantum Haiti Jacket Review
First, a little background on the screen-used piece. The Y-3 jacket Daniel Craig's Bond "borrows" from the recently deceased Slate was the result of a collaboration between Adidas and renowned Japanese designer  Yohji Yamamoto. Bond wears the jacket with a Tom Ford navy polo shirt, Levi's STA-PREST 306 jeans in a light cream color, dark brown suede Church's Ryder III chukkas, and a black Saffiano leather Prada belt. Check out BAMF Style's analysis of the complete look for more details.
Back the ROYALE Filmwear version. At this point, I really shouldn't be surprised by Dan's ability to create beautiful jackets. And his latest version of the Haiti jacket is no exception.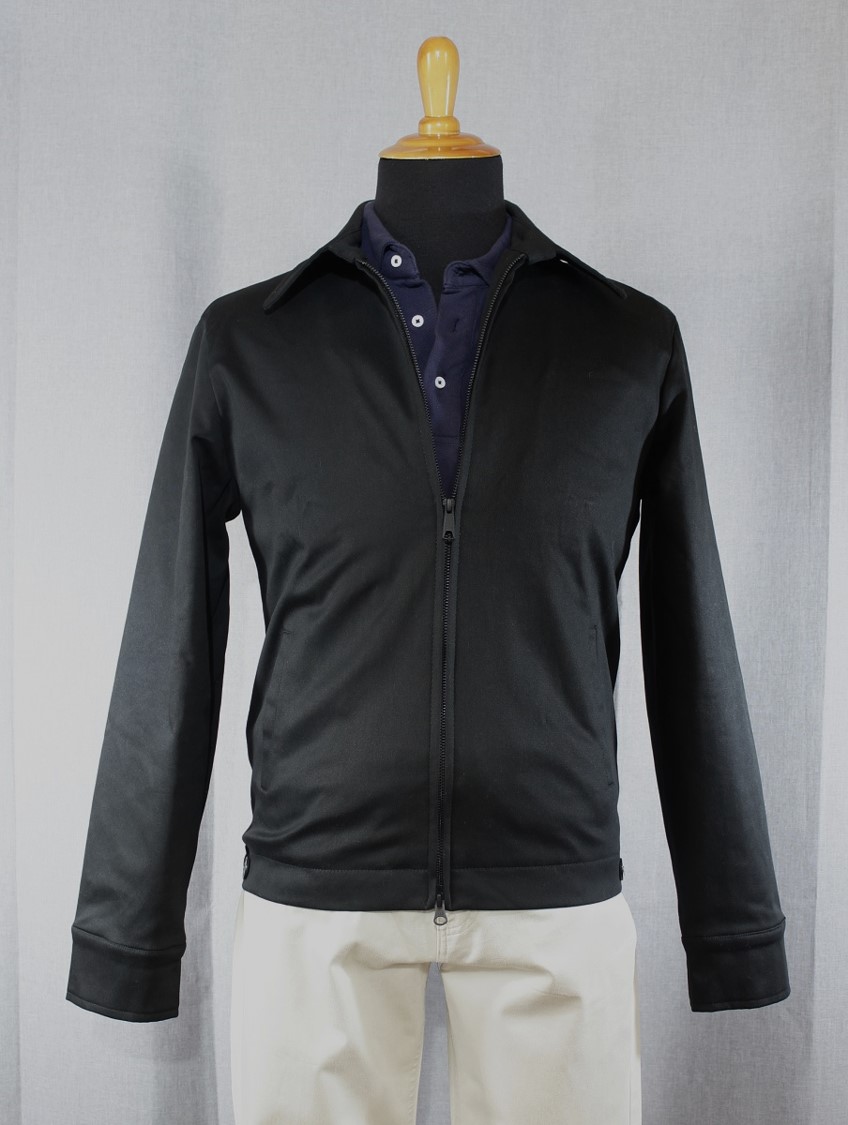 The Material and Finishing
For the Haiti, ROYALE Filmwear has used what they call a lightweight 96% cotton/4% Elastane twill fabric. I'd actually call it mid-weight, very close to the material they used for their Harrington, but with a smoother finish and a slight sheen. The big difference is that small percentage of Elastane. More on that when we discuss fit.
The jacket is also fully lined in black Rayon so it's easy to slip on and off. The lining in the Haiti feels a hair thicker than the material used inside their Harrington. And it has a slightly "plastic" or coated hand to it. But it certainly doesn't feel cheap. And, as I found out, that slightly slicker finish also plays a role in the fit.
As for the finishing: the stitching is impeccable both inside and out. The buttons at the cuffs and waist adjusters are sewn solidly in place with no loose threads. And the double YKK zipper operates smoothly. In you own any other ROYALE Filmwear jackets, then you'll be very happy with the quality of the craftsmanship on the Haiti.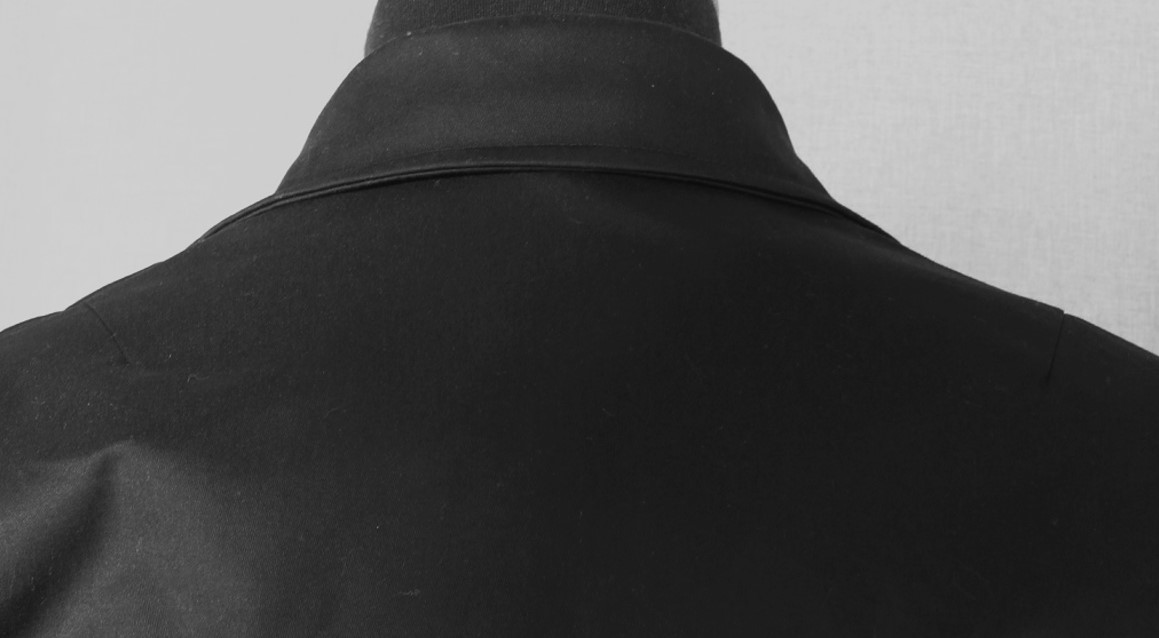 Summary: Heavier and slightly stiffer than you may expect, the Haiti is another jacket from ROYALE Filmwear that combines quality fabrics with equally high-grade finishing. I can't think of anything anyone would be disappointed with. One thing I will note: the fabric is a lint/dog hair/fluff magnet. Seriously, when I was doing the photos for this review, I must have brushed the jacket twenty times to keep it clean. And I still ended up with some fluff in a few pics. I don't think this is a flaw. Just part of owning a black jacket in the real-world. #firstworldproblems.
The Details
The Y-3 was a pretty simple jacket to begin with. But, true to form, Daniel has made sure each detail from the screen-used garment is built into the Haiti. Collar and waist adjuster tabs with slightly rounded corner? Check. Matte black, two-way front zipper? Got that too. And then there are the little touches Daniel adds, like the inside zip pocket. I'll admit I haven't studied the Y-3 as obsessively as I did the Tom Ford Harrington. But I can't think of anything ROYALE Filmwear has missed this go around.

The Sizing and Fit
The basics: I'm 5'9″, 165 lbs, with a 39″ chest, 32″ waist, a 15.5″ collar, a 33″ sleeve length. For reference, I went with a size large in ROYALE's Harrington (although I probably could've gotten away with a medium) and a size medium in the ROYALE Shanghai Peacoat and I'm very happy with both. I like my jackets to be fitted, but not skin tight. After a quick back and forth with Daniel, I went with the medium in the Haiti.
Okay, remember that Elastane I mentioned earlier? Here's where that comes into play. Out of the package and zipped up 3/4 of the way, the Haiti felt very snug, especially through the torso. But thanks to the stretch provided by the Elastane, it definitely doesn't feel restrictive. It has a bit of give that keeps things trim but comfortable.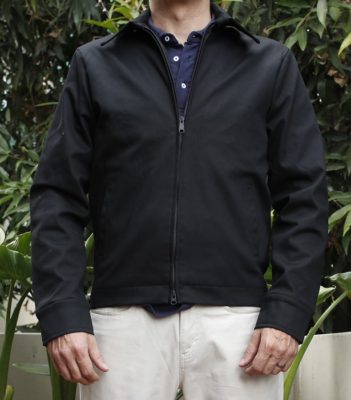 Adding to that sense of comfort is some excellent tailoring work by Daniel and his team. The shoulders and armscyes are spot on for my frame. Overall jacket length also hits the sweet spot for me. The sleeves were perhaps a touch long. But I won't be getting these ones shortened, as I did for their Harrington and peacoat.
The final part of the fit equation is the that slick lining. It keeps the jacket moving smoothly over whatever shirt you're wearing underneath, so nothing bunches or rides up. I'm not sure if that was by intentional design. But it sure makes wearing a tighter jacket easier!
Sizing is always a big question when it comes to ordering any jacket on line. So here's my take take. First, follow the sizing chart on the ROYALE Filmwear website. It's accurate. Second, if I really wanted Bond's super tight jacket look from Quantum of Solace, I might have been able to squeeze into a size small. But the shoulders and length on the medium Haiti are just right for my frame. My gut feeling is the small would have been just too tight on me to be comfortable, even with that stretch in the fabric.
Conclusions
Honestly, I'm still not the biggest fan the Y-3's design. But that has nothing to do with ROYALE Filmwear's work. They've created a faithful replica, and I have no doubt that fans of the style will be more than happy.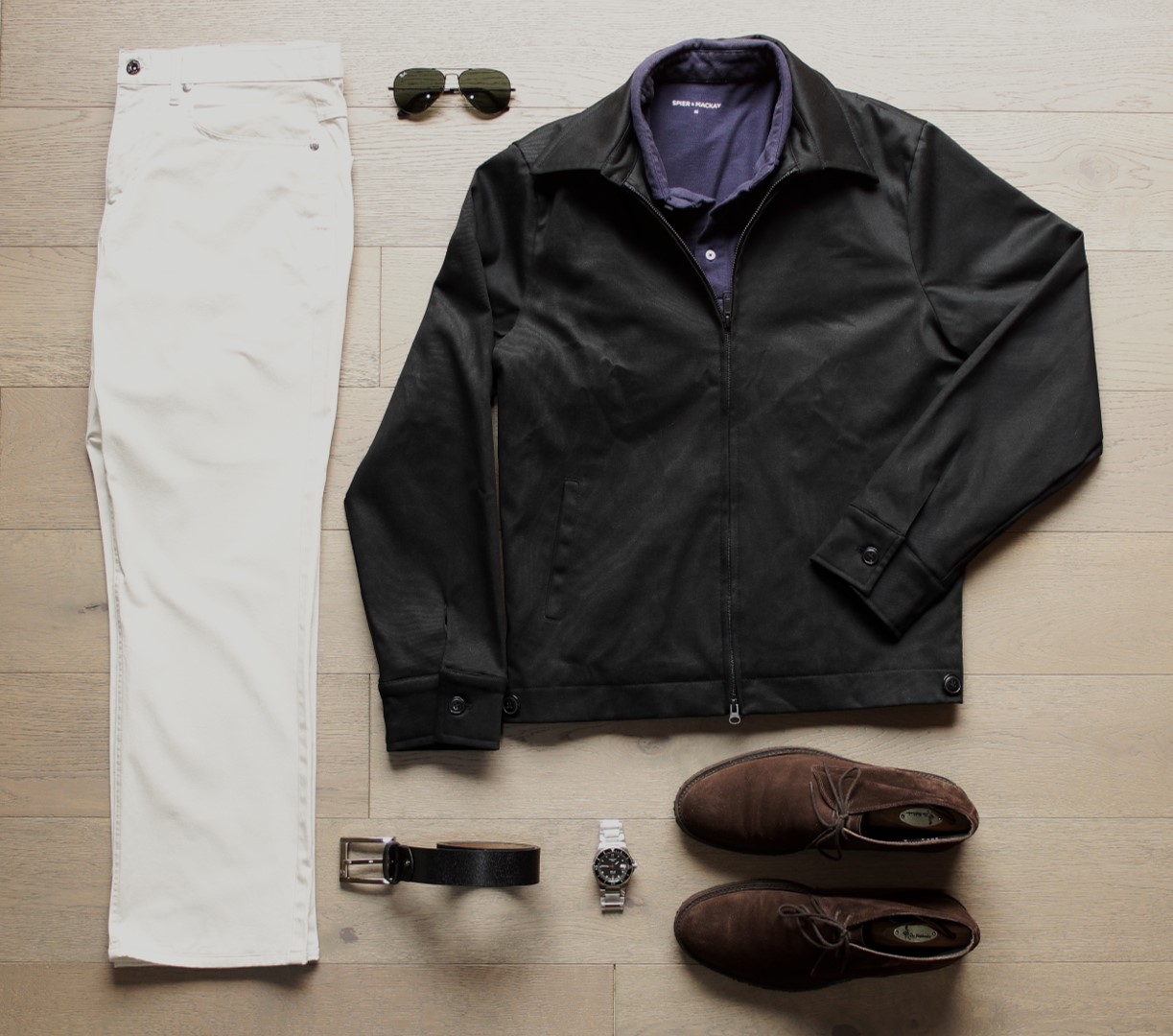 From my perspective, Daniel and his team have done something more interesting with the Haiti. With a combination of excellent fabrics, their usual high quality construction and (perhaps most importantly) amazing tailoring, they've created what is easily one of the best fitting jackets in my closet and one I plan to wear often. Now, it's one thing to create a piece for the detail-focused fan. But to produce something that also takes the customer from "meh" to "I want to wear this NOW"? That takes some real skill. ROYALE Filmwear's Haiti has actually made me a bigger fan of the Y-3. And I don't think I know of a better way to recommend a company's work.
The James Bond QUANTUM Haiti Jacket is available for $199.00 on the ROYALE Filmwear website. At the time of this writing, sizes X-small to large were still in stock. 
ROYALE Filmwear provided the author with one jacket at no cost for the purposes of this review.