The James Bond Poker Night
Updated May 17th, 2021 – For most of his literary and film existence, James Bond's card game of choice has been chemin de fer or baccarat. That changed with Casino Royale and it's high-stakes poker game in Montenegro. This isn't really the space to go into the pros and cons of each game. Suffice it to say that outside the casinos of Europe, poker (specifically the popular Texas Hold 'Em variant) is probably the better known game. So in this article we're going to focus on organizing your own James Bond poker night.
A few quick clarifications before we get started. We tend to be realists around these parts. So our idea of a James Bond poker night does NOT include insisting everyone show up in black tie. The more casual style of Bond's game at the One and Only Ocean Club is more our pace.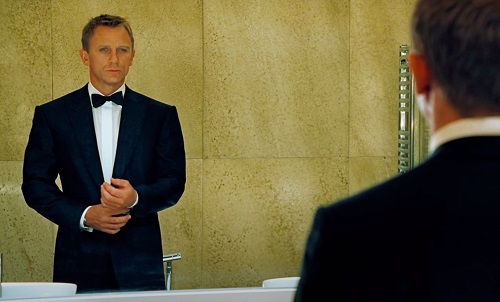 We've also offered some suggestions for "house rules" pertaining to game play. These are based purely on my personal experience. I have no doubt some of you are poker experts, and that you'd take me to the cleaners if we were to sit across from each other. You folks know what you're doing and need no further advice from me. But if you're organizing your first friendly game night, or just want to improve your current casual game with buddies, the tips below should help to keep things fun and exciting without making any one feel uncomfortable.
Off we go!
The Set Up
To play poker, all you really need is a deck of cards. But a better playing surface and quality chips and cards add that extra something that elevates the experience for everyone. Sure, you can go with cheaper plastic chips and a piece of green felt. But this is one of those times when making a slightly larger investment can have a big impact.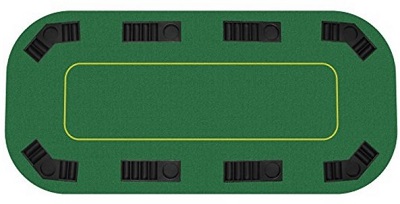 Four reasons I like this table top. First, it's a generous 80″ by 36.5″ rectangular shape. So it should comfortably fit eight players at a typical dining table (where, if we're being honest, most of us will be playing). Second, it's made from felt covered half inch wood. That sturdy surface is going to be a hell of a lot easier to play on than just using a flimsy piece of fabric. Third, the layout is simple. The built-in chip holders are a nice touch. But more importantly, it's done away with the dedicated Dealer position. When you're playing a friendly game, the deal will usually rotate from player to player around the table. This layout matches that style of play. Fourth, it folds up so it's easy to store under a bed. Currently has 4.3 out of 5 stars at Amazon. Most complaints relate to the table top being shipped with missing chip/cup holder inserts. Definitely something you should check as soon as you get it.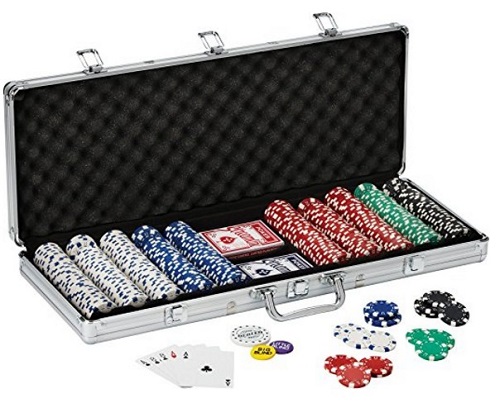 The actual design of the chips can be a very personal choice. But one thing is certain: clay beats plastic every time. These chips from Fat Cat have one advantage over some other clay sets. They don't have a specific value denomination on them, which makes them more versatile when you're playing for different stakes. You can also take a look at sets from Da Vinci for $69.95 or JP Commerce for $99.99.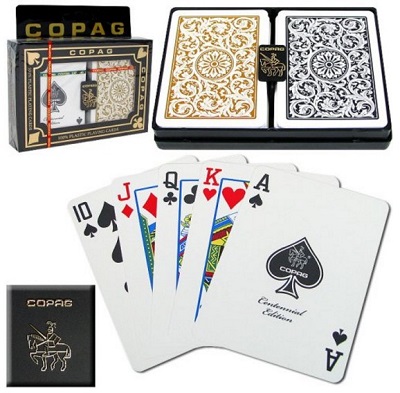 PVC plastic cards are going to last a lot longer than cheaper coated paper ones. They're also easier to shuffle and deal. If the black and gold pattern of these ones from Copag aren't doing it for you, you can also try cards from Royal Playing Cards ($8.49) or Bicycle's Prestige Set ($18.95).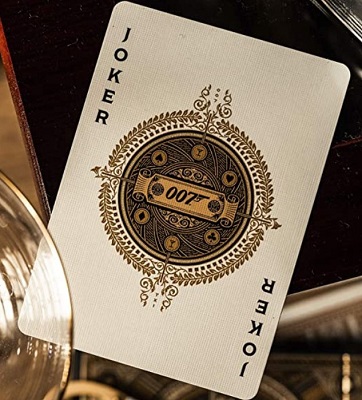 Or you could fully embrace the 007 theme of your poker night and go with this stunning deck from theory11. I've spent more hours than I can count playing card games with my 10 year old son over the last year. And I've loved every minute of it (mainly because I almost always win; I am a small and petty man). But these beauties would have made those games even better. I have no idea if there's such a thing as "playing card porn". But if there is, the product shots on the Theory 11 website would definitely qualify. And they only cost $9.95!
The Game
As we mentioned earlier, the suggestions we've outlined below are just that: suggestions. Based on your (and your friends') level of experience, some of these will help and some you can ignore. But our goal is simple. We want your James Bond poker night to be interesting, exciting AND fun. Playing for money is interesting and exciting. Playing for an amount that won't wipe out someone's financial future keeps it fun. If you're not familiar with some of the terminology we've used, take a look at this glossary of poker terms.
The Buy-In
I like to use a $10 buy-in, with a maximum, one-time $10 re-buy. If you have six to eight players, this could fund a $100+ pot, which keeps things interesting. But no one can lose more than $20, which isn't a deadly amount. So you're less likely to have to deal with hurt feelings at the end of the night.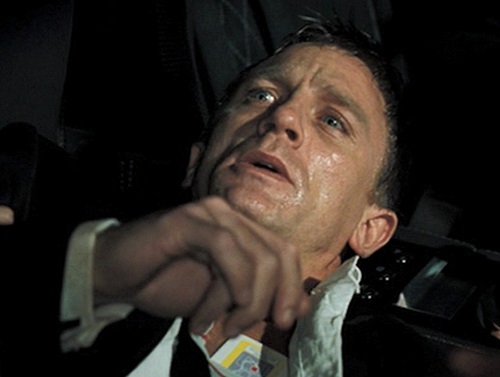 Blinds and Antes
For friendly games, I stick with the standard practice of using blinds and antes, but with a couple of modifications. Normally we keep the big blind at $2 and the small blind at $1 for most of the game. We only raise them when there are 3 players left in the game, up to $10 for the big and $5 for the small. The main reason is to help the pacing of the game. Keeping the blinds at a low amount helps more people stay in the game longer. Raising them at the end picks up the pace of the game when the majority of the players are just standing around and watching.
I also usually reserve the use of antes until later in the game. The decision to add antes to the play also depends a lot on the pace of the game. If things are going slowly, adding antes can help change the dynamic. But if the game is already moving quickly, then they're not really necessary. Either way, we normally don't add $1 antes until the betting maximums have reached $4.
Betting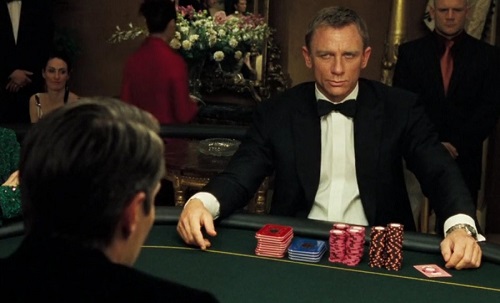 Setting the betting limits can be tricky. Playing a "no limits" game right from the start can make things exciting. But it also means some players will quickly lose everything. The evening will get pretty boring pretty fast for them. On the other hand, sticking with $1 or $2 bets all night can become monotonous and create a game that could last forever.
I try to find a happy middle ground. I usually start the game with $1 bets and a maximum $2 raise. We play with these limits for ten hands. On the eleventh hand, bets are raised to $2 and raises go up to a maximum of $4. We play another ten hands with these limits. Every ten hands, we double the maximum amount you can bet and raise until there are only three players left in the game. At that point we switch to "no-limits" with $10 minimums.
When it comes to friendly games, there are some advantages to this strategy. First, starting with low limits means everyone at the table will get a chance to play a reasonable number of hands. In my experience, players normally don't need to re-buy until around the tenth hand. And people start dropping out completely by around the fifteenth hand.
Second, it makes for a game of reasonable length. When I've played using this strategy with eight people, most players get in a solid hour of poker before they're eliminated. And we usually have a winner somewhere around the two and half hour mark. Additionally, switching to "no limits" for the final three players gives the other people in the room something entertaining to watch at the end.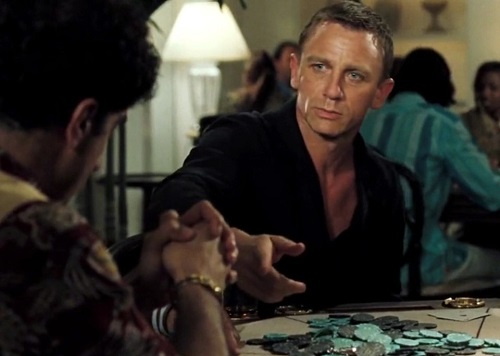 The Extras
Bond's dress style is all about the little details. Let that philosophy be your guide when you're outfitting your James Bond poker night. A big part of human psychology is understanding how subtle clues and stimuli in our environment affect our behavior. For the Bond-inspired poker night, we want our environment to suggest that this is a special night with friends. The little extras below will help set that tone, without being too heavy handed. Because we also need to avoid being so "precious" that we kill the fun. In other words, setting out beer glasses is gentle invitation to your guests to level-up their drinking style. But if one of the guys or gals wants to drink out of the bottle, let 'em.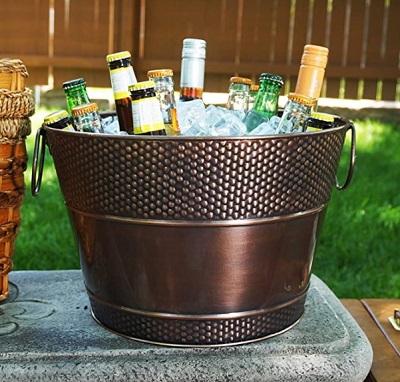 Plastic cooler by the side of the table? Guests running to the fridge to get a fresh cold one? Gentlemen, we can do better than that. This beverage tub from BREKX is made from galvanized metal, so it's manly enough. But the copper finish keeps it from looking like something you dragged out of a barn. Just remember that cold metal will collect condensation. So if you're planning on placing this on a wooden surface, stick a towel (a nice towel!) under it to catch the run-off and drips. Keep the extra beers in the fridge and re-fill as needed.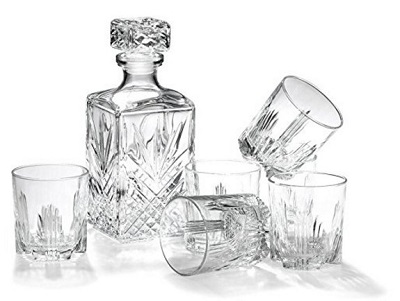 Some of the players are going to want mixed drinks. For those guests, keeping the bottles in the serving area with some standard bar glasses will work fine. Adding a cocktail shaker is also a nice touch. But if you're planning on offering some whisky (or whiskey), think about stepping things up by serving it in a decanter. This set from Bormioli is made in Parma, Italy and will look good at the bar. But at this price, you won't be freaking out if someone breaks a glass. Which will happen.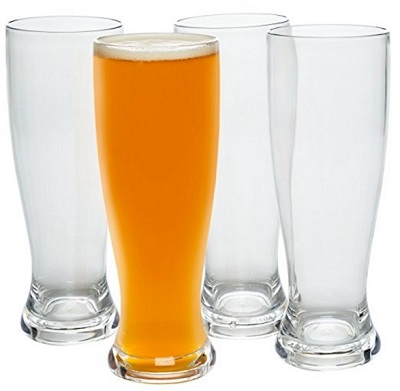 Unbreakable, you say? Well, I'm sure we all know someone who'll test that claim. You'll probably need to buy two sets to meet the needs of all your guests. But if Deco is true to their word, then these should last you for a while.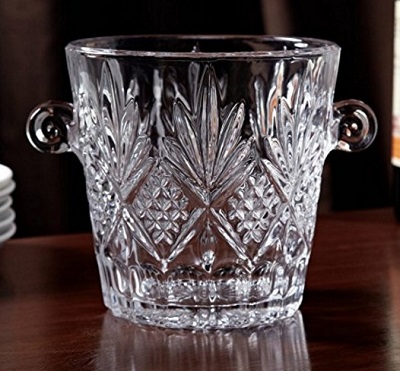 A crystal ice bucket is another easy, inexpensive way to add some sophistication without looking like you're trying to force "classy" down your guests' throats. Bonus points for the pattern of the ice bucket coordinating with the pattern of the decanter set.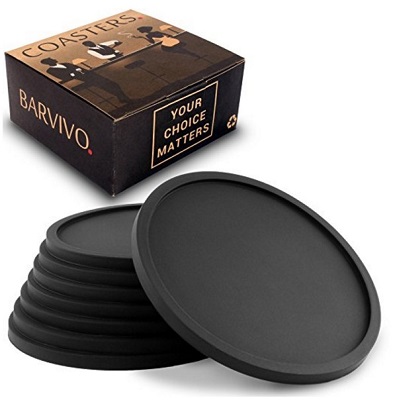 Nothing will ruin the felt of your poker table faster than drink rings left by condensation covered glasses and bottles. Placing a coaster next to each player position before they arrive should be a subtle enough reminder that you expect them to use it.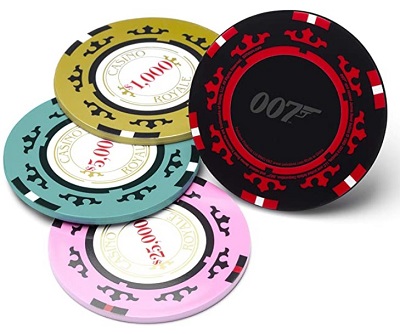 I saw a version of these on the Instagram account 007bondmoments and thought to myself, "That is an awesome idea!". Made from a durable acrylic plastic and modeled on the poker chips used in Casino Royale, they're pretty much the perfect touch for a James Bond poker night. I've linked to the official 007 store above. But you can also find them for $9.99 on MyGeekBox or for $19.73 on Amazon (a higher upfront price, but it includes free international shipping).
If you feel like poker chips are a little too over the top, these Bond gun barrel themed coasters for $21.99 are also fun.
I think you're getting the idea at this point. Open bags of snacks in the serving area? They're going to look a little out-of-place next to your crystal decanter. Cheetos, Ruffles, cut vegetables and chips and salsa in a nice serving dish? That's the way we do it. And please, skip the plastic plates. You're not expecting a crowd. So it won't take much effort to wash up eight to ten proper dishes after the game. They look better and it's better for the environment.
Do you have some tips for organizing a James Bond poker night or strategies to make the game more fun and interesting? Share away in the comments below! And remember, you can also visit our Facebook page, Instagram account, Twitter account and Pinterest Boards for more Bond, Craig and McQueen style advice and inspiration!