The Affordable James Bond Apartment Part II
Updated September 4th, 2019 – Welcome to the The Affordable James Bond Apartment Part II! In Part I, we looked at the philosophy behind the design of Bond's SPECTRE living space and explored alternatives for some of the key pieces (as well as a few odds and ends from the Connery era and the novels). In this post, we'll be filling in some of the gaps in the furniture we need and adding the extra details that help provide the all-important "character" that makes a room part of a home.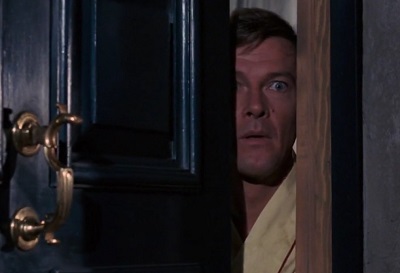 The Sofa
Okay, this is the big one. Both in terms of size and price. The couch Bond lounged on in SPECTRE was not small. It dominated the spartan room and pretty much swallowed Craig whole when he crashed out to reflect on his past. It's also a slightly odd design: half chesterfield without the tufting, half tuxedo with traditional English scroll arms.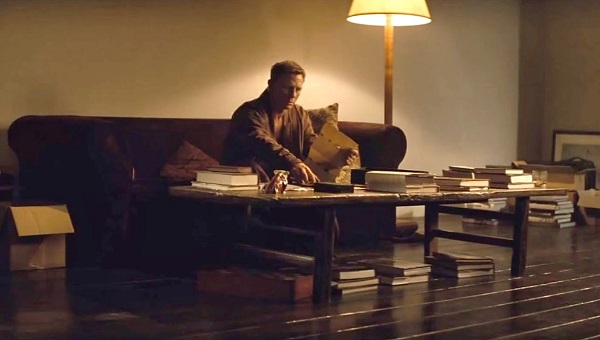 The fabric choice also helps create a presence. I can't be 100% sure, but I wouldn't be surprised if it was some kind of crushed velvet in a deep port/wine tone. Put all this together and you get a piece of furniture for which there is no easy match. So we'll need to look at options that sacrifice one or two style details, but still capture the spirit of the original.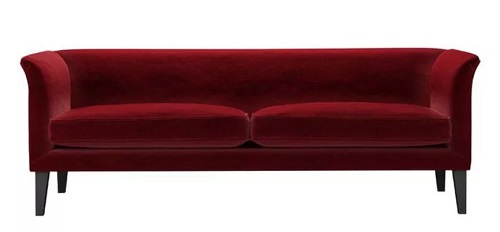 It's not cheap. But it is nearly seven feet long and two feet deep. In other words, it's big! More of true "tuxedo" style sofa, it is missing the scroll arms. However, each sofa is handmade (in England, I believe) with a solid beechwood frame and down and foam cushions. So it might be worth losing one design detail in the name of quality. I went with a matte cotton velvet in the option above. But you can bring the price down a bit by choosing a different upholstery. Delivery time is somewhere between 4 to 8 weeks.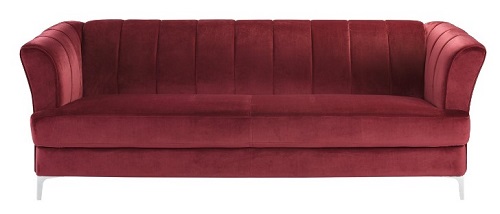 Coming to us from Walmart, this option isn't exactly tiny either. In fact, it almost exactly the same measurements as the option above. Obviously, the quality of the frame and upholstery fabric won't be as nice. But it's also about $1000 cheaper. There's lots of companies selling this exact same sofa in the $500 to $800 range on a variety of furniture websites. So $480 is actually a pretty great deal. The only concern I have is the color. It looks more muted on the Walmart site. But in some product photos on other sites, it comes across as a pretty bright red. Just FYI.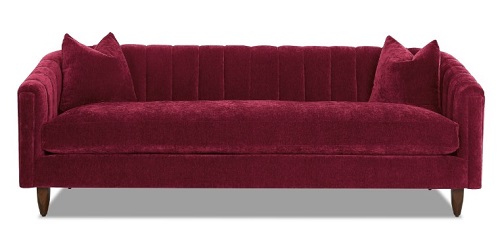 Again, more a of true tuxedo style sofa. So we're missing those scroll arms. But man, this one's a beast! Seven and half feet long by three feet wide, it will definitely make the statement you want.
The Table
Hey! You know what's difficult to find? An affordable coffee table made from a simple slab of wood on four legs.
Seriously, I searched a lot of furniture websites and there's not many that come close. And ironically, the more simple designs seem to be considerably more expensive. Of course it doesn't help that Bond's table was the size of a door. Honestly, something that size might not be that practical in most of our living spaces. So we're going to look at some options with more reasonable dimensions.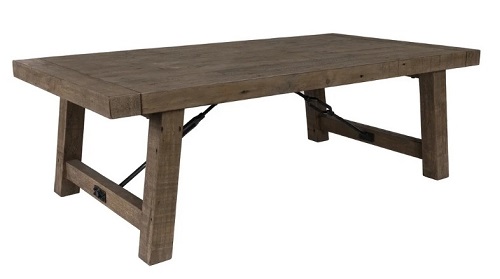 Well, if you want "big and rustic" this one's getting pretty close to ideal. Made from reclaimed pine wood, the top measures 55″ by 30″. Not quite door-size. But it's not going to look tiny in front of giant couch either. Style-wise, the overall design has the same spirit as Bond's table. Some will like those metal turnbuckle details. And some will probably want to see if the table can hold together without them.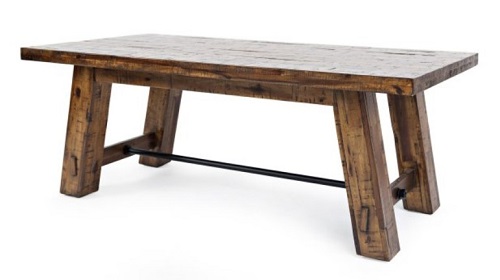 Very similar in design to the Carbon Loft option above. Just a little smaller (and almost $400 less expensive). Jofran has gone with a mix of solid wood and veneers, which helps explain the lower price. The table top measures 50″ X 26″, a size that might actually work better for those of you with smaller spaces.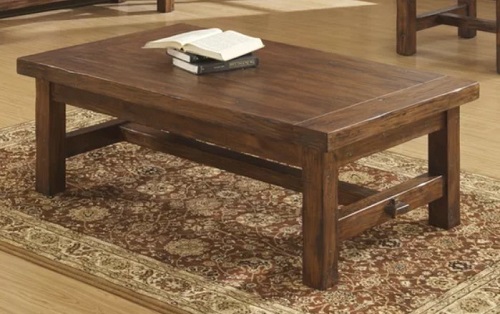 This is fun one. The style has that rustic vibe we want. And with a top that measures 52″ by 30″, it's plenty big enough for most living spaces. But what sets this one apart is the hinged top that lifts up to reveal two shallow storage spaces underneath. Good places to stash the remote, some coasters or a secret file containing a deep, dark secret from your childhood.
By the way, if you're at all handy with tools, you may want to consider building your own version of Bond's coffee table. Its simple design and rustic style should make this a relatively easy DIY project. Just a thought ….
The Rug
Connery started the whole "Oriental rug in Bond's apartment" back in Dr. No.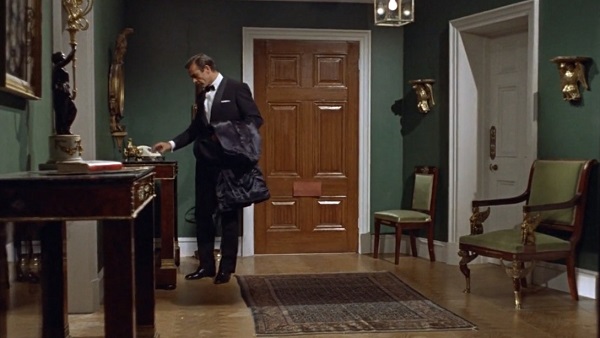 That one looks a touch more purposefully placed than Craig's. But you get the idea: an Oriental or Persian rug can really work in a Bond-inspired living space. Why? Well, this is just my personal (read: non-expert) opinion. As we mentioned in our first article in this series, Bond's furniture tends to be solid colors and heavier materials, with very little matching fabrics. So there are two advantages with using a more delicately patterned rug. First, the multiple colors in the pattern help tie together the other pieces to create a sense of unity in the space. Second, it creates a point of visual interest. Block after block of solid color can get boring. So having something that stands out without overwhelming the room adds some welcome contrast.
A genuine, high quality Persian rug can easily set you back thousands of dollars. So let's not pretend that's what we're looking at here. But even on a budget, there are definitely some good finds to be had.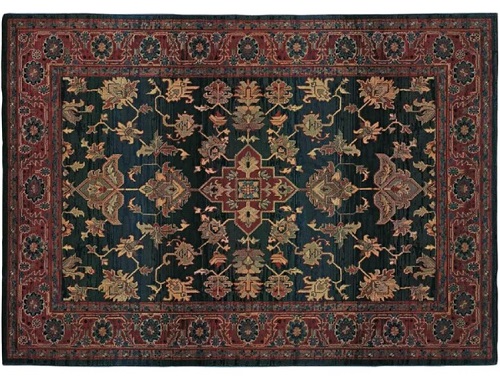 Here's an example of one that would do the trick. Measuring 5'3″ by 7'9″, it's made in Egypt and has "washed effect" that gives it more of vintage feel. But the material is a very modern polypropylene and it's machine woven. As we should expect at this price point. The good news is you'll be less worried about people walking, spilling and generally living on it since it's relatively easy to clean. You can check out plenty of other options at Wayfair or Hayneedle to find a pattern and size that works for you.
The Floor Lamp
The floor lamp Bond uses in SPECTRE follows the same style cues as most of his other furniture: a simple, but oversized, design. It's literally just a thick wooden pole anchored to a heavy, square wooden base, topped with a large, barrel shade made from an off-white material (probably linen). And, like the coffee table, it's a design that's surprisingly difficult to find.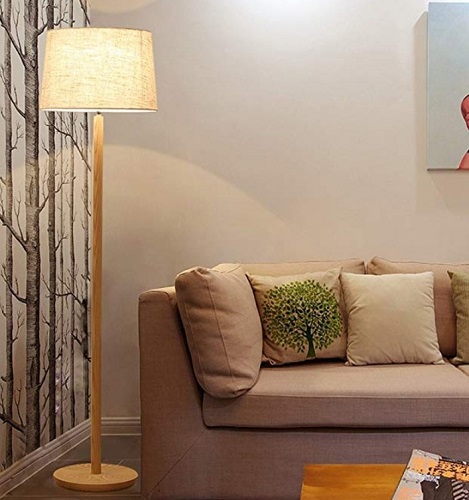 And this was the closest match I could find. At just over five feet tall, it's not going dominate the space the way Bond's lamp did. But it's still a solid looking piece of lighting hardware, with a one piece poll, solid wooden base and 16″ barrel shade. The only thing I don't like is the stupid pedal switch. The same lamp is available on Amazon U.S. and UK, just under different seller names.
For the Kitchen
Let's travel back to Live and Let Die for some inspiration for our Bond style kitchen.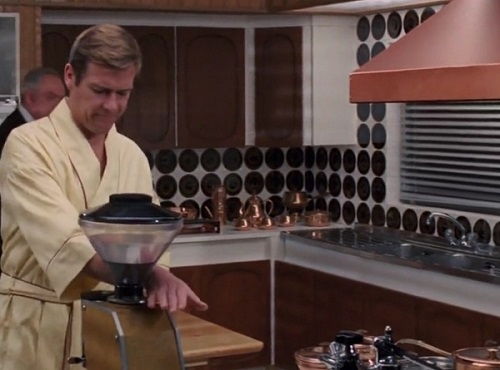 Well, he makes no secret of his love for copper cookware (Copper rooster wall hangings? Really?). A serious set of copper pots and pans can set you back around a thousands bucks or more (like this $1300 Mauviel 10 piece set). And there are other pros and cons. Copper is probably the best metal for conducting heat, which gives you precise control over cooking temperatures. However, it's also highly reactive, especially with more acidic foods like tomatoes. And it needs to be constantly polished if you want it to keep it's shine. High maintenance, to be sure. But if you're willing to put in the effort (and cash), it will look awesome in any kitchen for years.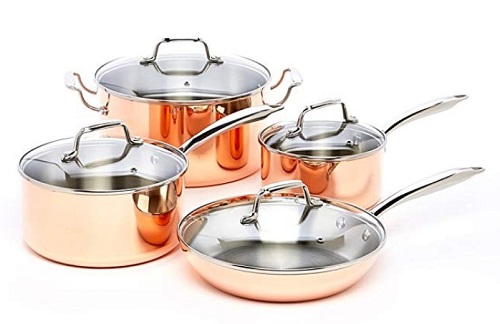 ExcelSteel employs the usual strategy for getting around the reactivity issue. The copper outer layer is bonded to a stainless steel inner layer, giving you the benefits of both metals. This is a solid starter set at a reasonable price. It currently has 4 stars out of 5 on Amazon. Most of the complaints seem to be related to food sticking to the stainless steel. However, if you've done any cooking with this type of pan, you know that's not unusual. In fact, those brown bits are technically called the "sucs" or "fond" and you can use them to make amazing simple sauces and clean your pan at the same time!
Books
If our view into Bond's apartment taught us anything, it's that he likes books. According to this article on The James Bond International Fan Club website, many of the books used on set were provided by Foster Books in Chiswick. Stephen Foster, the store owner, provided some information on the literary works he provided. Uniforms and History of Scottish Regiments (£26.50), Aston Martin: Model by Model (£25.00/$39.95), The Wristwatch Handbook ($85.00/£50.00) or The Watch Book ($72.25/£50.00), and The Journal of a Tour of the Hebrides (£11.00/$11.95) would all be up Bond's alley. Then there's works by Eric Ambler, Philip Marlowe, Raymond Chandler and John Arlott. And of course the more technical manuals on golf and gambling.
Golf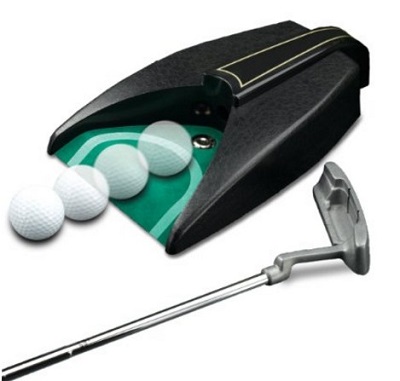 A modern version of Sylvia Trench's favorite time-killer. Maybe it's just me. But when I need to do some brainstorming/planning/reflection, I find practicing my putt for ten or fifteen minutes is a really effective way to get me calm and focused. Seriously, give it a try!
You can find Part I of this series here. Do you have any ideas for what you'd include in your affordable James Bond apartment? Share away in the comments! You can also visit our Facebook page, Instagram account, Twitter account and Pinterest Boards for more James Bond style advice and inspiration! And don't forget to check out our Amazon Page. That's where we've organized the James Bond and Steve McQueen alternatives we've found the massive online retailer.
Featured image sourced from James Bond Locations.