The James Bond Quantum of Solice STA Prest Jeans
Here we are, nearly 14 years after Quantum of Solace first appeared in cinemas, and two looks from the film are still among the most popular with fans of 007 style. And Daniel Craig's James Bond wore the Levi's 306 STA Prest jeans with both of them.
It was AJB007 forum member welshboy78 (@bondclothes007 on Instagram) that informed me that Bond wore the same 306 STA Prest model in the Haiti scenes and in the Mathis Villa visit scene, but in two different colors. For the Haiti scenes, with the Adidias Y-3 jacket and Tom Ford Polo, Bond wore the 306s in Silver Birch, an off-white cream color that was apparently only available in the UK and Belgium. For sipping wine with Mathis and looking cool in his Tom Ford black cardigan, he used the 306s in a darker beige.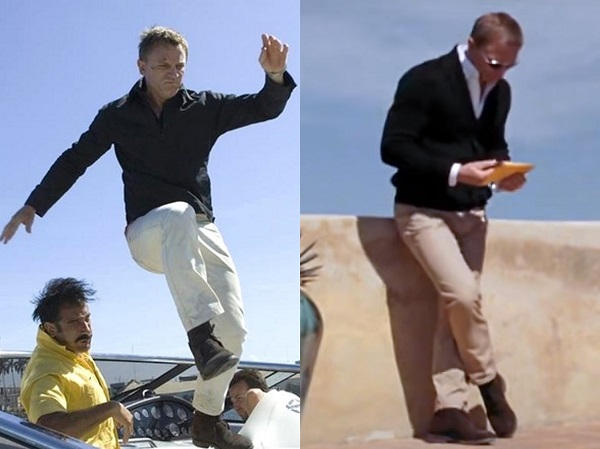 Levi's no longer makes the 306 model. And although they more recently brought back STA Prest fabric for a short while, they only used it for chinos and none of the colors they offered at the time came close to what we want. In terms of Levi's current fits, it seems like their 502 model is the best match.
Features wanted for the James Bond Quantum of Solace STA Prest Jeans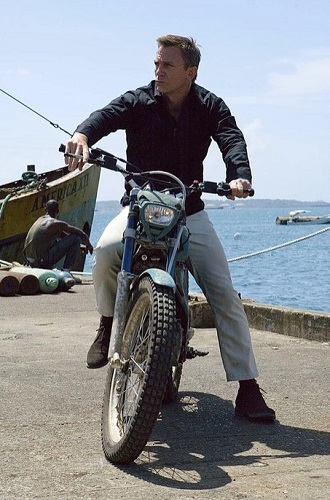 Standard 5 pocket jean style with a zip fly
Off-white or cream color (for the Haiti look) and light beige or light khaki (for the Mathis Villa Look)
Tapered or slim-straight fit cut
Slightly higher rise
There are three real keys to nailing the look of the jeans. First, we want something with a tapered cut. So a little looser in the thigh with a slightly narrower cuff opening. Second, whatever alternative we get, we're probably going to want to get them hemmed. Bond wears both pairs with almost no break. It creates a much cleaner look, even when wearing jeans. Because we're aiming for a tapered cut, it's important to get as close as possible to your actual inseam. The jeans will widen as they go up. So if you need to cut four or six inches off the length,  the cuff won't be as narrow as desired.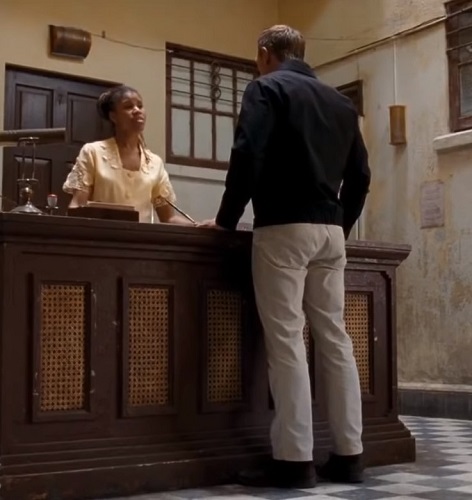 Third is the fabric. The original STA Prest pants were meant to be worn with a more or less permanent crease down the leg (hence the name "stay pressed"). And the fabric was usually a blend of cotton and polyester to give them a sharper look. For that reason, we've gone with options that are more a of chino type of material with a smoother texture, some with a bit of synthetic in the mix. I've tried to avoid 100% cotton denim.
Of course we also have to mention that the priority is getting jeans that fit YOUR body. That's something we discuss in our How to Dress Like Bond series. And we all know that finding a great fitting pair of jeans can be a challenge. So I tried to look for alternatives that come in colors that will work for both the Haiti pair and the Mathis Villa pair. That way when you find the ones that work for you, you can easily pick up the two colors.
Best Option for the James Bond Quantum of Solace STA-Prest Jeans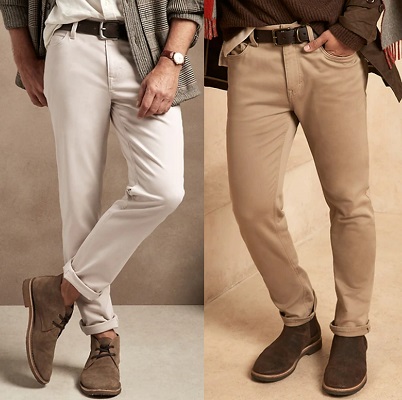 Just my humble opinion, but I think Banana Republic really hit it out of the park with these. First, they've used a fabric that's a blend of 99% Italian cotton and 1% Spandex. So they have a nice smooth finish that gives them a refined look and a bit of stretch for comfort. Second, the colors are almost exactly what we're looking for. Third, I've tried on the Slim Fit in-store and it works great for my body shape: a slighter higher rise, a decent amount of room in the thighs with a reasonably narrow cuff. It's trim but not skinny. And if you've been hitting leg day at the gym, you can try out their roomier Tappered Fit (New Off White here and Khaki here) for the same price. Of course, if you don't trust me just check out what the other customers have to say. Currently the Khaki pair has 4.8 stars out of 5 after more than 2500 reviews!
If you want to save some money (and who doesn't?), you could wait for these to go on sale. Or you could take a look at the Banana Republic Factory version of the Slim-fit Traveler Pant. Those come in equally good colors (an ecru-like Transition Cream or Workwear Khaki) and are currently on sale for $47.99. So what's the difference between the mainline and Factory versions? The fabric used for the Factory Traveler pants still has that smooth finish. But it's a regular cotton with a bit of Lycra mixed in. And the quality of the construction is probably a notch or two lower. However, they're still worthy of consideration if you're on a tighter budget.
Under $100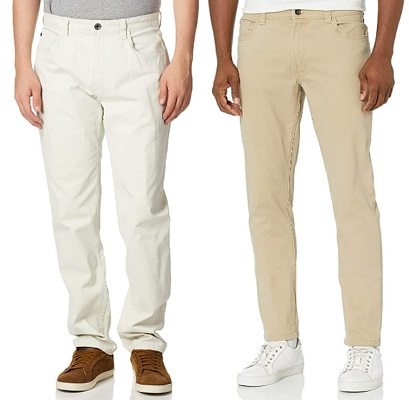 They've goen with a 98% cotton, 2% spandex fabric and they're pre-washed for a softer, broken in feel. The looser straight fit may not be for everyone. But that cut, combined with a slightly higher rise, could make them a good affordable option for bigger, taller guys. Amazon still has a broad selection of sizes in stock, with most running around the $39.00 mark.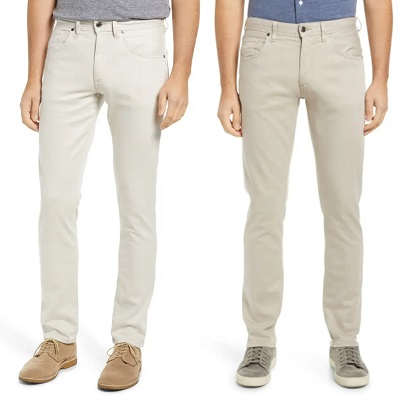 A couple of interesting things about this option. First is the fabric. It's a 55% modal, 43% cotton and 2% Spandex. The modal gives the pants a smooth finish with a light, silky hand while maintaining breathability, The Spandex adds some stretch for comfort. Second is the zippered stash pocket hidden in the right side back pocket. That's a great place for storing your valuables and a nice Bond-worthy design touch. I feel like the "Light Khaki" isn't quite as dark as we'd like. But the Stone is a great option for the Haiti jeans. Nordstrom has plenty of sizes available.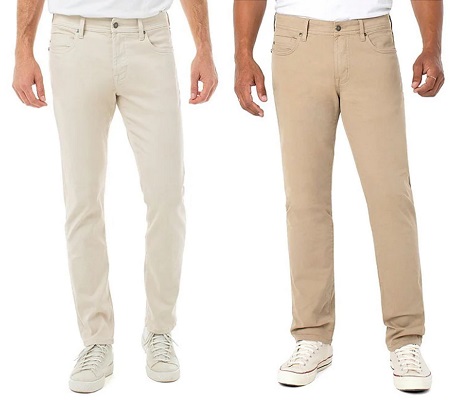 Even though they describe these as a "twill" fabric, it seems like they have more of a typical denim feel to them. The big story is the use of the Repreve fabric (a polyester yarn made with recycled plastic bottles) for the Chalk color. That sounds like it's at least a little better for the environment. The Khaki pair are a pretty standard 98% cotton, 2% Spandex blend. You'll find a good selection of sizes at Dillard's.
Under $200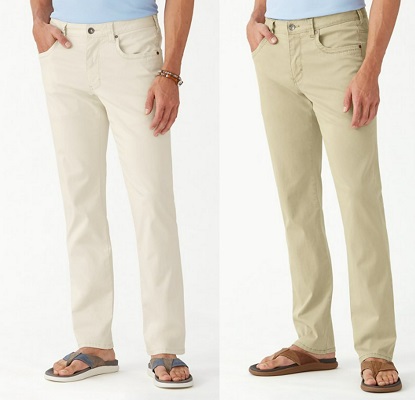 Some folks over at the AJB007 fan forum have been giving these a fair amount of love. Member St_John_Smythe first brought them to the table with his personal recommendation. And then Gymtaka followed up with his endorsement (but with a caveat about care: basically, wash them inside out to help prevent fading). They also have 4.5 stars out of 5 after 532 reviews on the Tommy Bahama website. So it seems like folks beyond the Bond community also like them. Still a good selection of sizes available.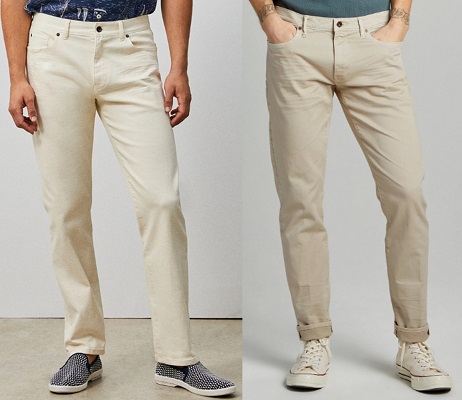 They're expensive. But Todd Snyder always seems to nail both the fit and the quality with his designs. The fabric is 90% cotton, 8% polyester and 2% lycra blend and it has a slightly more slubby texture. So the overall feel is a little more casual and a little less refined. I've shared the Straight Fit above, but they offer both colors in a Slim Fit for the same price. And if you feel like going all out with your Haiti trousers, check out Todd Snyder's Slim Fit Lightweight Japanese Selvedge Jean in Canvas for $268.00.
Other Haiti Alternatives for the James Bond Quantum of Solace STA Prest Jeans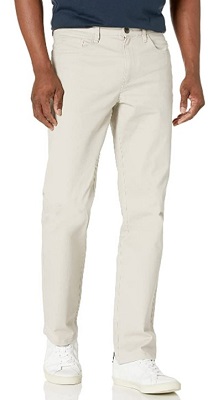 A basic 5 pocket style in a 99% cotton, 1% Elastane chino like material. In other words, pretty much exactly what we want at a very reasonable price. And they're also available in a Slim Fit if you prefer that cut. In my experience, the fit and quality of the clothing from Amazon's housebrand can be hit or miss. But if you're trying to keep costs down, they're definitely worth a look. And it's easy to return them if they just don't work out.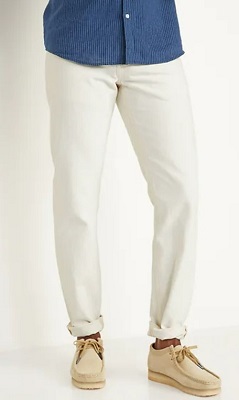 I'll need to visit a store to check them out in-person. But on the website, it looks Old Navy has nailed the fit we want: a good amount of room in the top block with a nice taper below the knee. I'm not sure about the "pre-rolled" cuff. And the 100% cotton with the "vintage wash" may be more rugged than refined. However, they are pretty affordable, especially if you can catch one of the extra discount codes Old Navy always seems to be offering.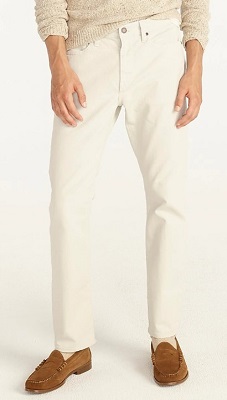 I'm a fan of J.Crew's 770 Straight Fit and own more than a few pairs of chinos in that cut. It has a more relaxed top block with a higher rise and gradual taper throught the leg that just seems to work for me. And I've been impressed with the quality. The brand is most often associated with the "Preppy Look". But when I've bought their basics (pants, tees, flannels), I've never been disappointed. Plenty of sizes left on the J.Crew website. And remember to check for additional discount codes (currently you can knock 25% off the price with SHOPSPRING).
Other Mathis Villa Alternatives for the James Bond Quantum of Solace STA Prest Jeans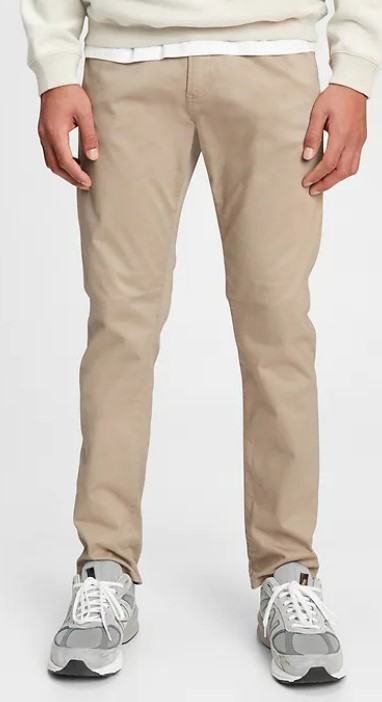 Gap once had a reputation for offering good quality denim at a reasonable price. And while I've found that the quality has dropped over the years, they can still be a good source for basics when you find them on sale. The brand's Softwear Slim Jeans seem to fall into that category. Made with Gapflex, a 98% cotton and 2% Spandex blend fabric, they currently have 4.8 stars out of 5 after 38 reviews. There's still a good selection of waist sizes left. But they're down to 30 and 32 inseams. So you taller fellas may be out of luck.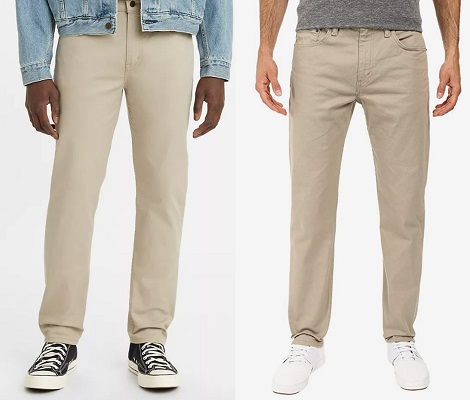 We recently mentioned these in our recent 4 Best Craig Era Bond Looks post. And as I said near the start of this post, the current Levi's 502 fit seems to be closest to the older 306 model. They've based it on their classic 501, so there's a good amount of room in the seat and thighs and a higher rise. But they've tapered the leg below the knee for a more contemporary look. Levi's has also gone with a 98% cotton, 2% elastane denim, so the jeans will have some stretch for comfort. But what about the color? If you prefer a lighter shade of khaki, try the Punk Star Brown, which is available on the Levi's website. Want something a little darker? You can find the True Chino at Zappos.
Do you have some suggestions for alternatives for the James Bond Quantum of Solace STA Prest Jeans? Share them with us in the comments below! And remember to check out our Facebook Page, our NEW Instagram account and Pinterest Boards for more James Bond style advice, inspiration and info!