The 4 Best Craig Era Bond Looks
Well my friends, Daniel Craig's run as James Bond has officially come to a close. No Time To Die has been available for our viewing pleasure(?) for almost seven months. And the actor has moved on to new projects (Knives Out II for Netflix and Macbeth on Broadway). So now that we've had some time and space to reflect on his tenure, I think we've come to a point where we can look back on our favorite Craig-Bond style moments with a little objectivity. After some personal meditation on the subject and a completely unscientific poll on Instagram, here is what I've come up with for the top 4 Best Craig era Bond looks. I've also included affordable alternatives for each outfit so we can recreate them without completely destroying our wallets. On to the list!
The Quantum of Solace Mathis Villa Look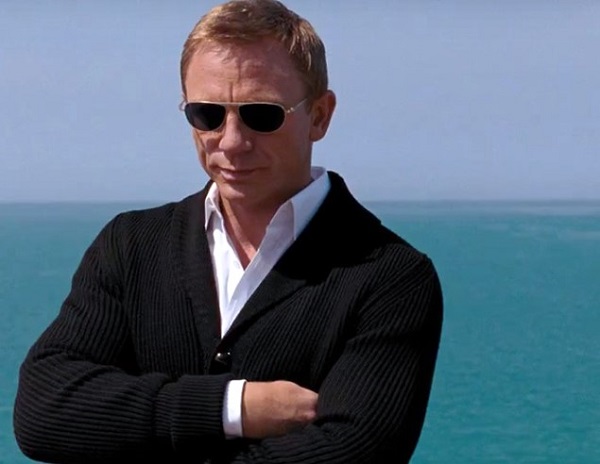 Costume designer Louise Frogley clearly took inspiration from Steve McQueen to update Bond's casual style in Quantum of Solace. And in doing so, she created looks that remain firm fan favorites to this day.  It may be a bit of an overstatement to say that the outfit Craig wore to visit Mathis singlehandedly re-ignited our love of the shawl collar cardigan. But there's no denying the impact it had on the design of men's knitwear at the time. Not since the King of Cool visited Carmel-by-the-Sea in 1964 have so many men wanted a "grandad" sweater. For a closer look at the complete outfit, visit these articles on BAMF Style and Bond Suits.
Recreate the Look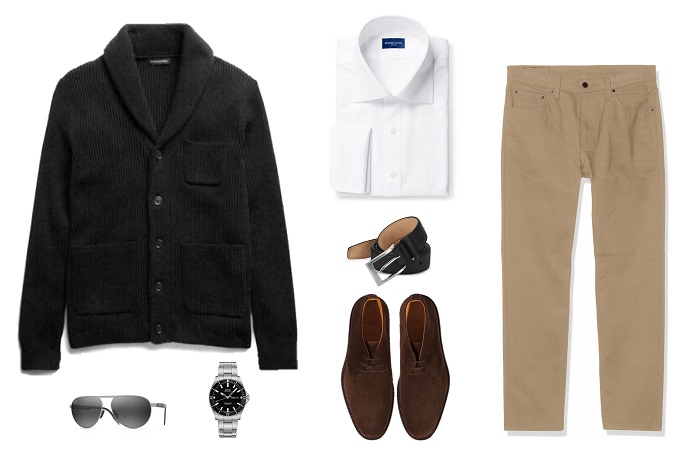 The Alternatives
Notes: 
It's been more than 6 years since we published our first post on alternatives for this Quantum of Solace look. And we're still kind of obsessed with black shawl collar cardigans here on IA. This option from Banana Republic does have a chest pocket. But I still think it does a good job finding the right balance between rugged and refined. We'll be updating our dedicated post on the cardigan very soon with more alternatives.
The white dress shirt from Proper Cloth also delivers many of the key features we want. Their Roma Spread Collar is higher with longer points. So it can stand up and stay in place under the weight of the cardigan's collar. And the Royal Oxford shirting has a nice texture that works well with the heavier weight fabrics of the other pieces in the look.
I've gone with slightly more expensive alternatives for the boots, sunglasses and watch for this look. But since Bond wore the same pieces for the Bolivia Harrington outfit (see below), I've used more affordable options there. Also check out this article from Daniel Gaster (@danielgaster) on From Tailors With Love to learn more about the original Tom Ford shades.
The Skyfall Scotland Look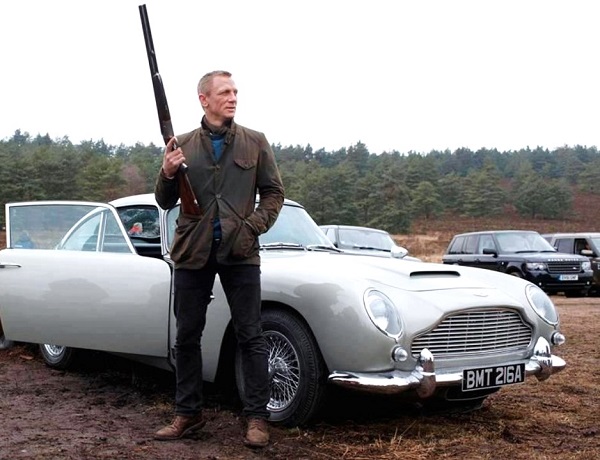 Here we are, nearly 10 years after Bond first stepped out of his ancestral home in Scotland dressed for the weather, and the look created by costume designer Jany Temime still captures our imagination. Our post on How to Dress Like Bond goes into more details about why the combination of the waxed jacket, corduroy trousers and rugged boots comes together so well. But when a look is called "The Most Influential Menswear Outfit in Movie History" by none other than GQ Magazine, you know it has to be on our list of top Craig-Bond style moments. Our friends BAMF Style and Bond Suits do a great job digging deeper into the finer points of the individual pieces.
Recreate the Look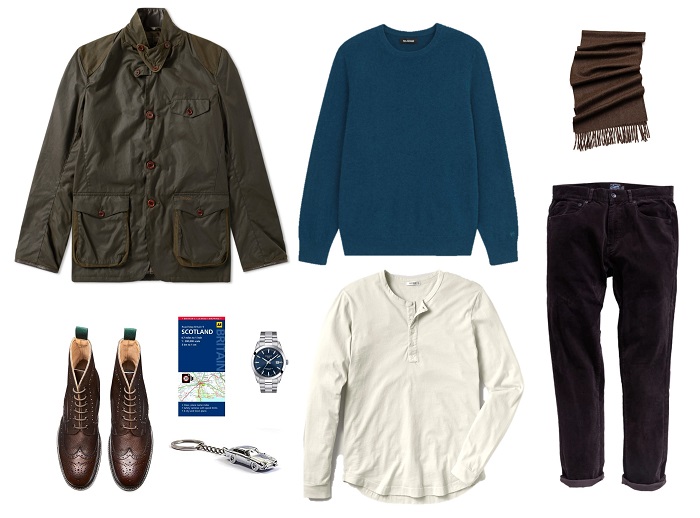 The Alternatives
Notes:
There are a lot of waxed jackets out there. But most have a more traditional (i.e. looser fitting) style. Bond's Barbour was cut more like a tailored blazer and really is a one-of-a-kind design. So when we find the Beacon Sport Jacket at a good price we have to go with it. Michael Stewart has a great deal right now that brings the Beacon in at or below the price of most of the quality alternatives. And they have a good selection of sizes in stock. If you're one of those people that finds that the fit of the Beacon just doesn't work for your body type, check out the Barbour Lutz (£229.95 at Outdoor & Country) or the Buck Mason Dry Waxed Canvas Highland Jacket ($295.00).
For the sweater, I've gone with a slightly darker shade of blue (more like what we saw on screen). Naadam's cashmere won't be anywhere near the quality you'd get with the N.Peal original. But you also save about $275.00. The Henley is a tricky one. The screen used shirt from All Saints was more like a vintage miner's shirt, with a long placket, bib front and button cuffs (you can see photos of it in this AJB007 thread). I decided to stick with a more typical Henley since most of us will find it to be more versatile (and we never really see it onscreen).
I think the boots from NPS are a solid alternative for the Islays Bond wore. They have the Scotch grain uppers, a Dainite-style studded rubber sole, a Goodyear welt construction and they're made in England. Lots to like for the money!
The SPECTRE Morocco Look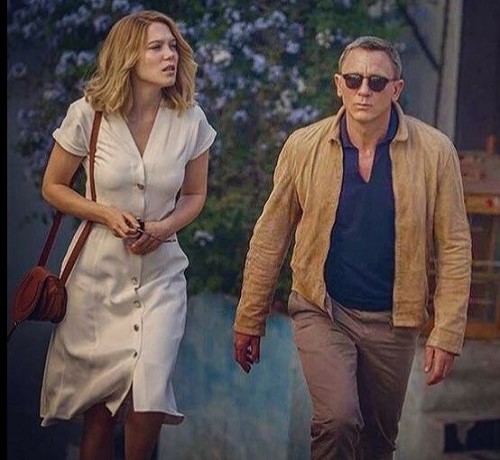 Costume designer Jany Temime once again worked her magic in SPECTRE, delivering some great casual fits that took us from the snowy landscapes of Austria to the nightime streets of London. But it was her work on Bond's Morocco looks that really seem to stick with us. What I personally appreciated was the way the chinos, boots and belt were repurposed to create different outfits. Just FYI, many of you said the combination of the Brunello Cucinelli blazer, white Tom Ford dress shirt and rust knit tie deserved a spot on this list. But I ultimately decided that most of us would find the suede Matchless jacket and Tom Ford polo look to be more versatile (as well as being a very cool way to update Timothy Dalton's outfit from The Living Daylights). Check out BAMF Style and Bond Suits for more on Bond's Tangier style.
Recreate the Look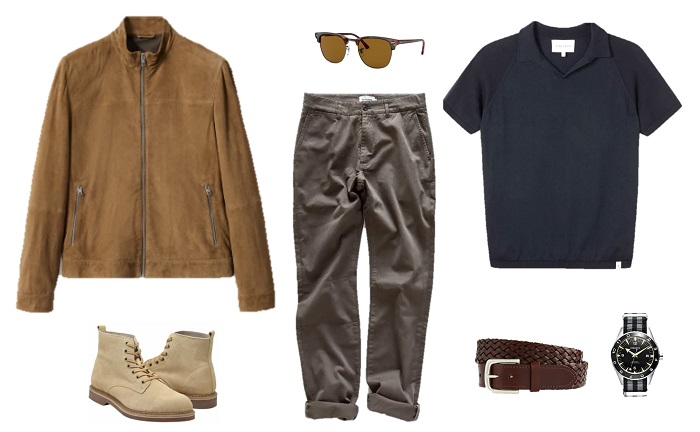 The Alternatives
Notes:
Every once and while, a great off-the-rack alternative for Bond's SPECTRE suede jacket comes along. Currently, this very affordable option from Mango is taking the top spot. Of course it's missing some screen accurate details (nothing but the real thing or a good replica is going to deliver every feature we want). But it comes pretty darn close.
Then there's that Johnny collar polo with the sweater style hem. Retro 1960s style is coming back in a big way. So there's no shortage of polos out there inspired by that era. But this one from Peregrine does a really nice job of capturing the look and feel of Bond's shirt. The boots are are our old favorites we've shared many times before. You can read my review of them here.
As for the pants, I went with a slightly darker shade of brown this time. I just think it works better with the darker suede of the jacket alternative. But if you want something a little lighter, these Johnston & Murphy chinos in Taupe ($99.50) suggested by our AJB007 friend armenianmovieman (with back up from St_John_Smythe) are a great choice.
The Quantum of Solace Bolivia Desert Look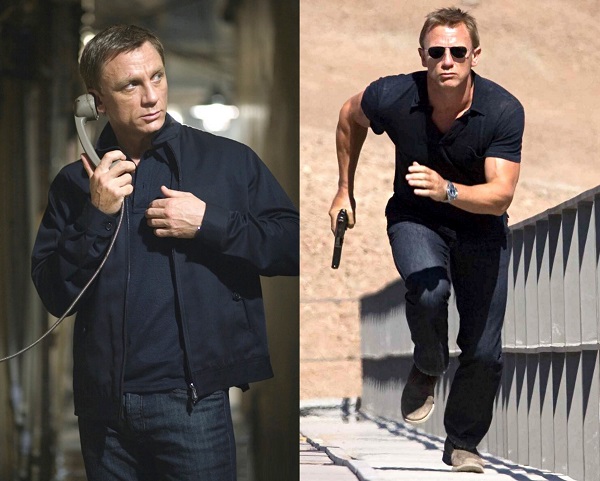 Our number four pick was actually very close (which, I have to admit, surprised me a little). For the record, Bond's Casino Royale Polo, Skyfall Peacoat and No Time To Die Garage looks gave it a good run for the money. But in the end, it was another of 007's contemporary takes on classic McQueen style from costume designer Louise Frogley that won. For more details on Harrington, check out these posts from BAMF Style and Bond Suits.
Recreate the Look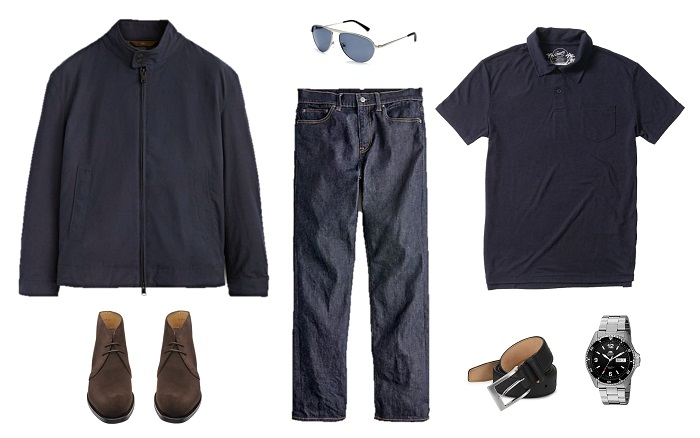 The Alternatives
Notes:
There are three key things to look for if we want to create a screen accurate outfit. First is the jacket. The Tom Ford version isn't your typical Harrington. It lacks the ribbed knit cuffs and hem we normally see on a typical G9 style. And the fit is trimmer, so overall it has a more modern and tailored look. The Massimo Dutti jacket does a good job of capturing those details. But the best version (when it's available) is still the ROYALE Filmwear Bolivia Harrington for $199.00.
Next is the polo. As David Zaritsky of The Bond Experience notes in this video (go to the 7 minute mark), when it comes to fit and fabric the Tom Ford polo was actually quite different than the Casino Royale Sunspel Riviera (on sale for $110.00). The Quantum of Solace polo was a linen blend and had more of "bell" cut, a combination that gives the shirt a bit of "swing" when you're moving around. The Grayers polo is also made with a lighter linen blend material which should help replicate that. And the other details (two button placket and chest pocket) also make it a solid match.
Last are the jeans. The 7 For All Mankind Mercer wash was pretty unique, giving the denim both a slightly slubby appearance and a bit of sheen. Base on the product photos on their website, I think the J.Crew jeans have something like a similar effect.
Did we miss one of your favorite outfits on our list of Top 4 Craig era Bond looks? What about an awesome alternative for one of the pieces? Tell us about it in the comments! You can also visit our Facebook page, our NEW Instagram account and Pinterest Boards for more James Bond, Daniel Craig and Steve McQueen style advice and inspiration!