The James Bond Quantum of Solace STA Prest Jeans
Updated October 16th, 2022 – Here we are, 14 years after Quantum of Solace first appeared in cinemas, and two looks from the film are still among the most popular with fans of 007 style. And Daniel Craig's James Bond wore the Levi's 306 STA Prest jeans with both of them.
It was AJB007 forum member welshboy78 (@bondclothes007 on Instagram) that informed me that Bond wore the same 306 STA Prest model in the Haiti scenes and in the Mathis Villa visit scene, but in two different colors. For the Haiti scenes, with the Adidias Y-3 jacket and Tom Ford Polo, Bond wore the 306s in Silver Birch, an off-white cream color that was apparently only available in the UK and Belgium. For sipping wine with Mathis and looking cool in his Tom Ford black cardigan, he used the 306s in a darker beige.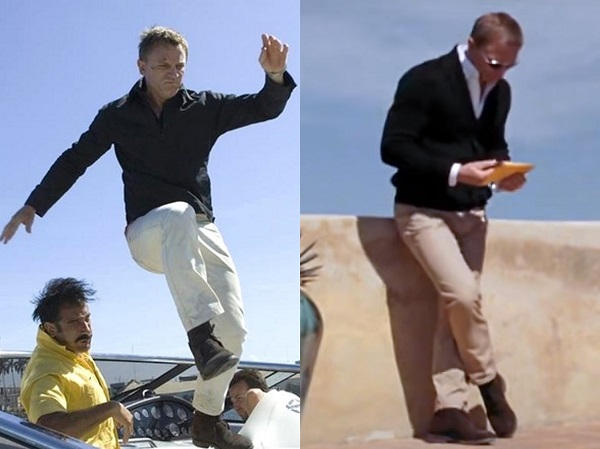 Levi's no longer makes the 306 model. And although they more recently brought back STA Prest fabric for a short while, they only used it for chinos and none of the colors they offered at the time came close to what we want. In terms of Levi's current fits, it seems like their 502 model is the best match. I'll share the options for those down below.
Features wanted for the James Bond Quantum of Solace STA Prest Jeans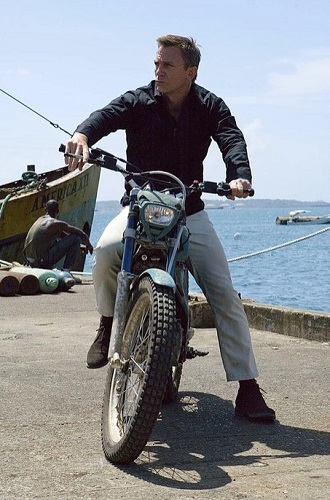 Standard 5 pocket jean style with a zip fly
Off-white or cream color (for the Haiti look) and light beige or light khaki (for the Mathis Villa Look)
Tapered or slim-straight fit cut
Slightly higher rise
There are three real keys to nailing the look of the jeans. First, we want something with a tapered cut. So a little looser in the thigh with a slightly narrower cuff opening. Second, whatever alternative we get, we're probably going to want to get them hemmed. Bond wears both pairs with almost no break. It creates a much cleaner look, even when wearing jeans. Because we're aiming for a tapered cut, it's important to get as close as possible to your actual inseam. The jeans will widen as they go up. So if you need to cut four or six inches off the length,  the cuff won't be as narrow as desired.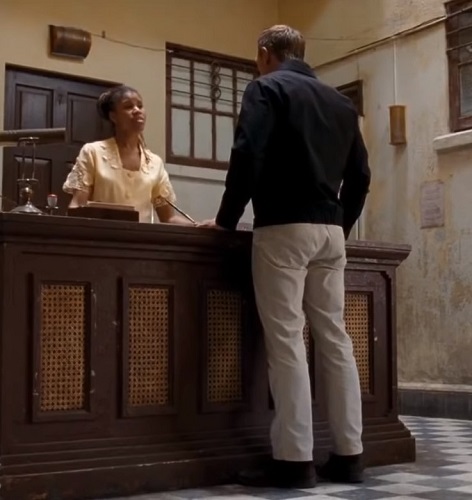 Third is the fabric. The original STA Prest pants were meant to be worn with a more or less permanent crease down the leg (hence the name's play on "stay pressed"). And the fabric was usually a blend of cotton and polyester to give them a sharper look. For that reason, we've gone with options that are more a of twill type of material with a smoother texture, some with a bit of synthetic in the mix. I've tried to avoid 100% cotton denim.
Of course we also have to mention that the priority is getting jeans that fit YOUR body. That's something we discuss in our How to Dress Like Bond series. And we all know that finding a great fitting pair of jeans can be a challenge. So I tried to look for alternatives that come in colors that will work for both the Haiti pair and the Mathis Villa pair. That way when you find the ones that work for you, you can easily pick up the two colors.
Best Option for the James Bond Quantum of Solace STA-Prest Jeans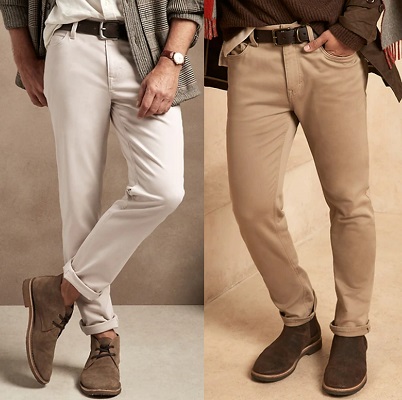 Just my humble opinion, but I think Banana Republic really hit it out of the park with these. First, they've used a fabric that's a blend of 99% Italian cotton and 1% Spandex. So they have a nice smooth finish that gives them a refined look and a bit of stretch for comfort. Second, the colors are almost exactly what we're looking for. Third, I've tried on the Slim Fit in-store and it works great for my body shape: a slighter higher rise, a decent amount of room in the thighs with a reasonably narrow cuff. It's trim but not skinny. And if you've been hitting leg day at the gym, you can try out their roomier Tappered Fit (New Off White here and Khaki here) for the same price. Of course, if you don't trust me just check out what the other customers have to say. Currently the Khaki pair has 4.8 stars out of 5 after more than 2600 reviews!
If you want to save some money (and who doesn't?), you could wait for these to go on sale. Or you could take a look at the Banana Republic Factory version of the Slim-fit Traveler Pant. Those come in equally good colors (an ecru-like Transition Cream or Workwear Khaki) and are currently on sale for $48. So what's the difference between the mainline and Factory versions? The fabric used for the Factory Traveler pants still has that smooth finish. But it's a regular cotton with a bit of Lycra mixed in. And the quality of the construction is probably a notch or two lower. However, they're still worthy of consideration if you're on a tighter budget.
Under $100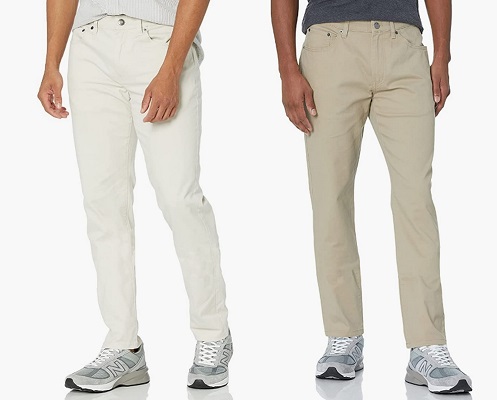 Amazon's in-house Essentials label operates in the same orbit as brands like Old Navy, Mango Outlet and H&M. So don't expect amazing quality. On the other hand, their collection of basics offers decent designs and the prices are affordable to most. The 5 Pocket Twill Pant has some stretch thanks to the 98% cotton, 2& Spandex fabric. Plus it has the smoother finish we want and those colors are darn good matches for the 306s. Probably the best thing though is ridiculous quantity of sizes available, from 28 up to 42 in a variety of inseam lengths. Slim-fit not your thing? You can also get the jeans in a Straight or Athletic fit for around the same price. So almost everyone should be able to score a pair that works for their body type.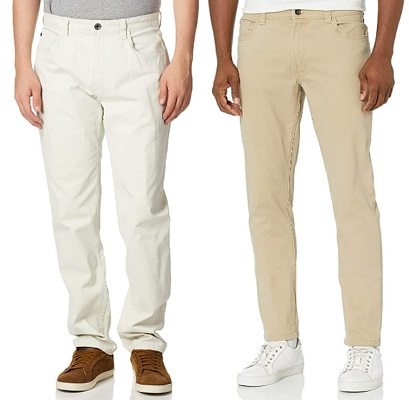 They've gone with a 98% cotton, 2% spandex fabric and they're pre-washed for a softer, broken in feel. The looser straight fit may not be for everyone. But that cut, combined with a slightly higher rise, could make them a good affordable option for bigger, taller guys. Amazon still has a broad selection of sizes in stock, with most running around the $39.00 mark.
Under $200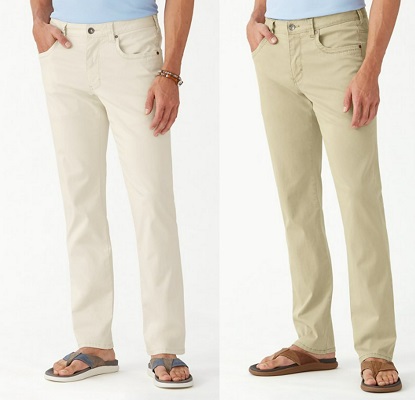 Some folks over at the AJB007 fan forum have been giving these a fair amount of love. Member St_John_Smythe first brought them to the table with his personal recommendation. And then Gymtaka followed up with his endorsement (but with a caveat about care: basically, wash them inside out to help prevent fading). They also have 4.5 stars out of 5 after 532 reviews on the Tommy Bahama website. So it seems like folks beyond the Bond community also like them. Still a good selection of sizes available.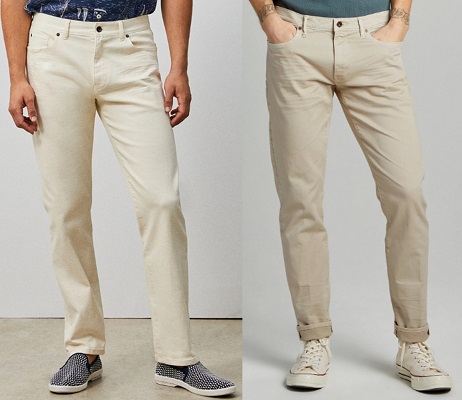 They're expensive. But Todd Snyder always seems to nail both the fit and the quality with his designs. The fabric is 90% cotton, 8% polyester and 2% lycra blend and it has a slightly more slubby texture. So the overall feel is a little more casual and a little less refined. If you feel like going all out with your Haiti trousers, check out Todd Snyder's Slim Fit Lightweight Japanese Selvedge Jean in Canvas for $268.00.
Other Alternatives for the James Bond Quantum of Solace Haiti STA Prest Jeans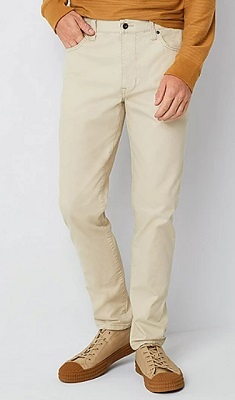 A new entry this season, on sale at JC Penney. The fabric is a 98% cotton, 2% elastane twill. And the cut, with it's medium rise, roomier upper block and taper below the knees, looks to be very close to the type of fit we want. Maybe that Porcelain Khaki color is a touch darker than we'd like. But these could still work if you're not a fan off jeans that get too cloe to optic white. Plenty of sizes in stock.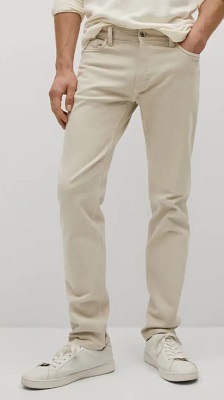 A true slim fit for you thinner guys. Just note that the fabric (a 99% cotton, 1% elastane blend) leans more towards a denim texture. But the color isn't a bad match. Mango Outlet still has a decent selection of of sizes in stock, but make no mention on the product page of the inseam length. If you don't mind going another shade darker, Mango also offers their Slim Fit Denim Effect Serge Pants for $69.99. These are another 5 pocket style in a 98% cotton, 2% elastane blend. But the fabric has smoother texture, bringing them closer to the STA-Prest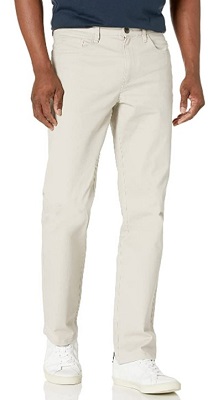 A basic 5 pocket style in a 99% cotton, 1% Elastane chino like material. In other words, pretty much exactly what we want at a very reasonable price. And they're also available in a Slim Fit if you prefer that cut. In my experience, the fit and quality of the clothing from Amazon's housebrand can be hit or miss. But if you're trying to keep costs down, they're definitely worth a look. And it's easy to return them if they just don't work out.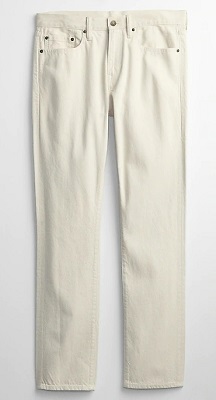 Gap has used a 100% cotton fabric these jeans. So no stretch and the texture is closer to denim. But that mid-rise fit looks to be a good slim fit for people who don't usually like "slim fits". And the Cream Ecru color looks like it's a near perfect match for Bond's Birch 306s. Gap Factory has sizes 30 to 40 in stock, but only in 32 and 34 inseams. Also worth a mention: if you sign up for Gap's "Member" program (basically give them your email), you can use the code GGRBONUS to knock another 40% of the price, bringing them down to a very reasonable $20.99.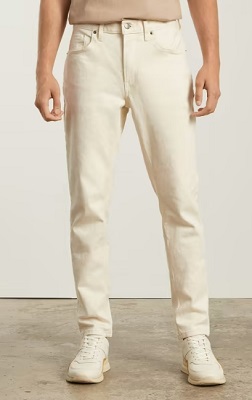 Based on the customer reviews, the fit on these is can be hit or miss. So make sure to check the sizing chart. But the real story is the medium weight 13oz fabric. Everlane has used a blend of 98% organic and 2% elastane. But this particular version of the stretch yarn was made without harmful chemicals. Add in micro-plastic free dyes and recycled material for the trim and you have some of the most environmentally friendly jeans out there. Plus that color looks like a solid match!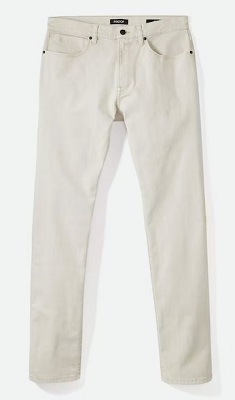 Jeans that built for some action! The first thing you'll notice is the gusset at the crotch, which will help with your range of motion and prevent binding. Next is the fabric, a blend of 73% cotton, 25% Sorbtek adn 2% lycra. This stuff gives you plenty of stretch and wicks moisture away from your skin to keep you dry and comfortable. The color comes close to what we want. But do note that texture is courser type twill. So not as refined as the 306s. Huckberry has a good selection of sizes available.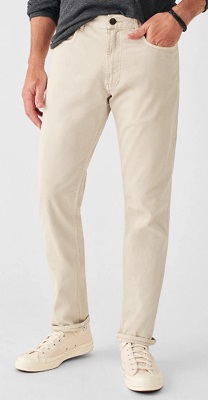 And from the rough and tumble ready Proof jeans, we move to a pair that emphasizes comfort. Faherty has used a cotton and elastane blend fabric, pre-washed to add some extra softness. The fit is trim but not skinny, with a good amount of room in the top block. They have plenty of sizes in stock, but I had to look at the customer comments (4.4 stars out of 5 after 215 reviews) to find that they're a 34″ inseam.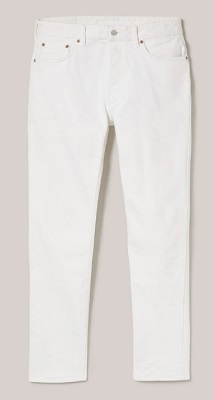 Buck Mason describes these as a, "full, classic fit" with a bit of taper below the knee. Which may make them a good option for your larger gentlemen. Or for those you that want a color that comes closes to true white. The 13oz fabric is 98% cotton, 1% stretch and it's been stonewashed for some softness. Buck Mason has sizes 30 to 40 in stock and all come with a standard 33.5″ inseam.
Other Alternatives for the James Bond Quantum of Solace Mathis Villa STA Prest Jeans
We recently mentioned these in our recent 4 Best Craig Era Bond Looks post. And as I said near the start of this post, the current Levi's 502 fit seems to be closest to the older 306 model. They've based it on their classic 501, so there's a good amount of room in the seat and thighs and a higher rise. But they've tapered the leg below the knee for a more contemporary look. Levi's has also gone with a 98% cotton, 2% elastane denim, so the jeans will have some stretch for comfort. Amazon currently has the best price that I could find. But you can also order them directly from Levi's for $79.50.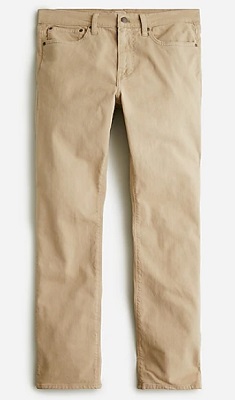 J.Crew's 770 cut is one of my favorite fits out there. It has a good medium rise, it's roomy (but not baggy) up top and, despite being labeled as a "straight fit", has a nice taper below the knee. And the quality is usually pretty good for the price (especially when you can get them on sale. You'll a wide selection of waist and inseam sizes on the J.Crew website.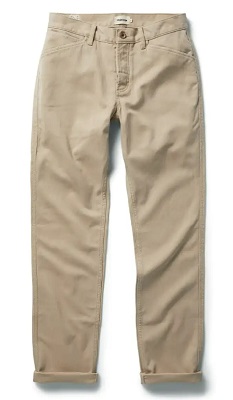 This option definitely has a bit more a workwear vibe. But Taylor Stitch has included some great details in the design that I think makes them worth a mention (and the higher price tag). Starting with the 12oz fabric, they've used a unique blend of 54% hemp, 30% recycled polyester, 14% organic cotton and 2% spandex. It has some stretch, but also a slightly slubby texture that gives the pants a more casual feel. The fit is a little more refined, with a roomy top block and some taper down the leg. So less like a pair of Dickies and more like the 306. I'm also liking the unique design of the front pockets, which almost has a "frog mouth" feel to it. These won't be as dressy as Bond's Mathis Villa pants. But if you want a pair with a bit more of a rugged attitude, I think they'd be a good choice.
Do you have some suggestions for alternatives for the James Bond Quantum of Solace STA Prest Jeans? Share them with us in the comments below! And remember to check out our Facebook Page, our NEW Instagram account and Pinterest Boards for more James Bond style advice, inspiration and info!