Steve McQueen Warm Weather Style
I have to admit, I love writing the McQueen posts on this site. As much as I enjoy writing about Bond style (and really, really enjoy it!), the fact is his color palette can get a little … monotonous. With a few notable exceptions (you all know the ski suit I'm talking about!), 007 mainly wore darker shades of blue, grey and brown, with some green making an appearance now and again. But McQueen was NOT afraid of bright colors! He embraced them. And, along with his more traditional Harrington jackets, Aran sweaters, shawl collar cardigans and suede Playboy chukkas, he also seemed to like to play around with some unique designs. Pieces that, at first glance, looked normal, but revealed some fun twists upon further inspection. And so that's what I'd like to explore in this look at Steve McQueen warm weather style: the King of Cool's colorful and playful side to inspire us all to push the boundaries a little. Let's get rolling!
The Suede Bomber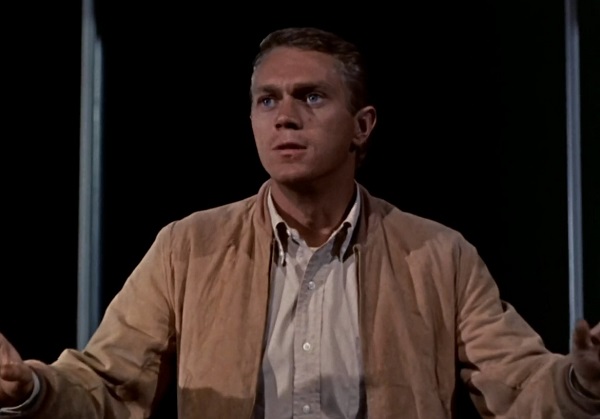 Our first piece comes from McQueen's first starring role as Steve Andrews in the 1958 science fiction/horror film The Blob. A traditional suede blouson with a fuller, looser cut can definitely come across as a baggy old man jacket. But the contemporary interpretations offer a slimmer fit that really updates the style. Wear it over a tee, henley or sweatshirt and you've a clean, casual look for those cooler spring evenings. For more about McQueen's look from the film, check out this article from BAMF Style.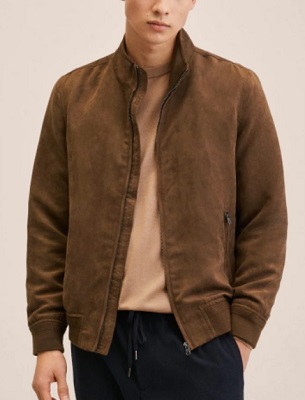 An affordable faux suede option for those of us on a tigher budget (or prefer not to wear real leather). The stand collar adds a nice modern touch and gives the jacket a bit of an edge. But if you prefer the classic ribbed knit collar, Mango has another bomber for the same price with that feature.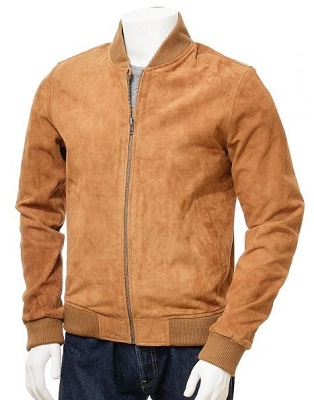 In terms of the color and style details, it's probably the best match for McQueen's jacket. Made from genuine goat suede, it has minimalist design and slimmer fit we want for a modern suede bomber.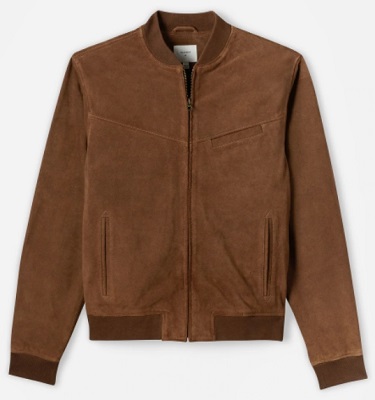 The investment piece. But Billy Reid is a name familar to fans of Bond style. And the Louisiana based designer has used a heavier cow suede for durability and added some interesting details (like the chest pocket) that help this bomber stand out. Sizes small to XXL are available on their website.
Also Try:
The Wrangler Denim Western Shirt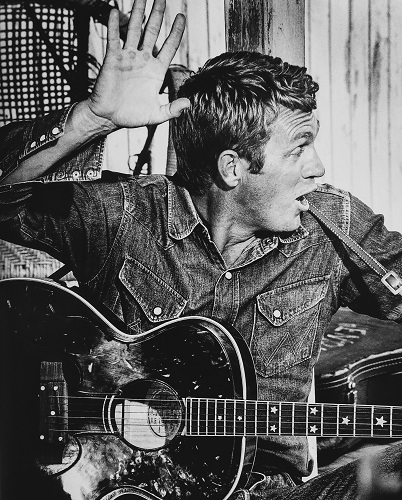 For the film Baby, The Rain Must Fall, McQueen wore a classic Wrangler denim western shirt with pearl snap buttons. There's a few interesting details on the shirt that set it apart. First are the flaps on the chest pockets. Rather than the typical center point or less common "sawtooth" style, Wrangler angles the pocket so the snaps are off center. Second are the longer cuffs, which have three pearl snap buttons. And third, we have the distinctive "W" stitching on pockets.
Western style denim shirts have been a staple in men's closets for decades. But they've recently seen a surge in popularity thanks to the whole workwear movement. The trick to wearing them is to not go "full cowboy" with the rest of your look. Unless you're, you know, an actual cowboy. Instead of wearing it with jeans, try using it with olive or khaki chinos, boots (like some McQueen inspired Red Wings) and a leather jacket.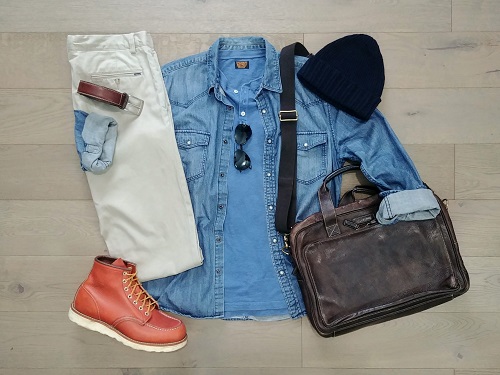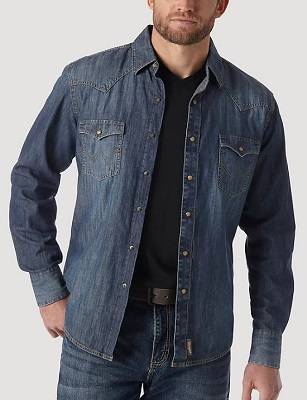 Of course we need to include one from the brand McQueen wore. Unfortunately Wrangler isn't offering a shirt with the same design features as McQueen's this season. But it still has the iconic "W" stitching on the pockets and it's very affordable. If your budget is even more limited, Wrangler has another 100% cotton version in Mid Tint Denim for $39.00 that will get the job done.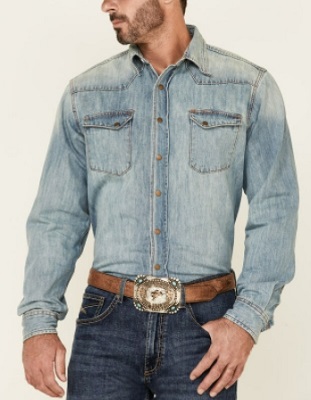 It's missing the "W" stitching. And they've given the denim a much lighter fade than the one McQueen wore. But it does have those slanted pocket flaps if that's the detail that matters to you. Sizes small to XXL are available at Country Outfitter.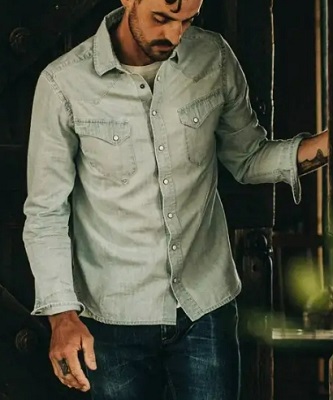 It's a much paler shade of blue. But Taylor Stitch has added a lot of cool details that take this shirt to the next level. The fabric is actually a 6oz selvedge denim and the telltale white and red strip is visable along the godet, The shirt is finished with YKK pearl and antique brass snaps with an antique brass concho button at the collar. And it has the slanted flap chest pockets. Just not that the customer reviews mention that this is a very slim fit!
Also Try:
The Cool Polo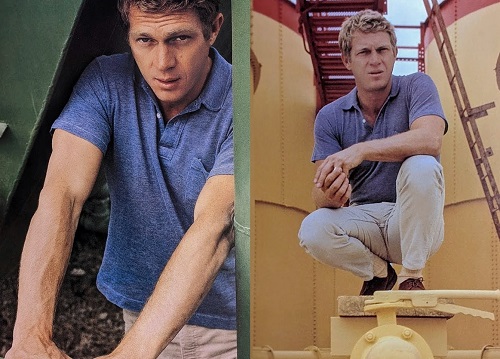 Every guy needs a couple of good polos for the spring and summer. I'm sure many of you already have one or two navy Casino Royale style ones in your closet. Now's a great time to pick up another in a different, brighter color. And (no surprise) McQueen wore a great one. You can tell how it could have served as a source of inspiration for the Sunspel Riviera. Made from a heathered slub cotton in a medium shade of blue, it has the self collar, the two button placket and the chest pocket. The fit is also spot on, which is key. When everyone else is wearing a basic pique polo with it's floppy ribbed collar, yours can stand out (in a good way) if you pay attention to the details!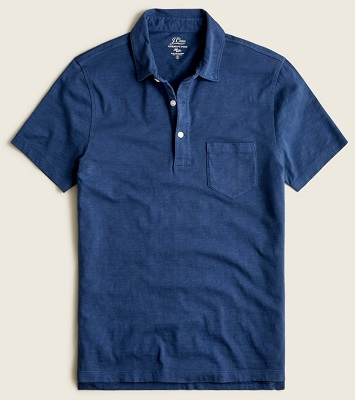 Almost every year, J.Crew's classic polo makes our list. It does have a three button placket. But the lightweight cotton has the slubby texture and faded shade of blue we want. And that sale price makes it a heck of a good deal. Plus it comes in sizes XS to XXL in classic, slim, slim untucked and tall fits so you can choose the combo that works best for your body.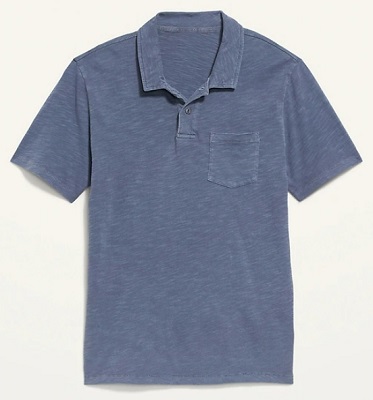 A new one from Old Navy this season. And it checks all the right style boxes: self collar, two button placket, chest pocket and a great slubby cotton in a spot on shade of blue. As always with Old Navy, check for an extra discount code to knock even more off the already affordable price.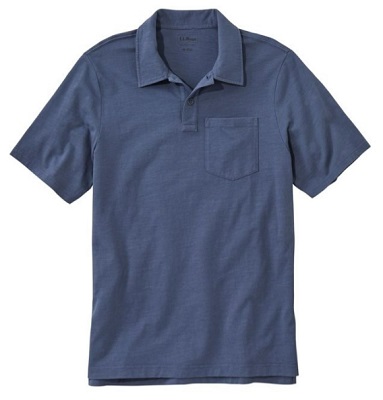 A classic from the heritage American retailer. L.L. Bean tends to offer looser, more forgiving fits. So this would be a great choice for you larger gentlemen. It's available in small to XXL in regular and tall fits.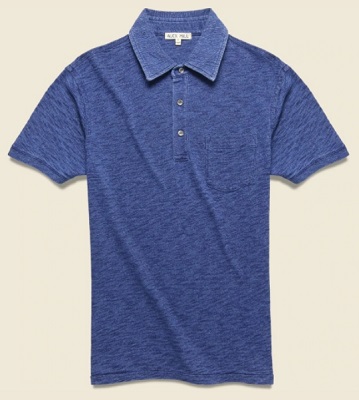 If you really want to go all out with the slubby texture, here's your polo. This one also has the three button placket. And we should also note that the collar has some structure to it. So it may not look quite as relaxed as some of the other options on this list. It's available in sizes small to XXL at Stag Provisions.
Also Try:
The Other Retro Cool Polo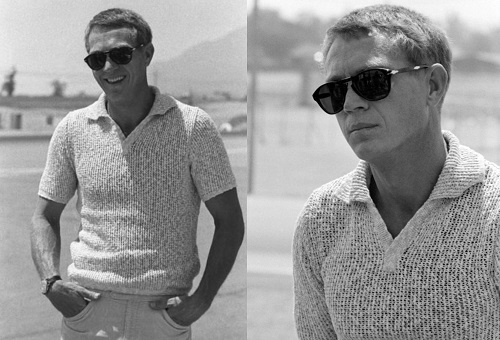 And that, my friends, is a statement polo! The wide, heavy rib Johnny collar, the sweater style hem and the "deep-but-not-too-deep" placket exemplify everything we love about retro 60s style. Then there's that fabric, an open weave knit with tons of texture that'll keep you from overheating when things get hot. All together they create a polo that's practical and uniquely stylish. You just have to wear it with the right amount of IDGAF attitude.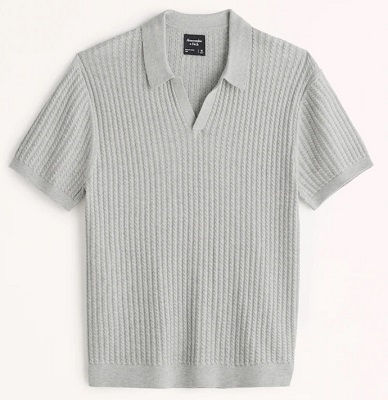 It doesn't have the open weave of McQueen polo. But the super slim cable knit pattern gives this option tons of texture. And the Johnny collar and ribbed knit cuffs and hem perfectly capture that casual 60's style.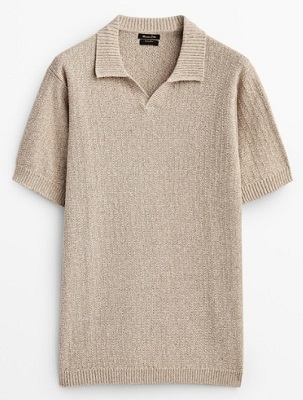 About as close as we're going to get today. The weave is a little tighter. But it still looks light and airy. And the open placket and heavy ribbed collar are a nearly dead on match for McQueen's polo. It looks like this one is selling fast at Massimo Dutti (they're down to sizes medium and large). So if you want one I'd recommend acting quickly!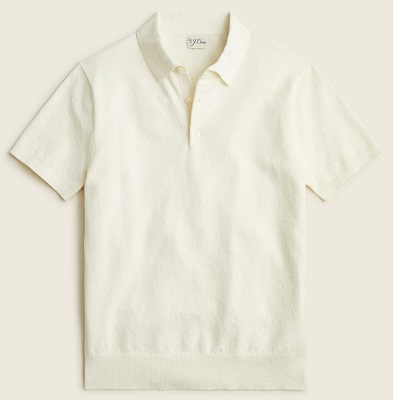 Some of you prefer buttons. So here's an option from J.Crew that does a good job capturing the feel of McQueen's polo while providing us with a little more control over the amount of chest hair we want to show. The fabric is a cotton nylon blend in a bouclé knit which gives the shirt tons of texture. And the ribbed knit at the cuffs and hem have the right retro-cool vibe. You'll find sizes XS to XXL on the J.Crew website.
Also Try:
Classic Canvas Sneakers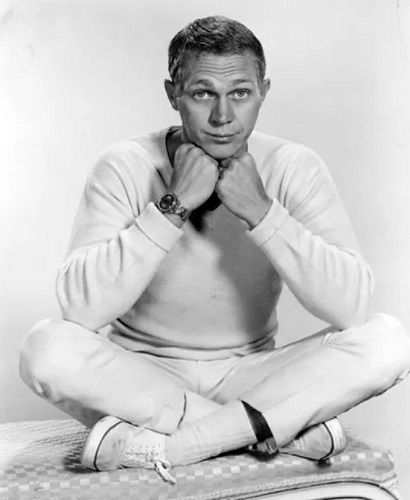 It's not the coolest photo of McQueen we've seen. But it's a great example of that All American trad style he wore in the early sixties. And his white canvas sneakers are classics. They're lightweight and cool in hot weather. They have some support so you can run around in them. You can wear them with jeans, khakis and shorts, which covers most our weekend wardrobe. And they're inexpensive so you won't really care if they get a little trashed. In fact some would argue they look even better when they're beaten up. They're pretty much the perfect spring and summer footwear.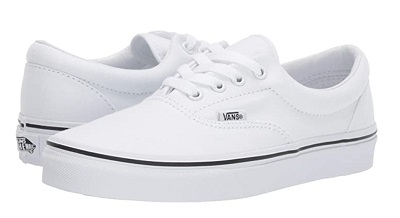 Icons from the world of skateboarding! A world of which I know next to nothing. But there's no denying that Vans have played an important role in the history of sneakers. Sure you can probably find knock-offs for a lot less at Wal-Mart. But when the price is still under fifty bucks, you may as well go with the originals. Zappos has tons of sizes available.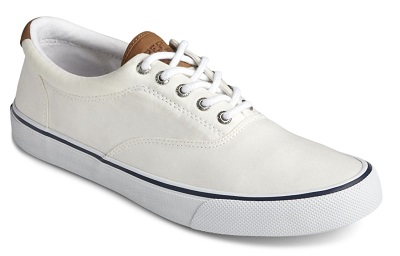 And an equally iconic design from the world of sailing! Again at a very reasonable price. Sperry has used a "saltwashed" canvassed cotton twill material for the uppers, which gives the sneakers a slightly distressed, broken-in vibe. One cute trick is the use of elastic panels along the tongue. Those will keep the shoes securely on your feet, but you can still slip them on and off easily without undoing the laces every time. Of course the CVOs also come with Sperry's patented "Wave-Siping" soles with those razor cuts that provide great traction on wet boat decks (or beach-side bar patios). Still lots of sizes left in stock on their website.
The One of a Kind Spring Jacket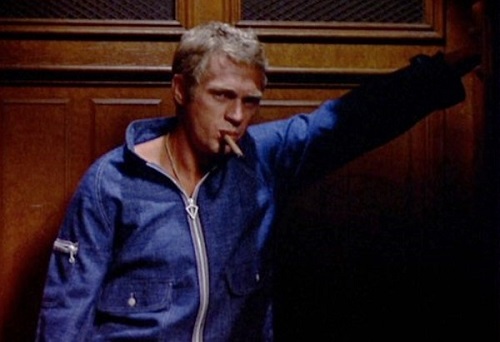 You've got BAMF Style to thank for this one! I really enjoy getting completely lost in Nick's excellent website when I have a little downtime (which isn't as often as I'd like!). It really is an endless source of information and inspiration. And that's where I stumbled across his post on this particular piece of outerwear McQueen wore in The Thomas Crown Affair. Needless to say I was immediately fascinated by it. It's like someone merged an MA-1 with a track jacket and the result was some kind of mutant Harrington that could only be imagined in the sixties. In other words: it's fun, it's unique (without being too far out there) and it would make an awesome spring jacket.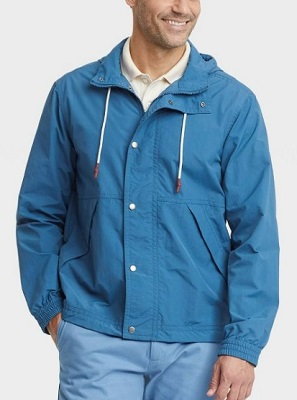 Is it a perfect match for McQueen's jacket? No. But it does have the same sporty, "just off the yacht" spirit. And it's very affordable. Target has sizes small to XXL on their website.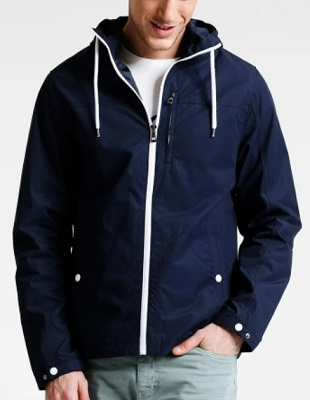 A minimalist take on the jacket in a more conservative dark navy. But the contrasting white zipper trim, drawstrings and buttons give it the right casual touch. You can find sizes small to XXL on Zalando.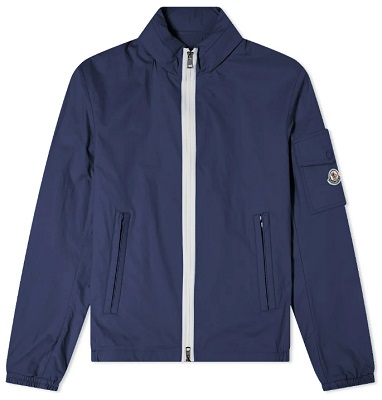 You're a billionaire playboy that just organized and exectured a bank robbery because you were bored. Of course you're going to wear a nine hundred dollar windbreaker when you head out to neutralize a guard.
Also Try:
9 Hole Motorbike Boots

Another photo of McQueen being McQueen, this time taking his modified Triumph TR6 Scrambler for a spin. We're focusing on the footwear here. His boots look to be a lighter weight, relatively unstructured model with a smoother, low profile tread sole. You can see that better in the shot below of him jumping the bike. As for the material, in some photos they look like nubuck and in one they appear to be some kind of waxed suede. If anyone has any insights, let us know in the comments!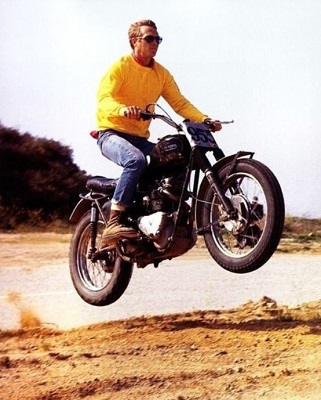 What I do know is that lighter weight boots are pretty much perfect for the spring. Your feet won't overheat if gets a little hotter during the day. But they still offer protection when the rain hits or if things cool down more than expected at night. If you already have a good alternative for the J.Crew Kentons Bond wore in SPECTRE, those are definitely one option. But it's always nice to look for others in case we want to mix things up.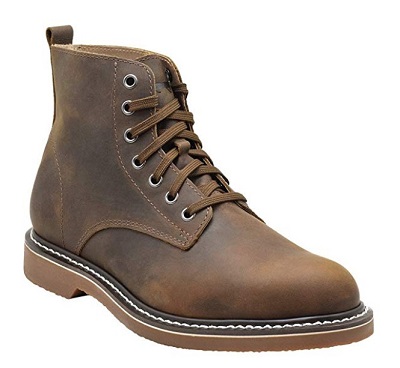 These are actually the same boots as the J.Crew Kenton alternatives we keep recommending, just in full grain leather. You can read my review of the suede versions in this post. To summarize, I've been very happy with them and still think they're excellent value for the money. The full grain version we're sharing here is also Goodyear welted (so they can be resoled) and has a pigskin lining around the collar. However, the forefoot is unlined for breathability. They're also a 7 hole boot, unlike McQueen's 9 hole model. But a slightly lower boot for casual wear isn't necessarily a bad thing. Especially when the other style details come so close. The link above goes to Amazon, where they have sizes 6 to 14 in stock. I found they run very true to size (my size 10 boots fit my size 10 feet spot on).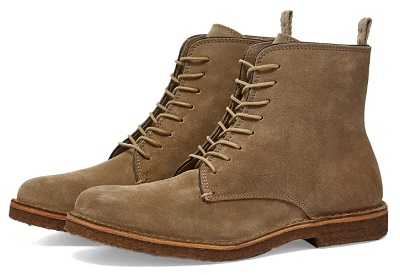 Coming from the makers of some of my favorite Chelsea boots and my No Time To Die Matera chukka alternatives, the Bootflex does a good job of capturing some of that McQueen style. I doubt they'll be able to withstand the abuse of dirtbiking without sustaining some damage. But these hand-made in Italy boots feature a soft, premium suede upper and natural rubber outsolde that makes them incredibly comfortable for casual all day use. END Clothing has UK sizes 6 to 11 in stock.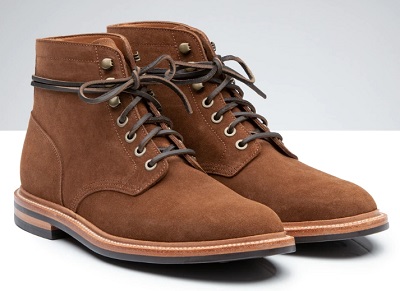 When you want to get serious about your boots, you can't go wrong with Grant Stone. The uppers are calf suede from CFStead and they're lined with full grain leather. The studded rubber sole is attached to vegetable tanned leather midsole using a Goodyear welt construction, with a cork filler that will mold perfectly to your foot over time and a steel shank for extra stability on rough terrain. They're finish with brass hardware and heavy leather laces. Obviously, these are way more heavy duty than the boots McQueen wore. But with a little bit of care, they're going to last you for years.
Also Try: 
Can you think of something we missed in our Steve McQueen spring style round up? Tell us about it in the comments! If you're looking for even more King of Cool style options, check out our recent posts on his Mojave jacket and Heuer watch. You can also visit our Facebook page, our NEW Instagram account and Pinterest Boards for more Bond and McQueen style advice and inspiration.
Some of the images of Steve McQueen used in this post were sourced from BAMF Style.