The Steve McQueen Blue Shawl Collar Cardigan
Updated October 5th, 2022 – Steve McQueen's influence on Daniel Craig's Bond style has been mentioned more than a few times. As evidence, we can compare 007's look when he visits Mathis in Quantum of Solace to pictures of the iconic actor from William Claxton's book Steve McQueen: Photographs.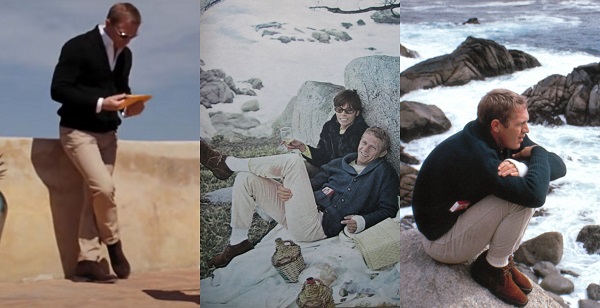 A quick look shows that The King of Cool's combo of dark blue cardigan with light beige chinos and suede Hutton Playtime chukkas  clearly served as the inspiration for Bond's outfit. So it's time to go back to the source and explore affordable alternatives for the Steve McQueen blue shawl collar cardigan.
Features Wanted for the Steve McQueen Blue Shawl Collar Cardigan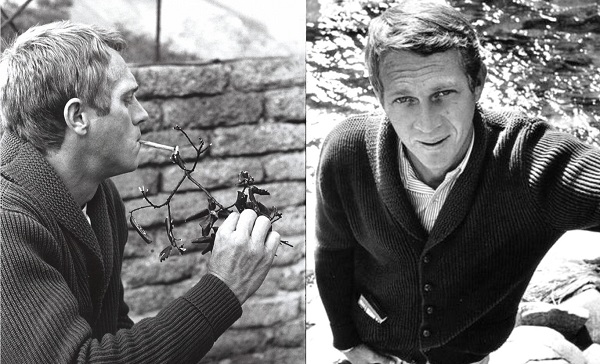 Rib-knit cotton, merino wool or cashmere material
Muted French navy/dark steel blue color
Two patch pockets
Brown leather buttons
If you're interested in really digging into the style details, BAMF Style has an excellent article on McQueen's complete look.
The shawl cardigan style isn't that difficult to find. And if the buttons on the alternative aren't a match, it's pretty easy to swap them out (you could try these or these). The real challenge here is finding a good color match. McQueen's seemed to lean more towards a deeper shade of denim or indigo blue. So we'll be trying to limit the number of darker navy option on our list unless they check a lot of the other "Features Wanted" boxes.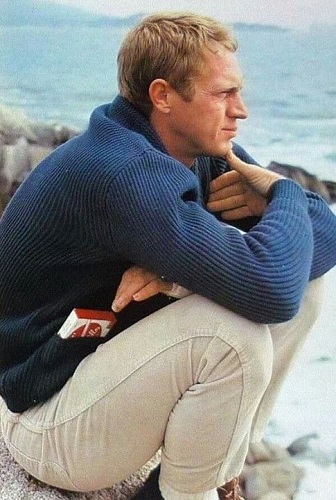 Best Option for the Steve McQueen Blue Shawl Collar Cardigan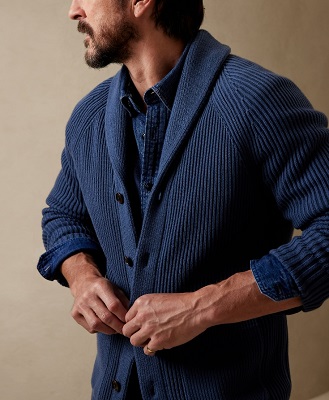 We just shared the "Transition Cream" color in our post on the ivory Tom Ford cardigan worn by Daniel Craig. And, as luck would have it, it also makes a great alternative for the McQueen cardigan. Banana Republic has gone with a hefty 100% organic cotton knit. The raglan sleeves may not be the best match. But that brighter shade of navy blue certainly comes close to what we see in some of the old photos. Sizes XS to XXL are in stock on the website.
Under $100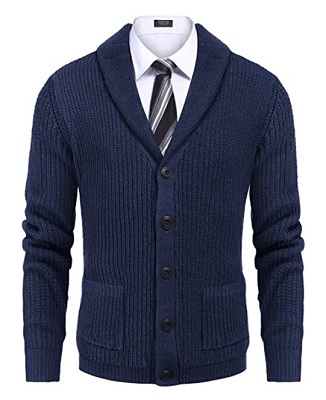 And now our obligatory 100% synthetic alternative from Amazon. Out of all the generic cardigans you can get from the online mega-retailer why this one? Mainly it's the color. Most of the other cardigans use a darker navy yarn. But COOFANDY (all CAPS!) has gone with a brighter marine blue which comes closer to the one McQueen wore. Plenty of sizes available at the time of writing.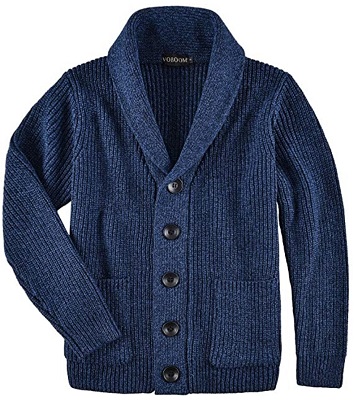 Spending another thirteen bucks will get you this 30% wool, 70% synthetic blend from another company that likes to use ALL CAPS in their name. It certainly looks like a chunkier knit. And the flecks of lighter blue thread in the yarn help to brighten up the color. It's currently sitting with 4.4 stars out of 5 on Amazon after an impressive 1400 reviews. Just note that many of the customer comments report that the fit is small and recommend sizing up.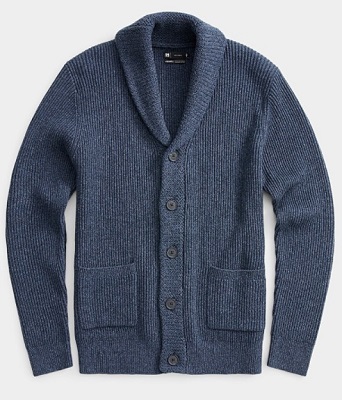 The same model as our "Best Option" for the Quantum of Solace cardigan. But in blue. And that blue may be a little bit lighter than ideal (it's always hard to tell with online product photos). However it does nail a lot of of the details we want. It has the heavier rib knit, the patch pockets, and the contrasting knit pattern on the collar and down the placket. Plus, they've used a 100% organic cotton yarn. Which is great for those of us who prefer all natural fibers. And last but not least, it's affordable! Simons has sizes small to large available on their website.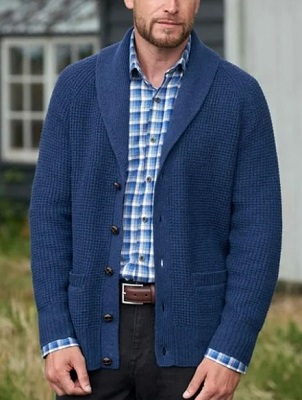 A new 77% lambswool and 25% cotton option from Woolovers for this season. Some of the details may not appeal to the purists: the raglan sleeves, waffle knit and (what looks like) a longer fit. But that dark denim color has some pop to it. And it comes with the leather buttons. Should work if you're after more of an "inspired by" alternative. You'll find sizes small to XXL in stock on their U.S. and UK sites.
Under $200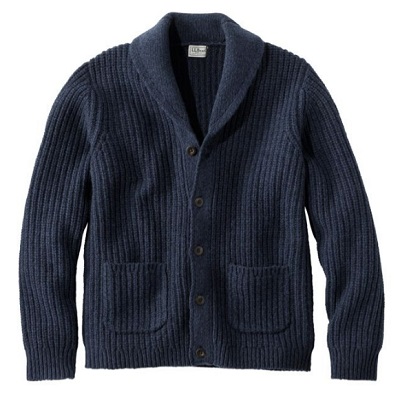 Even though that shade of blue is darker than ideal, I'm including this option since it gets so much else right. L.L. Bean has been making these for decades, and they're still using a soft 100% lambswool yarn that provides plenty of warmth and comfort. As for the fit, I personally find their shirts and sweaters to fit a little oversized and boxy. However many of the customer reviews state that this one fits more true to size. Sizes small to XXXL in Regular and Tall fits are available on their website.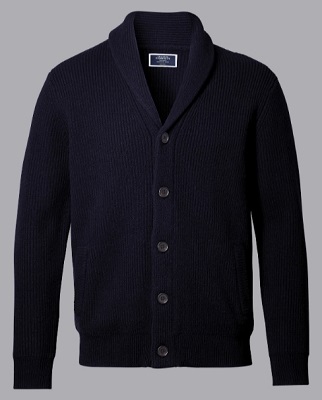 This option is clearly a much darker navy than we want. But I though I'd give it a share since Charles Tyrwhitt is offering such a great sale price right now. Made from 100% Merino wool, it doesn't exactly capture all of that McQueen style. But I'm sure plenty of us would be more than happy to wear it on a cool late fall day.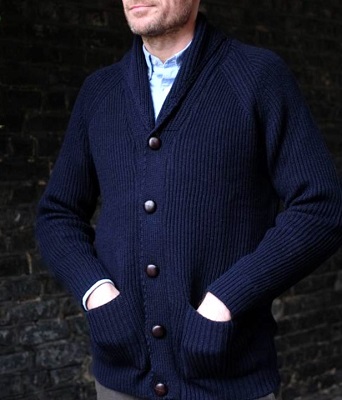 You want a thick, cozy cardigan? Well, here it is. This 100% wool, made in the UK alternative from the Highland Store is a straight up and down rib knit with patch pockets and genuine leather buttons. It also has elbow patches. If those are too "grandpa" for you, removing them should be an easy job. The slightly brighter shade of navy should also work well to capture that McQueen vibe.  Sizes small to large are in stock.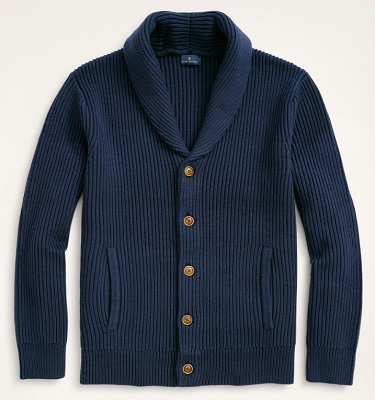 In terms of style details, it's much like the Charles Tyrwhitt option above (100% cotton yarn, side entry pockets). But in a slightly lighter shade of navy and with (what appears to be) a more substantial collar. If you're on the lookout for a heavier option, check out the Brooks Brothers 100% Merino wool shawl cardigan for $228.00. That one uses a yarn with a bit of heathering to add some extra character. They have sizes XS to XXL available in both pieces.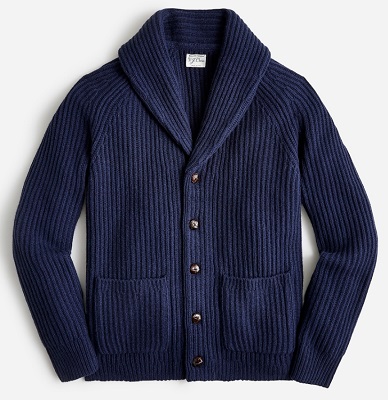 The styling is about as classic as it gets, with a thick 60% Merino wool and 40% nylon yarn, patch pockets, a heavyweight collar and traditional leather buttons. I have a few J.Crew cardigans and sweaters in my closet. And while they're certainly not the pinnacle of quality, I've been more than happy with them over the years. Especially when you can grab them on sale. Right now you can use to the code SHOPFALL to knock 40% off the price. Which brings this option in at a very reasonable $88.80. They have sizes XS to XXL in stock.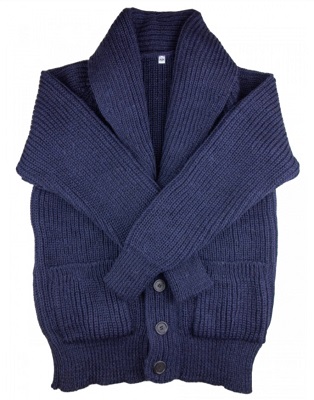 And speaking of cozy …. This heavy-weight beast is made in Canada from 100% wool and, like the Highland Store alternative above, is a basic, no nonsense ribbed knit. You may want to swap out the buttons. But Kent Wang has used genuine horn for theirs so I'd be tempted to keep them as is. They have sizes small to XXL available on their website. But pay attention to the notes on sizing! Their sweaters are NOT vanity sized and fit closer to what you'd get from H&M, Zara or Massimo Dutti. Which means a Large is going to fit like a medium from most other U.S. brands.
Under $300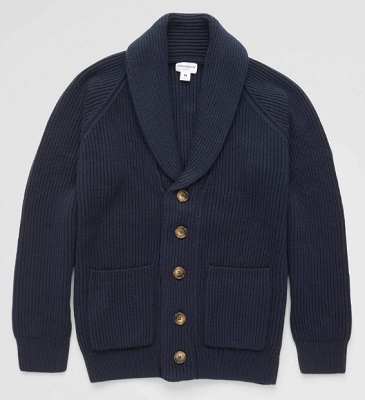 Canadian brand Spier & Mackay had an instant hit on their hands when they launched their version of the shawl cardigan a couple of years ago. And the buzz in the menswear community about the quality they offer for the price still hasn't died down. Made from a 4-ply Australian Merino wool yarn, it has a slightly oversized fit and some serious weight to it. And the price is a couple of hundred dollars less than comparable knitwear. They have sizes XS to XXL in stock. Just note that these things tend to sell out fast!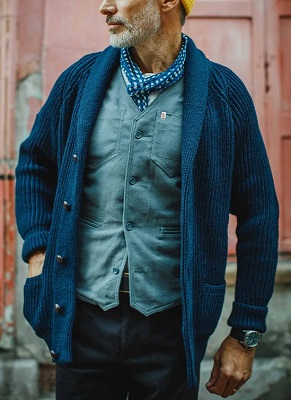 &Sons is known for being inspired by some of our favorite style icons. So it's no surprise they offer a great alternative for McQueen's classic cardigan. I'l note that the color is darker than it appears in some of those outdoor photos. But the heavy 100% British wool rib knit, leather buttons and Italian calfskin elbow patches give it a ready-for-anything attitude I think the King of Cool would have appreciated. You'll find sizes small to XXL on their U.S. and UK websites.
The Investment Pieces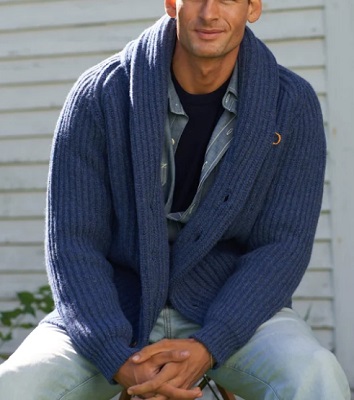 It's a $500 cardigan. It's also the kind of knitwear you could pass down to your grandkids as an heirloom. Made in Harwick, Scotland, Billie Todd has used a soft, superfine 100% lambswool from the world renowned Todd & Duncan Mill and Italian-made horn buttons. The construction is a robust 6-ply rib knit in a slightly oversized, relaxed fit.  You could think about going down a size for a trimmer look. But personally, I'd fully embrace the slouchy design and just enjoy the 2.5 pounds of cozy comfort this one delivers. You'll find sizes small to XL on the Billie Todd website.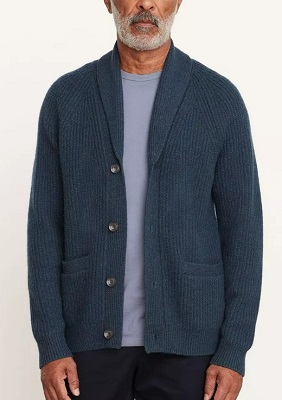 With its 51% cashmere and 49% merino wool yarn, subtle ribbed knit and more tailored fit, this is definitely a more elegant piece of luxury knitwear. However it was the color that really captured my attention, a muted marled blue that comes very close to what we see in the Claxton's McQueen photos. Some of the other details aren't an exact match (raglan sleeves, horn buttons instead of leather). But it does a great job as a "modern" interpretation of the iconic cardigan. I've linked directly to Vince above. But you can also find it at Neiman Marcus and Nordstrom for the same price.
Share your favorite alternatives for the Steve McQueen blue shawl collar cardigan in the comments below! You can also visit our Facebook page, Instagram account  and Pinterest Boards for more Bond and McQueen style advice and inspiration!
Images used in this post were sourced from BAMF Style, doucement le matin, the weejun and Sun Valley Alpaca Co.