The Steve McQueen Heuer Monaco Watch
James Bond had his Submariners and Omegas. Paul Newman had his Daytonas. And while Steve McQueen was also a Rolex fan, the most iconic watch he wore was undoubtedly the uniquely designed Heuer Monaco.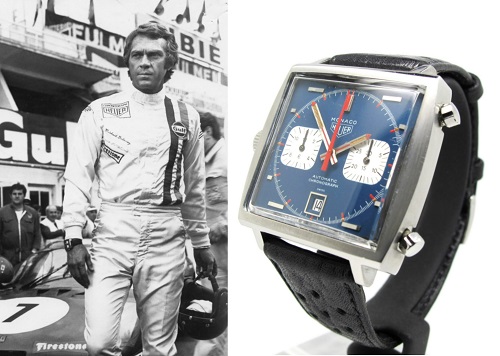 Ironically, McQueen wore the watch with which he so often associated in one of his least famous movies: playing race car driver Michael Delaney in the 1971 film Le Mans. The film was really McQueen's celebration of his favorite sport, almost more of a documentary than a typical plot and character driven story. And although it was anything but a box office success it still stands as one of the best films for capturing the experience of being behind the wheel on the course.
Rumor has it that McQueen selected the Ref. 1133B personally for the film. And it was a fine choice. First released in 1969, the Monaco's square, water resistant case housed the revolutionary Calibre 11 movement, the very first automatic chronograph in the history of Swiss watch making. One of McQueen's original "Michael Delaney" 1133Bs sold for close to $800,000 at auction in 2012. And another Monaco worn by McQueen in Le Mans (which he gifted to Haig Alltounian, his personal mechanic on the film) sold for just over $2.2 million in 2020. Of course the Monaco remains an incredibly popular model for TAG Heuer today.
The Tag Heuer Reissue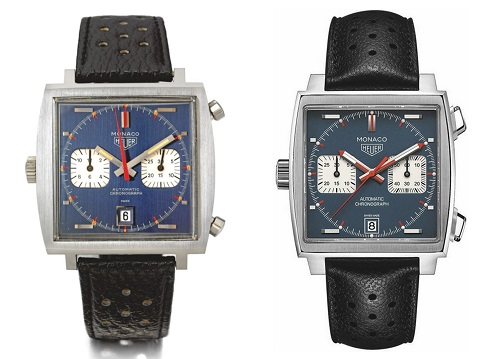 TAG Heuer has released a few 1133B reproductions over the years. To celebrate the model's 50th anniversary in 2019, the company released a relatively faithful rendition of the original, although the changes to the case, pushers, crown and sub-dials are definitely noticeable. But the biggest change would be inside, with the shift to the modern Calibre 11 movement. Measuring 39mm by 39mm, it may sound like a small watch by today's standards. But it wears bigger thanks to the square shape.
Features Wanted for the Steve McQueen Heuer Monaco Watch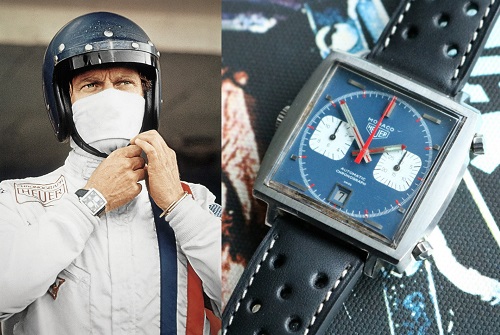 Square stainless steel case
Chronograph function
"Panda" style face with blue main dial and white registers
Red highlights on hands
Black leather rally style strap
There's simply no denying that the Monaco is a distinctive looking timepiece. So any "alternative" watch that comes too close to replicating the design is almost certainly going to be considered a knock-off. That means we'll need to think outside the box a little in our search for options: watches that carry the spirit of the Heuer without being direct copies. We've included a few below that have the square case. But I've expanded our range to cushion and Tonneau shapes and focused more on the dial design.
Best Option for the Steve McQueen Heuer Monaco Watch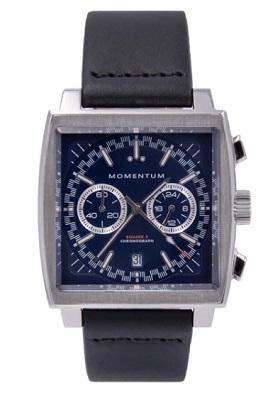 An homage that still manages to bring some of its own character to the table. But the Square 2 is about more than just its looks. Momentum has used a reliable Miyota 0S212 quartz movement housed in a 39mm case that combines brushed and polished 316L stainless steel. All of that is topped with a unique beveled sapphire crystal that adds an interesting touch to the art deco design. And the watch is assembled in Vancouver, Canada. Honestly, I hadn't heard of Momentum before coming across them researching for this post. But a quick scan of some watch forums shows they're a pretty respected brand that's known for offering solid quality for the price. I've linked to Amazon above, but you can also order directly from the Momentum website.
Under $200
A very affordable option from Bulova's entry level sub-brand. No one will mistake for a Heuer. But with it's Tonneau case, three contrasting silver sub-dials and bright blue face, it has a similar retro-rally vibe.
Under $500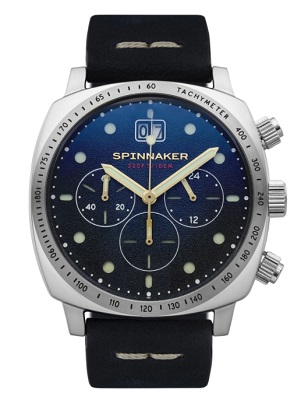 I've had my eye on this one for awhile. The cushion case measures a larger 42mm, but the reviews claim it wears a little smaller than you'd think. And although it's lacking the "panda" sub-dials, there's still enough constrast on the face to catch the eye while keeping things looking clean and sophisticated. The movement is also interesting, a hybrid "meca-quartz" that uses quartz for the main timekeeping functions and an integrated mechanical movement for the chronograph features. All in all, it's a watch that offers something a little different and is getting very positive feedback around the internet. I've linked directly to the Spinnaker website above. However, you can also order the watch from Amazon for $255.00.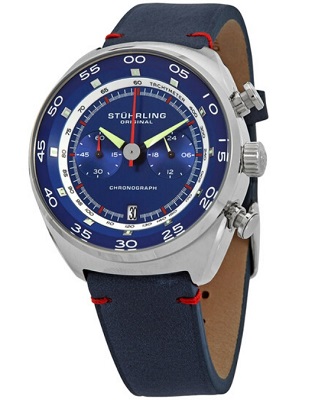 Stuhrling does a good job of capturing the spirit of Heuer without being a slavish copy. The stainless steel Tonneau case is suitably retro. And there're plenty of dials, indices and markers to match the sporty look. Just note that at 44mm, this thing is a bit of a monster! It's currently on sale at Jomashop for significantly less than I've seen at other retailers. You can use the savings to buy a good leather rally strap.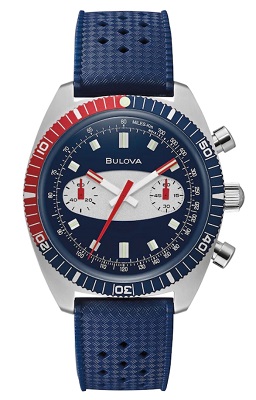 It has the right color scheme. But the design definitely leans more "sporty", with a cool 1970s inspired vibe. The 40.5mm case houses a quartz movement and features a domed sapphire crystal. And we get 200M of water resistance which makes this alternative a practical choice for those of you who want a watch you can comfortably wear at the track and at the beach. Link above goes to the Kay Jewellers' Outlet website. However, you can also find it on Amazon for $356.07.
The Investment Piece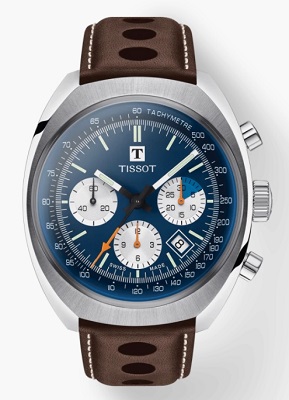 Great retro-rally styling and some very impressive technical features. Like the Alpina, the Tissot's 43mm Tonneau case sounds big but wears comfortably thanks to that beveling at the corners. The addition of a third sub-dial takes up space on the face. But Tissot keeps things looking neat and tidy by sticking with a simple blue and silver color scheme, with small pops of orange on the seconds hand and 30 minute sub-dial. The movement is Tissot's own 27 Jewel automatic with a 60 hour power reserve, which the display caseback shows off nicely. I've linked directly to the Tissot website above. But you can also find it on sale at Watchmaxx for $1575.00.
Have a suggestion for an alternatives for the Steve McQueen Heuer Monaco watch? Share it with us in the comments below! For more on some key King of Cool style essentials, click here. And remember to visit our Facebook page, our NEW Instagram account and Pinterest Boards for more style icon inspiration!