Best Budget Style Finds February 23rd
Welcome to our Best Budget Style Finds for February 23rd! This is where we share some of the great alternatives for Bond (or Craig or McQueen) style that either slipped through the cracks when I was writing the original dedicated posts or deserve a special mention. Sometimes the posts will be short. Sometimes there will be a ton of new options. A lot will depend on what we, as a community, find and share. So if you have any suggestions, let us know in the comments. On to the alternatives!
Bond: Formal to Casual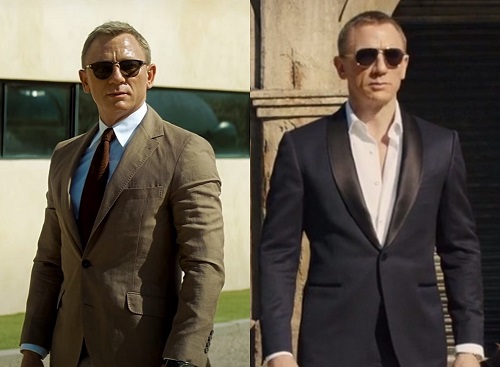 Starting things off with a couple of classic Bond looks. The Brunello Cucinelli sport coat from SPECTRE remains a firm fan favorite. And with spring on the horizon it's time to start thinking about our warm weather getups. The same goes for the Skyfall tuxedo. Wedding season will soon be upon us and we can (hopefully) expect those to once again be larger in-person events. Having a great tux in a timeless style hanging your closet is never a bad idea.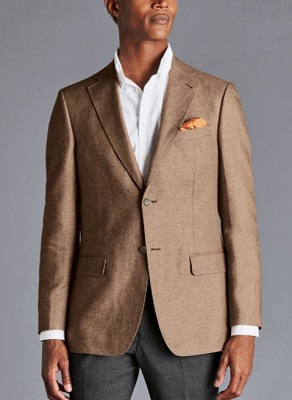 A great suggestion from our good AJB007 friend armenianmovieman for Bond's SPECTRE Morocco sport coat. The fabric is a 53% linen, 47% cotton blend, giving us a nice subtle texture without things getting too slubby. The jacket comes in classic and slim fits in short, regular and long cuts in plenty of sizes. That should help most of us dial in a great fit off-the rack. Two things to note: the jacket is a button two, not the 3-roll-2 of the screen used piece. And it looks like it's fully lined in 52% polyester, 48% viscose fabric. So expect it to wear a little warmer.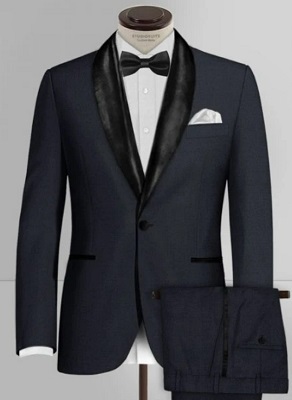 We've shared Studio Suits' corduroy suit many times in the past as a great alternative for Bond's No Time To Die Matera outift (you can read a review here). And they're making zero effort to hide the inspiration for their latest formal wear design. The good news is it sounds like it's going to deliver a heck of a lot of bang for the buck. They've used a Super 140's 100% wool suiting with a 100% viscose lining and a half-canvassed construction for the jacket. And since this a made-to-measure order, you can request that they replace the standard belt-loops on the trousers with more appropriate side-tab adjusters. So far the people that I know that have ordered from Studio Suits have had a very positive experience. If you're in the market for a new, budget friendly tuxedo, this one could be a real winner.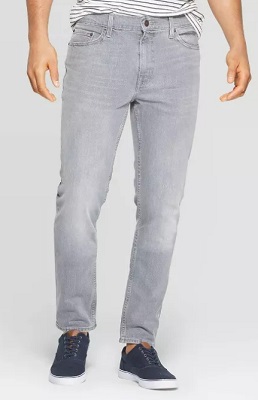 And from the formal to casual. I have a strong suspicion we'll be seeing plenty of brands offering grey jeans this spring season. But to get the ball rolling early, we have these ultra affordable alternatives for Bond's No Time To Die Jamaica jeans from Target's house brand. The denim is a 98% cotton and 2% elastane blend which gives them some stretch for comfort. And they're available in a variety of sizes (up to a 36″ inseam length for you taller fellows). They also come in a Skinny Fit if you prefer that look.
A quick look back at some Mikael style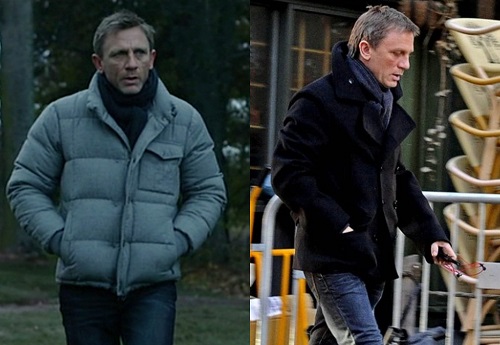 Our friend Jess MacLeod (@jesse.iain.macleod on Instagram) did a great job with his recent analysis on the lasting impact of Craig's style from 2011's The Girl With The Dragon Tattoo. If you haven't checked out that article, I highly recommend it! As the winter season wraps up for retailers, we're finding some good deals on cold weather jackets and coats that will also help us capture some of Mikael's style.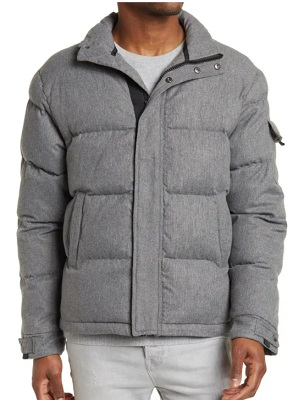 The extra pocket is on the sleeve rather than the chest. But it still captures the spirit of Blomkvist's Moncler Cezanne down jacket. The grey marled polyester shell has the right look. And the 20% down, 80% polyester insulation should keep you plenty warm when you're outside in the cold searching for better phone reception. Robert Graham is best known for his wilder shirt designs. But this is definitely a more toned piece that will work with a variety of personal styles. Nordstrom Rack has sizes medium to XL at that sale price.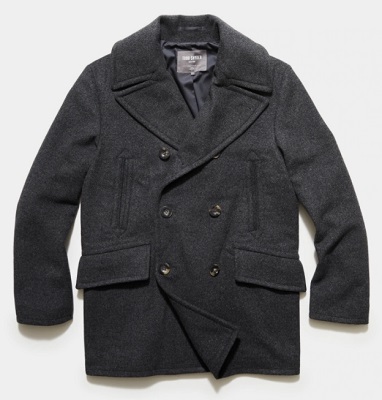 We shared this option for Mikael's briefly seen peacoat in Jesse's article. But now it's on sale, with plenty of sizes left in stock. It's still a big investment. However, this made in England piece with its 90% Melton wool, 10% cashmere shell fabric is pretty much the definition of a luxury peacoat.
Some Daniel Craig Personal Style …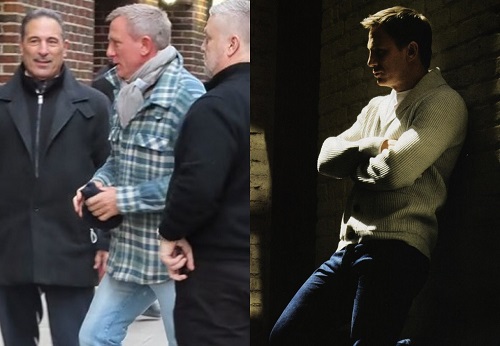 Back to some spring ready looks with a couple of pieces inspired by Craig's personal style.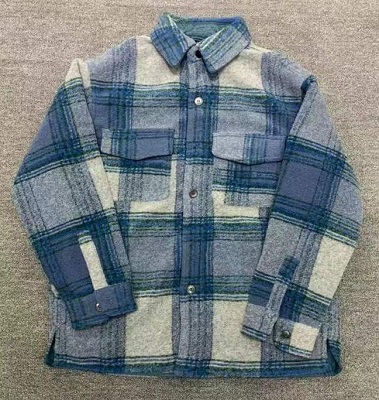 THIS! THIS is why I do these Budget Style round-ups! Just last Sunday I posted about that lumberjack shirt jacket Craig wore to The Ed Sullivan Theater on February16th. And I searched high and low for an alternative that came close to the pattern we want. Two days after I published that article, I find this one on AliExpress. Is it a perfect match? No. But it comes a lot closer than many of the options I shared in the dedicated post. It looks like the outer fabric is a wool blend with a cotton lining. As for the style details, it nails most of them. Available in sizes small to XL. But remember this is coming from China, so double check the size chart before ordering!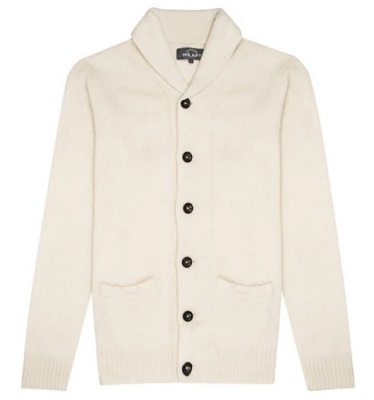 For fans of the ivory colored Tom Ford cardigan Craig wore in a GQ photo shoot way back in 2008. The Edmund Hillary brand was co-founded with the direct involvement of the Hillary family and donates a percentage of each sale to one of the causes close to Sir Edmund's heart. It's clothing designs are inspired by the heritage mountaineering and sportswear of the 1950s, with most of the manufacturing done in Great Britain and New Zealand. For example, the cardigan above is made from 100% British Lambswool in Yorkshire. I've linked to the Edmund Hillary brand website above for the sweater and to see more from their collection. They definitely have some cool pieces!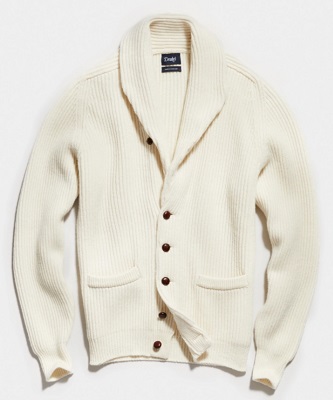 Drake's is famous for their cardigans and the prices rarely get marked down. So it's a bit of treat to find Todd Snyder offering one at a discount in their end of season sale. Drake's makes their cardigans in Scotland from super soft 100% lambswool and finishes them with genuine knotted leather buttons. It's still not cheap. But if you want cozy, it's hard to go wrong with knitwear like this.
A little inspiration from other Style Icons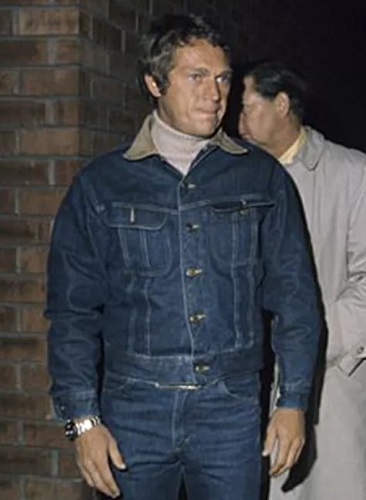 Our dedicated post on Steve McQueen spring style is coming later in March. So consider this a bit of a warm up. The King of Cool was a fan of the iconic Lee Stromrider jacket. With it's blanket lining it's the perfect weight for cooler spring days. And the corduroy collar sets apart from all the other denim trucker jackets out there. It's definitely a style worth considering if you're a fan of rugged workwear, but want something a little different.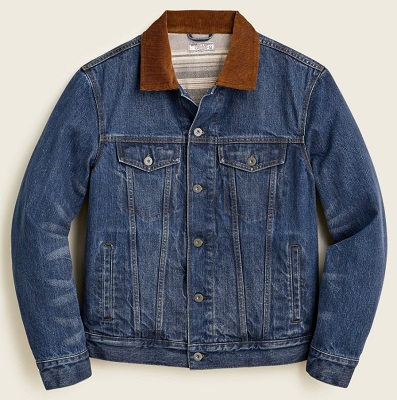 This was recently on sale for just over fifty bucks. And it may be worthwhile waiting for a deeper discount to come along. But the current price still offers a healthy discount and J.Crew has plenty of sizes in stock.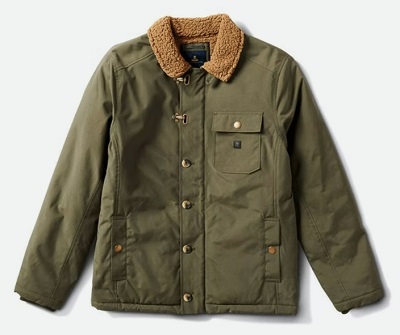 I wanted to include this option in our post on the iconic N-1 Deck Jacket. But available sizes were limited at the time of publication. Now it looks like Huckberry has had a restock (you can also order it directly from Roark). The design of the Axman isn't a direct copy of the N-1. But it still has the right military look (especially in that green). A great choice if you want an "inspired by" piece of outerwear instead of a repro. By the way, you should check out our friend BAMF Style's recent article on the Lee Marvin's N-1 from Point Blank if you need some ideas on how to style the jacket.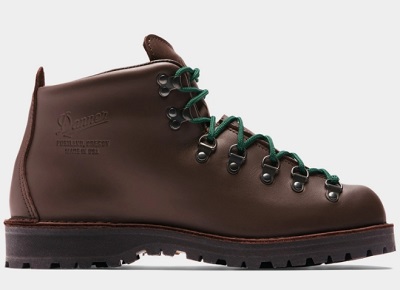 And we'll finish off with another item from Todd Snyder's end of season sale. Most of us are familar with the black Danner Mountain Light IIs Bond wore in SPECTRE (you'll find more alternatives over here). But we also talked about how the classic brown leather boot can help us capture some Style Icon inspired winter style in this article. You usually don't find the classic Danner models getting much of a discount. So seeing $110 knocked off the price is definitely noteworthy. And they still have a decent run of sizes in stock.
Know of any alternatives we should feature in our next Best Budget Style Finds post? Or do you have another option for this post? Tell us about it in the comments! If you'd like to see our previous Best Budget Style Finds posts, you just need to click here. And you can always visit our Facebook page, our NEW Instagram account and Pinterest Boards for more Bond, Craig and McQueen style advice and inspiration.