The Iconic N1 Deck Jacket
When it comes to military outerwear, the MA-1 and the M-65 jackets tend to receive most of the attention. But if you're looking for a rugged, warm and versatile design for winter that comes with an equally impressive military heritage, you definitely need to check out the iconic N1 deck jacket.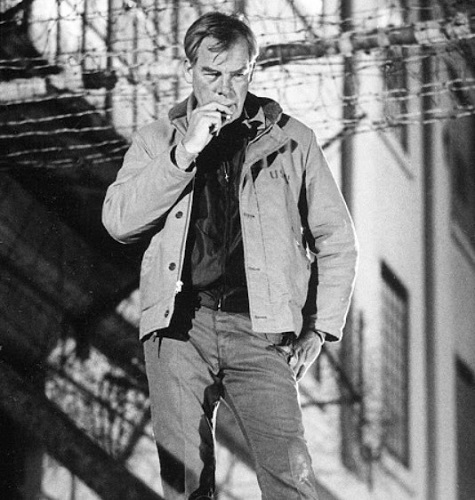 There have already been many excellent overviews written about the history of the N1. So I'll just cover the basics here. The jacket was first introduced into the U.S. Navy in 1943 as the N1DC and quickly became a favorite with sailors. The design was brilliant in its simplicity. A heavy, tightly woven whipcord or "Bedford" cord outer shell (which came to be known as "jungle cloth") protected the wearer from high winds and ocean spray. For insulation the jacket was lined with a thick Alpaca wool pile. The minimalist details included a zipper front closure with a wide, button-through storm placket, snug inset knit cuffs and a drawstring at the hem. A throat latch allowed the wearer to secure the turned up rounded Alpaca collar for even more protection.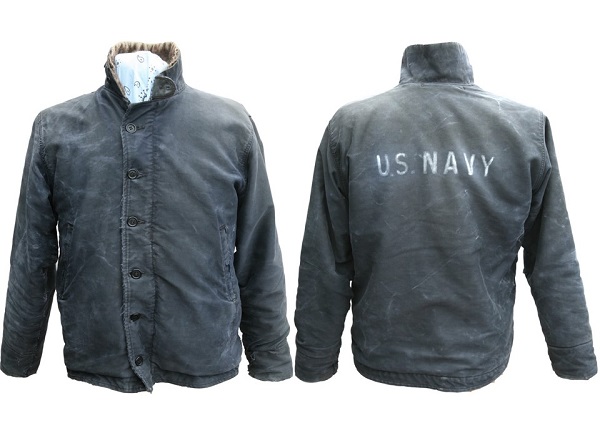 The original color was a deep navy blue (appropriate considering the design's naval origins). However that was short lived and was quickly replaced by a light olive drab khaki around 1945. But other than those color changes, the N1 remained virtually the same from the end of World War II, through the Korean War and into the 1960s, when it was replaced by the A2 Deck Jacket.
If you'd like to learn more about the history of the N1, these articles from Heddels and Standard and Strange are great resources.
The N1 Deck Jacket in Popular Culture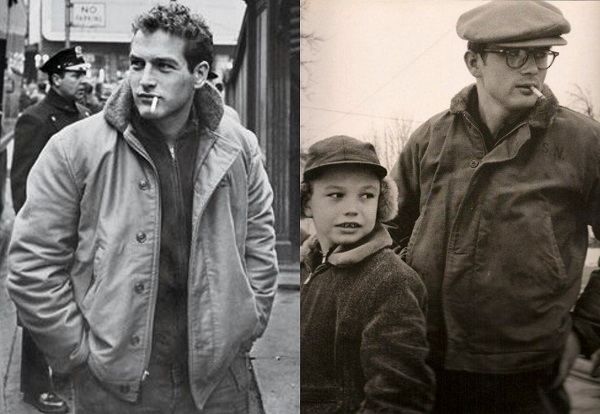 The tough and practical N1 was so beloved by the servicemen that wore it that they continued to use their jackets once they returned to civilian life. It was kept on hand as a work jacket and as a casual piece of outerwear, as we can see with Paul Newman (who served in the Navy from 1943 to 1946) and James Dean above. It also became incredibly popular with the emerging biker culture that was growing increasingly popular in the western U.S.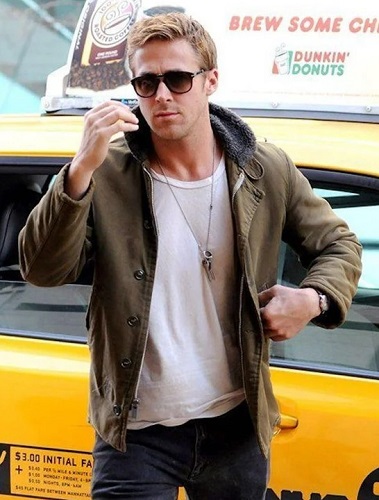 Ironically, because it was introduced relatively late in World War II, the N1 doesn't show up in many movies about the war. However, although it's appearances in cinematic wardrobes were few and far between, its popularity in real life remained fairly consistent. Today the N1 is considered a "staple" jacket design in workwear style culture and authentic vintage pieces in good condition can easily cost over $500.
Features Wanted for the Iconic N1 Deck Jacket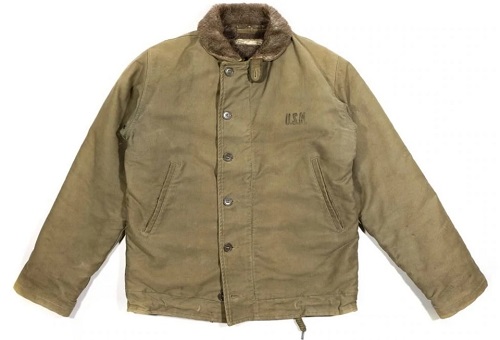 Cotton or cotton blend shell in navy, khaki or tan
Fleece collar
Wool or Alpaca pile lining (although most jackets today use a synthetic fleece or combination of fleece and andother synthetic insulation)
Zip front closure with wide, button-through storm placket
Welted handwarmer pockets
Bomber jacket length
Drawstring at waist
Since the N1 is such a simple design, most of the alternatives below do a good job of capturing the look of the original. Choosing your jacket then becomes more about your budget and the quality of the materials you want. For example, you can find cheaper repros on AliExpress for under $60 if all you want is a beater jacket. Stay under $300 and we'll mainly be getting synthetic pile fleece linings and lighter weight shell materials. But the quality will definitely be a step up. However, if you're willing to invest more, you can get a jacket made with genuine Alpaca or mouton fleece and authentic "jungle cloth" and a construction that will last a lifetime. There are plenty of options below, so let's get to 'em!
Best Option for the Iconic N1 Deck Jacket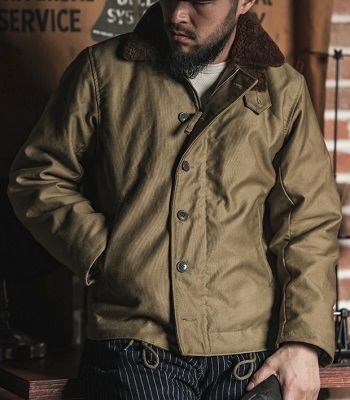 While we've included another Bronson jacket from their more affordable collection later in this post, this is their mainline N-1 reproduction. Because they've used the submariner's version of the deck jacket for inspiration, there are some subtle design differences that give this piece a more unique look. For example, the collar is more pointed and has a wider throat latch, while the bottom quarter of the interior is unlined (which made the jacket easier to use with the suspenders on deck pants). As for quality, Bronson really delivers with this interpretation. The shell is a 14oz 100% cotton jungle cross fabric and the lining is a thick 31.7oz 100% wool fleece. There are also seamless 70% wool and 30% acrylic inset knit cuffs and a genuine Talon brass zipper.
If you'd rather go with a more traditional design, take a look at their 1940s USN 3rd Type N1 for $179.99. That one uses a 12.5oz cotton shell, a 70% wool and 30% polyester fleece lining and synthetic knit cuffs. But either the Submariner version or the classic version would be a great choice if you want that iconic deck jacket look and excellent quality for the money.
Under $200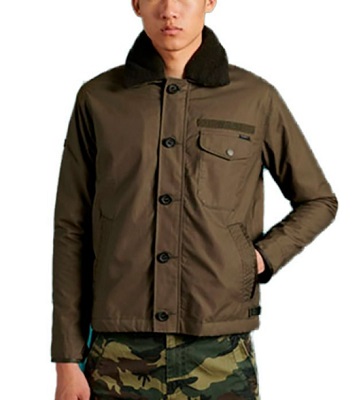 With it's patch chest pocket and medium brown color, it's not the most historically accurate interpretation of the classic design (it's more like an A-2 with a pile collar). But the changes don't look entirely out of place. The collar and lining are a polyester fleece and the waxed cotton-blend shell will add some welcome water resistance. The handwarmer pockets and cuffs are also trimmed to help with wear and tear. And unlike many Superdry pieces, they've used more subtle branding on this one. You can find the jacket at Dress Inn, where they have sizes small to 3XL in stock. Just two things to note: Superdry sizing tends to be on the small side (so check the size chart!) and shipping with Dress Inn can get real expensive real fast!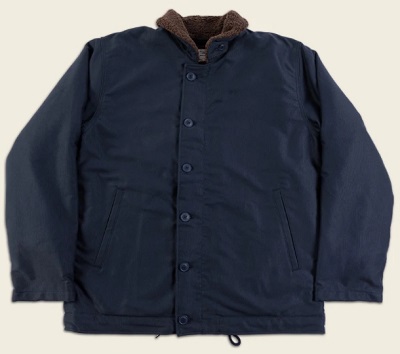 This one is from Bronson's aforementioned more affordable sub-line. So the shell is a lighter weight 11.5oz cotton and the liner is a polyester fleece. But it still gets great reviews from customers. And that sale price makes it a heck of a good deal. It's available in Navy, Khaki and Olive. The Khaki and Olive do have the "U.S.N." stencil on the left chest; the stencil is across the back on the Navy. I've linked directly to the Bronson website above. But you can also find this model on Ebay and Amazon, although it's significantly more expensive on both those sites.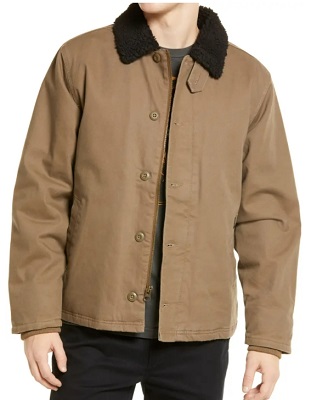 An "inspired by" jacket from a more fashion focused brand that still gets a lot of the style details right. Only the collar is fleece. Instead the jacket is lightly insulated with a quilted lining. But it does have the inset knit cuffs to help keep the heat in. And the 63% cotton, 35% polyester and 2% elastane shell should have a little more water resistance and stretch than the more traditional designs. Sizes small to XXL are available at Nordstrom.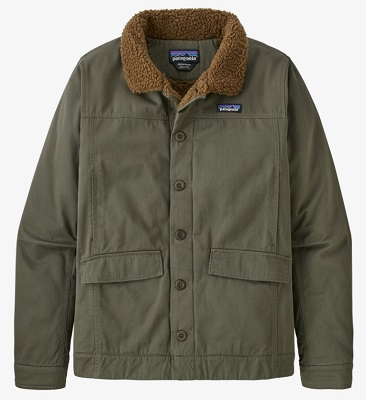 Coming to us from the venerable outdoor brand, the Maple Grove Deck Jacket has taken some liberties with the N1 design, adding horizontal flapped hip pockets and welted handwarmer chest pockets. The body is lined with a thick fleece, similar to their famous Retro Pile, while the sleeves have a synthetic woven insulation to keep your arms warm. A solid choice if you'd like a jacket with a bit of a military vibe but don't want to go full repro. It's also available in Khaki and Navy, although sizes are getting a little spotty in the blue. I've linked to Backcountry above and you can also order it directly from Patagonia.
Under $500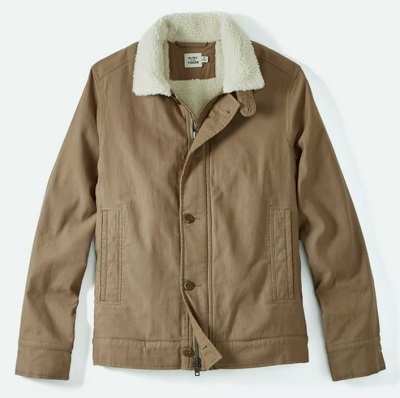 More of an "inspired by" design that still captures the timeless style of the original. The shell is a tough 100% cotton in a jacquard weave while they've used a warm polyester sherpa fleece for the insulation. The addition of Corozo buttons and the more pointed collar also give the jacket a slightly more sophisticated look. Sizes medium to XXL are available at Huckberry.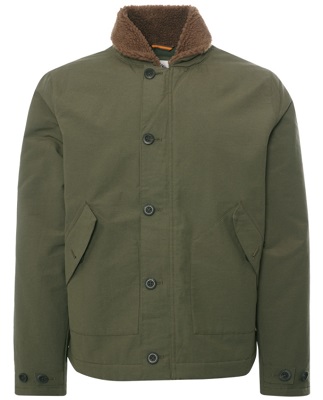 Another slightly more modern interpretation of the classic design. Again, only the collar is fleece, with a synthetic "Ecodown" being used for insulation through the body and sleeves. We also get a water resistant 77% organic cotton shell, the flapped hip pockets, button through tab adjusters on the waist and cuffs and a stowaway fleece lined hood. Stuarts of London has that olive-ish Grape color in stock. Over on Dress Inn, you can find the jacket in a brighter, almost caramel shade of Khaki on sale for $172.49. However, there might be some issues shipping it to the U.S.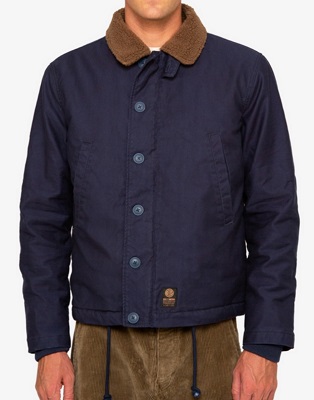 Back to a more traditional N1 design from a well known Australian brand. And there are plenty of features to like with this one. They've used a lightweight but thick fleece for the collar and body lining and included an integrated throat latch, inset knit cuffs and a drawstring waist so you can really trap in the warmth. The jacket also has a shorter, trimmer cut for a more contemporary look. Atterly has sizes medium to XL in stock.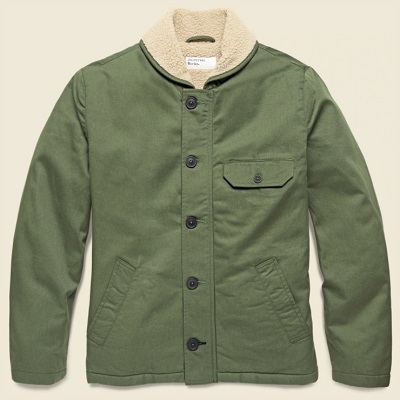 A simple design with a focus on quality materials and construction. The main deviation from the original N1 is the addition of that flapped A-2 style chest pocket. The shell is a 100% cotton twill and they've used both synthetic fleece and a polyester fill for the insulation. Stag Provisions has sizes small to large in stock and they do recommend sizing down if you want a trimmer fit.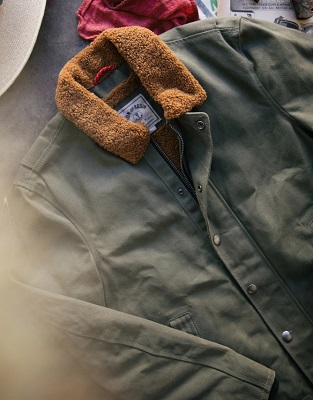 With its heavy 14.75oz waxed cotton canvas shell and combination of sherpa fleece and Thermacore synthetic down insulation, this is definitely one of the warmer jackets on the list. The construction is also top-notch, with bartacks at the stress points, double needle felled seams and a heavy Talon zipper. As for the design, they've kept it pretty classic, adding an action back to help with freedom of movement and using snaps on storm placket so it's easier to seal up when you're wearing gloves. The Nautilus comes in Olive and Field Tan colors. But Iron and Resin is running real low on sizes!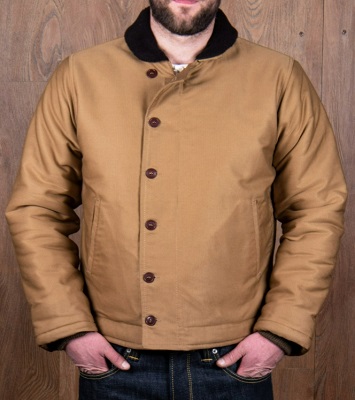 Pike Brothers is one of those "if you know, you know" brands. Their take on the N1 stays true to the original design, with a heavy 100% cotton jungle cloth shell, 500g 100% wool lining and circular knit cuffs. A great option if you want to avoid the U.S.N. stencilling that comes on so many repros. If you'd like something with a little more water resistance, look at their 1944 N1 Waxed Deck Jacket for €349.00. It's available in Dark Olive and Navy.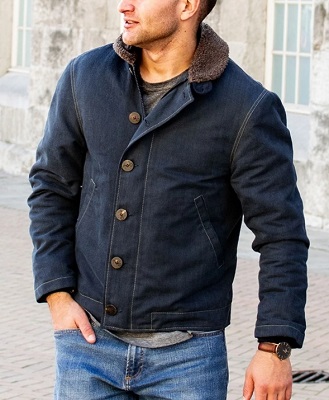 It's one of the more expensive options in this post. But it does a great job capturing the spirit and details of the original N-1 while giving the design a few modern tweaks. Made from a rugged 100% cotton Bedford cord "jungle cloth", they've used a warm polyester fleece for the lining rather than the original alpaca or wool. That should make cleaning it a little easier. They've also updated the cut, giving it a slightly trimmer fit so the look is more contemporary. Two other things I like. The jacket does have the "U.S.N." stencil, but they've placed it on the back of the collar so it doesn't really stand out. And it's made in the U.S.A., which seems especially appropriate for a military piece with the N1's heritage. Sizes small to 3XL are available in the Navy (shown above) and Sage.
If you're looking for a jacket with a little more water repellency, check out the Cockpit USA X American Trench N1 Wax Deck Jacket in Dark Olive for $495.00. They use a 10oz herringbone twill waxed cotton for the shell, but the fit and other details are basically the same.
The Investment Pieces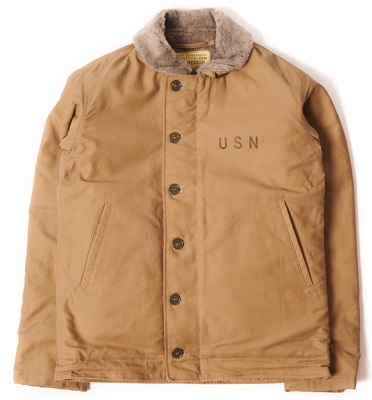 Japanese company Buzz Rickson (named after Steve McQueen's character in the 1962 film The War Lover) is a very well respected maker of military repros, with prices that usually come in well below those of others in the market. But that doesn't mean they sacrifice quality in materials or construction or attention to detail. Their N1, based on the khaki colored 1945 model, is about as faithful to the original as you can get. The shell is a 100% cotton jungle cloth, and they used a genuine undyed Alpaca wool lining and a period accurate Conmar "Conmatic" brass zipper. It also comes with a replica Navy department cotton label for that extra touch of authenticity. You'll find sizes 34 to 44 at Son of a Stag.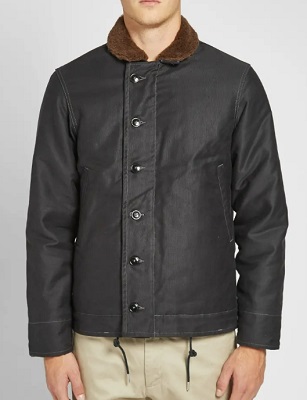 In the world of military repros, Japanese brand The Real McCoy's are considered masters of their craft. This is a company that works with their fabric providers to create custom materials that come as close to period accurate as possible. And you'll find the results of that obsessive attention to detail in their version of the N1. With it's first generation navy color, the heavy 100% cotton cordcloth shell and 100% Alpaca wool lining and collar will offer plenty of protection from the winter elements. I've linked to Lost & Found above where I found the best price. But you can also order the jacket from End Clothing ($935.00/£765.00) or directly from The Real McCoy's ($953.00).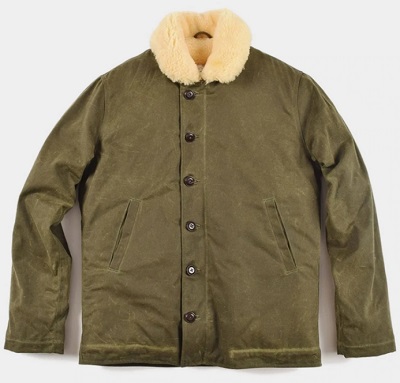 Last, but certainly not least, we have this option born from a collaboration between New York designer Todd Snyder and heritage manufacturer Dehen. Founded in 1920 in Portland, Oregon, Dehen began as a maker of collegiate sweaters and varsity jackets. Today the company uses their archive of vintage designs to inspire their new creations. This version of the N1 is made in Portland from a solid 10oz waxed canvas shell and thick mouton fur lining. It's a jacket that defines "luxury workwear" and will just keep getting better with age and wear.
Do you have a great suggestion for the iconic N1 Deck jacket? Tell us about it in the comments! Interested in other styles of military inspired outerwear? Check out our posts on alternatives for the MA-1 Bomber Jacket, the classic pea coat and Safin's N-3B style parka from No Time To Die. Also remember to visit our Facebook page, our NEW Instagram account and Pinterest Boards for more James Bond, Daniel Craig and Steve McQueen style advice and inspiration!