The Iconic MA-1 Bomber Jacket
When we're talking about something as iconic as the MA-1 bomber jacket, it's probably best to start with a little history. Based in part on the B-15 model, the MA-1 was first introduced in the U.S. military in 1949. The overall design and use of high quality nylon and compressible insulation were in response to the advances in jet aviation technology that allowed pilots to reach higher (and much colder) altitudes in aircraft with more compact cockpits.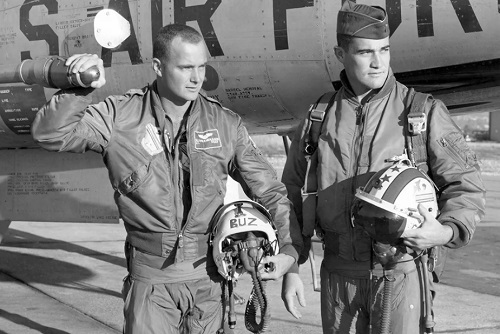 In 1963, Alpha Industries was awarded the contract for the production of the MA-1 for the U.S. military. The company began producing a variation for civilian use in the early 1970s. Although military issue MA-1s had been showing up on the streets of Europe, Japan and the U.S. throughout the 1950 and 60s, it was the easy availability of this civilian version that really launched the popularity of the style. Soon it was being adopted by everyone from punks to mods. By the early 1980s, the hip hop and LGBTQ+ communities had also made the MA-1 part of their statement styles, often in an effort to subvert the jacket's popularity with racist and homophobic groups like the skinheads in England.
The MA-1 in Popular Culture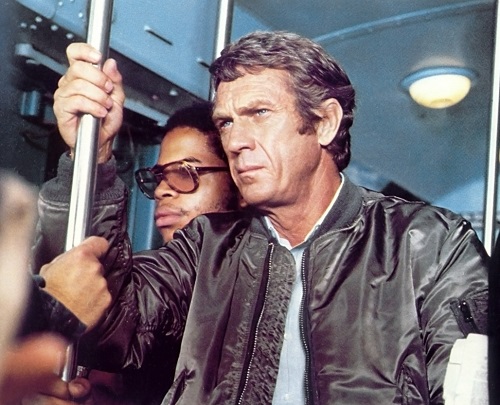 Steve McQueen's final film, 1980's The Hunter, saw the iconic actor playing bounty hunter Ralph "Papa" Thorson. And his trusted Alpha Industries MA-1 is with him in just about every action scene. As expected, BAMF Style has an excellent write-up on the look.
From that point on, the MA-1 became a viable alternative to the leather jacket as a go-to piece of "cool guy" outerwear. In 1988's Bull Durham, Kevin Costner's charming veteran catcher Crash Davis would wear his green MA-1 during his now famous "I believe" speech. Michael Douglas would wear a black one in 1992's Basic Instinct.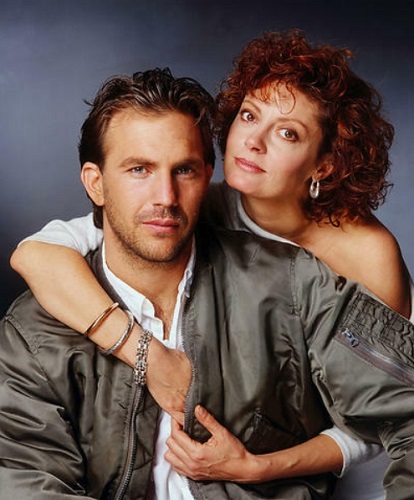 And over the next three decades, the iconic jacket would show up in hit T.V. shows like 24 and on celebrities like Daniel Craig, Bradley Cooper, David Beckham and Kanye West. And although it has been "re-interpreted" by numerous fashion designers, perhaps the most amazing thing about the MA-1 is how little the core design has changed over the last 60 years. Aside from a few small details, the vintage 1970s MA-1 you find at an Army/Navy store or on Ebay is going to look pretty much the same as a new MA-1 you buy from Alpha Industries today.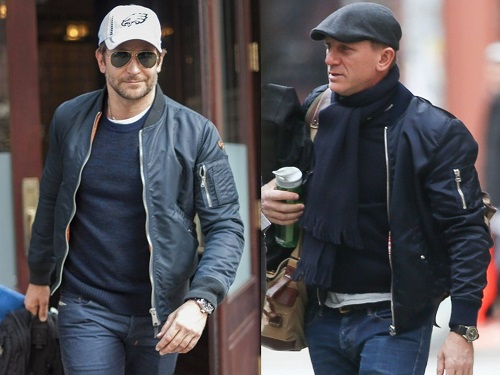 Options for the MA-1 Bomber Jacket
There's no shortage of MA-1 jackets on the market today at a whole range of price points. So we're going to lead off with the original. As noted above, Alpha Industries has been making the jacket since 1963. And it's still surprisingly affordable. Even better, you can now select different fits and weights to best suit your body type and needs.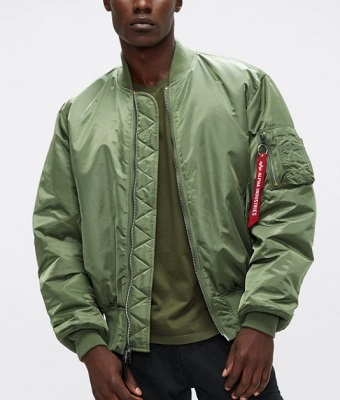 Alpha Industries has constructed their Heritage MA-1 as close to the original military specifications as possible. So we're getting the classic, slightly oversized fit, the shirring along the sleeves and that slightly shiny "Flight Nylon" shell with the blaze orange reversible interior. The jacket is also lightly padded with 100% polyester insulation, which means it will work best for those cooler fall and spring days. It's available in six colors in sizes XS to 5XL. I've linked directly to the Alpha Industries website above. But you may be able to find it at a better price if you dig around a little.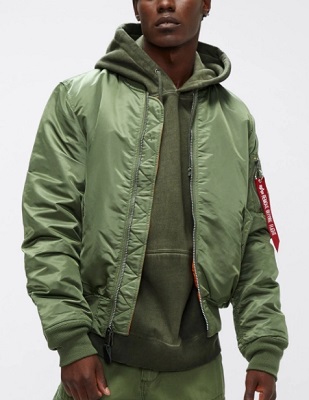 Basically the same specs as the Heritage MA-1, but in a more contemporary slim fit. Once again I've linked directly to the Alpha Industries website above, where they have sizes XS to 3XL available in four colors. But Amazon has some sizes in some colors available for $150.00. I'd also check out Uncrate; they have the slim fit for $150, but you can knock an additional 20% off the price with the code ALPHA.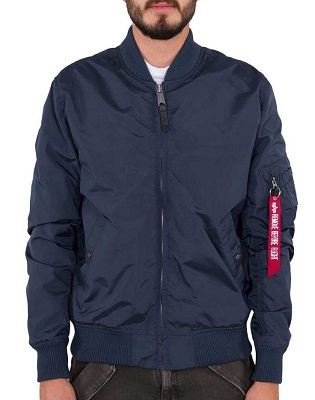 If you live in a warmer climate (or just tend to run hot), the MA-1 TT model is definitely worth a look. It's essentially the Slim Fit model but without the padding, so it'll wear much lighter and cooler. Dress Inn has various colors available at that sale price, although the sizing options are getting low in some of them. Also keep an eye out for the shipping costs! They can catch you by surprise at Dress Inn.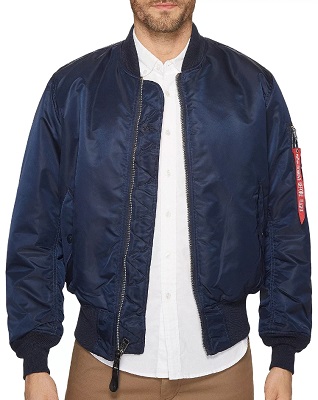 I'll admit Bloomingdale's has got me a little confused with this one. It looks just like the regular Alpha Industries Slim Fit MA-1 model (which you can also turn inside out to flash that blaze orange interior). But the emphasis on the "Reversible" in the product title is making me wonder if there's some difference I'm missing. Anyway, it's a heck of a deal if you're in the market for the Replica Blue colorway. They have sizes medium to XXL in stock.
Under $100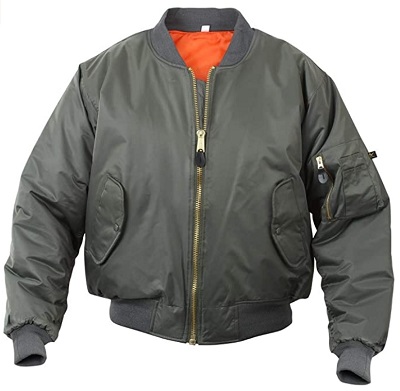 Rothco is another oft-mentioned source for military inspired pieces. And their version of the MA-1 is about as classic as they come. So why would you spend the extra hundred dollars to get an Alpha Industries? In a word: noise. Most of the negative reviews (and even some of the positive ones) mention that the shell fabric Rothco uses is stiff and makes very noticeable "swish" and "crinkle" sounds whenever you move. There also seems to be some issues with the fit and quality control. If you're willing to spend an extra ten or twenty bucks you might be better off trying the more well reviewed Rothco Enhanced Nylon MA-1.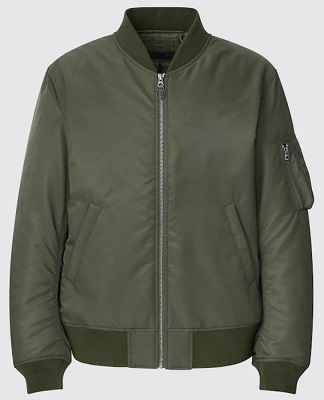 I know I'm going to get some comments about this, but here it goes. After trying on various Alpha Industries MA-1s (and The Real McCoy's version below), I ended up buying this jacket from Uniqlo in the Navy. Why you may ask? Three reasons. First, the fit was spot on for me. It's an oversized jacket. But dropping down one size worked great. It still has that classic "puffy" MA-1 look without making me feel like the Michelin Man. Second, the fabric. It doesn't have the "swish swish" you can get with cheaper nylon jackets. And it's more matte, with minimal shine, which is what I wanted. Third, the price. I was seriously surprised by the bang for the buck this jacket offers. Is it as nice as an Alpha Industries? No. But it delivers everything I was look for at a third of the price. I totally understand it won't be everyone's top choice, but it works for me.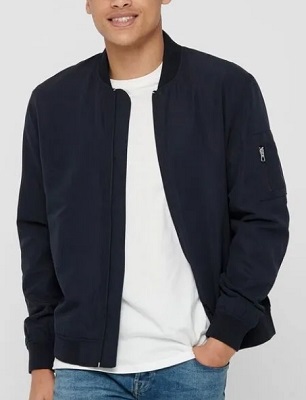 A lighter weight, slimmer fit option in a no-frills MA-1 design. Thread has the jacket in Navy and a Dark Olive, with a good selection of sizes available in both.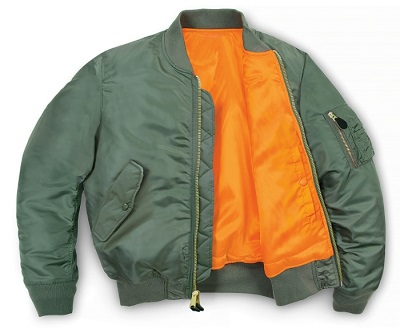 Another traditional design in a classic fit. But according to the customer reviews, this option seems to be packing more insulation than many of the other alternatives on the list. So if you need some extra warmth for the colder months ahead, this one is worth a look. You'll find sizes medium to XL in Sage and Black on their website.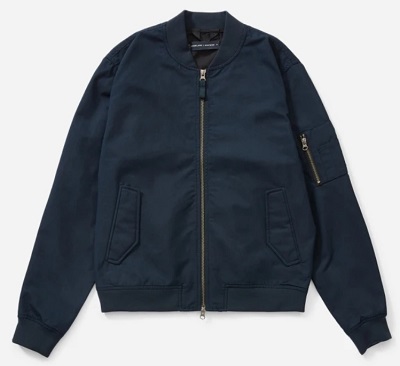 Everlane tends to do a good job of nailing the menswear basics. And their take on the MA-1 gives the classic design a bit of a twist. The jacket is unpadded and has a trimmer, more contemporary fit. For the outer shell, they've used a 68% cotton, 32% recycled polyester fabric that's backed up with their 365-Day Guarantee. If you're looking for a lighter weight MA-1 with a more modern feel, this one should work nicely. Sizes XS to XXL are available on their website.
Under $200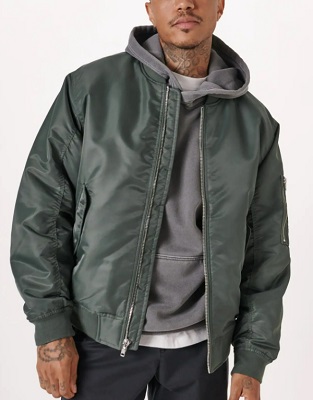 Classic MA-1 style at price that's a little more affordable than Alpha Industries. And it looks like that darker Olive Green is a good match for McQueen's jacket in The Hunter. They have sizes small to XL in stock on their website.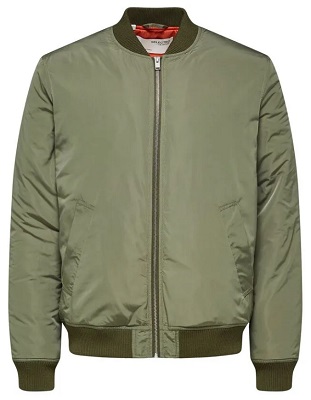 If you like the looks of the MA-1, but you're personal style leans a little more minimalist, this option from Selected Homme is a nice compromise. It keeps the traditional ribbed collar, cuffs and hem. And the silhouette, while slimmer, is still short and relaxed. But doing away with the sleeve pocket, front storm flap and flapped lower pockets gives it a much cleaner look. Thread still has sizes small to XL available in the Dusty Olive. But they're down to small and medium in the Black.
The Investment Pieces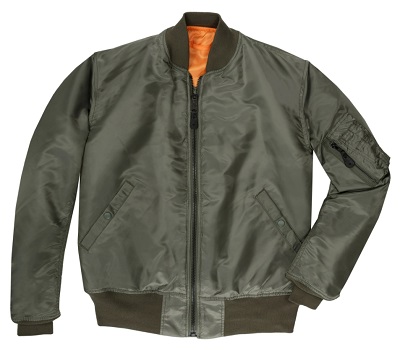 What is Cockpit USA offering for that higher price? A pretty faithful reproduction of the original 1960s MA-1, using top quality materials and construction. Plus it's made in the U.S.A. It has 5 out of 5 stars after 16 reviews. And many of those reviews go into some detail about why the jacket is so great. If you're looking for your "lifetime" MA-1, this could be it.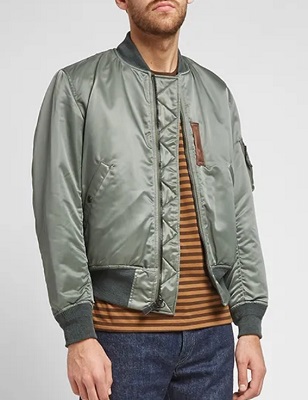 The Real McCoy's is well known for producing some of the best replicas on the market, not only in terms of details but also quality. Made in Japan, their take on the MA-1 goes back to the jacket's earliest days, when the design included additional tabs to use with things like oxygen masks. The material is also a bit of throwback, a unique "66 Nylon" that accurately replicates the fabric first used for the MA-1s. Now add in genuine wool ribbing at the collar, cuffs and hem, a wool pile interlining, and deadstock Talon zippers on the "pencil pocket" and you get a jacket that comes as close to the original as possible. I've tried this one on at The Armoury (the still have a size medium left for $810) and I can honestly say the jacket is a thing of beauty. The Real McCoy's doesn't mess around with their designs or their prices. And there is a very good reason their pieces sell out so quickly.
Have some suggestions for MA-1 bomber jacket options? Share away in the comments! And remember you can always find more style inspiration on our Instagram profile, Facebook page and Pinterest boards.