The Safin No Time To Die White Parka
With the exception of the Rogue Territory Supply Jacket, I have to admit I wasn't all that crazy about Bond's jackets in No Time To Die. But there was one piece of outerwear in the film that definitely caught my attention: the off-white parka worn by the villain, Lyutsifer Safin.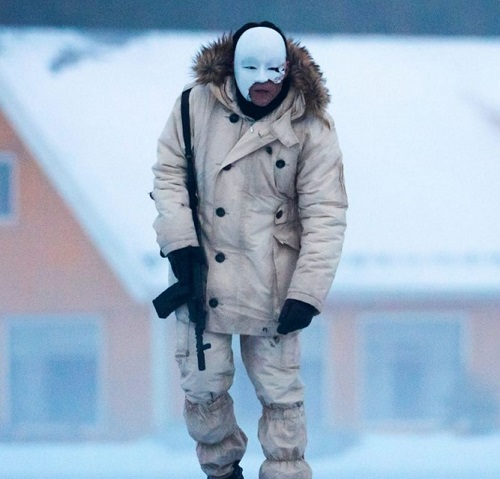 Safin wears the coat in the movie's opening sequence, set in snowy Norway. He combines it with matching cargo trousers, white gaiters and black boots and gloves, which gives the whole outfit the look a soldier's winter uniform. The Japanese Noh mask is a nice nod to cinema's more famous horror movie serial killers, making Safin a sort of classier cousin of Michael Myers and Jason Voorhees.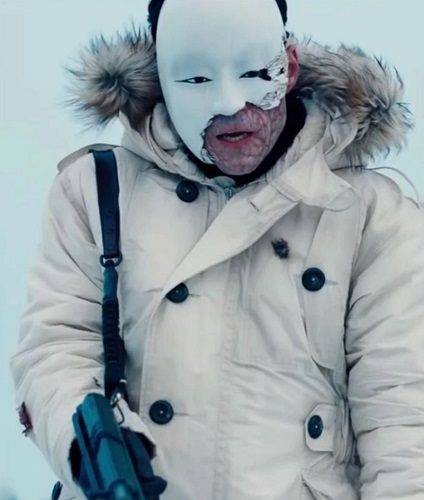 The Inspiration …
I'm almost certain the pieces were custom made for the film by the costume department, led by Suttirat Larlarb. However, the vintage military influence is clear in the design. The coat seems to be based on something like the classic N-3B parka, with some elements borrowed from heritage expedition and mountaineering outerwear to add extra character.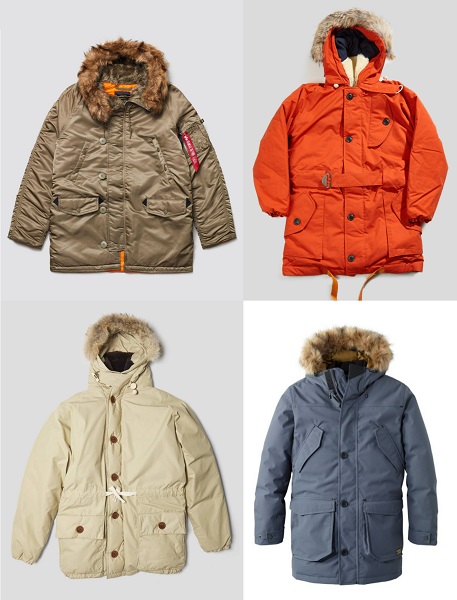 And while off-white wouldn't be my first choice for outerwear (mainly for practical reasons), it definitely looks cool and would stand out in the sea of black and grey Canada Goose parkas that we see everywhere these days. If you're looking for something a little different to keep you warm this winter, Safin's parka is certainly a worthy source of inspiration!
Features Wanted for the Safin No Time To Die White Parka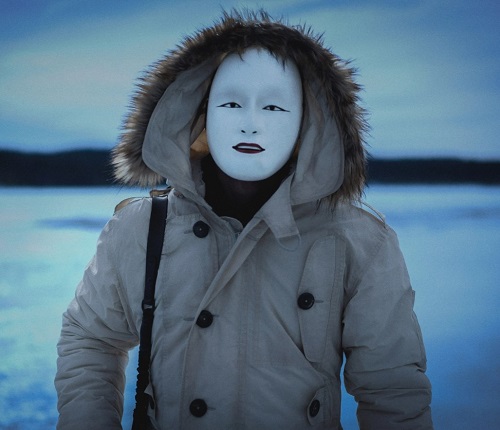 Off-white, cream or ivory color shell fabric
3/4 length (or a little longer)
Zip front closure with 5 button storm placket and integrated throat latch
Bellows hip pockets with flaps
Vertical chest pocket with flap
Integrated hood with brown fur trim
Epaulettes
As I mentioned above, the parka is clearly inspired by vintage military outerwear. Many of the features are pretty common on winter parkas: the fur trimmed hood, the wider storm placket and longer throat latch, flapped hip pockets. But Safin's coat also has some interesting details that are more difficult to find, like the vertical flapped chest pocket and epaulettes. And I couldn't find that button tab waist adjustment system on any other outerwear. However, we were able to turn up some great alternatives that will keep us warm and give us the right look!
Best Option for the Safin No Time To Die White Parka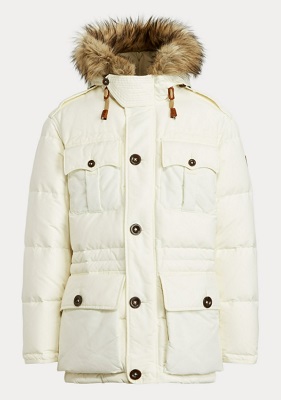 Expensive? Yes. But it's about as close as I could find off-the-rack. And it also looks like one hell of a piece of winter outerwear! Based on an older design from the Ralph Lauren archives, the 100% recycled polyester shell covers a 750 fill power 90% duck down, 10% feathers insulation. As for the features, we get a faux-fur trimmed hood, a button closure storm placket and throat latch, bellows hip pockets, the epaulettes and a great color match. What's different? Well, the shell is quilted to contain the down and the dual chest pockets are a different style than what we saw onscreen. But all in all, I'd say it will give us the look we want.
Under $100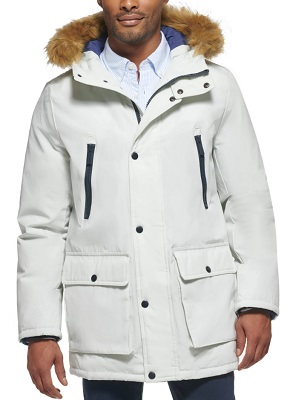 With its zip chest pockets, this looks like a more modern interpretation of what we saw Safrin wearing. But there's still a lot to like here. The color, the faux fur trimmed hood, the bellows hip pockets and the storm flap and throat latch with the contrasting buttons (even though they're snaps) all give it the right vibe. And that sale price, which knocks $170 off the regular $250 suggested retail, is pretty hard to beat. Plus it has 5 stars out of 5 after eight customer reviews. Basically, it's a solid deal if you're on a tight budget.
Also worth a look at Macy's: The Tommy Hilfiger Long Snorkel Coat in White, which is currently on sale for $119.99.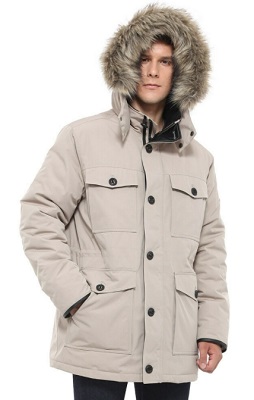 Obviously we're dealing with a darker than ideal color. But for those of you that find the thought of wearing a brighter white coat to be a little intimidating, that might not be a bad thing. This is clearly trying to be a Canada Goose clone, right down to the cookie patch on the left sleeve. However, the vintage 60/40 parka style, button-through storm flap, flapped pockets and faux fur trimmed hood have the right vibe. I've linked to Ebay above (better buyer protection), but you can also purchase it directly from the Rokka & Rolla website.
Under $500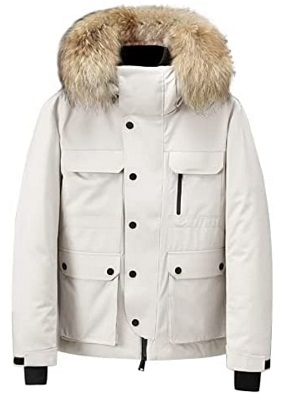 There are dozens of generic white parkas being sold on Amazon, Ebay and Aliexpress that copy that Canada Goose/Nobis/Moose Knuckles style. And this is one of them. The product description claims the insulation is 90% white duck down, but there's no mention of the fill power. So there's no telling how warm it's actually going to be. Also, since this is coming to us from an Asian factory, be sure to check that size chart!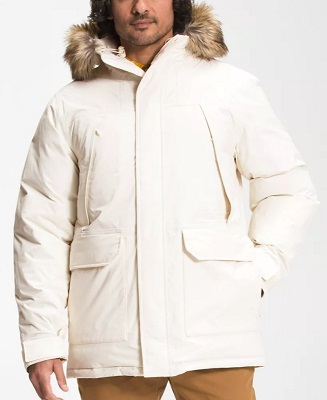 In terms of design features, this alternative is probably the least like Safin's coat. It's an off-white parka with a fur trimmed hood and flapped hip pockets. But there are no contrasting buttons. And the chest pockets have zippers. However, if you want a winter coat that's actually going to keep you warm and dry, then this is definitely a solid choice. The outer shell uses The North Face's proprietary DryVent system, so it's waterproof and breathable. For insulation they've used a 600 fill power down which will keep you nice and toasty. I use an older version of this parka (in black) as my winter coat for those extra chilly days. And I can confidently say that it'll will get the job done when the temperature really starts dropping. I've linked to Moosejaw above, where the price is a little lower. But you can also order it directly from The North Face.
Under $1000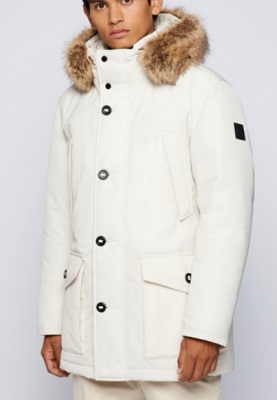 The 50% duck feather, 50% duck down insulation isn't the best. But it certainly has the style we want! The only problem is only size 40 is left in stock. The link above goes to Macy's or you can get it directly from the the Hugo Boss website for the same price.
The Investment Pieces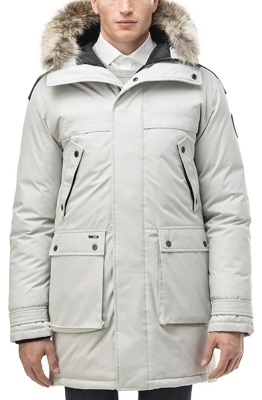 Nobis isn't quite as well known as some of the other makers of luxury outerwear. However, they do design some truly outstanding coats and jackets. The Yatesy is one of their more popular designs and features a premium Canadian white duck down insulation and a waterproof and breathable shell (with sealed seams) and genuine coyote fur trim on the hood. With its cleaner storm placket and snap closure pockets, it has a more modern look than the screen-used parka. But some of you may prefer a contemporary "inspired by" design. The Nobis Johan Parka ($1,195.00) has more of a vintage vibe and would be a better match. Unfortunately, they only have size XS left in stock. And their Shelby Military Parka ($895.00) would also be a great alternative if it came in a lighter color and had a fur trimmed hood.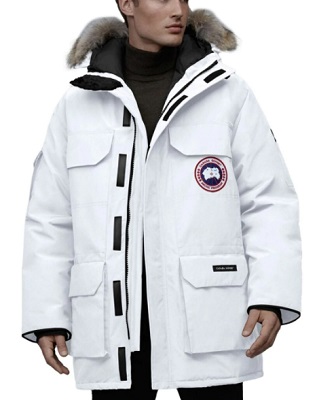 If we're talking about winter coats, we have to include an option from Canada Goose. And their Expedition Parka is a beast, designed to protect you from worst that winter can throw our way. Made in Canada using a 625 fill power white duck down, the coat has been field-tested at -30ºC/-22ºF and below by scientists working at McMurdo Station in Antartica. Again, it's a more modern design than Safin's parka. But Canada Goose was a well-respected manufacturer of extreme cold-weather work wear for decades before it became known as a "fashion brand". They know how to deliver a parka that will keep you warm.
Did we miss a great alternative for the Safin No Time To Die white parka? Tell us about it in the comments! If you're interested in some other military inspired outerwear, check out our posts on the MA-1 bomber jacket and the navy pea coat! You can also visit our Facebook page, Instagram account and Pinterest Boards for more James Bond, Daniel Craig and Steve McQueen style advice and inspiration!