The James Bond Skyfall Leather Jacket
Considering that James Bond's taste in leather jackets in the past tended to favor baggy suede blousons or oversized 3/4 length numbers, seeing him wearing a rugged, vintage-style bomber in Skyfall was a certainly a breath of fresh air.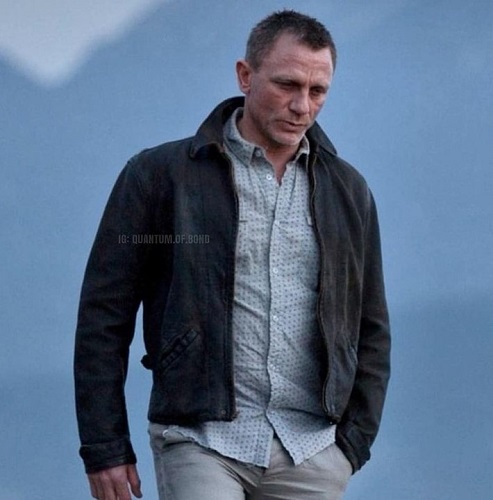 The actual jacket from the film was the Levi's Vintage Clothing (LVC) Menlo jacket. Directly copied from a model Levi's made in the 1930s, it quickly became THE grail jacket for many fans when the movie came out. And the design is loaded with heritage details, such as the pleated "action" back, cinch side tab adjusters and button tab cuffs. However, many owners had issues with the jacket's shorter torso length and longer sleeves. While that fit is certainly accurate to the period of the Great Depression, it also wears very differently than what most modern customers are used to.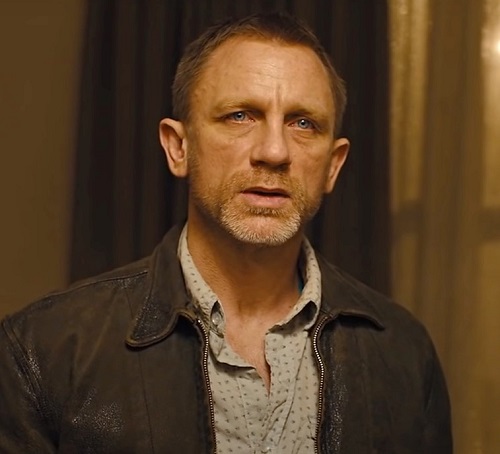 Although the Menlo is long gone from stores, you may still be able to find one of the originals floating around on Ebay, Grailed or a similar site. Just expect to pay a premium for it if you want the exact model from the right season! Our friends at From Tailors With Love also have a great in-depth look at the jacket if you'd like more information.
Features Wanted for the James Bond Skyfall Leather Jacket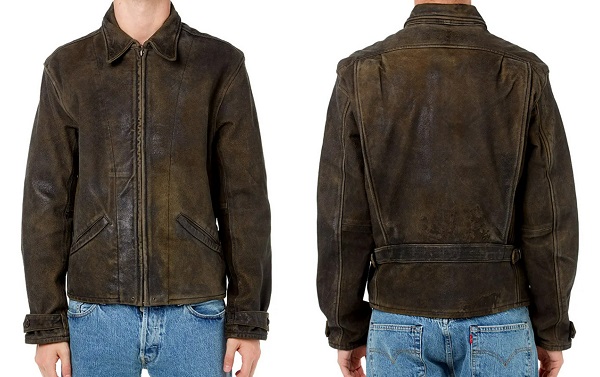 Dark brown distressed leather
Shorter, more tailored fit
Open hem and cuffs with button tab adjusters
Cinch style side tab adjusters
Pleated "action back"
Open front pockets with no chest pocket
There are still many companies today that make "heritage" style leather jackets. But the Menlo had two unique design details that are difficult to find on lower priced alternatives. First is the pleated "action back". That's more common on higher priced jackets, but you'll probably need to go with a customized option from one of the made-to-measure manufacturers to get it if your budget is less than $500. The second feature is the front pocket design. I haven't seen that pocket style on any other jacket except replicas. So our alternatives below mainly feature more traditional vertical welted pockets.
The James Bond Skyfall Leather Jacket Replicas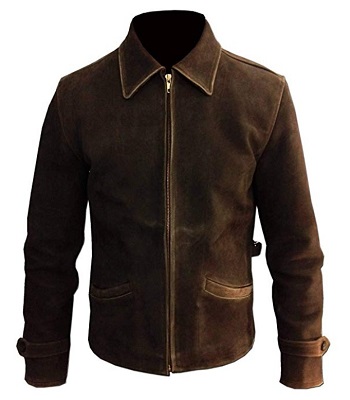 There are a ton of cheap Menlo repros available on Amazon, Ebay and Aliexpress. And, honestly, most of them look horrible. I'm including this one for three reasons. First, it's made with genuine sheepskin leather and looks to be a little better quality (seriously, check out the customer photo on Amazon UK under the reviews). Second, So-Shway has its own website, with it's own product photos and models, and it looks to be up to date. Third, this is being sold on Amazon with a 30 day money back guarantee. So if the jacket ends up being less than you expect (and don't expect too much for $150!), you should have some buyer protection.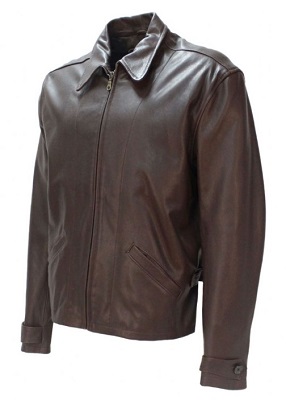 Many a fan of Bond style has gone with a made-in-England Wested for their Menlo repro and been more than satisfied. There's lots of reviews of their work online (check out this older thread on AJB007 for some opinions). The stock version uses a Brown Lambskin leather, which is very soft and lightweight. But if you go with the made-to-measure option for £220.00, you can choose other leather types, including goat and a pre-distressed or shrunken lambskin (but it will cost you an extra £35.00 to £40.00 on top of the higher customization price).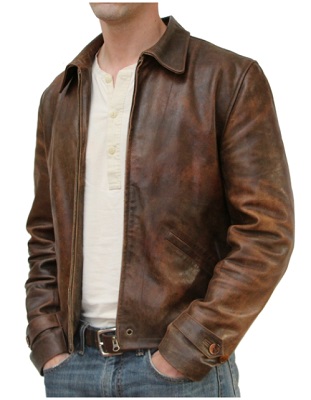 And now an option from another respected fan-favorite repro maker, Magnoli Clothers. It's significantly more expensive than the Wested option. But Indy is known for producing higher quality pieces that are a few steps above your average cosplay clothing. The standard leather used is goatskin. However, since this is a MTM jacket, you can select other leather types for an additional fee.
Best Option for the James Bond Skyfall Leather Jacket
As most of you know, Schott has been making leather jackets in the U.S.A. for over century. And their Sunset jacket is a reminder of that heritage. Aside from the vintage styling, probably the most interesting thing about it is the leather. Schott has gone with a waxy naked buffalo leather, a tough yet flexible skin with a very distinctive prominent grain and beautiful reddish-brown tone. This one requires a bigger initial investment and will take a while to break in. But it's truly built to last a lifetime (or longer). I've linked to Nordstrom above, simply because they have a great no hassle return policy. However, you can also get it directly from Schott for the same price. If you're in the UK, check out FWRD, where the jacket goes for £679.00.
Schott has some other jacket models that, while not as good a match for Bond's leather bomber, still come pretty close and are definitely worth a look. Their Lightweight Unlined Cowhide Trucker Jacket ($825.00), Heavy Weight Oiled Nubuck Storm Delivery Jacket ($995.00) and Horween Steerhide Sunset Jacket ($1300.00) are all beautiful pieces and worthy contenders in my humble opinion.
Under $500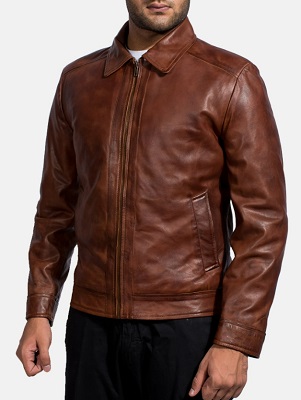 This one is missing a lot of extra details we saw on Bond's jacket (the action back, side adjusters, button tabs on the cuffs). And the stock brown leather has more of a brighter reddish hue to it. But the nice thing about The Jacket Maker is you can customize the design and choose your preferred hide to get it as close to screen accurate as you want. Of course, those adjustments will cost extra. But the base price is pretty affordable and the company is earning a solid reputation as a reliable providers of made-to-measure outerwear (4.6 stars out of 5 on Trust Pilot and this particular jacket has 5 out of 5 stars after 29 reviews).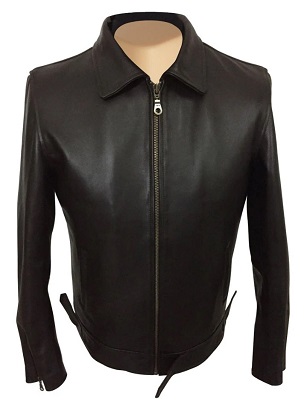 I'm honestly not familiar with Lusso Leather. A little online research shows they're based in Ontario, Canada and have their jackets made in either India or Turkey. Other than that, there's not much out there about them. Like The Jacket Maker, they offer a customization service for an extra cost (so you can choose your leather and change some of the design details). Since they ship from Toronto, they might be worth checking out if you live in the Great White North.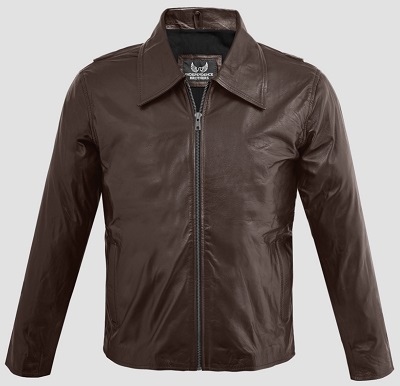 One more company offering made-to-measure jackets. However, Independence Brothers differs from the others in the market by working directly with their factory in Leon, Mexico, which gives them much better quality control than most of their competitors. And although their leather selection isn't as broad as some of the other companies, Independence Brothers only uses full grain, vegetable tanned cow hides and lambskin. They also use legit YKK hardware and back their jackets with a life warranty. So there's a lot of value packed into that sale price!
Under $1000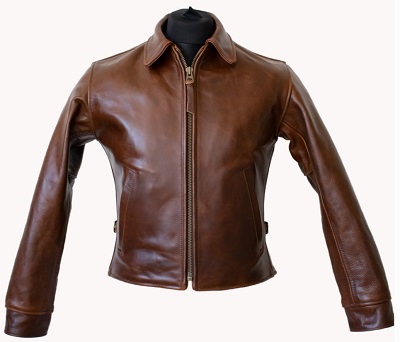 This design is actually based on the pattern for an original Simmons Bilt model from the early 1900s. So it's no surprise it has the same vintage vibe as Bond's jacket. Simmons Bilt makes their jackets in Scotland and although they may be less well known than some other heritage companies, they are a very respected manufacturer. One of the nice things about paying up for a made-to-measure jacket is choosing your leather. And these guys are not short on options. Everything from lightweight Seal Brown Goatskin to near-bulletproof Horween Chromexcel Steerhide to Nordic Elk is available.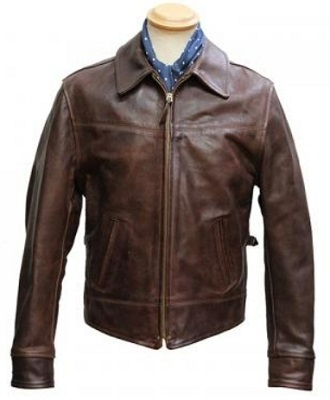 If you're looking for a jacket that's going to last decades, a custom piece from Aero is definitely worthy investment. They custom makes each jacket so you can choose the leather and hardware you prefer. And, like Simmons Bilt, they offer some of the best hides available on the market. The jacket shown above is the base model, inspired by the designs of the 1930s, and shown in the Tumbled Brown Chromexcel (I think) with brass hardware. But I would contact Aero directly to see all the options. The jackets are also lined in a heavy duty moleskin with cotton drill cloth through the sleeves to make it easier to slip the jacket on and off.
Did we miss a great alternative for the James Bond Skyfall leather jacket? Tell us about it in the comments! If you're interested in some winter worthy leather jacket styles, check out our posts on the Iconic Sheepskin Jacket! You can also visit our Facebook page, our NEW Instagram account and Pinterest Boards for more James Bond, Daniel Craig and Steve McQueen  style advice and inspiration!