A Look Back at Daniel Craig's The Girl With The Dragon Tattoo Style
Unbelievably, The Girl With the Dragon Tattoo turns 10 years old this month! To help us celebrate, our friend Jesse MacLeod has written a great retrospective on the iconic Daniel Craig style from the movie, analyzing the key pieces we need to get the look. And we've added a few affordable options for each! Take it away, Jesse!
The Girl With the Dragon Tattoo at 10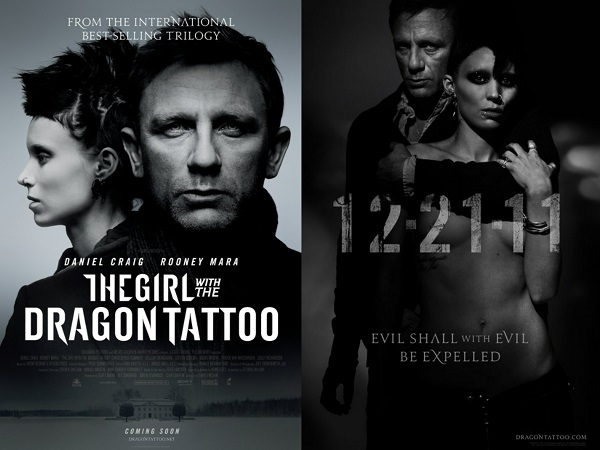 In honour of the 10th anniversary of David Fincher's The Girl With The Dragon Tattoo, I thought it would be a fun exercise to review Daniel Craig's style in the film, which was quite popular at the time. Now, first off, to address two important points:
Despite its quality, the film was not as much of a box office hit as the studio had hoped it would be. And in the following years Sony was unable to launch an American/Hollywood version of the famous Swedish trilogy. Purists will say that this was not necessary anyways, as the Swedish films will always be superior. But these people have apparently never seen Daniel Craig in a shawl-collar cardigan…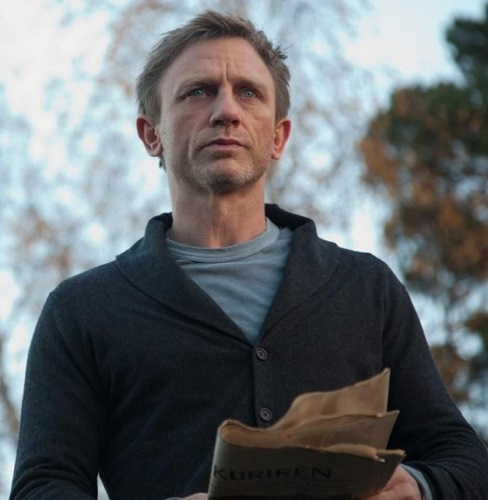 It is still one of my favourite films. And the lack of commercial success and recognition actually makes me appreciate it all the more. The one aspect of the film that did seem to gain some traction, however, was Daniel Craig's wardrobe. For years afterwards, I was always spotting the iconic pieces we all know from the film: the shawl-collar cardigans, the skinny jeans, wrinkled dress shirts, vests, etc.
The Legacy of Daniel Craig's Style
After 10 years, fashion has moved on from the world of skinny-everything in the early 2010s But most of the looks from the film dpn't appear dated. The outfits created by costume designer Trish Summerville have a real lived-in aesthetic to them. And I believe this is why they come across as approachable and pleasing to the eye in the 2020s. This is especially impressive considering all of the clothing would have been brand new when used on set. Two themes from the wardrobe that lend themselves well to the current era are layering and cozy-ness. I believe neither of these ever really go out of style, and can always be modified to fit current trends. 
Getting down to the nitty gritty: how we can get the look, even on a budget? To make this easy to follow I have broken down the Mikael Blomkvist look into these iconic elements, all of which still work well 10 years on.
Cardigans
Probably the most iconic piece from the film, which is still popular today, is the shawl collar cardigan. They are extremely comfortable, warm, and versatile pieces. If the shawl-collar isn't quite your thing, Mikael also wears a few no-collar cardigans throughout the film. They can also work well as a warm replacement for a vest under a blazer or larger cardigan.
The shawl collar cardigans in the film were from a variety of brands, but the stand-outs were made by Maison Martin Margiela (the well known heavy ribbed knit) and Loro Piana. The latter provided the cable knit piece that features prominently throughout the film. But unfortunately it's next to impossible to find a suitable alternative these days (although we found a couple that come close).
The Ribbed Shawl Collar Cardigan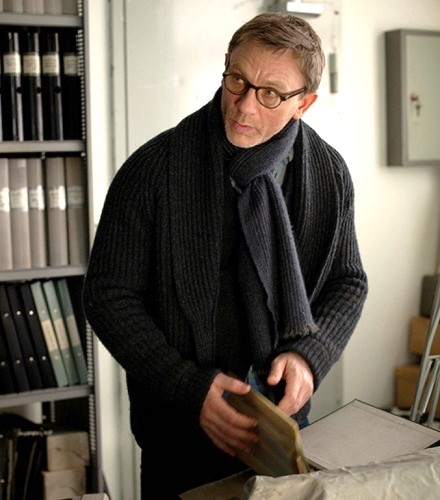 The dark grey ribbed knit Maison Martin Margiela cardigan is probably the most famous one from the film. Because of the filters used for the movie, it looks like it has a bit of a blue tint on screen. But production stills show it was almost a charcoal color. The most unique feature of the cardigan is its heavy shawl collar, which Blomkvist turns up when it's especially cold outside.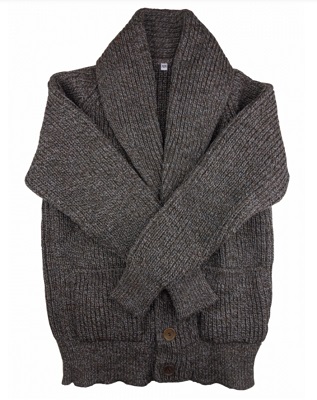 A great 100% wool, made-in-Canada option that comes with the oversized collar that's key for the look. It also features the lower button stance of the screen-used cardigan. And considering the worksmanship that goes into each piece, it really offers termendous value for the money! Sizes medium, large and XXL are available on the Kent Wang website and size XL on pre-order with an approximate 4 week wait.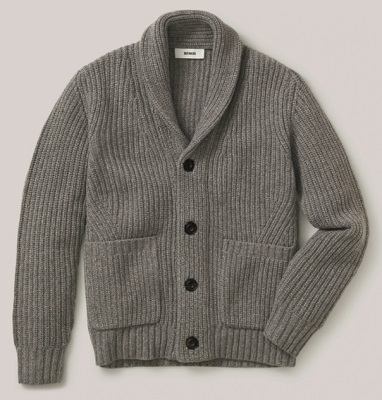 The color is a little lighter than we want. But the 95% Merino wool, 5% cashmere blend yarn is going to give you all the cozy comfort you could ask for.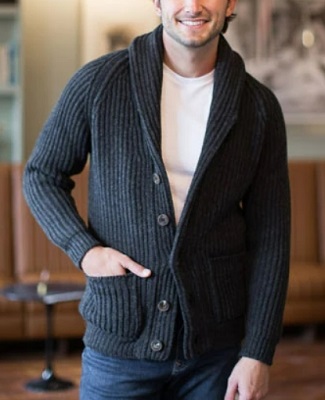 A soft 4-ply lambswool yarn and a slimmer fit gives this option a more contemporary look. Winston & Co. makes their cardigans on a 3 needle Shima Seiki Knitting Machine, has them hand assembled in Scotland and finishes them with solid horn buttons. It's certainly a more expensive option. But it definitely delivers the luxury!
Also Try
The Cable Knit Cardigan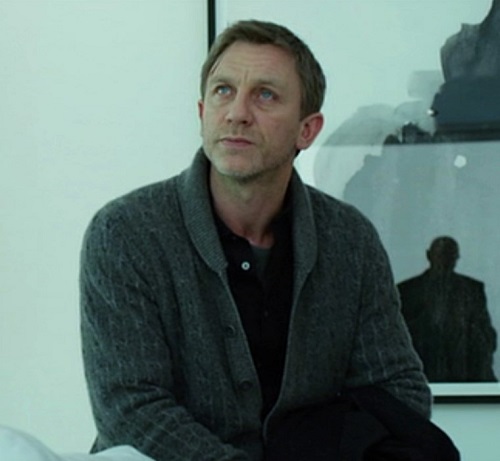 The other cardigan Blomkvist frequently wears in the film is a lighter weight, charcoal cashmere shawl collar with a low profile cable knit from Loro Piana. Aside from the knit pattern, the most interesting thing about the design is how high it buttons around the neck (although Blomkvist ususally only does up the middle two buttons or leaves it open).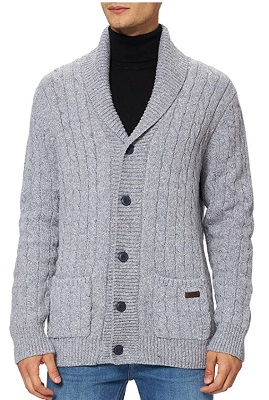 Obviously a lighter color than we want. But it's one of the very few options this season with the right style of cable knit. You might want to consider sizing down for a more screen accurate fit.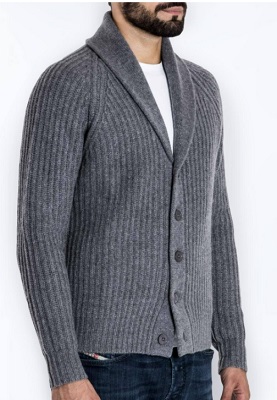 It's a thicker ribbed knit rather than a cable pattern. But the color comes much closer to what we're looking for. And the 6-ply 100% cashmere yarn comes from Loro Piana, which is a nice nod to the screen used knitwear. If you're willing to invest a little to get your Blomkvist style, this made-in-Italy option would be a solid choice.
Outerwear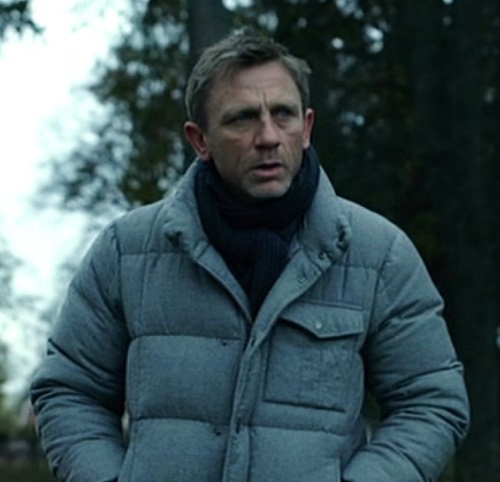 Mikael's choice of coats and jackets is perhaps one of the most enduring elements of his style. In the film he sports a charcoal peacoat, and ¾ length grey overcoat, both by Yves Saint Laurent. These are extremely versatile pieces that cross over a bit into the realm of Daniel Craig's Bond wardrobe.
On the more casual end of the spectrum we find one of the holy grails from the film, which has proved elusive to collectors over the years. This was Mikael's grey puffer jacket, the famed Moncler 'Cézanne'. I am pretty certain that the number of people who were able to find one of these, and could subsequently afford it, can be counted on a single hand.
The Peacoat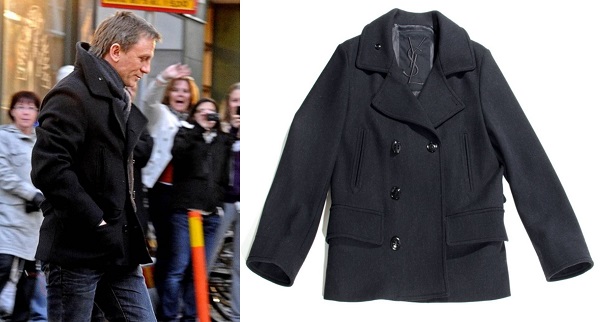 Before there was Billy Reid in Craig's life, there was Yves Saint Laurent. And aside from the collar shape, it's a similar design to Bond's peacoat from Skyfall (options for that can be found in this post). The coat is barely used in the movie; the only time we really see it clearly is when Mikael is in a cafe near the end of the film. Still, it's a classic design and the charcoal color is a nice twist on the traditional peacoat.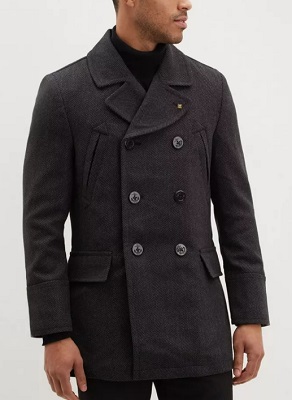 Not quite the cropped length of Mikael's peacaot. But it does have the two hand warmer pockets and two flapped pockets design. The fabric is a 59% polyester, 31% wool blend with a mix of other synthetics making up the difference. Which shouldn't be a big surprise at this price point. However, it still comes close for those of us on a tighter budget.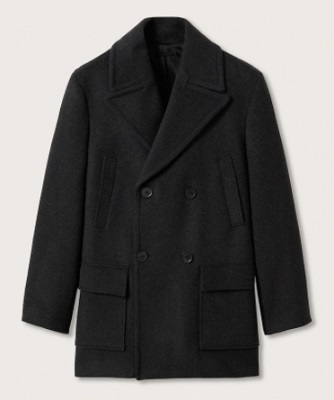 An impressive piece of outerwear for the money. In terms of style, it has the 6X2 front closure, the two handwarmer pockets, the two flapped pockets and a larger, more dramatic collar. Sadly, no half-belt at the back. And it is a little longer than Mikael's peacoat. But the 70% wool, 30% polyamide is a pretty nice blend at this price!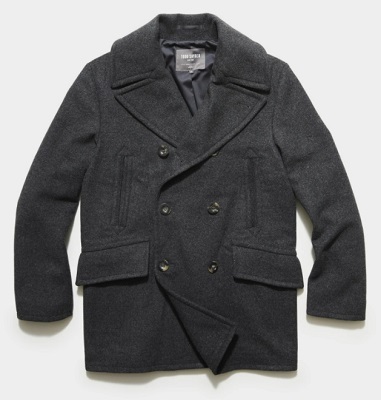 And now the investment piece. Made in Manchester, England in partnership with New York designer Todd Snyder, the peacoat features a 6X2 front, the combination pocket design we want and a luxurious 90% Melton wool and 10% cashmere blend outer fabric. Expensive to be sure. But Private White V.C. is definitely a brand I could see Craig's Blomkvist wearing.
Also Try:
The Moncler Cezanne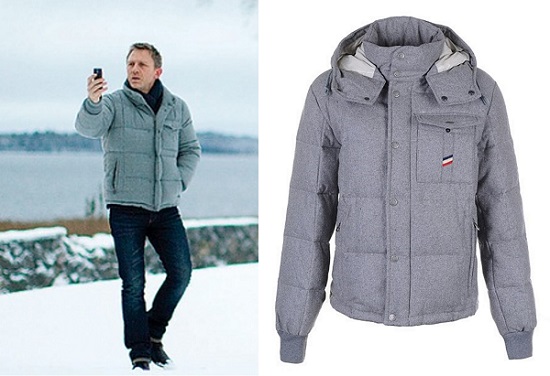 Mikael's go-to outwear when the temperature drops was light grey wool shell puffer jacket from Moncler. The costume department removed the logo from the chest pocket for the film, but it's still easily identifiable as the Cezanne model. This one was rare, even in 2011. Luckily today we have more affordable options with a similar style.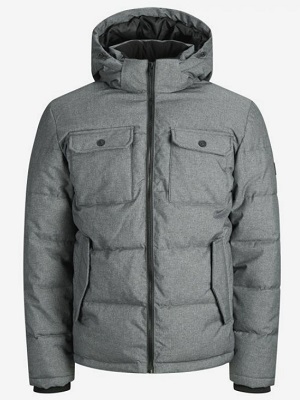 A very affordable option that captures the spirit of the Moncler's design, if not all the details. Unforunately that hood looks to be permanent. But the 100% polyester shell fabric has a great woven and heathered texture. We've linked to the dark grey option above at Dress Inn, where they have sizes small and large in stock. You can get a lighter grey option directly from Jack & Jones for £65.00. However, they don't ship to the U.S.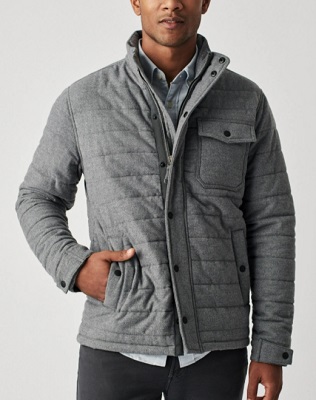 More of an insulated overshirt than a true puffer jacket. But if you live somewhere warmer (or just want a great looking piece of outerlayer for those milder days) this will definitely get the job done. And the 40% cotton, 35% polyester and 25% wool outer fabric should feel great!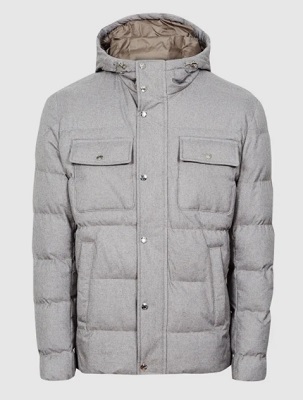 Once again we have an integrated hood. But REISS knows how to deliver both quality and a great design. And the Bello should have no trouble keeping you warm (and looking good) on all but the coldest days. We've linked to Thread above, where we found the best price. But you can also order the jacket directly from REISS for $565.00.
Also Try:
The Casual Dress Shirt
To my eye, this was really one of the stand-out elements of Mikael's style in the film. And a simple button down in a great color is an item so versatile you can make it work with almost any outfit. Save Khaki United and Steven Alan were the main brands featured in the film; they still make similar style and used ones can be found on Ebay pretty easily if full retail price isn't your jam.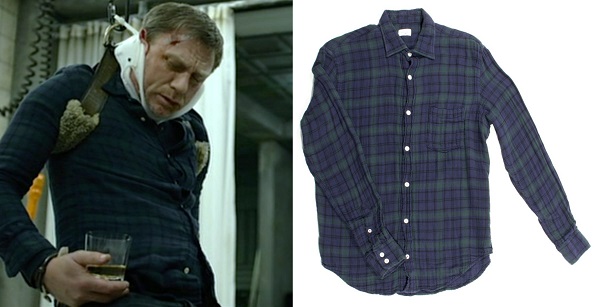 Another shirt that had a lot of screen time was Mikael's Black Watch tartan shirt, provided by the French brand Hartford. It was a unique patterned shirt in Blomkvist's wardrobe and also a little unusual for a plaid. The tartan pattern featured smaller squares than normal, something I'm sure Black Watch tartan enthusiasts would spot immediately. Alternatives for this one can be hard to find, as they more typically come with a button down collar. But we were able to find a few options.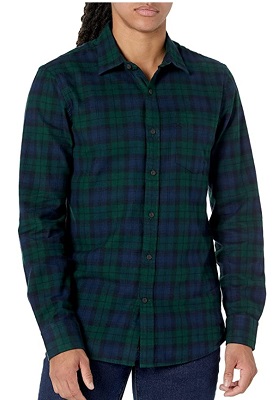 It's always a good day when one of the alternatives with the lowest price is also one of the best matches for the original. And sure enough, this Amazon brand Goodthreads shirt nails the smaller scale Blackwatch pattern we want. Plenty of sizes in both regual and tall are available on their U.S. and UK websites.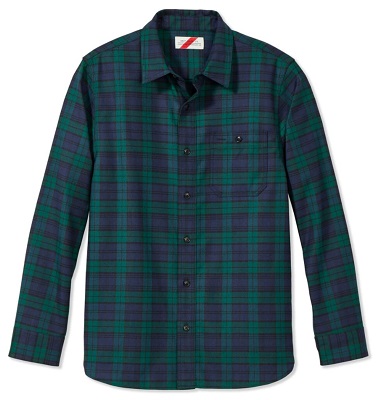 The pattern is a great match. The button closure chest pocket is an interesting detail. And the brushed 6.5oz, 50% wool and 50% cotton Portuguese flannel sounds amazing! Plus an extra 25% gets knocked off the price right now! Just note that sizing on these is a little wonky, so pay attention to the notes under the description.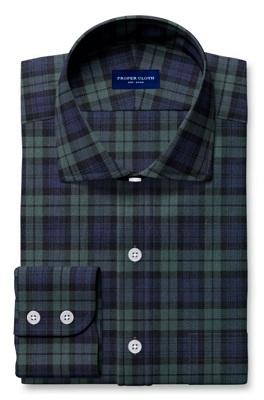 If you want your shirt to be as screen accurate as possible, you could always go custom made! Proper Cloth is one of the best in the business and offers a variety of options, from buttons to collar and cuff style to the yoke and hem design, that lets you get exactly what you want. We've linked to the lighter weight Portuguese Black Watch Tartan Twill above. But if you want to go with a heavier option, check out their Japanese Nep Cotton Blend Black Watch cloth or Black Watch Tartan Flannel!
The Ankle Boots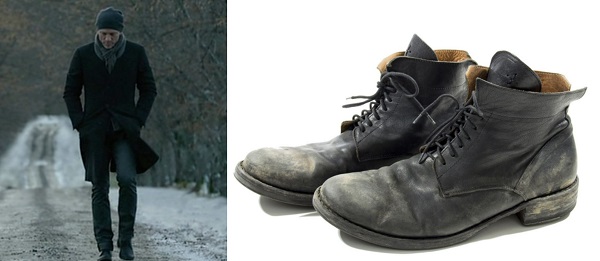 Essential to any good outfit is good footwear. Fortunately, in this case, any dark coloured leather boots are going to work, since we rarely get a good look at what Mikael is wearing on his feet during the film. I recommend anything with a Goodyear welt, ideally from a brand that didn't just pop up last week and is now spamming your Instagram feed with ads about 'affordable luxury'.
In the film, Mikael wears a couple of pairs of Crockett & Jones boots: dark brown suede Moltons (similar to the boots he wears as Bond in No Time To Die) , and pre-Skyfall fame Tetburys (options for those in this post). It can be hard to find Crockett & Jones footwear at affordable prices. But similar English footwear brands such as Loake, Cheaney & Sons and Herring can play the part without breaking the bank. 
The footwear Mikael most frequently used were a pair of of black ankle boots from Fiorentini+Baker. And the company still makes almost exactly the same style today.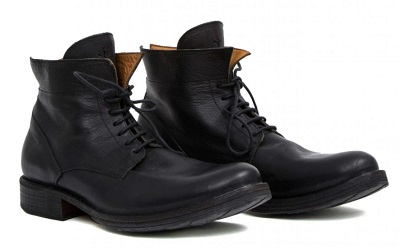 But €345 is still a lot of money. So we've also found some more affordable options that come close to the look we want.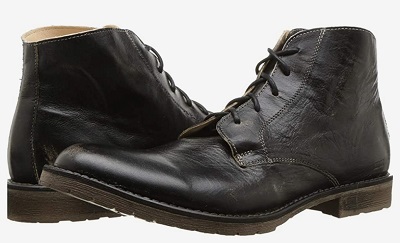 If you want that beaten-up style right out of the box, here's your alternative. They're missing some of the details we want. But they certainly look like a pair of boots that have already survived a couple of Swedish winters. You'll find plenty of sizes at Zappos.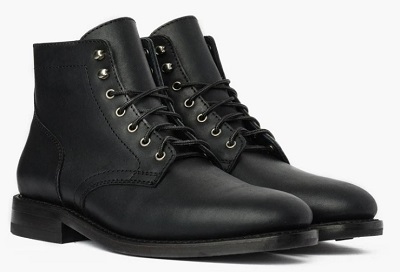 You'll need to break these ones in yourself. But they can definitely take a beating. Made with a full grain leather upper and a Goodyear welt construction, they feature a Dainite-like studded rubber sole and kevlar blend laces. The collar design is more traditional than Mikael's boots. But the sweeping vamp stitching and separate heel piece really capture the look.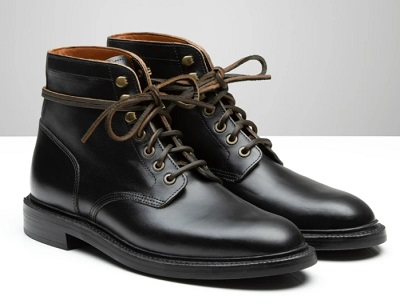 If Mikael's boots just aren't rugged enough for you, check out this pair from Grant Stone. They've used a beautiful, deep black Chromexcel leather from from Horween, a Goodyear welt construction and a studded rubber sole. The lining is also a full grain leather and the boots are finished with brass hardware and leather laces to give them a rustic feel. These are a built for function and style and will just keep looking better the more your wear them.
Also Try:
The Accessories
The Eyeglasses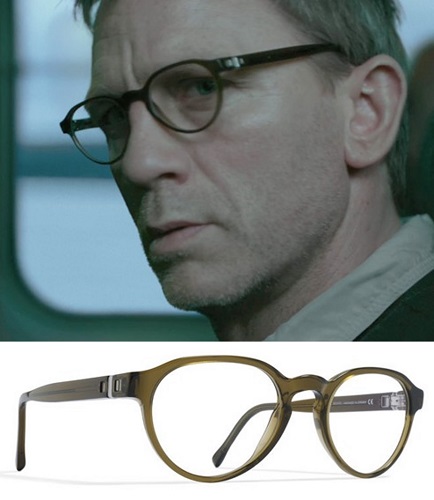 Round-lens glasses seemed a bold choice back in 2011 after the previous decade's focus on thinner, more streamlined frames. Now in the 2020s, thicker and rounder frames seem to be standard in men's eyewear. In the film, Mikael wears the Helmut model from Mykita. These are next to impossible to find now in the same colour (a semi-translucent brown called Peridot). But the current ubiquity of the style makes alternatives easy to find, especially if we're willing to look at options with a darker tortoise frame.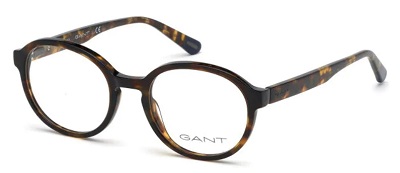 The frame material is a more affordable plastic. But they come very close to the shape we want. And the lack of external pins at the hinges certainly helps give them a screen accurate look.

The end pieces are little longer and feature those exposed pin heads. But the overall shape is a classic. And Warby Parker has earned a solid reputation for delivering quality and great customer service with home try-on program. A risk free way to find out if this design works for you.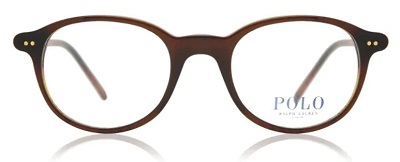 Again we have the two exposed pins on the end pieces. But the muted tortoise frame color comes closer to the originals. And even though we all know that Ralph Lauren is a fan of logos, the only branding is located on the earpiece.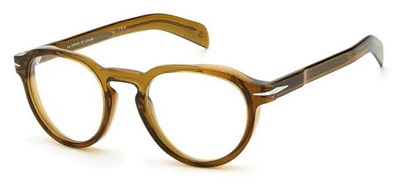 Put aside the exposed metal at the hinges and these are a very solid match for Mikael's glasses. The transluscent brown frames look very similar to the "Peridot" color of the originals. And the shape, especially slightly flattened tops of the ovals and prominent key-hole bridge, has almost exactly the classic-meets-contemporary look we want.
Also Try: 
The Watch: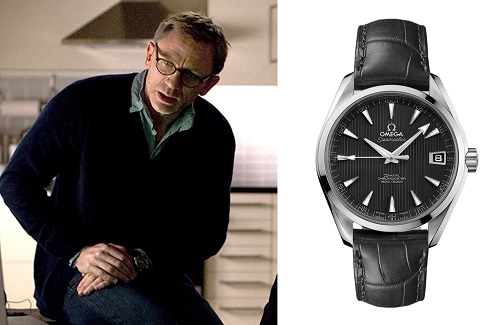 Daniel Craig kept up his Bond connection in this film with an Omega Seamaster Aqua Terra (again pre-Skyfall fame; it's almost like this film was a warm-up…) This model had a black face and black leather strap. While Omega can be a worthy investment, the price tag certainly isn't for everyone. For example, the latest version of the Aqua Terra is going for $4095.00 at Jomashop. Fortunately some more affordable options can be found pretty easily if you're looking for something a little more budget friendly.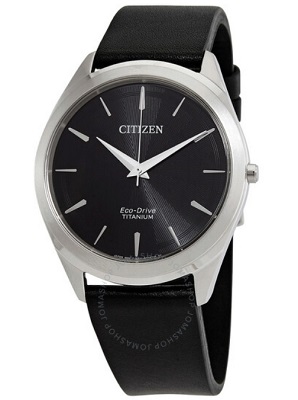 Citizen's Eco-Drive movement is will known for delivering solid performance at an affordable price. Although the design is a little simpler than the Omega, the 41mm titanium case should be easy to dress up or down. And the subtle sunburst texturing on the dial is a nice call out to Mikael's watch.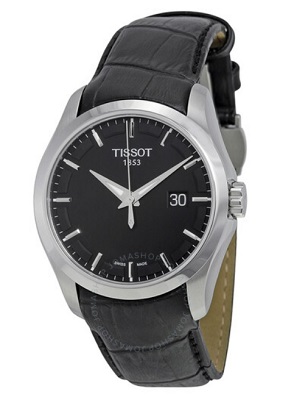 A quartz ETA Caliber F06.161 movement keeps the price affordable. But the rest of the made-in-Switzerland construction delivers excellent quality for the money. And the 39mm case is very similar in size to Mikael's watch.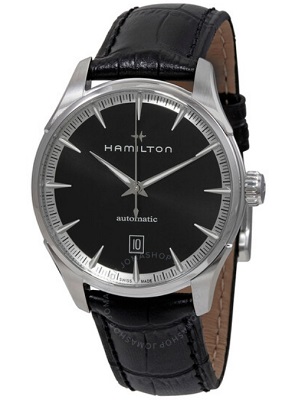 Hamilton is one of those brands that sometimes flies under the radar when we talk about luxury watches. But their Swiss-made timepieces consistently offer great value and great looks for the more reasonable price. The engine is their in-house 25 jewel H-10 automatic movement, based on the reliable ETA C07.111. And the 40mm stainless steel case is topped with a Sapphire crystal and should work well on most wrist sizes. The overall design is very similar to Mikael's watch, although the slightly raised lug shoulders give it a slightly dressier feel.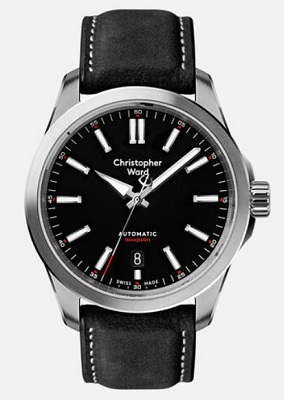 The recently released Sealander collection from Christopher Ward is another winner in terms of looks and quality. Powered by a 26 jewel SW200-1 automatic movement housed in a 39mm stainless steel case, it offers a reasonable 150M of water resistance. And the touches of red on the dial add a slightly sporty look to the dressier design.
Scarves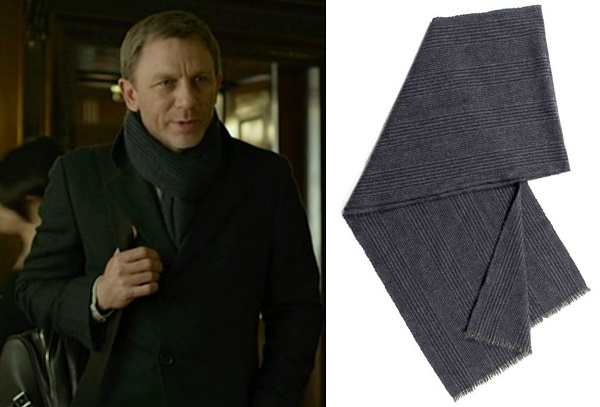 You simply can't watch this film without developing a newfound appreciation for the world of scarves. Mikael has a couple of them he wears throughout the film, and pairs them with cardigans, coats, jackets, and blazers alike. For the first and second acts he wore a grey striped scarf made by Jil Sander, a lovely pattern which can be hard to find these days but is in no way dated (can scarves ever look dated?). But we were able to hunt down one suitable alternative.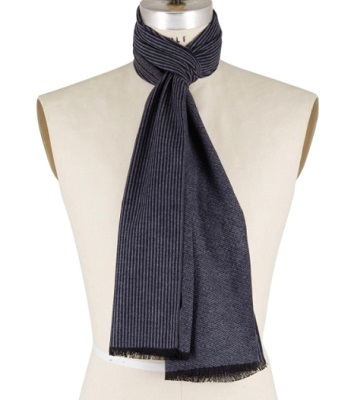 A beautiful 100% silk alternative that comes close in both color and pattern. It's also reversible, with a nice tonal herringbone pattern on the reverse side. That combined with the "not too long, not too short" length should let you easily style it a variety of ways.
The Tartan Scarf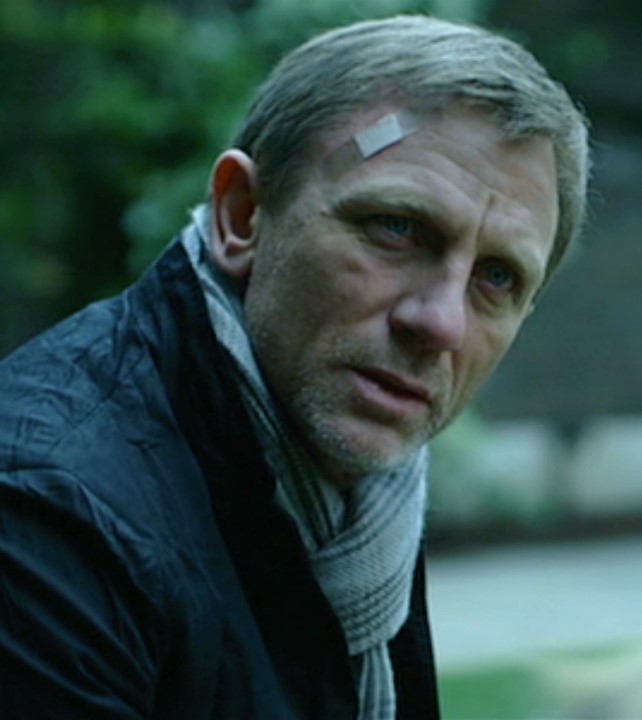 Later in the film Mikael sports a scarf with a tartan pattern in pale and dark grey which has never been identified. I like to call it 'The Harriet' (those who have seen the film will understand). Luckily, this is still a popular pattern and we can find plenty of options. Especially if we are willing to go with slightly darker shades of grey.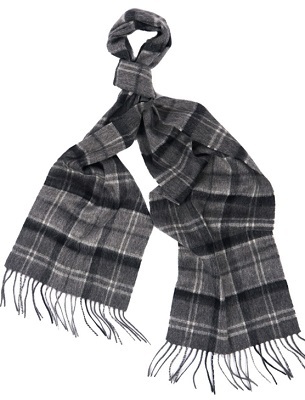 The shade of grey is darker than the scarf Mikael wore. But it should still work well with casual unstructured blazers and dressier overcoats. Plus that 90% Merino wool, 10% cashmere fabric will feel great when it's keeping your neck warm. We found the best price at Michael Stewart (although you will have to pay for shipping if you're in the U.S.). But you can also order it directly from Barbour for $80.00.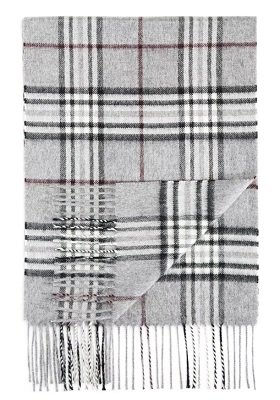 A great color and pattern match, with just a hint of deep red to keep things interesting. Made from 100% cashmere yarn, it comes in at an incredible 72″ in length. Which means you can wrap it around neck plenty of times for extra warmth!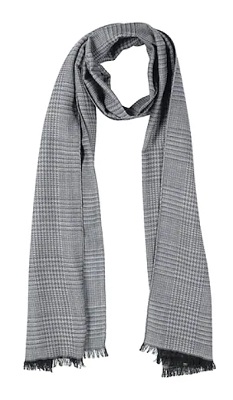 More of a classic Glen Plaid, this 100% wool made-in-Italy option does a great job capturing the softer grey color of Mikael's scarf. You can find it on YOOX.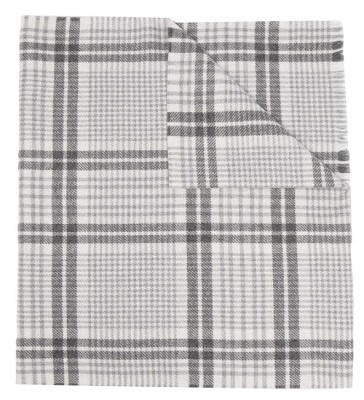 Congratulations! You're almost at the end of this article! We'll leave it to you to decide if you deserve a $750 wool and cashmere scarf…
In conclusion
There was so much clothing in this film, I had to exclude a lot of items I really would love to have highlighted. From the James Perse undershirts, the blazers and his suit to the infamous vests. Mikael wears so many vests in this film it was hard to ignore them. But the vest is unfortunately not really in vogue these days for casual wear (despite being more popular than ever for men's formal wear).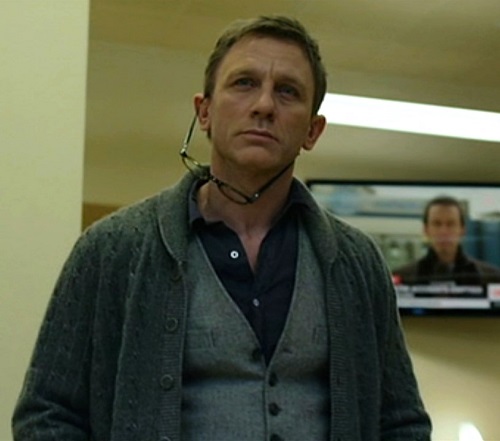 But ultimately, there is so much inspiration we can find in Mikael's wardrobe from 2011 that would still look amazing in 2021. The film's costume designer, Trish Summerville, really knocked it out of the park for Daniel Craig, and I wanted to pay homage to their work. Kudos to the entire cast and crew for such an amazing piece of cinema!
A big "THANK YOU!" to Jesse for sharing his appreciation of Daniel Craig's style from The Girl With the Dragon Tattoo with us! If you'd like to read more of Jesse's work, check out his article on the Daniel Craig Nike connection. And make sure to give him a follow on Instagram at @jesse.iain.macleod!
The images of the screen-used clothing used in this article were sourced from icollector.com. Some of the details about the different pieces were sourced from the excellent BAMF Style article on Daniel Craig's style in the film.