James Bond Holiday Party Style Guide Part 1
Updated for December, 2022 – The holiday season is now upon us. Which hopefully means many more festive gatherings this year: family get-togethers, office parties, dinner with your friends, and of course New Year's Eve. Obviously, you want to be more focused on having fun than on what you're wearing.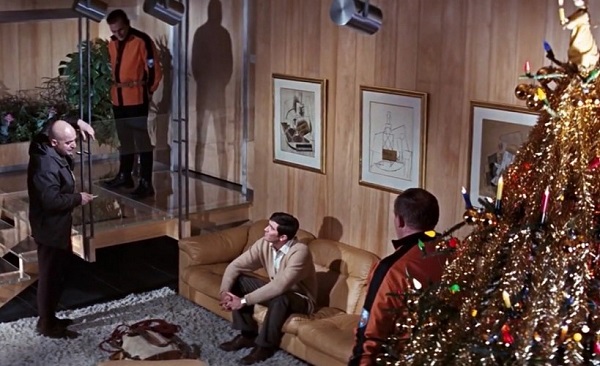 So let Bond inspire you. We've created six looks for our James Bond Holiday Party Style Guide, each one based on a different actor's 007*. Part one of our Guide looks at Connery, Lazenby and Moore and offers a real mix of looks for a variety of scenarios!
Sean Connery
If there's one Bond who's going to blow off the slush and socializing of London in December to escape somewhere warm, it's Connery's 007.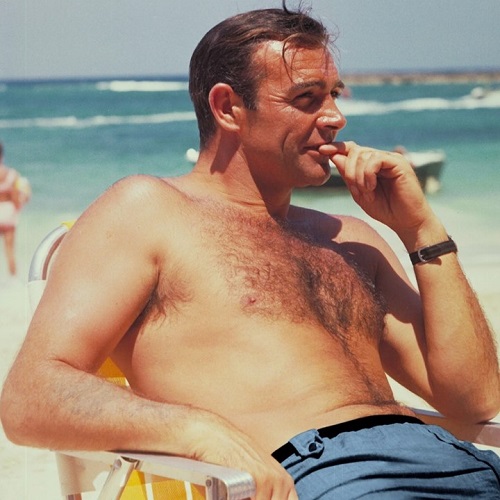 Dinner party at Moneypenny's? A bouquet of flowers sent to her flat with a polite "Will not be attending" on the card and then he's on a plane to the Caribbean. And the cash he saved not buying gifts for the office co-workers will be well spent once he's on the islands. If you're planning a similar trip over the holidays, Bond circa Thunderball is the man you want for inspiration.
The Outfit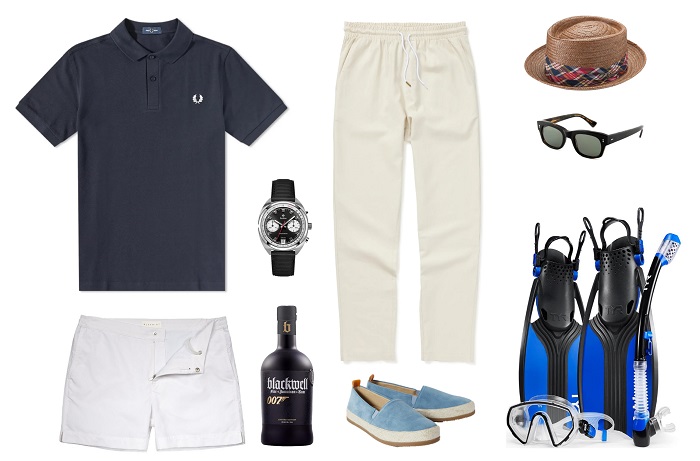 What to wear
Shirt: Fred Perry Slim Fit Polo in Navy, $85.00/£69.00 (also try Todd Snyder Short Sleeve Shirt in Blue Striped Italian Beach Cloth, on sale for $84.00)
Pants: Dandy del Mar Brisa Linen Pant in Vintage Ivory, $99.00 (also try Sailwind Drawstring Linen Beach Trousers in Beige for $28.99 or Bonobos Stretch Chambray Suit Pant in Khaki on sale for $90.00)
Shoes: Mulo Suede Espadrilles in Blue, on sale for $136.50
Sunglasses: Curry & Paxton Sean Sunglasses in Piano Black, $235.00
Watch: Zodiac Grandrally in Black, on sale for $272.25
Hat: Stetson and Dobbs Madrigal Pork Pie Hat, $53.95
Swim Shorts: Bluemint Andy Tailored Shorts in White, on sale for $88.00 (also try Orlebar Brown 007 Shorts in Navy/Cadet Blue for $345.00)
Snorkeling Equipment: TYR Voyager Snorkeling Set in Blue Black, $89.99
The Drink: Blackwell Rum 007 edition, $39.99
George Lazenby
Heading to a more swinging get-together? Take your cue from Lazenby's Bond! I'm the first to admit George's casual style from On Her Majesty's Secret Service has not aged particularly well. But with a bit of effort and imagination (and a healthy dose of self-confidence) that look can be updated into something pretty cool.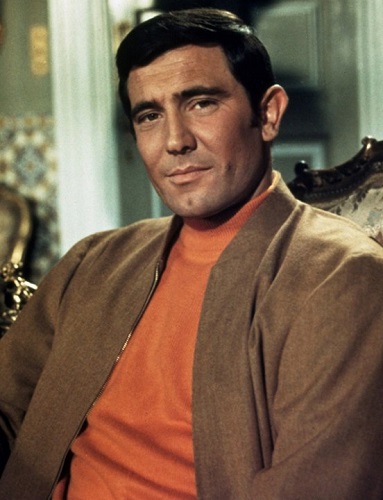 This one is all about tones and textures. Yep, there's a lot of brown. But the suede boots and belt combined with the softer hand of the moleskin trousers contrasting with smooth fabric of the Harrington will keep things interesting. And do not fear the orange sweater! This season we've gone with a more workwear style of knitwear to add a bit more warmth and give the whole look a bit more of a rugged edge. But if you want to stick with a sweater that's in a more screen accurate fine knit, we've included some options for that as well.
The Outfit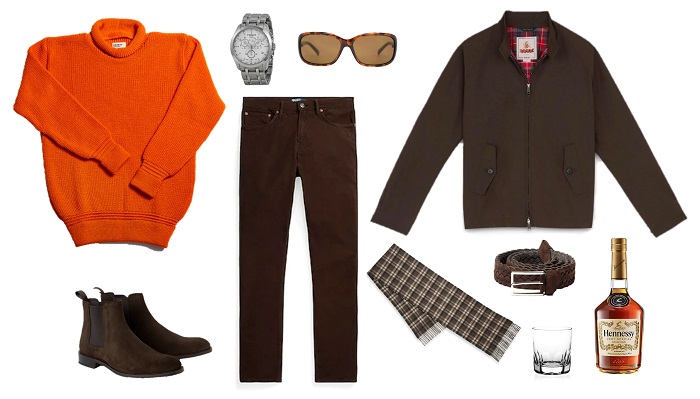 What to wear
Sweater: Heimat Textil Mini Roll Neck Sweater in Orange, $275.00 (for a fine knit sweater, try Paul James Knitwear Extra Fine Merino Wool Mock Turtleneck Jumper in Spice on sale for $110.00, or their Turtleneck in Saffron for $110.00, Murano Performance Mock Neck Sweater in Copper on sale for $41.70, ASOS Lambswool Mock Neck Sweater in Rust for $54.00, or the Patrick James Merino Wool Mock Neck Sweater in Spice for $120.00)
Pants: Polo Ralph Lauren Sullivan Slim Fit Moleskin Pants in Dark Brown, on sale for $130.00 (also try Volcom Solver 5 Pocket Corduroy Pants in Dark Brown for $70.00)
Jacket: Baracuta G4 Jacket in Chocolate, $449.00/£340.00
Boots: Hawes & Curtis Suede Chelsea Boots in Brown, on sale for $129.00 (also try Winthrop Cedar Suede Chelsea Boots in Brown on sale for $109.97 or Bloomingdale's Suede Chelsea Boots in Brown on sale for $149.25)
Belt: Luca Faloni Woven Suede Belt in Dark Brown for $120.00 (also try John Henric Suede Belt in Dark Brown for $59.00)
Watch: Tissot Couturier Silver Dial Chronograph, on sale for $389.00
Sunglasses: Bolle 11518 in Tortoise Shell, on sale for $84.00 (alternatives for Bond's On Her Majesty's Secret Service Nighthawk Driving Glasses)
Scarf: Saks Fifth Avenue Wool Cashmere Plaid Scarf in Brown, on sale for $148.80 (inspired by the pattern of Bond's On Her Majesty's Secret Service chore coat).
Gift for the Host: Hennessy V.S. Cognac, $49.99 (plus a Cumbria Crystal Windmere Double Old Fashioned Tumber for $136.39 in case the host decides to share)
Roger Moore
A more mature Bond for a more sophisticated event. Say what you want about some of Moore's "fashion forward" looks from his tenure. When the man embraced the classics, he did it right.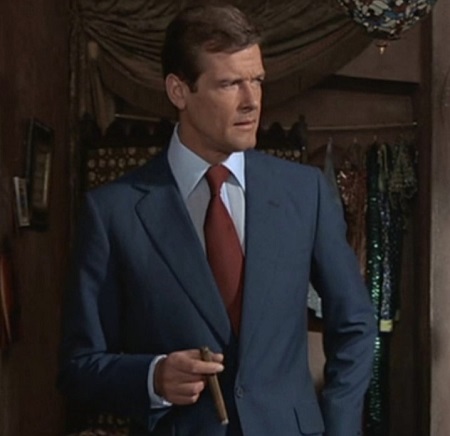 And there's nothing more classic than a navy blazer paired with grey flannels. Of course this is Moore we're talking about. Everything will be tailored to perfection, but he won't take any of it too seriously. Hence the wonderfully retro watch. Not too mention the ridiculous gift of a fake Fabregé egg, a memento from his own adventures (a tale he's sure everyone will find fascinating). It's one part outside-the-box thinking, one part raised-eyebrow whimsy, and one part charming ego. That sounds about right for Sir Roger's Bond.
The Outfit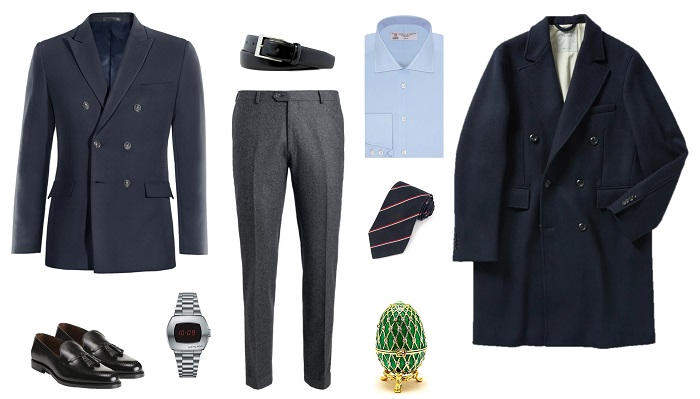 What to wear
Blazer: Hockerty Custom Double Breasted Navy Blazer with Antique Silver Buttons, $226.00
Shirt: Turnbull & Asser Regent Collar Shirt with Cocktail Cuffs in Blue, $400.00 (also try Hawes & Curtis Slim-fit Cotton Stretch Dress Shirt in Blue, on sale for $60.00/£35.00)
Trousers: Proper Cloth Allen Grey Wool Flannel Trousers, $295.00 (also try Bloomingdale's Wool Stretch Flannel Trousers in Gray on sale for $99.00 or Hawes & Curtis Slim Fit Stretch Flannel Trousers in Gray on sale for $99.00)
Coat: Velasca Monforte Double Breasted Overcoat in Dark Blue, $690.00 (plenty more options in this post)
Shoes: Allen Edmonds Grayson Dress Loafter in Black, on sale for $296.25
Tie: Benson & Clegg Royal Navy Three-fold Silk Repp Tie, $78.00
Belt: W. Kleinberg Basic Leather Dress Belt in Black, on sale for $39.97
Watch: Hamilton PSR H52414130 Digital Watch, $669.00
Gift for the Host: Faberge Designed Egg Trinket Box with Stand, $60.65
You can read Part 2 of our James Bond Holiday Party Style Guide here, with inspiration from Dalton's, Brosnan's and Craig's 007s! If you'd like to see more Bond before then, check out Iconic Alternatives on Facebook, Pinterest, and Instagram!
*The inspiration for this post actually came from AJB007 member hcantrell who started this thread on the forum . Thanks!
Iconic Alternatives uses affiliate links to generate revenue. If you choose to purchase a product after clicking a link, I may receive a commission from the merchant at no extra cost to you. You can learn more about our use of affiliate links here.