The James Bond Double Breasted Overcoat
Now that we've taken a look at some great 007 inspired single breasted overcoats, it's time to shift our focus to another formal outerwear style that's popular with our favorite MI6 secret agent. We are of course talking about the James Bond double breasted overcoat.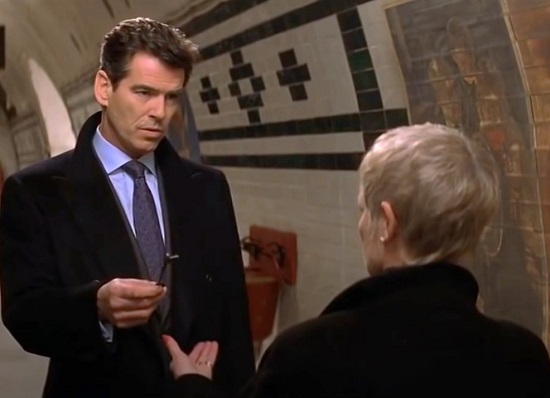 As with the single breasted overcoat, Bond has worn a variety of double breasted styles throughout the series. In this post, we're going to be looking at six of them, with alternatives for each. We'll start first with the navy colored ones from On Her Majesty's Secret Service, Live and Let Die and Die Another Day. The we'll move onto the options in black: Brosnan's "funeral coat" from The World is Not Enough and Daniel Craig's great coat from the Quantum of Solace finale. Last will be Craig's unique bridge coat from the Rome scenes in SPECTRE.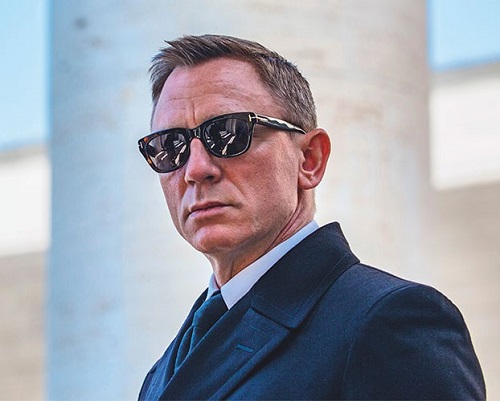 Before we get started, just a quick note about our featured alternatives. Many of them are more expensive than the options we usually share on this site. There are two reasons for that. First, I wanted to highlight the coats that came closest to what we saw onscreen. And many of those coats came with a higher price tag. Second, most of Bond's double breasted coats are timeless designs and can be used for years without going out of style. So it may make sense to invest in a better quality option from a cost per use perspective. But don't worry if you find some of the prices on the high side. I've also included plenty of other alternatives for each coat that won't break the bank. Alright, let's get rolling!
The Navy Blue Double Breasted Overcoat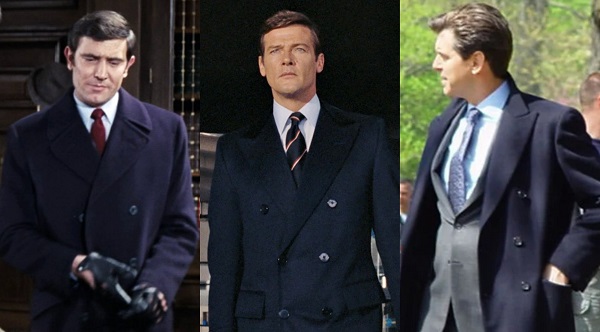 These three versions of Bond's navy double breasted coats really demonstrate how much the style can vary. As Matt Spaiser notes in his article on Bond Suits, Lazenby's "car coat" combines elements of a British Warm and a peacoat to create a versatile design that's easy to dress up or down. Roger Moore's chesterfield from Live and Let Die is a much more traditional design and adds a touch of elegance with its tailored fit and velvet collar. In some ways, Pierce Brosnan's Brioni Guards Coat from Die Another Day was a product of its time. The slightly oversized fit and strong, wide shoulders might not be in fashion today. But the bold lapels and rear half-belt are details that would elevate any coat.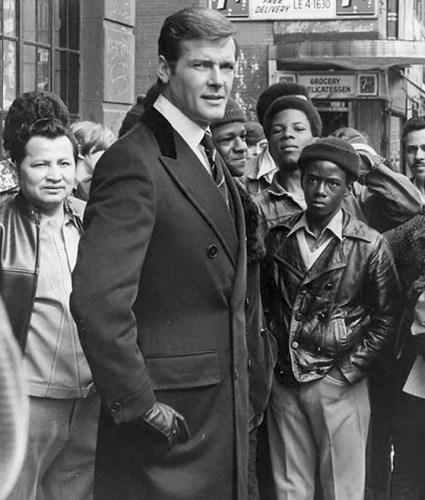 For more on Lazenby's coat, check out this post from Bond Suits and this one from BAMF Style. If Roger Moore's more elegant overcoat is more your style, this article at Bond Suits and this one from BAMF Style provide all the details. And if you crave Brosnan's Brioni cashmere luxury, you can learn more about the coat from Bond Suits here and from BAMF Style here.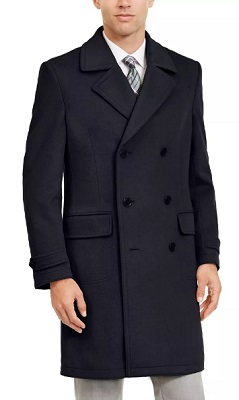 Although it's not exactly an Ulster collar, the style comes close enough to be a pretty good match for Bond's On Her Majesty's Secret Service car coat. A few things to note before you contemplate ordering one. First, although it has 4.2 stars out of 5 after 22 reviews on Macy's, even the positive comments mention the fabric is a little thin. Second, it's possible those flapped pockets are just for show and don't actually function. And third, all they share about the fabric is that it's "wool/poly". Your guess on the percentages of each is as good as mine.
Now, having said all that, it does come in sizes 36 to 44, and many of those are available in short, regular and long fits. And it's a pretty affordable when you can catch it on sale. Currently they have it priced at $198.00 (down from the MSRP of $495.00). But I've seen it go as low as $160.99. So it might pay to be a little patient with this one.
If you are looking for a more luxurious option for the Lazenby-Bond coat, check out the Tagliatore Car Coat in Navy, on sale for $592.20 at Italist. This made-in-Italy option features a large Ulster collar, a 90% virgin wool and 10% cashmere fabric and a 6-button-3 front. There are some differences between the designs (the Tagliatore has welted pockets, a chest pocket and a Martingale half-belt). But I still think it comes close enough to make it worth a look.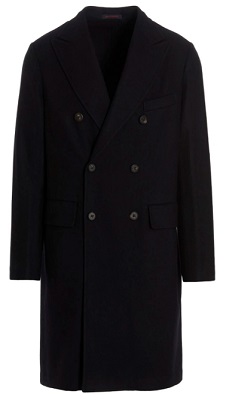 A great made-in-Italy option for the Brosnan-Bond coat at a very nice sale price. The fabric is an 80% wool, 20% polyamide blend and the design features the 6-button-2 front, flapped pockets and the Martingale half-belt around the back. There are some small differences: the peaked lapels are missing the button holes, it has a chest pocket and it's missing the buttons on the cuffs. But overall, it comes pretty darn close to what we saw on-screen. Italist still has a good selection of sizes left.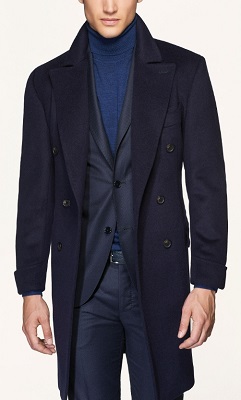 A well made, classic coat in a nice 90% wool and 10% cashmere blend fabric that really delivers the details we want. We're talking turnback cuffs, generous lapels, a long center vent with a pleated back and the rear Martingale belt. Although the design isn't a pefect match for Brosnan's Die Another Day outerwear (for example, the Gutteridge has post-box patch pockets with flaps), I still think this is a coat Bond would be proud to wear. Gutteridge has European sizes 44 to 54 available on their website.
One interesting thing to note: in their Outlet section, Gutteridge also has the Cashmere and Wool Double Breasted Coat in navy on sale for $449.00 (down from $749.00). However I can't for the life of me see any differences between this sale coat and the one above. The design is virtually identical, the fabric is the same, they even use the same buttons. And since the price is the same, I don't know if they've any advantage going with one over the other. Unless you like the idea of getting a discount regardless of the final price.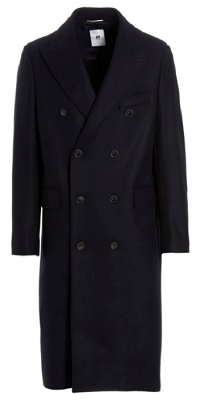 I honestly wasn't sure where to add this one on the list (or if I should even include it). It's sort of a mash-up of various Bond double breasted coat styles, but isn't a great match for any of them. Yet it still somehow has the right feel, if you know what I mean. And that's a pretty good sale price. The design includes an 8-button-3 front, flapped pockets, a chest pocket, four buttons on the cuff and big peaked lapels. Around back, they've kept things clean and simple with just a long center vent. If you're not interested in buying an alternative for every double breasted Bond coat, the PT01 seems to offer a bit of everything in one package. Italist has Italian sizes 46 to 56 in stock.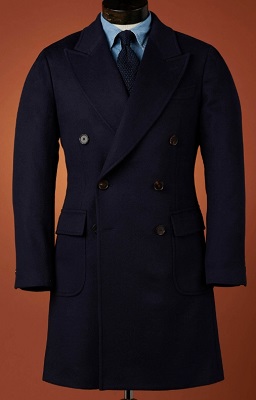 The price is starting to get up there. But, imho, this one's a real beauty. Made with a heavy 560 grams per square meter, 85% Merino wool and 15% Mongolian cashmere blend fabric, it has almost all the details we want on a Brosnan-Bond style coat. Including a Martingale rear half-belt, a long center vent and truly epic lapels. I would say the differences are more a result of the fashions of the times. Spier & Mackay have gone with a slighter shorter cut and unpadded shoulders for a more relaxed look. But I don't think any of that changes the overall timelessness of the design. Which makes this a pretty darn good investment in my book. Sizes 34 to 46 (with some in short fits) are available on their website.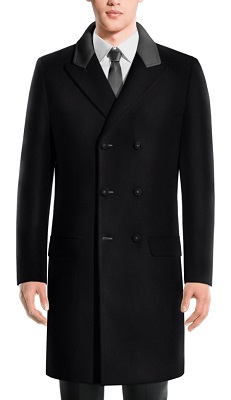 I have a couple of Hockerty options on this list, mainly because they offer the ability to customize their designs to get exactly what we want and the turnover time is very reasonable (about 18 days) for made-to-measure. The base model for this Live and Let Die inspired coat already has many of the features on our list: 100% dark navy wool fabric from Preston, a knee length cut and peaked lapels with the contrasting collar. I simply modified it by removing the stock epaulets and adding the flapped pockets and turnback cuffs. I also selected the "Quilted Insulation" option to make it more suitable for cold weather use. But if you don't need anything that heavy, you can also go with the Classic option with the standard viscose and polyester fabric lining ($544.95) or the, if you live in a warmer climate, the completely unlined model ($574.95).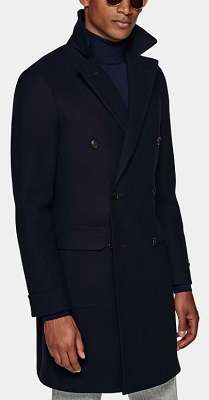 Another excellent option for the Die Another Day coat, this time in a slightly more streamlined design with narrower lapels and a trimmer fit. But it still offers almost all the details we want (the long single vent with buttons, the Martingale half-belt back, the 6X2 button formation, a 90% wool and 10% cashmere fabric), plus a few extras, like the turnback cuffs. Although the stock coat comes with flapped patch pockets, you can customize the design to change those. In fact, you'll need to special order the coat anyway if you're a larger size or need a short or long cut. But the wait time to go with MTM is a reasonable 2 to 3 weeks. So there'll still be plenty of winter left to wear it!
Other Options:
The Black Double Breasted Overcoat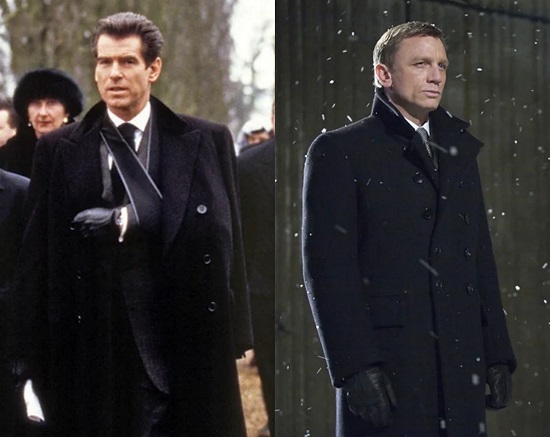 Like the navy version, the two examples of Bond's black double breasted coats show quite a variation in style. Brosnan's overcoat from the funeral scene in The World is Not Enough shares much in common with both the brown cashmere coat from Tomorrow Never Dies (which we discuss in this post) and the navy Die Another Day Guards Coat above. And again, the longer cut, slightly oversized fit and especially the broad, heavily structured shoulders were very much on trend in the mid to late 1990s.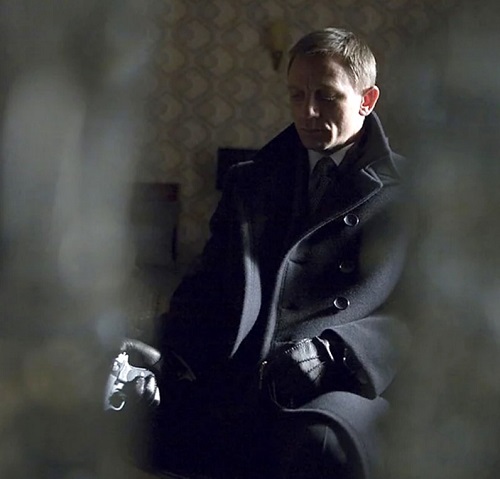 The Tom Ford great coat that Daniel Craig wore during the Quantum of Solace finale in Kazan has some key design elements that really set it apart, specifically the ten button front, notched lapels and the half-belt at the rear. The fact that this coat continues to be a fan favorite almost 15 years after it first showed up on screen really is a testament to the timelessness of the style.
Once again, Matt Spaiser of Bond Suits has done a great job analyzing both coats. You can read about the Brosnan one here and the Craig one here.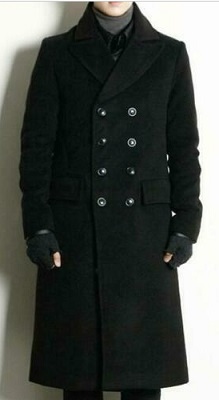 As you can probably surmise from the quality of the product photo, this is an Ebay special. But, superficially at least, it comes close to the style of Bond's Kazan coat. We get an 8 button front (not 10 sadly), the notch lapels and the flapped pockets. So what's missing? It doesn't have the half-belt at the back or the throat latch. And at this price, I seriously doubt we're getting Tom Ford level quality (the fabric is only listed as a "wool blend"). Also pay close attention to the size chart. This one is coming from Asia, so expect to have to go up a size or two.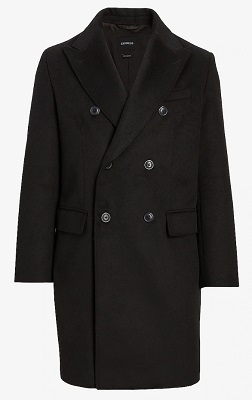 If you're looking for a dressy yet inexpensive black coat to use on warmer days, this one should get the job done. While the 30% recycled wool and 60% synthetics fabric is nothing to write home about, it does have the 6X2 button front and some generous peaked lapels. Sizes XS to XL are in stock on the Express website.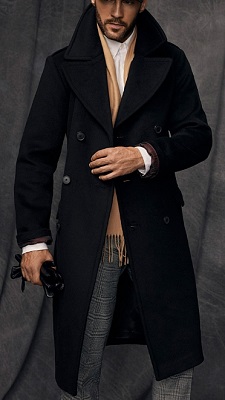 More of an "inspired by" mix of Brosnan's and Craig's coat styles. From the front it basically looks like a knee length peacoat, with a 6X3 button front and large notched lapels. The back is clean with a long single vent. For the shell they've used a blend of 51% reprocessed wool and 49% synthetics and lined it with a polyester and viscose fabric. So it's probably not the warmest coat. But it should do well enough unless the temperature really drops. The only other interesting feature is the inclusion of epaulets (which, for some reason, are not shown in the product pic above). Some will like that touch of military style. Others, not so much. Sizes 36 to 46 are available at Simons.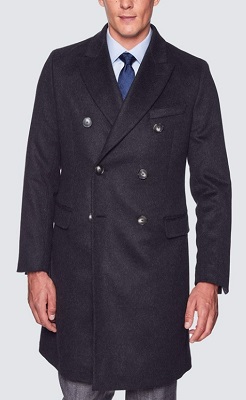 I like to think of this one as a modern interpretation of the Brosnan Bond coat. It's a little more streamlined and not quite as dramatic. And in many ways that makes it even more timeless. I also feel that the charcoal color makes it more versatile. Pure black can be a difficult color for a coat. Especially if you want to use it with more casual fits. Charcoal is easily formal enough to work with traditional business attire. But it can also look great combined with something like dark wash denim and a rollneck sweater. I'll also note that Matt Spaiser identifies the color of Brosnan's coat as charcoal in his article on Bond Suits, although I think it reads black on screen.
Hawes & Curtis have used a plush 75% wool, 20% nylon and 5% cashmere blend fabric for their made-in-Italy coat. It also includes plenty of nice design details, including four button cuffs and a Martingale half-belt back. And the construction is structured enough to go over a suit, but still soft enough to pair with a more relaxed look. They have sizes 36 to 48 available on their website.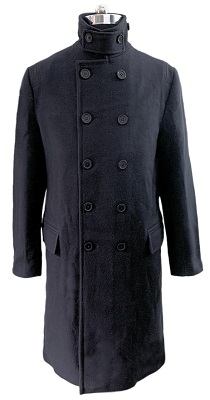 First the good new. This is a MTM reproduction of Bond's coat from Indy Magnoli, one of the most respected vendors in the business. That means that not only can you dial in the measurements so the coat fits you perfectly, you can also go with the screen accurate herringbone weave fabric or select different fabrics (including some wool and cashmere blends) and linings, depending on your preferences. As for the design, as expected it offers pretty much everything we want: 10 button front, throat latch, flapped pockets, the Martingale half-belt back and the longer length.
Now the bad news: this is a Made-to-Measure reproduction. And the estimated time for delivery is 4 months. So if you order it today, we'll likely be at the tail end of winter before you get a chance to wear it. But, if you're the patient type, this option is absolutely the best match for what we saw on-screen and should be worth the wait.
Other Options
The Black Bridge Coat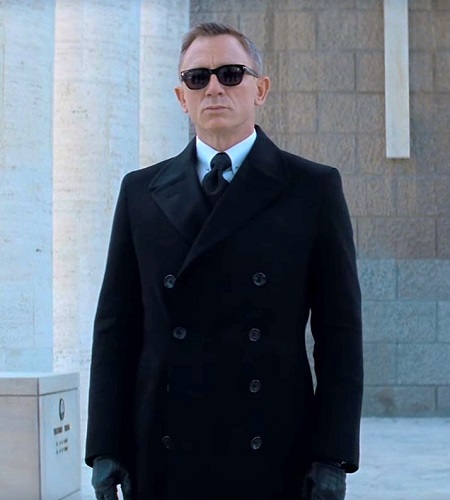 In some ways, Bond's bridge coat from SPECTRE is very similar to the On Her Majesty's Secret Service navy blue coat we discussed above. Like the Lazenby-Bond outerwear, this Tom Ford creation combines elements of a peacoat with other traditional designs. Here we get the wider Ulster collar and the vertically aligned front button formation, now with eight buttons rather than six. But it also has a longer, knee-length cut and a Guards Coat inspired button-on half-belt at the rear. It's a unique design that really stands out from the more common Chesterfields and Crombies Bond usually wears.
For more on Bond's Rome outfit from SPECTRE, visit Bond Suits and BAMF Style.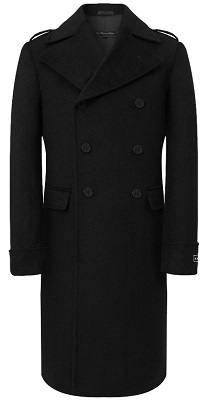 Since this one is coming from Amazon, it could either be a complete bust or an amazing deal. They say the fabric is a 70% wool, 25% polyester and 5% cashmere blend. Which sounds nice for the price. The coat only has 6X3 button front. But those buttons are in the correct straight vertical alignment. Plus we get the buttoned half-belt in the back and that large Ulster collar. As for the other differences, the coat has flapped pockets instead of welted, guantlet cuffs and epaulets. The pockets and cuffs I don't mind. But I can understand if the epaulets are a deal-breaker for some. The coat has 4.3 stars out of 5 after 75 reviews on Amazon. So that gives us hope about the quality. Unfortunately Amazon only has big boy sizes 46 and 48 in stock. You can also try Ebay, where they have a size 44 available and the price drops to approximately $184.00 plus $18.50 for shipping.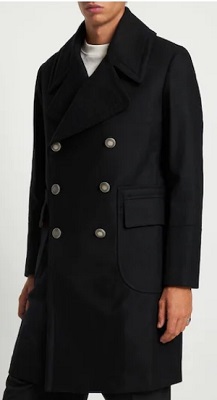 And now one for the smaller guys. LuisaViaRoma has this coat on sale, but only stock U.S. sizes 36 and 38. If one of those is the size you need, read on! The design has 10 metal buttons up the front, a BIG Ulster collar, the Martingale half-belt at the rear, and the long single vent that runs into a center pleat up the back. It also has long gauntlet cuffs and post-box style patch pockets with flaps, which add a slightly more casual feel. The coat is made in Italy from a 80% wool and 20% polyamide fabric. Overall, if you don't mind the differences, this one is a solid "inspired by" option.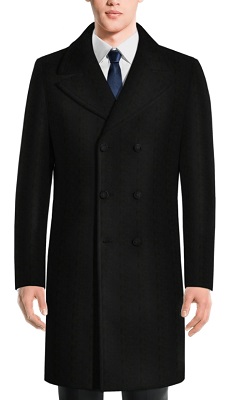 Our second alternative from Hockerty. As I said above, the advantage here is we can customize the details to get exactly what we want. And the turn around time is a reasonable 18 days. For this option, I went with their base model Black Long Peak Lapel Overcoat in a 60% wool and 40% polyester blend (but you can certainly choose a higher quality fabric, like 95% wool and 5% nylon you get with this model for $499.00). I customized it with the Ulster collar, the longer length, the welted pockets, the half-belt and the button cuffs. Although the base model is a 6X3 button front, I'm sure you could speak with Hockerty to make it a proper 8 button to make it truly screen accurate.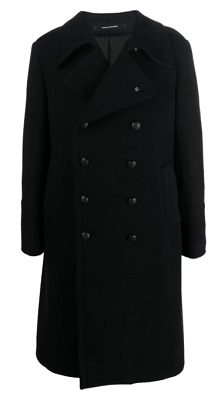 For an off-the-rack option, this made in Italy coat comes very close to delivering all the features we want. The fabric is a 78% wool and 22% polyamide. It has the 8 button front, a larger Ulster collar, a knee length cut and the welted pockets. About the only thing missing is the Martingale half-belt. If you want a higher quality coat and can't wait for a custom job, this one is a good deal at that sale price. Italist has Italian sizes 46 to 54 in stock, but size 50 is sold out.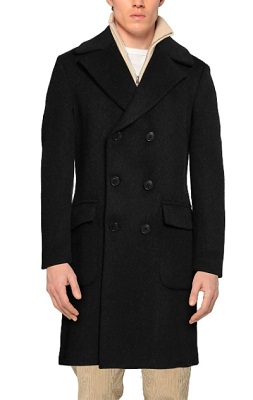 A solid made in Italy alternative coming from Yoox with a healthy discount on the price. Style-wise, it's a pretty good match: Ulster collar, Martingale half-belt back. Yes, it only has 6 buttons and the pockets are patch and flapped. But I'd be willing to live with those because of the fabric. They've used a unique blend of 65% Alpaca, 20% polyamide and 15% wool. That sounds darn luxurious! Yoox has sizes 36 to 42 in stock.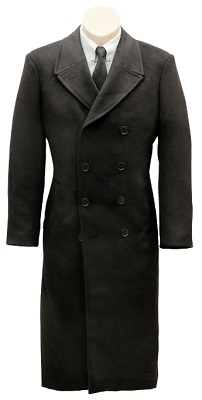 Another made-to-measure option from Magnoli, with all the same pros and cons as the Quantum Overcoat above. Each coat is custom made for your specific measurements and it will be about as close to screen accurate as we can get. And the 18oz wool and cashmere blend fabric sounds nice and warm. But it's also expensive and, perhaps more importantly, you'll need to wait a few months before it's hanging in your closet. It's a tough choice. However, if you can handle the long delivery time, this one deserves serious consideration.
Other Options
Have a great alternative for the James Bond double breasted overcoat? Tell us about it in the comments below! If you'd like to learn more about Bond's overcoats referenced above, visit Bond Suits and BAMF Style. We also cover the details of 007-inspired fit and style in our series on How to Dress Like Bond. And remember you can visit our Facebook page, Instagram account and Pinterest Boards for more style icon inspiration!
Iconic Alternatives uses affiliate links to generate revenue. If you choose to purchase a product after clicking a link, I may receive a commission from the merchant at no extra cost to you. You can learn more about our use of affiliate links here.