The Iconic Alternatives Christmas Wish List for 2022
Welcome to our Christmas Wish List for 2022! Throughout the year, our focus is usually on sharing the great affordable alternatives we've found for style icon inspired outerwear, knitwear, shirts and footwear. And many of our discoveries would make excellent gifts. But for our Christmas Wish List we're going to mix things up a little and turn our attention to some of the non-clothing goodies we'd be happy to find under the tree (although we still snuck in a few jacket and sweaters). The only rule: the gift can't cost more than $200. Luckily, there're plenty of excellent options that fall well under that threshold. Such as …
A Good Book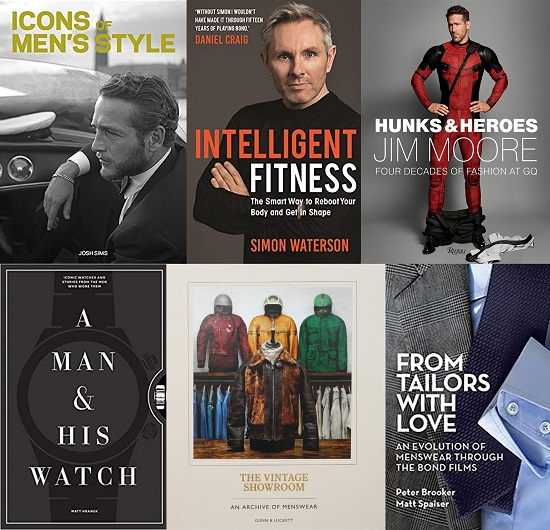 Sitting by the fire in a comfortable chair with your favorite drink and an excellent book. It's the break we all need once and while, an hour or two when we can escape the daily rush and just enjoy being inspired, educated or entertained. Here are a few suggestions I already have on my book shelf or would love to add to my collection.
Fun and Games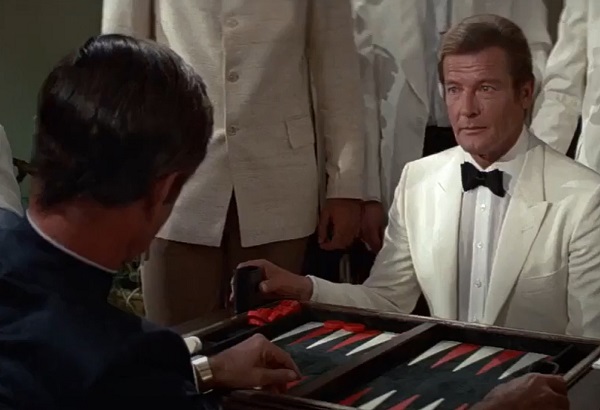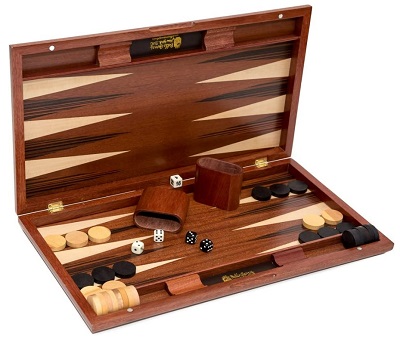 Bond and Kamal Khan's game of backgammon wasn't exactly the most exciting moment of gambling in the Bond franchise. But the nearly 5000 year old game has a deeper 007 connection than just one film: Roger Moore and Cubby Broccoli would often play a few matches for high stakes to keep themselves occupied during downtimes on the set.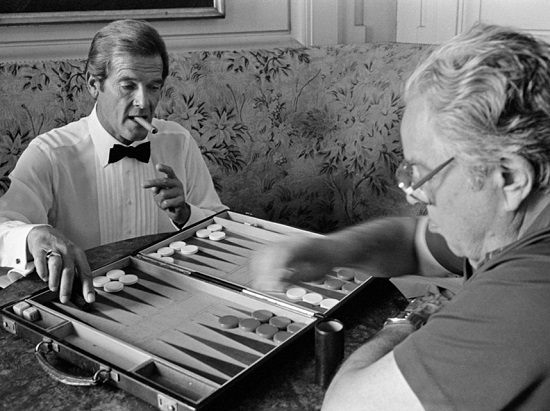 And while a really nice backgammon set is hardly necessary to enjoy the game, it certainly doesn't hurt. Plus it look great on the games table when not in use. This one from Gramercy uses a combination of walnut, maple and burl woods to create a warm and handsome board that's a pleasure to play on and look at. If you're in the market for something less expensive, one these GSE Premium Backgammon Sets is only $69.98 and also looks very sharp.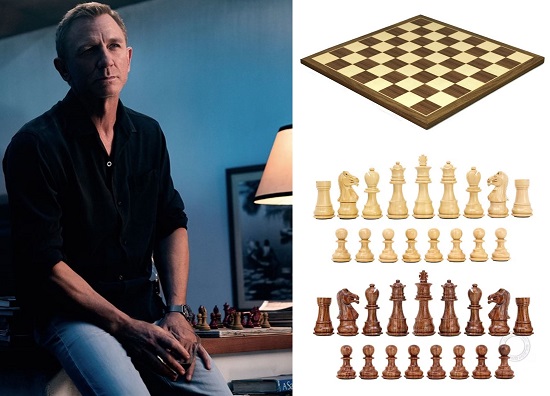 Like backgammon, chess is a game that can be enjoyed for a lifetime. So once again, a nice set is a gift that will keep on giving. The above combination of board and pieces is inspired by the set Bond had in his No Time To Die Jamaica home. But there's no shortage of worthy options out there at a variety of prices.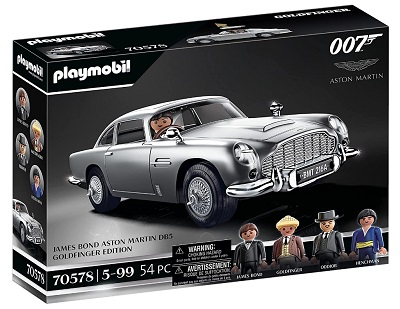 Yes, I'm 52 years old. And yes, I still want a toy car. Especially one with an ejector seat! If you're looking for more of a stocking stuffer in the same vein, check out the Lego Speed Champions 007 Aston Martin DB5 Set for $17.99 at Target.
For the Traveller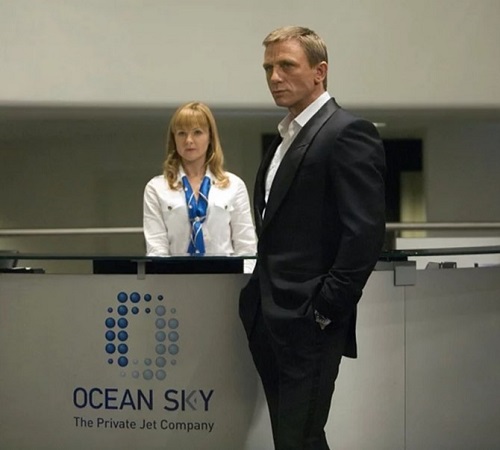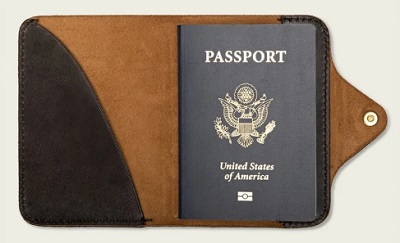 We all know it can take some effort to make air travel an enjoyable experience in this day and age. Adding some small luxury touches here and there can help. This passport holder from from WP Standard is an excellent example of that. Made from a rugged full grain leather that will patina beautifully with time and use, it's a nice reminder that travel may not always be easy, but the right mindset can always make it an adventure!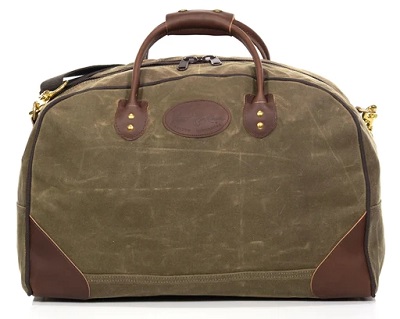 Switching to some Daniel Craig inspired luggage. Okay, so this Flight Bag is breaking through our $200 ceiling. But when you consider that it can easily go from road trips to gym trips to the overhead storage bin on your next flight, the cost per use will drop pretty quickly. And the fact that Frost River uses heavy duty 18oz waxed canvas, premium full grain leather and solid brass hardware means the bag can handle all of that and more for years to come.
Shoe Care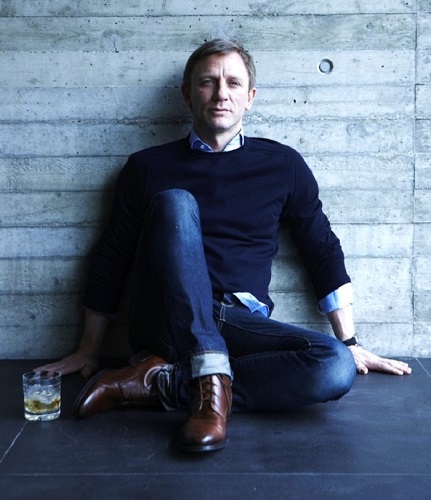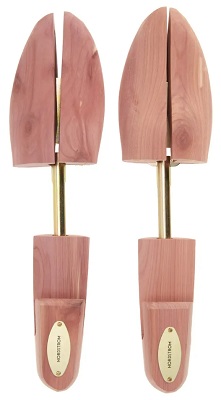 A man can never have too many shoe trees. They're not the most exciting gift. But they're also not that expensive. And too few men have a pair on hand to use with their best shoes and boots. I also have to say there's something humorously ironic about putting shoe trees in a stocking. Or maybe that's just me …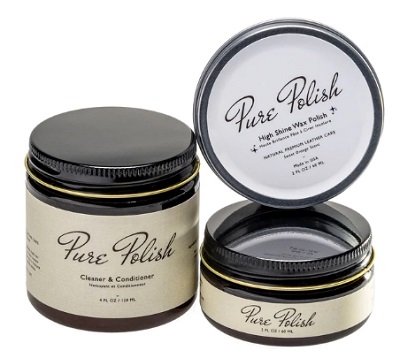 I'm a bit of shoe care geek and I've tried most of the higher end products out there. But Pure Polish continues to be a favorite. Made with orange oil and a variety of natural waxes, their products smell great and really get the job done, whether your cleaning and conditioning your favorite workboots or adding a high shine to your best dress shoes. Pure Polish offers a wide assortment of colored creams and waxes for different finishes. However, I think the Pure Patina bundle is a great introduction to the company. Highly recommended!
To learn how to properly use these products to help maximize the life of your investment worthy footwear, check out our Complete Shoe Care Guide here!
For the Bar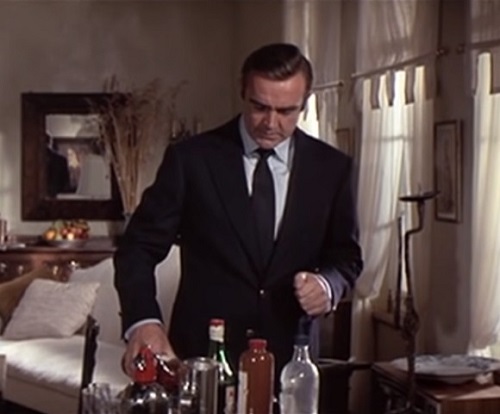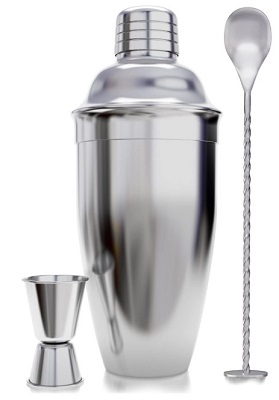 This is a recommendation from AJB007 forum member drum007. And it would make a fine (and inexpensive) 007 inspired addition to any home bar. The spoon and double jigger are nice, but nothing particularly special. What we really want is the shaker. The design is a great match for the one used in the train scene in SPECTRE, right down to the grooving on the cap!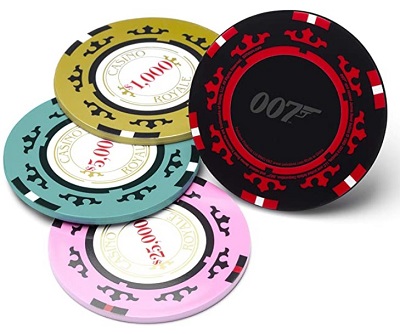 I saw a version of these on the Instagram account 007bondmoments a while ago and thought to myself, "That is an awesome idea!". They're pretty much exactly what I wanted to stop my Martini or Macallan from creating drink rings on the wooden coffee table. And although I won't hesitate to break out my sets when guests come over, I reserve the black $100,000 plaque for daily use on my desk.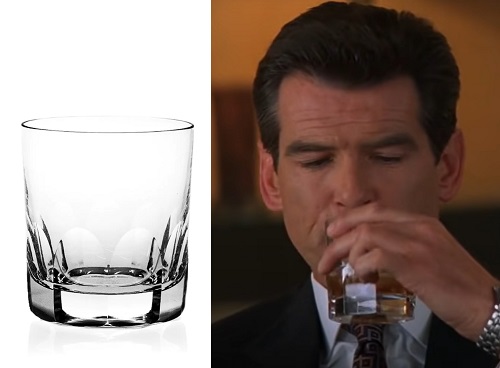 Cumbria Crystal's Grasmere Double Old Fashioned Tumbler ($144.00) gained well deserved fame as Bond's glasswear of choice in Casino Royale. But AJB007 forum member Jellyfish recently discovered some other Cumbria Crystal designs being used in The World is Not Enough and Die Another Day: the Windermere Tumbler and the Helvellyn Tumbler. So now we have three Bond inspired ways to enjoy our next dram of Macallan (or bourbon). You can read more about the discovery and the glasses in this article and this article over at Bond Lifestyle.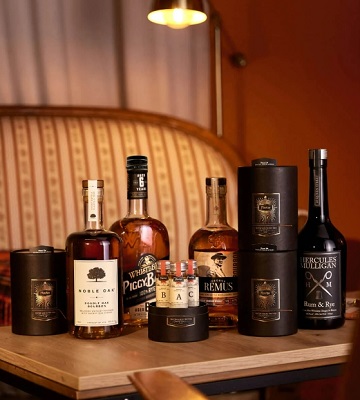 Experimenting with new liquor can be a risky (and expensive) undertaking. Nobody wants to spend $50 on a bottle just to find out you don't like what's inside. Enter the subscription service. Basically, you sign up for one month, 3 months or a year, choose a theme (whisky, cognac, bourbon, rum) or create a custom profile, and a short time later you'll receive a box with three samples of premium spirits. There are plenty of subscription services out there. But Flaviar has received great reviews from Forbes, Esquire and Whisky Advocate and they have an awesome selection of liquors to choose from. Plus their annual package currently includes 8 bottles of premium spirits a year in addition to what's in the box!
Support our Bond Fan Community!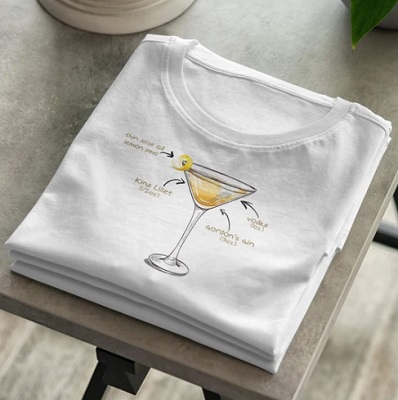 SIS Training Gear offers Bond fans a huge selection of clothing and accessories, from full Skyfall inspired track suits to baseball caps to coffee mugs, all with subtle nods to the world of 007. But personally, I'm a fan of their t-shirts. And there are plenty of designs to choose from, some celebrating Piz Gloria or Shrublands or Blades and others offering the recipe for the perfect Vesper. Fun gifts that have great "if you know, you know" character.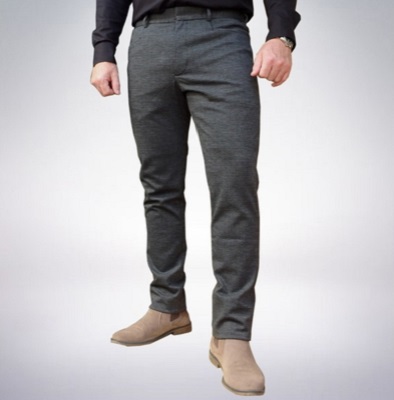 ROYALE Filmwear owner Daniel Love's creations are fan favorites. And for good reason. The man is a fan himself and he invests a considerable amount of time and energy making sure his jackets, trousers and knitwear nail all the details and deliver a high level of quality. The MI6 Trousers ($159.00) are his latest offering and do an amazing job capturing the look and feel of Bond's SPECTRE finale puppytooth pants. But you can also go with the Enjoying Death shirt, the Matera Jacket, the Haiti Jacket or the Bolivia Harrington (my personal favorite). Those all cost less than $200 and will make anyone who appreciates 007 style very, very happy!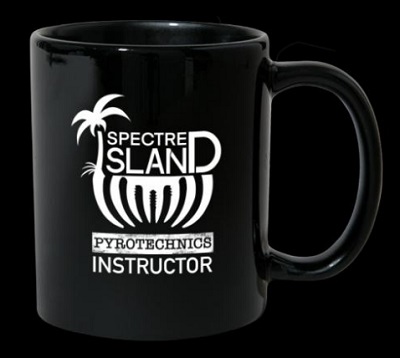 Scroll through the various fan accounts on Instagram and you'll find plenty that are offering fun and inexpensive t-shirts, hats, socks, wall art, you name it, all featuring their frequently creative designs. This coffee mug from The Bond Report is one fun example. But if you take some time to explore you'll discover lots of others. And they're not all 007 related. Everyone from Steve McQueen to Humphrey Bogart to Magnum P.I. is represented. It's a great way to find a unique gift and support your favorite content creators!
For the Home
I have now reached a point in my life where I can say without a hint of shame that I like getting cozy on the couch. And that frequently involves covering myself up with a nice, warm blanket. Lucky for me, I can find a Bond connection in almost anything (although it can be very tenuous at times). So finding the right blanket hasn't been that difficult. Searching diligently through the 007 films reveals a couple of classic styles that serve quite nicely as inspiration.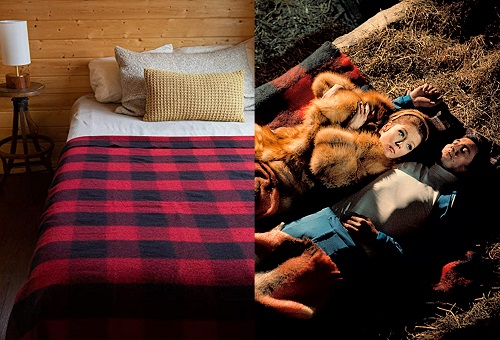 If you like the giant Buffalo Plaid blanket from On Her Majesty's Secret Service, check out the Arcturus Plaid Wool Blanket for $44.99 (pictured above). Made from 80% wool and 20% synthetic blend fabric, it's an impressive 64″ X 88″ and weighs in at 4.5lbs!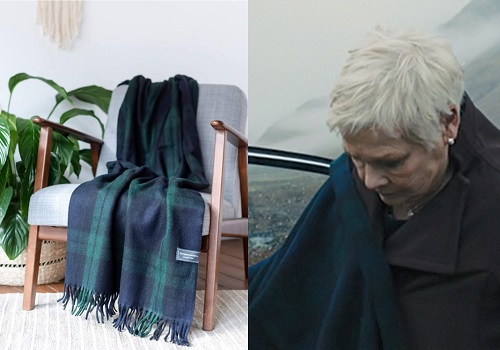 Or if you're looking for something a little darker and more subtle (and don't mind paying more), the Prince of Scots Black Watch Blanket for $149.50 will work great for that "groggy M arrives in Scotland" look. Made in the UK from 100% wool and measuring 55″ X 77″, it may be a little scratchy at first. But it'll soften with time and will definitely keep you warm.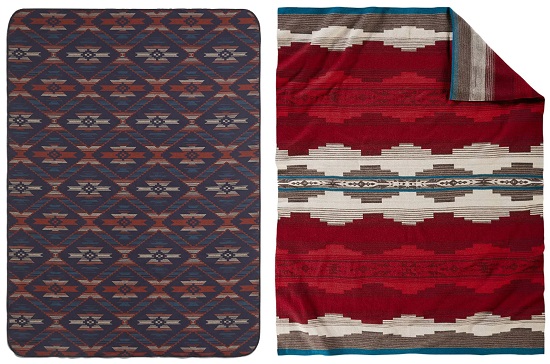 Outside the world of Bond, you can also find Southwestern home decorating inspiration from the T.V. show Yellowstone. Faherty's 52″ X 72″ High Pile Fleece Blanket (on sale for $119.00) was designed in collaboration with Native artist Doug Good Feather and features an organic cotton fabric backed with a thick synthetic shearling. And you can never go wrong with one of Pendleton's classic designs. I've shared their 100% wool Knit Jacquard Throw in Alamosa above ($169.00). But there are plenty of options to choose from, starting at $99.00 and going up to more than $400, depending on the materials and the size.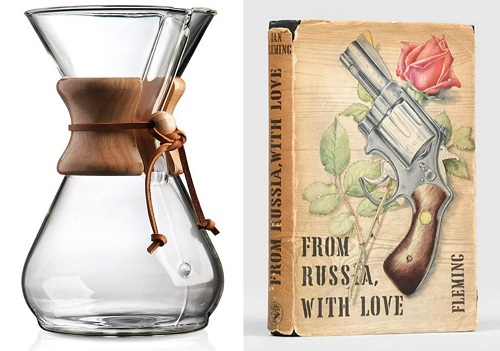 It's how the literary Bond made his coffee from De Bry. And today, almost 80 years after its invention by Peter Schlumbohm, the Chemex is still an excellent way to extract the best flavor from your favorite beans. Just remember to add some filters to the gift!
Jackets and Knitwear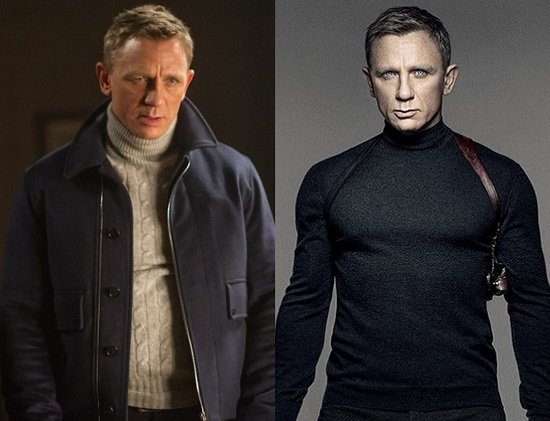 It's not quite the same design as Daniel Craig's favorite Belstaff K Racer Jacket. But it's from the same brand and the style has a very similar café racer vibe. And that sale price at Otrium makes it quite the steal, especially when you use the code SALE20 to knock another 15% off! They have Italian sizes 50 to 56 in stock. But things there tend to sell out fast, so if you want one act quickly!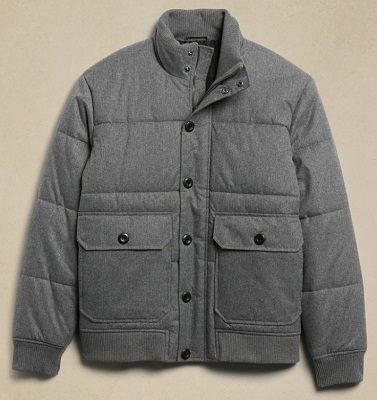 Do you still admire Daniel Craig's cool Mikael Blomkvist style from The Girl With The Dragon Tattoo? Here's an affordable alternative that gets us closer to his Moncler Cezanne puffer jacket look for considerably less money. I picked up one of these jackets in a recent Banana Republic Factory sale. And I have to say, I'm actually pretty happy with the quality for the price. Usually on cheaper jackets, that "heather" effect is printed onto the fabric. But with this one, the shell fabric is woven. So it has some texture to it and more of a "real wool" look.
And the overall construction and materials are also pretty nice: the ribbed knit hem and cuffs are thick (although I'm not a fan of it around the collar), the buttons are secure, and the zipper opens and closes easily. It's obviously not the same level of quality as a Moncler. But it definitely looks and feels like a much more expensive jacket than the sale price would suggest. And the couple of times I've worn it in chillier weather, it's done a decent job keeping me warm. Sizes small to XL are in stock and if you use the code BRREWARDS, they'll take an extra 15% off the price! For more on Craig's Blomkvist style, check out this article by our friend Jesse MacLeod!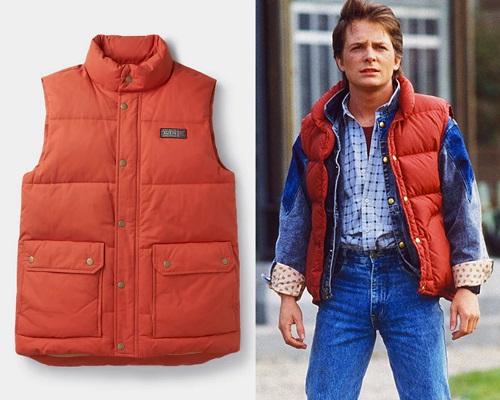 I wouldn't normally consider Marty McFly a style icon. But I've always liked his "life preserver" orange Class 5 down vest from Back to the Future. And a puffer vest really is one of the most versatile pieces of outerwear you can own. This particular alternative from Aubin may not have the same pockets as McFly's. But it has the right vintage outdoorsy vibe and will make a great layering piece!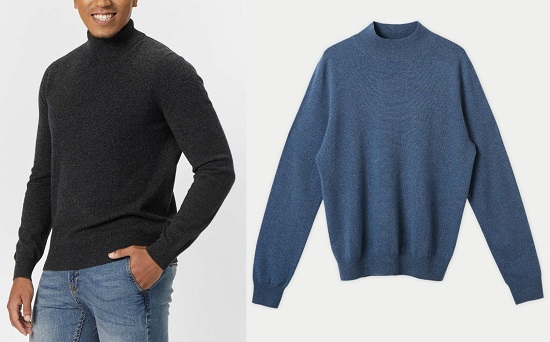 Help the Bond style fan in your life complete two SPECTRE looks for the price of one! Craig's 007 wore the N.Peal Fine Gauge Cashmere Mock Turtleneck Sweaters in Dark Charcoal ($410.00) and Lapis Blue ($410.00) in the film. Gobi's 100% cashmere mock neck sweater in charcoal is a great match for Bond's London finale knitwear. And while the Bijou Blue isn't exactly the shade we want for the Hoffler Clinic outfit, for this price I'm willing to say, "close enough". Sizes small to XXL are in stock on their website.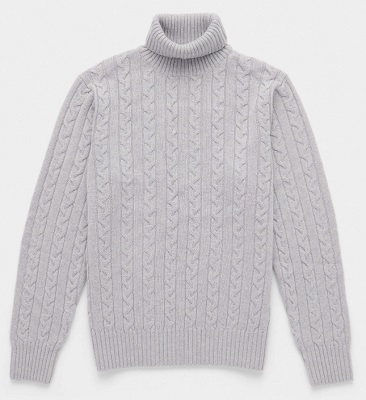 We've shared this affordable alternative for Bond's beautiful N.Peal Turtleneck ($455.00) from the Mr. White scene in SPECTRE more than a few times on this site. Made from a 100% Australian Merino wool, it won't be quite as soft as cashmere. But it should still be plenty comfortable and warm. And it certainly has the look we want at a significantly lower price. Sizes XS to XXL are in stock at Spier & Mackay; use the code FLASH to take an extra 15% off the price.
Like to share what you have on your Christmas Wish List? Tell us all about the gifts you want this year in the comments below. You never know who who'll see 'em! And remember you can visit our Facebook page, Instagram account and Pinterest Boards for more style icon inspiration!
Iconic Alternatives uses affiliate links to generate revenue. If you choose to purchase a product after clicking a link, I may receive a commission from the merchant at no extra cost to you. You can learn more about our use of affiliate links here.