The James Bond Navy Overcoat
When the cold weather strikes, James Bond consistently turns to one type of outerwear to help keep him warm without sacrificing any of his style: the overcoat. Navy seems to be his color of choice, although black is also high on the list. As for the fabric, he expects nothing but best: luxurious wool or cashmere (or a blend of both).
Bond has worn a variety of long wool coats throughout the franchise. Single breasted, double breasted, great coats, bridge coats, car coats. They've all made an appearance. And the design details and cuts have also varied from film to film. Some coats will have a velvet or moleskin collar, others will have an Ulster collar. Things like the button stance, lapel width and oversized vs. more tailored fits have also changed with the fashion trends over the years.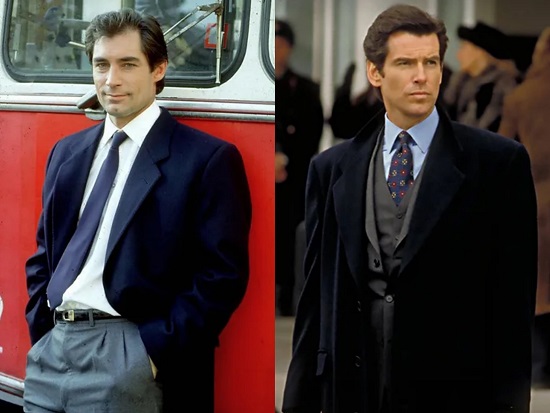 Over the next few posts, we'll be looking at some of Bond's more distinctive outerwear designs. But today we'll start with what is undoubtedly the foundation piece: the traditional single breasted navy overcoat.
Features Wanted for the James Bond Navy Overcoat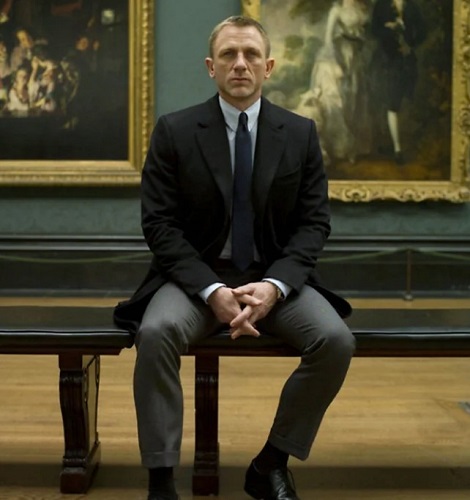 Heavier wool or cashmere (or blend) fabric in a dark navy
Approximately knee length (or a little longer)
Notch lapels
3 button front (no-fly)
Flapped pockets
3 buttons on cuff
Single vent at back
A few things to note about the James Bond navy overcoat. First is the length. As we discussed in our article on Pierce Brosnan's Tomorrow Never Dies brown double breasted overcoat, you should always consider your height and build when choosing a longer coat. Taller guys probably won't have any problem with knee-length or longer outerwear. But gentlemen under 5'10" (178 cm) may want to consider going with a coat that ends just above the knee and has a slimmer, more tailored fit.
Second are the flapped pockets. They seem to be a feature of almost all of Bond's formal outerwear. So I've tried to be strict about only including alternatives that have that detail. Unfortunately, that means I've left some great options off the list that only have welted pockets, but still offer good value for the money. For those of you that aren't too hung up on pocket design, I've added a list of welted pocket alternatives at the end of this post.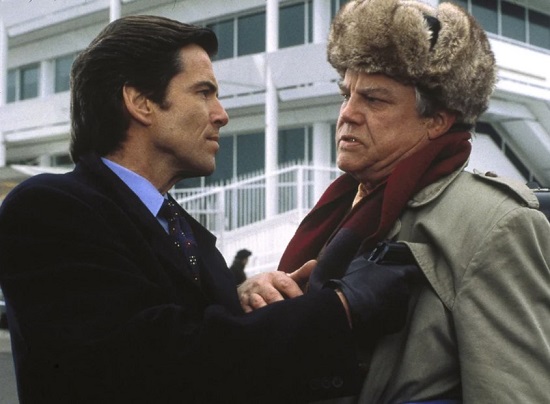 The last point to address is the chest pocket. Craig's Skyfall coat has one, while those worn by Dalton and Brosnan did not. So I've included alternatives below for both. Other than that, most of the other differences between the Bond coats (things like oversized fits, shoulder width, structure or lack thereof, and the angle of the lapel notch) are mainly a result of the fashions of the times.
Best Option for the James Bond Navy Overcoat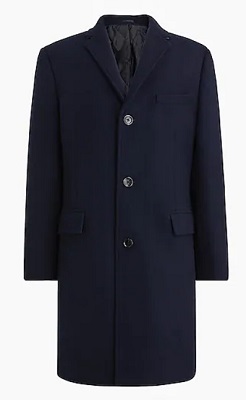 Just a basic overcoat in a wool/poly blend fabric that happens to have all the features we want. Remember that this is coming from J.Crew Factory. Not mainline J.Crew. So I wouldn't expect a super high level of quality. Having said that, it does have 4.4 stars out of 5 after 36 customer reviews. That ain't too shabby. Plus it comes in numerical sizes (38, 40, 42, etc.) which will help you get a more accurate fit. It's currently on sale for 50% off. I honestly don't know how long that will last. However, J.Crew is almost always running some type of deal. So if you miss this one, I'm sure another discount code will be coming round the bend shortly.
Under $200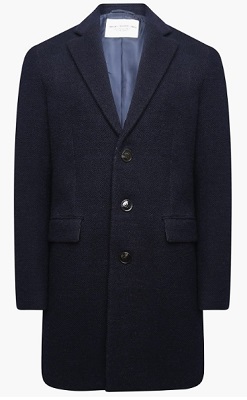 We'll start with our obligatory Amazon special. Who are Sawyer + Hendricks? I honestly have no idea. But their 50% wool and 50% polyester blend navy overcoat looks to be a decent match for the style we want at an "affordable for most" price. Sizes small to XL are available on Amazon.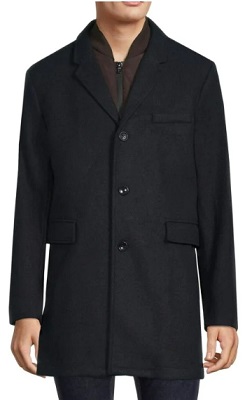 And another good option for the Skyfall coat coming to us with a pretty hefty 67% discount from Saks Off 5th. There's no real details about the fabric on the product page, other than it's "polyester/wool/other fibers". Make of that what you will. I'll also note that the fit does look a little weird on the Saks model. But then again, fits always look weird on Saks models. Sizes small to XXL are in stock.
Under $300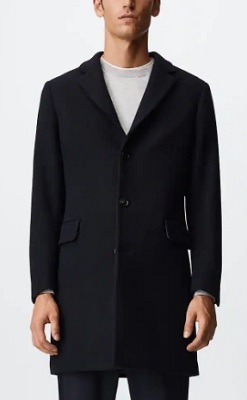 This one came very close to being the Best Option. In the end, the J.Crew just edged it out because of the price and its longer length. But one thing we can count on Mango delivering is a trimmer fit. Which some of us may appreciate, especially if we're after that Skyfall look. And while the 54% recycled wool and 46% synthetics fabric is hardly luxurious, it's about what we'd expect for a coat at this price point. They have sizes XS to XL on their website.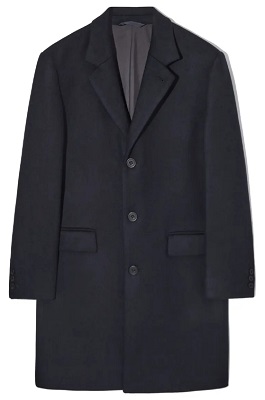 What do we get if spend sixty bucks more than the Mango? First, a nicer fabric. COS has used a 71% recycled wool and 28% synthetic, which should have a better hand. The cut of the coat is also longer, reaching to the knees. Another benefit for you taller guys. Overall, it's a nice classic design that should get you through a few cold weather seasons if you take care of it properly. Nordstrom has sizes 34 to 44 in stock. But inventory is starting to run low.
Under $500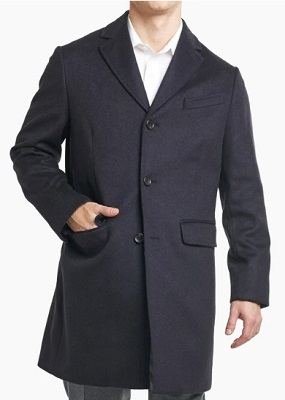 Peter Manning focuses on designing classic clothing for shorter men. And the company has built quite a loyal following for delivering good quality pieces at fair prices. As I mentioned above, finding the right longer coat can be a little tricky for gentlemen under 5'10". Going with this option (and seeking some advice from Peter Manning's customer service team) should take a lot of the guesswork out the process. And it's a pretty nice coat as well. The fabric is a 70% wool, 20% nylon and 10% cashmere blend and it has a Bemberg lining. Plus it has all the style details we want. Certainly worth a look if you've been thinking you can't pull off a longer coat because of your height.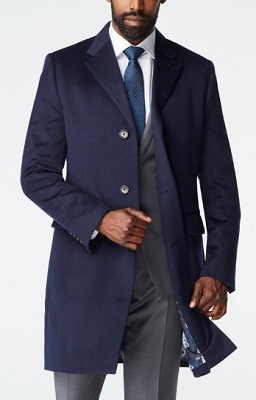 I always like to include a made-to-measure option in these posts. Some you fine gentlemen have a tough time finding coats that fit you off-the-rack. And there are others among you that like to make little tweaks to designs so they can get exactly what they want. The good news is this option from Indochino is a darn good match right from the start. And the fabric, a blend of 90% heavyweight Merino wool and 10% cashmere, sounds pretty nice. That, combined with the half canvassed construction (with fully canvassed lapels) and bullhorn buttons, make it a lot of coat for the money. About the only thing I'd change is the lining shown in the product photo.
If you're looking for a little extra warmth, Indochino also makes the Heartford with a quilted lining for $445.00.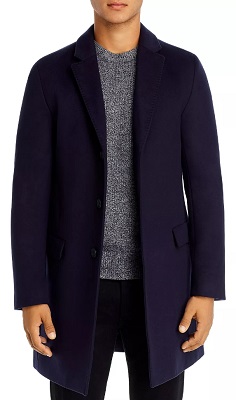 A classically styled overcoat in a 70% wool, 20% polyamide and 10% cashmere fabric. However, as the name clearly states, this is a slim fit. That might make it a good choice if you're hunting for a coat to wear with more casual looks. But if you want one you can wear over a suit, I think you'll either need to go up a size orcheck out other options. Bloomingdale's has sizes 36R to 46R in stock.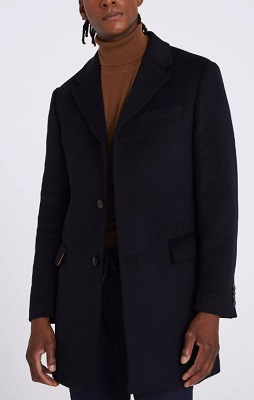 Another traditional design with a tailored fit that will help give us that Skyfall look. But the contrasting camel colored fabric under the pocket flaps adds a bit of character. They've used a 60% wool, 7% cashmere and 33% synthetic blend fabric. And since it's double faced, it will be thicker and warmer than some of the lighter weight options on this list. Sizes XS to XXL are in stock on the Moss Bros. website.
The Investment Pieces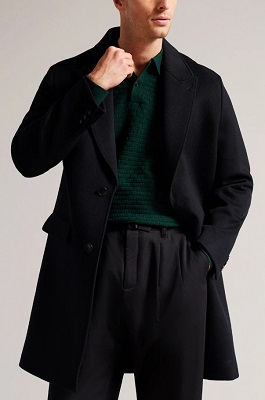 With its two button front and peaked lapels, this one may seem like an odd choice to add to the list. But I think there are some good reasons to include it. First, the fabric is 100% wool, which I like. Second, the two button front allows for a lower button stance. Combing that design feature with the wider lapels and more unstructured fit helps give the Raydon a sort of "slouchy luxury" feel that has a sort of late 1980s/early 1990s vibe to it. It's different. But in a good way, I think. Sizes XS to XXL are available on the Ted Baker website.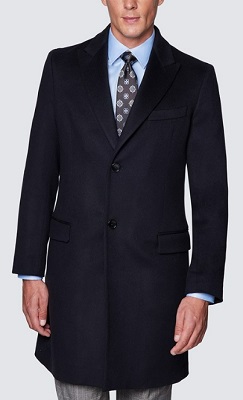 There are few things I'm really liking about this option. First, it's a classic design in a nicely tailored cut. And, based on the product photos, it looks like it has some structure to it, especially in the shoulders. The peak lapels, while not on our Features Wanted list, also give it a slightly more formal character. Second, they make the coat in Italy from a 75% wool, 20% nylon and 5% cashmere. I know "made in Italy" doesn't have the same cachet it once did. But to me, it still defines a certain level of quality. Hawes & Curtis have sizes 36 to 48 available.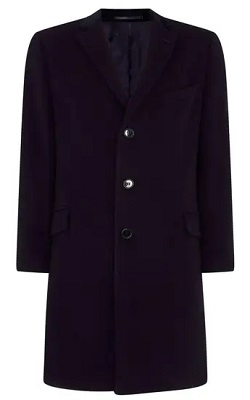 A big Thank You to our AJB007 friend Gymkata for reminding me about this one! I actually pretty embarassed that I forgot to include it in the first place. Part of N.Peal's 60th Anniversary collection, they've based the design of their overcoat on the first piece of outerwear we ever see Bond wearing on film: the dark navy Chesterfield that Connery's 007 wears over his dinner suit when arriving at MI-6 in Dr. No. However, there are some key differences between the designs. As Matt Spaiser notes in this article on Bond Suits, Bond's original coat featured a velvet collar and a fly-front (a placket that covers the buttons). It was also a longer, below-the-knee cut.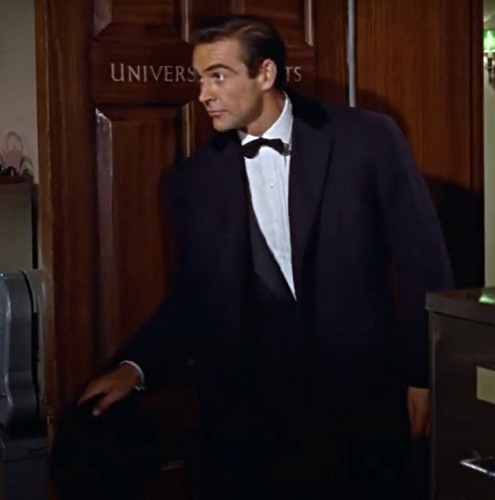 N.Peal decided to forego the velvet collar and fly-front, leaving the 3 front buttons exposed. But they've kept the notch lapels, single vent and flapped pockets. And, based on the product photos, the hem of their coat hits almost at the knee, a bit longer than most modern overcoats. I should also point out that N.Peal has an excellent reputation for working with beautiful fabrics. So I have no doubt that the 90% wool and 10% cashmere blend they've used for the coat will feel luxurious. You can find sizes 40 to 48 on their website.
Alternatives with Welted Pockets
As I mentioned above, these options are missing the flapped pockets that are traditional feature on most of Bond's more formal cold weather outerwear.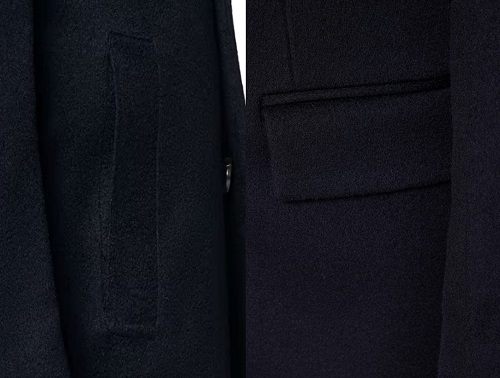 But there are still very nice designs (and good deals!) to be found. So I think these ones are worthy of a mention.
Have a great alternative for the James Bond navy overcoat? Tell us about it in the comments below! If you'd like to learn more about Bond's overcoats referenced above, visit Bond Suits and BAMF Style. We also cover the details of 007-inspired fit and style in our series on How to Dress Like Bond. And remember you can visit our Facebook page, Instagram account and Pinterest Boards for more style icon inspiration!