The Tomorrow Never Dies James Bond Overcoat
You're probably getting tired of me saying this. But it's a message worth repeating: my friends, longer coats are very much back in style! The question then is what type of longer coat should you get? As far as colors go, the classic navys, greys and charcoals are popular, as they always will be. And single breasted designs still seem to be dominating the menswear landscape. However, we're also seeing the rapid return of the more dramatic double breasted, peaked lapel models. The selection of fabrics is also quickly expanding. Beautiful knotty tweeds, multi-hued Donegals, and rich earthy tones like Loden Green and Dark Camel are all in play. So if you're willing to take a bit of sartorial risk, there's never been a better time to take inspiration from the James Bond overcoat from Tomorrow Never Dies.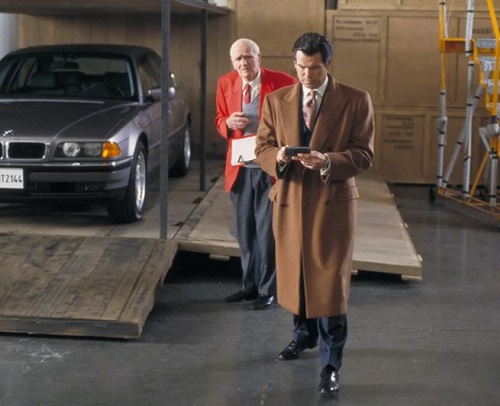 Bond's overcoat was a creation of the famous Italian design house Brioni, who also provided most of 007's suits during Brosnan's tenure. Brioni used a 100% cashmere fabric in a warm medium brown, an interesting color choice that definitely stands out from the dark blue outerwear that Bond normally wears. Turns out, Lindy Hemming, Tomorrow Never Dies costume designer, wanted to coordinate the color of the overcoat and the copper tone found in Bond's Turnbull & Asser tie. The result is a bolder look than we're used to seeing on 007. But it still retains that "classic menswear" feel.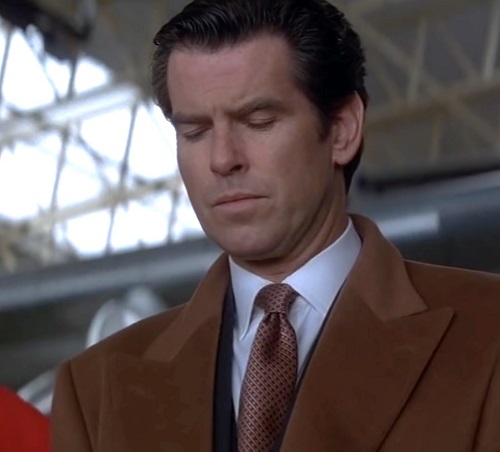 As for the cut and fit of Bond's overcoat, I think our friend BAMF Style probably said it best when he described the style as, "reminiscent of the 'golden age of menswear' in the 1930s and 1940s." With it's generous fit, wider shoulders and lower buttoning stance, it does come very close to the drapey, oversized extravagance of the 1980s. But a little extra structure helps give it more of a timeless style. And I'll admit it's refreshing to see the return of substantial coat lapels after more than a decade of skinny designs.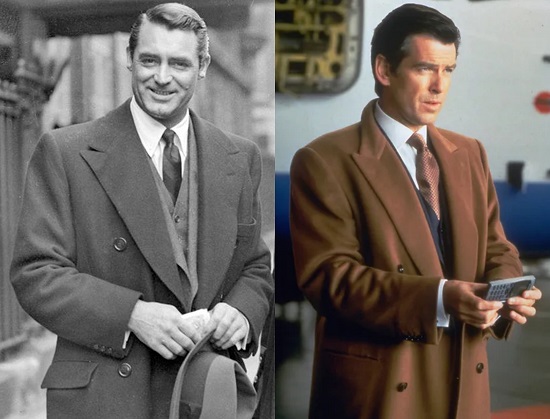 Is the Tomorrow Never Dies overcoat everyone's favorite piece of formal outerwear from the Bond franchise? Probably not. But it certainly has presence. And it's more versatle than you may think. The classic styling works perfectly with a suit, of course. But that rich shade of brown also makes it easy to wear with more casual looks. Layer it over sweaters, denim shirts, flannels and some comfortable jeans or corduroy trousers and you've got a great weekend outfit for those times you feel like taking things up a notch.
Features Wanted for the Tomorrow Never Dies James Bond Overcoat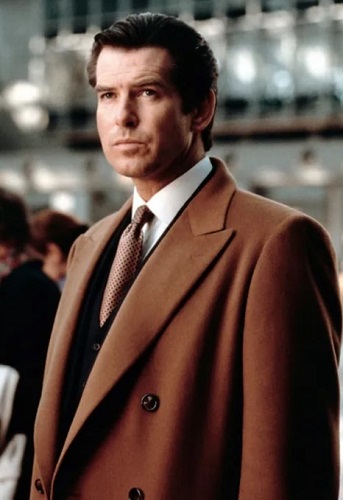 Wool, wool-blend or cashmere fabric in a medium brown color.
Double breasted front with 6 dark buttons.
Horizontal flapped pockets
Wide peaked lapels
Long single vent
Fuller, longer cut with structured shoulders
Thankfully we have some great options that capture many of the details and the overall look of Bond's overcoat at a variety of price points this season. Menswear in general is trending back to more classic designs. Which means even some of the lower tier fashion brands are offering coats with more traditional styling. And even better news, there's some great deals to be found in higher-end wool, wool blend and even cashmere fabrics. So you won't have to pay a small fortune to get a little luxury!
And one final note on the fit of overcoats. Taller guys (those of you who are 5'11" and up) shouldn't have any problems wearing a longer coat with a more generous cut. But if you're 5'10" and under, I'd recommend looking at options that are cut a little shorter and have a more tailored fit. The target is to have the hem of the coat hit just above the knee, leaving most of the lower leg showing. And going with slightly narrower shoulders will create a more balanced appearance and stop you from looking top heavy. It may not be screen-accurate. But it will look better on you, which is ultimately what matters most.
I've included both longer, fuller cuts and shorter, more tailored fits in the options below, so we all have some great alternatives to choose from. Let's get to it!
Best Option for the Tomorrow Never Dies James Bond Overcoat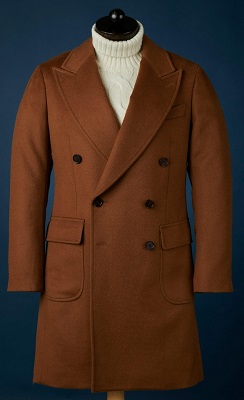 Some of the key details are different. The Spier & Mackay comes with flapped patch pockets, a chest pocket and martingale rear half-belt. It's also one of the more expensive options on this list. But my goodness, that's a beautiful looking coat! Made from an 85% Merino wool and 15% Mongolian cashmere blend in a rich camel brown, it has a trimmer fit and unstructured shoulders. But the real star of the show are those sweeping peaked lapels. The whole package is designed to make a statement. But this piece is going to look equally stunning with a dark navy suit or jeans and a rollneck. They have sizes 34 to 46 in stock. And they have sizes 36 to 44 in a shorter cut.
If you're looking for something a little longer in a slightly lighter shade of camel, Spier & Mackay also has their Wool and Cashmere Ulster Coat for $548.00. While the Ulster has the same flapped patch pockets, chest pocket and rear half-belt as the Overcoat, it changes things up with turn-back cuffs and wide notch lapels. Sizes 34 to 48 are available, with sizes 36 to 44 also coming in a shorter cut.
Under $100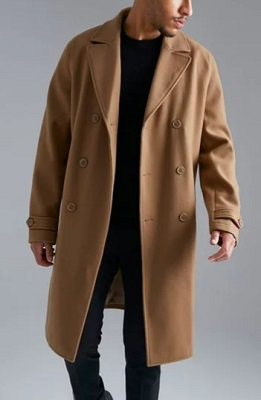 If you're saving all your money for Christmas gifts or just want to play around with the whole "long coat" look, this is about as budget as it gets. The fabric is a blend of virgin and recycled polyester, with a bit of viscose and elastane thrown in. The coat also has an oversized fit. So without the structure in the shoulders, I'd consider sizing down so you don't look like you're drowning in it. Sizes small to XXL are available on the boohooMan website.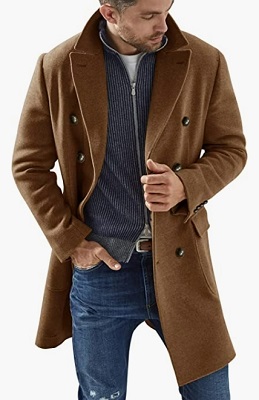 The first of two options from those companies with unpronounceable names on Amazon. They claim the fabric is a 65% polyester and 35% cotton blend. So at least there's some natural fibers in there. As for the style details, it's actually not too bad. Eight button front instead of the six we ideally want. And those buttons are a cheap, punched metal. Which means you'll probably want to replace them. But the color isn't a bad match for Bond's coat. This one comes in sizes medium to XXL. Just please remember to check the size chart!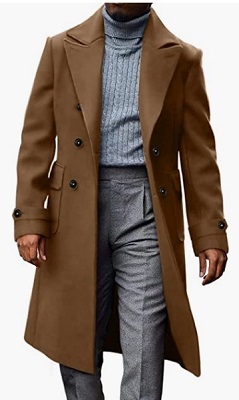 And our 2nd Amazon special. Despite what the product name says (and the fact the keep repeating "Cotton blend!" in the description), there is absolutely NO cotton in the fabric. All synthetic. Having said that, it does seem like a better match for Bond's coat in the looks department: it's a little longer and has the six button front. It's also about 4″ longer than the PASLTER option above, which may be nice for you taller gentlemen. You'll find sizes small to XXL on Amazon.
Under $200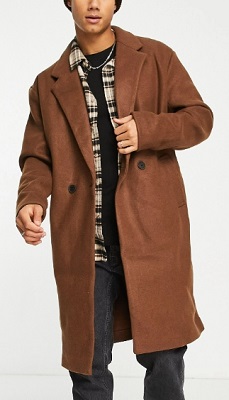 Faux wool = 100% polyester. And, like the boohooMAN option, this is an unstructured, oversized fit. It also only has 2 buttons at the front, which is … unique. However, I am liking that shade of brown. Asos has sizes XS to XL in stock.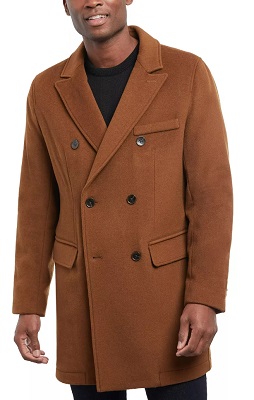 Well, that's one heck of discount! Regular retail is $495.00. So if you're liking the style of the coat, it's a real steal. Especially since the fabric is a blend of wool and cashmere (actual percentages aren't stated). Style-wise, it's a little shorter than ideal. But, as I mentioned above, that's not necessarily a bad thing for those of us 5'10" and under. It also has the flap pockets, six button front, single vent back and the color isn't a bad match. This one looks to be a Macy's exclusive and they have sizes 36 to 44 in stock in short, regular and long fits.
Under $500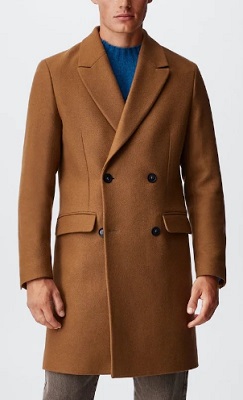 It has a 4 button front. It's also cut a little shorter with slightly subdued lapels. But that color probably comes as close to Brosnan's coat as any other on this list. And the 75% wool and 25% polyamide fabric is actually pretty good at this price point. All things considered, it's a solid option for the price. Mango has sizes small to XXL on their website.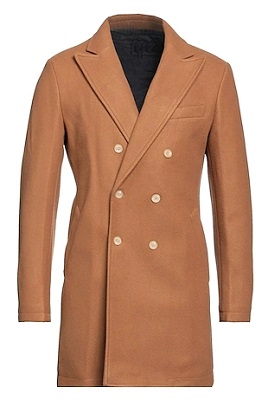 A good example of what you can find at Yoox if you dig around a little. Made in Italy from an 80% wool and 20% polyamide fabric, the Neill Katter has welted pockets instead of flapped. But the design is clean and classic. And if you switch out those light colored buttons for some darker ones, it should be a pretty good match. The coat is available in sizes 36 to 44.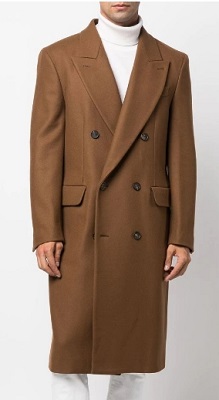 This one really could have been our Best Option. There are some small style differences between it and Bond's coat. But the Hevo has that dramatic longer length, the six button front and it's made in Italy from an 80% wool and 20% polyamide fabric in a nice shade of brown. And since regular retail is over six hundred bucks, it's a great deal. So what's the problem? They only have size 50 (a U.S. medium/large) in stock. If that's your size, I'd recommend grabbing it before it's gone!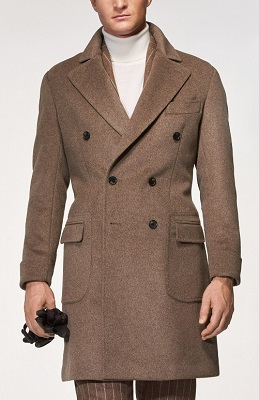 A darn good "inspired by" option with some interesting details. The martingale half-back, postbox style pockets and unique turnback cuff design add some character and may make it easier to dress down. And the 90% wool and 10% cashmere fabric adds a nice touch of luxury. Gutteridge have European sizes 44 to 54 (U.S. XS to XXL) on their website.
The Investment Pieces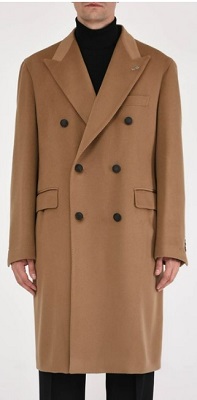 The color is more beige Camel than reddish Tobacco. But other than that (and the chest pocket), this a great alternative for Bond's coat if you don't mind paying up. Made in Italy from a 100% wool fabric, it has wide lapels with those sharp peaks, a long single vent at the back, the six button front and the flapped hip pockets. It's also a generous (but not oversized) cut with a longer length. Simply put, it's a classic coat that will always be in style. You'll find sizes 46 to 52 at Atterley.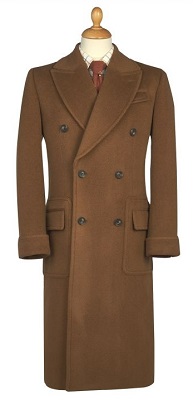 If I happened to have a thousand dollars to spend on a Bond-inspired coat, this is where I'd be sending my money. Obviously some of the details aren't screen accurate. But I find the postbox flapped pockets, that flapped chest pocket and the gauntlet cuffs to be interesting features that add some extra character. And then there's the fabric, a weighty 750g/26oz 100% wool that's woven in Yorkshire the same way they weave velvet to give it a beautifully soft texture. Yes, after all this time I still geek out over fabric. Sue me. Anyway, the next time someone tells you, "They don't make coats like they used to," show them this heirloom quality beauty.
Have a great alternative for the Tomorrow Never Dies James Bond overcoat? Tell us about it in the comments below! If you'd like to learn more about Brosnan's total outfit in the film, visit Bond Suits and BAMF Style. We also cover the details of 007-inspired fit and style in our series on How to Dress Like Bond. And remember you can visit our Facebook page, Instagram account and Pinterest Boards for more style icon inspiration!
Some of the photos used in this post were sourced from the great Thunderballs.org.