Yellowstone Western Style for Men Part 1
Good news! I'm not going to use this space to try and summarize five seasons worth of Yellowstone's plot! Either you're watching the hit Paramount Network show and know all about the intrigue and drama surrounding the Dutton family and the cast of characters associated with their gigantic Montana ranch … or you're not. Instead, I'm going to attempt something almost as challenging. We're going to sort through the vast assortment of awesome cowboy inspired clothing from the show and explore the best-of-the-best of that Yellowstone Western style.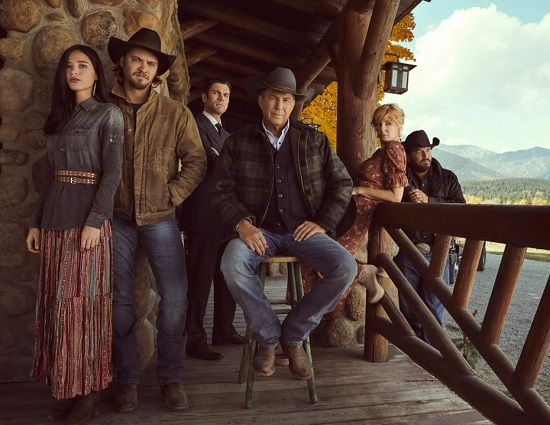 There's obviously a LOT to get through. So I'm dividing this post into two parts. In this post, we'll will look at some of the great outerwear from the series, worn by family patriarch John Dutton III, his son Kayce and ranch hands Rip and Lloyd. In our second post (coming soon!), we'll be exploring some of the other key pieces we need to get the style: the boots, the jeans, the shirts, the vests and the belts. Wherever possible, I've also identified the original brands and product models worn by the actors. And, since this is Iconic Alternatives, we'll also look at some great alternatives for each one that could work for any budget.
A little about that Yellowstone Western style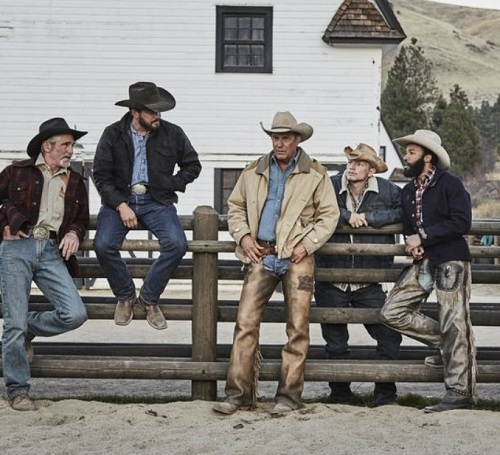 Yellowstone's costume designers Ruth E. Carter (season 1) and Johnetta Boone (seasons 2 to 5) have done a commendable job creating a variety of looks for the show that blend classic Western style with a more contemporary vibe so that the cast (for the most part) looks like they really work on a ranch. A large part of their success is thanks to the way they've combined vintage workwear with authentic cowboy gear and other pieces from brands that make clothing that's designed to handle tough jobs. Companies like Filson, Carhartt, Schaeffer Outfitter, Ariat, Woolrich, Levi's and Wrangler are all well represented. And of course we also get the occassional touch of higher-end fashion to add a bit of flash. This is a T.V. show, after all.
When comes to identifying the original pieces used on Yellowstone, I have to give a shoutout to the YouTube channel Northwest Farm Dad. He's done a great job analyzing the different jackets, jeans, boots and hats from the show and providing some background on each. There are also several excellent interviews with both Ruth E. Carter and Johnette Boone in which they discuss their design philosophies and how they create the wardrobes for each character.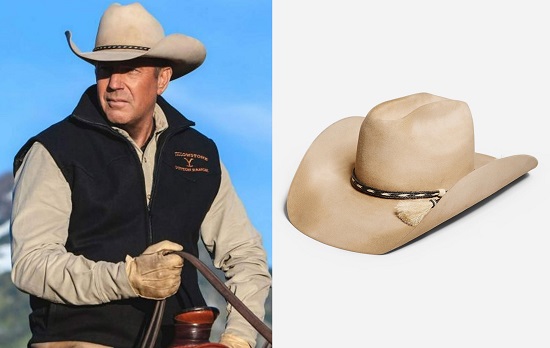 Paramount has also launched a partnership with Shop the Scenes, where you can buy some of the most popular pieces from the original brands worn by the cast. So if you want John Dutton's Greeley hat , Rip's Ariat boots or Kayce's vision quest buffalo skin (yes, seriously), that's a good place to start. You'll also find a ton of Yellowstone Ranch branded merch, furniture and accessories just in case those are on your Wish List.
Which brings us to our last point: there are countless of companies out there making replicas of the clothing. Especially the jackets. I haven't included any of those as alternatives below. Some of them may be okay. But I simply don't know enough about websites like "TrueAmericanJacketMaker.com" (or whatever their name may be) to recommend them. I hope you understand that decision.
Alright, let's take a look at some awesome Yellowstone Western style outerwear!
John's Retro Down Jacket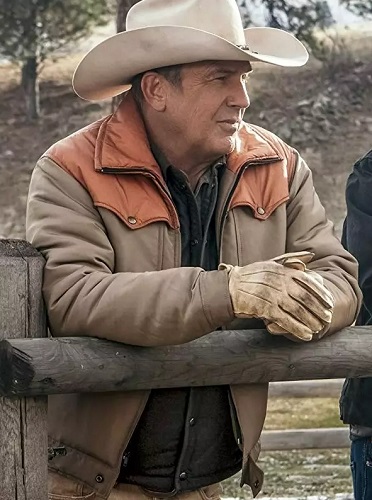 We'll get started with the now iconic piece that was there from the very beginning: John Dutton's orange and light brown down jacket. As our friend BAMF Style points out in his excellent analysis of Dutton's outfit, the jacket was custom made for the show by season 1 costume designer Ruth E. Carter. The design is actually based on an old ski jacket owned by Kevin Costner which, going by the details, was most likely a vintage Powderhorn from the 1970s (like this one available on Poshmark). Powderhorn is still making very nice down jackets today. But unfortunately, out of their current collection the only one that comes close to John's jacket is this one for $399.95. It's not a bad match. But there are other options that are better.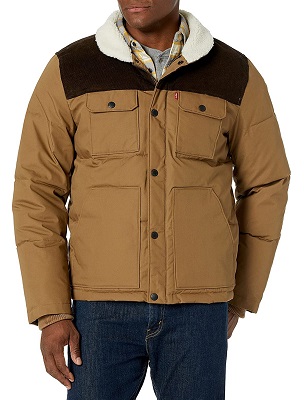 It has a shearling collar (which some of you may actually appreciate). And the yoke is a dark brown corduroy rather than orange nylon. But we are getting the two chest pockets that help capture some of John's vintage ski jacket style.
About as close as we're going to get off the rack. Most importantly, the points of the Western-style yoke act as the snap-closure flaps for the chest pockets, a design detail that's extremely difficult to find on alternatives. And it has the high collar you can turn up for additional protection from the elements. Of course the quilting and the colorway are different. But this one definitely has the rancher vibe we want at a very reasonable price.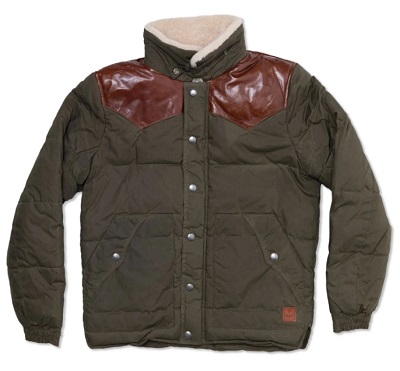 A great "inspired by" option that would be right at home on the ranch. And it's built to take some real wear and tear. Made with a 4.5oz waxed cotton shell, it's finished with a drum-dyed, veg tanned Western-style leather yoke, a bombproof Talon front zip and a genuine shearling collar with a snap-button throat latch. This one is stylish, well-made and it's going to keep you warm!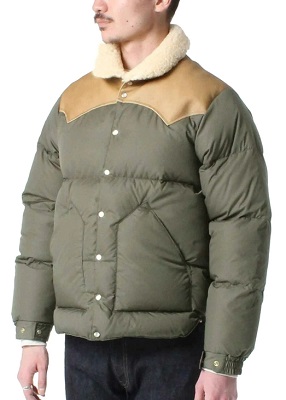 When it comes to Western-style puffer jackets, Rocky Mountain Featherbed is one of the most popular makers out there right now. And they deliver a high quality piece of outerwear to back up the hype. With a light but tough nylon taffeta shell and 700 fill power down insulation, the Christy Jacket will keep you warm and dry when the temperature really drops!
Also Try
John's Shearling Collar Corduroy Trucker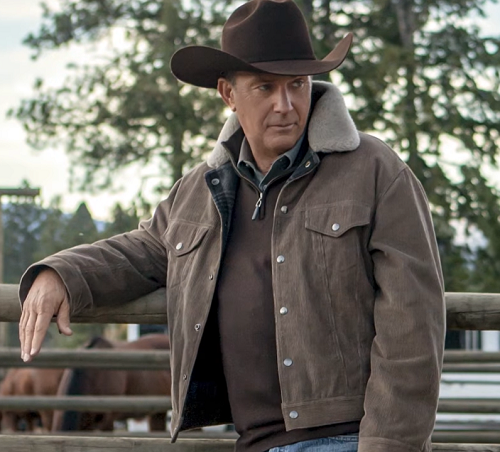 We'll skip ahead to season 4 for the next jacket. And, on the surface, it looks like a fairly typical sherpa collared corduroy trucker. The kind of jacket that's been offered by Levi's, Wrangler, Lee and numerous other brands for years. But knowing J.D., I'm guessing that collar is genuine shearling. Also, while most truckers on the market in this style use fleece throughout the body as well, John's is blanket lined. I haven't been able to find the original maker for this particular piece. But if you're willing to sacrifice a couple of details, there are plenty of alternatives available.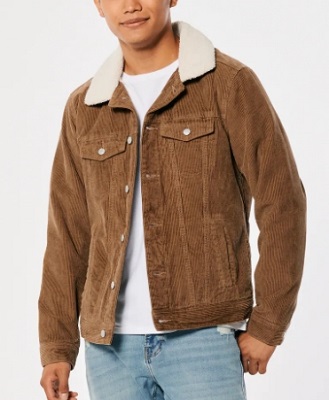 A simple, inexpensive option with some good customer reviews. Not exactly what we want. But it'll get the job done without breaking the bank.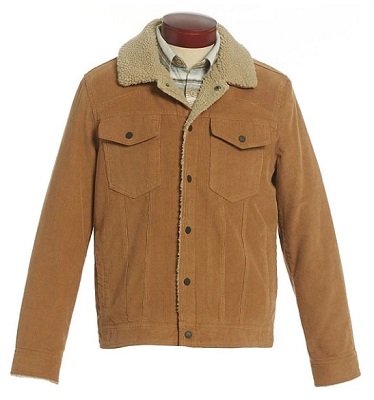 The color is more warm brown than taupe. But at least we're getting the snap button closures like we see on J.D.'s jacket. And the sherpa collar certainly looks more substantial.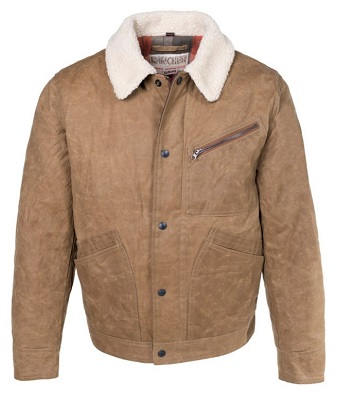 Obviously the design of the pockets is quite different. And the shell is a waxed cotton rather than corduroy. But this particular jacket is part of Schott's long running "Rancher" collection, which adds some serious authenticity. And I wanted to make sure we had at least one blanket-lined option on this list.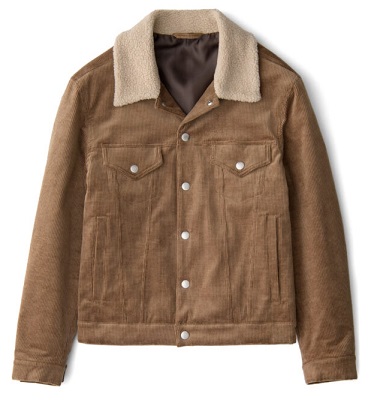 Out best alternative is also the most expensive. But boy, does it come close! And looking at the materials, it's certainly appropriate for a man of John's means. Proper Cloth makes the jacket in Italy with a 94% cotton, 5% cashmere and 1% elastane corduroy from the Duca Visconti mill. And finishes it off with a thick "Eco-shearling" collar and Italian nickle snaps. Luxury workwear, indeed! Unfortunately, Proper Cloth is down to sizes large and XL. So if you want one, act fast!
Also Try
John's Plaid Wool Coat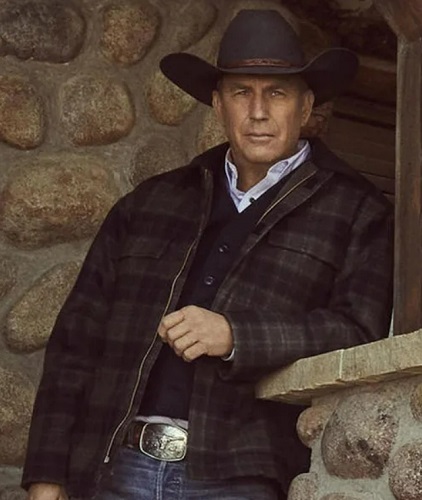 Ladies and gentlemen, here we have one of my favorite coats from John's collection. Mainly because I'm a sucker for vintage wool workwear. The style is very reminiscent of an old 1950s Mackinaw wool hunting jacket, with straight flap chest pockets, the pleated "action back" and a shorter cut. It also has what looks to be a moleskin collar in solid black. Despite those interesting details, I was once again unable to find the original brand John wore in the show.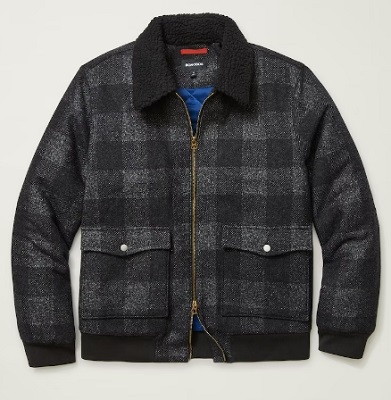 Although it's missing some of the details we want, this option definitely has the right vibe. And since the regular retail price is $349.00, that sale price makes it an amazing deal! Bonobos is down to sizes small to large on their website.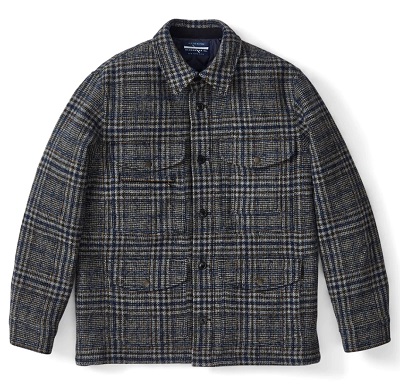 Probably my favorite "inspired by" option for John's coat. The style is based on the classic 4 pocket Mackinaw cruiser design, which gives it a great vintage look. But Guideboat has updated the fit to be a little less boxy than the original. And the 100% Melton wool fabric is going to provide a lot of warmth. Even better, this is another great deal, with the price now significantly down from the original $398.00. Sadly, Guideboat is sold out of sizes 38 and 40. But sizes 36 and 42 to 48 are still available.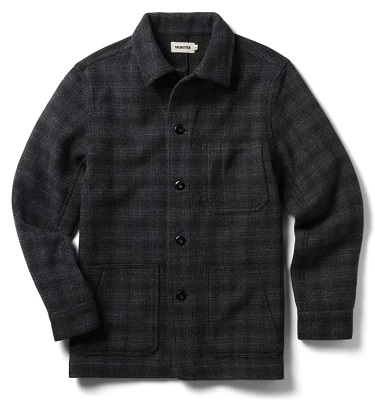 Althought the original inspiration for the Ojai jacket was 19th century French chore coats, it definitely works with the rugged Yellowstone Western style we're exploring here. Although they left the body of the jacket unlined, the heavy 14.5oz wool-blend fabric will provide plenty of warmth. And the brass ring-and-pin horn buttons add an authentic vintage touch.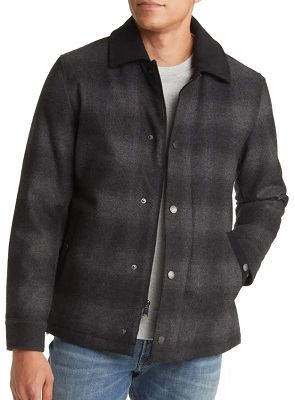 It's more of a shacket-style piece. Which means no front zipper. But if you want a slightly lighter weight wool jacket, this one delivers the look we want. Especially that contrasting black collar. And the fact that Pendleton is a well-known heritage brand certainly doesn't hurt!
Also Try
John's Shearling Western Jacket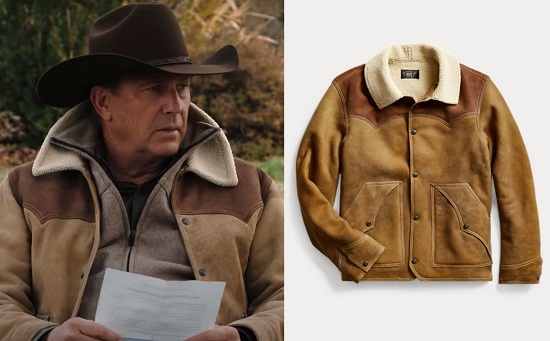 I'm honestly not sure if anyone has yet identified John's shearling coat from season 3. I know that many of the sheepskin pieces used in the show were made by a small outfit in Pennsylvania run by Pat Garrett (you can see an interview with him here). So there's definitely a possibility it's one of his designs.
Edit: Big thanks to our friend on AJB007 McQueen, who informed me that the jacket is a Ralph Lauren RRL model from their Fall 2019 collection! Really appreciate the insight!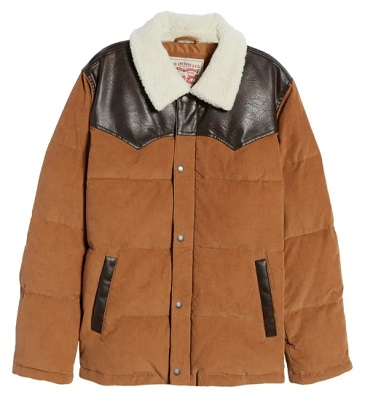 The affordable option that does a decent job capturing the look of John's coat. The shell is a 67% polyester and 33% cotton blend corduroy, with a faux shearling collar and faux leather yoke. And the synthetic insulation should help keep you warm on all but the coldest of days. Not exactly a luxury piece of outerwear. But if you pop the collar and wear it with the right "Big Time Ranch Owner" attitude, it's not a bad alternative for the price.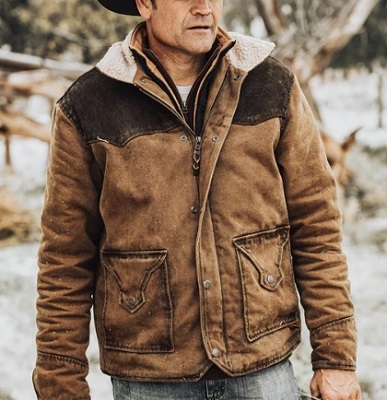 A good "inspired by" alternative for those of you looking for a lighter weight alternative. The shell is a cotton canvas with a genuine suede yoke. However the jacket is not insulated. So it's more of a fall/spring piece if you live in a colder climate. And now we get to play the "find your size" game. You'll find sizes XS and 3XL to 4XL on the STS website for $179.99. Head over to Teskey's if you need a small or a medium for $174.99. And Nigro's Western Store has the jacket in XL for $184.99. Unfortunately, I couldn't find it in size Large anywhere. I'll also note that many customer comments state the jacket runs small. So you may want to consider sizing up.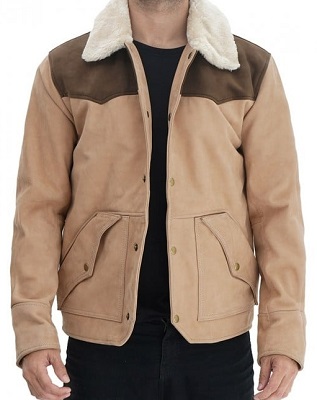 I know I said, "no replicas" at the start of this post. Mainly because there are so many fly-by-night companies out there trying to cash in on the Yellowstone style craze with cheap knock-offs. But I'm making an exception for Angel Jackets for three reasons.
First (and this is very important to me), the photos on their website are of their actual product. So you have a pretty good idea of what you're actually going to get. Second, a representative from Angel Jackets reached out to me about another model they make and I've had good communication with them. So I know there are real people that stand behind the company. Third, Angel Jackets has a solid reputation online. It's been around since 2010. It's accredited by the Better Business Bureau (where it's held an A rating for over 2 years). And on Trustpilot, it has 4.9 stars out of 5 after nearly 800 reviews. As you can see, I did my homework before sharing them here.
Now about the jacket. This model has a genuine suede outer with a faux shearling collar and a polyester line. It's also uninsulated. So it's really more of a 2 or 3 season jacket. You'll find sizes XS to 3XL on their website.
A leather jacket that (aside from the darker color) pretty much nails the style of John's shearling. Scully has used genuine suede for the outer and yoke, while the collar is a faux shearling. But this one is also uninsulated. So it's more of a 3 season jacket. Overall, a great alternative at a reasonable price that delivers the look we want without the weight (or warmth or higher price tag) of genuine shearling.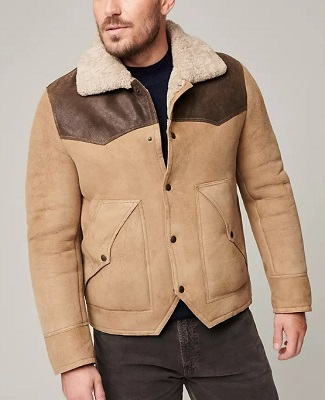 A newer model from the Taos, New Mexico experts in shearling that comes incredibly close to what we want. As for the quality, this jacket is four pounds of Western-styled genuine shearling that's pretty much guaranteed to keep you warm and toasty. It's an investment to be sure. But with proper care, it'll last for decades. Overland has a full range of sizes available on their website.
As an interesting aside, Cowboys & Indians magazine's November/December 2022 issue features actor Luke Grimes, who plays Kayce on the show, wearing the Overland Mustang on the cover. So there's also that connection. Which is nice.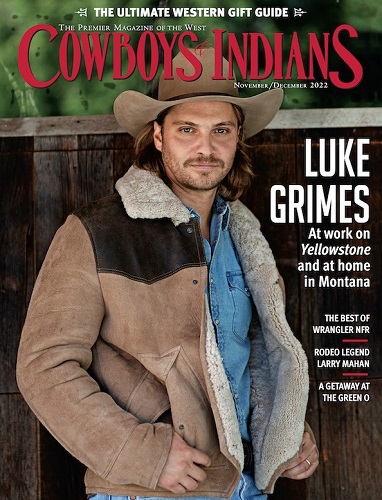 John's Waxed Cruiser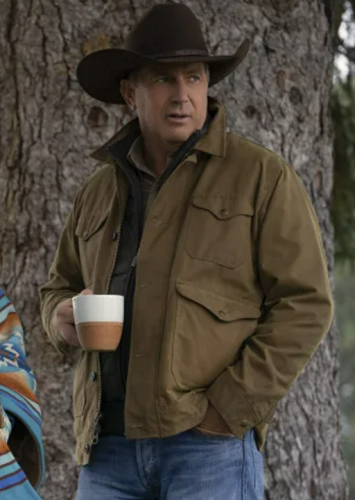 John wears two similar waxed cotton cruiser style jackets in the show, one in charcoal with a black corduroy collar and the tan one above . Since we'll be looking at one of Rip's dark colored coats a little later in this post, I decided to focus on John's lighter colored model here. General consensus is this was a custom model from Filson. And since the brand has been known to create special pieces for Yellowstone, that seems likely based on the details. Even though Filson does have a separate area of their website dedicated to Yellowstone, this particular coat has yet to show up. So it's on to the alternatives!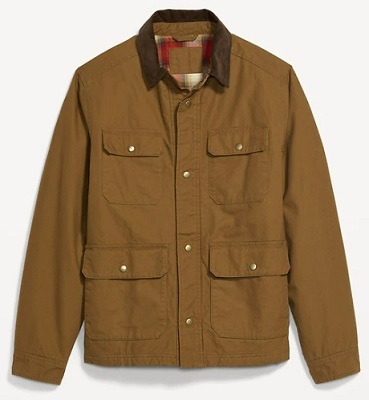 Get that J.D. style on a budget! The style is more New England Park Warden than Western Rancher. But it's not a bad match if you just want a beater coat for the weekends.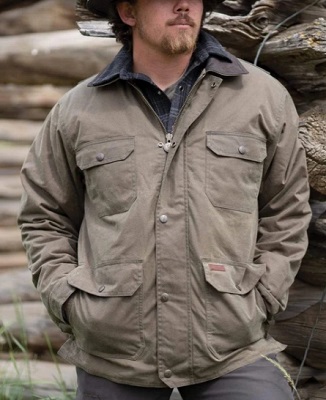 Design-wise, it's delivering a lot of what we want. And it's packed with tons of features: a 12oz Oilskin shell, brass two-way front zipper, a pleated action-back to improve your range of motion, snap button gussets at the hem (for when you're on your horse), and a nubuck leather collar. There's also that sale price, which knocks over $90 off the original retail. This is definitely one to seriously consider!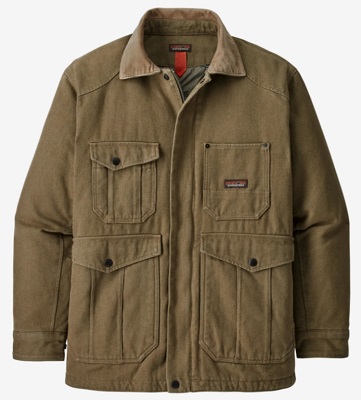 Patagonia are masters at offering practical yet stylish designs that also reflect their commitment to protecting our environment. For their Barn Coat they've used Iron Forge Hemp, their proprietary fabric that's a blend of 55% industrial hemp, 27% recycled polyester and 18% organic cotton. It's softer than traditional duck canvas but also 25% more abrasion resistant. To add some warmth, Patagonia has packed the jacket with Thermogreen insulation, which is also made with 100% recycled polyester. A great choice if you're looking for a coat that's warm, durable and built with the state of our planet in mind.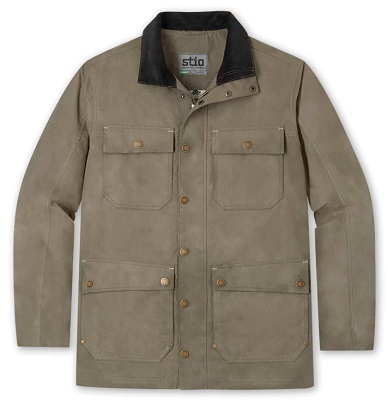 It's all business on the outside: Cruz waxed cotton canvas from the renowned Halley Stevensons Mill, heavy metal zippers, brass snaps and big, practical pockets. But inside it gets a little playful with a vintage looking cowboy print liner. The cut of the jacket is also a little trimmer than your typical workwear.  Which makes it a good choice for your "country in the city" fits.
Also Try
John's Waxed Diamond Quilted Field Jacket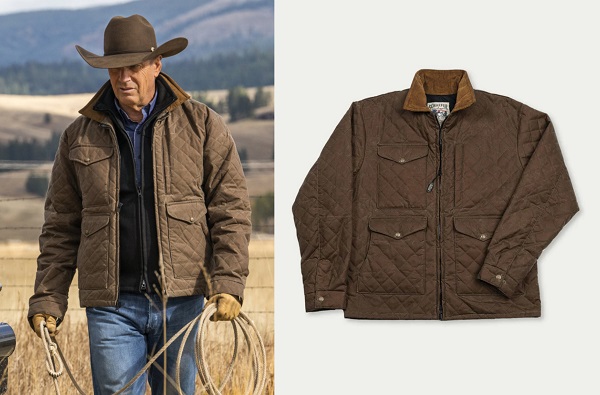 Another of John's standout pieces from season 4 was this three-pocket, brown quilted waxed cotton jacket. The original is the made in the U.S. Schaefer Outfitter Rangewax Blacktail Quilted Jacket in Oak, which retails for $325.00. John also wears the same jacket in a forest green on the show. Unfortunately, the Blacktail is completely sold out right now in any color. But looking at the details on the Schaefer Outfitter's product page, it certiainly does seem to be the kind of jacket that's worth waiting for.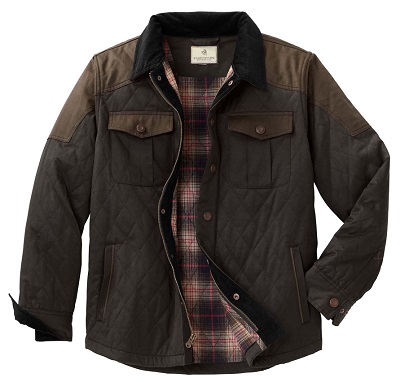 A shirt jacket style with the emphasis on the "jacket" part. Although it differs from John's outerwear in some key details, the trucker-like chest pockets, waxed cotton yoke and blanket lining give it the right Rancher look.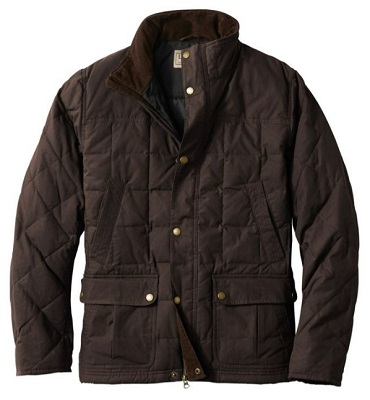 A big jump in price. But now we're getting a true waxed cotton outer shell, DownTek 650 fill power insulation (which dries 66% faster than regular down) and nice brass hardware. So the jacket has both the functionality and the style we want. L.L. Bean has sizes small to XXL in regular and tall fits.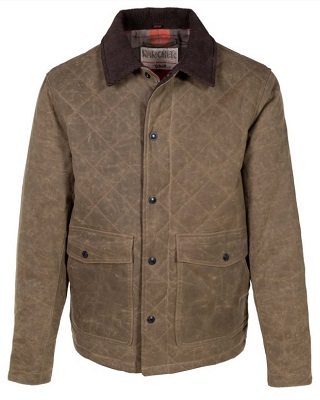 Another model from Schott that's part of their "Rancher" collection. In terms of looks, it's a little more rugged than what J.D. wears. But that's not a bad thing. Especially if you want your outerwear style to be more Western and less English Countryside.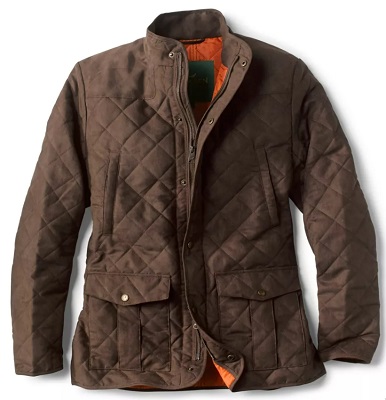 The design is very similar to the L.L. Bean option above. But Orvis has added some modern features to the heritage style. First, the fabric is actually Teflon coated rather waxed. It won't patina the same way waxed cotton will. But it will be easier to keep it clean. And they've used a Thinsulate insulation instead of down. Other than that, I think the points on the pocket flaps and the shooting patches on the shoulders add a little more Western flavor to the design.
Also Try
Kayce's Waxed Trucker Jacket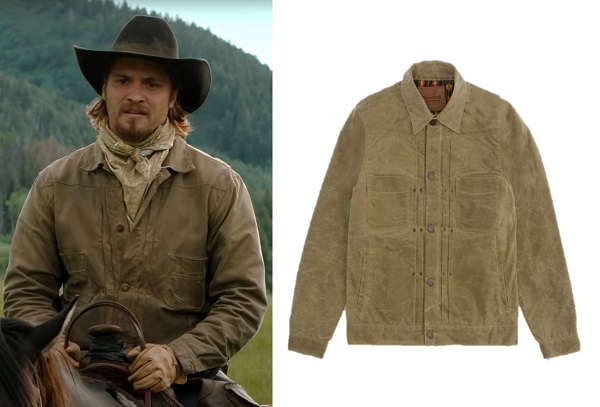 Kayce's signature jacket. And one piece from the show that anyone familiar with popular workwear brands can easily identify. This is the Freenote Cloth Riders Jacket in Tobacco. And it's been around for years. Made in the U.S. using a 10oz Martexin waxed cotton canvas and lined with a Southwestern printed fabric, the design is based on the classic Levi's Type II trucker. A telling detail is the riveted pleats running along the placket. It really is a sharp piece of outerwear. And it's still available for around $400. You can find sizes small and XL on the Freenote Clothing website. Or over at Franklin and Poe, they have small, medium and XXL in stock. There aren't many in size Large floating around right now. But I expect this one will be restocked regularly if you're patient.
Of course, we also have some great options if we're happy with an "inspired by" alternative.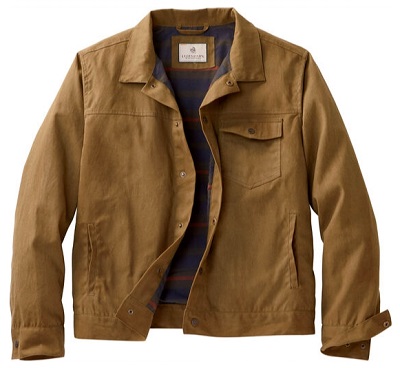 It's a much cleaner design than Kayce's jacket. But 100% waxed cotton outer shell and blanket lining definitely help give it the right vintage look. If you're personal style leans a little more minimalist, it's a solid option for the price.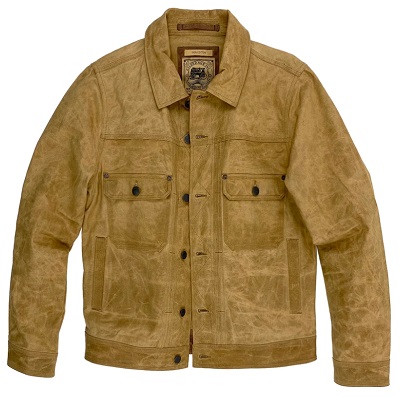 First, we have to note that this is an unlined jacket. But other than that, the lower chest pockets and pleats along the placket do a great job capturing the retro-style of the Type II trucker. Gilded Age has also added lots of interesting details, like the contrasting dark brown waxed cotton inside cuffs and placket and under the collar, the contrasting dark red seam trim and the leather hang loop. All in all, a very nice piece of rugged outerwear!
Also worth a note: Gilded Age offers a blanket lined version of the Winslow in Black for $329.00. Could be a good alternative for Rip's jacket above.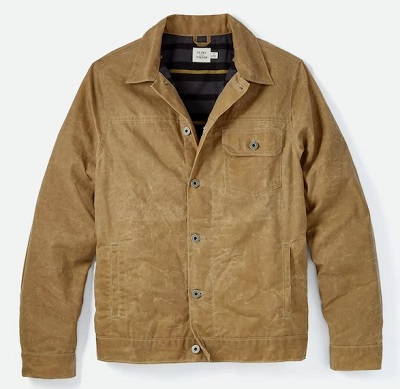 The same jacket we discussed above as an option for Rip's black trucker, but in the Field Tan color. Sizes small to 3XL are available in this one.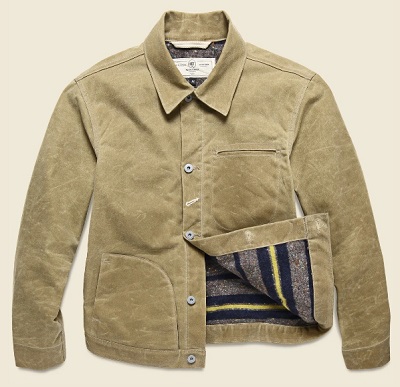 Any fan of James Bond style knows this one. And if you do need an introduction, check out our dedicated post on the jacket. This is basically the same model Daniel Craig wore in No Time To Die, just with a striped wool-blend blanket liner for extra warmth. The shell is the same 10oz waxed cotton canvas. And Rogue Territory still makes the Supply Jacket in downtown Los Angeles. I've linked to Stag Provisions above since it's currently sold out at Rogue Territory.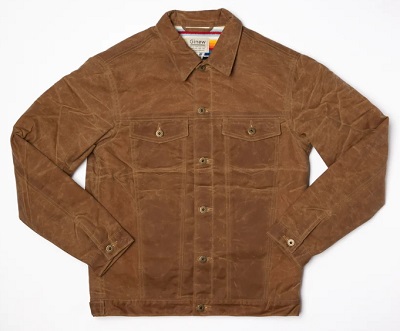 We shared another Ginew jacket in our post on the classic Lee Stormrider. And it's a very interesting company. The owners, Amanda Bruegl and Erik Brodt, are both Native American and infuse their designs with elements that symbolize their heritage. This particular jacket is inspired by Amanda's grandfather, who was a welder at Harley Davidson in the 1950s and 60s. Made from a 10oz Army Duck waxed canvas, it's lined with a custom wool blanket woven by Pendleton with a colorful "Facing East" pattern created by Sičáŋǧu Lakota artist Dyani White Hawk. And they whole thing is built in the U.S.A. with materials sourced from U.S. suppliers. An expensive jacket. But one that delivers extremely high quality and a fascinating story.
And, again, a quick mention that this jacket is also available in Black for the same price. Just in case you're looking for another option for Rip's jacket!
Also Try
Black Waxed Trucker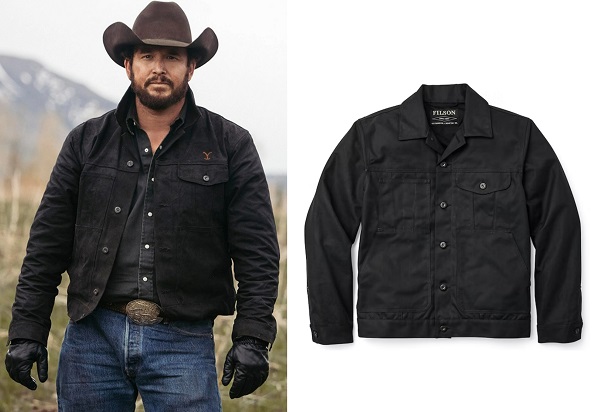 It's the Rip-iest jacket Rip ever wore. So of course we have to include it in this post. My understanding is this started as a custom version of Filson's standard Tin Cloth Short Lined Cruiser, made in black specifically for the show. However, given the show's popularity, Filson decided to start offering it as part of their Yellowstone Collection. So you can find the jacket on the their website, priced at $350.00. You just can't buy it because it's completely sold out. Hopefully they'll be receiving more inventory in the very near future. But if you just can't wait to get some of that Rip Wheeler style, we have some great alternatives below.
It's a little more "utility jacket" than "cowboy trucker". But Flag & Anthem does a nice job giving that heritage Americana look a bit of a contemporary twist. Here we get a cotton-blend outer shell with a little Spandex mixed in to provide some stretch. And the poly insulation will help keep us warm on those chilly fall days. Sizes medium to XXXL are available on their website. And, at the time of writing, you can use the code "COLD30" to take an additional 30% off the price!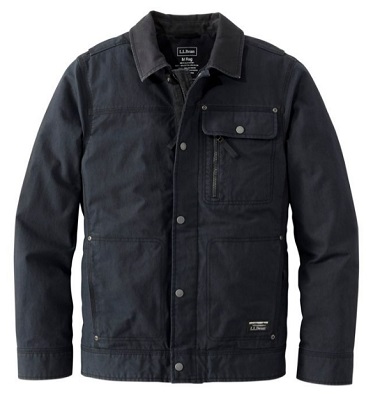 East Coast legacy brand L.L. Bean has really leaned into the workwear vibe for their utiltiy jacket, adding rivets on all the pocket corners for extra re-inforcement. But it certainly looks like something Rip would like. On a practical note, the 60% cotton and 40% nylon outershell has been treated to provide extra water resistance. And the 60-gram PrimaLoft insulation should keep us plenty warm. The jacket comes in both regular and tall fits as well.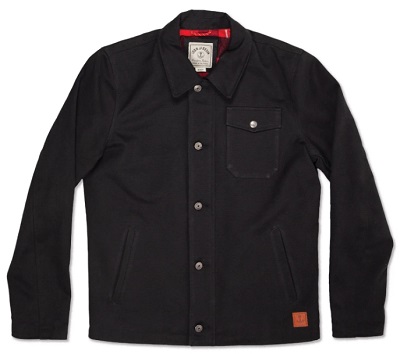 Another great piece of outerwear from Iron & Resin. This time they've used an 18oz cotton duck canvas for the shell and lined the jacket with a custom Buffalo Plaid flannel for extra warmth. Add in a heavy YKK zipper, reinforced stress-point and some custom shank buttons and you've got a jacket that can handle the cold and some wear and tear.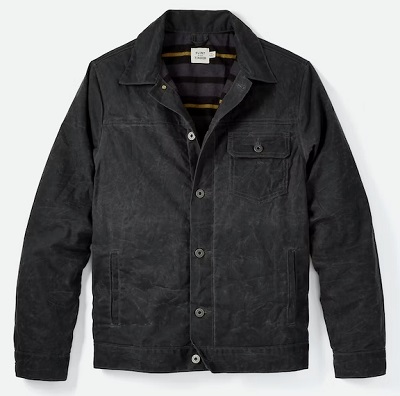 Huckberry's in-house label Flint & Tinder has rightly earned a lot of respect from fans of rugged style. And their Waxed Trucker Jackets are definitely their standout piece. Made in the U.S.A. from a 7oz waxed Martexin sailcloth and lined with a blanket fabric, it's the kind of jacket that's just going to get better with age. I've gone with the Coal color above since Huckberry currently has more sizes available in that one. But if you're a Large or XL, you can also get it in Black.
I'll also mention that if you want to upgrade, Huckberry offers the jacket with a Japanese wool-blend blanket lining for $358.00. That one doesn't come in Black. But they do have it in a "Chocolate" color that looks like a very, VERY dark brown. Just something to consider.
Also Try
Rip's Waxed Cotton Field Jacket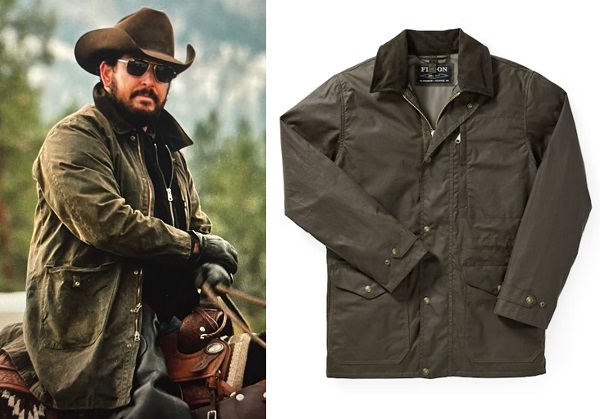 Believe it or not, Rip does wear some other outerwear on the show. Here we have the Filson Cover Cloth Mile Marker coat in Otter Green, which retails for $395.00. And some good news: Filson actually has some sizes left in stock in this one! The style of the jacket is very similar to Filson's standard cruiser design. But the two flap chest pockets have been replaced by a single zippered pocket and the cut is a little longer. The dry finish 8oz 100% cotton Cover Cloth is also lighter weight than Filson's more well known 14oz Tin Cloth. But the Mile Marker should still be able to handle plenty of abuse.
Since this is a very common coat style, we have plenty of solid of alternatives to choose from. Just in case Filson doesn't have your size in stock (or you don't want to spend $400).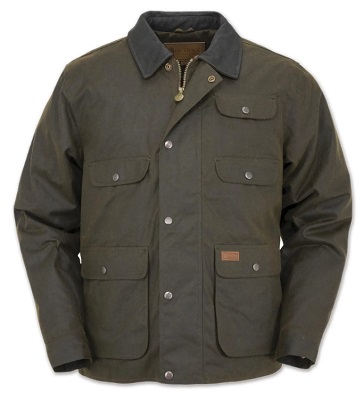 Another option inspired by our friends in Australia. And it has both the looks and the functionality we want. The features are very similar to the Outback Trading Co. Gidley Jacket we shared above (12oz Oilskin shell, brass two-way zipper, nubuck leather collar). But the style and color are more in line with what we see Rip wearing. Another great option at a very reasonable price. I've linked directly to Outback Traiding Co. above. However, if you're a size medium or large, head over to Novica. They have those sizes in the Overlander for $199.00.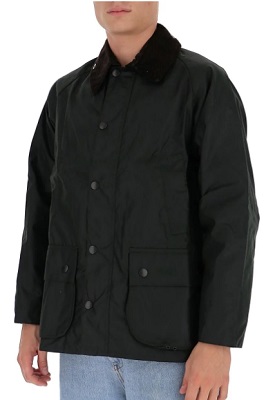 With all this talk about waxed jackets, you knew Barbour was eventually going to make an appearance. And the truth is, the British heritage brand has plenty of models that will do the trick. I've gone with the Bedale since it's one of their most classic styles that was actually designed for riding. As for pricing, I've linked to Cettire above, where they have most sizes in stock. If you're okay getting the Bedale in Black instead of Sage, our friends at Michael Stewart have the jacket on sale for $195.28.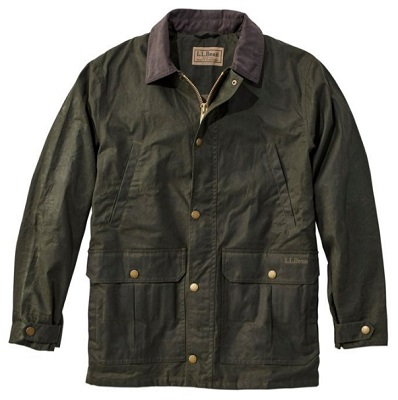 It has chest-height handwarmer pockets and the pleated bellows pockets. But other than, the style come very close to checking all of our Features Wanted boxes. Bean's Upland Coat also comes with a ton of useful design details, like the front game pocket, action back and two-way brass zipper. But the real benefit is the fabric. L.L. Bean worked with the British Millerain Mill to create a waxed cotton you can actually wash in the machine! And that should make keeping it clean a heck of a lot easier.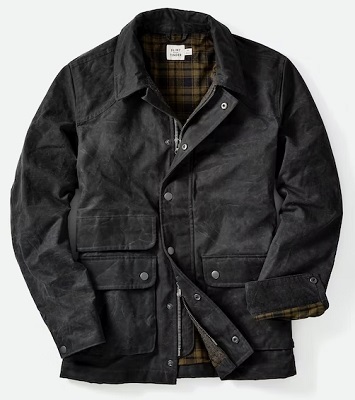 Flint and Tinder delivers once again. Their Hudson jacket is made with British Millerain cotton canvas that's finished with a weather resistant coconut wax, which gives the fabric a drier, less oily feel. Inside, it's lined with a cozy 100% cotton flannel. Add in the rear game pocket, shooting patches at the shoulders and a heavy two-way front zipper with a wide storm placket and we've got a jacket that'll keep us warm and dry on a chilly, rainy day out in the wild.
Also Try
Lloyd's Vintage Mackinaw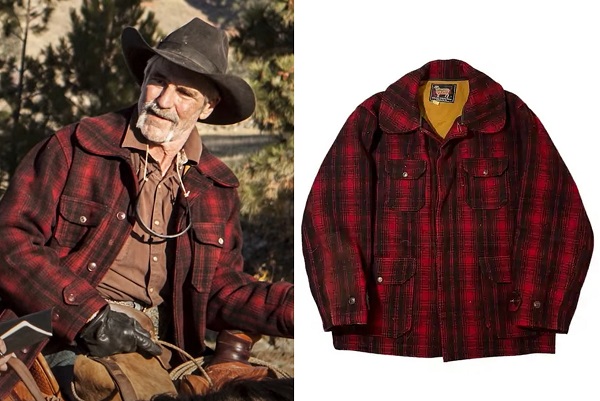 John's grey plaid wool coat may have the looks of a old time wool coat. But Lloyd's is the real deal. Yellowstone's senior ranch hand wore a vintage Woolrich Mackinaw Wool Cruiser Coat, most likely from the 1950s or 1960s. If you want the actual original coat, there are some great deals to found online for used ones, with prices ranging from under $100 to over $400, depending on the condition of the piece. I've actually found a couple myself when I was doing more thrifting. Just note that the originals are very heavy, fit big and have an extremely boxy cut. So I'd strongly recommend asking any seller for specific measurements before buying.
However, if you'd prefer a new coat to help keep you warm, we also have plenty of excellent alternatives!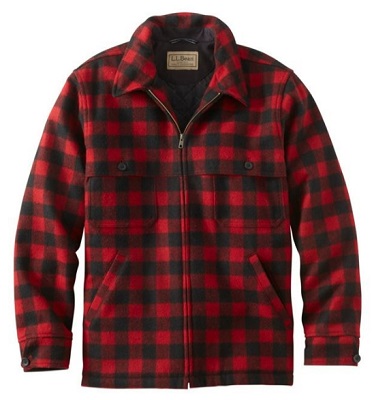 A more contemporary interpretation of the classic Mackinaw which, if we're being honest, many of us will probably find more versatile for day-to-day use. The shell is an 85% wool and 15% nylon blend and it has the classic double layer "cape" over the shoulders. This model is insulated with PrimaLoft. But L.L. Bean also offers an unlined version for $169.00 if you prefer something in a lighter weight.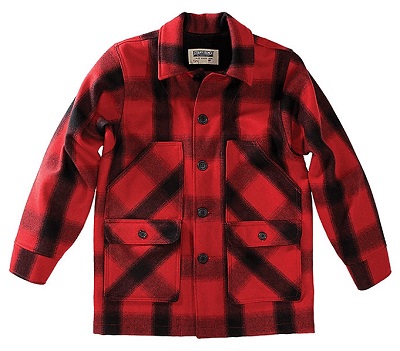 A bit of a variation on the traditional Mackinaw design. But this made in the U.S.A., 100% virgin wool option still delivers the rugged heritage style we want. Just note that this one is unlined. So I'd definitely suggest layering it over a sweater or heavy flannel shirt to cut down on the itching.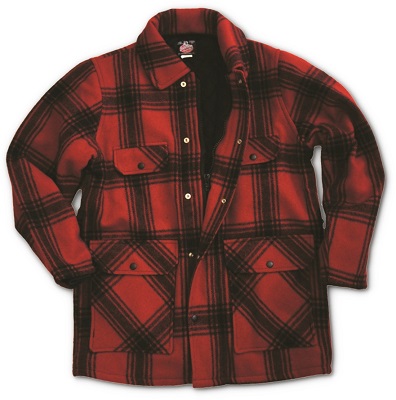 The real deal. Back in the day, there were four brands that were best known for producing bombproof wool outerwear: Woolrich, Filson, Pendleton and Johnson Woolen Mills. Unlike some of the others, Johnson is keeping the tradition alive and still making their classic designs at their Vermont factory from their own wool fabric. And their wool hunting coat, which is based on a design they've been making for almost 100 years, is about as authentic as it gets. It's also lined with a tricot fabric to reduce the itchiness. Believe me, when it comes to heavy wool coats, that's more important than you may think!
Now a couple of quick notes about models. I've linked to the Johnson Woolen Mills Hunting Coat above, mainly because the design and the plaid pattern come closest to Lloyd's coat. Unfortunately, sizes on that one are running a little low (although these coats are cut big, so you may want to consider dropping down a size). But they also make the Outdoor/Hunting Coat ($339.95 to $499.95 depending on the size), which is another great choice if you don't mind a more traditional Buffalo check pattern. They have a full size run in that model. And Johnson Woolen Mills also has their 100% Wool Traditional Mackinaw for $369.95 to $479.95. It also has many of the same design features as the other coats, but comes in a large black and red plaid check fabric. Whichever one you choice, know that you are definitely investing in an heirloom piece!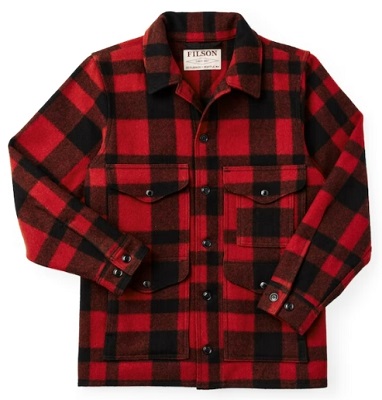 Another classic that's been around since 1914. And the design has barely changed in all that time. This is also one of the coats that Filson is still thankfully making in the U.S. from 100% virgin wool. However, do note that Filson's Cruiser is unlined. It's warm! But, again, I'd layer it over a sweater or flannel shirt to reduce the itchiness of the heavier, coarser wool. The Crusier comes in both regular and tall sizes.
Also Try
Have some suggestions for coats and jackets that will help us get that Yellowstone Western style? Or did I skip a piece of outerwear from the show in this post that you'd like to see us tackle next? Tell us about it in the comments. And if you'd like to read more about workwear and cowboy inspired outerwear, check out our articles on the iconic Lee Stormrider denim jacket and the classic canvas utility jacket! Also remember to visit our Facebook page, Instagram account and Pinterest Boards for more style icon inspiration!