Iconic Style: The Lee Storm Rider Jacket
The Levi's Type III may be the most famous denim jacket in history. But when actors, directors and costume designers needed a character to look authentically "Western", there was one piece of outerwear they turned to again and again: the iconic Lee Storm Rider.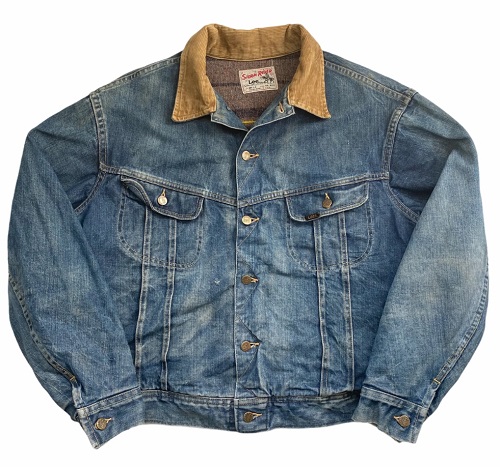 A little Lee Storm Rider Jacket History
The story of the Storm Rider begins in the mid-1930s, when the H.D. Lee Corporation released the 101J denim jacket as part of its new "Lee Riders" collection. The jacket was an almost immediate hit with working cowboys and ranch hands due to its durability and slimmer fit. In 1948, Lee reworked the 101J, removing the pleating from the sides of the plackets and adding two flapped chest pockets. The new version, also dubbed the 101J, was an innovative design that pre-dated the similar Levi's Type III by almost 20 years. Lee launched the blanket lined version of the 101J (the 101LJ) in 1949, adding the corduroy collar. And in 1953, the model gained its official name: the "Storm Rider".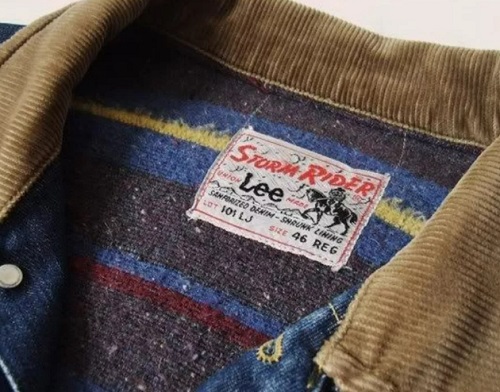 Hollywood discovers the Lee Storm Rider
Given the 101LJ's popularity with actual cowboys, it's no surprise the jacket would become an integral part of costuming in contemporary Hollywood westerns. It immediately added authenticity to the characters and, thanks to its slimmer fit, also looked great on the actors. Marilyn Monroe toughened up her feminine image with Storm Rider in 1961's The Mistfits. And Paul Newman wore two Storm Riders as Hud Bannon in 1963's Hud. You can read more about those looks on the great BAMF Style website here and here.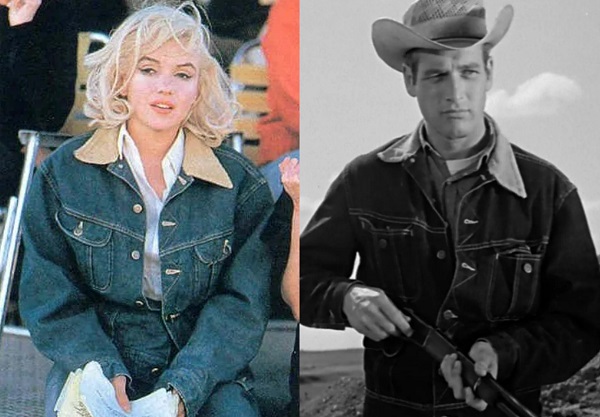 By the late 1960s, the use of the Storm Rider in Hollywood had evolved beyond westerns. Steve McQueen had one in his personal wardrobe. And Alain Delon wore a 101LJ in 1969's La Piscine. It was a trend that would continue for the next two and half decades. From Clint Eastwood in Every Which Way But Loose (1978) and Robert Redford in The Electric Horseman (1979, read more about that look on BAMF Style) to Keanu Reeves in Point Break (1991) and Nicolas Cage in Red Rock West (1993), it seemed like the Storm Rider was coming close to replacing the black leather jacket as the "Hollywood rebel" outerwear of choice.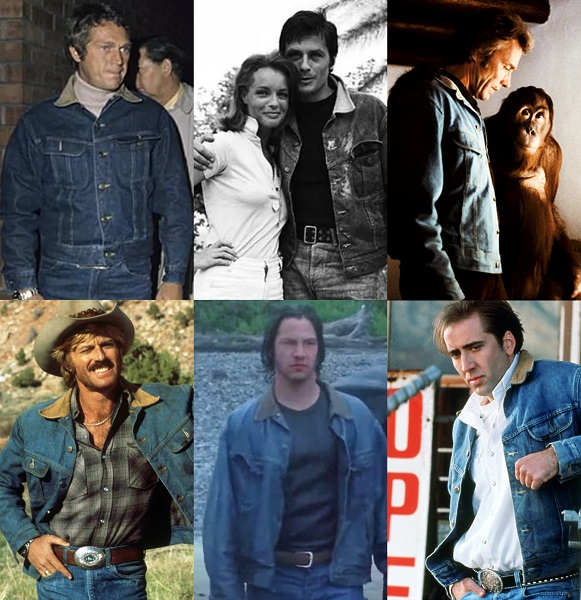 The Storm Rider returned to its Western roots with Heath Ledger donning a vintage 1970s model in 2005's Brokeback Mountain. And it's still a favorite with modern style icons like Ryan Gosling, who wore a vintage 101LJ on the promotional tour for his 2016 film La La Land.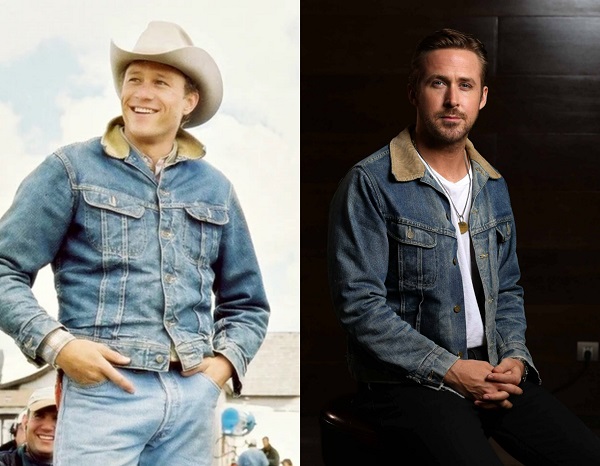 Long story short, if you're looking to add a little Western attitude to your personal cool weather wardrobe and want to stand out in a crowd of Type III truckers, the Storm Rider is the way to go.
The Original Lee Storm Rider Jacket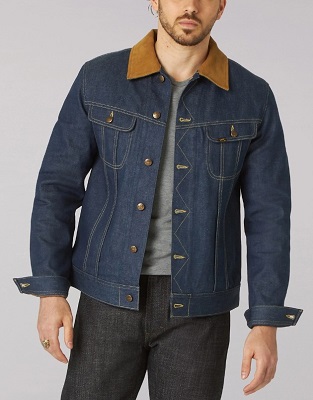 Every once and while Lee will issue a high quality reproduction of their classic Storm Rider under their 101 sub-brand for the European and Japanese markets. Unfortunately the latest iteration, released in 2021, is now sold out almost everywhere.
However, it's worth mentioning that there's no shortage of used Storm Riders on Ebay, Etsy, Grailed, Depop, etc. Finding a good deal on a used one can be a little tricky and you'll find prices ranging anywhere from $40 to $600. The most desirable models are the ones from the 1960s, when Lee was still using a 100% wool blanket liner and the build quality was top notch. Unfortunately, plenty of people are trying to sell Storm Riders from the 1980s and 90s for over inflated prices. Yes, those are technically "vintage" 101-LJs. But they're not the "vintage" you want. I strongly recommend reading this article on Heddels before beginning your hunt.
Best Option for the Lee Storm Rider Jacket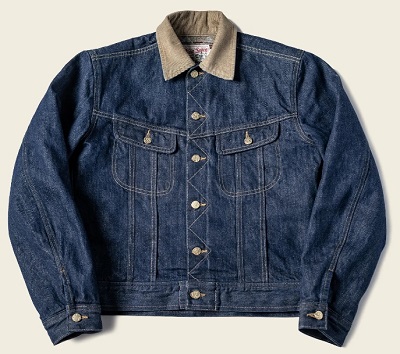 Founded in 2012, Bronson isn't nearly as well known as the more famous heritage American or Japanese repro brands. However, from what I could gather from online reviews and comments, they do make some darn good products for the money. And their take on the classic 101LJ nails almost all the details the we want. The shell is a 12oz denim and features the correct rounded and slanted chest pockets, zig-zag stitching down the placket and corozo buttons at the waist tab adjusters. Inside, it's lined with a 100% polyester fabric with a Native American inspired pattern. So pretty everything we could ask for at a reasonable price. Just two things to note: shipping can take from 2 to 3 weeks, so you'll need to be patient. And pay very close attention to the sizing chart. There are lots of comments out there about the Bronson pieces fitting small.
Under $100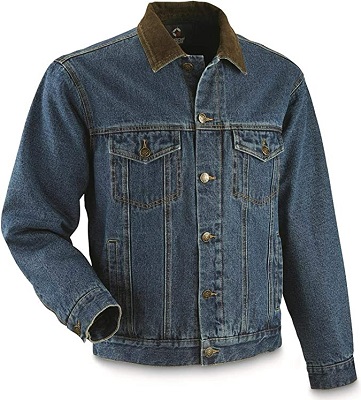 Part of what makes the Storm Rider so iconic is its saddle blanket lining. This alternative does not have a saddle blanket lining. Instead Gear Guide has used a quilted, polyester insulation to help keep you warm. But the outer material is 100% cotton denim, the overall design is a timeless Type III and it has 4.6 stars out of 5 on Amazon after more than 200 reviews. Which, for me, is a pretty good sign that it delivers good value for the money. Sizes medium to 3XL are in stock and most of the comments say it fits true to size.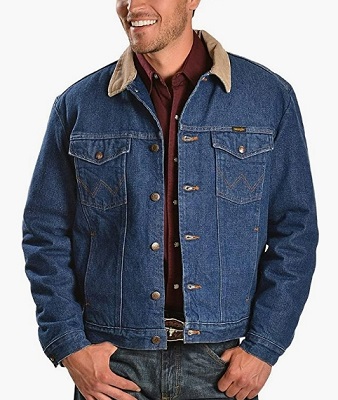 An alternative from another heritage denim brand that's not Levi's. McQueen was actually a fan of the Wrangler brand and wore one of their western shirts in the film Baby, The Rain Must Fall. But just note that in no way is this particular jacket some sort of fashion piece. This is a traditional denim jacket, made with a stiff 100% cotton for the outer material, a thick blanket lining and a boxier, fuller cut. It's built to take a beating on the farm or job site and it's going to take some effort to break it in. If you're fine with all that, then it's great value for the money. Amazon has sizes 38 to 50 in stock. Many of the comments recommend going a size up, which is a little odd considering the jacket's more forgiving fit.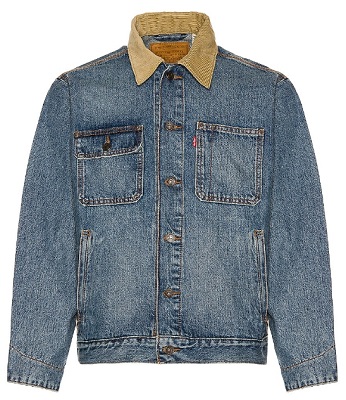 Levi's went a different route with their version of the corduroy collar denim jacket. This season they skipped the usual references to the Type III or Storm Rider and instead went with a simpler, cleaner design. They also left it unlined, so don't expect it to provide the same level of warmth as a blanket lined trucker. But if you like slightly oversized, boxier fits it's worth checking out. Revolve Man has most sizes in stock, although they're sold out of Large.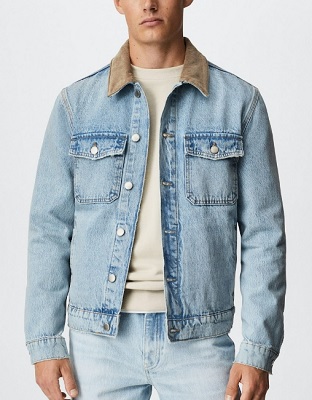 Mango's minimalist take on the corduroy collared trucker comes pre-faded. And based on the product photos, it appears they've done a nice job of giving it an authentic broken-in look. It also has a trimmer, more contempory cut. Which is great for those of you who aren't fans of the boxier fit we often find in this jacket style. Like the Levi's above, this one is missing the blanket lining. So it's more of a warmer weather piece. Sizes XS to XL are available on their U.S. website and sizes XS to Large on their UK site.
Under $200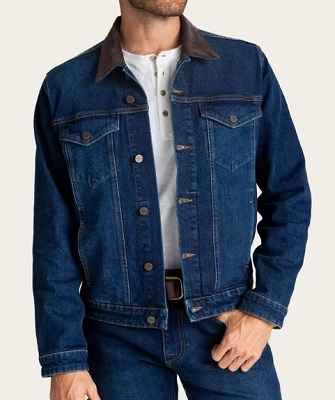 Tecovas was founded in 2015, so the brand doesn't have a long history. But it started making a name for itself in the world of cowboy boots from the get-go. Turns out it also offers some great Western wear as well. Tecovas based its jacket on the classic Type III style. But they've made some subtle changes, like the on-seam handwarmer pockets, to give the design a cleaner look. This is another unlined jacket. However, the design is a nice balance between a trimmer, contempory fit and the more traditional, boxier cut. So there should be enough room to layer it over a light sweater or heavier flannel shirt if you need some extra insulation. With 4.8 stars out of 5 after close to 300 reviews, it looks like Tecovas have delivered a winner. They have sizes small to XXL available.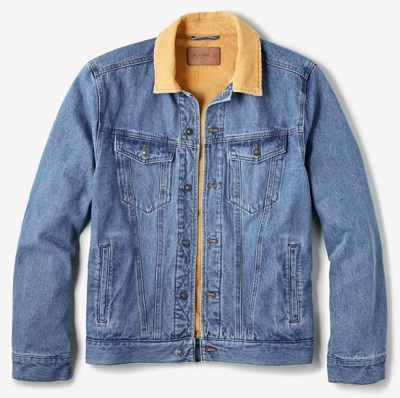 Made with a pre-washed denim and lined with a soft corduroy, this one should feel like an old favorite right off the rack. The fit, while definitely slimmer and tailored, is also a little longer. Which is good news for you taller gentlemen or those of you who are a little put off by the shorter cropped cut of the more traditional denim jackets. Bespoke Post has sizes small to XL on their website.
The Investment Pieces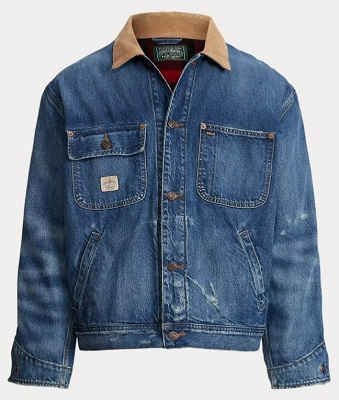 Ralph Lauren loves his workwear. And the more beaten it is, the better. So Polo really tries its best to make pre-distressing its denim an artform, going beyond simple washes and fades and adding authentic looking wear spots, frays and patched holes to create pieces that look as lived-in as possible. This is another "chore coat meets trucker" design, with a boxier, slightly oversized fit. Rather than using a Native American motif for the blanket lining, Polo has used a classic red and black Buffalo Check fabric. And the rivets on the chest pockets and pleated action back help with the hard worn, utility jacket vibe. Sizes XS to XXL are in stock.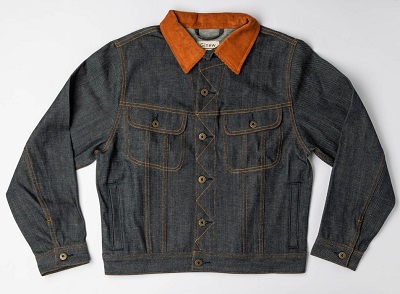 There's no shortage of cool things to say about Ginew or their homage to the classic Storm Rider. Owners Amanda and Erik are Native American denim lovers who decided to start their own company, blending classic jean and jacket designs with subtle but meaningful elements of their Ojibwe, Oneida and Stockbridge-Munsee heritage. For the example, Thunderbird features almost all of the iconic features of the Lee jacket: rounded and slanted chest pockets, zig-zag stitching down the placket and, of course, the corduroy collar. But Ginew has also included unique touches like Native American inspired embroidery under the collar and a chain-stiched Thunderbird symbol on the left cuff. Add in the fact that it's made in Los Angeles from a solid 12oz Japanese denim and you have a jacket that has plenty of character off the rack and will just grow more special with wear and tear. Ginew has sizes XS to XXXL on their website.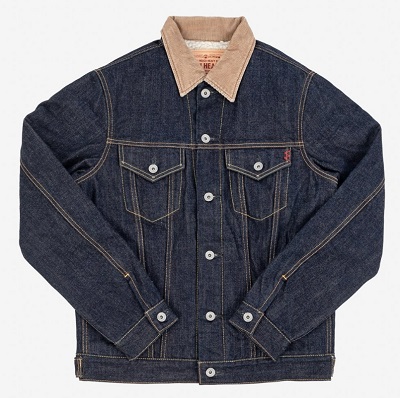 If you're seriously into denim, you know three things. First, Japanese brand Iron Heart makes some of the best jeans and jackets out there. Second, as a result of their high standards, they 've built an incredibly loyal following. And third, you're gonna have to pay up for their pieces. So the fact that many people will happily pay $600 for this particular jacket isn't that big of a shock. There's also a lot going on behind this seemingly simple design. Based on the classic Type III trucker, it's made with a heavy weight 17oz Japanese selvedge denim. Iron Heart has lined it with a soft pile fleece through the body and quilted insulation through the sleeves to provide plenty of warmth. The light brown corduroy collar is the finishing touch. When you want a winter weight denim trucker that can handle serious abuse, this one is top of the line. You'll find sizes medium to XL on their website. If you need a small or XXL, head over to Rivet & Hide, where the jacket is the same price.
Have an alternative for the Lee Storm Rider jacket you'd like to share? Let us know about it in the comments below! And if your interested in more Hollywood cowboy and rebel style, check out this article. Also remember to visit our Facebook page, Instagram account and Pinterest Boards for additional James Bond, Steve McQueen and other style icon inspiration!
Some of the photos used in this post were sourced from Heddels and BAMF Style.