Iconic Style: The Classic Canvas Utility Jacket
Britain has its Barbours. And Australia its oilskin dusters. In the U.S., it's the classic canvas utility jacket that takes pride of place as an essential piece of rugged heritage outerwear. Canvas utility jackets go by a variety of names: barn coats, stockade jackets, rancher jackets, field coats, hunting jackets, work jackets. The list goes on and on. While there are definitely some key variations in the different designs, they all share some common traits: they're designed to do a job and take a serious beating while doing it. And they all look better with some wear and tear.
Types of Canvas Utility Jackets
To keep things simple, we can divide canvas utility jackets into two categories: those designed for hunting and other outdoor sporting pursuits and those designed for manual labor, like construction or farming. Both styles usually feature heavier cotton canvas outer shells, corduroy (and sometimes leather or moleskin) collars, deep pockets, and looser, boxier fits that give the wearer more freedom of movement.
The differences are usually in the details. Hunting jackets and the like are often waxed to provide some water resistance and will include features like shooting patches on the shoulders, rear game pockets and places to store shotgun shells or other ammunition in the pockets. Work jackets tend to have a shorter cut (making it easier to access tool belts) and are more frequently blanket-lined or insulated.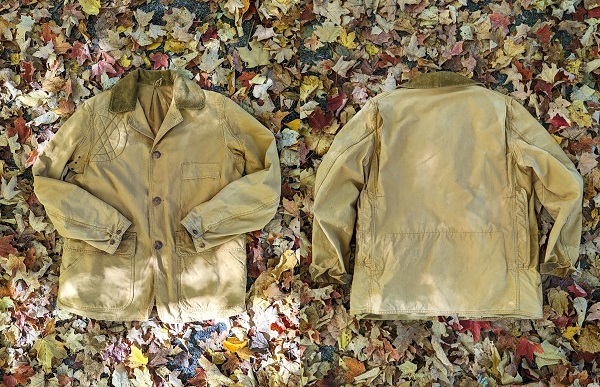 Aside from the practical benefits of owning a tough canvas utility jacket, either design will add some rugged style to your wardrobe. Choosing which one to go with ultimately comes down to personal taste.
The Classic Canvas Utility Jacket in Hollywood
We've written before about the ways costume designers use outerwear to help tell a character's story. Jackets like the black leather double rider and the blanket-lined denim Lee Storm Rider trucker immediately gave a tough and often rebellious edge to actors like Marlon Brando, James Dean, Paul Newman, Alain Delon and Steve McQueen. The canvas utility jacket has frequently served a similar purpose. When a character shows up wearing one, it tells us this is a hardworking, no nonsense kinda guy. Someone more interested in function and durability than style.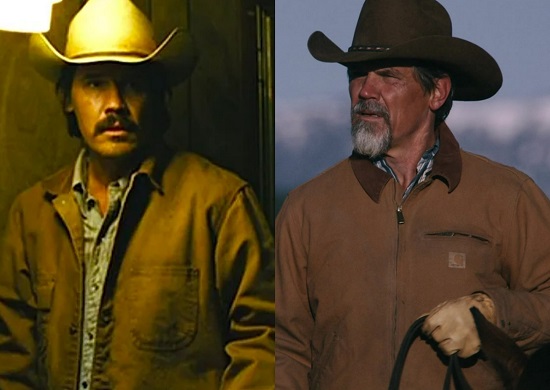 Yet despite the canvas utility jacket's purely practical origins (or perhaps because of them), wearing one has still managed to become something of a fashion statement. And the Carhartt Detroit Jacket seems to be the most popular model to own. Irish actor Daniel Day Lewis broke the #menswear internet on December 3rd, 2018 when he was photographed strolling through New York wearing the full-on workwear starter kit, including his off-white Detroit Jacket.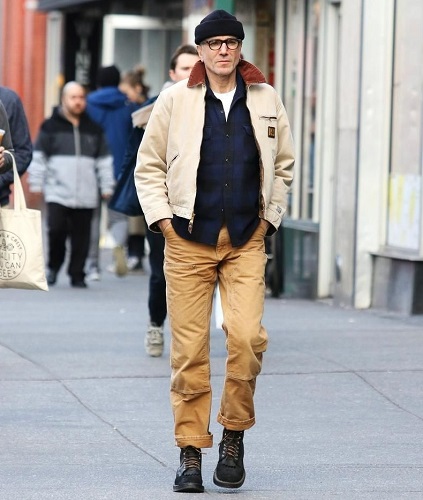 The Detroit Jacket has also been a go-to in movies and t.v., bestowing its tough-as-nails workwear bona fides on actors like Matthew McConaughey (Interstellar), Joseph Gor­don-Levitt (Looper), Josh Brolin (Outer Range), Jason Momoa (Braven), numerous characters on the t.v. show Yellowstone, and, most recently, Alan Ritchson in season 2 of Reacher.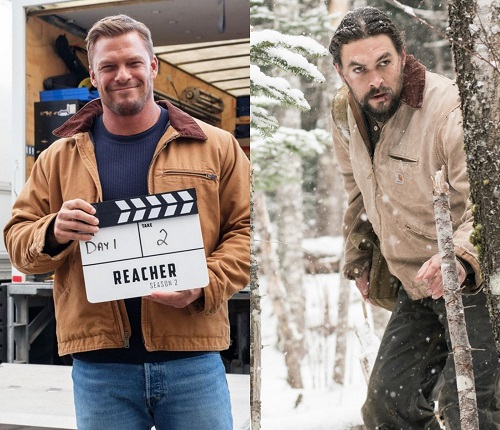 But now that almost everyone everywhere is wearing the Detroit, maybe it's time to start exploring some other designs. A good vintage style hunting jacket or barn coat will have the same rugged attitude. But they'll also help you stand out in sea of corduroy collared bomber jackets. Luckily we have plenty of options below that are worthy of consideration!
Features Wanted for the Classic Canvas Utility Jacket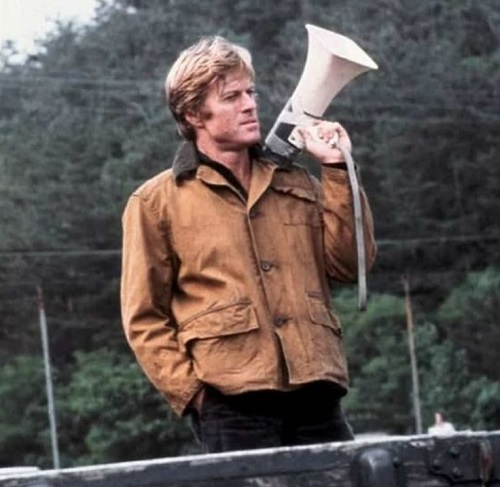 Heavier cotton canvas outer shell fabric
Light brown, beige or tan color
Corduroy collar
Roomy, boxier fit
As I mentioned above, there are plenty of variations on the basic jacket design. So we won't be short of options and can pick and choose many of the features we want: waxed or unwaxed; with the blanket liner or without; button through storm flap or brass snaps (or just a zipper); shorter bomber style or longer 3/4 length cut. They're all out there. For the alternatives below I've tried to include a good mix of models that could work with different personal styles.
Best Options for the Classic Canvas Utility Jacket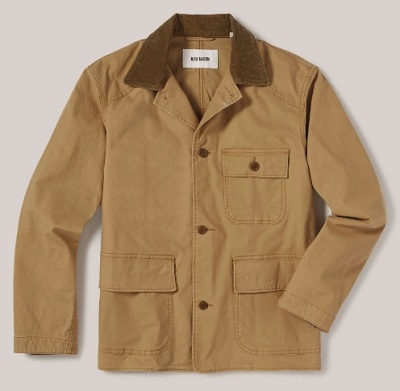 The classic hunting jacket style, but in a lighter 7.5oz cotton canvas that's been pre-washed for softness and given a bit of stretch for comfort. The design is about as close to my vintage JC Higgins jacket as I could find. So I may be a bit biased making this one a "Best Option". But the double felled seams and reinforced shoulders should make it plenty durable. I doubt it will let you down if you want a casual jacket that can handle some mild abuse. Buck Mason has sizes XS to XXL on their website.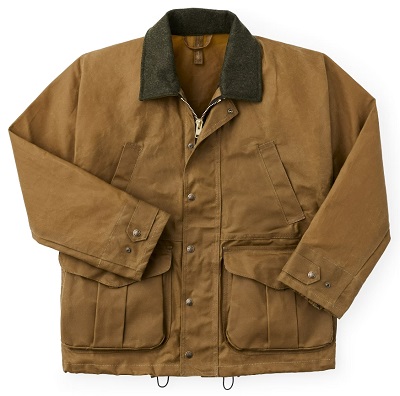 A tried and true design that lovers of the great outdoors have relied on for decades. When it comes to materials and construction, Filson doesn't mess around. Their 14oz 100% cotton Tin Cloth is given an oiled finish for water resistance and the collar is topped with 100% Mackinaw wool. And there are plenty of other features: the large bellows pockets, wool-lined handwarmer pockets, a heavy duty two-way front zip and a nylon coated rear "game bag" pocket. It's a legend for a reason. But I will note one disappointing development: Filson has moved the manufacturing of this jacket from the U.S. to Bangladesh. And while I can't say whether or not that's impacted the quality, I do think the lack of a "Made in the U.S.A" label takes something away from what made this jacket an icon. Especially at this price.
The Heavyweight Options
There are definitely some advantages to going with a heavyweight jacket that prioritizes function over form. They're about as authentic as you can get. They're usually built like a tank. And they tend to be less expensive than the options from the "fashion" brands. But there's also a downside. Unless you're regularly using the jacket to actually work in (and by "work" I mean on the construction site, on the farm or on the ranch), it's going to take forever to break it in. And until it's seen some wear and tear and softens up, it's going to feel rigid and fit like a box. Something to keep in mind.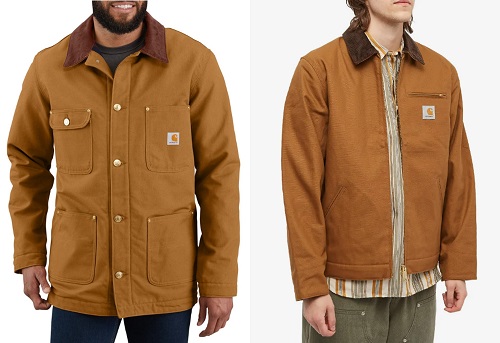 The granddaddy of workwear (and the "workwear" look), Carhartt certainly has no shortage of jacket styles to choice from. So I'm sharing two of their more popular models. Both are made from a heavy 12oz ringspun 100% cotton duck canvas with a blanket liner. Both have the corduroy collar. And both have shown up on the backs of actors in plenty of movies and t.v. shows. The choice really comes down to personal taste.
While Carhartt may be the most well-known maker of this jacket style, there are plenty of other brands that are also worth a look. If you're more partial to the chore coat design, check out the DRI Duck Rambler Boulder Cloth Jacket in Saddle ($85.25) or the Wolverine Guardian Cotton Chore Coat in Cedar ($120.00). If the shorter, more minimalist style of the Detroit model is what you're after, the King Ranch Canvas Work Jacket in Tan ($109.00) is similar while the Walls Amarillo Vintage Duck Cotton Twill Jacket in Washed Peacan ($67.29) adds a Western/trucker vibe.
The Daily Wear Options
If you want that canvas utility jacket style but spend more time walking in the concrete jungle than felling trees in the deep forest, these are the options for you. Some are nothing more than fashion jackets that have the right look. However, as we go up in price we'll find alternatives that feature high quality materials and a construction that's nearly as durable as a Carhartt or Filson. The main difference is the fabric: most brands will wash that rigid cotton canvas to soften it up, giving it a more worn feel right from the start and reducing the break-in time.
Under $100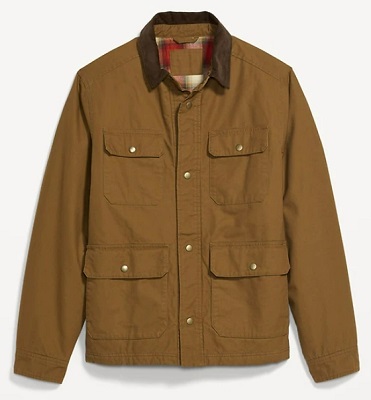 It's not going to win any awards for durability. But it does have the details and a shorter length that will work with a lot of different fits. If you're looking for a lighter weight basic beater you can throw on to run some errands, it'll get the job down. Sizes small to XXXXL are in stock.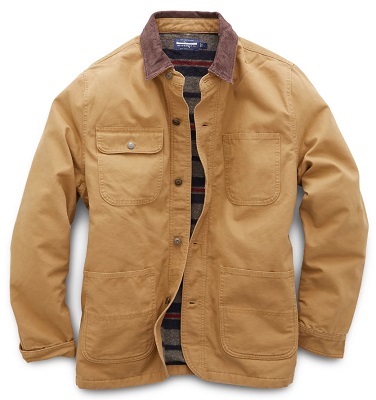 If you happen to be a size small or medium, this one is easily the best deal in this post. Normally retailing for $265.00, it features a 100% cotton outer shell that they've stonewashed for softness, a Japanese wool-blend blanket liner and antique brass rivited buttons. Well made from quality materials, it's got the vintage look we want at a heck of a good price!
Under $200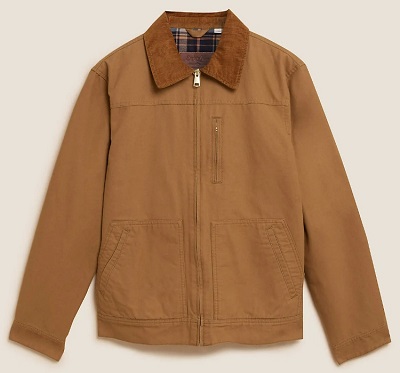 A softer, lighter weight jacket that captures the style of Carhartt's popular Detroit model. The 100% cotton shell is pre-washed and treated with Marks & Spencer's proprietary Stormwear™ technology to add some water resistance. If you're in the U.S., you can find the jacket at Thread or order it directly from M&S.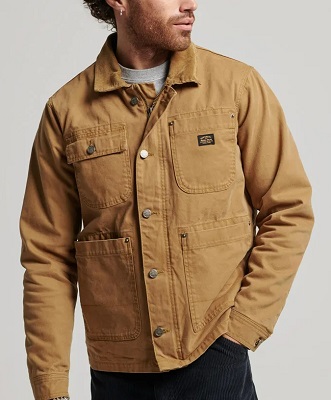 I'm not usually a big fan of Superdry's overtly branded outerwear. But I think they've done a great job with this one. They nailed the utilitarian design of the classic ranch jacket and given it a slightly trimmer fit and shorter length to work better with more contemporary looks. The jacket also has a borg (or fleece) lining for extra warmth. Personally, I like the color Superdry has used here. But the jacket also comes in a slighter darker shade of brown (which is also confusingly called "Tobacco") that goes for $139.00 on Thread. Plenty of sizes available in both options.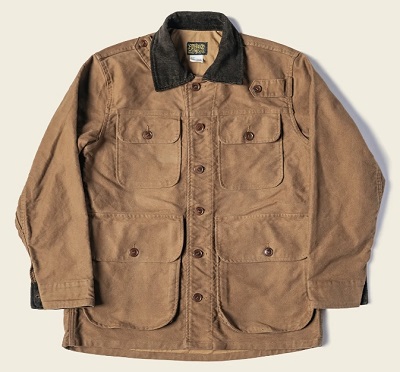 Something a little different. Instead of the typical canvas duck, Bronson has used a 13oz moleskin for the shell, a softer material that has a sort of sueded finish. It'll be less durable than cotton canvas, but also much more comfortable. And it certainly gives the jacket an interesting texture. Other than that, this is a pretty classic field coat design, finished with natural corozo buttons and a tough Talon front zipper. They have sizes 36 to 42 available, but inventory is running low.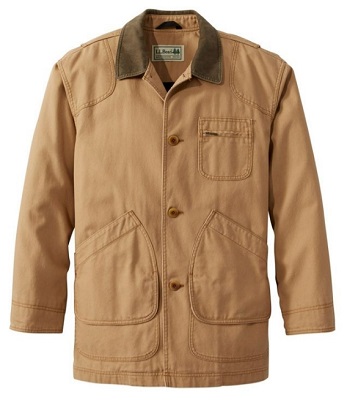 Another iconic design that's been around since 1924. And after nearly 100 years of testing, the heritage outfitter from Maine has managed to find a nice balance between utilitarian and comfort. The shell is pre-washed, two-ply 10oz cotton canvas with a water resistant coating. The front hip pockets are generous and there are underarm gussets and an action back to provide more freedom of movement. It's not the most stylish option on this list (some might even call it "frumpy"). But it's definitely a coat you can trust. If you're on the lookout for something warmer, you can also get the coat with a button-out wool blend liner and Thinsulate insulated sleeves for $189.00.
Under $300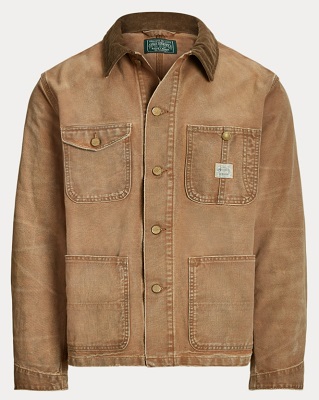 I've said it before: if Ralph Lauren does one thing well it's giving his pieces an authentic worn-in look. And while I doubt the Polo Canvas Chore Jacket would last more than a couple of days on a real construction site, it certainly looks like it's spent some serious time on one. Sizes medium to XL are in stock on their website.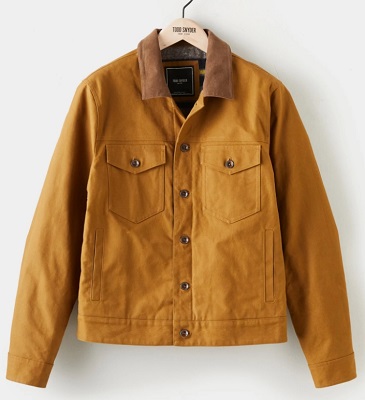 The design is more trucker than utility jacket. But it comes with a lot of the features we want: a British Millerain waxed cotton shell, a nice Lee Stormrider style blanket lining and a comfortable moleskin collar. The better news is that sale price, which knocks 44% of the original $274.00. And they have sizes XS to XXL in stock. A great choice if you personal style runs more "western ranch" and less "New England forest".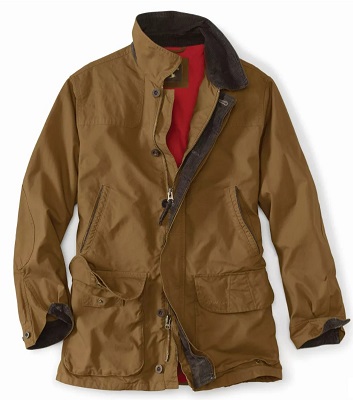 Like L.L. Bean, Orvis has been making their version of the Field Coat for generations. The latest iteration features a dry-waxed 100% cotton shell, roomy bellow pockets below, an action back and underarm gussets for freedom of movement, and a lined rear-entry "game bag" pocket. The cut is pretty traditional. But the addition of the shooting patches on the shoulders and reinforced sleeves give it a slightly more "rugged" feel. Orvis has sizes small to XXL in stock. You can also find it on Amazon for the same price.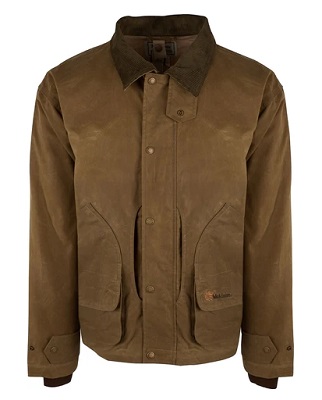 Coming to us from Drake, a respected hunting and fishing gear outfitters, the McAlister is definitely more "functional utility jacket" than "fashion outerwear". Made from a 10.10oz waxed canvas, it features unique bellows pockets backed with fleece-lined handwarmer pockets and neoprene cuffs to help keep water out when you're working in wet conditions. Sizes small to XXXL are available.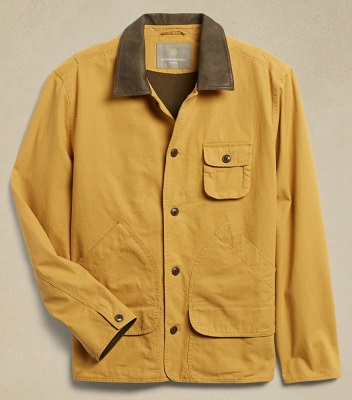 Banana Republic once again dips into their archives to produce a classic jacket that has a couple of contemporary twists. The look is pure 1950s hunting jacket. But the shell is a lighter weight cotton canvas and they've used a slightly more upscale leather on the collar. That brighter "Old Gold" shade of yellow may not be to everyone's taste. However, it would add a nice pop of color on a grey fall day. And it's more versatile than you may think. They have sizes XS to XXL on their website.
The Investment Pieces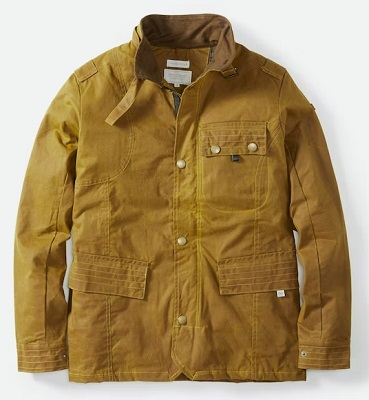 If I had to describe the design, I'd call it, "old Maine hunting lodge meets classic British touring". Peregrine has more than 220 years of experience making outerwear. And it shows in the design of the Bexley. Made in the UK, the shell is an 8oz British Millerain waxed cotton with a slightly softer hand then your usual duck canvas. The cut is also a little trimmer with the hem hitting around mid-hip. Overall, it's a more sophisticated take on the utility jacket, with a nice touch of retro-motorsport attitude added to the mix. Huckberry has sizes medium to XL in stock. If you're in the UK, you can order it directly from Peregrine. But they're starting to run low on sizes.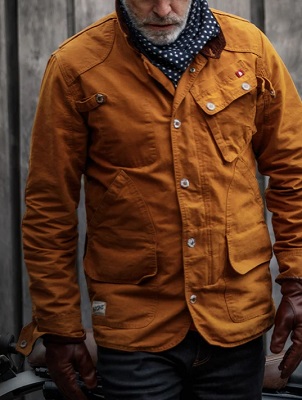 Like the Peregrine, the &Sons' Weston is an interesting mix of styles. But it's also made with high quality materials (11.6oz waxed cotton canvas) and comes with a ton of interesting features. Named after early 20th century American photographer Edward Weston, the jacket has the multitude of pockets you'd find on a vintage hunting jacket (including the rear game pocket). But they've modified and re-purposed them to carry camera gear. It also has padded shoulders (to make carrying a camera bag more comfortable) and unique snap button straps to hold your camera strap in place. All in all, it's a fun but very practical design that does a great job combining the traditional with the contemporary. Sizes small to XL are in stock on the &Sons' website.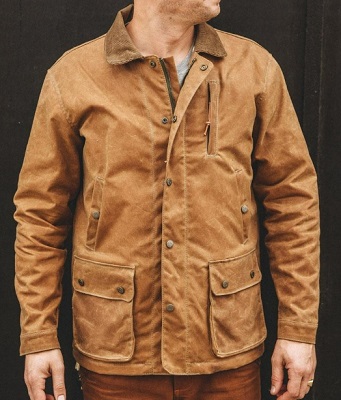 Expensive. But it's a beast! Bradley Mountain makes their field jacket in the U.S. using a 12oz waxed cotton canvas for the shell and a 50% wool, 50% cotton blanket liner. And then finishes it off with antique brass snaps and some heavy duty zippers. This one might take a bit of work to break-in. But after a little wear it should start to develop some great character that will just get better with age. They have sizes medium to XXL on their website.
Have an alternative for the classic canvas utility jacket you'd like to share? Let us know about it in the comments below! Also remember to visit our Facebook page, Instagram account and Pinterest Boards for additional James Bond, Steve McQueen and other style icon inspiration!