The Black Leather Double Rider Motorcycle Jacket
If someone asked you to name the most iconic jacket styles in modern history, the black leather double rider motorcycle jacket would have to be near the top of the list. The core design has remained virtually unchanged for over seventy years. And it's managed to work its way into nearly every corner of popular culture, from the biker gangs of the 1940s and 50s through the punk rock movement in the 70s to the numerous "high fashion" interpretations produced by designers in the 1990s up to today. The double rider has lived through it all and come out the other side with its badass cool intact.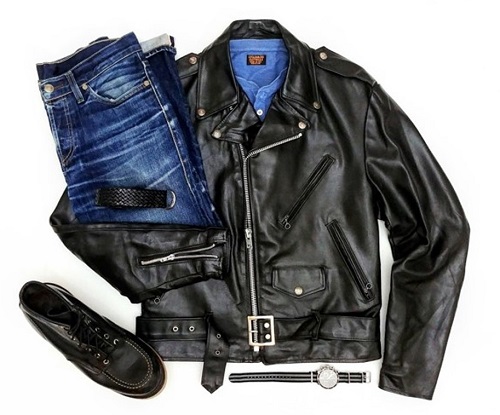 If you're interested in learning more about the history of the black leather double rider, BAMF Style just published an excellent article about Marlon Brando's classic biker look from the 1953 film The Wild One. That post covers everything from the jacket's design details to the history of Schott, the American company that created the double rider/lancer style in 1928 with their Perfecto motorcycle jacket. As we're focusing on classic motorcycle jackets, I would like to note that it could be time to buy yourself that classic motorcycle that you've always dreamed and by classic I of course mean the Harley Davidson. You can get these bikes at cleanharleys.com/vehicles, at affordable prices due to the use of payment plans, so you don't need to pay outright! Also, how good would a new jacket look with your brand new Harley Davidson?
For this post, I want to focus more on how you can get a black leather double rider for yourself. We'll look at common types of leather used for the jacket, different models you can choose from and even how to start breaking in your heavyweight leather jacket. And I am the first to admit that the black leather double rider is not an easy jacket to wear without looking like a wanna-be biker boy. So we'll have a 4 Ways To Wear It coming very soon with suggestions on how to pull it off effectively. Let's get rolling!
Types of Leather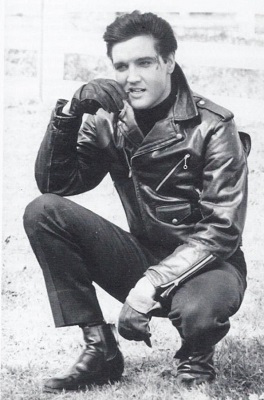 One of the most important decisions you need to make when choosing a leather jacket is what type of leather you want. To start, there's one term you definitely want to look for: full grain. Full grain leather means the entire thickness of the original hide has been kept intact. So a jacket made from full grain leather will be more durable and can develop more character over time. Just be careful not to confuse "top grain" leather with "full grain". They are very different things.
Two types of leather you want to avoid are split-grain and corrected grain. Split-grain leather is exactly what it sounds like: the hide is split to separate the top layer from the material underneath (which is why split-grain is sometimes referred to as "top grain leather"). Split-grain leather tends to be very thin and loses much of its durability. Corrected grain leather is usually a poor quality split grain that has been coated or painted to even out the surface and hide imperfections. Corrected grain tends to have a plastic-like finish and is not very durable.
There's a great article on Heddels that goes into the detail about the different types of full grain leathers that are most commonly used in jackets. But for this article we're just going to focus on four.
Lambskin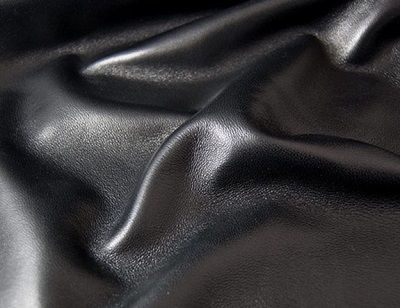 Lambskin is an extremely soft and supple leather with a fine grain, making it a very popular choice for fashion jackets. It requires almost no break in time and should feel comfortable right from the start. Although high grade lambskin is relatively durable, stretching can be issue. And it usually doesn't develop much character; the elastic nature of the leather makes it difficult to develop those rolls and wrinkles that make the jacket look "lived in".
Calf Skin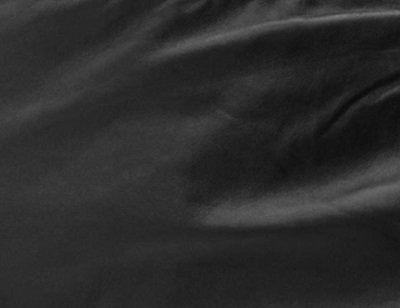 Calf skin is still a relatively lightweight leather and tends to have a finer grain. However, higher quality hides are heavier and stiffer than lambskin. So it can be more durable, less prone to stretching out and can develop some nice character with wear. The trade-off is it takes a little more time to break in a calfskin jacket. But that break in time will still be much shorter than you'd have with a heavy cowhide or horsehide jacket.
Cow Hide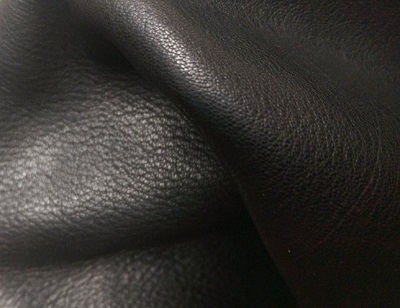 The most common type of leather used in jackets. And therein lies the difficulty. Cowhide can come in all sorts of different cuts, thicknesses and qualities. And the price of the jacket doesn't always tell the whole story. Thinner, lower quality hides that have some kind of "corrective" coating can be used in higher priced fashion jackets. In those cases you're often just paying for the brand name rather than investing in the jacket itself.
On the other hand, thicker, high quality hides that leave the natural leather grain exposed can make some of the most beautiful leather jackets out there and they'll last for decades. The best way to get a high quality cow hide jacket? Go with a manufacturer that has a solid reputation and focuses primarily on making leather jackets.
Horse Hide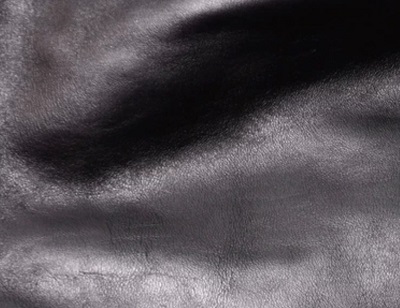 A grail leather for many. Horse hide is usually quite thick but has a smoother, finer grain. It also tends to have a stiffer hand and (depending on how it was tanned and finished) can have a shinier appearance at the start. Because horse hide is significantly rarer than cow hide, horse hide jackets are usually pretty expensive. And breaking them in can take a serious amount of time. But for those leather jacket lovers out there looking for a project that's going to last decades, horse hide jackets are definitely worth the investment.
A final thought on leathers …
Of course, the other major factor in all this is how the leather has been tanned and treated. It's pretty easy to go down the rabbit hole where terms like vegetable tanned, aniline vs. semi-aniline, teacore and more actually become important. And we will discuss some of these terms in a future article. But for now, to keep things simple, I'll just say this: if you're looking for more of a fashion jacket, I wouldn't worry too much about the tanning and finishing processes. And if you're looking to spend $800 and up for a heavyweight "project jacket" then your best bet is to speak directly to the manufacturers about the types of leathers they use and which ones would best suit your needs and wants.
Lightweight Leather Biker Jackets
You want the look. But not the break in time. That's where there these jackets come in. Usually made from lighter weight lambskin, calfskin or thinner cowhide, they're going to feel comfortable off the rack. But most of them won't develop that deep patina and worn look you get with a heavier leather.
Best Option for a Lightweight Black Leather Double Rider Motorcycle Jacket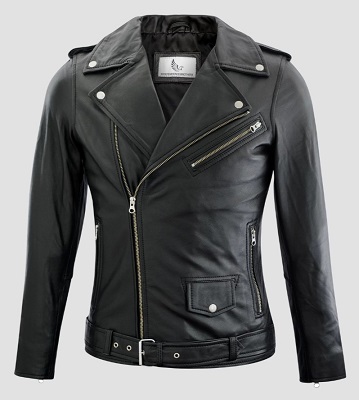 There's a few things that (IMHO) make this one a winner for those of you wanting a casual double rider. First, it's made from full grain vegetable tanned, semi-aniline calf skin. Which is pretty awesome at this price point. Second, Independence Brothers makes their jackets in their own factory in Mexico. And that gives them much greater control over the quality of the final product. No "mass produced in Asia" leathers here! Third, their jackets are made-to-measure and they offer a lot of strategies for dialing-in the fit until it's just right, from their simple online measurement system to sending in the measurements of a jacket you already own to going the full custom design route. And fourth, the owners really are two brothers based in Philadelphia! Maybe it's just me, but I like the fact that there's a couple guys who actually care about offering great value standing behind the brand name.
Under $200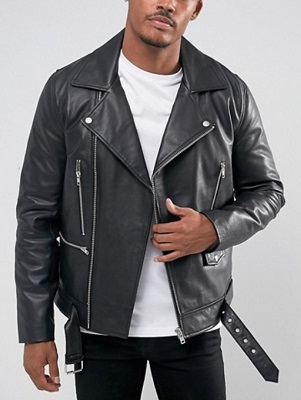 ASOS doesn't say what type of leather they're using here. But, based on the price alone, I'd guess that it's a thin, corrected grain cow hide. In other words, this ain't going to be an heirloom piece that lasts decades. On the other hand, it's also priced under a hundred and fifty bucks. They currently have sizes XS to Large in stock.
Under $500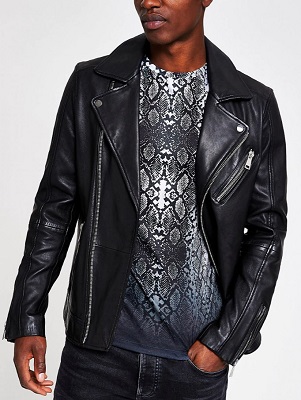 Again, there's no mention of what kind of leather is being used. And, again, I expect it's a thinner cow hide. Just a better quality cow hide than what we'd get from ASOS. This is certainly a sleeker, more minimalist take on the double rider with no epaulets, belt or coin pocket and a trimmer fit. Which some of you may like. River Island has sizes XS to XL in stock.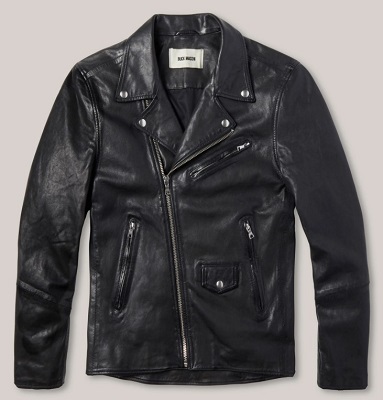 Definitely a jump up in price. But now we're starting to get into better quality jackets. This one from Buck Mason finds a nice balance between the traditional double rider details and a more contemporary design and fit. They've used a twice washed lambskin which makes the jacket soft and supple from the get go without sacrificing durability. Plus it was voted "Best Leather Jacket" by Esquire magazine! You'll find sizes XS to XXL on their website.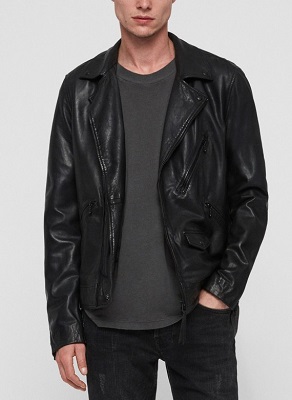 In the world of fashion biker jackets, AllSaints is a pretty well known name. And they make a lot of different models. I've gone with the Holt here. Like the Buck Mason above, I think it strikes a good balance between traditional and modern styles. They've used a lambskin leather to keep the feel softer and lightweight. But, unlike most double riders, the hardware is matte black which gives the jacket a sleeker vibe. The link above goes to Nordstrom (free shipping!). However, you can also pick it up directly from AllSaints and check out the other styles they have available while you're there.
Heavyweight Leather Biker Jackets
So you're looking for a project, are ya? Well, you've come to the right place! This is where we start getting into thick, heavy cow and horse hides that usually need months of regular wear to break in. But, in many cases, we're also now dealing with well established heritage companies that do made-to-measure pieces. So the jacket will be cut to fit you as close to perfect as possible and you can choose from a wide range of beautiful leathers and hardware. Be patient and speak to each company before deciding what you want. Because the jacket you eventually choose is going to last a lifetime.
Best Option for a Heavyweight Black Leather Double Rider Motorcycle Jacket

Without a doubt, Schott is the iconic American biker jacket brand. And the Classic 618 Perfecto is their most famous model. As we mentioned above, our friends at BAMF Style did a great job exploring the history of the company and the 618's role in popular culture in their recent article on Marlon Brando's style in the 1953 film The Wild One. However, I'm going to go a slightly different direction and select the 626 for this post. It's Schott's slightly more modern take on the 618, using a lighter weight, full grain, chrome tanned cow hide and a trimmer, more contemporary fit. But it still keeps all those classic double rider style details Schott made famous with their original design. And it's still made in the U.S.A. You'll find sizes XS to 5XL in stock on their website.
Under $1000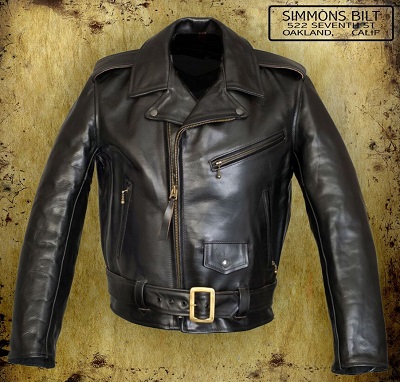 The Simmons Bilt Clayton got a shout out in our "Bond Leather Jackets for Fall" post as a great alternative for the Skyfall Menlo. And I have to say, their Classic Biker looks like another winner. This is a made-to-measure jacket. And Simmons Bilt's selection of leathers is pretty impressive, running from soft but durable goatskin to heavy Chromexcel steerhide, with plenty of horse hides in a variety of finishes in between. As for the styling, it's a classic double rider with the epaulets, belt, coin pocket and heavy duty hardware throughout. Just be aware that £550.00 is the starting price for one of these. Choose a leather other than the waxy soft horsehide and another £30.00 to £150.00 will be added on top of that. But when you're getting this kind of made-in-Scotland quality and durability, it's worth investing to get exactly what you want.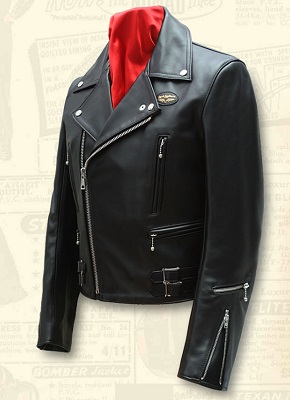 And now an iconic British design. Lewis Leathers has been in operation since 1892 and they launched the No. 391 in 1958. But this model really gained notoriety in the mid-1970s, when it became the favorite leather jacket of British punk bands like The Clash and The Sex Pistols. What sets the design apart is the use of four side-adjuster belts rather than thicker single belt found on most other double riders. This is also another made-to-measure jacket, with plenty of color and finishing choices for their high quality horse hide leathers. The No. 391 is a great choice if you want a classic design that's just that little bit different than 90% of the other biker jackets out there.
How to Break in Your Heavyweight Leather Jacket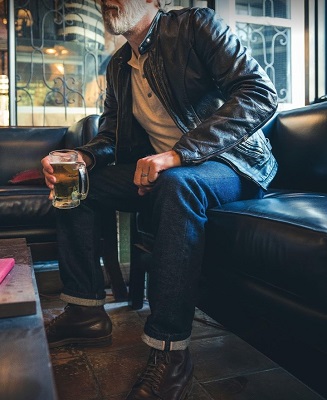 There are thousands of articles, forum posts and videos out there sharing "secret tips" for quickly breaking in a heavyweight leather jacket. And the strategies cover everything from putting your jacket through the washing machine (I wouldn't!) to wearing it in the shower and wearing it until it's dry (I wouldn't do this either!) to wrapping it up in a ball and playing soccer with it (this could actually be kinda fun!).
My personal technique for breaking in a leather jacket is a little less … let's say, "abusive".
First, I think it will help to be clear about what I mean by "breaking in" the jacket. I'm talking about softening it up a little and removing some of that "new leather" shine. I actually enjoy the process of aging the jacket naturally, letting the wrinkles, fades and patina develop as a direct result of wearing it on a day-to-day basis. So I'm not really into artificially distressing the leather. To me, "breaking in" a jacket means making it more wearable at the start. Not trying to age it before its time.
What you'll need:
Saddle Soap. I prefer Bickmore Saddle Soap ($9.99 for a 6.5oz tin) since it has a healthy amount of lanoline that helps condition the leather.
Two bowls of warm water (one for using with the soap, one for dampening the cloth for the wipe down).
Soft brush
Three clean cloths
Leather Conditioner. There are lots of great options on the market. But for jackets I tend to use Bick 4 ($18.95 for a 16 fluid ounce bottle).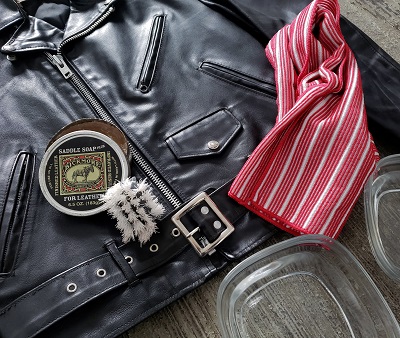 My Process
The first thing I do with a new leather jacket is wash it with saddle soap and warm water using the soft brush. I work on one area of the jacket at a time, dampening the brush with the warm water and then adding a little saddle soap. I gently scrub the jacket area in circles until I get a nice lather and let it sit for about five minutes. Then I wipe it down with a damp cloth to remove any excess soap and then with a dry cloth to remove any excess water.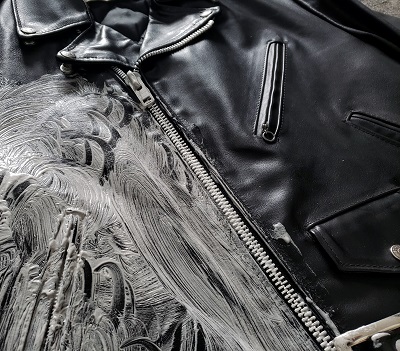 The saddle soap helps soften and condition the leather without damaging it. And the gentle abrasion from applying it with the soft brush will help remove most of that "new leather" shine. Just to be clear: I am not trying to saturate the leather when I wash it. At the end of this step the jacket should only feel a little damp to the touch.
Once I've finished washing the entire jacket, I wear it until it's dry. Since the jacket is only slightly damp, this usually only takes about an hour. While I'm wearing the jacket, I just go about doing whatever I would normally be doing.
When the jacket is dry, I apply the leather conditioner with a soft, dry cloth. I condition the entire but jacket, but I really try to work the conditioner into some key spots: the sleeves at the inside elbows, under the collar and the back of the shoulders.
The Final Step …
Wear the jacket whenever you can. While I don't sleep in mine (and yes, some people recommend doing this), I definitely wear it when I'm just relaxing at home or running errands. If you really want your jacket to get that authentic "lived in" look you gonna have to live in it! After about two weeks of doing this, you'll be surprised how much character it's starting to develop.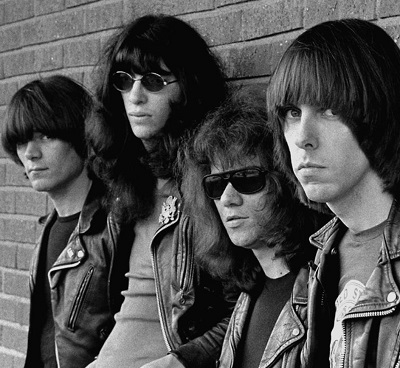 Have a suggestion for an awesome black leather double rider jacket? Tell us about it in the comments! And if you're looking for more style inspiration, check out Iconic Alternatives on Facebook, Instagram, Twitter and Pinterest!
Iconic Alternatives uses affiliate links on our site. So clicking on one of the links above may result in us receiving a commission from the vendor. You can learn more about our use of affiliate links on this page.