James Bond Leather Jackets For Fall
Updated October 11th, 2022 – One of the great things about looking to James Bond for leather jacket inspiration is that there's something for almost every taste. We have the rugged vintage style of the Skyfall Menlo, the lighter weight minimalist suede cafe racers from SPECTRE, Brosnan's and Dalton's three quarter length coats, and Moore's clean and simple blousons. We even get some sheepskin, a suede blazer and whatever you want to call the Casino Royale Armani jacket to help spark our imagination! So in this article we're going to explore alternatives for six of my favorite 007 leather jackets from the films. Let's get to it!
The SPECTRE Navy Suede Cafe Racer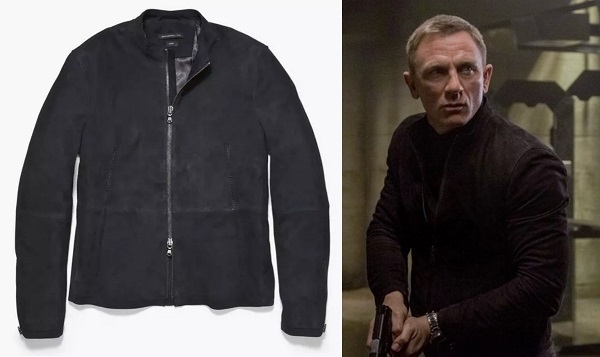 When the first promo pics for SPECTRE started hitting the internet, there was a debate amongst fans of Bond's style: Do you go with the beige Matchless suede jacket or the navy blue John Varvatos one? We've spent a lot of digital ink covering alternatives for the Matchless jacket over the years. But I've tended to ignore the Varvatos piece that topped off 007's "fashion ninja" look from the London finale. Honestly, there just never seemed to be enough options out there to fill a dedicated post. So here's our chance to give that jacket the attention it deserves.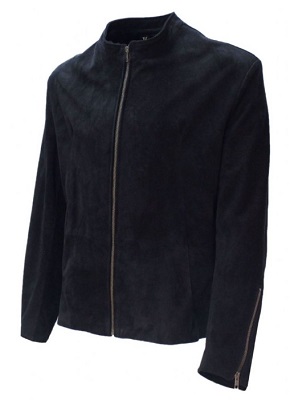 I'll get this out of the way right at the start: There are a few Wested Leather Co. jackets in this post. And no, they are not sponsoring it. But every time I post an article about James Bond leather jackets, there's always a reader comment saying Wested makes great repros. With that kind of consistent praise, I feel its worth highlighting their offerings. Anyway, about the jacket. I've linked to their slightly less expensive stock version above. However, they also offer a made-to-measure option for $277.00 (click here to learn more about that). Sizes 38 to 48 are available on their website. But they do state that the jacket is a slim fit. So best to check their size chart.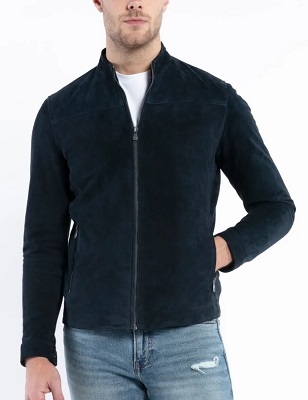 While the Pinoporte is missing the more elaborate stitching and zippered cuffs we see on the screen used John Varvatos, this one still delivers the minimalist look we want. It's clean, it's simple and it's almost exactly the right color. And that sale price is a heck of a good deal! You can find sizes small to XXL on their website. If you happen to be a size XL or XXL, check out Nordstrom Rack; it's on sale for an even lower price of $399.97.
Also Try:
The SPECTRE Suede "Morocco" Jacket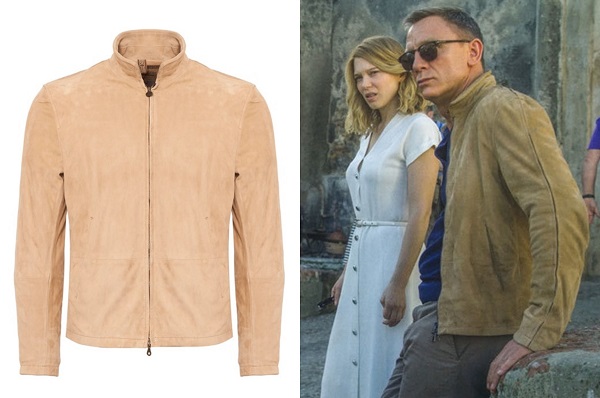 After all this time, what more is there to say about Bond's suede Morocco jacket? You can still purchase the Craig Blouson in Natural for $1348.00, directly from Matchless, where they have almost all sizes available. It's also on sale at Linea Fashion for $771.45, where sizes small to 4XL are in stock. However, I have to say I've got a weird feeling about that website. I did some checking, and Linea does have a Trustpilot rating of 4.4 stars out of 5 after 352 reviews. Which is a good sign. But it strikes me as odd that a company that carries so many highend brands has such a low profile on social media (only 68 Instagram followers?). So proceed at your own risk.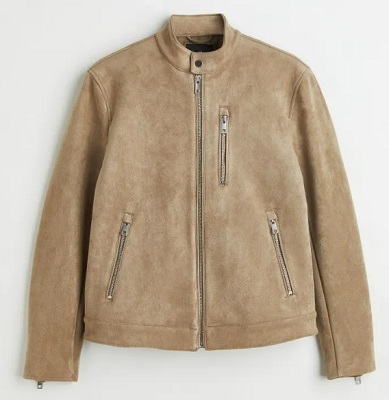 I know some of you fine folks are interested in faux leather options, either for financial or ethical reasons. And while I think we can all agree that H&M can be a little suspect at times in terms of their quality and best practices, their faux suede jacket does a pretty decent job of capturing that "Bond in Morocco" vibe at a price that won't destroy our wallets. Sizes small to 3XL are available on their website.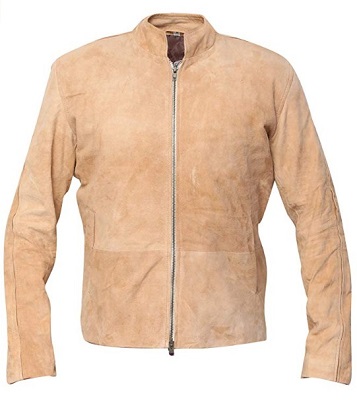 Another one that we've shared as an alternative in past posts. It originally caught my attention for a few reasons. First, RHS Leathercraft use photos of their own jacket on the product page, instead of just posting a pic of the actual Matchless and saying, "Our jacket will look just like this one!". Second, it seems like they've nailed a lot of the details, including the unique seam on the sleeves. Third, they offer an "easy return backed by a money back guarantee". Which is nice. And fourth, some of their other jackets have real customer reviews in the 4 to 5 star range. So these guys might just be worth a shot. The jacket is made from lambskin suede and they have sizes XS to XXXL available on Amazon U.S. Just note that delivery could take up to six weeks and remember to double check that sizing info!
Also Try:
The Casino Royale 4 Pocket Leather Bomber Jacket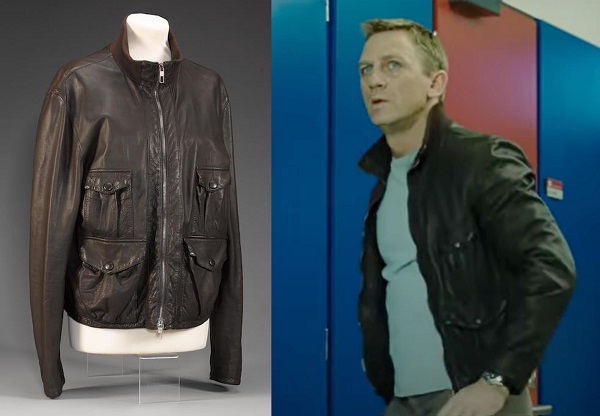 Daniel Craig's first Bond leather jacket came from the iconic Italian designer Giorgio Armani. And it's unique four pocket design has always made it difficult to find decent alternatives. So if you want that exact look, going with a replica is probably your best option.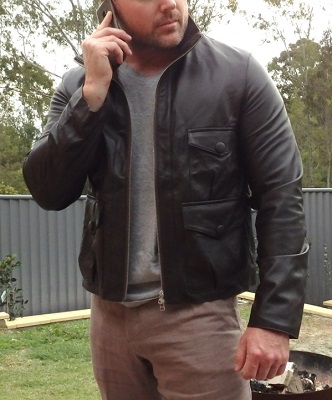 Well, well, well! Look what our freind Mr. Love has been up to! At the time of writing, the Miami Bomber isn't yet available for purchase. So you'll want to get on the ROYALE Fimwear mailing list to be notified when it goes live. But based on the photos on the website and knowing from personal experience how much care and attention to detail Daniel pours into his work, I think I speak for many fans of Bond style when I say I'm excited to see the end result!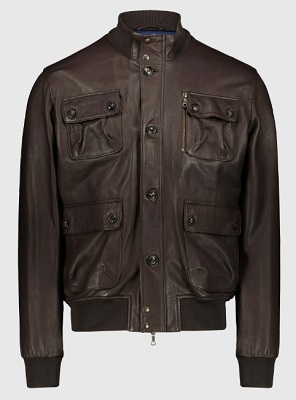 Obviously this isn't an exact match for the Casino Royale Armani. But it's still a pretty great option if you're after an "inspired by" jacket. Handcrafted in Italy from a soft labmskin, it features genuine horn buttons on the pockets and a 100% silk lining. A worthy luxury alternative that has a slightly more vintage feel to it. You'll find European sizes 46 to 60 on the Barroco Italia website.
Also Try:
The Skyfall Vintage Leather Jacket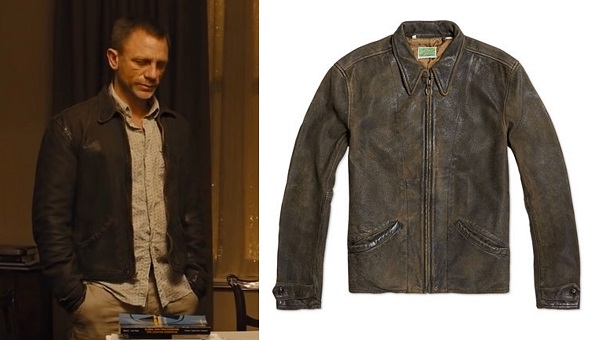 What would a post on James Bond leather jackets be without a look at the Levi's Vintage Clothing Menlo from Skyfall? This quickly became THE grail jacket for many fans. And you may still be able to find one of the originals floating around on Ebay. Just expect to pay a premium for it! For those reasons, the alternatives I've focused on below tend to be on the higher end of the price range. But I've also included a few more affordable options in the "Also Try" section.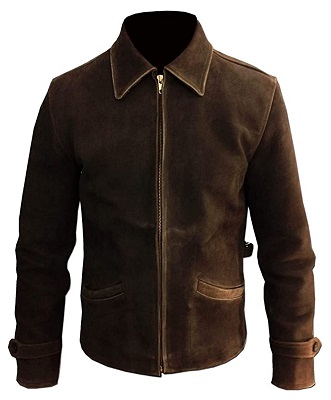 There are a ton of cheap Menlo repros available on Amazon, Ebay and Aliexpress. And, honestly, most of them look horrible. I'm including this one for three reasons. First, it's made with genuine sheepskin leather and looks to be a little better quality (seriously, check out the customer photo on Amazon UK under the reviews). Second, So-Shway has its own website, with it's own product photos and models, and it looks to be up to date. Third, this is being sold on Amazon with a 30 day money back guarantee. So if the jacket ends up being less than you expect (and don't expect too much for $150!), you should have some buyer protection. Plenty of sizes available on Amazon U.S.. If you're in the UK, you'll need to order directly from So-Shway.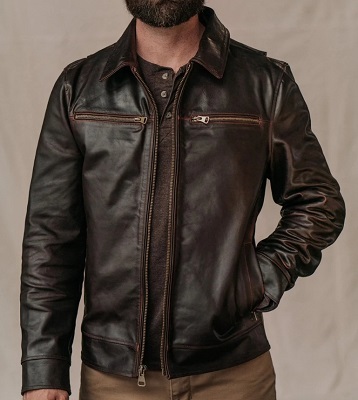 The zippered chest pockets aren't exactly what we're looking for. But Buffalo Jackson absolutely nailed the vintage feel, from the antique finish of the drum dyed full grain leather to the action back and brass zippers. It'll be heavier than Bond's Skyfall jacket. However, I have no doubt it can take a beating and will last decades. Sizes small to XXL are in stock on their website. Buffalo Jackson recommends sizing up for a more comfortable fit.
In previous posts on alternatives for the Skyfall jacket, I've shared Schott's Buffalo Leather Sunset model (link to that one is below). So I thought I'd mix things up a bit and share a different option this time. There's a bit of a trade-off in the looks department. The Delivery jacket has the zippered chest and side pockets. But we still get the side tab adjusters with antique brass hardware and the action back. And then there's that leather, a heavyweight oiled nubuck that has amazing texture and color right off the rack. This is a hide that's just going to get better with wear and age. The Delivery jacket is a bigger initial investment than some of the other options and will take a while to break in. But it's truly built to last a lifetime (or longer).
Also Try:
The Tomorrow Never Dies Belted Leather Coat
Of course we need to give some love to the Brosnan Bond leather jackets! And we'll start with his classic belted ranch coat from Tomorrow Never Dies. According to Bond Lifestyle, the screen used piece came from a company called Angels & Bermans, a costume house based in the UK that's been in operation since 1840. The design of the jacket seems to be based on a field coat or safari style jacket, with the curved stitching across the front yoke adding a Western touch. While the fit on Brosnan was very oversized (as was the fashion in the 90s), a similar style in a trimmer or more tailored cut could easily work with both casual and dressier looks today.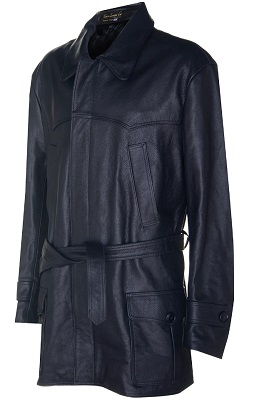 "But WAIT!" I hear you cry. "That one is BLACK!" Yes. Yes it is. For reasons I cannot fathom, Wested decided to offer the stock version of their TND coat in a color other than the screen accurate brown. BUT! You can custom order the coat for $413.00 in the correct color and dial in the measurements for a perfect fit. Also worth a mention: according to the description on the product page, Wested provided many of the actual stunt coats for the film. So the design is going to be about as close  to what we saw on screen as we're going to get.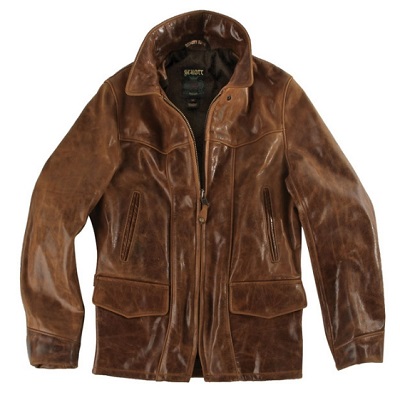 It's missing the belt and the storm flap over the front zipper. But this lighter weight waxy cowhide option from the legendary U.S. leather jacket maker Schott still checks a lot of the right boxes, from the combination of the welted handwarmer pockets and flapped hip pockets to the Western style yoke stitching. It normally retails for $900. So that sub-$600 sale price is also very attractive! This is being sold by Schnees, an independent retailer based in Bozeman, Montana. And, unfortunately, they only have sizes medium and large in stock. However, if that's what you need, I wouldn't hesitate to jump on this one.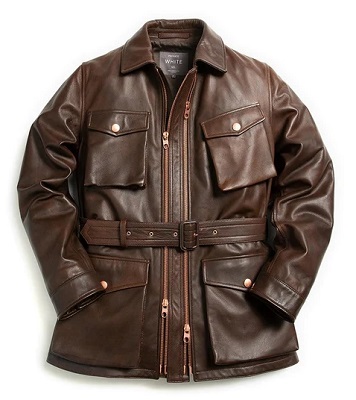 My goodness, that's a gorgeous looking piece of outerwear! Based on Private White's popular Twin Track jacket, this one is handmade in London from a soft full grain calf leather and features top of the line RIRI zippers and hardware throughout. That dual zipper setup which gives the jacket its name actually serves a purpose. Adding or removing the center panel allows you to adjust the sizing to accommodate various layering situations while maintaining the jacket's good looks and fit. It's not exactly screen accurate. And it's certainly an investment. But the Twin Track is undoubtedly an impressive jacket. Plus, given the company's history and heritage, I've always thought Private White V.C. would make an excellent "Bond brand". Just note that this one is selling fast! Sizes small and medium are already gone (fingers crossed for a restock).
Also Try:
The Die Another Day Tan Nubuck Blazer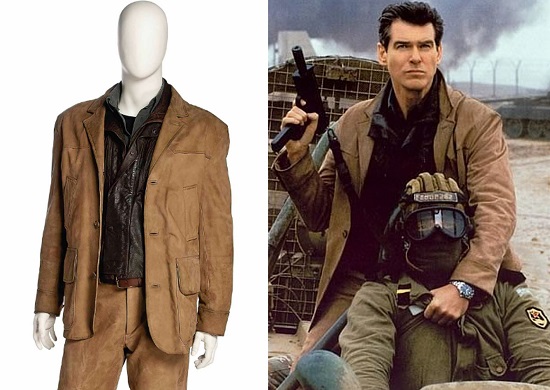 Another piece of Brosnan-era Bond leather outerwear that, with a few simple updates, would work well with a variety of fits today. Men's fashion had evolved a little in the five years between Tomorrow Never Dies and Die Another Day. So the fit of this nubuck blazer from General Leather Co. (now Cromford Leather Co.) was trimmer, but still left enough room for layering a shirt and a heavy leather vest underneath. According to Bond Suits, it also included some interesting design details, such as a bi-swing or action back and rear half belt. And again, we get a little touch of Western with the peaked stitching on the front yoke.
Nubuck isn't that common a material for outerwear. So I've focused on suede options for the alternatives below.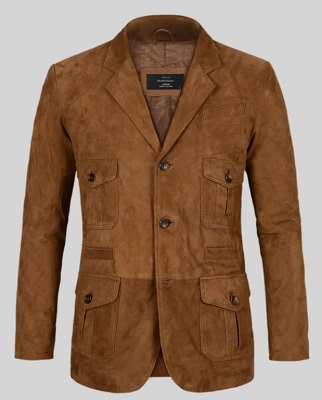 Off the rack, this one isn't a bad match at all. But the advantage of going with Studio Suits is you can customize the design to get exactly what you want. Of course that will cost extra. However, with a relatively low base price, they should be able to deliver a pretty screen accurate jacket without breaking the bank.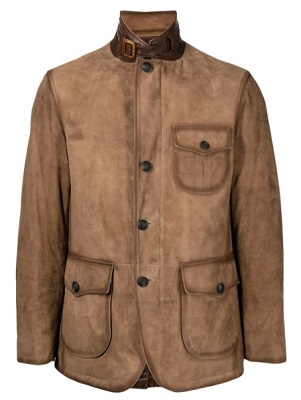 The price is definitely getting up there for most of us. But, IMHO, this one really delivers the style we're after. In fact, I may actually like it more than the jacket Brosnan wore. With the flapped chest patch pocket, leather trimmed collar and brass buckle throat latch, it has a kind of "Skyfall Barbour meets Die Another Day blazer" vibe that I think could work with a lot of different looks, from casual workwear to a little more formal. Made from goat skin, it's also insulated. Which will help when the weather turns colder (or when you're visiting North Korea in the winter). Italian sizes 46 (small) to 52 (XL) are available at Farfetch.
Also Try:
Have a suggestion for a great alternative for one of the James Bond leather jackets? Tell us about it in the comments! And remember to visit our Facebook page, Instagram account, and Pinterest Boards for more James Bond style advice and inspiration!
Some of the photos of the jackets used in this post were sourced from Bonhams and Christies. Some of the photos of James Bond were sourced from Thunderballs.org. And a special thanks to the commenters on Bond Suits for providing the details on Bond's Die Another Day jacket!