4 Iconic Sweater Styles (and how to wear them)
My friends, we're now getting deep into sweater weather. And after covering some of the most popular style icon inspired knitwear in our posts on Bond's No Time To Die Commando Sweater and the 5 Essential 007 Sweaters (not mention all our articles on shawl collar cardigans!), I thought I'd do something a little different this time. Here we're going to look at four sweater styles that, while perhaps less familiar, are still absolutely iconic in their own right. Now, these aren't your everyday solid navy crewnecks or black polos. The sweaters we'll feature below can admittedly be a little more challenging than those classic wardrobe staples. So I'll also be sharing my thoughts on why each one belongs in your knitwear rotation and ways to wear them. Let's get to it!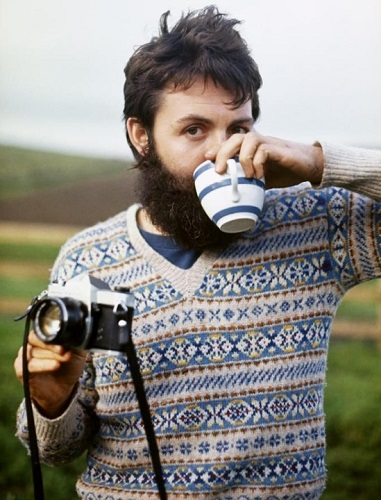 The Fair Isle Sweater
This iconic sweater style originated on a tiny island called Fair Isle off the northern coast of Scotland. While the exact origins of the unique pattern, which featutres intricate bands of brightly colored geometric shapes, may have been lost to history, we do know that by the mid-1800s the people on Fair Isle were trading their knitwear for other goods and supplies. But it wasn't until the 1920s that the style really came into fashion. It was then that a young Edward VIII, the style icon of his time, was photographed for LIFE Magazine wearing a Fair Isle Sweater and holding his favorite Cairn terrier while vacationing in the French resort town of Biarritz.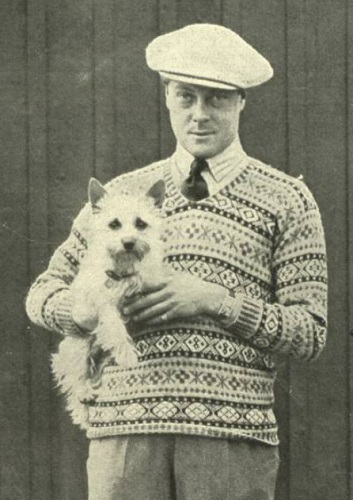 Over the next hundred years, the Fair Isle would fall in and out of favorite numerous times with the fashion elite. Paul McCartney was a fan of the style and was frequently seen wearing Fair Isle vests and V-necks sweaters in the late 1960s and 70s. And Robert Redford, who wore a brightly colored Fair Isle in 1973's The Way We Were (read about that look at BAMF Style), also had a couple in his private knitwear collection. Then there was author Truman Capote, who was wearing a Fair Isle turtleneck when he was photographed for LIFE Magazine skating at Rockfeller Center in 1959.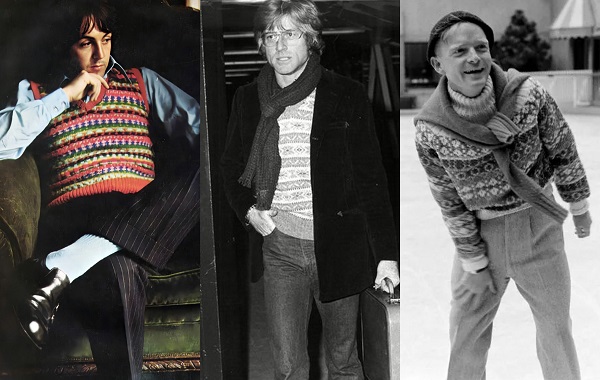 Sadly, by the early 1990s, the popularity of the Fair Isle was once again on the decline, another victim of overexposure during the "Preppy-style" heydays in the 1980s. But the classic sweater has been making comeback recently, fueled in large part by the growing neo-Prep trend promoted by brands like Noah and Aimé Leon Dore. Credit is also due to artists like Tyler, the Creator, who are masters at combining Ivy-trad and street-style in ways that are fun, interesting and very cool.
Where to get a Fair Isle Sweater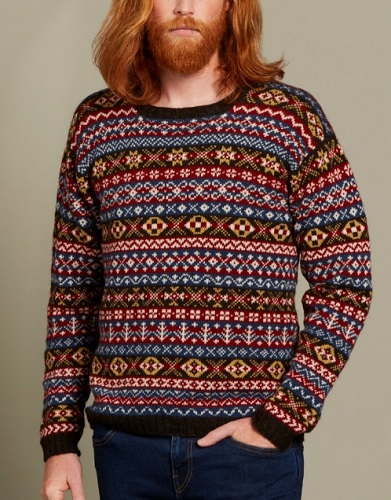 If you want a genuine Fair Isle sweater, you'll need to source one from that small island 80 miles off the northern coast of Scotland. A few of the island's 65 inhabitants still make them there today (Mati Ventrillon and Marie Bruhat are two well-respected makers, but you can also try Anderson & Co.). And you'll know it's the real deal by the exclusive "Star Motiff" trademark symbol on the label. It will also cost you between £400 and £600 and you may need to wait about a year to get it, since each sweater is knit using traditional techniques, usually on a per order basis.
However, if you're a little less picky about the origins of your knitwear, we have plenty of other options to choose from. Read on!
How to Wear the Fair Isle Sweater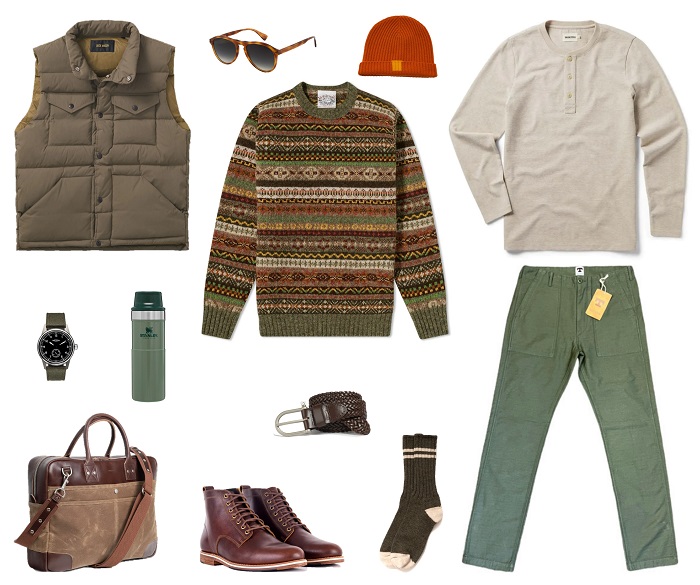 The Pieces
Notes on the Look
For a lot of men, the Fair Isle sweater's greatest strength can also be its biggest weakness. It's a busy pattern with a lot of colors. And some guys might feel that the design can come across as a little feminine. I get it. But I think there are two ways around those obstacles. The first is to find a Fair Isle in darker, more earth tone colors. Avoid the brighter pinks, blues and yellows and go with olive greens, browns, pale blues, mustard yellows and greys. Both Chadwick Boseman and Charlie Hunnam are wearing the kind of sweaters I'm talking about.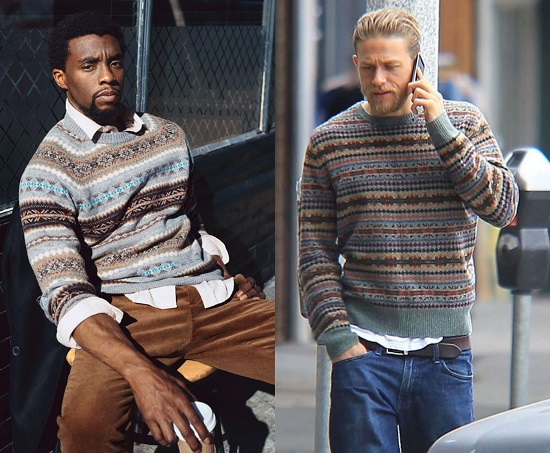 The second strategy is to take advantage of all those colors in the Fair Isle pattern. For the look above, I've focused on the greens and browns in our sweater from Jamieson's of Shetland to combine it with some olive green fatigue pants from Tellason and a pale brown down vest from Buck Mason. The cashmere cap from Billie Todd (you can read my review of that piece here) picks up on the small hints of rust in the pattern and adds some color to the outfit.
I also think that using pieces with a more utilitarian feel, inspired by heritage workwear and military uniforms, helps to dial down the "fussiness" of the sweater style. Try combining the Fair Isle with pants, outwear and footwear that's solid in both color and construction and you'll go a long way to minimizing any air of feminity that comes with this iconic design.
Other Fair Isle Sweater Options
The Norwegian Fisherman Sweater
The history for the Norwegian Fisherman sweater goes almost as far back as that of the Fair Isle. And it's a little complicated. In 1857, Ole Andreas Devold returned home to western Norway from studying in Germany and opened a textile factory. His use of state-of-the-art knitting machinery allowed him to mass produce high-quality mittens, caps and underwear that were a hit with the locals. Within 25 years, Devold was the owner of one of the largest textile companies in Norway.
One of Devold's most successful products was the Nordsjø (North Sea) Sweater, a heavy piece of knitwear designed to protect Norway's fishermen from the harsh elements at sea. The design was characterized by a distinctive chevron check knit pattern on a dark background. Although the exact date Devold started making the sweater is unknown, it's was likely in production by the early 1900s.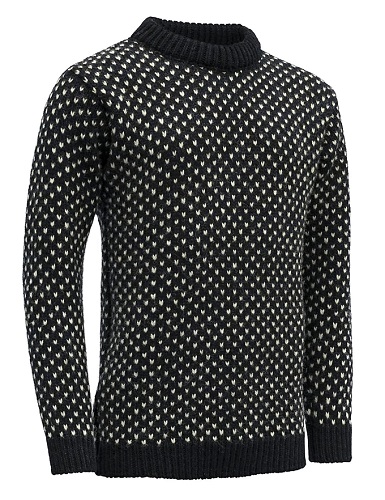 About 60 years later, the story took an interesting turn. In 1965, Leon Leonwood Bean, founder of the venerable American outdoor equipment retailer L.L. Bean, decided to introduce his version of the Norwegian Sweater in his catalog. The original version was made in Norway by Bergen Trikotasje, with an 80% wool and 20% rayon yarn and quickly became a favorite with hunters and outdoor adventurers.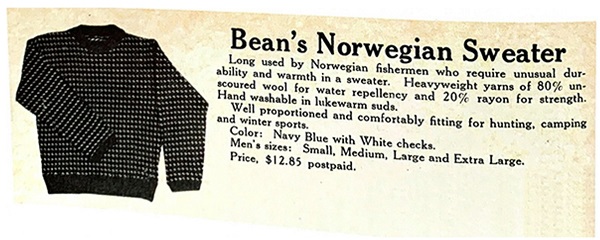 And then we come to 1980 and the publication of Lisa Birnbach's The Official Preppy Handbook. Bean's Norwegian Sweater featured prominently in the book (Birnbach called it, "The nearest thing to a Prep membership card."). Which meant that anyone that wanted to capture some of that Ivy-trad style had to have one. For the next decade, the sweater's popularity was at its peak.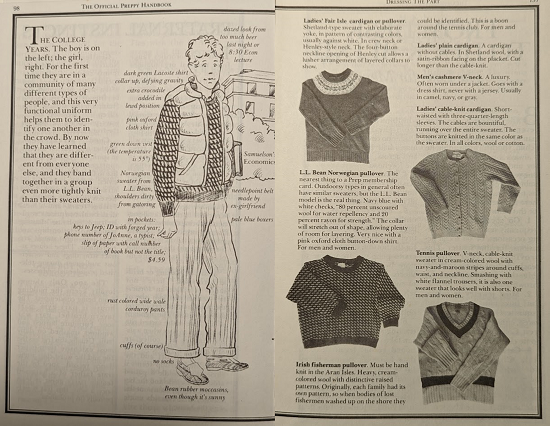 The Fall and Rise of the Norwegian Fisherman Sweater
You probably know where the story is going next. By the early 1990s, the Preppy trend was on its last legs. And Bean's Norwegian Sweater was getting dragged down with it. Although it has to be said that L.L. Bean didn't do much to help their case. The company's biggest sin was moving production of the sweater from Norway to China. As far as Ivy-style traditionalists were concerned, that was really the final nail in the knitwear's coffin. And so Bean's Norwegian sweater was retired indefinitely in the early 2000s.
However, time heals most wounds. And Bean's Norwegian sweater has returned a couple of times, first in 2009 and next in 2019. L.L. Bean also seems to have learned from the mistakes of the past. Although these latest versions are 100% wool (rather than the 80% wool/20% rayon blend of the original), they are being made in Norway once again, now by another well respected knitwear company: Norlender. Founded in 1927 by Ola Tveiten on the island of Osterøy, Norlender has a history almost as long and as interesting as L.L. Bean and Devold.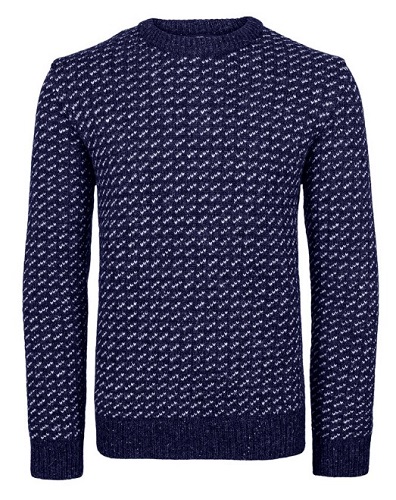 If you want an "authentic" Norwegian Fisherman Sweater today, you basically have three options. You can try and find one from Devold, the company that first produced the sweater style back in the early 1900s. But Devold's sweaters are little hard to find outside Europe. And, unfortunatley, they are now producing their sweaters at their factory in Lithuania. Or you can buy L.L. Bean's latest version of their sweater, which is once again being made in Norway by Norlender. Or you can buy one directly from Norlender itself, L.L. Bean's own supplier. Whatever option you choose, one thing is for certain: it's going to keep you warm when the temperature drops!
How to Wear the Norwegian Fisherman Sweater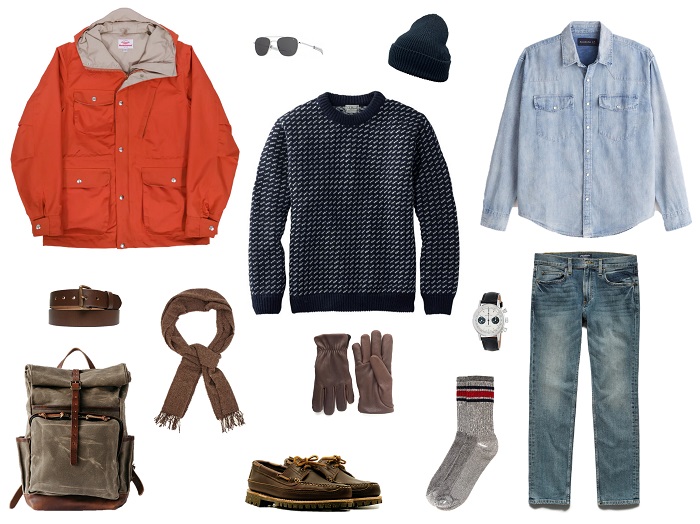 The Pieces
Notes on the Look
Based on looks alone, the Norwegian Fisherman sweater isn't all that complicated. It's a heavy wool crewneck sweater with a small pattern. The challenge is all the Preppy baggage the style carries with it. Now, if you don't live in the U.S., that's not really a problem. But if you're of a certain age and have had any contact with North American culture over the last 30 years, you'll know what I'm talking about.
The trick then is to avoid any Ivy-style connotations. Try to steer clear of the pink OCBDs, khaki chinos and Bean duck boots. Or at least use only one of those things when you're wearing the sweater. Better yet, lean into the knitwear's rugged, purpose-driven heritage. Faded jeans, a denim shirt and other workwear style pieces will help sand off some of that Preppy edge.
The look above still pays homage to classic New England style. Especially the 60/40 jacket in blaze orange from Battenwear, the lugged sole mocs from Oak Steet Bootmakers and the waxed canvas ruck sack from Loyal Stricklin. But the overall effect is more "walk in the Maine woods" than "hanging at the college quad".
Also Try
The Shawl Collar Pullover
Compared to the Fair Isle and Norwegian Fisherman, our next iconic sweater style might seem a little boring. And truth be told, the humble shawl collar pullover does tend to get overshadowed by it's more popular relatives, the shawl collar cardigan and the rollneck sweater. But there are some solid reasons to add one to your collection.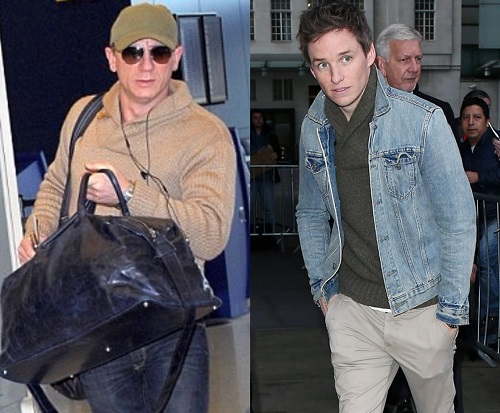 Legend has it the shawl collar cardigan was first created for Lieutenant General James Brudnell, the 7th Earl of Cardigan, who wanted knitwear he could put on without messing up his hair. The shawl collar was added to give the design a touch of formality, much like the smoking jackets of the time. Whether the shawl collar pullover came before or after that event is unknown (or at least I couldn't find out).
Whatever its actual origins, the shawl collar pullover has proven to be both a stylish and practical knitwear choice for decades. It was especially popular with hunters and outdoorsmen. The high collar helped insulate the back of the neck while still making it easy to turn your head. And since it didn't have buttons up the front, you could easily layer it under a coat or jacket without adding unwanted bulk around the body. Plus, you could turn up the collar and button up the neck if you needed a little extra warmth.
Why you want a Shawl Collar Pullover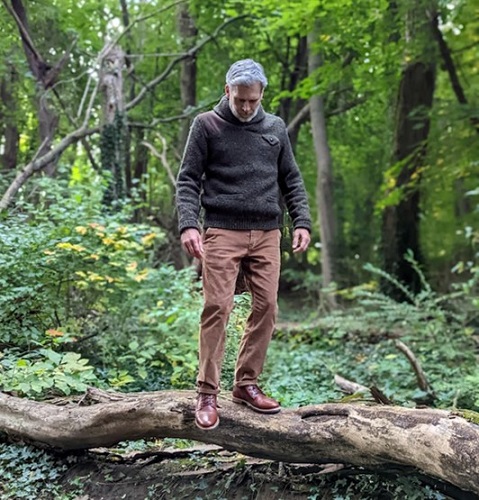 As far as style goes, the shawl collar pullover offers something a little unexpected. Everyone owns a shawl collar cardigan. And when it comes to collared pullovers in general, quarter zip sweaters and hoodies are far more common. But going with a shawl collar pullover will help you stand out a little without veering outside the lines of "traditional" menswear. And it offers a certain rustic elegance that few other sweater styles can deliver.
How to Wear It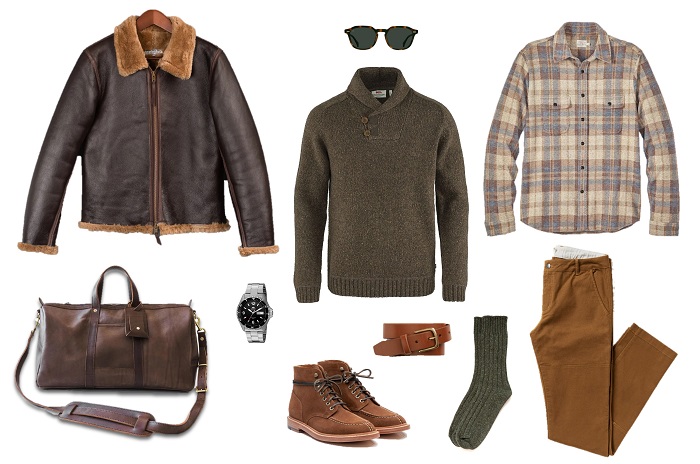 The Pieces
Notes on the Look
Because the shawl collar pullover is such a simple and traditional design, it's pretty easy to work it into most looks. The only thing I'd take into consideration is the weight of the shirt you wear it with. Because the knitwear's collar is heavier and sits quite high, I've found I need to wear a heavier shirt with a more substantial collar underneath if I want any of it to show. A lighter weight shirt just disappears.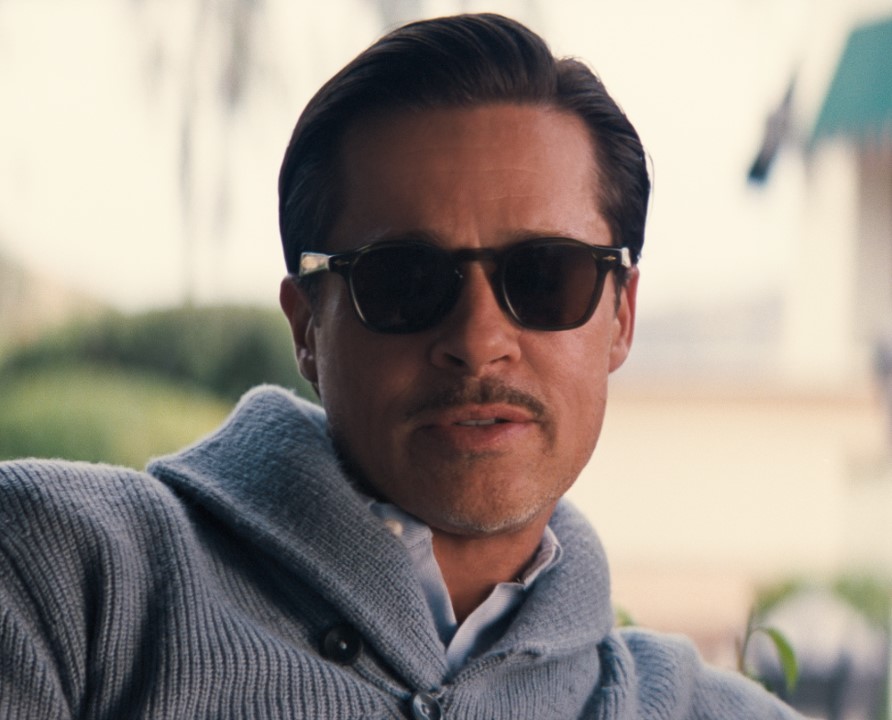 The other great thing about the utilitarian nature of the shawl collar pullover is it creates a strong foundation to play around with the other pieces in the look. The knitwear isn't trying to be the star of the show. So go a little wild with your outerwear, trousers or footwear. In the look above, I've shifted the focused from the sweater to that amazing Simmons Bilt shearling flight jacket from Sonder Supplies. And I've gone with a more interesting double-knee utility pant design from Bridge & Burn and added some extra texture with the suede boots from Grant Stone. The leather duffle bag from WP Standard adds a touch of rugged luxury (and is a pretty good alternative for James Bond's SPECTRE bag!).
So the overall look isn't anything too crazy. It's just different enough to be interesting.
Also Try
The Southwestern Cardigan
The history behind our last iconic sweater style is perhaps the most controversial. Whether we're talking about mall brands or high-end fashion houses, the simple reality is that many of "Southwestern" cardigans we see today are directly inspired by (or outright copies of) traditional Navajo designs, especially their world famous blankets.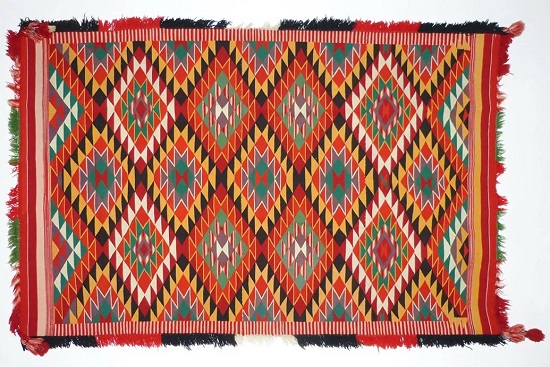 Heddels does a great job digging into the history of Navajo blankets and rugs in this article. So I won't get into the details here. But what concerns many people about the Southwestern style of knitwear is the inherent sense of cultural appropriation. When you have brands like RRL and Pendleton mass producing and profitting from "Navajo print" sweaters, cardigans and jackets without compensating (or, in some cases, even crediting) the native culture that inspired them … well, you can see it's a bit of problem. In fact, the Najavo Nation sent Urban Outfitters a cease-and-desist letter in 2011 to stop them from using "Navajo" in the names of their made-in-China products. Other brands took notice and the practice is far less common than it was ten years ago. However, one does have to ask if simply re-labelling a product really addresses the core issue with Southwestern designs.
Aside from the issues of cultural sensitivity, there are other challenges when it comes to wearing Southwestern style knitwear. There's simply no getting around the fact that it's a BOLD design. And it definitely makes a statement. Go overboard with it and you'll quickly fall into Lloyd Christmas territory.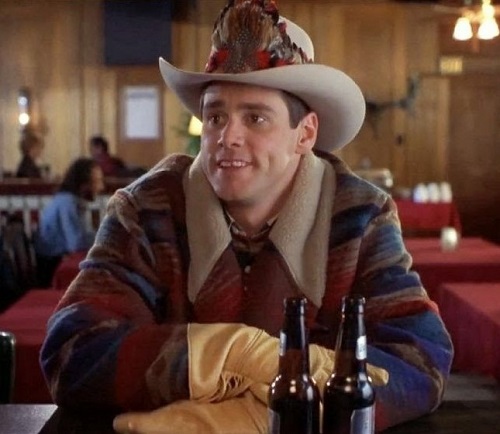 That's obviously a look we want to avoid (unless it's Halloween). Luckily there are ways to wear the Southwestern cardigan without looking like a dork.
How to Wear the Southwestern Cardigan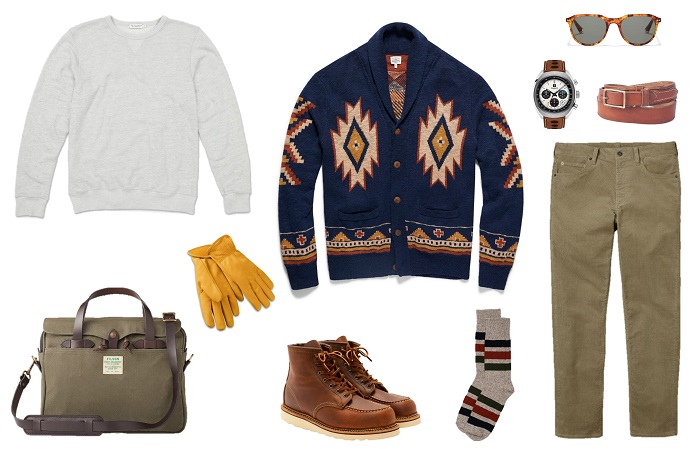 The Pieces
Notes on the Look
The key to wearing the Southwestern cardigan is to avoid going full cowboy. Keep the other pieces in the outfit simple and neutral. And it helps if they have their own understated character and some rugged texture. I think David Beckham is getting close to the right idea in this photo.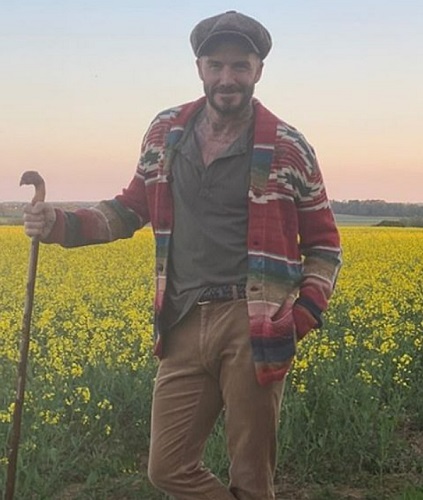 As for the knitwear we've used above, this particular cardigan is a result of collaboration between Faherty and Native American fashion designer Bethany Yellowtail. Bethany is originally from the Crow Nation and is an enrolled member of the Northern Cheyenne Nation. So that helps with many of the "cultural appropriation" issues.
I also think Southwestern style cardigans work best if we treat them like outerwear rather than sweaters. Here I've layered the cardigan over a basic grey sweatshirt to give the look a bit of an athletic vibe. And the classic Red Wing boots (more about those in this post) and the waxed canvas Filson briefcase add some heritage workwear elements that match the cardigan's rugged nature without being too Western.
Also Try
Have some suggestions for iconic sweater styles you'd like us to tackle next? Tell us about in the comments! And remember to visit our Facebook page, Instagram account and Pinterest Boards for even more James Bond. Steve McQueen and Daniel Craig style inspiration!