The James Bond Black Polo Sweater
Alright, folks! This is one of those "you gotta have one" posts. A black, long sleeve polo-collar sweater is as much a part of the classic "spy look" as the black turtleneck. And it's something our favorite secret agent knew well. Sean Connery's James Bond wore a version twice in Thunderball. First when he was snooping around Shrublands (with the sleeves pushed up high on the arms).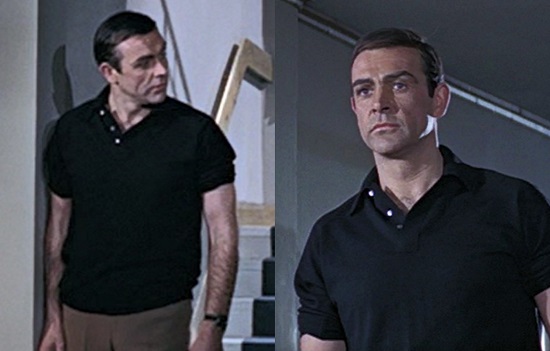 And next when he went snooping around Palmyra and, after dealing with the sharks and henchmen, had a chance encounter with Fiona Volpe in her bathtub.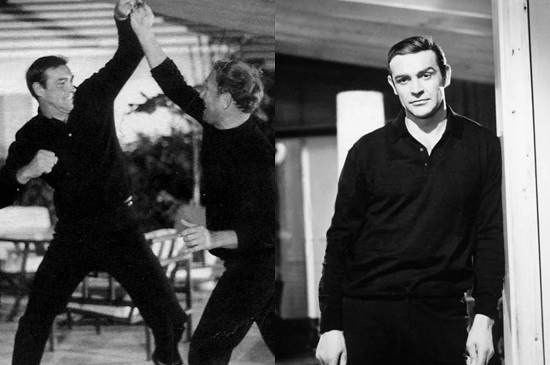 More recently, Daniel Craig's Bond wore a black polo sweater when he broke into M's apartment in 2006's Casino Royale.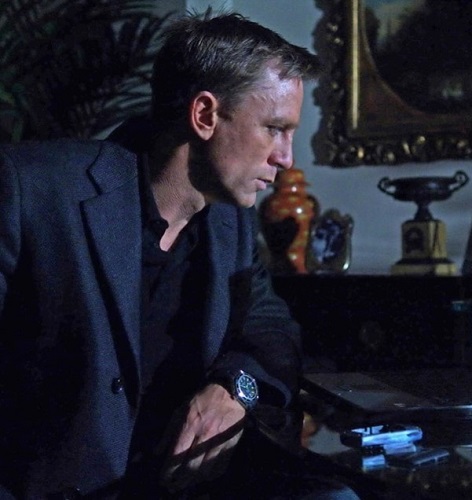 Then of course we have the variations on the theme. Connery's black V-neck sweater over the black polo combo in Goldfinger and his polo-collar knit shirt in Diamonds Are Forever. Roger Moore's zip neck shirt in Moonraker. Timothy Dalton's multi-button dark navy polo in The Living Daylights. They're all styles worthy of a look. And while Pierce Brosnan's 007 wasn't seen in a black polo-collar sweater, the actor did wear one for a game of golf in 1999's The Thomas Crown Affair.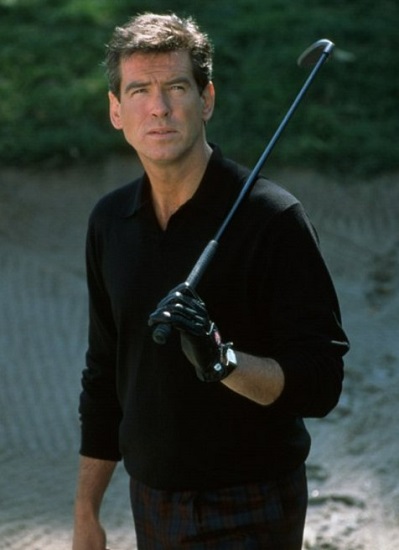 What's the take-away? A James Bond inspired black polo sweater can be one of the most versatile pieces of knitwear in your closet. Go with a version in a fine knit cotton, Merino wool or even cashmere, and it'll be easy to dress-up with a sport coat or sharp trousers. But it can also work great with some dark wash denim and Chelsea boots. And plenty of looks in between.
Features wanted for the James Bond Black Polo Sweater
Fine knit cotton, Merino wool or cashmere fabric
Soft polo-style collar
3 button placket
Trimmer fit (watch out for the muffin-top!)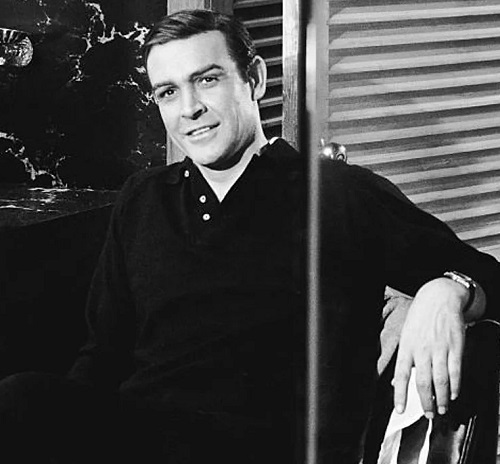 Since we don't see much of Craig's Casino Royale polo sweater, I'm going to assume the design is very similar to the one Connery wore in Thunderball. I'm also going to focus on what I'll call "luxurious knits" for the alternatives. Honestly, if all you want is a simple pique cotton long sleeve polo, there's no shortage of affordable options out there. But for this post, we after something a little more special. You can learn more about the various Bond outifts from our freinds at Bond Suits and BAMF Style.
Under $100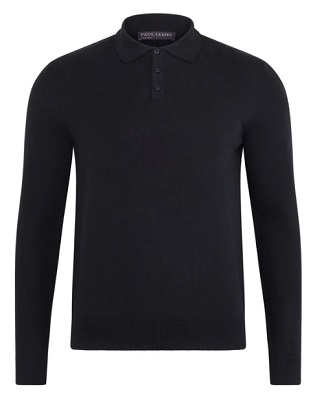 It may be 100% cotton. But it's still a dressy polo. Paul James has gone with a fine knit fabric, which has a smoother hand. The cut is trim, but not skintight, so it should work well under sport coats without binding or feeling bulky. And the narrower placket and slightly smaller collar help keep the look clean and sophisticated. The overall design is a great example of everything we want in black polo sweater. You can find sizes XS to XXL on the Paul James website.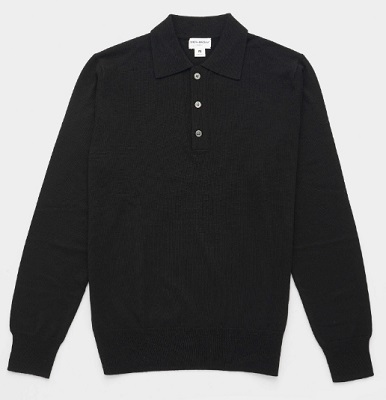 Canadian menswear company Spier & Mackay have gone a little retro with their take on the polo sweater. They've used a 100% Merino wool fine knit fabric (which is pretty impressive at this price) and faux Mother of Pearl buttons at the placket for a little bit of flash. The slightly oversized collar and wider ribbed knit hem give the sweater it's 1920s knitwear vibe and add just a bit more character than your typical polo. It's always fun to see how small changes to most basic elements of sweater's design can impact its look and feel. Sizes XS to XXL are in stock.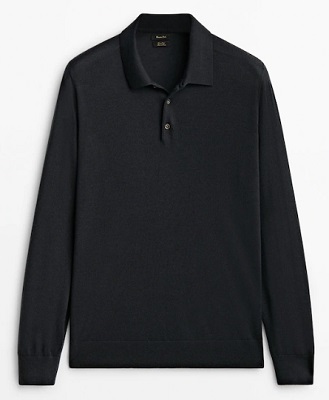 A clean and simple design in a fine knit 100% Merino wool. What's throwing me off is the way the sweater fits the model in the product photos. It seems like the cut is really long. So there's a lot of fabric piling up around the waist. Maybe that's the look Massimo Dutti was going for. But if you're a little shorter (or want to avoid the dreaded muffin-top), I'm not sure how flattering this fit is going to be unless you plan on wearing the polo tucked into your trousers. If you're taller and thinner? Have at it! They have sizes medium to XXL available.
Under $200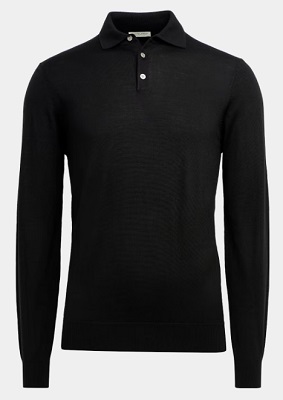 The tightest of the tight black polo sweaters. Like, it's compression shirt tight. If you don't skip chest (or shoulder or back or abs) day and have absolutely no body hair, this is your polo. The fabric is 100% fine knit Merino wool and I'll admit it looks pretty sharp tucked into some dress trousers on the model on their website. But I think it'll take more confidence than I've got to successfully pull off this fit. Suit Supply has sizes XS to XXL in stock.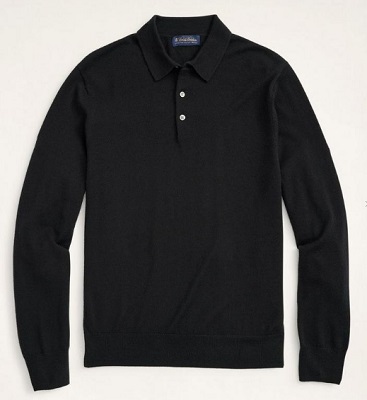 They've used a 100% Merino wool that's somehow been treated to make it machine washable. Honestly, I'm still a little skeptical about that. But thankfully Brooks Brothers has decided to skip that parachuting sheep logo they seem to want to stitch onto everything. Sizes XS to XXL are available on their website. However, the customer comments on the fit are a little confusing, with some suggesting ordering up a size and others suggesting going down a size. So I'd double check the size chart.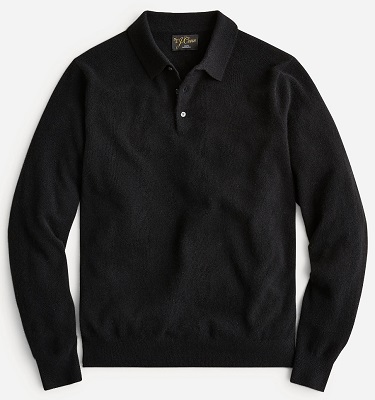 J.Crew doing what J.Crew does so well: offering a classic, staple wardrobe piece in a nice fabric at a reasonable price. Especially if you can use one of their frequent discount codes to save a little more money. This is a slightly loftier knit, so the look is a touch more casual. But the design is clean and simple. So it should still be easy to dress it up. They have sizes XS to XXL in stock.
If you like the J.Crew fit and want a less expensive option, check their Factory Merino wool-blend sweater-polo. It's currently on sale for $49.00. I just wouldn't expect the same quality as we usually get with mainline J.Crew.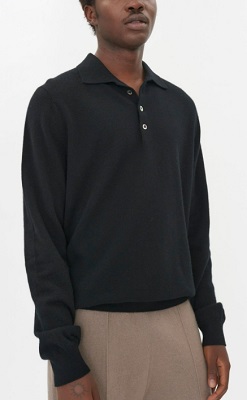 Another great example of how small tweaks to a design can elevate a piece. This 100% cashmere option has a looser, more relaxed fit. But Gobi has used a 4 button placket and, most interestingly, a unique knit collar that has an almost cut-away style. It's a small difference. But it definitely adds some unexpected character.
Also worth noting: Gobi is currently running a Buy 1 Get 1 Free promotion right now! I'm not sure if you can apply that to a different sweater model. But in any case, they have some great color options available in this one (call me crazy, but I'm really liking that Sugar Almond orange!). And if you want something a little more sophisticated, take a look at their Silk and Cashmere Polo Sweater for $239.00. It has a smoother hand and a trimmer fit with a 3 button placket, which makes it another great match for Bond's polo.
Under $300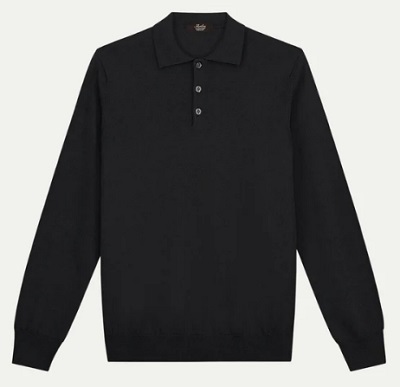 I've shared this sweater more than a few times on the site now. And I still think it offers great bang for the buck. Handmade in Italy from 100% extra-fine Merino wool, it comes in a trimmer fit that will work well on its own or layered under a jacket. And it's finished with genuine mother of pearl buttons for an extra touch of luxury. Sizes small to XXL are in stock on their website.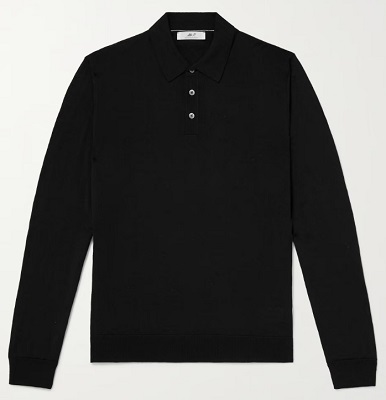 Very similar to the Aurélien option above, although the knit might be just a touch finer on the MR P. This one is also made in Italy from 100% Merino wool and is finished with genuine mother of pearl buttons. The big difference is the contrasting white line of tipping they've added along the placket. Some may like that. Some may feel it takes away from the "spy vibe" of a pure black polo. You'll find sizes XS to XXL at Mr Porter.
The Investment Pieces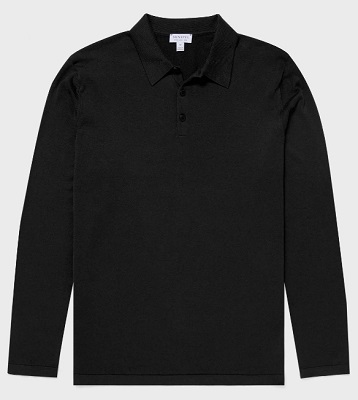 Our second all cotton option. But this time we're getting that beautiful long staple Sea Island Cotton that Fleming's Bond favored in the novels. However, this is still a knit. So it has that sweater look. And I'm also liking the natural horn buttons in tonal black that give the polo even more of a minimalist style. Sunspel has sizes small to XXL in stock.
If you'd prefer a 100% wool sweater, Sunspel also has their Fine Merino Polo Shirt for $280.00. It has a similar fit and the same tonal black buttons as the Sea Island Cotton version. But the fabric is a super-fine 27 gauge wool for a little extra warmth.
And a final alternative from a true British institution and the maker of Bond's Skyfall v-neck sweater. John Smedley has been making fine knitwear in the UK for over 235 years. With the Cotswold, we're getting an ultra-fine 30 gauge 100% Merino wool fabric in smooth, elegant knit. It also has a slightly longer placket with more space between the buttons, which nicely matches the style of Connery's polo from Thunderball. If you're in the UK, you can buy the sweater directly from John Smedley. But I found the price for those of you in the U.S. to be better at Todd Snyder (about seventy-five bucks cheaper), so that's what I've linked to above. They have sizes small to XXL in stock.
Have a favorite alternative for the James Bond black polo sweater? Let us all know about it the comments below! And if you're interested in other 007 knitwear, check out our post on the 5 Essential James Bond Sweaters. You can also find more style icon inspiration on our Facebook page, Instagram account, and Pinterest Boards.