The Steve McQueen Hanhart Watch
When it comes to watches, Steve McQueen is most closely associated with his Rolex Submariners and the Tag Monaco. But the King of Cool had another favorite timepiece that also saw plenty of wrist time: The Hanhart 417 ES.
Hanhart is a heritage German timepiece manufacturer. Founded in 1884, it really started to make a name for itself in the 1920s when it produced highly accurate yet affordable stopwatches. By the late 1930s, Hanhart had moved into the production of chronograph watches and continued to develop more precise movements and robust designs over the following decades.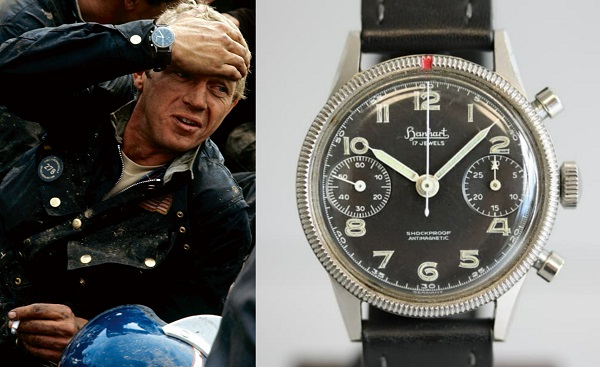 Hanhart originally designed the Ref. 417 as a pilot's watch for the German Luftwaffe in the 1950s. The watch came in two models: the Ref. 417, which had a chrome-plated brass case, and the Ref. 417 ES, which had a stainless steel case. The "ES" in the model's name stands for "Edelstahl", the German word for stainless steel. Also called the Caliber 42 (for the new movement Hanhart developed for the chronograph), the Ref. 417 actually had a very limited production run, with only 500 pieces of the stainless steel version being made between 1954 and 1958.
The Ref. 417 ES was an excellent watch for it's time. Powered by that 17 jewel Caliber 42 movement, it featured a 39mm stainless steel case with a bi-directional fluted bezel and a plexiglass crystal. The team at Hanhart had used their years of experience building precision stopwatches to create the extremely accurate flyback chronograph. And they made it shockproof and antimagnetic to boot. Although Hanhart had made similar watches in the past, such as the single-pusher Calibre 40 in 1938 and the "TachyTele" in 1939, many today consider the Ref. 417 ES to be the pinnacle of the company's chronograph models.
McQueen and the Hanhart 417ES
How McQueen came to own the watch is still a mystery. What we do know is he was wearing his Hanhart 417 ES when he starred as Captain Buzz Rickson in 1962's The War Lover. As a prop, it was an odd choice: McQueen was playing an American bomber pilot in World War II and the 417 ES wasn't available until 1956 and was designed for the German Air Force. But, as we can see from McQueen's stylishly cut chinos in The Great Escape, the actor had a tendency to wear whatever he wanted in his movies, historical accuracy be damned.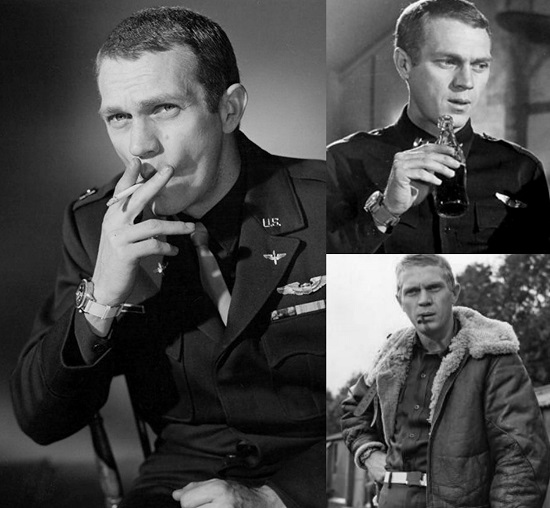 McQueen also enjoyed wearing the watch in his personal life. He had the Hanhart 417 ES on his wrist when John Dominis visited his home for the LIFE Magazine photoshoot in 1963 (see the photo at the top of this post). And it shows up in various photos taken by William Claxton around the same time.
However, McQueen showed he appreciated his Ref. 417 ES for its utility as much as its style at the 1964 International Six Day Trial in East Germany. Numerous photos by François Gragnon from the event show McQueen wearing the watch and putting it to good use.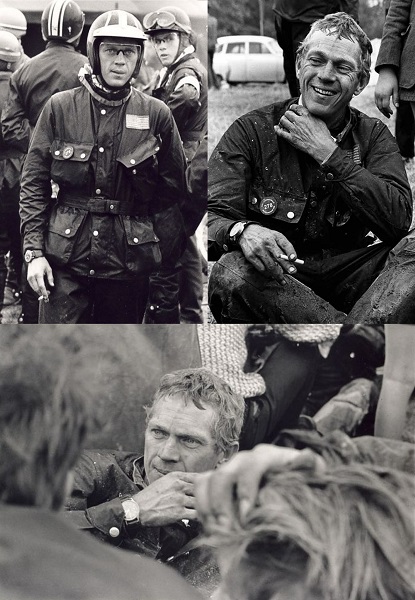 Considering McQueen's passionate attention to detail when it came to racing (he made all the modifications to the Triumph TR6 motorcycle he used in the race himself), the fact that he chose the Hanhart 417 ES for the ISDT is a real testament to the watch's accuracy and rugged design.
The Latest Version of the Steve McQueen Hanhart Watch
Hanhart stopped manufacturing watches in the early 1960s, when the company decided to focus solely on producing precision stopwatches. And so the Ref. 417 ES became part of horological history for almost 60 years. And a very rare collectible, given the limited number that were originally made.
Then in 2020, Hanhart dug into its archives and released a re-issue of the 417 ES. The new iteration retailed for €1840.00 and differed in some key aspects from the 1950s version. Most noticeably in the size (the 2020 model grew to 42mm), the updated movement (the old in-house Calibre 42 was replaced with a Swiss-made Sellita SW 510M), and the crystal (now a highly domed sapphire instead of Plexiglass). However, Hanhart stayed true to the heritage of the 417 ES, keeping many of the design features of the original. The bi-directional fluted bezel with its distinctive red mark, the two sub-dials positioned neatly at 3 and 9 o'clock, the font of the Arabic numerals and even the classic Hanhart logo all made a comeback.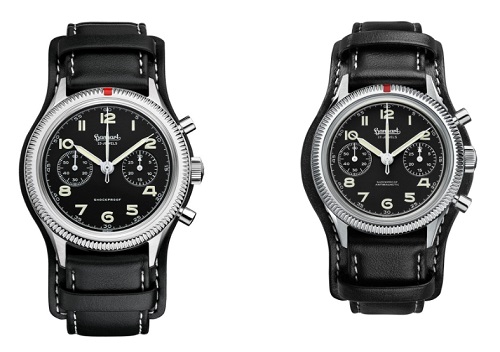 The new Ref. 417 ES was an immediate hit with watch lovers. So in 2022, Hanhart took things a step further and released an even more accurate version of their iconic timepiece. For the latest model, named the 417 ES 1954, Hanhart returned the case size back to the original's 39mm and included the two lines of text at the bottom of the face ("Shockproof" and "Antimagnetic"). The company kept the SW 510M movement from the 2020 version and increased the water-resistance to 10 bar. They also raised the price to €1980.00.
Other options from Hanhart
The Ref. 417 ES 1954 was another huge success for Hanhart and it's now sold out almost everywhere. However, since Hanhart clearly states the watch is part of a non-limited collection, there's hope they'll make more available in the future. In the meantime, it's well worth checking out some other designs from Hanhart's Pioneer Collection. Like the Ref. 417 ES 1954, many of these are based on the company's watch models from the late 1930s and 40s and have a similar vintage character.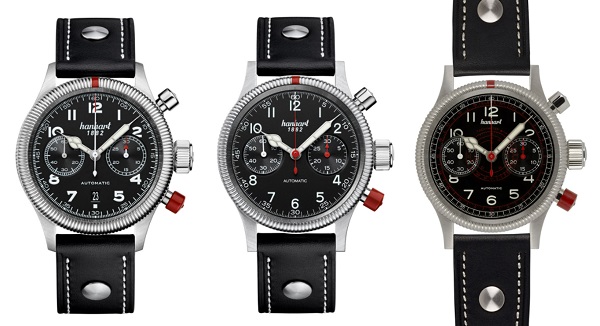 Now, those are obviously some expensive watches. Luckily we've found some suitable alternatives that could work for almost any budget! Let's take a look at the options ….
Features Wanted for the Steve McQueen Hanhart Watch
Pilot or Aviator style chronograph
38mm to 40mm round stainless steel case with two classic pump pushers and a fluted screw-down crown
Fluted or coin-edge bi-directional bezel
Domed crystal
Black dial with index-style hands, Arabic numerals and two sub-dials at 3 and 9 o'clock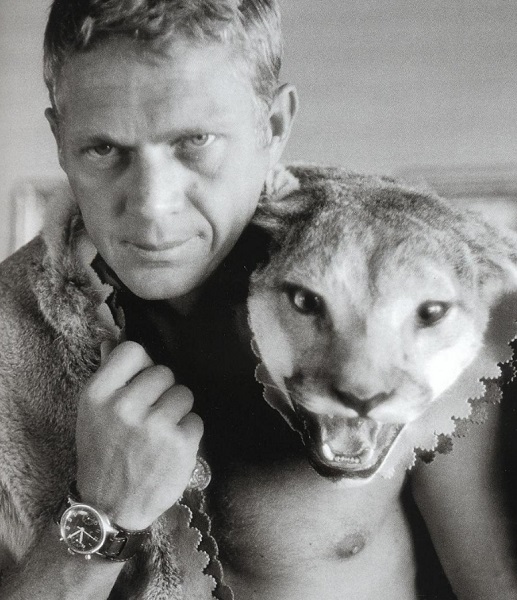 A few quick things to note about our alternatives. First, for whatever reason, many manufacturers of modern watches in this style tend to go big with the size. So we have more than few options that hit 42mm or larger. Second, again for reasons unknown, we have a good selection in the $100 to $500 range and in the $1000+ range, but almost nothing in the $500 to $1000 range. I found that a little weird to be honest. But the watch market is what it is.
The last thing to discuss is the band. McQueen wore his Hanhart on a few different straps. But he seemed to favor keeping his Ref. 417 ES on a wide, black leather "fat strap". The design is very similar to a Bund strap, but with a straight-edge "bund" (that extra piece of leather that sits between the watch and your wrist). Most straps in this style that are available today have a curved bund that follows the outside contours of the watch. McQueen's version is more difficult to find. I would recommend checking out independent leather workers on Etsy to find an option that suits your taste. Or, if you don't mind paying a little more, the Officer Bund Strap from Joseph Bonnie (€141.00) will also do the trick.
Best Options for the Steve McQueen Hanhart Watch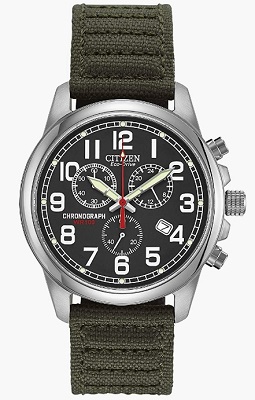 Sure it's missing some of the key details (no fluted bezel, 3 sub-dials rather than two, different pusher style). But it's under two hundred bucks (and often less when you can find it on sale). And it has a great military tool watch vibe. Plus, at 39mm, it's the same size as the Hanhart and will look great on a black leather Bund strap. Last, and certainly not least, Citizen has used their respected, battery-free Eco-Drive movement that converts light to energy and is continously recharging. The best price I could find was on Amazon. But keep an eye out for it on Macy's, Target and other online retailers that regularly offer discount codes.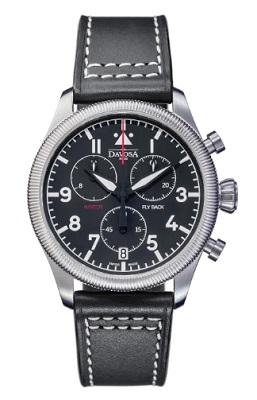 A great looking watch that ticks almost all of our "Features Wanted" boxes. Powered by a Swiss quartz movement, it even features the "fly-back" function on the chronograph. The only down-side is the size. At 42mm it's going to look a little imposing when worn with a heavier Bund strap. Especially on guys with thinner wrists. Still, the Davosa Aviator is a solid package at a very good price!
Under $200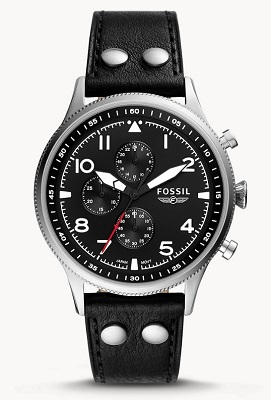 A true budget beater that does a pretty good job capturing the look we want. Fossil doesn't even mention what movement they've used. So I won't pretend it's worth discussing the technical merits of the watch. Just note that this is a big one, with a case diameter of 44mm, and the strap is faux leather.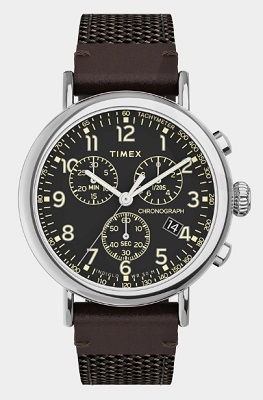 I'm not that crazy about the lug design. But I still think Timex has managed to produce a handsome looking watch in that vintage aviator style. And with a 41mm case, it should work on most wrists. Plus it comes with that great Indiglo light up dial, which is not only practical but kinda cool looking. No word on if it also comes with that loud signature Timex "TICK! TICK! TICK!".
Under $300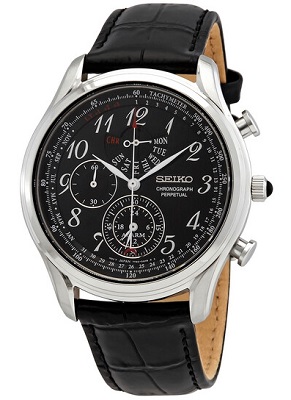 The fancy version of the classic Pilot watch. The face design is much busier than your typical military watch, with a more decorative font for the numerals and the three sub-dials. And the lozenge shaped hands, 40mm case size and stock embossed leather strap add a bit of elegance. Could be a good choice if you like the aviator style but want something a little dressier. You can find on Jomashop at that sale price.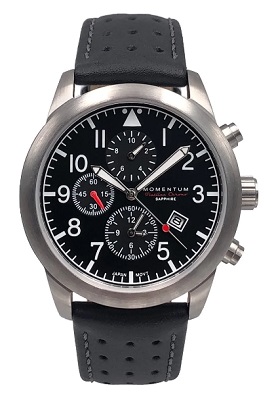 I honestly don't know much about micro-brand Momentum. But their Flatline is a great example of a classic Aviator design. They assemble their watch in Canada, using a 42mm stainless steel case with a 100M water resistance rating, a Japanese quartz Espson YM92A movement and a sapphire crystal. The pusher style is a little more modern. But I am liking the stock McQueen-esque black rally strap! You can order the Flatline directly from Momentum.
Under $500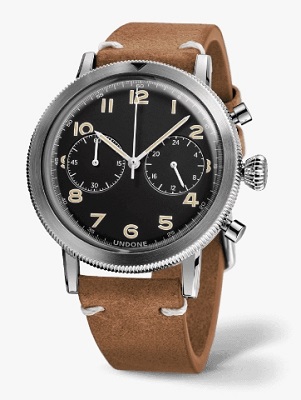 Undone occupies a unique space in the watch world, allowing you to customize its designs to change things like the dial color, hand shape, the strap and add text to the face. However, the stock version of their Type 20 already comes very close to what we want. As for specs, the 41.5mm 315L stainless steel case houses a TMI VK64 mecha-quartz hybrid movement with a flyback chronograph. That's topped with a domed K1 crystal. Each watch is made to order, so you may need to wait a bit to get one on your wrist.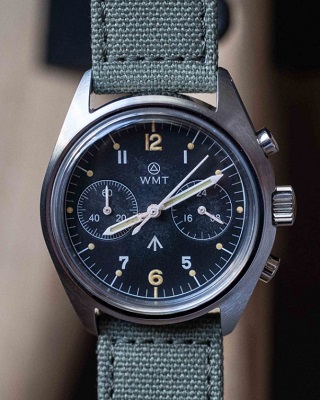 I'm really liking the looks of this one. It's classic and clean (staying with the two sub-dials helps). But the combination of Arabic numerals and stick-dot indices adds some visual interest. And at 38mm it'll look great on a bulkier fat strap. Inside, WMT has used a Seiko VK64 mecha-quartz hybrid movement, which is affordable but still has a pretty solid reputation for accuracy and reliability. You can order the watch directly from WMT.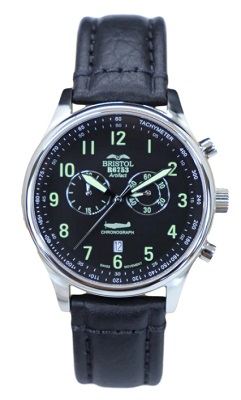 Another micro-brand that's new to me. The watch is an ode to the classic WWII Spitfire fighter plane and they've only made 1940 pieces (in honor of the year of the Battle of Britain). They've also used metal from an actual Spitfire to accent the back of the case, which is a fun touch. Inside you'll find a Swiss Ronda caliber 5021.D quartz movement, which is known for its accuracy and long battery life. Just be aware that R6753's 44mm case size makes this another big one. You can order the watch directly from Bristol watches.
The Investment Pieces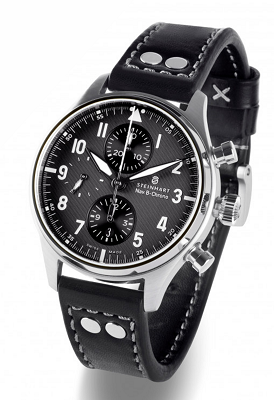 At 42mm, the Steinhart Chrono is on the larger size. The 16mm case thickness also adds to the bulk. But it's a very handsome interpretation of the classic Pilot watch. And the positioning of the two main sub-dials at 12 and 6 gives it a slightly different character. Steinhart has also used a classic 25 jewel ETA Valjoux 7750 Elaboré automatic movement, Super Luminova BGW9 on the markers and hands, an exhibition case-back, and a domed sapphire crystal. If you don't mind a slightly bigger watch, this one is offering a lot of value for the money. I've linked to GNOMON Watches above. But you can also order it directly from Steinhart for €1050.00.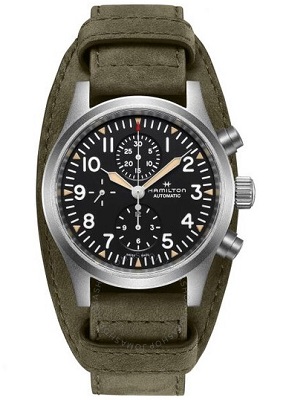 Hamiton is often considered a great gateway brand for those looking to start a higher-end watch collection. And its Khaki Field Series is a classic. The chrono model is a big 44mm. But that stainless steel case has a solid 100M water resistance rating and houses a Swiss-made, 25 jewel Caliber H-21 automatic movement with an impressive 28,800 BPH and a 60 hour power reserve. Plus, the stock green nubuck Bund strap looks damn sharp! The best price I could find was at Jomashop. But you can also find the watch at GNOMON Watches ($1655.00) or at Hamiliton ($1745.00).
If you're in the market for a more affordable Hamilton watch, check out the Khaki Aviation Pilot, on sale for $429.99 at Jomashop. It uses a quartz movement has a smaller 41mm case. But it's still has the look we want and is a solid timepiece overall.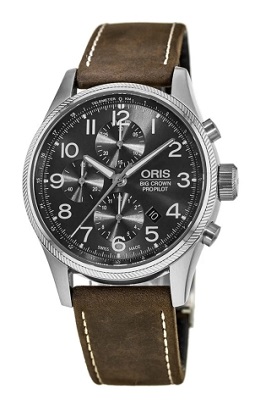 Another great entry-level luxury watch brand and another classic model. And another biggun. Again, we have a 44mm case with a 100M water resistance rating and an exhibition caseback. The power source is Orvis's in-house Caliber 744 automatic movement, which has a 48 hour power reserve. The face has the three sub-dials and brushed grey dial. It's busy, but doesn't look too crowded thanks to the watch's larger size. The ProPilot Chrono is currently on sale at Watchmaxx, where they've knocked 56% off the original $3400.00 price tag!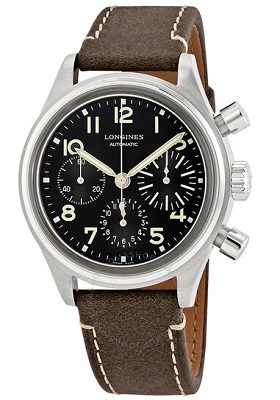 Classic good looks. And (thankfully) a more versatile 41mm size. The Avigation Bigeye uses Longines' own Calibre 688 automatic movement with a 54 hour power reserve, and a scratch resistant sapphire crystal. Longines seems to better known for their dress watches. But I think they've checked a lot of the "tool watch" boxes with this model. Once again, the best price I could find was at Jomashop.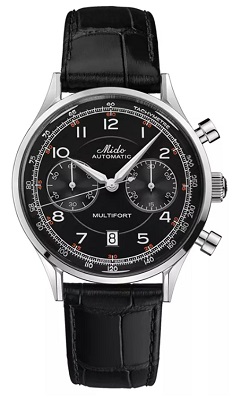 Normally in posts like this, I don't include options that are more expensive than the original. But since the Hanhart isn't currently available, I'll color outside the lines a little. I also happen to think that the Mido is worthy of mention. IMHO, it does a very nice job of dressing up the more utilitarian looks of your typical military-inspired tool watch. The design isn't too fancy and includes all the functions and features we want. It just seems to have a more elegant character, thanks to the thinner bezel and those lozenge-style hands. And with a case size of 42mm, it's big but not overwhelming. Overall, I think it's delivering the classic good looks we want in a watch like this, but with a sharper aesthetic that makes it even more versatile.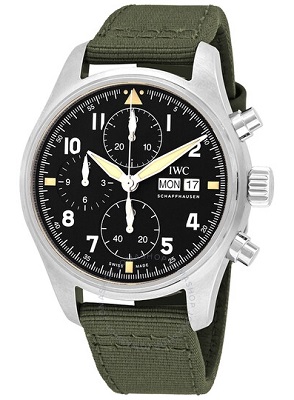 Of course we can't have a post about Pilot watches without including IWC. And the company's Spitfire is a classic. IWC powers the watch with its in-house Caliber 69380 movement, which sports an impressive 33 jewels, a 28,800 vph rate and comes with a 48 hour power reserve. At 41mm, the case size should fit comfortably on most wrists. But it is thick, at just over 15mm. If you want a timepiece that has classic good looks and comes from a heritage brand with an excellent reputation in the world of aviation, here's your watch.
Have a great alternative for the Steve McQueen Hanhart watch? Share it with everyone in the comments below! And if you're interested in more classic style icon timepieces, check out our posts on the McQueen Huer Monaco and the Paul Newman Daytona! Also remember you can always find more inspiration on our Facebook page, Instagram account and Pinterest Boards.
Information I used for this post was sourced from Hanhart, Revolution Watch, Time+Tide, Monochrome, Worn & Wound, Montredo Journal, Hodinkee and Silodrome.