The Paul Newman Rolex Daytona Ref. 6239
It's one of the most famous watches in the world. And one of the most valuable, having sold at auction in 2017 for over $17 million. So what is it about the Paul Newman Rolex Daytona that makes it so special? The story behind the watch brings together the history of a revered Swiss manufacturer of luxury timepieces, a legendary actor's passion for car racing and a rare Hollywood love affair that lasted for 50 years.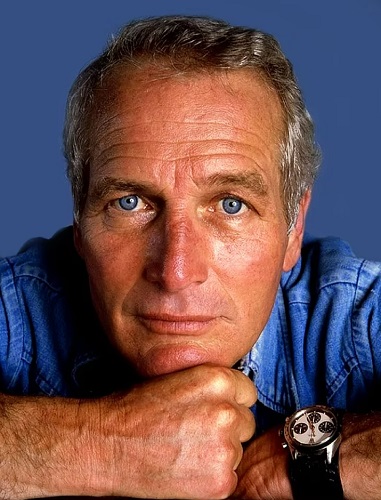 The History of the Paul Newman Rolex Daytona
Rolex really needs no introduction. What's relevant to the history of the Newman Daytona is the fact that in the 1960s, the Swiss manufacturer's chronographs were some of the least popular models in it's portfolio. At that time, the market for precision chronographs was dominated by other brands like Breitling. And although Rolex had been making chronographs since the 1930s, it had yet to gain any real traction against the competition.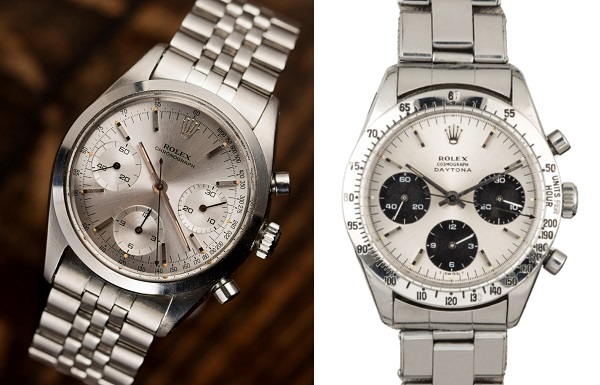 The release of the Ref. 6239 in 1963 was Rolex's biggest effort to change that dynamic. Based on the Ref. 6238 (famously worn by George Lazenby's James Bond in On Her Majesty's Secret Service), the new model featured contrasting sub-dials and moved the tachymeter from the outer chapter ring and etched it into the bezel. For almost the first two years of its existence, the Ref. 6239 was simply known as the Cosmograph (a name that still appears on all Daytonas today). It wasn't until late 1964 that the word "Daytona" finally made an appearance on the dial, first below the "Cosmograph" text near the top of the face and then moving above the 6 o'clock subdial in 1967.
Newman gets a watch …
Paul Newman and Joanne Woodward were married on January 29, 1958, and remained together for 50 years until the actor's death in 2008. And to this day they remain one of Hollywood's greatest romances. The popular story about the Rolex Daytona is Woodward purchased the watch around 1968 in Tiffany's in New York as a gift for husband while he was filming the car racing drama "Winning". Which is why the caseback is engraved with the words "Drive Carefully Me".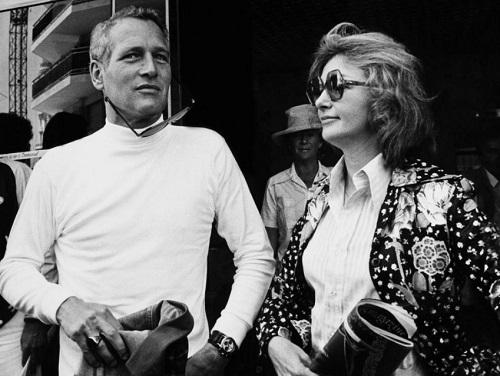 But the watch Woodward chose was no ordinary Daytona Ref. 6239. It was actually one of Rolex's least popular models, with an art deco inspired dial design that is commonly known today as an "Exotic". Unlike other Daytonas, this one featured a contrasting chapter ring, minimized hour indices and unique sub-dials with stick-and-block markings. Additionally, the sub-dial at 9 o'clock used unusual 15, 30, 45 and 60 increments rather than the typical 20, 40, 60. In fact, the Exotic was so unpopular that Rolex dealers were known to swap the face for a standard Daytona dial just so they could sell them.
However, there is absolutely no doubt that Newman loved his watch.
Newman re-gifts his Rolex
Through the 1970s and early 1980s, Newman was frequently photographed wearing his Daytona. It was a constant companion, whether he was on the racetrack or the red carpet. Then, in what has to be one of the more interesting twists in the history of luxury timepieces, Newman gave it away.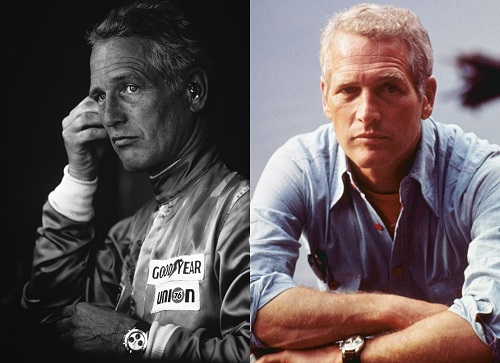 The recepient of the generous gift was James Cox. According to an interview he gave to Gear Patrol in 2020, Cox was the college boyfriend of Newman's daughter Nell in the 1980s. One day in the summer of 1984 he was helping Newman build a treehouse when the actor asked him if he knew the time. When Cox replied that he didn't have a watch, Newman handed him the Daytona, saying, "If you remember to wind this, it tells pretty good time." Cox and Nell stayed together for nearly a decade and remained good friends even after separating romantically (you can read more about their story here). Cox held onto the watch Newman had given him until he decided to sell it at auction in 2017.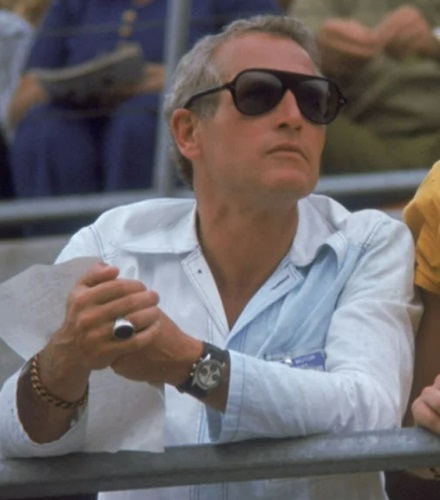 The Auction
It was at that auction that Newman's Daytona made history, selling for close to $18 million (including fees) and becoming one of the most valuable watches in the world. While the buyer still remains anonymous, we do know that Cox donated a large portion of the money earned from the sale to Nell Newman's charitable foundation, which continues the incredible philanthropic work of her late father.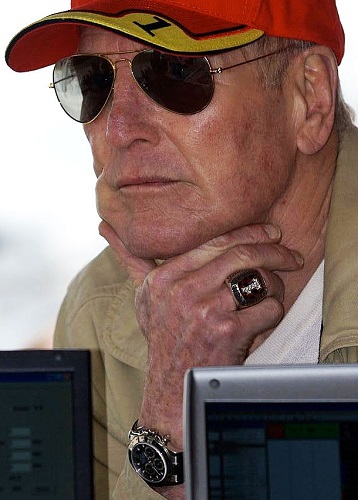 As for Newman himself, he continued to wear Rolex Daytonas until the day he died, at least two of which were also gifts from his wife Joanne with personal engravings on the caseback (a black dialed "reverse Panda" and a black dialed white gold reference). But it is his white faced Ref. 6239 Exotic Panda that has became the most coveted version, the holy grail for many watch collectors around the world. If you feel like buying one for yourself, Mason & Sons has a Newman Ref. 6239 for sale for only $295.000.00.
Features Wanted for the Paul Newman Rolex Daytona Ref. 6239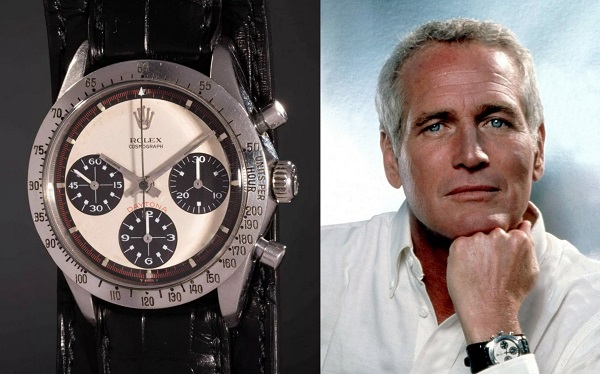 Retro style chronograph
Off-white or ivory dial with minimal graphics and three black sub-dials
Black seconds chapter ring with red markings
Stainless steel bezel with tachymeter markings
Stick style hands
Ideally would come with a black leather strap, but that can be easily replaced on most watches (and probably will be if you want to use the correct Bund strap).
A quick note before we hit the alternatives. Aside from the Newman Daytona's simple, art deco inspired dial design, the watch's most distinguishing feature is that stainless steel tachymeter bezel. There are plenty of options on the market with a panda dial and a black bezel which come closer to a more modern Daytona. But if we want a timepiece with the accurate style, our selection gets a little more limited. So I've included some alternatives below that aren't exact matches but still deserve a look. Let's get to 'em!
Best Option for the Paul Newman Rolex Daytona Ref. 6239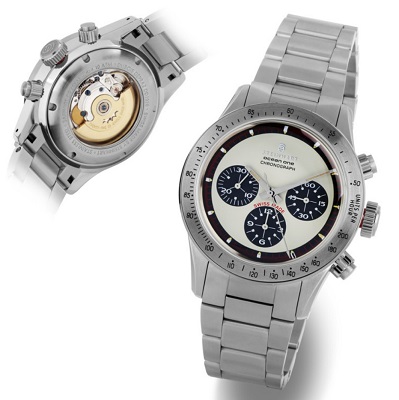 About as close as we're going to get to the original without spending a couple hundred grand. Even though it's clearly an homage to the Newman Daytona, Steinhart makes a few subtle changes, namely the pusher design and exhibition caseback. It also has solid specs, housing a 51 jewel Swiss ETA 2824-2 automatic movement in 42mm stainless steel case. With that case size, the 18mm height and the retro-style domed crystal, I'd expect this one to wear big. The Ocean One Chronograph isn't cheap. But swap in a black leather Bund strap and it will give us exactly the looks we want while delivering solid, dependable performance.
Under $100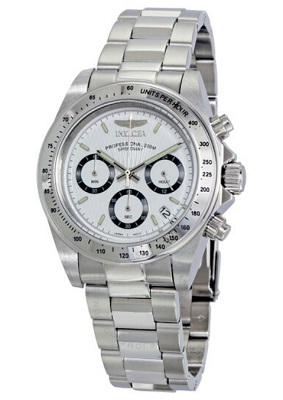 A basic Japanese quartz movement powers this chronograph from the well known budget brand. With a 39.5mm case and a relatively thin 14mm height it should wear well on most wrists. And I have to say, the 200M water resistance is a nice surprise (although I still wouldn't take it SCUBA diving). I've linked to Amazon above. But it's also available at Jomashop for about a buck more.
Under $200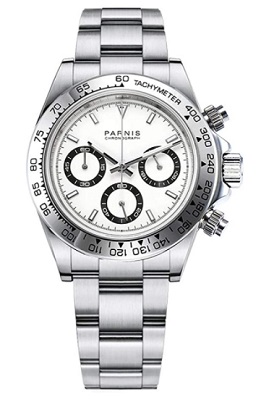 Very similar to the Invicta in terms of design, although the more minimalist Parnis logo gives the face a slightly cleaner look. I also like the style of the more prominent pushers on this one, but that's just personal preference. Also like the Invicta, this one uses a Japanese quartz movement. And while a 38.5mm case will work better for guys with smaller wrists, we're only getting a 5ATM water resistance.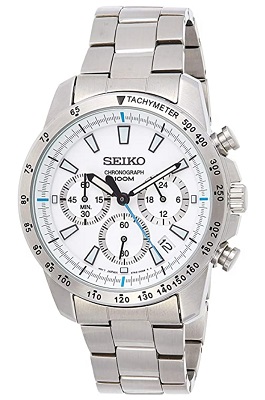 The dial design is much busier than the Newman Daytona. But Seiko is a brand we can trust and consistently offer good quality at a reasonable price. Although I wouldn't call this a true "Panda", the rings around the sub-dials do appear to be much darker in the customer photos of the watch. Also worth noting that even though two sizes are listed on the Amazon product page, the customer comments say it comes closer to 40mm. Throw it on a black leather strap and you'll get the right look without breaking the bank.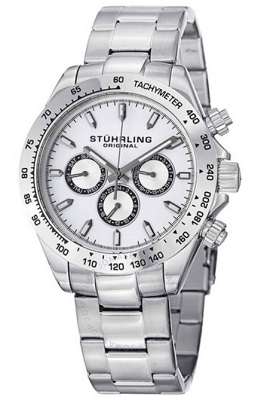 Coming to us from another recognized name in the world of budget timepieces, the Monaco's styling is very similar to the Invicta and Parnis above. But the 42mm case size should be a better fit for gentlemen with larger wrists. Once again, we're getting basic quartz movement and 50M of water resitance.
Under $500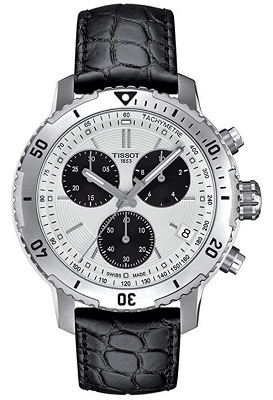 It has a busier dial, a bigger 42mm size and a bezel that's a little more "diver" than "rally". But the Swiss-made Tissot still gives us a tachymeter chapter ring. Plus a Swiss quartz movement, three true "panda" sub-dials and 200M of water resistance. And it already comes on a black croc embossed leather strap! That's a good amount of bang for the buck, especially at that sale price.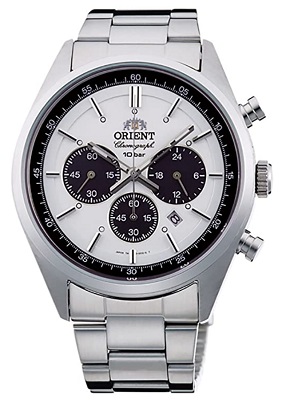 As we start to move up in price, we'll find alternatives that share the design spirit of the Daytona while adding their own distinctive character. The Orient NEO 70s lacks the original's stainless steal tachymeter bezel. But it certainly has the right retro-styling in its DNA. And the layering of the black chapter ring, main face, sub-dials and indices add depth to the dial and give it a much more expensive look than its price would suggest. At 42mm, you'd think it's a watch that would work best on larger wrists. However, the bezel-free design actually makes the piece appear slightly smaller.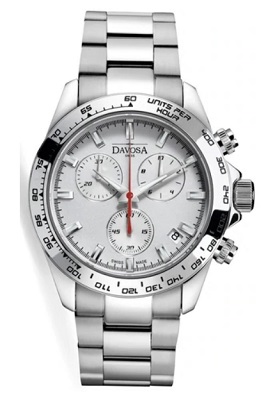 If you like the looks of the Invicta, Parnis and Stuhrling but want to invest in a better quality timepiece, check out the Speedline. Davosa offers us a Swiss-made watch powered by a Ronda 5030 quartz movement housed in a 42mm stainless steel case with 100M of water resistance and topped with a sapphire crystal. There are some less than flattering reviews about the quality of the bracelet. But it would look darn sharp on a black leather strap!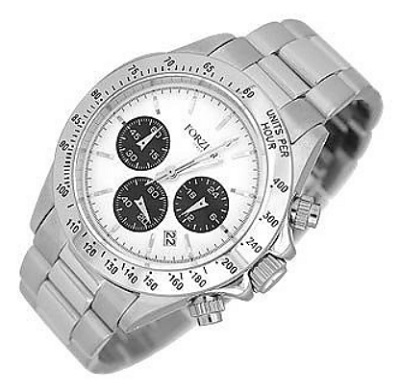 I know absolutely nothing about the Forzieri brand. And honestly, the price is pretty steep for what they're offering here (no name quartz movement, mineral crystal). But I will say that this made in Italy watch does a great job of capturing the original Daytona's looks. Use the code XS741 for an extra 20% off.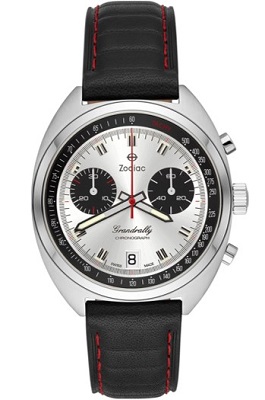 With its bezel-free cushion case and two sub-dials, the design of the Zodiac would seem to have little in common with the original Newman Rolex. But darn it if I don't love its retro-rally looks! Made in Switzerland using a Swiss quartz chronograph movement, the BIG 41.5mm X 48mm case is definitely going to make an impression. Certainly worth a look if you want a solid "inspired by" option rather than a direct Daytona clone.
Under $1000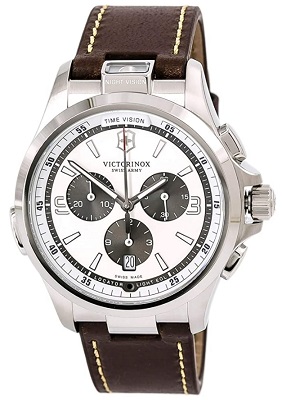 Very much a modern interpretation of the retro rally-style chronograph. The movement is a Swiss Ronda 705 quartz, and the 42mm case is finished with a scratch resistant sapphire crystal. The chapter ring marks seconds instead of being a tachymeter. But the overall design is a very nice blend of contemporary and classic. I've linked to Amazon above. However, you can also find the watch at My Gift Stop on sale for $545.49 if you feel like rolling the dice with a website I've never heard of.
The Investment Pieces
Now that we're crossing the threshold into true luxury watches, it's time for the obiligatory "affordable is relative" disclaimer. Let's remember that the MSRP for an entry level new Rolex Daytona starts somewhere around $13,000 (but good luck finding one for that price!). And pre-owned ones actually tend to be even more expensive. So while I always question including alternative watches in $2000 plus price range, I think it's justified in this case.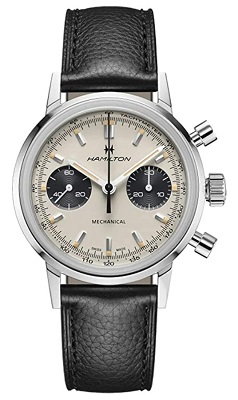 Hamilton is frequently recommended as a solid entry point into the world of luxury Swiss watches. And the versatile design of the Intra-Matic, with its 40mm case and well organized dual sub-dial face, makes it an easy watch to wear with both casual and dressier outfits. It's not as sporty as the Daytona and the style is a little more 1940s vintage than 1960s retro. But it's still a beautiful watch that will look good on any guy's wrist. I've linked to Amazon above, simply because I prefer the tonal colored tachymeter ring. But you can also find it with a black chapter ring (plus a date function) at Bloomingdale's for $2195.00.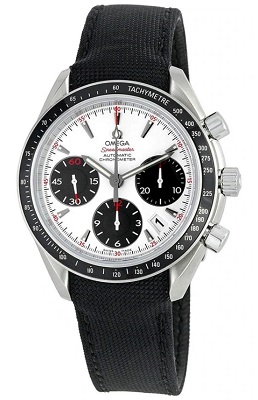 Omega Speedies deserve (and will soon be getting) a dedicated post all their own. So I'll just leave this one here as a teaser.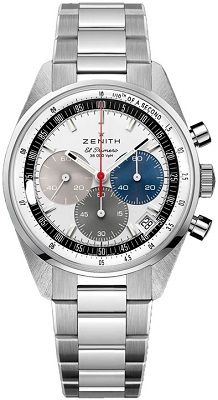 Search for "affordable Daytona alternatives" and you'll find the Zenith Chronomaster at the top of most lists. And the reason is simple: it offers plenty of technical punch to back up its good looks. The Swiss made watch is powered by Zenith's proprietary 35 jewel El Primero automatic movement, with 36,000 vph and a 60 hour power reserve. It's interesting to note that Rolex actually used a modified earlier version of Zenith's El Primero automatic movement to the power their Daytona models from the late 1980s up until 2000. The 38mm size may sound like it's on the small side, but wears larger thanks to the thinner bezel, dual chapter rings in contrasting colors and overlapping sub-dials. You can find an in-depth review of the Chronomaster Original at Hodinkee.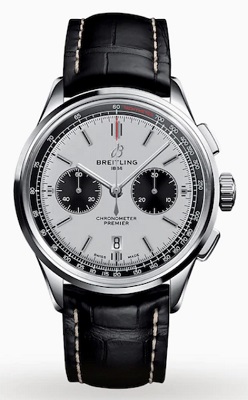 I usually find Breitling designs to be too fussy for my taste. But boy did they do a great job with the Premier B01! The relatively clean black and white design is sporty yet elegant and really allows the little pops of red on the seconds hand and tachymeter ring to stand out. And although the case is a larger 42mm, the watch still has a sleek look thanks to the lower profile pushers. All in all, it's a gorgeous time piece from a historic company that any gentleman would be proud to wear.
The Black Leather Bund Strap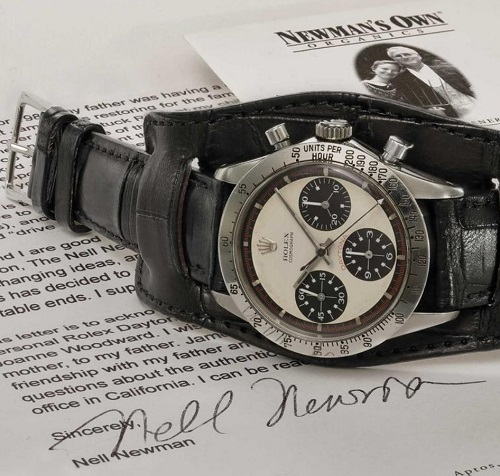 Newman was well known for wearing his Daytona on a very specific style of black crocodile leather strap. This Bund strap is based on World War II service issue gear and includes a larger piece of leather with two slots or straps. The main strap slides through these slots so that the watch is resting on top of the larger piece of leather and off of the wearer's skin. It's a unique design that was popular in the 1960s and 70s. But it could work very well with more workwear inspired looks today. It's also versatile, since the larger leather piece can be easily removed and the main strap can be used on its own.
Best Option for the Black Leather Bund Strap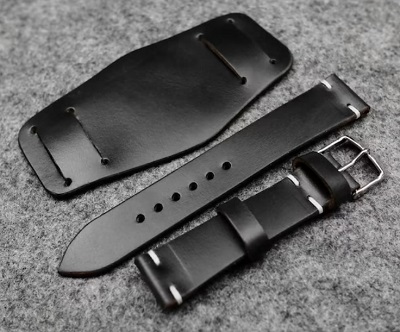 It's not croc. But it is made from genuine Horween Chromexcel leather, which is some of the best stuff out there. Similar Chromexcel straps from more well known makers can easily cost over a hundred bucks. That's one of the reasons I like going to independent artisans on Etsy for unusual items like this. You just tend to get more value for your money and you support a small business in the process.
Also Try:
Know of a good alternative for the Paul Newman Rolex Daytona Ref. 6239? Or have some insights about the options we've shared above? Share away in the comments! And if you're interested in more Paul Newman style, make sure you check out our articles on his iconic sunglasses, the jacket he wore in Butch Cassidy and the Sundance Kid and our look at Hollywood's classic cowboys and rebels. You can also find more inspiration on our Facebook page, Instagram account and Pinterest Boards.