The Iconic Paul Newman Aviator Sunglasses
Aside from his incredible acting talent, Hollywood legend Paul Newman was well known for his unique taste in eyewear. Search for "Paul Newman sunglasses" and you'll be treated to image after image of the famous actor wearing large aviator frames with everything from formal wear to his racing jump suit. Much as Steve McQueen did with the Persol 714s, Newman made oversized aviators iconic accessories every man should consider trying.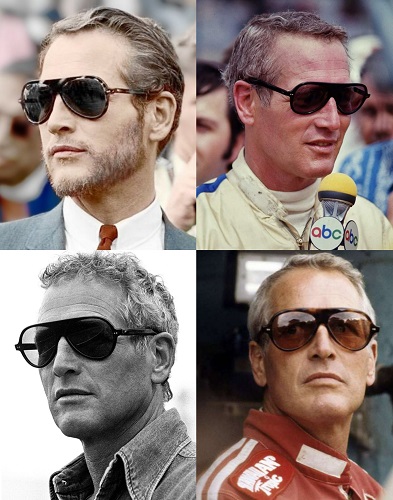 Again much like McQueen and the Persol 714s, the sunglass brand most often associated with Newman is Carrera, specifically their Champion model. The only problem is the sunglasses in those photos above are not Carrera Champions. That model was introduced into the brand's line-up in 2008, about 45 years after Newman was wearing his shades at the March on Washington in 1963. And although the retro styling of the Champions is similar to what Newman wore, there are some distinct differences.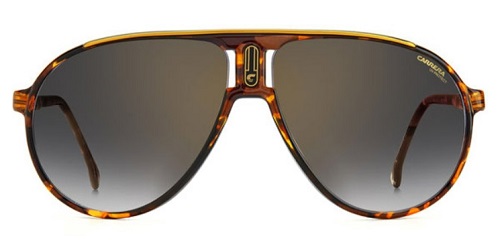 In fact I haven't seen the make and model of the sunglasses Newman actually wore identified anywhere with 100% certainty. They could definitely be an earlier Carrera model. The brand was founded by Wilhelm Anger in 1956 in Austria. So it's certainly old enough. And Newman's sunglasses do bear a strong resemblance to some of Carrera's early designs, like the 5524s from the 1970s. But I still haven't been able to find an exact match after searching through various vintage sunglass websites. If you want to go on the hunt yourself, the best photos showing the sunglasses from a variety of angles are probably of Newman at the 1979 Le Mans race.
Whatever the brand, there's no denying they're a very cool pair of shades. Does it require a bit of attitude to successfully pull off the look? Absolutely. But that's just another element of personal style Newman can inspire us to develop for ourselves!
Features Wanted for the Iconic Paul Newman Aviator Sunglasses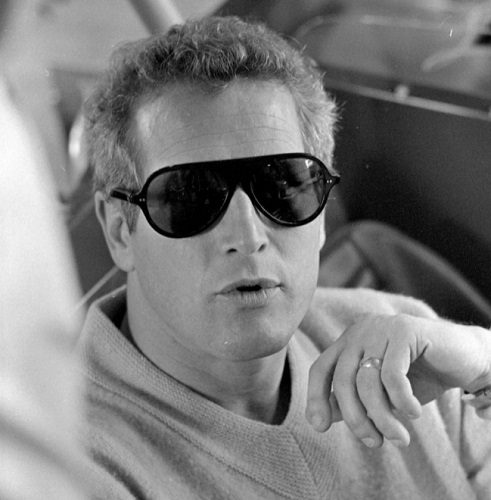 Thicker plastic frames with modified "Teardrop" shaped lenses and straight tops
Wider, solid bridge
Thinner extended end pieces with two silver metal points
Thinner plastic temples with two silver metal points at the hinge
Tortoise brown color (more on that below)
Newman wore this sunglass style many times over the years. In the most famous photos they have a dark tortoise frame. But we can also see him wearing them in black and, earlier in his career, a honey-toned brown. The frames also have two unique features that makes it difficult to find an exact match for them. First is the bridge, which is solid and quite large. Second are the end pieces, which extend out from the sides of the frame and include two metal rivets. Most plastic frame aviators on the market today don't have that feature.
Best Option for the Iconic Paul Newman Aviator Sunglasses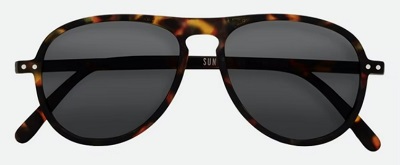 The keyhole bridge isn't as thick as we'd like. But the dark tortoise color, large 140mm wide frames and especially those end pieces with their dual rivets will give us the look we want. And it's hard to argue with that price! The grey lens model is currently on sale at Huckberry. However, you can also order them directly from Izipizi in a variety of other frame and lens color combinations for $50.00.
Under $100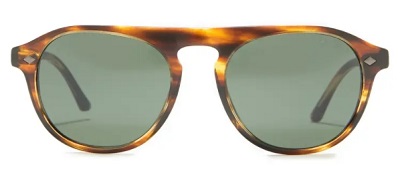 The bridge has a keyhole shape. But the top bar is a nice thick piece of plastic that gives the frames some heft. And the style of the end pieces and shape of the lenses come close to what we want. With their 53-19-145 measurements, these should be a comfortable frame size for smaller to medium sized faces. Plus, with MSRP of $270.00, that sale price at Nordstrom Rack makes them a heck of a deal!
Under $200
An option from another iconic eyewear brand. Obviously these aren't an exact match for Newman's sunglasses. But they certainly have the same retro-cool vibe. The big 58-13-145 size, thick bridge and "Pure Brown" lenses also make a statement when they're on your face. And that sale price is definitely a bonus! Hard to beat if you're looking for an "inspired by" pair of shades.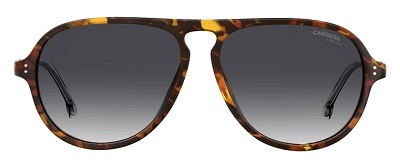 Coming to us from the eyewear brand most often associated with Newman. Once again we have a keyhole bridge. But the large aviator frame size (57-14-145), dark tortoise color and end piece style have the right spirit. And they're made from Carrera's famous Optyl® material. Which means they're lightweight and will conform to your face with wear. Just note that the temples are a contrasting clear plastic that gives the sunglasses a bit more of a fashion vibe.

Another "inspired by" alternative. These handmade-in-Italy glasses have a more geometric shape and (again!) the keyhole bridge. However, the smaller 54-19-145 frames will work well for those of you with small to medium sized faces. Not the best match for Newman's shades. But they are packing a lot of premium features for the price!
The Investment Pieces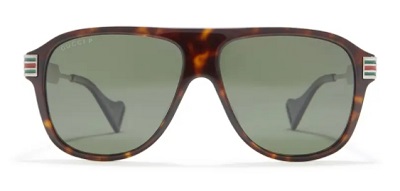 One thing we can say about Newmans' sunglass game: the man wasn't afraid to make a statement! So if you want to add some bling to your own eyewear style, here are your alternatives. With their big 57-14-145 size and overtly branded temples, there's absolutely no doubt that you're going to get noticed when these are on your face. You'll find them at that sale price at Nordstrom Rack.

Probably my favorite alternatives in this post. So of course they're also the most expensive. Such is life. They capture a lot of the features we want, but combine them in a way that creates a more refined design that will look good whether you're wearing a suit and tie or behind the wheel at the track. And there is no question that Oliver Peoples delivers quality eyewear. Plus the medium sized 53-18-145 frames are going to work on most faces. I've linked directly to Oliver Peoples above. But you can find them on sale for $318.00 at FWRD. Or, if you feel like rolling the dice a little, they're available for $224.99 from a 3rd party seller on Amazon.
If you have a smaller face and/or need prescription lenses, I'd also suggest the 50-19-143 Emet model in Raintree for $343.00 (frames only). In terms of shape, they're actually a better match for Newman's sunglasses. But, due to the small size and the need to add your own lenses, I went with the Nilos above.
Do you have some alternatives for the Iconic Paul Newman aviator sunglasses you'd recommend? Let us know about them in the comments! For more cool looks from our favorite style icons, check out these articles. And remember to visit our Facebook page, Instagram account and Pinterest Boards for more James Bond and Steve McQueen inspiration!