The James Bond SPECTRE Solden Jacket
Updated November 15th, 2022 – It's now common knowledge that the jacket James Bond wore in the Sölden scenes of SPECTRE was the Tom Ford Ski Quilted Shell and Wool Jacket, which retailed for £1,455.00 or $2100.00. You can read more about the Tom Ford original at Bond Lifestyle or check out David Zaritsky's video on The Bond Experience for more information.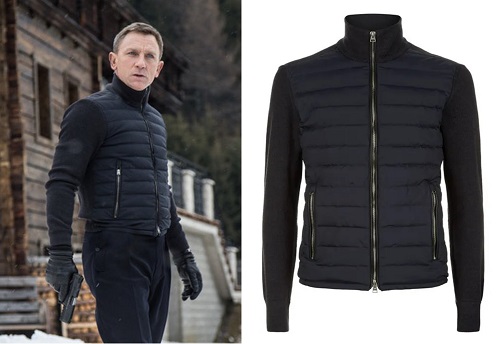 As for the jacket itself, it not only looks stylish. It's also an incredibly versatile design. You can throw it on over a light sweater, as Bond did, for those cool-but-not-freezing late fall days. Or layer it under another jacket when the weather turns extra chilly. The quilted front panel is going to help keep your core well insulted. But the thinner knit of the sleeves and back will cut down on the bulk. It really is a great piece for cold weather activities where you want some warmth but also need to maintain your freedom of movement.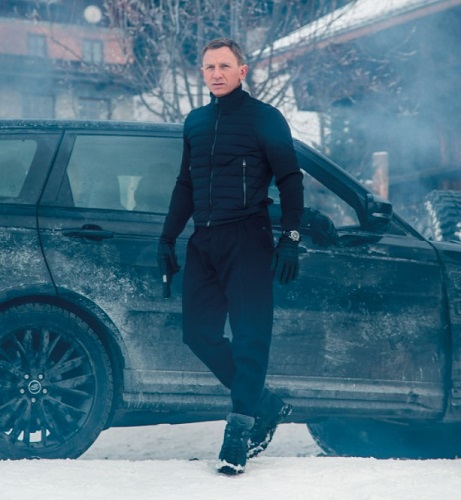 Features Wanted for the James Bond SPECTRE Solden Jacket
Charcoal knit wool or wool blend sleeves, back and collar
Dark navy insulated front panel with closely spaced horizontal baffles
Silver zippers on front and handwarmer pockets.
No knit hem below the quiliting on the front
Trim fit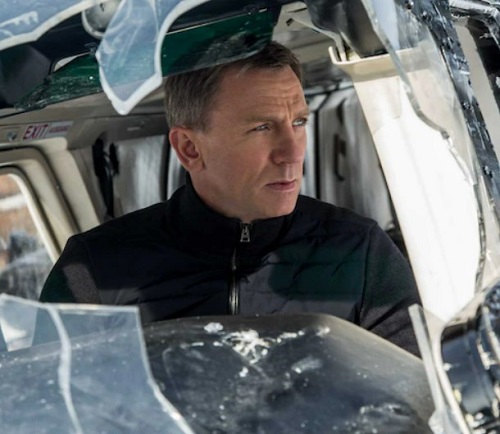 When it comes to the jacket's design, we can definitely get into things like the width of the baffles, the length of the pocket zippers, the style of the hem, etc. But let's be realistic. Unless you go with a top quality replica, almost no off-the-rack alternative is going to be a perfect match. What's next to impossible to find is an option that uses the same charcoal grey knit and dark blue nylon color combination we saw on the screen-used jacket. Almost every alternative goes tonal with colors for the knit and quilting (navy knit with navy nylon, black knit with black nylon). So that's one sacrifice we're pretty much stuck with.
The Replicas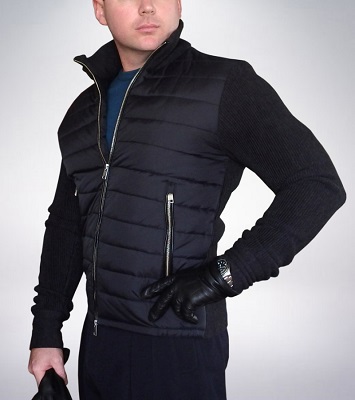 ROYALE Filmwear has done an absolutely amazing job with this reproduction. I have an earlier version of the jacket (you can read my review here) and I still love it. But since Daniel Love, the man behind the brand, is not only a Bond fan but also a perfectionist, he's made some significant improvements with his latest iteration. Specifically, the knit is now an 80% wool and 20% nylon blend which really adds to the jacket's performance capabilities. And it's ribbed, so it's even more screen accurate. To put it simply, if you want to nail Bond's Solden look (without emptying your bank account), this is the alternative to buy. You can find sizes XS to XXL on the ROYALE Filmwear website, although size XL is currently sold out.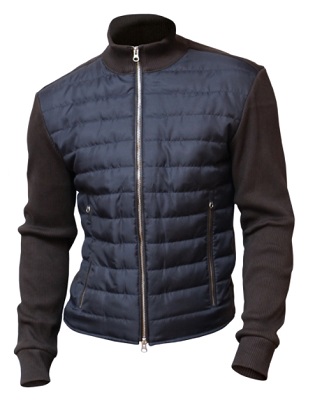 This repro comes to us from another fan favorite repro producer. Indy Magnoli has been in the game for a long time and has earned a reputation for creating quality products that deliver the screen accuracy we want. His pieces tend to be priced on the higher side. But many of them, like this jacket, are made-to-measure, so the fit should be spot on. Unfortunately, like the earlier version of the ROYALE Filmwear jacket, Magnoli has used cotton for the knit portions. Which, in my opinion, makes this more of a fashion jacket than a truly technical piece of outerwear.
Best Option for the James Bond SPECTRE Solden Jacket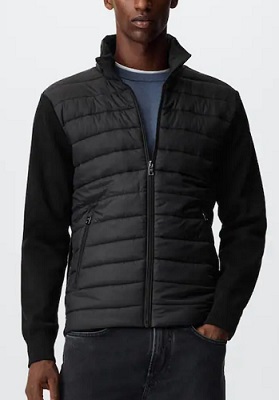 Let's deal with the negatives first. It's all black rather than the navy and charcoal of the screen-used jacket. And the knit portion is 100% cotton. Not so great if you plan on doing anything strenuous while wearing it. Also the stand collar is polyamide instead of a knit. Now the good stuff. First, it doesn't have a ribbed knit hem and the handwarmer pockets have zippers. So that's more screen accurate. Second, it certainly looks like a trimmer fit in the product photos on Mango's website. Third, there's a reason for that polyamide collar: it hides the zipper for the jacket's detachable insulated hood, a feature some of you may appreciate.
Last is the price, which requires a bit of explanation. Many of our alternatives from higher-end brands (for example Barbour, Hackett and REISS) also use a 100% cotton or cotton-blend knit fabric. Will they offer a better quality jacket? Most likely yes. But they still won't be performance outerwear due to the hydrophilic nature of cotton. And, as we mentioned above, almost all the off-the-rack jackets come in tonal colorways. Plus, most of them come with a knit hem (a design feature we want to avoid). Sum it all up, and this Mango option compares very favorably to our more expensive alternatives and is actually more screen accurate than many of them. All for a lower price. It's never a bad idea to pay up for quality construction. But that's about the only reason I can justify spending more.
Sizes small to XXL are available on the Mango website.
Under $100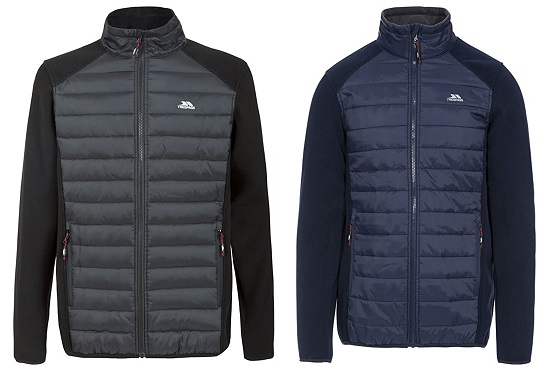 Not a bad match for the price. They've used a polyester fleece rather than a ribbed knit cotton or wool. But the quilted portion has those slimmer baffles we want. Shame about the white logo. For those of you in the U.S., the link above goes to Ebay, where sizes XXS, small, medium and XXL are available, but only in the black. If you're in the UK, Amazon stocks a wider range of sizes in both the black and the navy.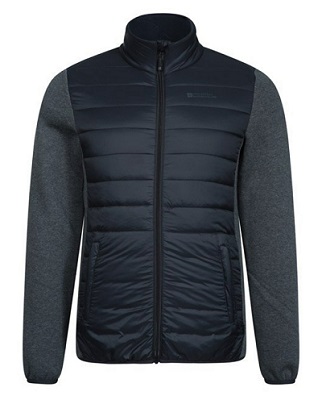 One of the very few alternatives that uses different colors for the knit and quilted portions of the jacket. The design also varies quite a bit from the screen-used jacket. Here we get the quilted insulation on the front and back of the jacket. And it extends up around the collar. It's also more of a technical jacket, using polyester for the knit which will help wick away moisture and keep you dry. If you're in the UK, Amazon once again has the best range of sizes in stock. For those of you in the U.S., Amazon is down to XS unfortunately.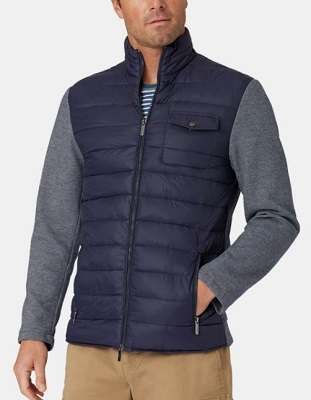 It's not exactly what I'd call "screen-accurate". But I do like that chest pocket. It adds something a little different to the style. Obviously the color is brighter than ideal. And we have the 100% cotton knit jersey fabric, which makes this more of a fashion piece. However, that's a heck of a good sale price! Sizes 38 to 54 are available on the Brook Taverner website.
Under $200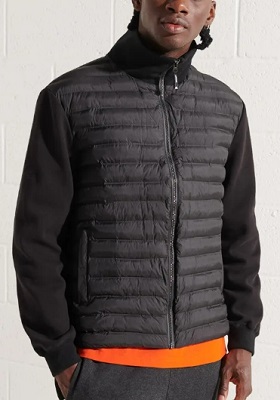 Superdry's hybrid jacket does a pretty good job checking off most of our "Features Wanted" boxes. And they've resisted adding their typically overt branding and gone with a more subtle embroidered logo on the sleeve. The material is a smoother knit polyester, so we don't get the ribbed texture. But it also won't soak up perspiration like cotton will. Thread has sizes small to XXL available.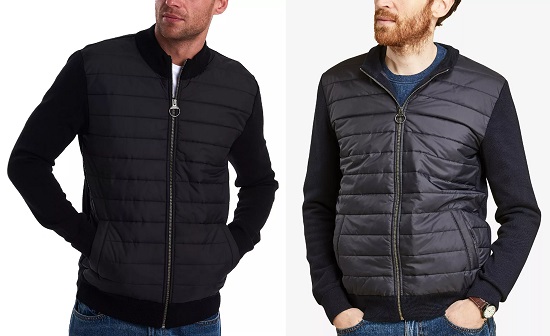 Barbour has a few jackets in this hybrid style. But I think this one comes closest to what we saw on screen. We're getting those 100% cotton sleeves we mentioned above. And the ribbed knit hem and welted handwarmer pockets. However, Barbour is most definitely a Bond-brand as well as being a respected maker of classic outerwear. So I'd expect them to deliver the quality for the price. If you're in the U.S., Macy's has sizes small to XXL in stock in the black and navy. If you do want the navy, you should also check out Michael Stewart Menswear, where the jacket is on sale for $105.83/£90.00. So even with shipping costs, if should come in about sixty bucks cheaper.
For more details on the Barbour, check out the informative (and very entertaining!) review from our friend @drinksbeardandbond on Instagram!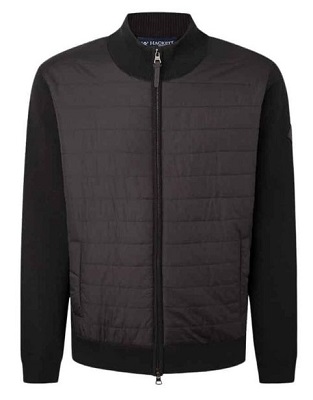 If you prefer black and don't mind the ribbed knit hem and welted pockets, JulesB is offering a decent discount on this option from Hackett. The knit material is 100% cotton. But it does have an interesting texture. And the collar design and two-way silver front zip definitely have the look we're after. Sizes medium to XL are in stock.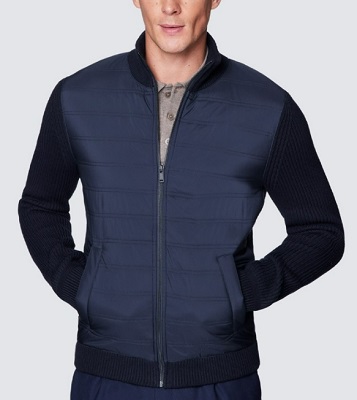 That's not exactly the shade of blue we want. And the jacket has the knit hem at the front and the welted handwarmer pockets. But Hawes & Curtis have used a great heavy ribbed knit for the sleeves, back and collar. Which is a very nice screen-accurate touch! You'll find sizes small to XXL on their website.
Under $300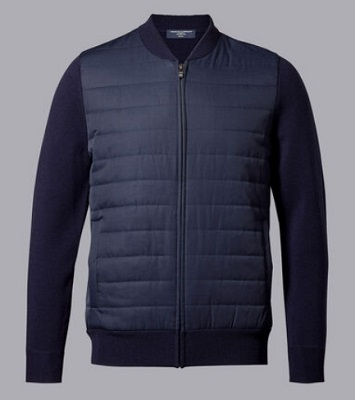 Once again, the brighter blue isn't a great match. And the collar design and ribbed knit hem aren't screen-accurate. But Charles Tyrwhitt is the only reasonably priced off-the-rack option I've found that uses 100% Merino for the knit portion of their jacket. And that's a big plus, since it will help keep you warmer and dryer than cotton. Plus, this one looks to have a trimmer cut to give us that more fitted look we want. They have sizes XS to XXXL on their website.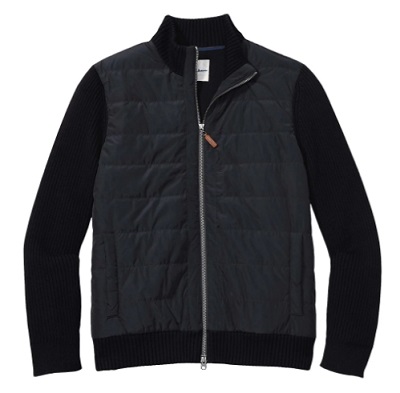 A new alternative this season coming to us from a recent addition to the pantheon of Bond-approved brands. And it actually does a pretty good job of nailing the look we want. Sure, there are trade-offs (the hem design, the slightly brighter color, the welted pockets). But the knit portion has a great ribbed texture and the silver front zipper really stands out. You can find it on sale at Zappos, where they have sizes small to 2XL available. Nordstrom also carries the jacket up to size 3XL. But the price jumps to $250 there.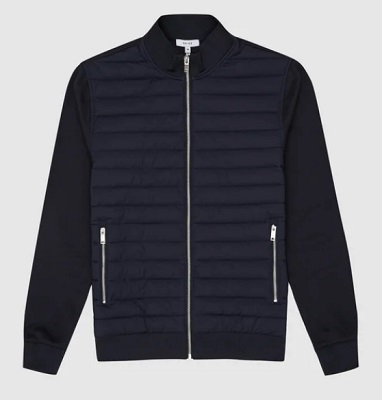 The Flintoff has earned quite a few fans over the years as a quality alternative for Bond's Solden jacket. The knit component is a smoother 51% cotton and 49% polyester fabric and, once again, we're getting the knit hem. But despite those differences, the design still comes very close to delivering all the features we want. Especially those narrower baffles and brighter silver zippers on the pockets. If you're in the U.S., the link above goes to Bloomingdale's. For those of you in the UK, I've linked directly to REISS. But they're sold out of medium and large unfortunately.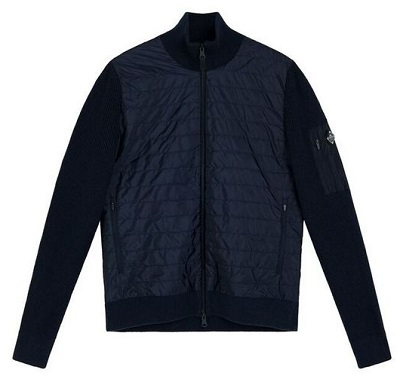 Another solid alternative that adds something a little extra. In this case, it's that MA-1 style pocket on the sleeve, which gives the piece an understated military vibe. The knit fabric is also interesting, a blend of 55% Merino wool, 35% polyester and 10% polyamide with a heavy ribbed texture. All in all, it's a great "inspired by" option. You can find sizes medium to XL at Atterley.
The Investment Pieces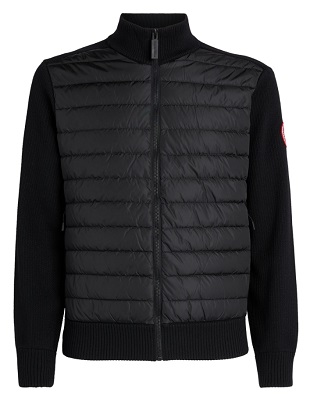 So, now that we're getting up there in price, what does the extra cash buy us? In this case, a made-in-Italy jacket with a ribbed knit 100% Merino wool body, collar and sleeves and 675 fill-power goose down insulation. And the Canada Goose cookie patch. In all seriousness, Canada Goose does get a lot of hype. But the Canadian company has a long history of delivering high quality outerwear that people can trust when things get really cold. The HyBridge is certainly expensive. But I doubt you'll be disappointed with your investment. The best price I could find was a Cettire, where sizes small to XL are in stock. Of course, you can also order it directly from Canada Goose for $695.00.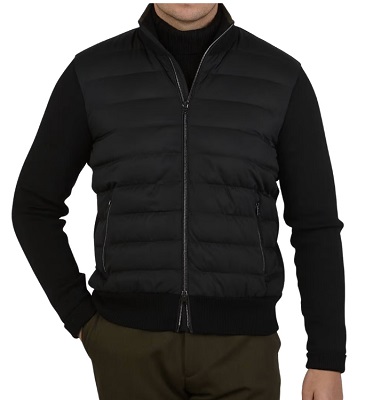 Herno is another well-respected manufacturer of stylish and functional cold weather outerwear. And they have no shortage of hybrid jackets in their collection. I've gone with this particular model because the design details come closest to what we want: 100% wool knit, narrower baffles, knit collar, two-way front zip, zippered handwarmer pockets, and a nice, lofty down insulation. Baltzar still has a decent selection of sizes left. But stock is running low.
If want to check out some other Herno options, italist has a similar design currently on sale for $417.81/€375.42, which is a great price for one of their jackets. And you can also take a look at Herno's Ambra & Ecoage Bomber ($765.00) and Ardesia & Fingal Bomber ($780.00). Both are really nice designs and will have no trouble keeping you warm. If navy blue is more your color, Bloomingdale's has the Herno Mixed Media Full Zip Bomber Jacket in Navy for $780.00, with almost all sizes in stock.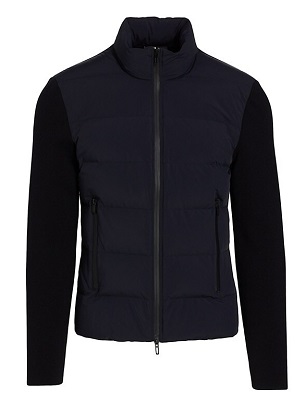 It has wider baffles, a finer ribbed knit in an 80% polyamide/12% elastane blend, and the padded collar. But I still think this option from renowned design house Armani does a nice job capturing the spirit of Bond's jacket without looking like a direct copy. Saks Fifth Avenue has Italian sizes 48 to 58 on their website.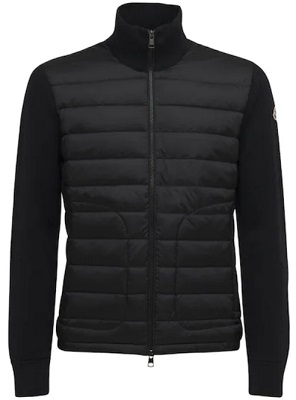 A big thanks to our friend Cheverian, who reminded me about the Moncler option in the comments below. They've been making this outerwear style for years (and, if I recall correctly, when the first SPECTRE publicity photos of Craig in Sölden were released way back when, many fans thought he was wearing a Moncler jacket!). So here's the trick: prices for this down insulated, 100% wool option are going to vary depending on the retailer and the sizes they have available. The lowest price I could find was at LouisaViaRoma. They only have size small in black. But they do have the navy color available for pre-order in sizes small to XXL at the same price (and size medium is in stock).
Next is Nordstrom, where the have sizes small and XL in the black and small to XL in the navy. Both colors are $915.00. And you can find very similar styles in black at Atterley for $805.00 (size Large only) and Mr Porter for $1100.00 (size Small only). Finally, you can just go directly to Moncler to buy their latest Padded Wool Cardigan in Navy for $1105.00. Whew!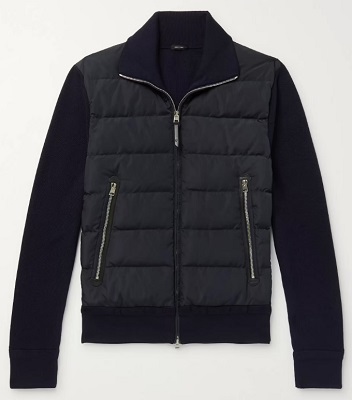 And to wrap things up, we have the latest iteration of the screen-used jacket from Tom Ford himself. Obviously it's gone through some changes over the years. The color is now all navy blue. And they've added a knit hem. The 100% wool fabric also has a finer ribbed texture than the earlier version. But if you want the original Bond brand (and don't mind paying for it), you can find the new jacket at Mr Porter.
Have an alternative for the James Bond SPECTRE Solden Jacket you'd like to share with the gang? Tell us all about it in the comments below! And remember to visit us on Instagram, Facebook and Pinterest for more style inspiration from James Bond, Steve McQueen and other menswear icons!