The James Bond SPECTRE Solden Jacket
It's now common knowledge that the jacket James Bond wore in the Sölden scenes of SPECTRE was the Tom Ford Ski Quilted Shell and Wool Jacket, which retailed for £1,455.00 or $2100.00. You can read more about the Tom Ford original at Bond Lifestyle or check out David Zaritsky's video on The Bond Experience for more information.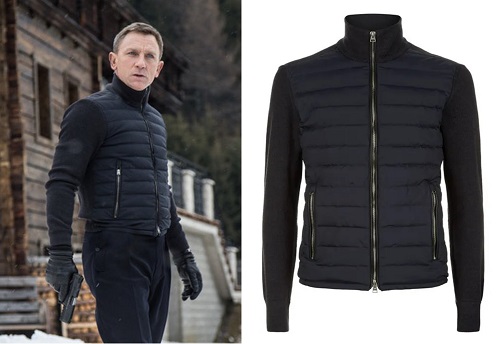 As for the jacket itself, it not only looks stylish. It's also an incredibly versatile design. You can throw it on over a light sweater, as Bond did, for those cool-but-not-freezing late fall days. Or layer it under another jacket when the days turn extra chilly. The quilted front panel is going to help keep your core well insulted. But the thinner knit of the sleeves and back will cut down on the bulk. It really is a great piece for cold weather activities where you want some warmth but also need to maintain your freedom of movement.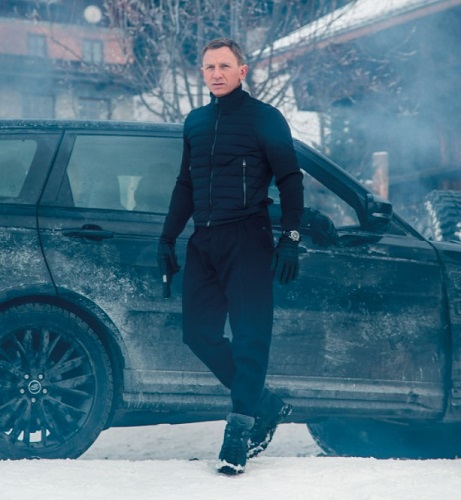 Features Wanted for the James Bond SPECTRE Solden Jacket
Charcoal knit wool or wool blend sleeves, back and collar
Dark navy insulated front panel with closely spaced horizontal baffles
Silver zippers on front and pockets.
No knit hem below the quiliting
Trim fit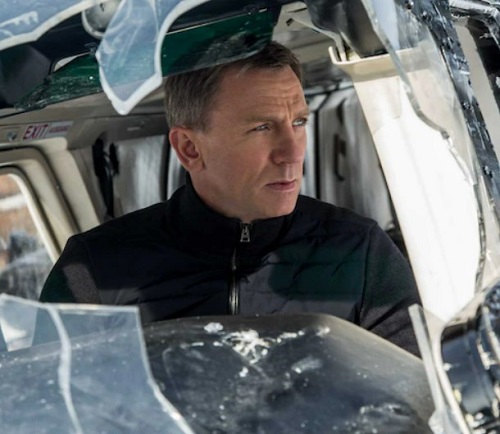 When it comes to the jacket's design, we can definitely get into things like the width of the baffles, the length of the pocket zippers, the style of the hem, etc. But let's be realistic. Unless you go with a top quality replica, almost no off-the-rack alternative is going to be a perfect match (although some come closer than others). What's next to impossible to find is an option that uses the same charcoal grey knit and dark blue quilting color combination we saw on the screen-used jacket. Almost every alternative goes tonal with colors for the knit and quilting (navy knit with navy quilting, black knit with black quilting). So that's one sacrifice we're pretty much stuck with.
The Replicas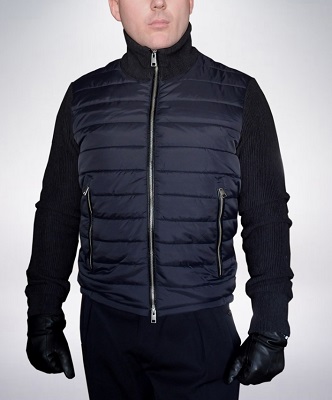 The good news: ROYALE Filmwear has done an absolutely amazing job with this reproduction. I have an earlier version of the jacket (you can read my review here) and I still love it. But since Daniel Love, the man behind the brand, is not only a Bond fan but also a perfectionist, he's made some significant improvements with his latest 2021 iteration. Specifically, the knit is now an 80% wool and 20% nylon blend which really adds to the jacket's performance capabilities. And it's ribbed, so it's even more screen accurate. Now the bad news: only sizes XL and XXL are left in stock. Maybe Daniel's planning another run in the near future? Get on his email list at for an alert!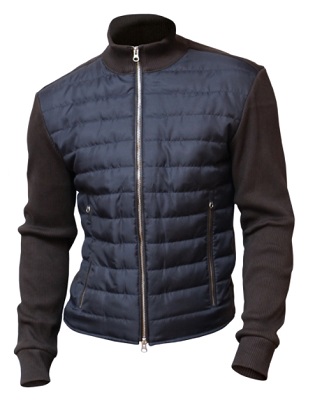 This repro comes to us from another fan favorite repro producer. Indy Magnoli has been in the game for a long time and has earned a reputation for creating quality products that deliver the screen accuracy we want. His pieces tend to be priced on the higher side. But many of them, like this jacket, are made-to-measure, so the fit should be spot on. Unfortunately, like the earlier version of the ROYALE Filmwear jacket, Magnoli has used cotton for the knit portions. Which, in my opinion, makes this more of a fashion jacket than a truly technical piece of outerwear.
Best Option for the James Bond SPECTRE Solden Jacket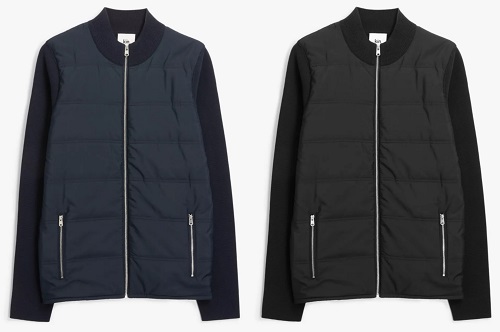 KIN has gone with the matching colors for the knit and quilted parts of the jacket. And that knit is a cotton blend, which isn't ideal. Plus the baffles are wider than we want. But overall this is about as close to screen-accurate as I've seen an off-the-rack jacket get. It even has the higher collar and "no-knit" hem at the front. Plus the fit looks nice and trim in the product photos. Thread has sizes medium to XL available in the Navy and sizes small to XXL in the black. If you want a relatively affordable Bond-inspired jacket as quickly as possible, this is the alternative I'd suggest.
Under $100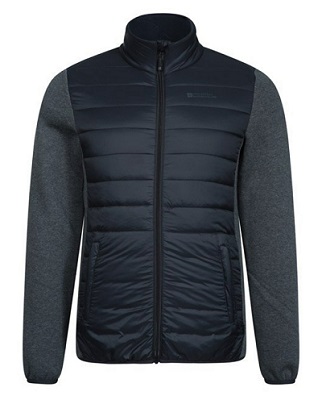 One of the very few alternatives that uses different colors for the knit and quilted portions of the jacket. The design also varies quite a bit from the screen-used jacket. Here we get the quilted insulation on the front and back of the jacket. And it extends up around the collar. It's also more of a technical jacket, using polyester for the knit which will help wick away moisture and keep you dry. You'll find most sizes in stock at that sale price at Mountain Warehouse.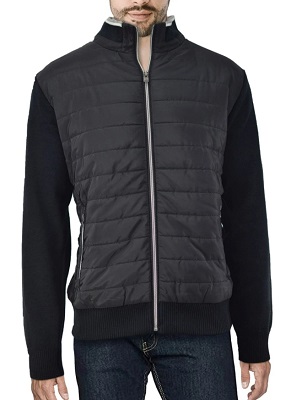 The knit is a cotton and acrylic blend. And it does have the ribbed knit hem on the front. Plus there's that tipping around the collar. But it still comes close to what we saw on screen and the price tag won't destroy your wallet. Macy's has sizes small to 3XL in stock. However, given how it looks on the model in the product photos, you might want to consider sizing down for a more fitted style. Knowing how Macy's likes to play the sale game, being patient may also payoff with a discount code in the near future.
Under $200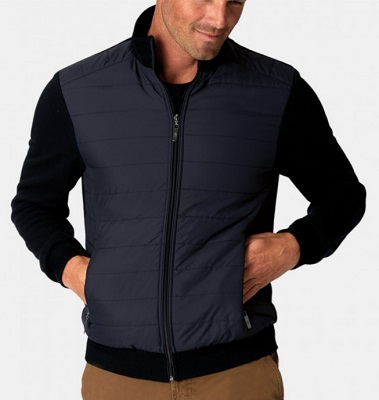 If you can get past the ribbed knit hem, this option actually checks a lot of the "Features Wanted" boxes on our list. Again, the knit is 100% cotton and the colors on the sleeves and quilted portion match. But they've used thinner baffles for a more screen accurate look. And the blue is nice and dark for a stealthier look. Plus it comes in numerical sizes (38R to 54R) so you can really dial in the fit.
Barbour has a few jackets in this hybrid style. But I think this one comes closest to what we saw on screen. You can find sizes medium to XXL on sale at JulesB at that sale price. The only problem is they don't ship Barbour to the U.S. However, if you live in the UK, it's a heck of a deal.
For those of you living in the U.S. who have your hearts set on a Barbour, check out their Diamond Quilt Zip Through Jacket in Navy or Charcoal. It's currently on sale at Michael Stewart Menswear for $124.59/£111.20 and they still have a good selection of sizes in stock. Just note that, as the name suggests, the quilting on this one is a diamond pattern rather than the horizontal baffles we see on Bond's jacket. But it's still a very cool looking piece.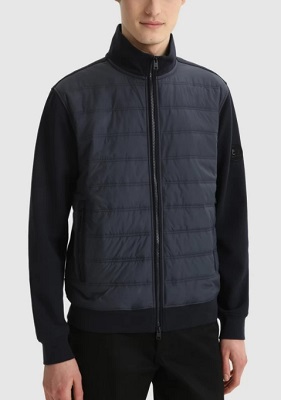 Woolrich is a heritage American brand best known for their vintage-style outdoorsy aesthetic. Think forests in Maine with lots of Buffalo Plaid and you've got the basic idea. So this Track Jacket is a much more contemporary design than one would expect from them. And it really nails the vibe of Bond's Solden jacket. Again, the knit is cotton. But that deep, dark Melton blue is a really sharp color. They have sizes small to large and XXL in stock at that sale price.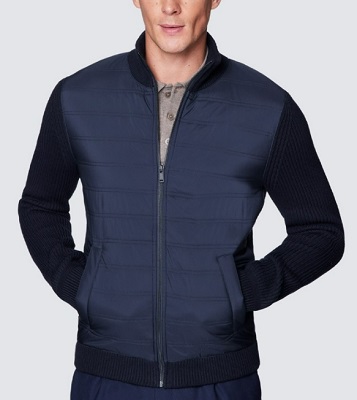 That blue is a little brighter than ideal. And it has the knit hem at the front. But they have used a heavy ribbed knit for the sleeves, back and collar. Which is a very nice screen-accurate touch! You'll find sizes small to XXL on their website.
Under $300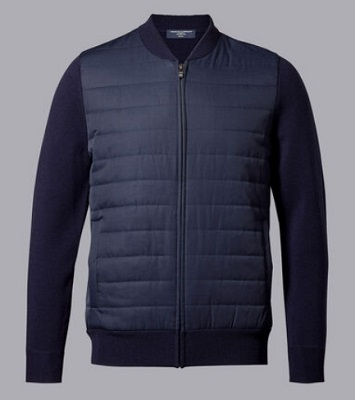 Once again, the brighter blue isn't exactly the color we want. And the collar design and ribbed knit hem aren't screen-accurate. But Charles Tyrwhitt is the only off-the-rack option I've found that uses 100% Merino for the knit portion of their jacket. And that's a big plus, since it will help keep you warmer and dryer than cotton. They have sizes XS to XXXL in stock.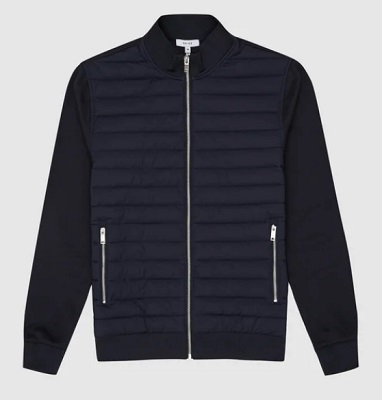 Like Barbour, REISS has a variety of jackets in this hybrid style. But with it's dark navy color and brighter silver zippers, the Flintoff probably comes closest to what Bond wore. I've linked directly to the brands website above. If you're in the UK, the price there is much more budget friendly. For those of you in the U.S., the jacket is also available at Bloomingdale's for $250. And if you feel like taking the luxury up a level, Nordstrom has a version that uses a wool and cashmere blend for the knit for $295.00. Although the inventory for that one is moving quickly!
Have an alternative for the James Bond SPECTRE Solden Jacket you'd like to share with the gang? Tell us all about it in the comments below! If you're interested in alternatives for the mockneck sweater Bond wears under the jacket, check out this post. We'll also have dedicated posts with options for his Solden boots and sunglasses coming very soon. And remember to visit us on Instagram, Facebook and Pinterest for more style inspiration from James Bond, Steve McQueen and other menswear icons!