The James Bond Plaid Chore Coat
When it comes to 007 and workswear, we fans seem to focus primarily on the casual looks seen during the Daniel Craig era. No Time To Die alone brought us some great pieces like the Rogue Territory Supply Jacket, the Naked and Famous selvedge jeans and (for those of you who like that military tactical look), the Commando Outfit from the film's finale. But about 50 years earlier, George Lazenby introduced one of my favorite 007 workwear style jackets in On Her Majesty's Secret Service: the James Bond plaid chore coat.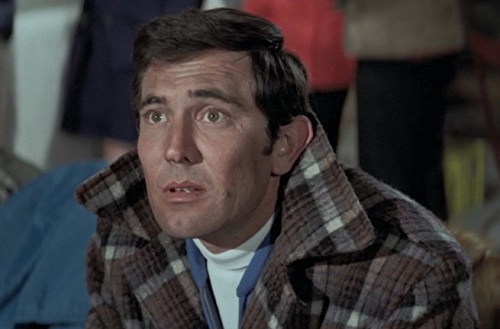 To be fair, the chore coat doesn't actually belong to Bond. It's something he grabs at random to blend in with the crowds at the Grand Ice Carnival and hide from Blofeld's henchmen (and Irma Bunt).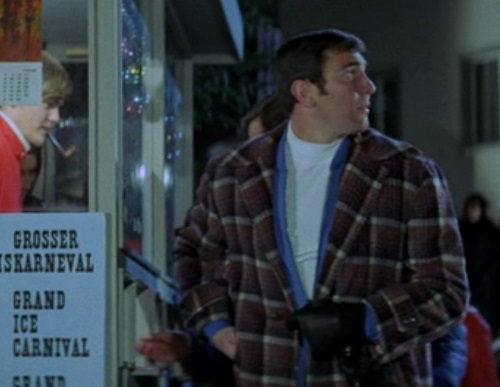 But Lazenby does wear the coat during one of the film's tensest chase scenes. And for his unexpected reunion with Tracy, who helps Bond escape by crashing an ice car rally (literally!). So even though it's not a proper "Bond-owned garment", it still holds a special place in my heart. Plus heavy wool chore coats are very much in style today!
Features Wanted for the James Bond Plaid Chore Coat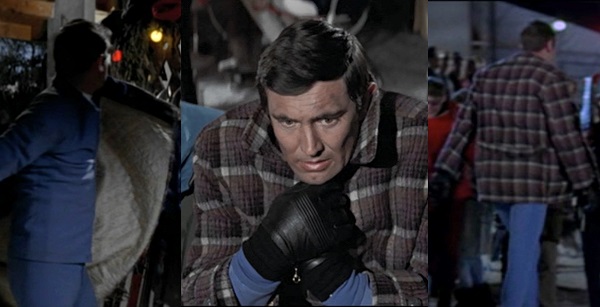 Chore coat or barn jacket style
Large scale plaid pattern in shades of brown and grey
Wool outer fabric with cream colored quilted interior
Three leather button front closure
Vertical slash hip pockets
Belted back
Button tabs on the cuffs
Rugged chore coats in cotton and linen have been a popular piece of men's warm weather outerwear for a few seasons now. But the heavier wool version has also been making a comeback for use during the colder months. The one Bond wore doesn't appear to be anything particularly special. It's the kind of coat any man in the U.S. would have found in his local J.C. Penney or Sears back in the 1960s. And it was a common style with heritage brands like Pendleton and Woolrich.
Today's versions tend to have trimmer, more tailored fits to update the look. But the best ones still retain many of the characteristics of the classics. They're built to take abuse, they're warm and they're made from quality materials. The fact that they're now considered an important part of any stylish man's wardrobe is just a bonus.
Best Option for the James Bond Plaid Chore Coat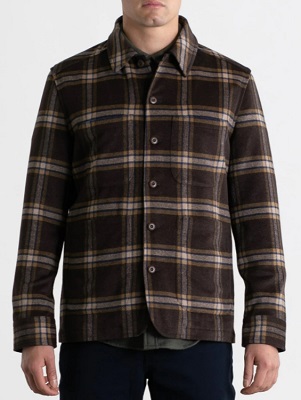 The Amos uses a mid-weight 50% wool and 50% polyester blend fabric and an unlined construction. So it's probably not the best choice for the coldest of winter days. But as a contemporary interpretation of Bond's coat it gets a lot right. Even though I'd categorize it as more of a shirt jacket, it delivers the right vintage workwear vibe. Plus it has the slash hip pockets, the button front and "action back" pleats at the shoulders for increased range of motion. Also, that plaid pattern is about as close as I've seen to the original off-the-rack. You'll find sizes small to XL at the Bridge & Burn website.
Under $100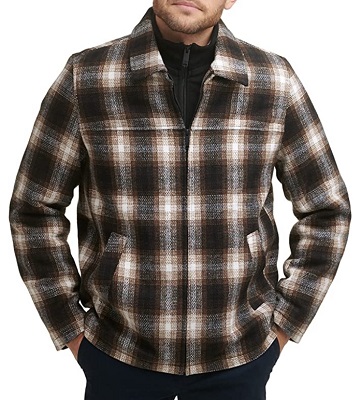 It's kind of a chore coat with a little extra. And it's certainly an interesting mix of modern technical features and vintage aesthetics. Like Bond's coat, the Dockers jacket has a quilted insulated liner. It also has an integrated zip-up "bib" that will help keep your neck warm when you're facing some chilly winds. As for the outer fabric: the shadow plaid pattern isn't the best match. But it does share a similar color scheme. Think of it as an "inspired by" alternative for those of you looking to take Bond's 1960's style into the 21st century. Amazon has sizes small to XXL in stock.
Under $200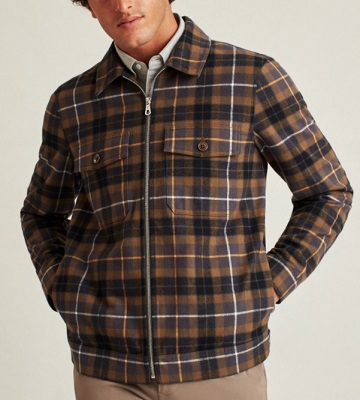 Another nice mix of contemporary design and vintage looks, but (in my humble opinion) more effectively executed. The jacket's Harrington style gives it a sportier feel that will work great with a variety of casual looks. And the bigger, bolder plaid pattern adds the right retro vibe. The 100% cotton fabric won't be the warmest option. But for those of you living in warmer climates where something as heavy as a wool chore coat wouldn't be all that useful, this is a great way to add some 1960s Bond inspired style to your wardrobe. Even better? Bonobos is having an early Black Friday special. So the price drops to $126.00 with the code "friday30".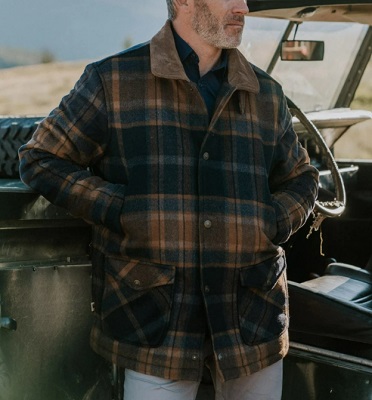 And now for some authentically rugged Mackinaw style. Obviously the pattern and some of the design details aren't the best match. But the Ellis more than makes up for its lack of screen accuracy with some great features. The exterior fabric is a 45% wool and 55% cotton blend to provide a nice combination of warmth and softness, while the quilted polyester lining will add some extra insulation. And you can fasten up that corduroy collar with a throat latch to protect your neck when the temperature really starts to drop. It's old school in all the best ways.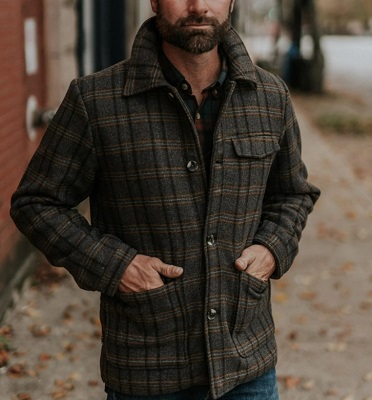 Also from Buffalo Jackson, the design of the Wesley is more screen accurate. But the smaller scale plaid gives it a slightly more refined look. The 50% wool, 50% polyester outer fabric is backed by a cozy sherpa pile lining. Which means it won't be as warm as the Ellis, but should still keep you nice and toasty, especially when you layer it over a thick sweater. Definitely a great choice when you want to bring some "country" into the city.
The Investment Piece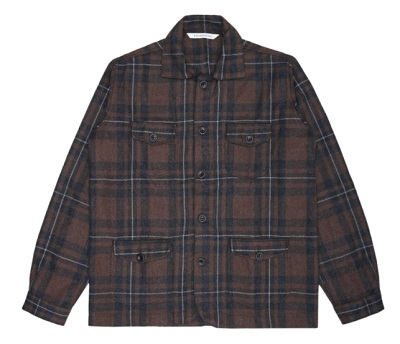 Well that's certainly a jump up in price! But London based design house LaneFortyfive believes in delivering quality, with each piece handmade from premium fabrics. And they add an ecological component, planting two trees for every £100 clients spent on their products. The Sarge jacket uses a 100% wool tweed and a soft, unlined construction for a relaxed, but not overized, look. The button front and four flapped chest pockets also give it a vintage military feel, which adds an air of formality to balance out the more rustic large scale plaid. It's definitely an investment. But the style is timeless.
The Suggestion: Go on a hunt for vintage!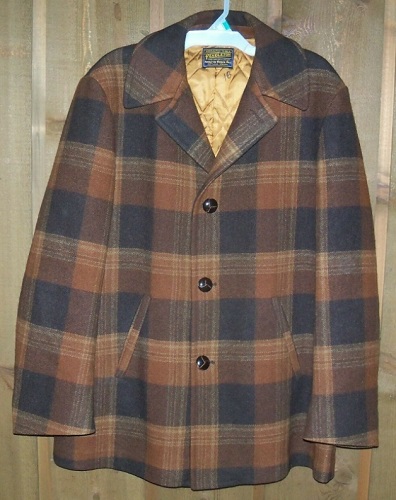 Bond's coat was from the late 1960s. So what better way to get a close match than hunting for outerwear from the same era? Check out Ebay, Etsy, Poshmark, Grailed and other sites selling "previously loved" goods and search for vintage wool coats from heritage brands like Pendleton, Woolrich, Johnson Woolen Mills, Sears & Roebuck and L.L. Bean. You'll no doubt find a selection of high quality wool outerwear that will give you the right "Bond at the Ice Carnival" look at a reasonable price.
Have an alternative for the James Bond plaid chore coat from On Her Majesty's Secret Service? Tell us all about it in the comments below! And remember to visit us on Instagram, Facebook and Pinterest for more style inspiration from James Bond, Steve McQueen and other menswear icons!