James Bond No Time To Die Tactical Outfit
After nearly two years filled with trailers, posters and promo photos, we've learned almost all we can about the James Bond No Time To Die tactical outfit. The various pieces have pretty much been identified. All that remains is to see what exactly he's doing when he wears them!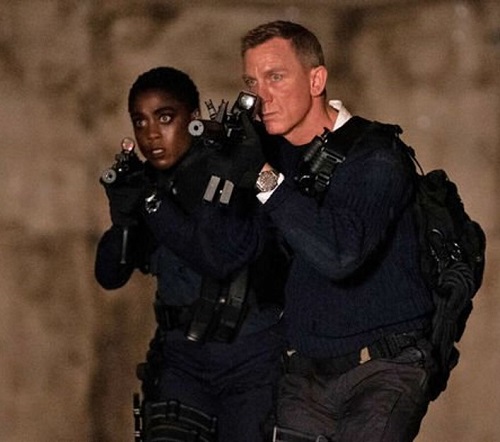 I think it's safe to say that a tactical look like this isn't exactly what most of us would choose to wear on a day-to-day basis. As we discussed in our previous article on Bond Military Style, it's easy to cross into cosplay territory when we're trying to incorporate military inspired pieces into our personal style. And wearing the complete No Time To Die outfit out in public is more likely to generate looks of fear rather than admiration. So I'll soon be updating our old 4 Ways To Wear It post on Bond's various commando looks to give us some fresh ideas. If you're looking for options for the watch, we'll be adding some new suggestions in our dedicated post in a couple of weeks!
Alright, let's get to the alternatives for the James Bond No Time To Die tactical outfit!
The Commando Sweater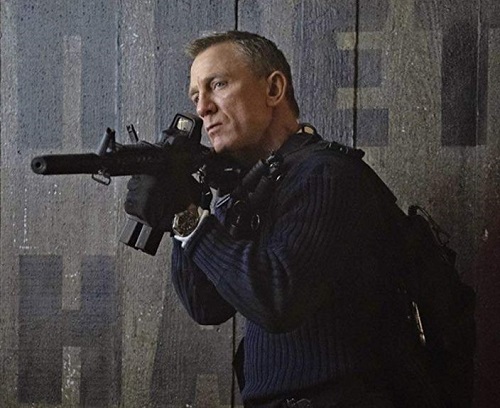 Designed specifically for Daniel Craig by fan favorite Bond brand N.Peal and the No Time To Die costume designer Suttirat Anne Larlarb, the 007 Army Sweater has been featured pretty heavily in the promotion for the film. So it's no surprise it's the piece of Bond's kit that's getting most of the attention.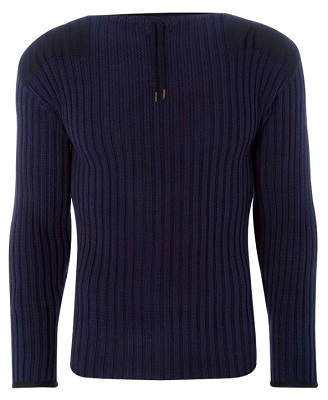 If you want the screen accurate sweater, N.Peal's 90% Merino wool, 10% cashmere "luxury" interpretation of the classic woolly pully is still available. They currently have sizes XXS to XXL on their website and, in my experience, the fit is true to size but very slim. If you'd like a more in-depth look at the sweater, check out these reviews by The Bond Experience and From Tailors With Love.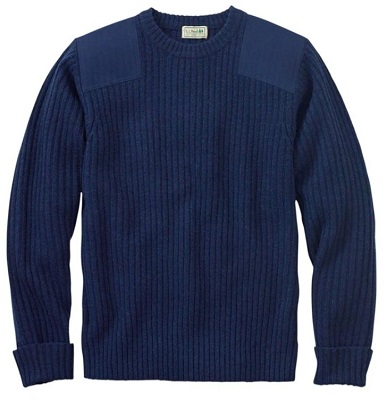 This model has been in L.L. Bean's lineup in one form or another for decades. And, unlike most L.L. Bean clothing, it actually is a trimmer fit. Made from 100% Merino lambswool, it's definitely one of the better deals out there if you prefer a crewneck style sweater over the boat neck of the screen used version. Sizes small to XXL are available in the Regular Fit and they have sizes large to XXL in the Tall Fit.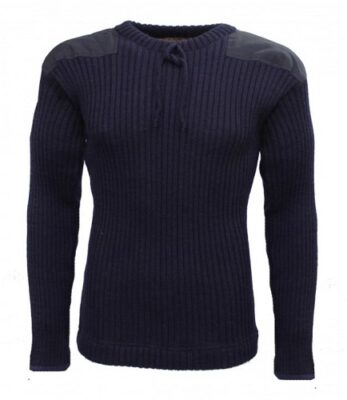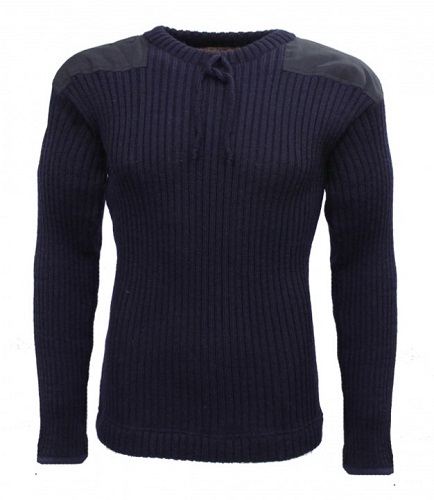 Made from 100% British wool, it captures many of the right design details of the screen used sweater: the wider "boat style" neck line with the drawcord, the shoulder patches that extend down the front of the shoulders, and the trim fit. Just don't expect it to be as soft as the N.Peal. Outdoor Knitwear has sizes XXS to XXXL available. And be aware that while shipping is free for those of you in the UK, those of you in the U.S. can expect to add about $40 in shipping costs. So make sure you order the right size the first time!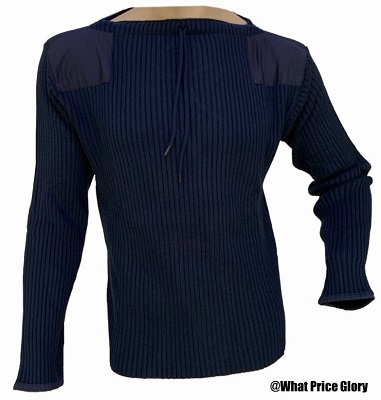 When AJB007 forum member RonBerry found What Price Glory's original commando sweater, he was pretty excited. The big problem was they only offered it in Olive. Undeterred, Ron reached out to the company to convince them to make the sweater in a more No Time To Die screen accurate navy. And voila! We have another great alternative at a very reasonable price! Unlike the N.Peal interpretation, the What Price Glory sweater is a wool/polyester blend. Which should make caring for it a little easier. We also get the drawstring boat-neck collar and the shoulder and elbow patches. Thanks for making the effort, Ron!
Also Try:
Amazon Goodthreads Cotton Military Sweater in Navy: $14.53 to $35.90
Rothco Acrylic Commando Sweater in Navy: $37.98 to $54.99
TW Kempton British Commando Sweater in Navy Blue: $64.99 to $79.99
Paul James Knitwear Chunky British Wool Ribbed Shooting Sweater in Navy: $169.00/£120.00
The Henley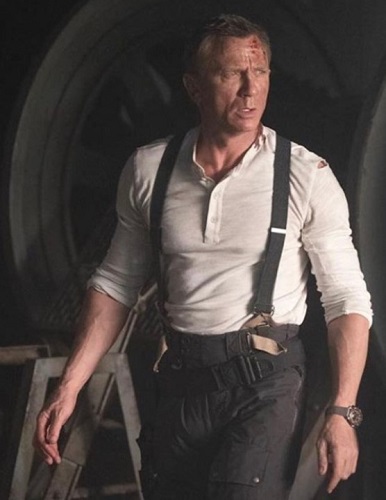 This shirt was identified pretty early on during the initial publicity for film. I first heard it was from Rag & Bone from AJB007 forum member cederic0011 back in October, 2019. And since then, we've seen Bond wearing it not only with the commando outfit, but also with the Massimo Alba corduroy duster coat. It's not often we can use one shirt for multiple Bond looks, so it may be worth investing in the original. However, if you still feel $150 is a bit too much to pay for Henley, we'll be updating our dedicated post on more budget friendly alternatives for this one (plus the short sleeve version he wears in Matera) very soon. I've included a couple of affordable options below to tide us over until then.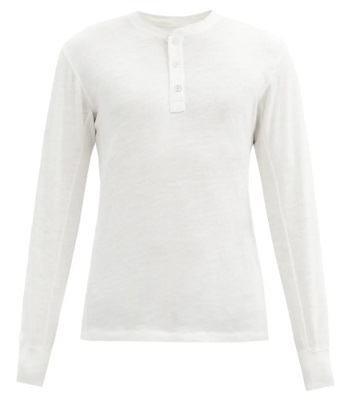 The screen-used shirt. Rag & Bone includes the Henley in their collection almost every season. So there are no shortage of places to find one. I've linked to Nordstrom above. But you'll find plenty of sizes available on the Rag & Bone website and Matches Fashion ($150.00/£115.00). Mr. Porter also regularly stocks it for the same price (£115.00 if you're in the UK). Thread also has it on sale right now for $144.00 with most sizes in stock.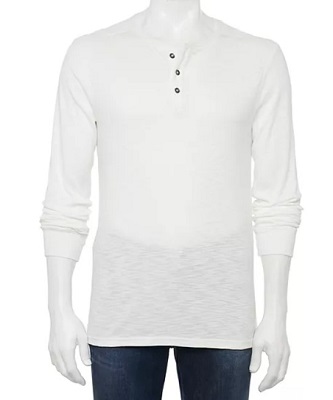 The lightweight, slubbed cotton-poly fabric has the right look. And we even get the rounded edges on the collar that we see on the original. Maybe you could use some white nail polish to give those buttons a more screen accurate finish. Sizes small to XXL are available on their website.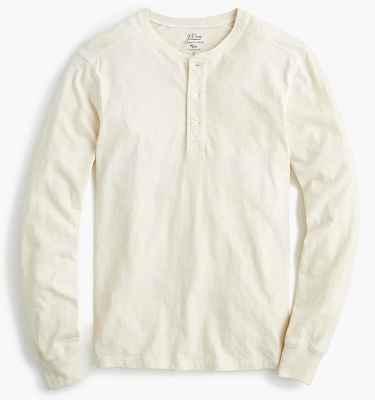 We just shared this alternative in our last Best Budget Style Finds post. But I'll include it again here since it does a good job of capturing some of the Rag & Bone's style for about a fifth of the price. The fabric is 100% cotton and it's available in Classic fit in sizes XS to XXL and sizes medium to XXL in the Tall fit.
The Tactical Pants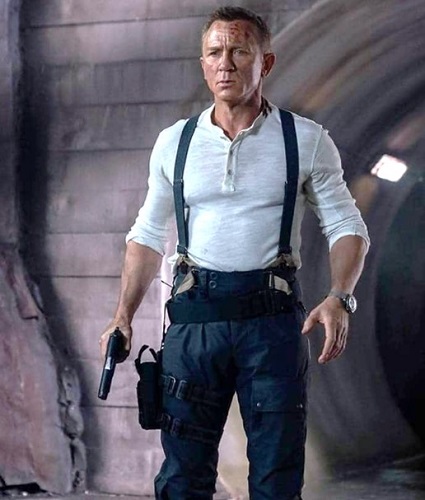 When I finally took a closer look at Bond's No Time To Die tactical pants, I was a little surprised to find they're actually a much cleaner design than I originally thought. Most of the clutter is coming from the strap-on holster pouch and the wide belt (which I don't think many of us will be wearing on day-to-day basis). The main features are that single flap pocket on the left thigh and the knife sheath-pocket the right calf. The most complicated part of the design is definitely around the waist, with it's double button tab closure and unusual suspender adjustment system. We know that the trousers were custom made for the film. So until some industrious individual decides to produce a repro, we're pretty much stuck with "close enough" options.
Update September 3rd, 2021: Well, strike that last sentence above! Today it was revealed that N.Peal is the trouser maker, based on a design collaboration with No Time To Die costume designer Suttirat Anne Larlarb. And the fan favorite Bond brand will be releasing a screen accurate version to the public some time in the very near future. You can sign up for their launch announcement here if you're in the U.S. and here for those of you in the UK. And you can learn all about the tactical pants in David Zaritsky's review in this The Bond Experience video.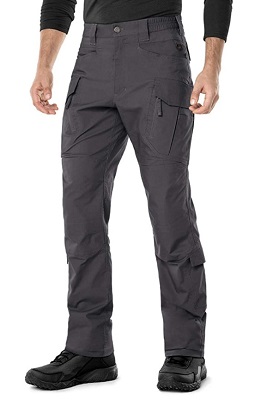 A very affordable option, made with a 79% polyester, 21% cotton ripstop fabric. With the abundance of pockets, flaps and zippers, the design is actually more complicated than what Bond wears. But they do have 4.5 stars out of 5 on Amazon after nearly 3000 reviews. Plenty of sizes available.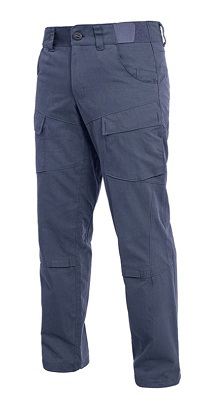 The color isn't quite as dark as I'd like. But I think their more streamlined look is a good match for Bond's trousers. They've used a poly-cotton fabric treated with a water-repellent coating and the overall fit seems to be a little slimmer than your typical tactical pants. Just note that some of the product photos on the Hard Land website show the thigh pockets with button through flaps, instead of the cleaner Velcro closure. You might want to check on that before ordering. For those of you in the UK, Amazon has a similar style from Hard Land in Charcoal Grey for £46.99 to £59.99.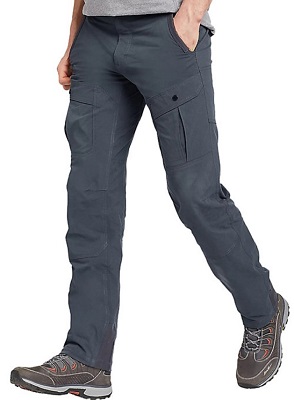 These might be my favorite option on the list. They still have some of that tactical vibe. But you can wear them for a day of running errands without looking like you're cosplaying. The fabric is a 69% cotton, 27% nylon, 4% spandex blend which gives them plenty of stretch. And they've reinforced the stress areas at the seat, knees and cuffs with durable CORDURA canvas, so they can take a bit of a beating. You'll find plenty of sizes at Moosejaw at the sale price.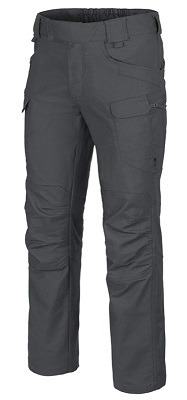 A solid suggestion from @clynester on Instagram. They've used a 58% cotton, 40% polyester, 2% spandex fabric so we're once again getting a healthy amount of stretch for comfort and mobility. The price is starting to get up there. But it looks like Helikon Tex has put a lot of thought into the design of their products (the pocket arrangement is patented!). If you'd like to go with an even darker grey, check out their Polycotton Ripstop version for $89.00.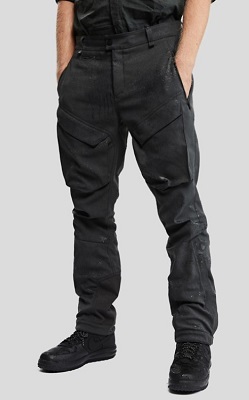 No, that's not a mistake with the price. But Vollebak (suggested to us by Instagram user @bravo.juliet.mike) really has designed these trousers to last 100 years. The 58% polymide, 23% aramid, 19% polyurethane and 1% elastane fabric is (ready for this?) made in Switzerland by Schoeller and, in addition to being water resistant and breathable, is also fireproof, complying with EN ISO 11612. I could go on and on about all the technical details (3 layer fabric, double stitched seams, reinforced stress points, etc.). But learning about the pants on the Vollebak website is actually a pretty fun read so I'll just direct you there (the short video of the heat activated expanding fabric mid-layer is hypnotizing!). These might not be the most screen accurate pair on the list. However, they are certainly Bond worthy!
The Boots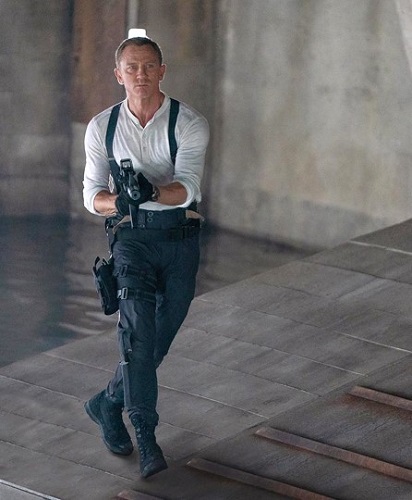 Like the tactical trousers, Bond's boots are actually a relatively clean and simple design. You can still get the ones he's wearing. But there's a catch, which we'll discuss below ….
Update September 3rd, 2021: More big news from a Bond brand. Danner has announced that they will be releasing a screen accurate version of the boots on September 16th. I'll update this post with the appropriate product photos once they become available. Big thanks to AJB007 forum member HarveyMushman for the heads up on this!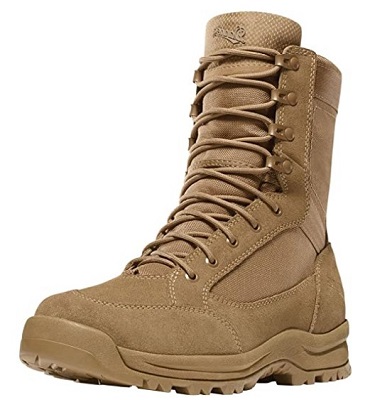 As far as I know, it was AJB007 forum member Tennyson that first identified Bond's boots as most likely being the Danner Tanicus model in this post. Now for the catch: the Tanicus doesn't come in black. So the general consensus is the costume department painted a pair for the movie. If you want to pick up a pair and try to re-color them yourself, Amazon still had a decent selection of sizes left (and Moosejaw has a few left in stock as well).
On the other hand, if messing around with a pair of $150 boots just ain't your thing, there are some cheaper options. These Ailishabroy boots ($56.99) and NORTIV 8 boots ($56.99) both have a similar look to the Danners. But it won't hurt your wallet quite as much if the paint job doesn't work out.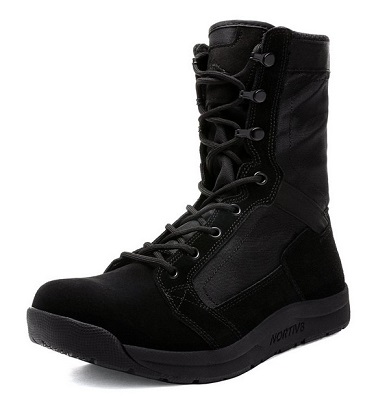 Another option from NORTIV 8. While I don't expect the quality to be close to what we'd get with the Danners, they're pretty much spot-on in the looks department. They also have 4.3 stars out of 5 on Amazon after 2,600 reviews. So plenty of people seem to like them. A solid choice if you want the style, but don't plan on doing anything too strenuous while wearing 'em.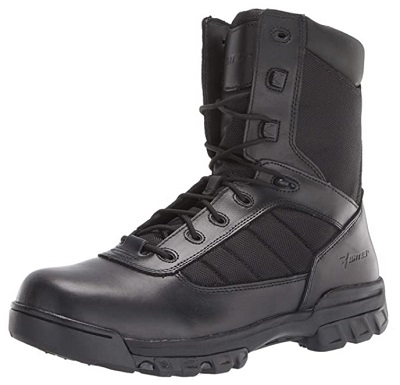 While there's no shortage of black tactical boots out there, sadly most of them use leather rather than suede. Bates is one of the more popular names in tactical gear. And they do seem to offer good value for the money. I've gone with Ultralite model here (which, as the name states, has a non-screen-accurate side zip). But they have plenty of models to choose from if these ones don't float your boat.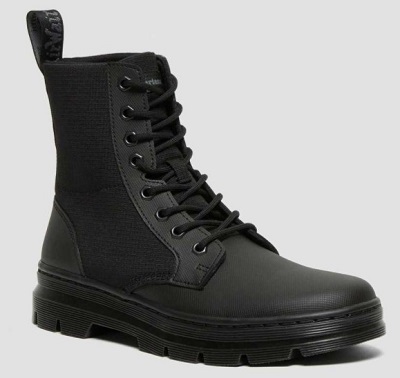 I wanted to include a boot that has a bit of that tactical vibe but can also be worn with more casual fits. And the Dr. Marten Combs II model certainly fits the bill. Since they use the company's patented Air Walk cushioning system, you can be sure they'll be comfortable. A little more "streetwear" than "commando", they're a good choice for those you who are more interested in versatility than screen accuracy. If you want a lower cut boot with the same vibe, check out their Bonny Tech Poly Casual Boots for $95.00. Wearing those with a more traditional pair of cotton cargo pants will deliver a solid "inspired by" Bond look.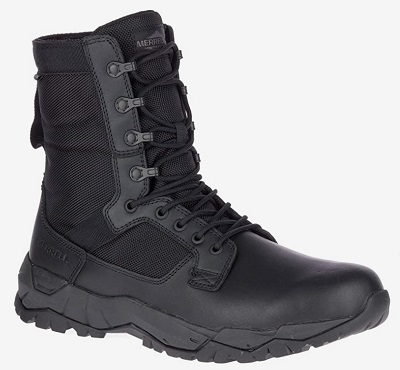 Coming from the well-known hiking boot company, the MQC Patrols feature a waterproof and breathable membrane that will keep your feet warm and dry on those rainy fall days ahead. The full grain leather isn't screen accurate. But the overall design comes close to clean aesthetic of the Danners. You'll find plenty of sizes in stock on Zappos.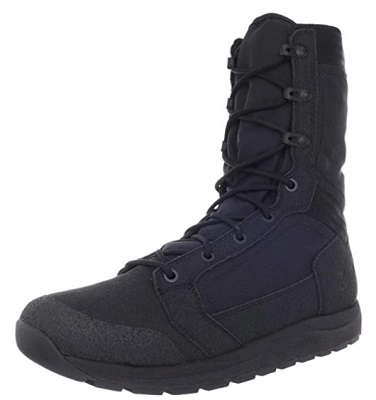 The black boot from Danner that probably comes closest to the design of the Tanicus. These are lighter weight model which, as Danner says, is intended to be, "a boot that acts like a running shoe". Although they're not meant for heavy duty use, they should work great for all day comfort.
The Sunglasses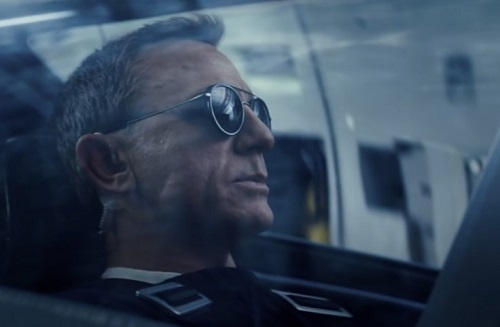 Some of you love them. Others, not so much. But since we first saw Daniel Craig wearing his pair at the British Grand Prix in July, 2019, the 1613s have received a lot of attention. And Vuarnet has been promoting their connection to the film pretty heavily.

The design is inspired by more traditional glacier glasses, with the lighter weight metal frames and minimalist side shields giving them a sporty look that doesn't drift too far into Gorpcore territory. Unfortunately, there is some bad news about this model ….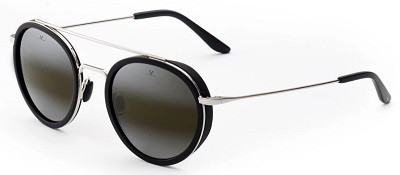 Yes, "New". It seems the colorway used in No Time To Die is no longer available (unless you can find an older pair out there). The previous dark grey metal has been replaced with a brighter silver. And the lenses have been given a slight mirror finish. Bond Lifestyle has a good write-up about all of this. Here's hoping Vuarnet re-releases the screen accurate design in the near future!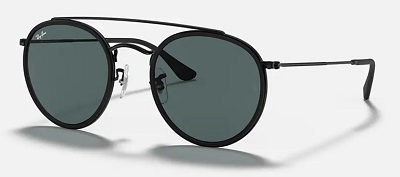 They're missing the side shields. And the metal is black rather than the gunmetal of the screen used sunglasses. But Ray-Ban is a well respected eyewear brand and this model has the right look for about a third of the price.

They have the side shields, they're a very close size, and the round frames are spot-on. In other words, there's no denying what "inspired" the Otis Corte design. In terms of style, the main difference to my eyes is the slightly more bronze tone of the metal. I'll also note that Otis does produce good quality lenses, blocking 100% of UVA, UVB and HEV light to provide solid protection for your eyes. So the higher price is somewhat justified.
The Gloves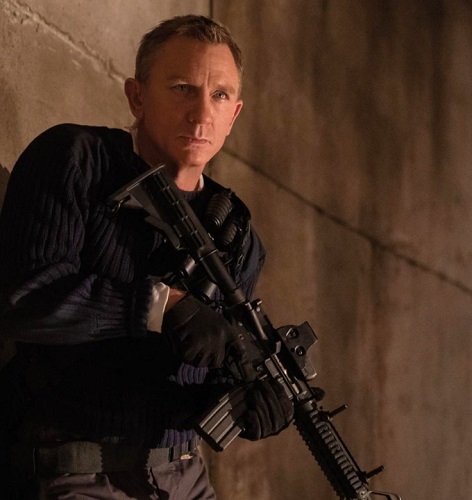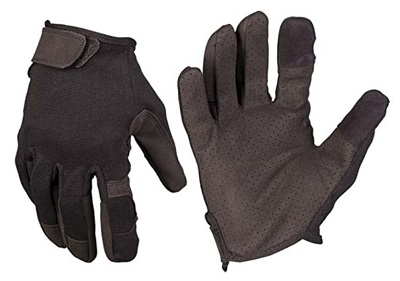 No need to look for cheaper alternatives. The originals worn by Bond won't break the bank. Once again, AJB007 forum member Tennyson identified the Mil-Tec Gloves in this post. And Ray from The Bond Amory has an excellent review of them in this video. Definitely one of the more affordable Bond collectibles to come along in a while!
Have some alternatives you'd like to suggest for the James Bond No Time To Die tactical outfit? Tell us about them in the comments! You can also visit our Facebook page, Instagram account, Twitter account and Pinterest Boards for more James Bond style advice and inspiration!