6 Essential Boots for Fall
Long time readers of this site know we love our rugged footwear. And now that the cooler weather is on the horizon, it's the perfect time to explore our 6 essential boots for fall, inspired by our favorite style icons: Bond, McQueen and Craig!
The Wing Tip Boot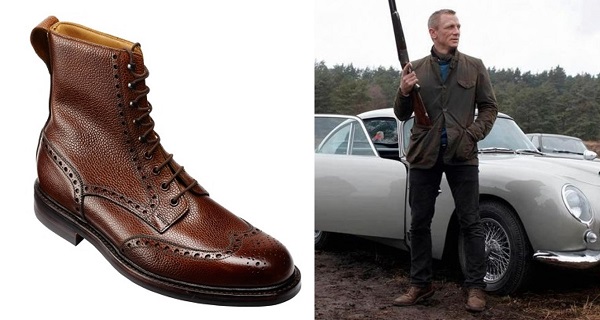 We know 'em, we love 'em. For Skyfall's big finale in Scotland, Daniel Craig's James Bond wore the Crockett & Jones Islay in Brown Scotch Grain, which you can still get for $775.00/£510.00.
Why are they essential fall boots? Because they're a timeless style that can work with almost anything except a proper suit and a tuxedo. Pair them with jeans, tweed, corduroy, flannel, you name it, and you're good to go. And despite the design originating as a country boot, people have come to see wing tip brogues as being more "formal" footwear. So they'll add a touch of class to almost any casual outfit.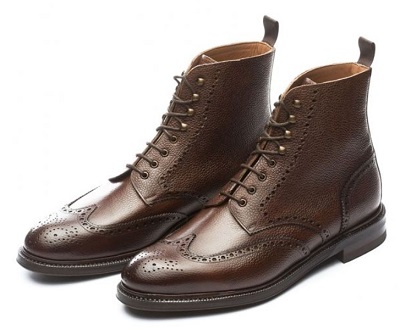 Grained French calf leather, a double rubber Dainite-like sole and Goodyear welt construction. What's not to like? Well, I've heard from Meermin owners that breaking in their footwear can take a bit of work (and a touch of suffering). But Meermin has a lot of fans out there in the #menswear community that really appreciate the value for the money the company offers. Sizes are getting spotty on their website, but there's still a decent selection of smaller options left in stock. Just remember that they use UK sizes and order accordingly.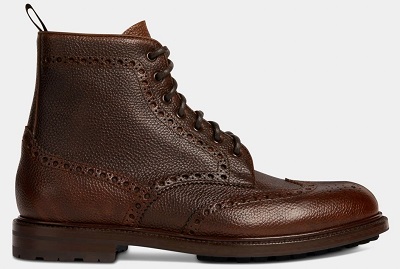 We've shared plenty Velasca footwear on this site in the past. And with good reason. They make their shoes and boots in Italy using premium materials, yet manage to keep their prices reasonable. It looks like the Sciostréé will continue that trend. For their wingtip boot, Velasca has gone with a soft yet resilient Kudu leather that requires minimal break-in time. Unlike the Islays, the sole is a hard, mountain rubber Vibram with deep treads. Some of you may worry that they've used a Blake-stitch construction. While not quite as durable as a Goodyear welt construction, it's still a tough, traditional shoe making method that allows for re-soling. It also makes a heavy boot like this more flexible than you'd expect. You'll find European sizes 39 to 47 on the Velasca website.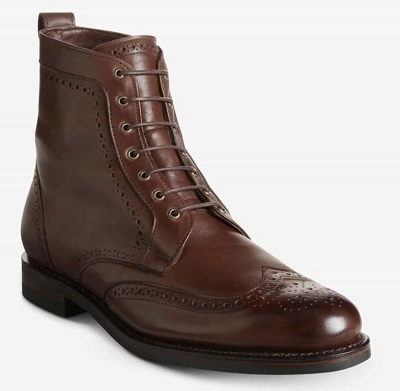 Like the wingtip look, but feel like the pebbled leather is just a little too country? Enter the classic Allen Edmond's Dalton. Originally conceived as a dress boot, the made-in-U.S.A. Weatherproof version adds some key features that make the boot … well, weatherproof. Up top, they've used a German waterproof leather and backed it up with a waterproof membrane. A proprietary 360° Storm Welt construction attaches the Dainite sole, keeping your feet dry down below. Combine all that with the $145 discount off the original $495 price tag, and you're getting a hell of a boot for the money. Plenty of sizes in various widths are available on the Allen Edmonds website.
The Moc Toe Work Boot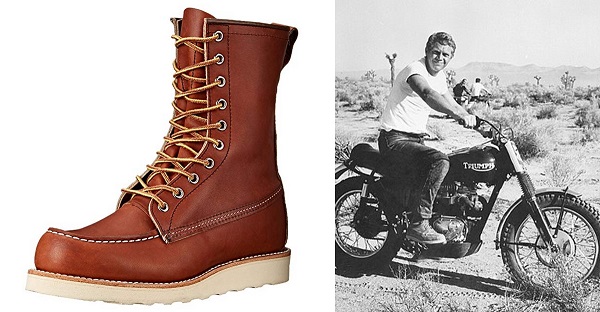 So many of the pieces that create the foundation of classic men's style achieved their status in part because of their association with Steve McQueen. The Baracuta G9, the suede Playboy chukkas, the Persol 714s, Barbour and Belstaff waxed motorcycle jackets and the shawl collar cardigan are just a few of the items that owe much of their popularity today to the example he set fifty plus years ago.
The Red Wing 877s are no exception. First launched in 1952, to this day they continue to be a popular choice with workers and hunters. However, McQueen's use of the boots for motorbike racing introduced this practical and rugged style of footwear to a whole new audience.
Maybe the soles of your moc toes will never touch a construction site or dirt track. But when you wear them, people know you understand what "boots" are supposed to be. And that you mean business. Red Wing still makes the 877 ($299.99), although they're currently almost out of sizes on the U.S. and UK sites. But this is such a flagship design, I'm sure they'll bring it back.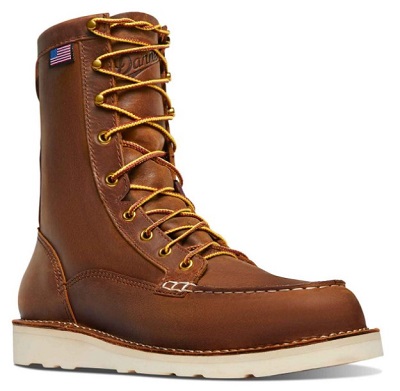 McQueen style from a Bond-approved brand. And the design is very similar to the 877. Made in the U.S., the Bull Runs feature full grain, oiled leather uppers, Danner's proprietary oil and slip resistant rubber wedge sole and a re-craftable stitched down construction. There's definitely going to be some break-in time with these. But once they're molded to your foot, you can expect them to last for years. The best price I could find was at Sportman's Warehouse. But you can also get them directly from Danner for $210.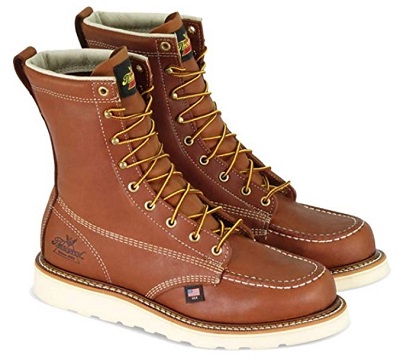 Like Red Wing, Thorogood proudly makes their footwear in the U.S.A. (that black tag featuring the Stars and Stripes should be a clue). And like the 877s, their version of the moc toe work boot uses a Goodyear welt construction, this time with a Vibram Christy blown rubber wedge sole. Aside from the branding on the heel, there are some other minor differences between the Thorogoods and the Red Wings. The big one is the use of the speed lace hooks. Some folks will love them, others not so much. The positive is they make getting the boot on and off easier and quicker. However, speed hooks also have a nasty habit of tearing up the inside of pant legs, especially if you're walking around in trousers with a tighter fit or narrower leg opening. So it's a trade off. Amazon has some of the best prices for the Thorogoods, and they're stocking sizes 7 to 14 in medium and wide widths.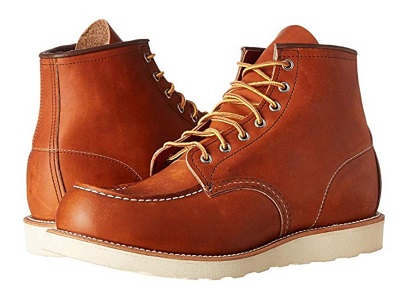 For many people (myself included), the 8″ boot is just overkill. So if you want the moc-toe workboot look, but in a height that's more practical for day-to-day use, the 6″ 875 model is the way to go. Made in the U.S.A. with the same full grain leather uppers and Goodyear welt construction as the 877, they'll easily handle what most of us are going to throw at them. Zappos has sizes 7 to 12 in stock. Those of you in the UK can order them directly from Red Wing.
The Leather Chelsea Boot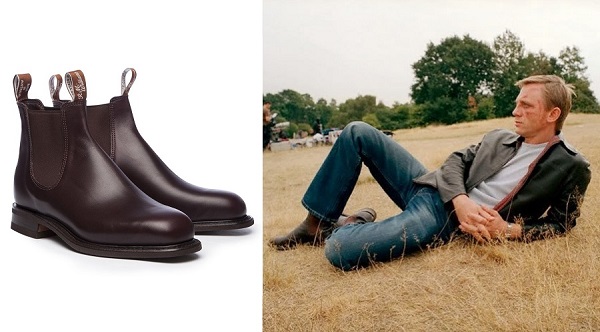 We've taken some deep dives into Daniel Craig's Layer Cake Chelseas in past. And as we mentioned in those previous posts, the model his XXXX character wore were most likely the now discontinued R.M. Williams Henleys. Although R.M. Williams is most famous for their sleeker Craftsman model, the style that comes closest to the Henley from their current collection is probably the Comfort Turnout ($495.00 U.S.).
I understand that Chelsea boots may not be for everyone. But I'm a huge fan of the style. What I like most is their versatility. It's a design that balances "sleek" and "rugged" like few other boots can. Let them get a little beaten up and they'll look great with jeans and a leather jacket. Give 'em a brush and polish and they'll fit in with most "business casual" looks.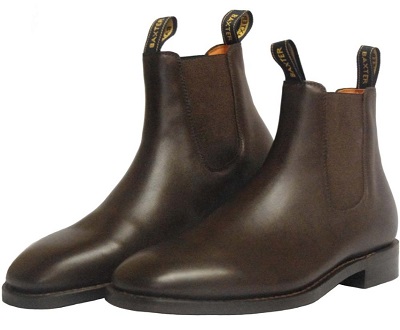 Like R.M. Williams, Baxter also makes their Chelseas using one piece leather uppers. And it is very much an Australian heritage brand in its own right. Started in 1850 by Henry Baxter in the town of Goulburn, most of their footwear is now made in Asia. However, at least up until a few years ago, their signature Goulburn model was still crafted in Australia. And that's where they'll be shipped from. Which will set you back another $25 to $50 depending on how fast you want them. But even with the extra cost, these are a heck of deal as long as you can get your size dialed in on the first try. Note that they use Australian sizing on their website!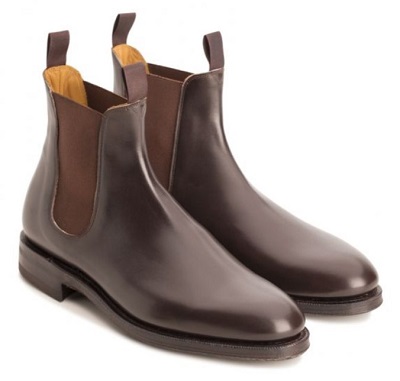 Another model from Meermin. And I was very happy to see that they've updated their version of the Chelsea. The biggest improvement? They've started using a whole-cut leather construction, with a single seam up the back of the boot. Just like R.M. Williams. But … and this is the really awesome news … they're about half the price! Meermin uses a French boxcalf leather upper built around their popular Hiro last, a Dainite like studded rubber sole and a Goodyear welted construction. So a LOT of boot for the money. Just a warning that sizing options are getting low on their website.
The Dr. Martens 1460 Boots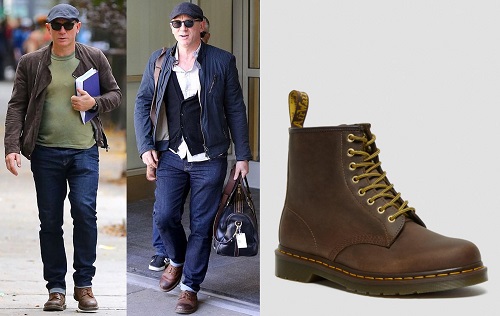 When we talk about iconic footwear, we have to include the Doc Marten 1460s. Originally launched in 1960, they've been a wardrobe staple in almost every cultural movement of the last 50 years, from the punks of the 70s to the grunge artists of the 90s. And since Daniel Craig is known to be a fan of rugged footwear, it's no surprise he has a pair of 1460s in his closet.
Craig's choice of the brown Crazy Horse leather gives the classic 1460 an appealing distressed look that sets them apart from the more polished and popular black and burgundy options. I've had a pair myself for years (before I saw Craig wearing them) and they're still "go to" boots for me. They look great with jeans, chinos and cords. And the famous Air Walk sole makes them incredibly comfortable for all day use. Since the $150 price is within reach for most of us (and there's not much out there that really captures that Doc Marten look), there's really no need to look for alternatives. I've linked directly to their website above. But you can sometimes find this model at a slightly lower price with a bit of searching.
The Hiking Boot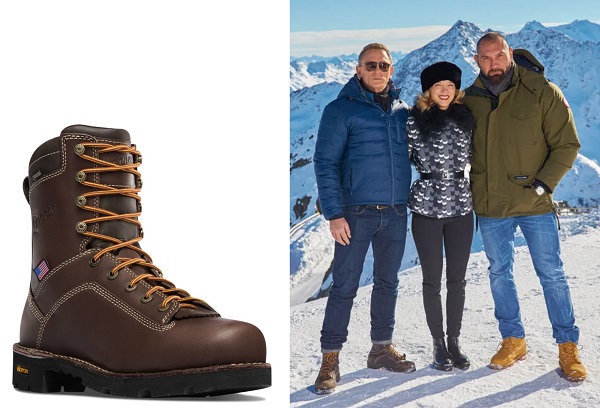 Boots designed to handle rough terrain and rough weather sound like a perfect choice for fall boots. The problem? Most hiking footwear is purpose designed. Meaning they tend to be heavy (thanks to the robust materials) and stiff (thanks to the steel shank that provides stability). Although they're more of a work boot than a hiking boot, the Danner Quarrys ($258.00 to $269.00 on Amazon) that Daniel Craig wore for the SPECTRE Sölden photocall are a pefect example of what I'm talking about. Great for the side of a mountain. Not so great if you're looking for weather resistant footwear for running errands.
Thankfully, we can get that traditional hiking boot aesthetic in a lighter weight construction more suited for day-to-day use. And that's what I've focused on for our alternatives below.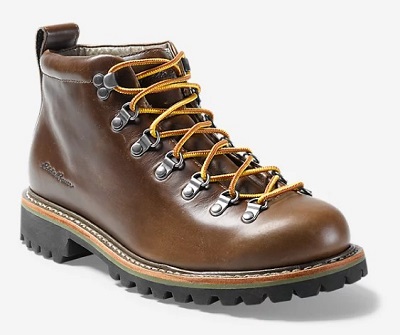 Well these are a heck of a deal! Normally priced at $200, they feature a full grain leather upper backed by a waterproof and breathable membrane that will help keep your toes dry and toasty. And the heritage design (they're based on a model Eddie Bauer first introduced in 1964) is exactly the style we're looking for. I honestly have no idea how stiff or heavy these will be. But as far as looks and price go, they're winners in my book. You'll find sizes 8 to 14 available on their website.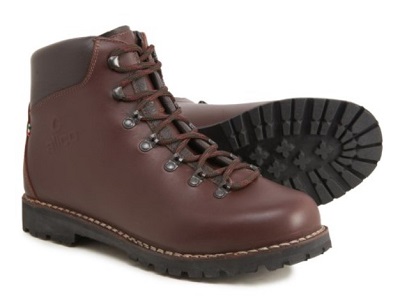 Alico isn't a particularly well known brand. But the Italian company manufacturers their boots in the Dolomites and their construction is rock solid (they also make more industry specific footwear for firefighters and construction workers). The Tahoe is one of the lighter weight models in their line-up and features a full grain leather upper, a Virbram Roccia outsole and a stitched down welt construction with a steel half shank. This review on A Fine-tooth Comb gives a great overview of the Tahoes (good and bad). You'll find sizes 8.5 to 11 on the Sierra website.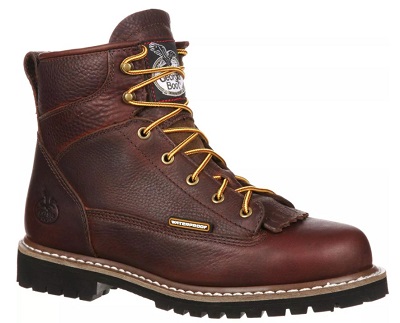 If you're drawn to the work boot style of Quarrys (including that kiltie brush guard), this option from Georgia Boot delivers a similar look for about a hundred bucks less. And the full grain, waterproof leather and Goodyear welt construction provides durability and solid protection from the elements. Sizes 8 to 14 in medium and wide widths are available on the Target website.
9 Hole Motorbike Boots

Another photo of McQueen being McQueen, this time taking his modified Triumph TR6 Scrambler for a spin. We're focusing on the footwear here. His boots look to be a lighter weight, relatively unstructured model with a smoother, low profile tread sole. As for the material, in some photos they look like nubuck and in one they appear to be full grain leather. If anyone has any insights, let us know in the comments!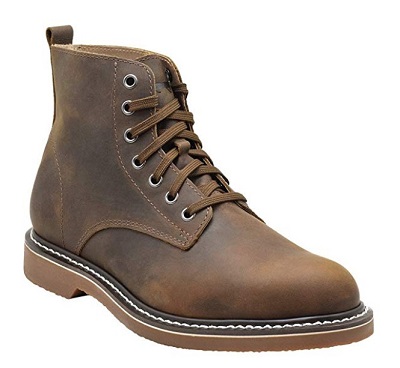 These are actually the same boots as the J.Crew Kenton alternatives we keep recommending, just in full grain leather. You can read my review of the suede versions in this post. To summarize, I've been very happy with them and still think they're excellent value for the money. The full grain version we're sharing here is also Goodyear welted (so they can be resoled) and has a pigskin lining around the collar. However, the forefoot is unlined for breathability. They're also a 7 hole boot, unlike McQueen's 9 hole model. But a slightly shorter cuff for casual wear isn't necessarily a bad thing. Especially when the other style details come so close. The link above goes to Amazon, where they have sizes 6 to 13 in stock. I found they run very true to size (my size 10 boots fit my size 10 feet spot on).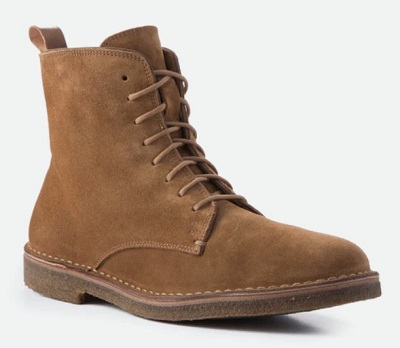 Coming from the makers of some of my favorite Chelsea boots and my No Time To Die Matera chukka alternatives, the Bootflex does a good job of capturing some of that McQueen style. I doubt they'll be able to withstand the abuse of dirtbiking without sustaining some damage. But these hand-made in Italy boots feature a soft, premium suede upper and natural rubber outsolde that makes them incredibly comfortable for casual all day use. Huckberry has sizes 9 to 12 in stock.
Just in case none of the styles above caught your eye, we've already covered plenty of other fall boot options in previous posts. You can check out alternatives for the J.Crew Kentons from SPECTRE in this post. If chukkas are more to your taste, this post covers options from the Daniel Craig Bond era. And if you prefer a design that leans more tactical (or something along the lines of the Crockett & Jones Radnor), our post on Bond military style has some good choices.
Of course, if you have some suggestions for our 6 iconic boots for fall tell us about them in the comments! You can also visit our Facebook page, Instagram account, Twitter account and Pinterest Boards for more James Bond style advice and inspiration!