6 Essential Boots for Fall
Updated November 10th, 2022 – Long time readers of this site know we love our rugged footwear. And now that the cooler weather is here, it's the perfect time to explore our 6 essential boots for fall, inspired by our favorite style icons: James Bond, Steve McQueen and Daniel Craig!
The Wingtip Brogue Boot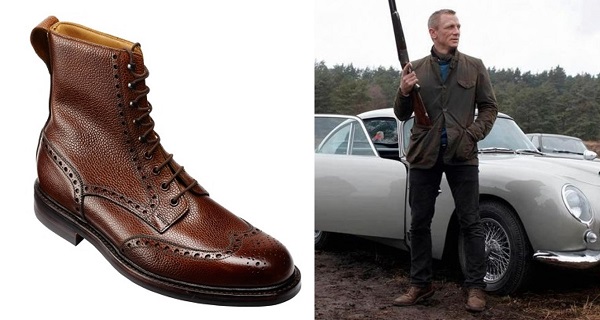 We know 'em, we love 'em. For Skyfall's big finale in Scotland, Daniel Craig's James Bond wore the Crockett & Jones Islay in Brown Scotch Grain, which you can still get for $795.00/£545.00.
Why are they essential fall boots? Because they're a timeless style that can work with almost anything except a proper suit or a tuxedo. Pair them with jeans, tweed, corduroy, flannel, you name it, and you're good to go. And despite the design originating as a country boot, people have come to see wingtip brogues as being more "formal" footwear. So they'll add a touch of class to almost any casual outfit.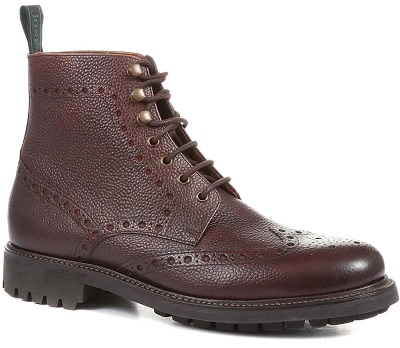 A Goodyear welt construction. Heavy tread Goodyear Commando sole. A nicely grained leather upper. That's a lot to like for a very reasonable price. Just two things to note. First, Baker Streets come in European sizes which Jones Bootmaker translates as U.S. half sizes (for example, EU 43 = U.S. 9.5; EU 44 = U.S. 10.5). That could make picking the right size a little tricky. Second, according to their score and the comments on Trustpilot, it may take some time to get your boots. The biggest complaint has been about shipping times. But if you're willing to take the time to communicate with them to dial in the size and be a little patient, these seem like a great value.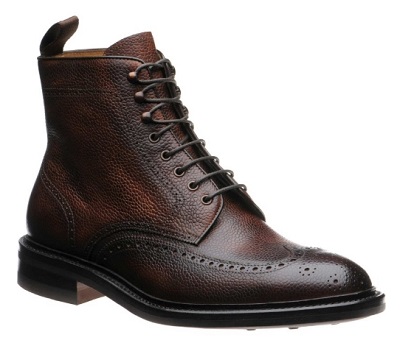 Coming to us from Herring Shoes, a favorite shop for many. Made in Portugal, the 8922 features a Goodyear welt construction, a Goodyear studded rubber sole and country grain leather upper that's been hand-patinaed by Carlos Santos to give it some unique character. The only drawback is the wait time. Most of the common sizes are currently only made-to-order and require three to five weeks for delivery.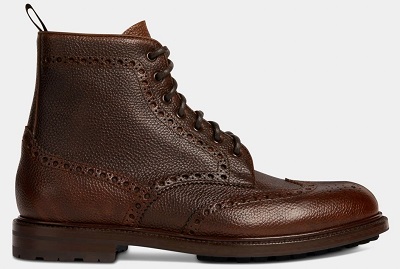 We've shared plenty Velasca footwear on this site in the past. And with good reason. They make their shoes and boots in Italy using premium materials, yet manage to keep their prices fairly reasonable. It looks like the Sciostréé continues that trend. For their wingtip boot, Velasca has gone with a soft yet resilient Kudu leather that requires minimal break-in time. Unlike the Islays, the sole is a hard, mountain rubber Vibram with deep treads. Some of you may worry that they've used a Blake-stitch construction. While not quite as durable as a Goodyear welt construction, it's still a tough, traditional shoe making method that allows for re-soling. It also makes a heavy boot like this more flexible than you'd expect. I have a similar boot from Velasca and you can read my full review here. Velasca has European sizes 39 to 47 on their website.
Also Try
The Moc Toe Work Boot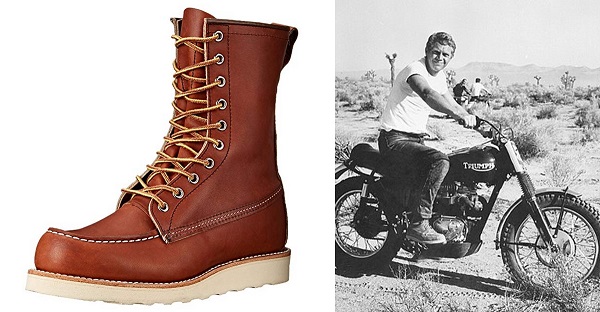 So many of the pieces that create the foundation of classic men's style achieved their status in part because of their association with Steve McQueen. The Baracuta G9, the suede Playboy chukkas, the Persol 714s, waxed motorcycle jackets and the shawl collar cardigan just to name a few. And the Red Wing 877s are no exception. First launched in 1952, to this day they continue to be a popular choice with workers and hunters. However, McQueen's use of the boots for motorbike racing introduced this practical and rugged footwear to a whole new audience.
Red Wing still makes the 877, although they're currently sold out on their website. However, you can get them at Selekt Supply ($289.99) or Stag Provisions ($320.00). If you're interested in other options for the 8″ boot, check out the Golden Fox King Rocks Pro Work Boots ($135.00), the Georgia Boot USA 8″ Moc Toe Wedge ($213.00), the Thorogood Made in the U.S.A. Moc Toe 8″ Work Boots ($259.99) and the Danner Bull Run Moc Toe 8″ Work Boots ($259.95).
We're going to go a slightly different route with our alternatives. For many people (myself included), an 8″ boot is just overkill. So if you want the moc-toe workboot look, but in a height that's more practical for day-to-day use, then something in a 6″ height is the way to go. And that's what I've focused on here. The boots will still look the same when your pant leg's covering the top. But it won't take you 15 minutes to lace 'em up.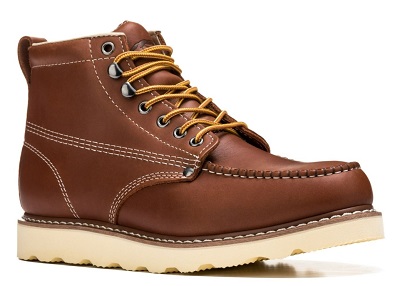 In terms of looks, it's pretty much everything we want. And getting a Goodyear welted boot for under a hundred bucks is almost unheard of. Plus, this model has 4.4 stars out of 5 after more than 2,300 reviews on Amazon. I'd only remind you that this is definitely more of a casual boot and might not hold up so well on an acutally job site. If you keep your expectations in check, you should be pretty satisfied with what you get for the price. The link above goes to Amazon. But you can also buy them directly from the Golden Fox website for the same price.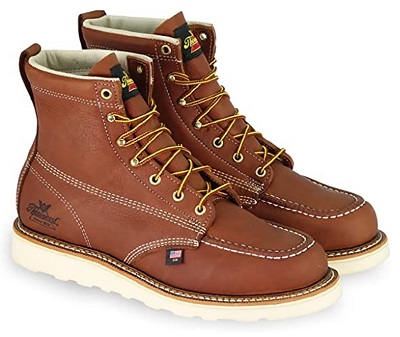 Thorogood proudly produces their boots in the U.S (note the little flag label on the seam) using a Goodyear stormwelt construction for increased weather-proofing. And they certainly have the right heritage workwear character (the oiled leather uppers should patina nicely!). But Thorogood has also added some modern features for comfort, like that cotton drill liner in the forefoot and a Poron® 4000 foam footbed for extra cushioning. If you don't mind the branding on the outside of the boot, these are a solid choice. Lots of sizes available at Amazon.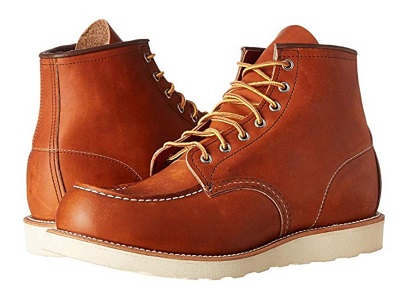 Of course we have to include the 6″ version of McQueen's boots. Made in the U.S.A. with the same full grain Oro leather uppers and Goodyear welt construction as the 877, the 875s will easily handle what most of us are going to throw at them. They're also available from a variety of stores, so finding a pair in your size should be relatively easy. I've linked to Moosejaw above. But you can also try Zappos, Huckberry, Baker's Boots and Franklin & Poe. Those of you in the UK can order them directly from Red Wing or from Herring Shoes.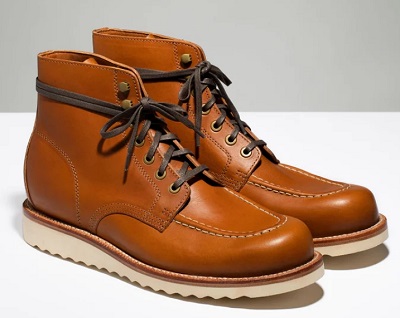 I wanted to include a slightly more sophisticated spin on the classic workboot. Ones that look a little dressier but can still handle some wear and tear. And Grant Stone has earned an excellent reputation with boot lovers for doing exactly that. Built on their roomier Floyd last with a Goodyear welt construction, the uppers are a vegetable tanned leather from the Italian Badalassi Carlo Tannery. The design is a faux moc-toe, meaning the vamp is one piece of leather with decorative stitching creating the "seam" across the top of the toe box. Inside, you get a leather insole and mid-sole with a cork filler that will mold to your foot over time for a custom fit. Grant Stone has a full range of sizes on their website and the Brass Boot is available in D, E and EE widths. But they do recommend going down a half size from your normal size for a proper fit.
Also Try
The Leather Chelsea Boot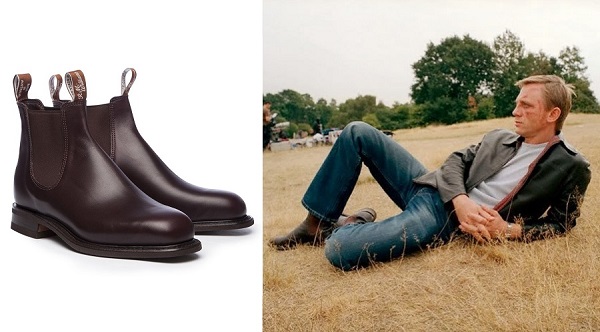 We've taken some deep dives into Daniel Craig's Layer Cake Chelseas in past. And as we mentioned in those previous posts, the model his XXXX character wore were most likely the now discontinued R.M. Williams Henleys. R.M. Williams is most famous for their sleeker Craftsman model, (which you can get for $425.00/£399.00 from Herring Shoes). But the style that comes closest to the Henley from their current collection is probably the Comfort Turnout in Chestnut. You can pick up that boot directly from R.M. Williams ($539.00) and Herring Shoes has most sizes for $425.00/£399.00. However, it's also worth checking out Cettire (on sale for $287.31) and Stuarts ($380.00/£395.00). Sizes are limited, but you might get lucky and save some money!
I understand that Chelsea boots may not be for everyone. But I'm a huge fan of the style. What I like most is their versatility. It's a design that balances "sleek" and "rugged" like few other boots can. Let them get a little beaten up and they'll look great with jeans and a leather jacket. Give 'em a brush and polish and they'll fit in with most "business casual" looks.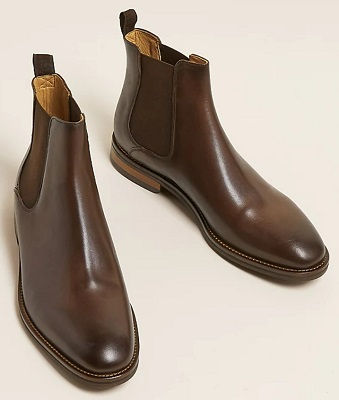 A relatively affordable way to play around with the Chelsea boot look without sacrificing too much in the way of quality. No word on the M&S website about what construction method they've used (maybe Blake Stitch? Probably cemented?). But the boots have the right "sleek but not too sleek" look and studded rubber sole for extra traction in wetter weather. These are currently sitting with 4.4 stars out of 5 after 94 reviews, with most customers complaints focused on the small pull-loop. Honestly, that probably wouldn't be a deal-breaker for me. Plenty of sizes left in stock on the M&S UK and U.S. websites.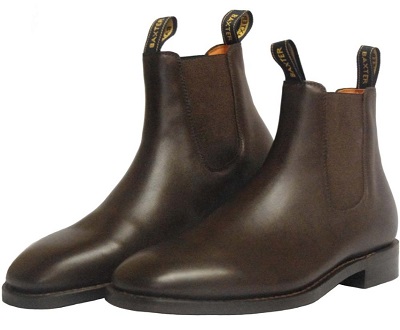 Like R.M. Williams, Baxter also makes their Chelseas using one piece leather uppers and a Goodyear welt construction. And it is very much an Australian heritage brand in its own right. Started in 1850 by Henry Baxter in the town of Goulburn, most of their footwear is now made in Asia. However, at least up until a few years ago, their signature Goulburn model was still crafted in Australia. I'm not sure if that's still the case. But the boots will be shipped from the Land Downunder. Which will set you back another $40.00 depending on how fast you want them. But even with the extra cost, these are a heck of deal as long as you can get your size dialed in on the first try. Note that they use UK sizing on their website!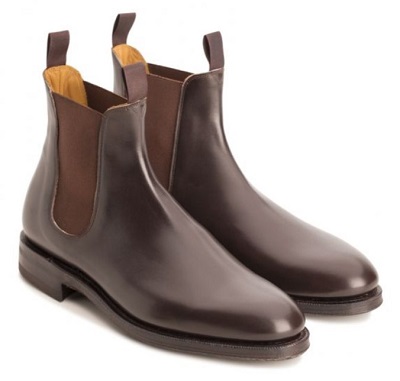 Meermin is well known for offering quality footwear at reasonable prices (although there are comments that some of their boots require a little more break-in time). The biggest selling point for their Chelseas is they've used a whole-cut leather construction, with a single seam up the back of the boot. Just like R.M. Williams. But … and this is the really awesome news … they're about half the price! Meermin uses a French boxcalf leather upper built around their popular Hiro last, a Dainite like studded rubber sole and a Goodyear welted construction. So a LOT of boot for the money. Meermin currenty has a good selection of sizes available.
Also Try
The Dr. Martens 1460 Boots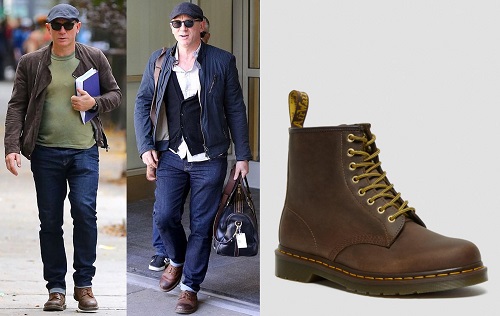 When we talk about iconic footwear, we have to include the Doc Marten 1460s. Originally launched in 1960, they've been a wardrobe staple in almost every cultural movement of the last 50 years, from the punks of the 70s to the grunge artists of the 90s. And since Daniel Craig is known to be a fan of rugged footwear, it's no surprise he has a pair of 1460s in his closet.
Craig's choice of the brown Crazy Horse leather gives the classic 1460 an appealing distressed look that sets them apart from the more polished and popular black and burgundy options. I've had a pair myself for years (before I saw Craig wearing them) and they're still "go to" boots for me. They look great with jeans, chinos and cords. And the famous Air Walk sole makes them incredibly comfortable for all day use. Since the $170 price isn't ridiculous (and there's not much out there that really captures that Doc Marten look), there's really no need to look for alternatives. I've linked directly to their website above. But you can sometimes find this model at a slightly lower price with a bit of searching. For example, Amazon's algorithm can occasionally deliver a surprise discount, depending on your size. And the 1460s are currently on sale at Zappos for $156.60.
The Hiking Boot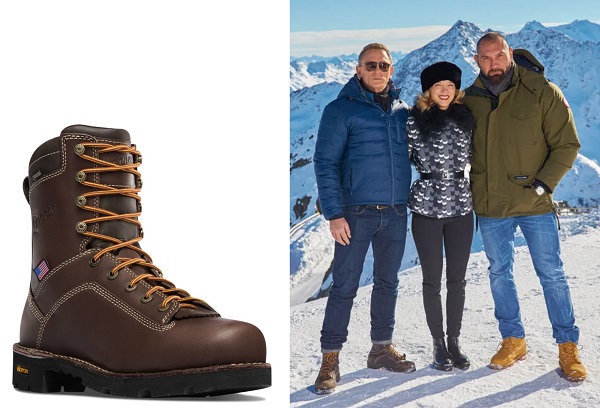 Boots designed to handle rough terrain and rough weather sound like a perfect choice for fall boots. The problem? Most hiking footwear is purpose designed. Meaning they tend to be heavy (thanks to the robust materials) and stiff (thanks to thel shank that provides stability). Although they're more of a work boot than a hiking boot, the Danner Quarrys ($309.95 at Moosejaw or at Boot Barn) that Daniel Craig wore for the SPECTRE Sölden photocall are a pefect example of what I'm talking about. Great for the side of a mountain. Not so great if you're looking for weather resistant footwear for running errands.
Thankfully, we can get that traditional hiking boot aesthetic in a lighter weight construction more suited for day-to-day use. And that's what I've focused on for our alternatives below. Now, the obvious choice would be the brown version of Danner's actual Bond boot from SPECTRE, the Mountain Light 2 ($439.95 at Backcountry). But those are getting up there in price. So we have some other options that should fit more conservative budgets.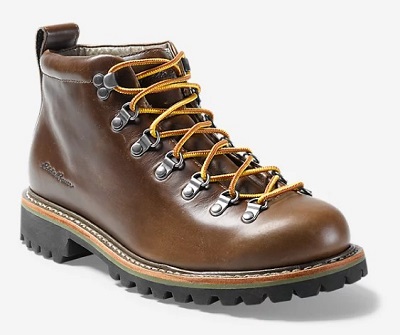 Well these are a heck of a deal! Normally priced at $220, they feature a full grain leather upper backed by a waterproof and breathable membrane that will help keep your toes dry and toasty. And the heritage design (they're based on a model Eddie Bauer first introduced in 1964) is exactly the style we're looking for. I honestly have no idea how stiff or heavy these will be. But they have a solid rating on the website (82% of customers recommend it), with most complaints focused on the tongue design (there's a seam on the back that some find uncomfortable) and the quality of the fabric liner. Still, for a casual boot that has the right vintage vibe, they offer a lot for the money. You'll find sizes 8 to 14 available on their website.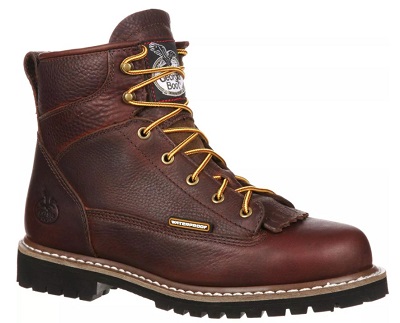 If you're drawn to the work boot style of Quarrys (including that kiltie brush guard), this option from Georgia Boot delivers a similar look for about a hundred bucks less. And the full grain, waterproof leather and Goodyear welt construction provides durability and solid protection from the elements. Sizes 8 to 14 in medium and wide widths are available on the Georgia Boot website.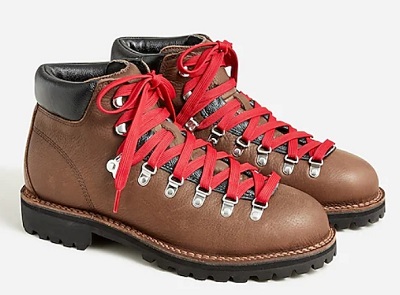 Before any hardcore outdoorsmen start mocking me in the comments, hear me out. No, these are not a "real" hiking boot. But let's be serious. How many of us really want a six pound blocks of thick leather and hard rubber on our feet when we're out running errands in nasty weather? So these deliver the looks we want, but in a lighter weight, more flexible package. J.Crew has used a full grain leather upper, a stitch-down construction and a Vibram outsole with a double welt, which still offers a decent amount of protection from the elements. At full retail, they're pretty expensive for what they are. However, J.Crew is always running discount codes that knock 30% to 40% off the price (the current code is FRIENDS).
Also Try
9 Hole Motorbike Boots

Another photo of McQueen being McQueen, this time taking his modified Triumph TR6 Scrambler for a spin. We're focusing on the footwear here. His boots look to be a lighter weight, relatively unstructured model with a smoother, low profile tread sole. As for the material, in some photos they look like nubuck and in one they appear to be full grain leather. If anyone has any insights, let us know in the comments!
So why is this one an essential boot? Well, that Trench, Service or Boondocker style is a classic and belongs in every guy's boot collection. And most of the workwear inspired boots on this list are pretty heavy-duty. So it'll be nice to have something in a light weight for those warmer fall days when the sun's out.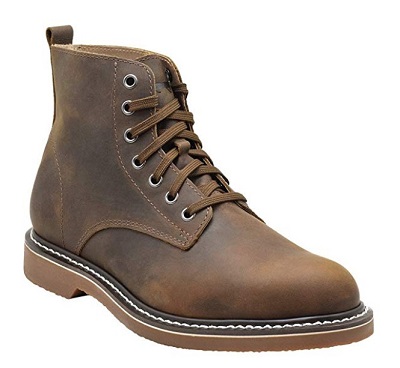 These are actually the same boots as the J.Crew Kenton alternatives we keep recommending, just in full grain leather. You can read my review of the suede versions in this post. To summarize, I've been very happy with them and still think they're excellent value for the money. The full grain version we're sharing here is also Goodyear welted (so they can be resoled) and has a pigskin lining around the collar. However, the forefoot is unlined for breathability. They're also a 7 hole boot, unlike McQueen's 9 hole model. But a slightly shorter cuff for casual wear isn't necessarily a bad thing. Especially when the other style details come so close. The link above goes to Amazon, where they have sizes 6 to 13 in stock. I found they run about a half size large (my size 10 boots fit my size 10.5 feet spot on).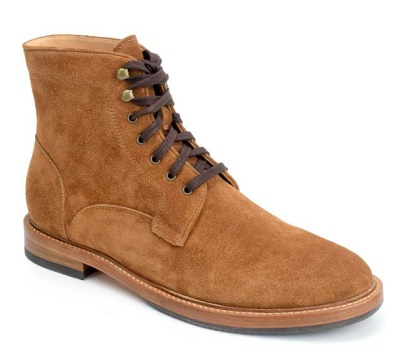 A new option this season that does a great job of blending the workwear aesthetics of the classic Service boot with sleeker, more refined shape. Part of that is due to Warfield & Grand's Blake Stitch construction method. For a casual boot like this, Blake Stitch is actually a great way to go. It's more flexible and comfortable out of the box and the thinner welt gives the boot a more streamlined look. And, as we've noted, Blake Stitching is a proven construction and is resoleable. That Italian suede leather upper also looks pretty sharp. Sizes 8 to 15 are available on their website.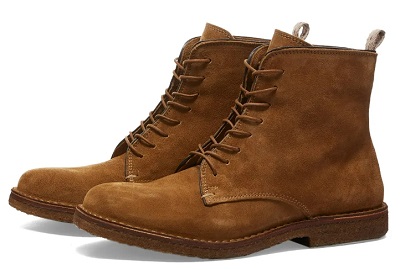 Coming from the makers of some of my favorite suede Chelsea boots and my No Time To Die Matera chukka alternatives, the Bootflex does a good job of capturing some of that McQueen style. I doubt they'll be able to withstand the abuse of dirt-biking without sustaining some damage. But these hand-made in Italy boots feature a soft, premium suede upper and natural rubber outsolde that makes them incredibly comfortable for casual all day use. END Clothing has UK sizes 6 to 10 in stock.
Also Try
Just in case none of the styles above caught your eye, we've already covered plenty of other fall boot options in previous posts. If chukkas are more to your taste, this post covers options from the Daniel Craig Bond era. And we'll be updating our posts on the 007's SPECTRE Hiking Boots and Morocco Boots very soon! You can also check out our recent reviews of the HELM Hollis Boots and McQueen's favorite Hutton Playtime Chukkas for ideas about other styles.
Of course, if you have some suggestions for our 6 essential boots for fall tell us about them in the comments. You can also visit our Facebook page, Instagram account and Pinterest Boards for more James Bond. Steve McQueen and Daniel Craig style inspiration!